Mashed potatoes are a versatile and classic comfort food that pairs well with many dishes. If you're wondering what dishes to make at home to complement your mashed potatoes, we've got you covered.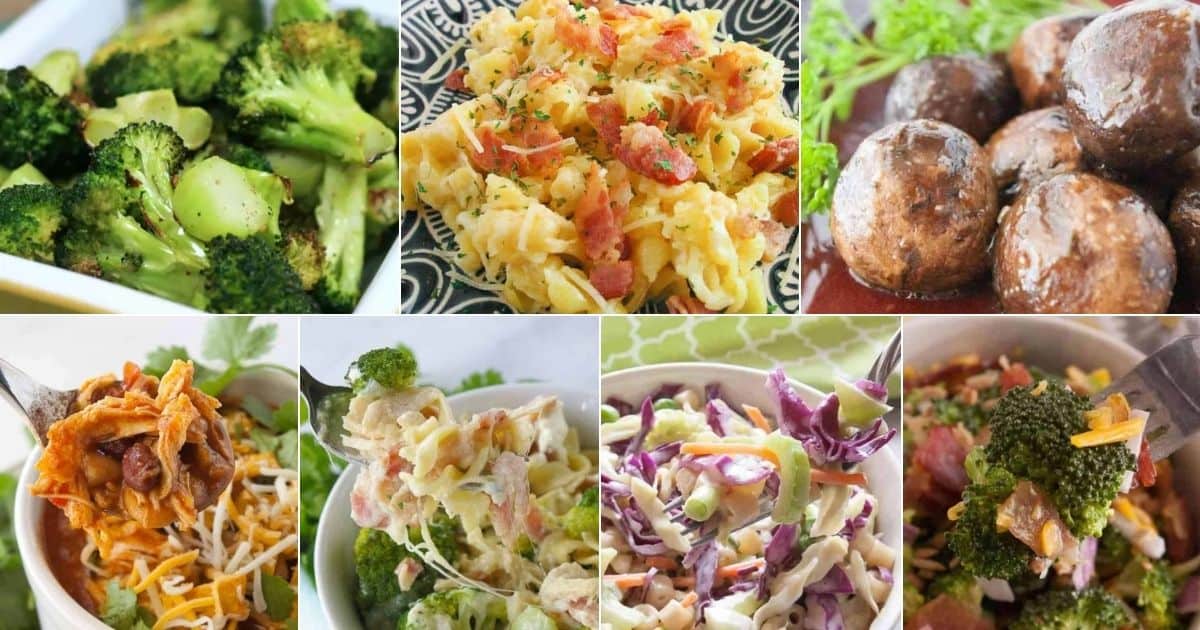 Our list includes both hearty main dishes and lighter options to balance the buttery potatoes. Here are simple recipes that go well with mashed potatoes.
Jump to:
Imagine enjoying a heaping scoop of creamy mashed potatoes and then taking a refreshing bite of Simple Salty Cucumbers afterward.
The tangy crunch of the cucumbers perfectly complements the smooth and rich flavors of the potatoes.
This refreshing side dish adds freshness to an overall creamy meal, making it a perfect accompaniment to mashed potatoes on a warm summer day, a picnic, or a backyard barbecue.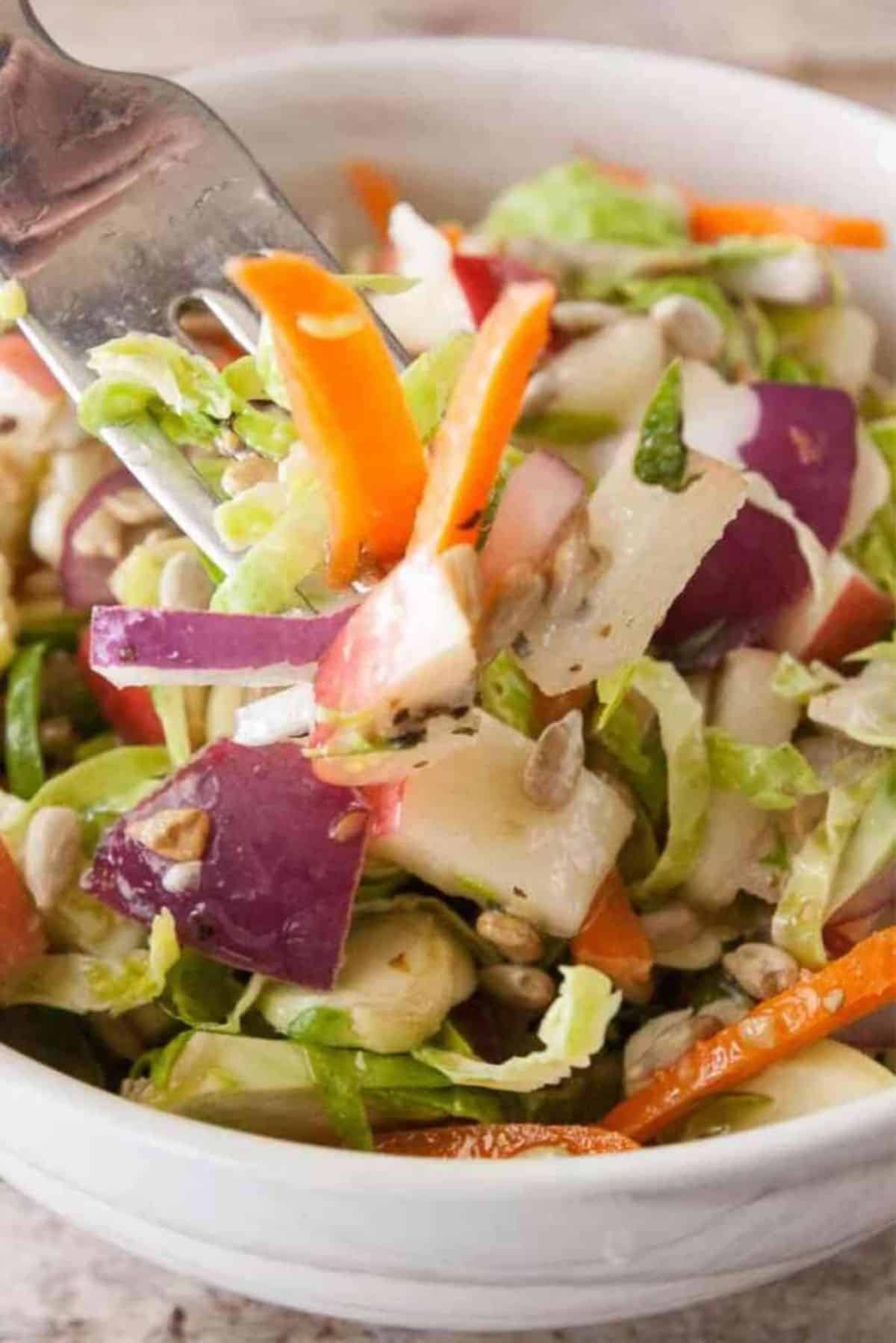 The warm, comforting mashed potatoes provide the perfect canvas for this zesty, refreshing Brussels Sprout Slaw, creating an inviting blend of textures and flavors.
Additionally, this Brussels Sprout Slaw has a nice crunch, perfectly complementing the creaming of the potatoes.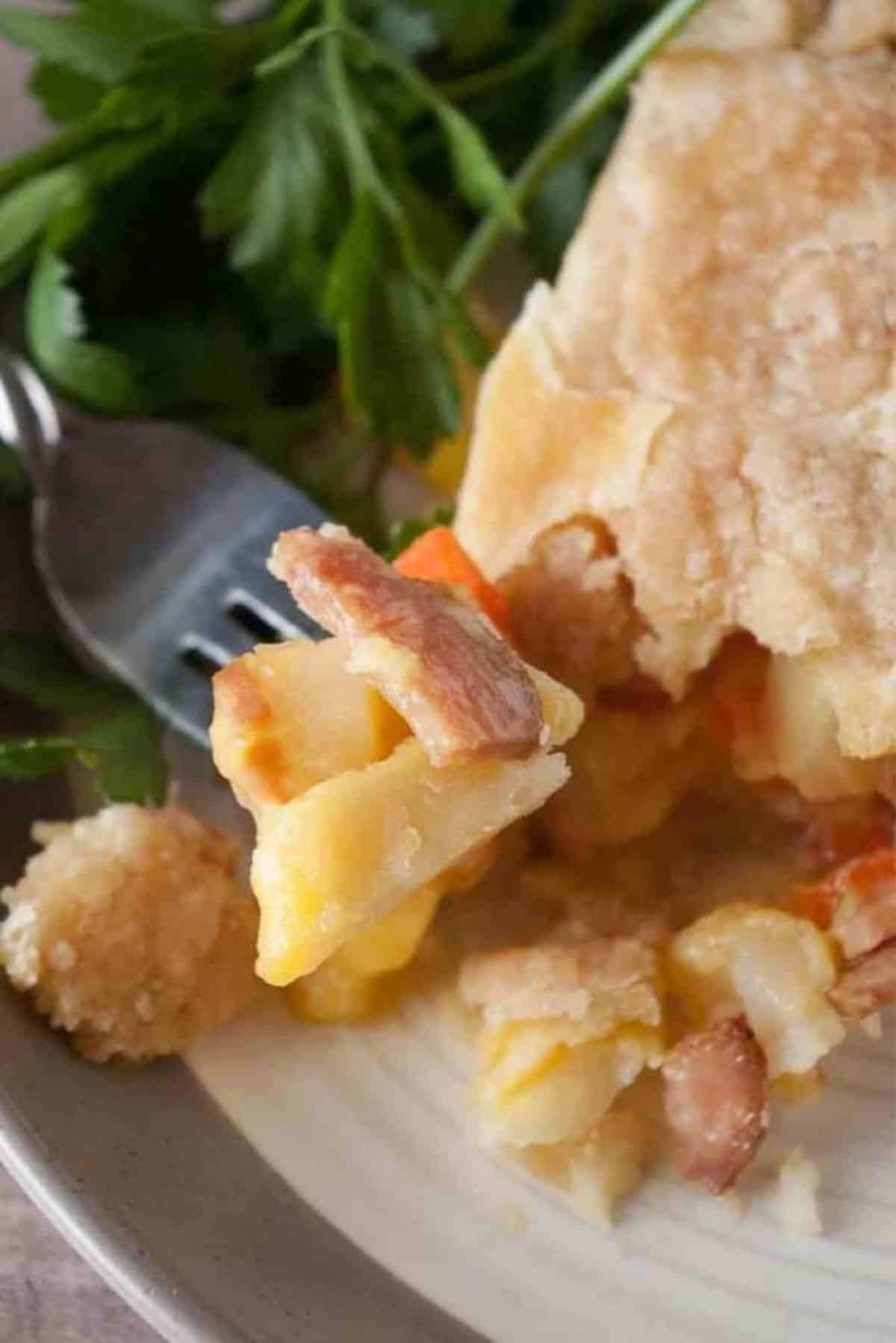 Say hello to the ultimate comfort food combo: Ham and Cheese Pot Pie and creamy mashed potatoes.
The savory and smoky flavors of the ham and cheese filling blend swimmingly with the rich, velvety mashed potatoes. Furthermore, the flaky pie crust adds a delightful crunch, while the gooey cheese oozes with every bite.
This hearty, dynamic, and satisfying dish is perfect for a cozy wintertime lunch, a Sunday family meal, or a potluck gathering where you want to wow everyone with a mouthwatering, irresistible comfort food duo.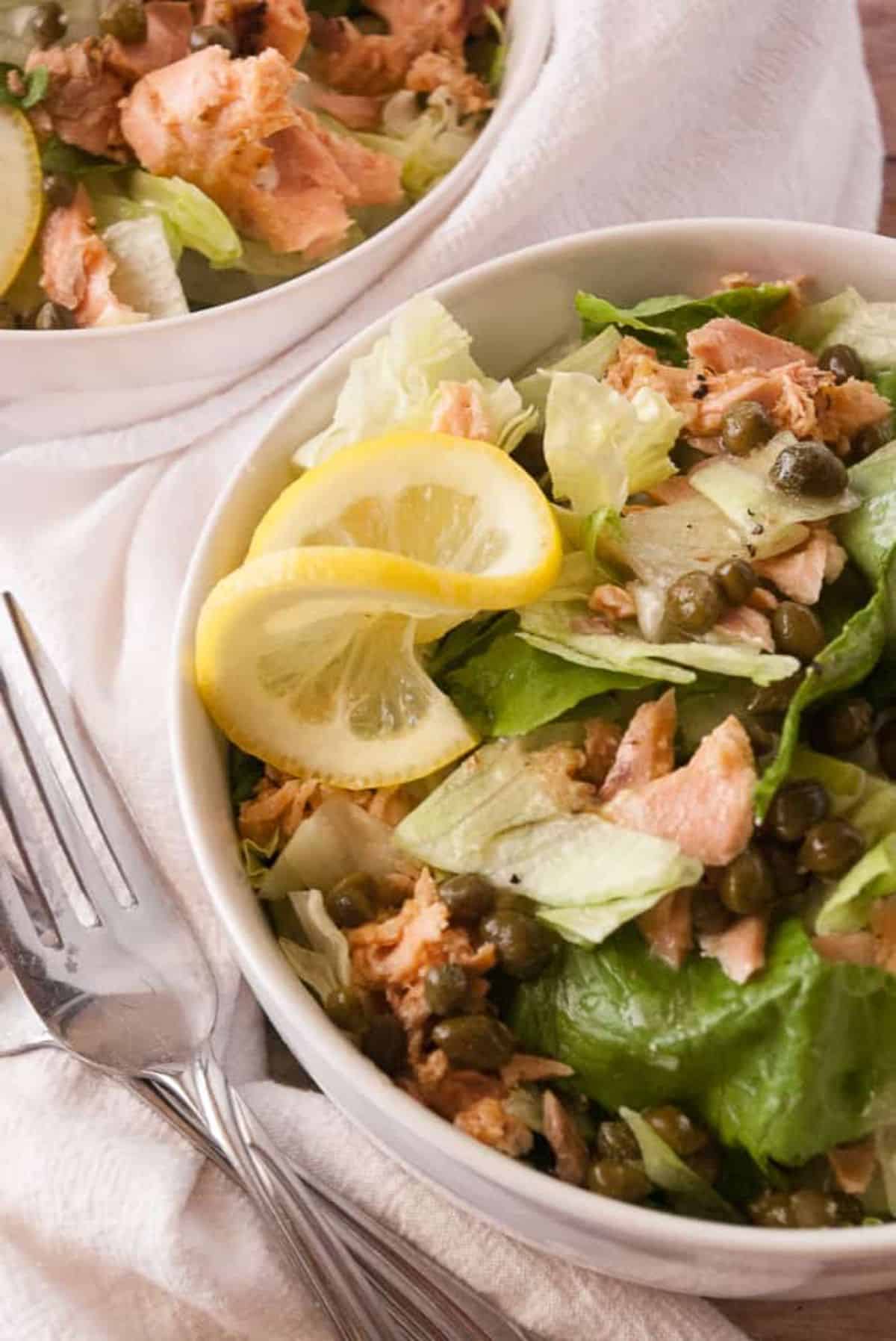 Making this refreshing Salmon Piccata Salad and eating it alongside mashed potatoes is a surefire way to elevate your taste buds.
The zesty piccata dressing perfectly complements the delicate buttery salmon, making it delightful on its own or with this creamy side dish.
It's an ideal light side for heavier mashed potatoes and works well for a summertime lunch, a fancy brunch, or when you want a healthy and delicious meal that's still undeniably palate-pleasing.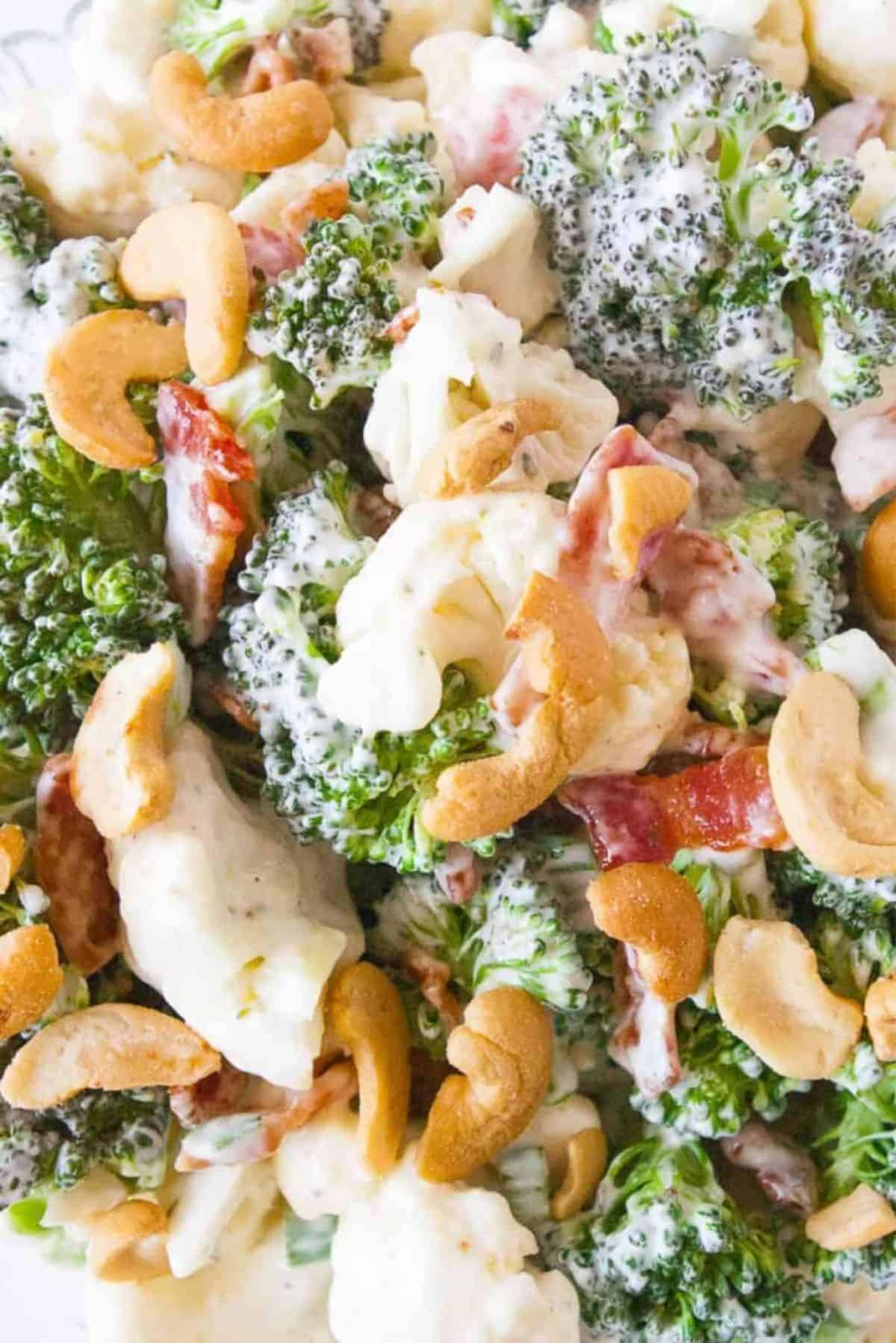 A scrumptious Broccoli Cauliflower Salad with Bacon alongside creamy mashed potatoes makes a delectable meal.
You'll get smoky and savory flavors from the bacon, a crisp freshness from the broccoli and cauliflower, and creaminess from the salad dressing and the mashed potatoes.
This savory and satisfying combination is perfect for a cozy family dinner, a potluck, or a special occasion meal that will leave your and your partner's taste buds in awe. You won't be able to resist this delightful duo!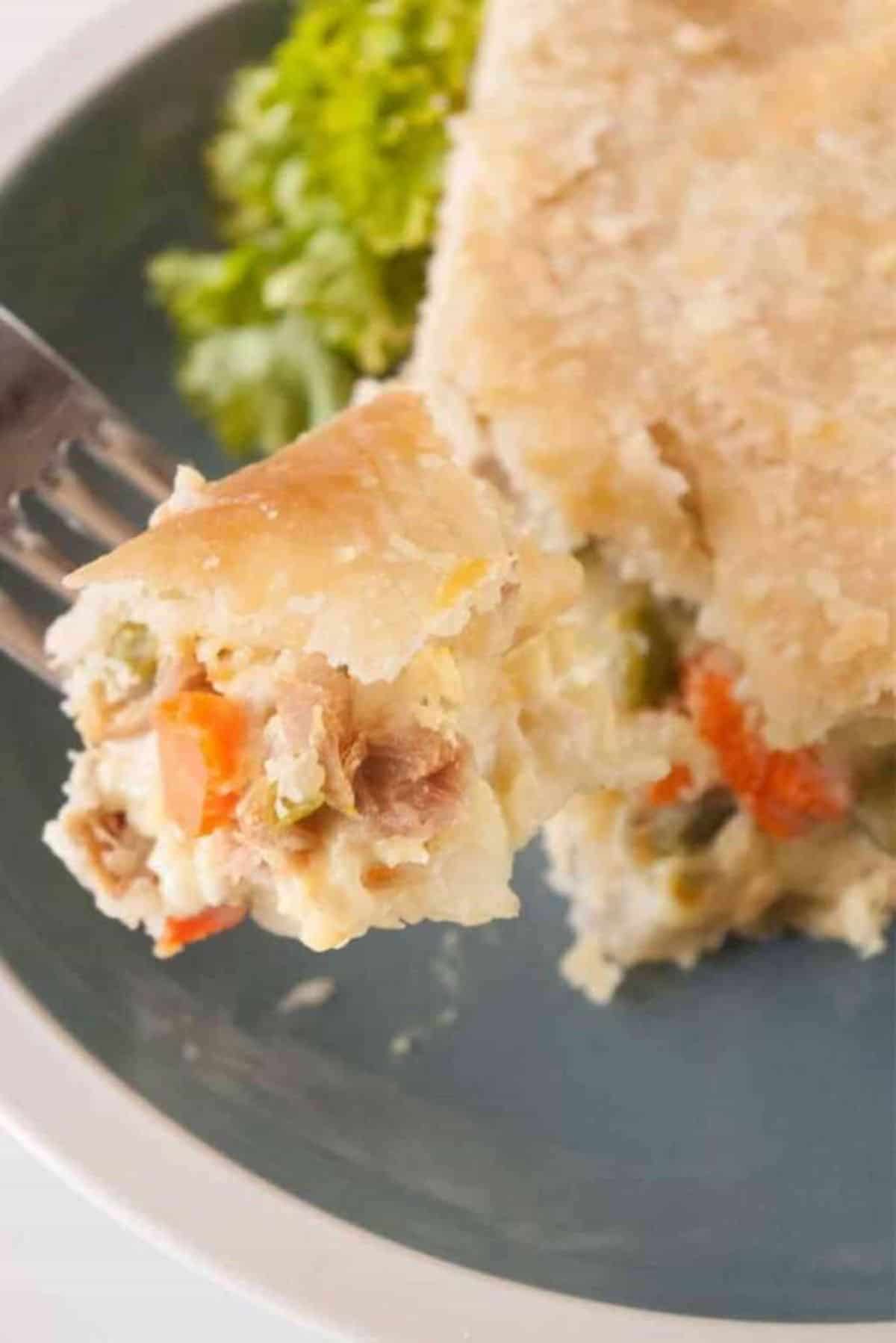 Prepare to be blown away by the delicious symphony of flavors when you pair the lusciousness of Turkey Pot Pie with creamy, fluffy mashed potatoes!
The tender chunks of succulent turkey, nestled in a rich, savory sauce, are perfectly complemented by the smooth, buttery goodness of the mashed potatoes.
Each spoonful is a heavenly explosion of comfort and satisfaction, making it an ideal dish for intimate family dinners, festive gatherings, or simply indulging in a delectable homemade meal.
This recipe is also ideal for leftover turkey, making it a fantastic choice for the holiday season!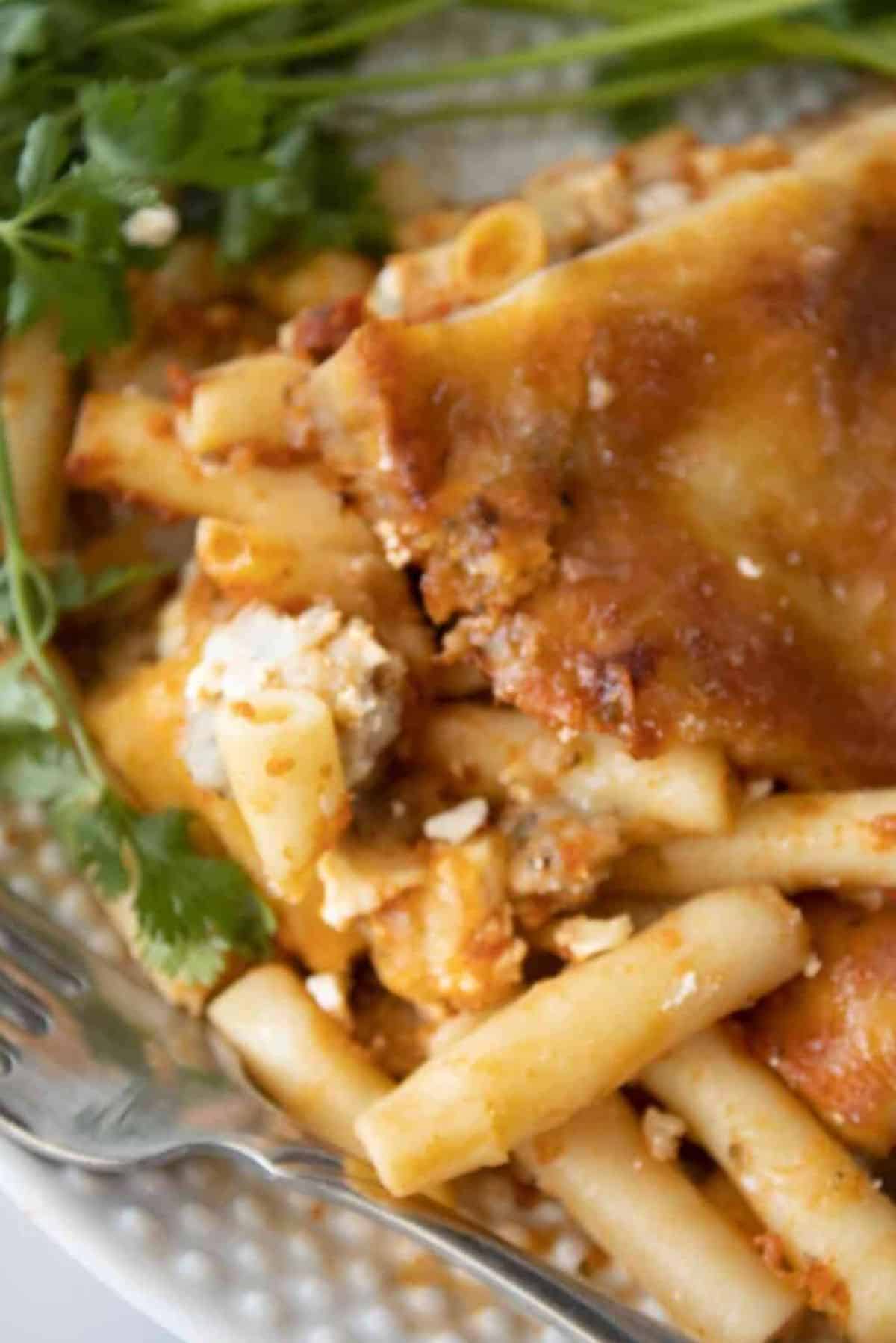 The robust flavors of the zesty sausage, tangy tomato sauce, and gooey cheese create a comforting and indulgent meal.
Whether hosting a lavish dinner party or treating yourself to a gourmet (yet cozy) meal, the exquisite duo of Baked Ziti with Sausage and mashed potatoes is a foodie's dream come true.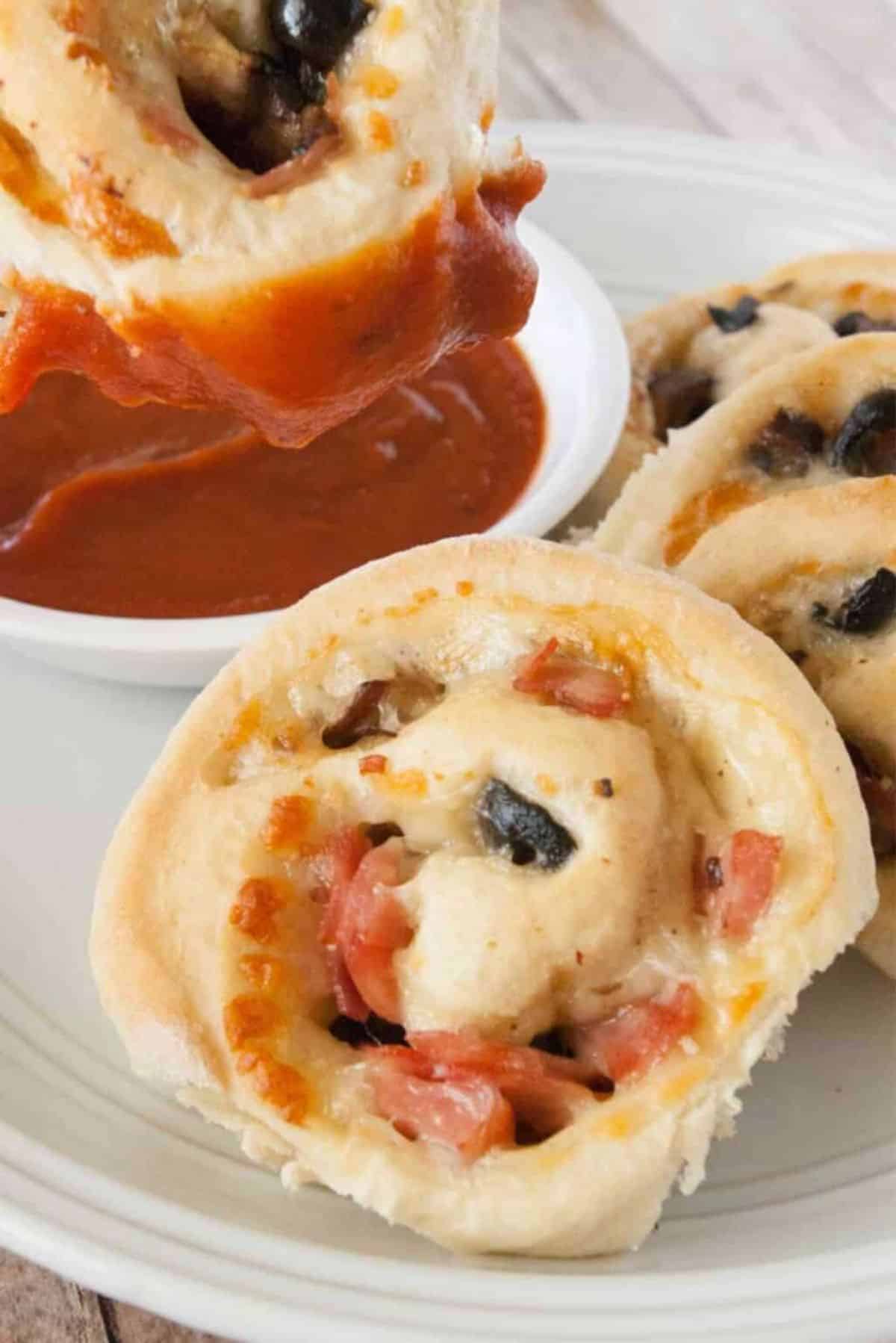 If you like store-bought pizza rolls, just wait until you try these Homemade Pizza Rolls. And if you think you like homemade pizza rolls, make sure to try them alongside creamy, buttery mashed potatoes!
The combination of these Homemade Pizza Rolls and mashed potatoes is a match made in comfort food heaven.
The crisp, golden crust of the homemade pizza rolls filled with gooey cheese and tangy tomato sauce pairs perfectly with velvety, simple, yet rich mashed potatoes.
It's a mouthwatering duo ideal for a game night with friends.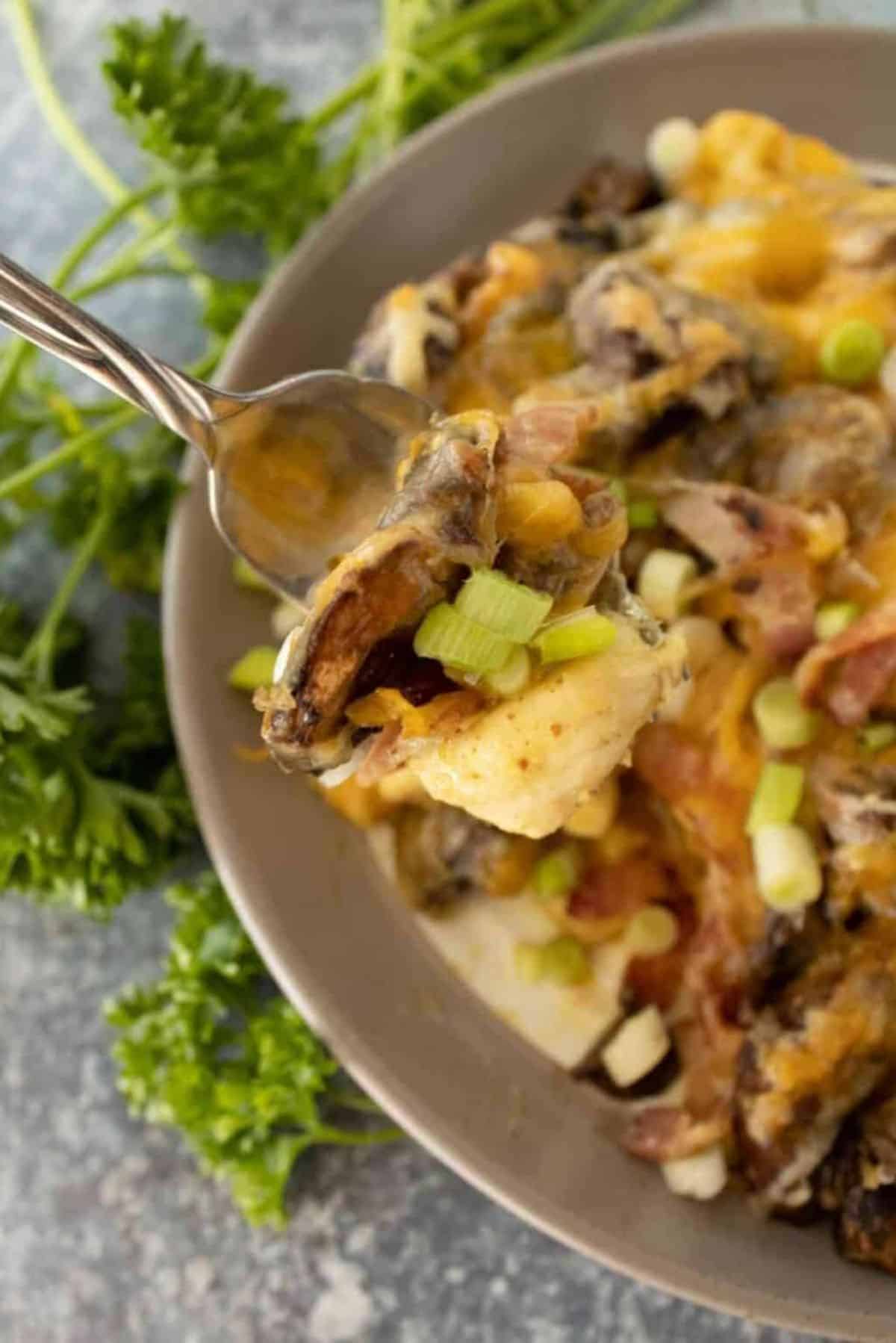 This Cheesy Honey Mustard Chicken with Bacon recipe is a flavor explosion that will tantalize your taste buds - especially when you eat it with mashed potatoes on the side!
The succulent chicken is smothered in a rich and creamy honey mustard sauce, with crispy bacon adding a burst of salty goodness.
When paired with creamy mashed potatoes, it creates a flavor concoction that's undeniably comforting, indulgent, tangy, sweet, and savory all at once.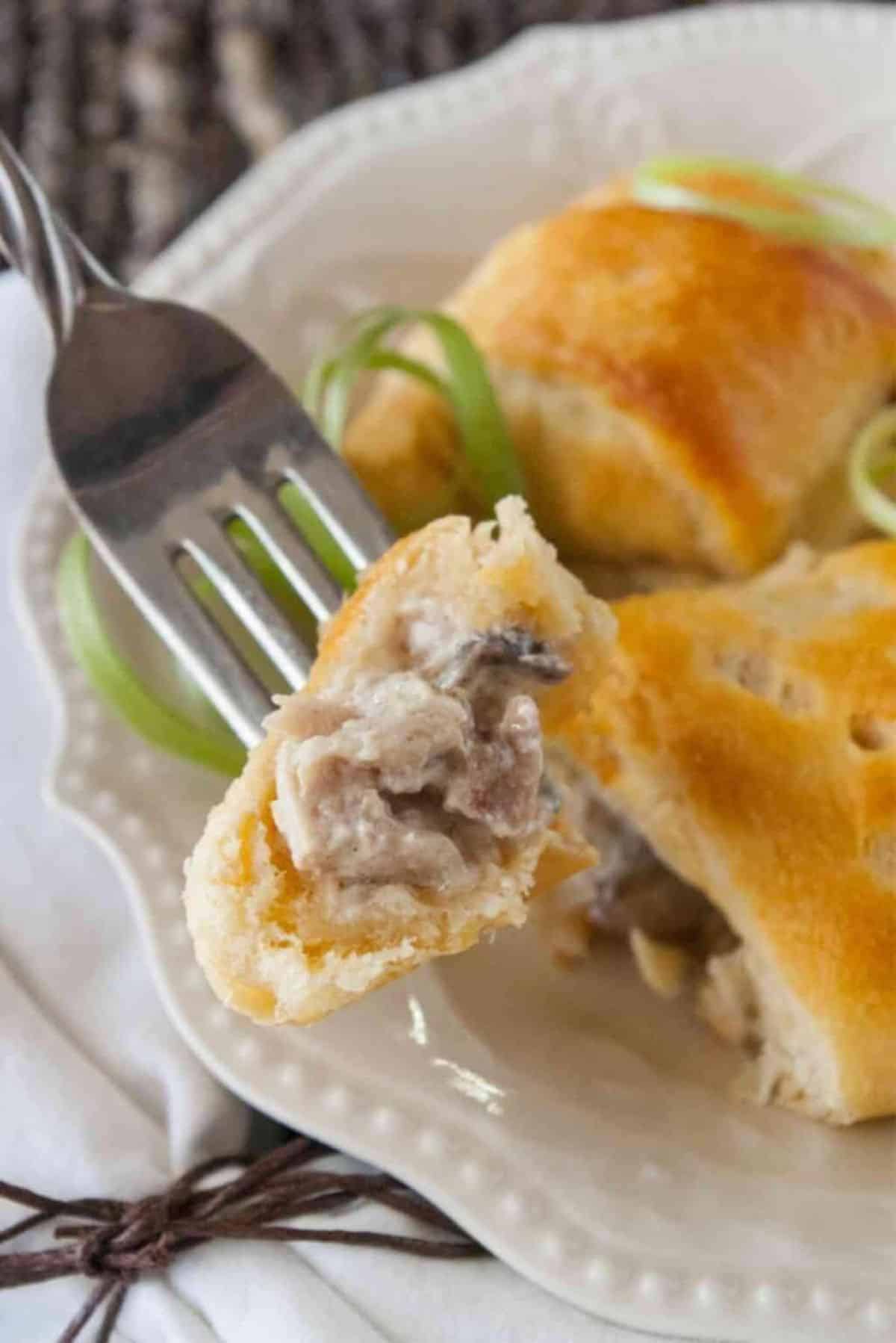 This Leftover Turkey Stuffed Rolls recipe is a delectable way to repurpose your Thanksgiving leftovers into a mouthwatering meal that will have you craving leftovers all year!
The combination of tender and juicy turkey and pillowy, warm rolls paired with creamy mashed potatoes creates a comforting meal, perfect for post-holiday dinners or a casual get-together with friends and family.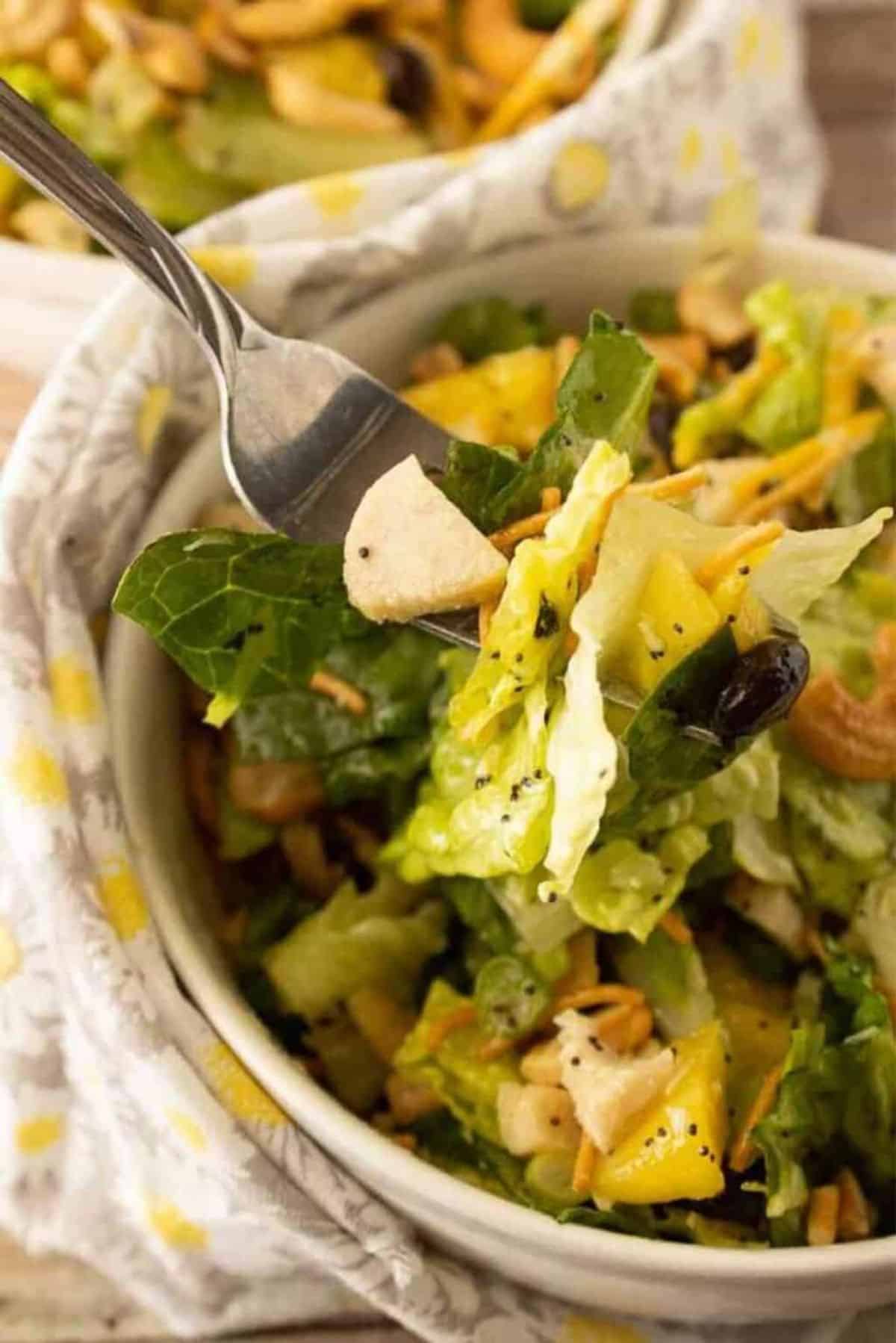 In this recipe, the juicy pineapple adds a burst of natural sweetness, the fresh greens add a refreshing crunch, and the creamy mashed potatoes on the side add a warm, welcoming contrast.
Whether you're hosting a summer luau or simply craving the sweet and citrusy taste of the tropics, this Hawaiian Salad with Chicken and Pineapple alongside mashed potatoes is the perfect choice to elevate your meal.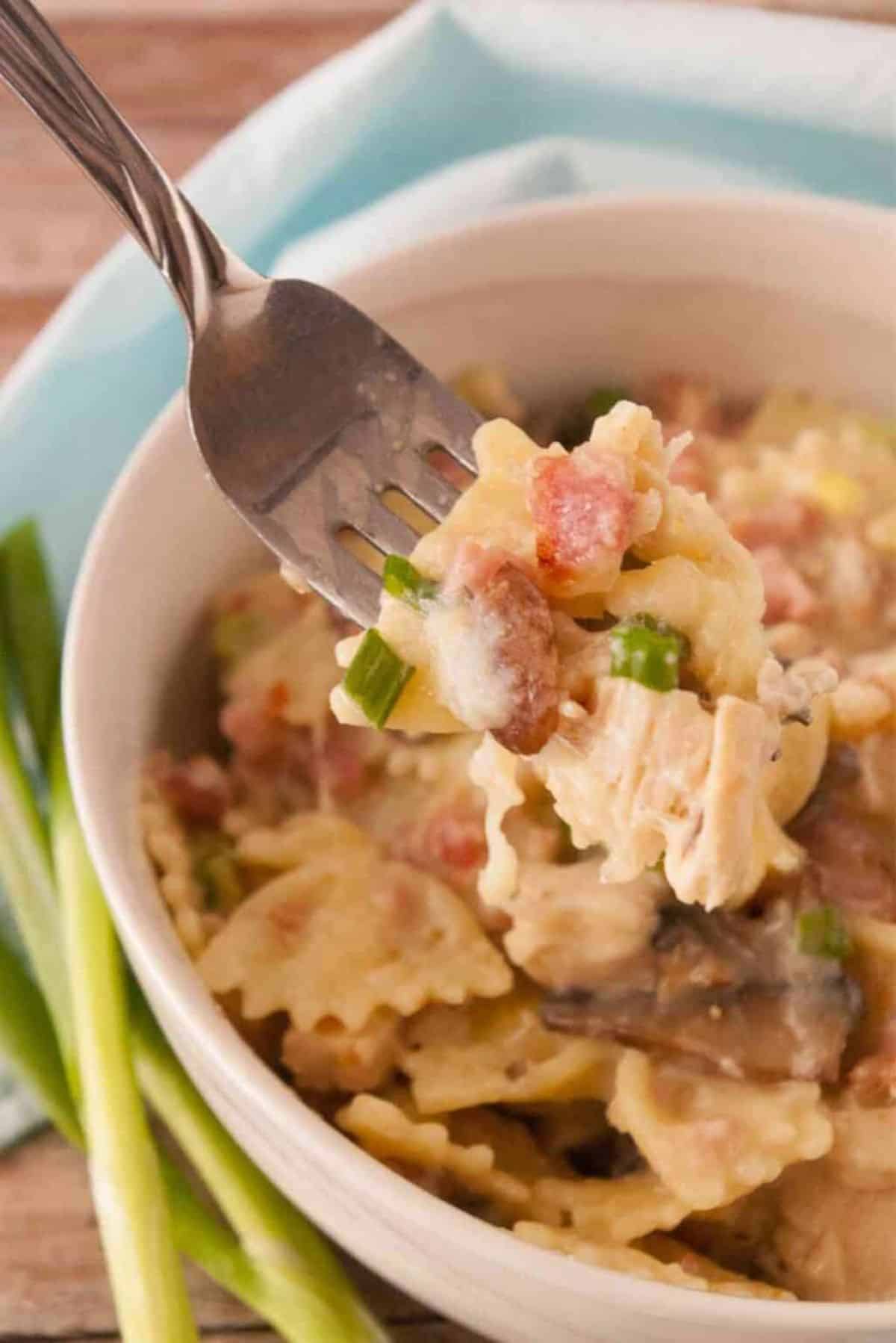 People already know about eating regular Chicken Cordon Bleu alongside mashed potatoes, but have you tried the Chicken Cordon Bleu Casserole version?
Imagine tender chicken breasts, salty ham, rich sauce, and gooey cheese, all baked to perfection.
Then, imagine pairing this savory, salty, and creamy flavor combination with fluffy mashed potatoes, and you can see why it takes the casserole to a whole new level of indulgence.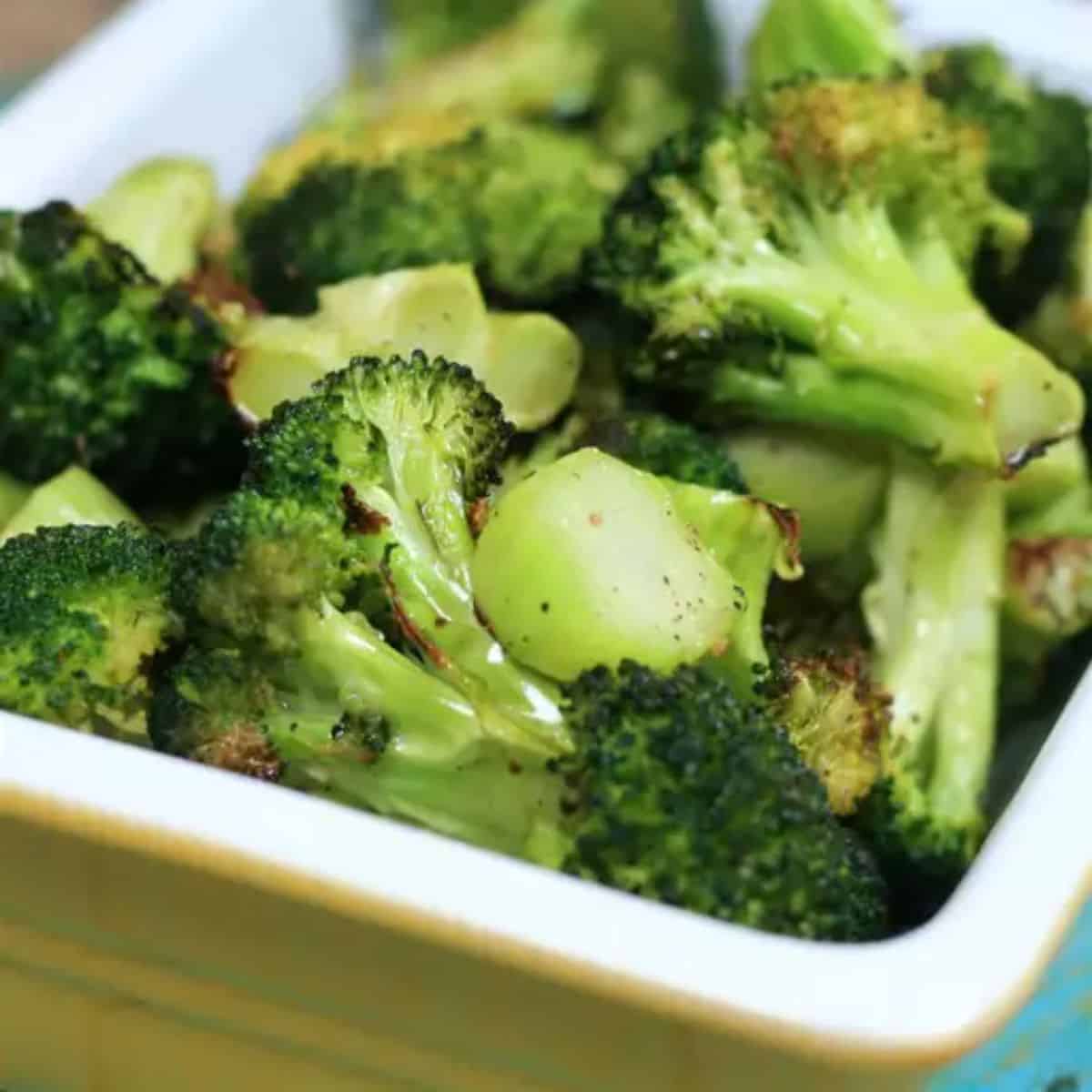 If you want perfectly roasted broccoli, charred to perfection, with a slight crunch and a burst of earthy flavor, check out this Easy Roasted Broccoli recipe.
The contrast in textures, with the broccoli's crispy edges and the mashed potatoes' smoothness, adds an exciting mouthfeel to every bite.
This combination is delicious and incredibly nutritious, packed with vitamins and fiber from the broccoli.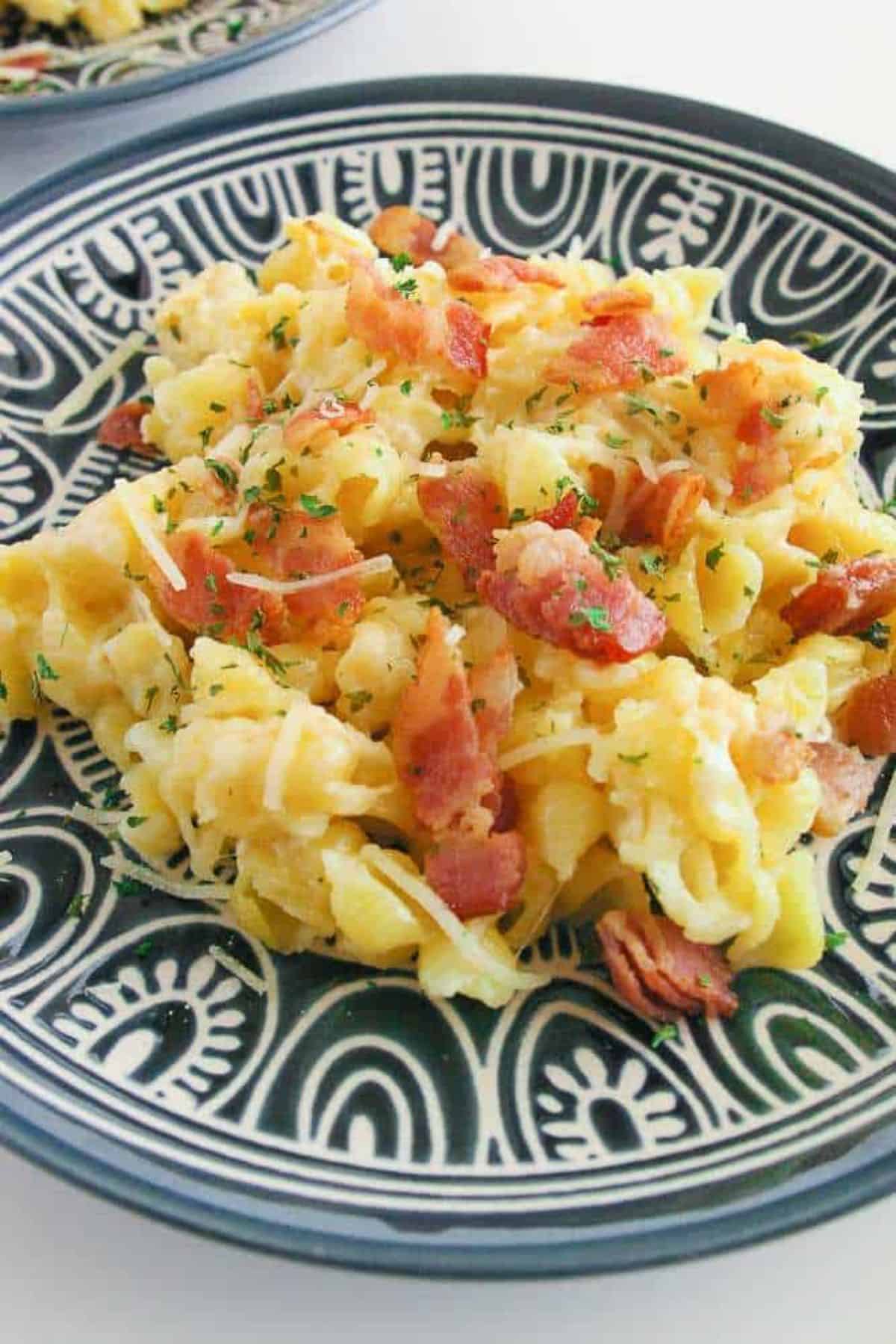 Some might say this combination is a carb overload, but we say eating Slow Cooker Mac and Cheese with mashed potatoes is too good to resist!
Combining the rich and savory flavors from the gooey mac and cheese with the buttery notes of the mashed potatoes is lovely beyond comparison.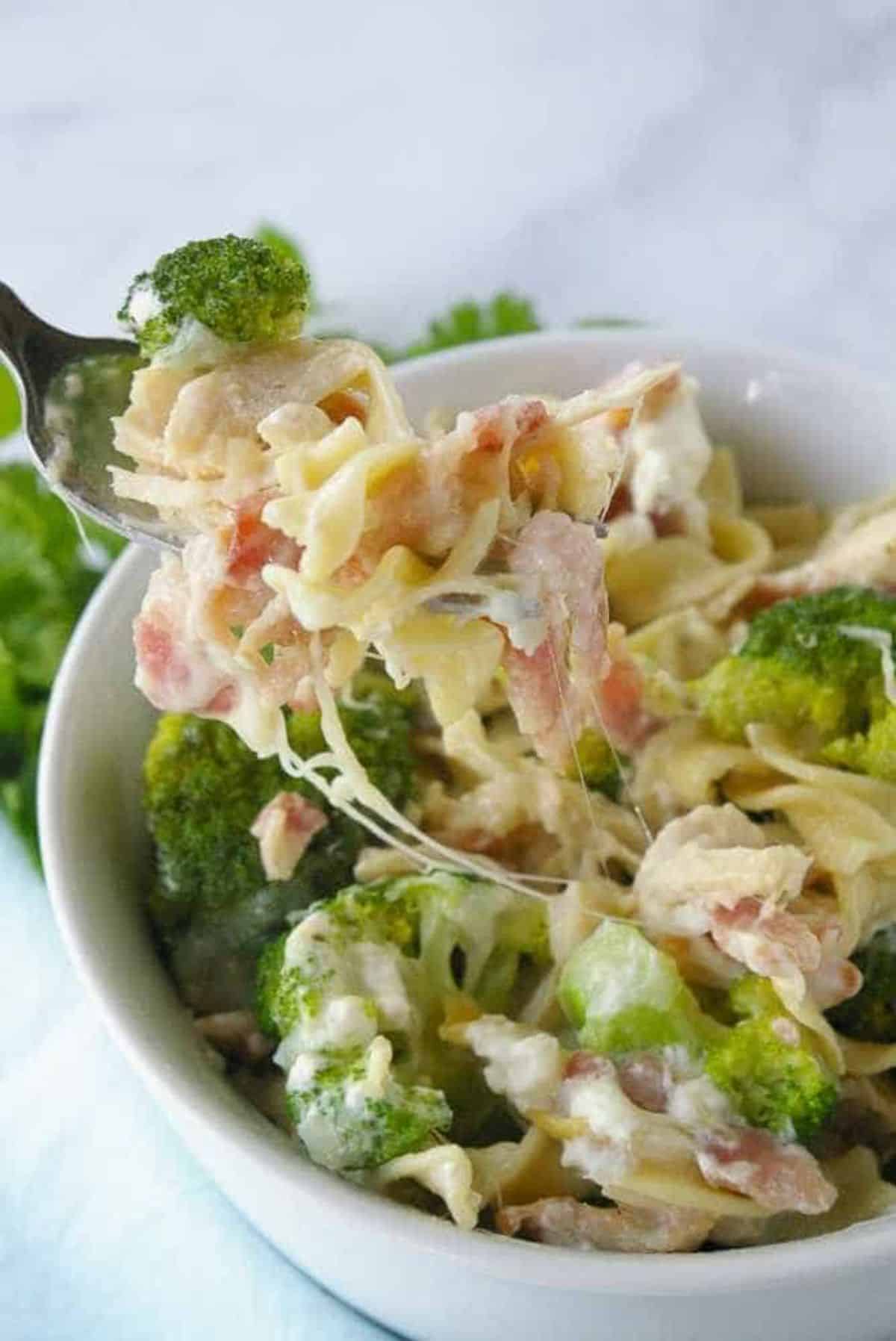 If you're hoping for a quick and easy dinner that offers flavor, texture, and nutrients in every bite, look no further!
This Instant Pot Broccoli Chicken Pasta recipe is a winner for sure.
The combination of al dente pasta, creamy sauce, and succulent chicken, all topped with roasted broccoli and parmesan cheese, is incredibly delicious. Then, just serve it with mashed potatoes for a complete meal.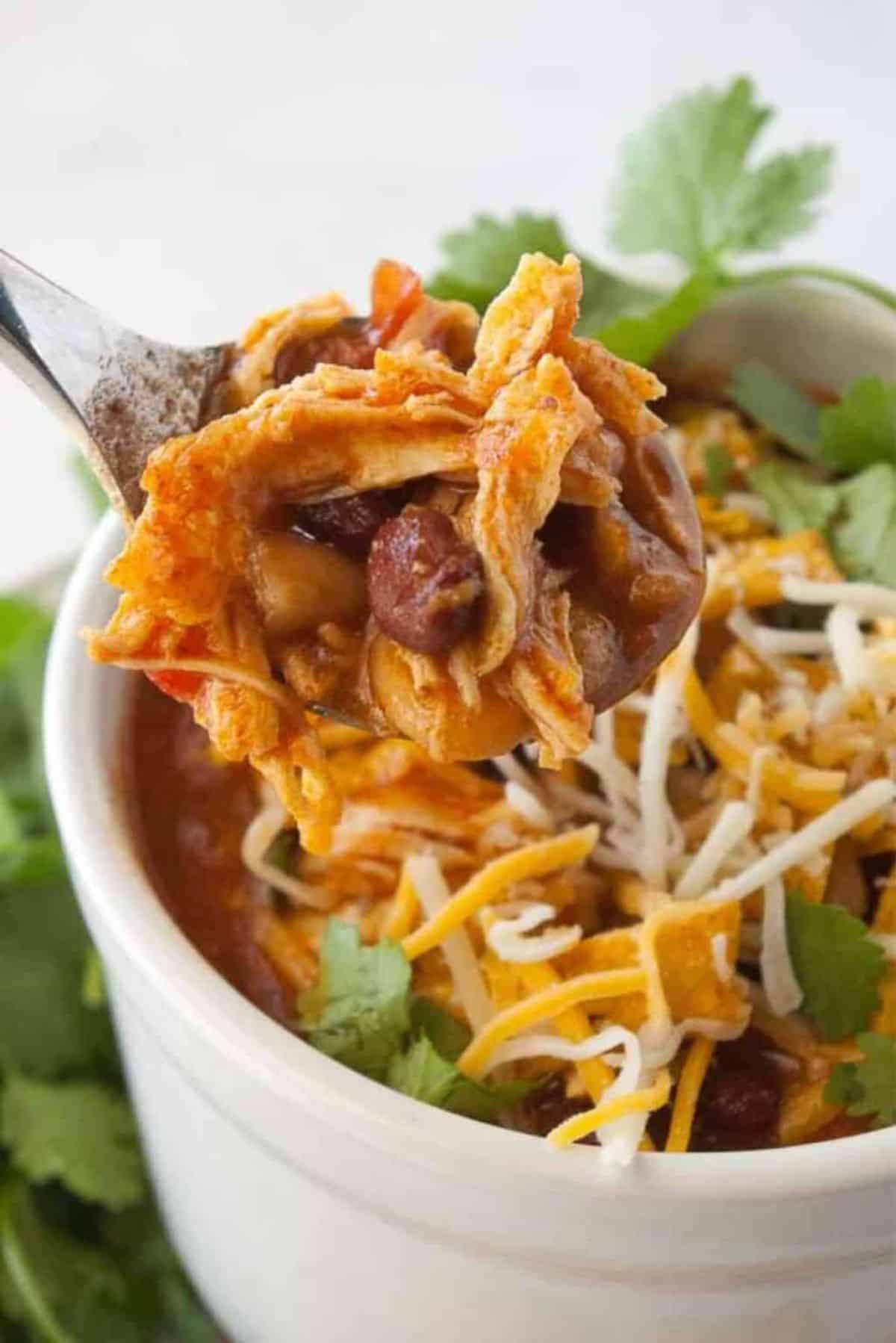 Picture this: a steaming bowl of hearty and flavorful Instant Pot Chicken Chili, loaded with tender chunks of chicken, a medley of colorful vegetables, and a savory blend of spices.
But wait, there's more! Alongside that piping hot bowl of chili sits a scoop of creamy, fluffy mashed potatoes. As you take your first bite, you're greeted with flavors that dance on your taste buds.
Chicken and Rice Casserole alongside mashed potatoes are always a hit.
It's a classic combination that always satisfies the crowd, especially if the crowd enjoys warm, succulent comfort food.
More specifically, the creamy potatoes complement the richness of the casserole, creating a result that will leave you craving more.
This Chicken Caesar Pasta Salad recipe ensures succulent chicken, bringing a savory note to the meal while ensuring freshness from the lettuce, onions, and peas.
Further, the creamy texture of mashed potatoes adds a smooth contrast to the al dente pasta, creating a nice balance of texture.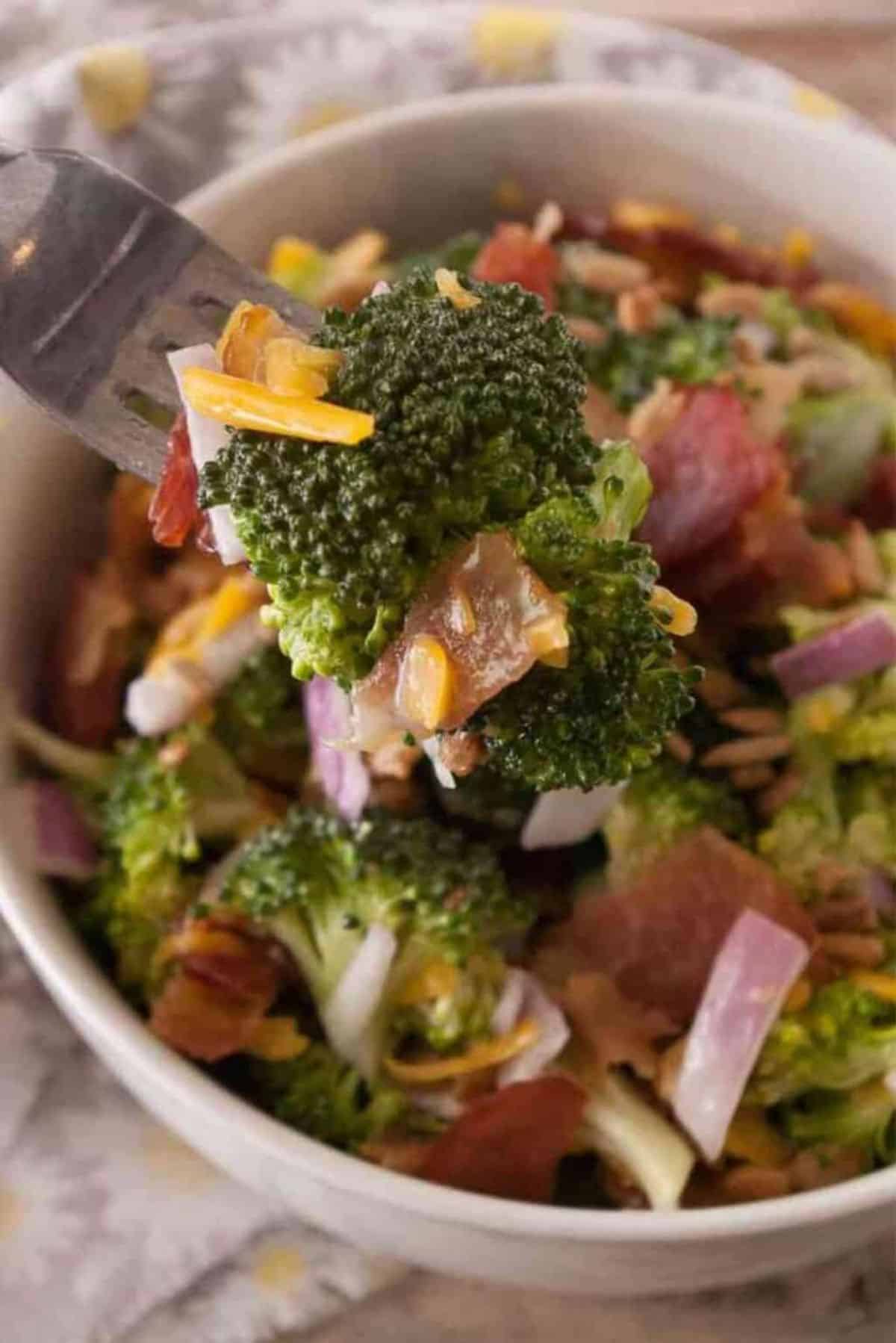 Creamy potatoes go swimmingly nicely with the broccoli crunch and have a savory flavor that pairs nicely with every bite of salad.
Whether preparing it for a barbecue or a casual weeknight dinner at home, you'll love the delicious contrast and crispness this salad brings to your mashed potato feast!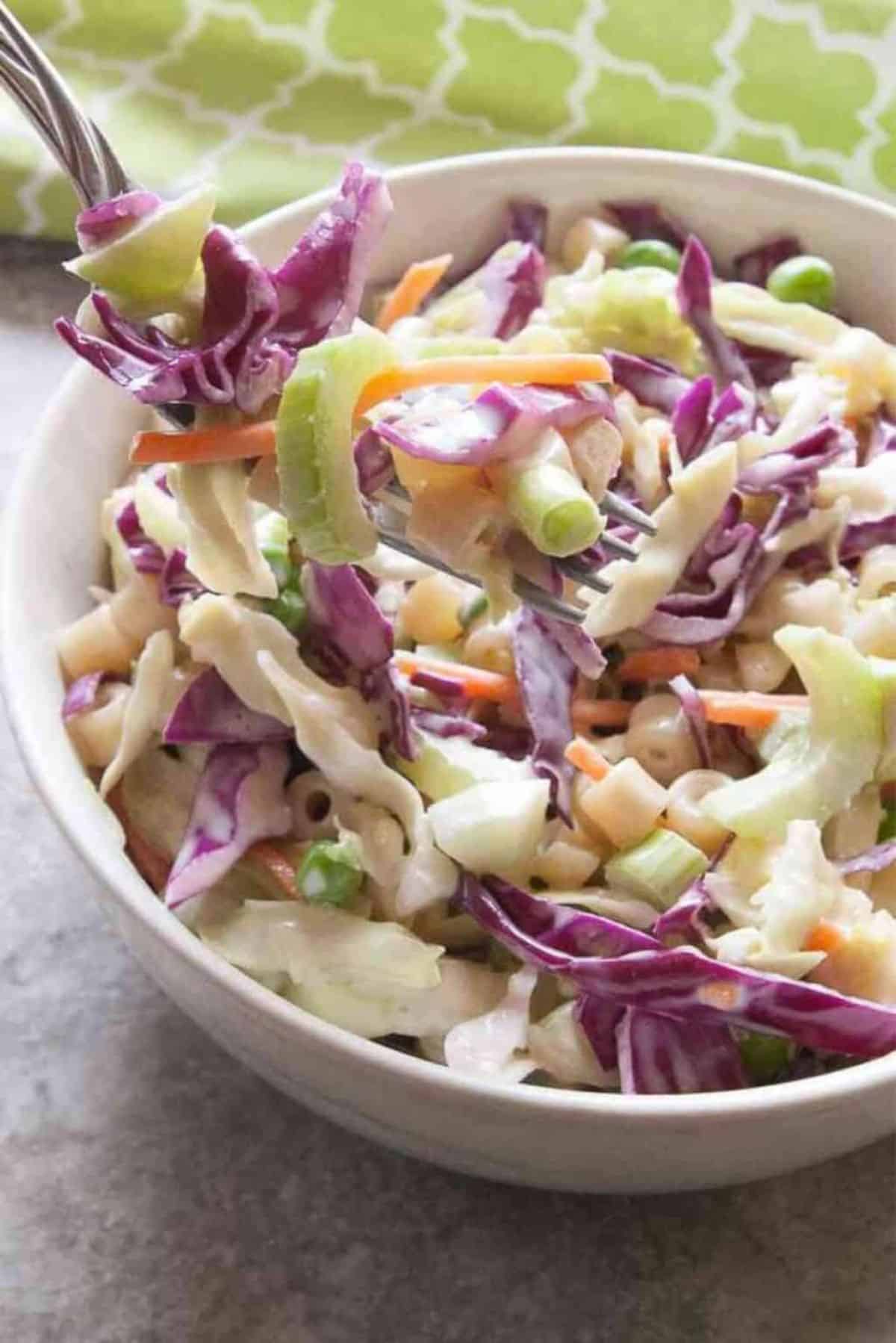 Macaroni Coleslaw Salad is the perfect companion to creamy mashed potatoes, especially if you're craving macaroni but want something manageable alongside an already heavy side dish.
The crunchiness of the shredded cabbage, carrots, celery, and onions in the coleslaw adds a delightful texture that complements the smoothness of the mashed potatoes.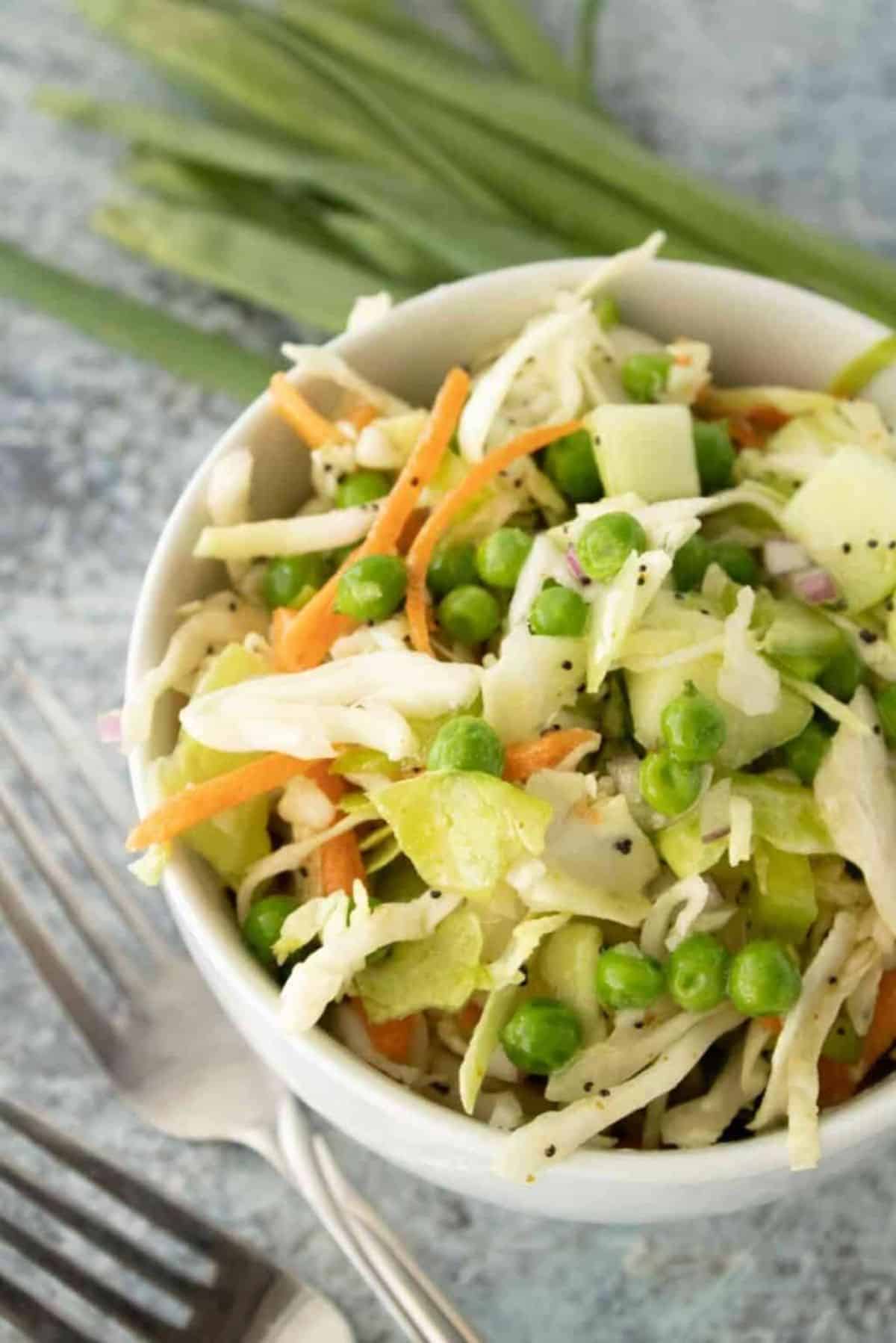 The sweet and tangy dressing of the coleslaw, with a hint of poppy seeds, adds freshness and contrast to the rich, buttery mashed potatoes.
You'll relish how the sweetness of the coleslaw dressing balances the savory notes of the mashed potatoes, with the poppy seeds adding a unique and slightly nutty flavor, enhancing the overall taste experience.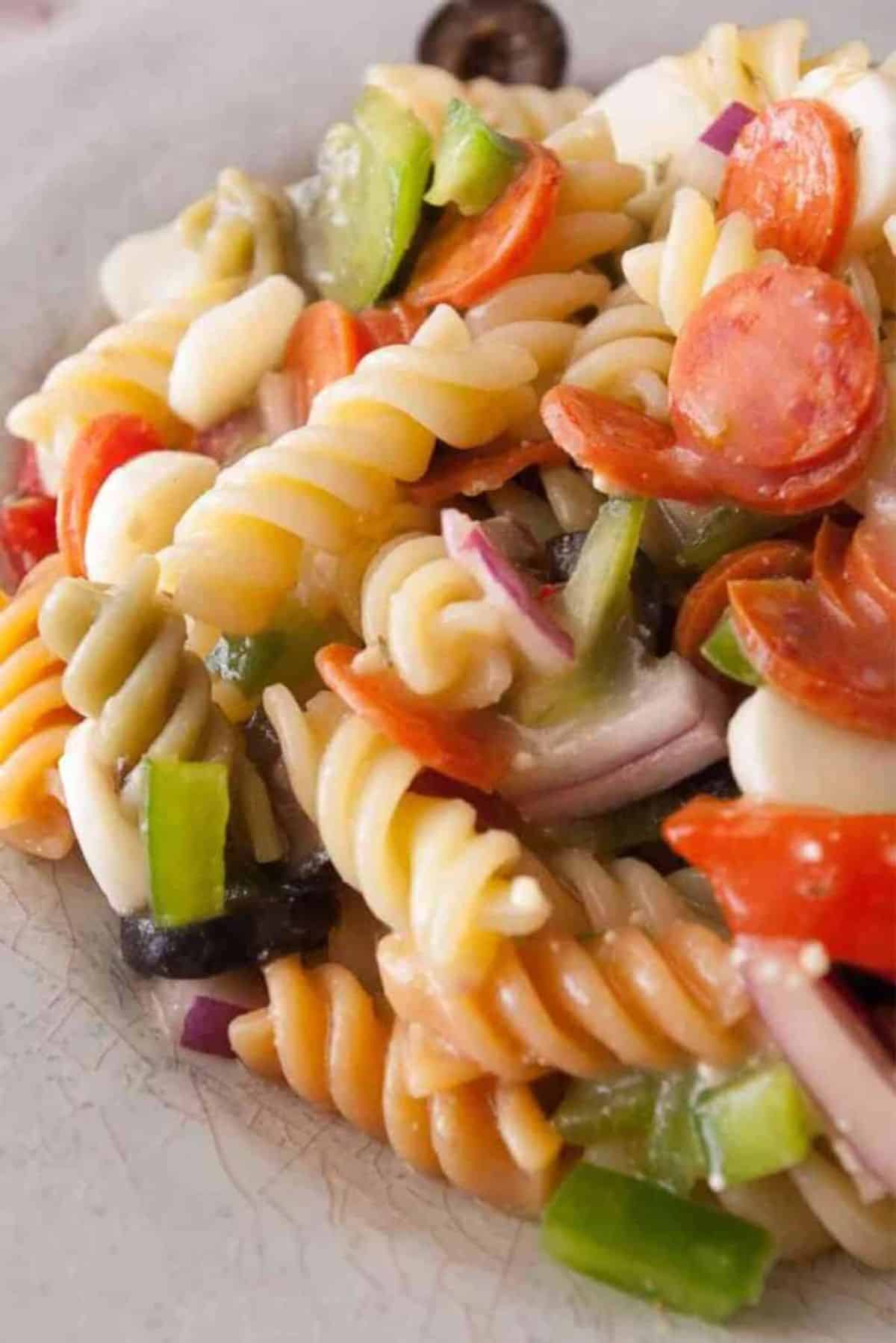 When you pair velvety mashed potatoes with the al dente and crunch of a Zesty Italian Pasta Salad, it's a match made in dinnertime heaven.
This pasta salad is a deliciously satisfying Italian-American classic that complements mashed potatoes beautifully, as the potatoes serve as another base (alongside the pasta) for flavorful ingredients like pepperoni, olives, and bell pepper.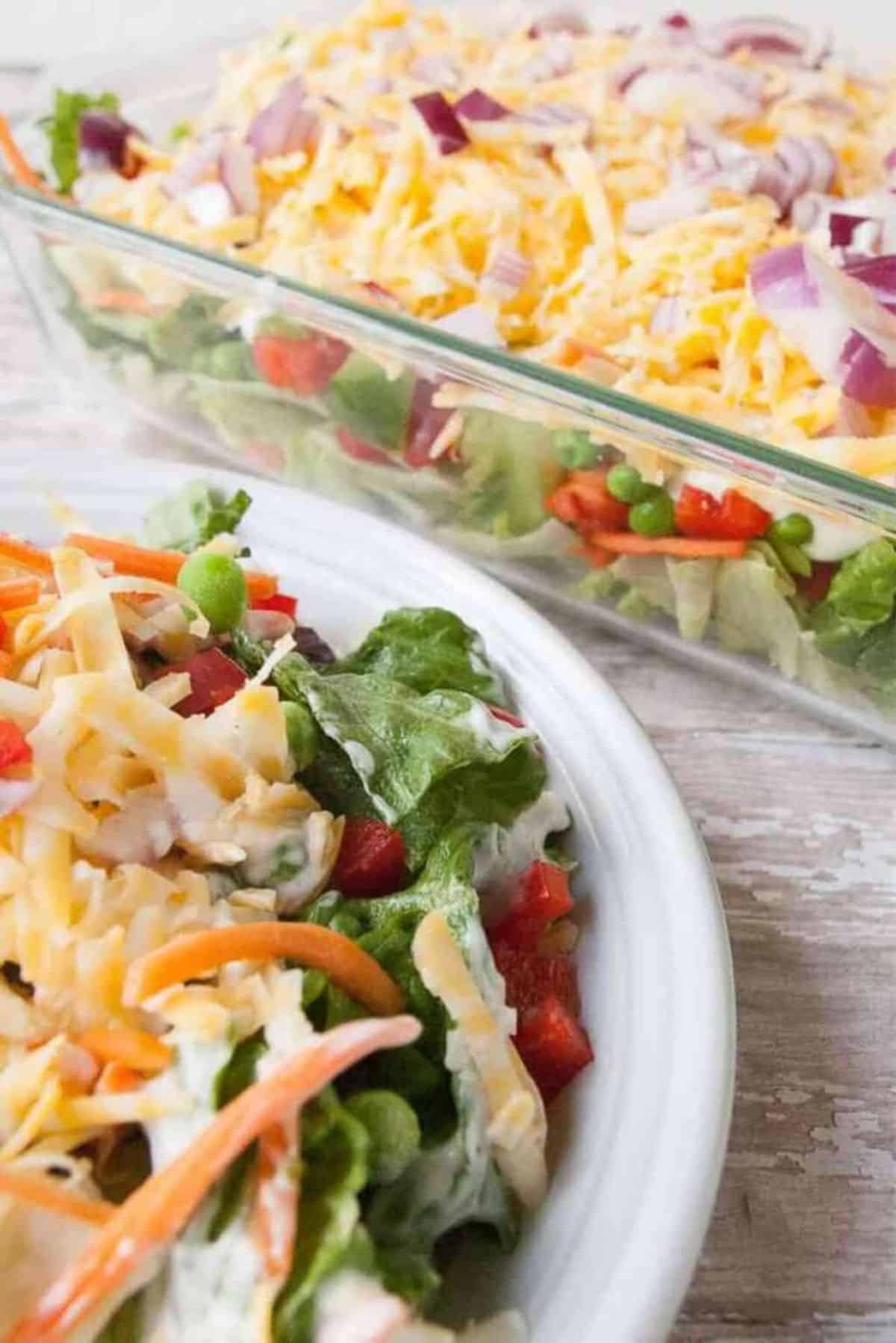 The crispness of the fresh greens in this Overnight Layered Green Salad adds an inviting consistency when paired with buttery potatoes.
This delightful duo is ideal for a holiday feast, a cozy family dinner, or a potluck gathering where you want to impress your friends with a balanced and healthy side dish.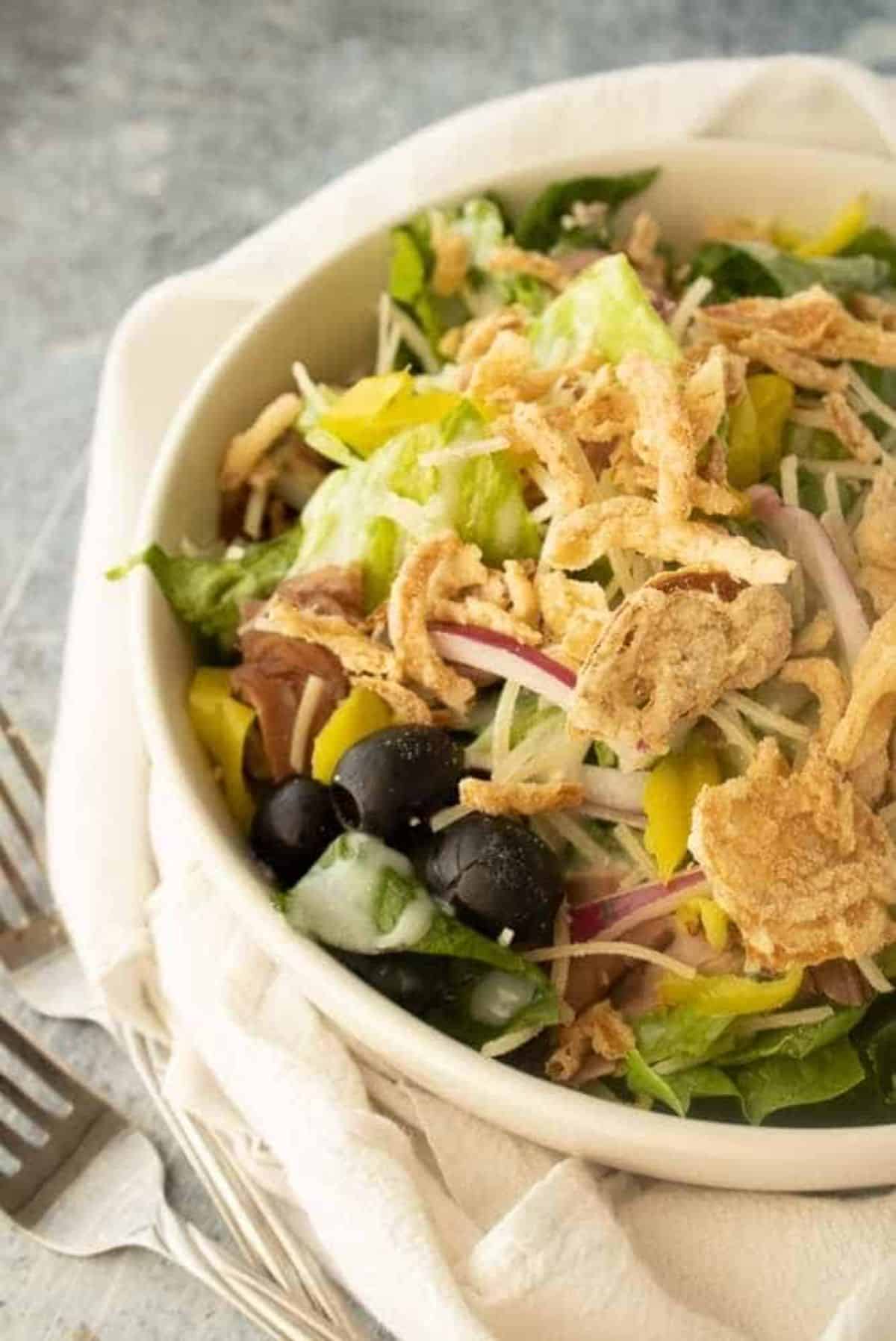 This Roast Beef salad also offers a relatively healthy pairing option for buttery mashed potatoes, similar to the salad above.
However, it's ideal for those who want to add more protein to this meal. You won't regret preparing this salad's savory, well-spiced roasted beef.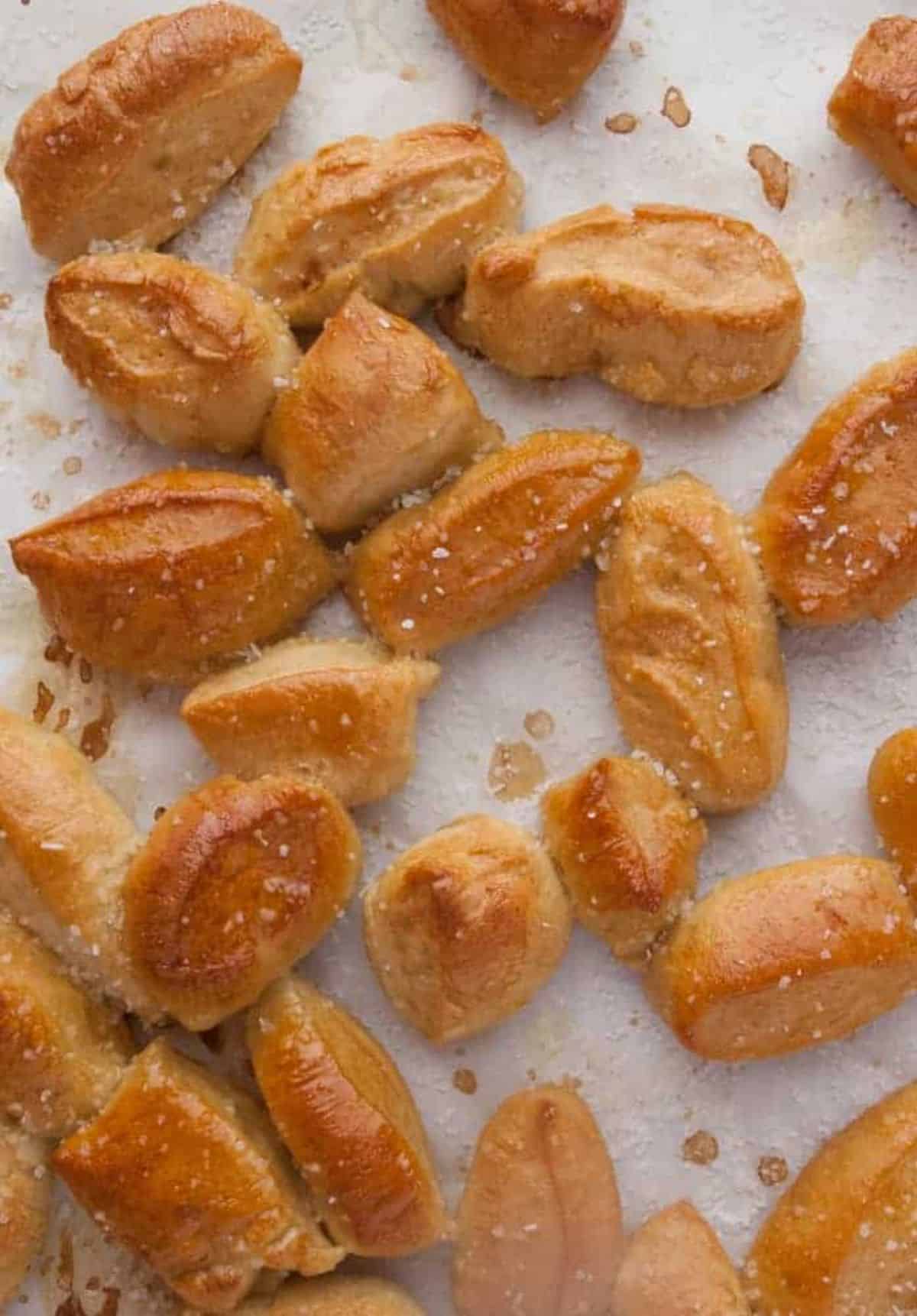 The combination of the creamy mashed potatoes and these Soft Pretzel Bites will surely leave your taste buds dancing with delight.
We recommend adding a side of veggies for a more dynamic mouthfeel (and a few more nutrients), but otherwise, it's a fantastic idea to combine these two dishes.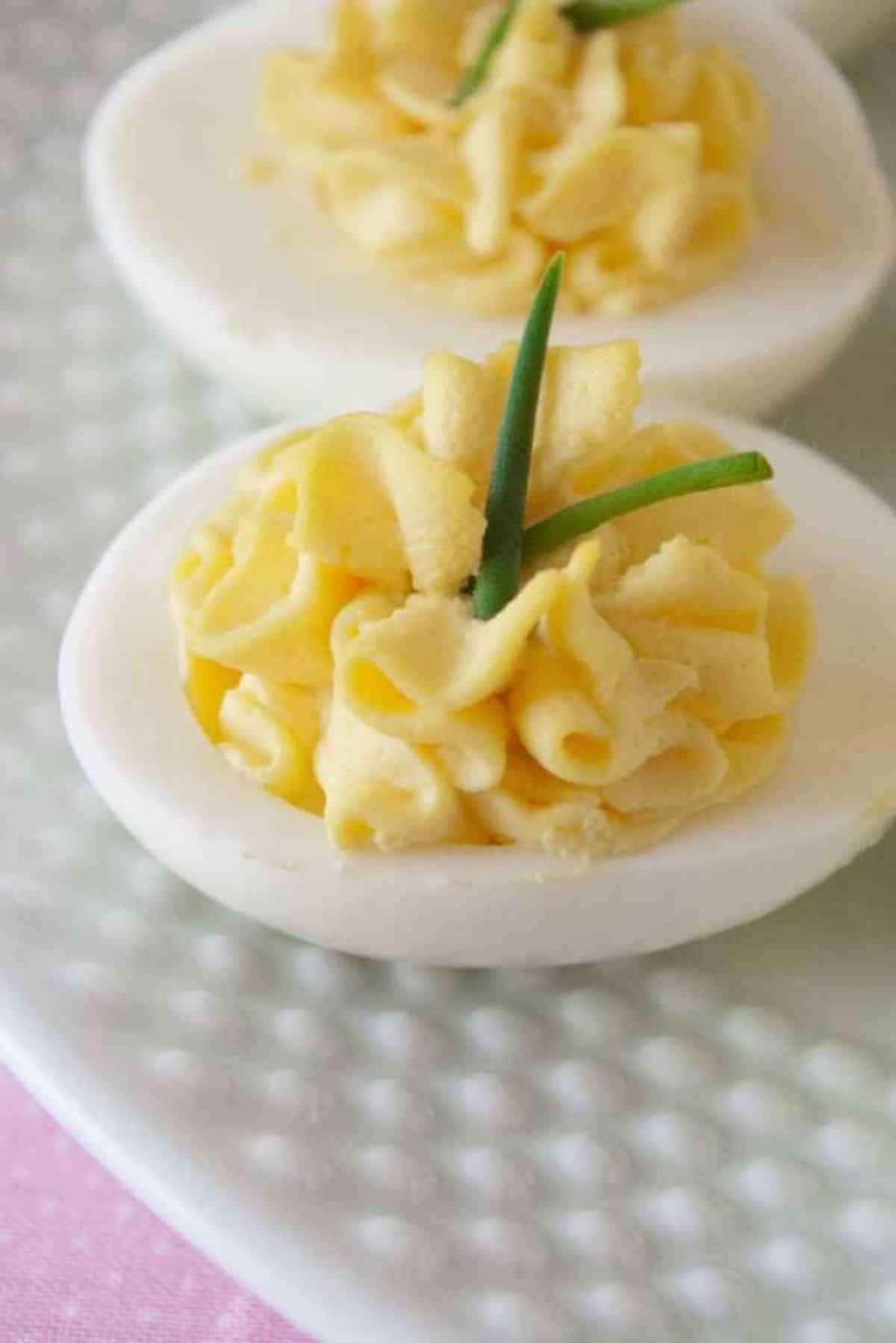 Spoiler alert: dill pickle juice is the secret ingredient, and it works like a charm!
And extra-rich, creamy mashed potatoes pair perfectly with the tangy, slightly sweet, deviled eggs.
This duo is perfect for various occasions, from a quick weeknight lunch to a casual backyard BBQ.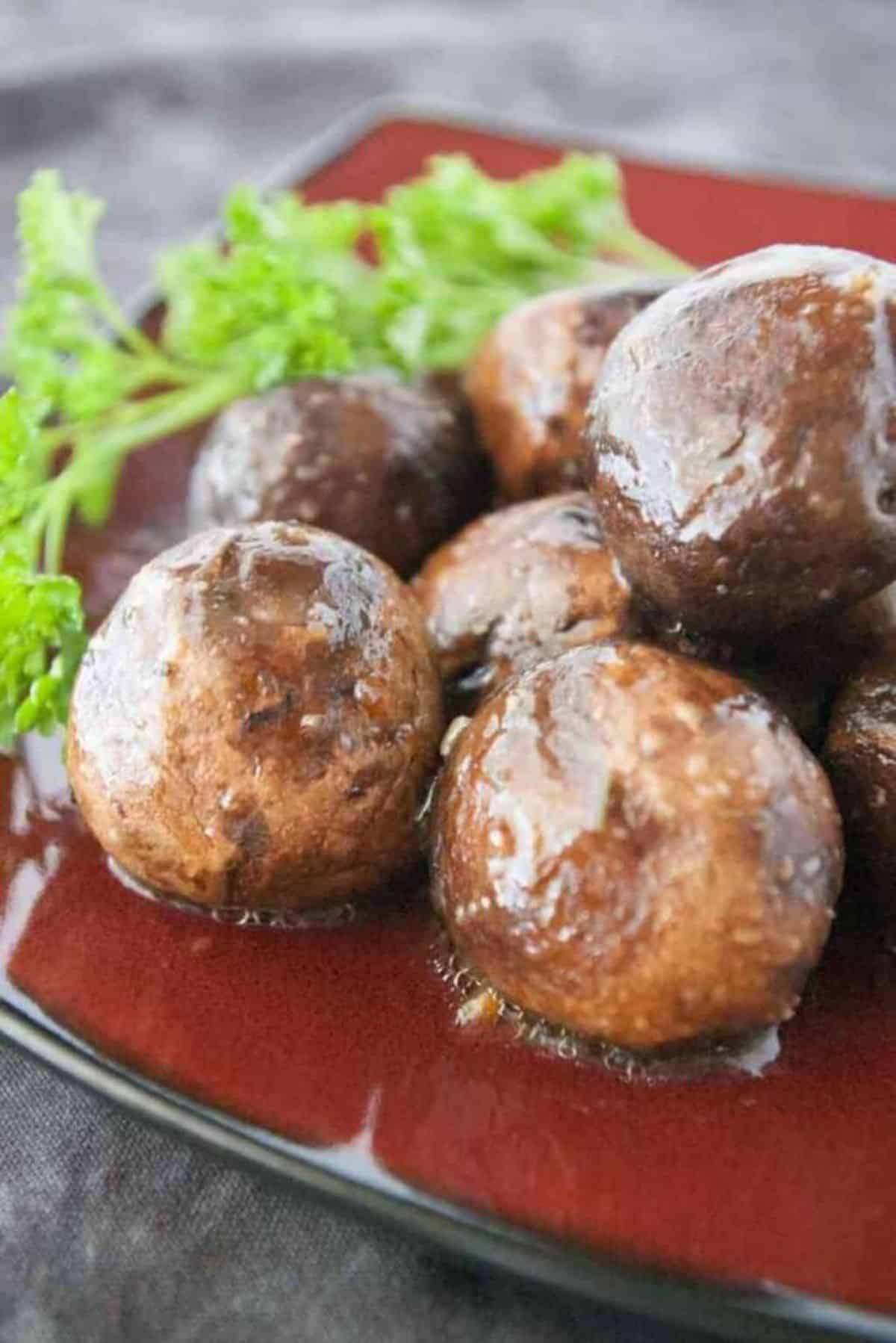 The combination of Slow Cooker Italian Mushrooms and mashed potatoes is a highly agreeable one, to say the least.
The contrast between the warmth and spiciness of the Italian Mushrooms and the fluffy, creamy potatoes creates a delightful balance of flavors and textures that represents Italy's beautiful culture very well.