If you're a seafood lover and enjoy indulging in fish-based meals, then you know that a delicious vegetable side dish can perfectly complement your meal. The proper selection of vegetables can add freshness and nutrition to your fish dish, elevating it to a new level.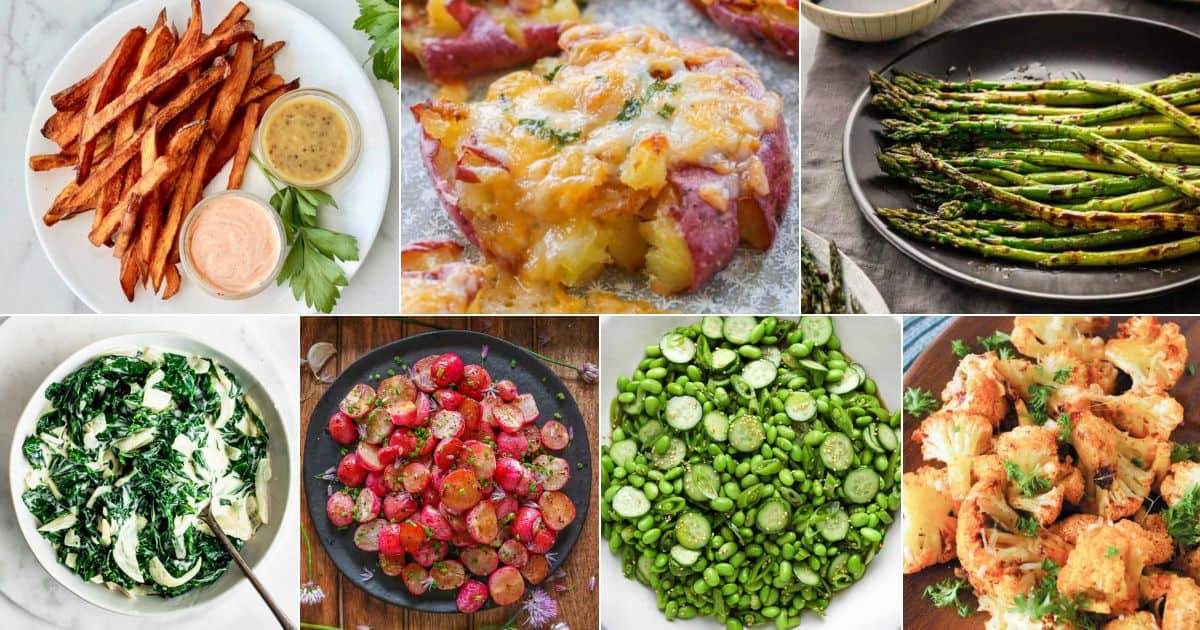 Whether you're cooking grilled salmon, pan-seared halibut, or baked cod, these 17 vegetable side dishes inspire you with their vibrant colors and easy preparation. So, let's dive into this culinary adventure and explore the wonderful world of vegetable side dishes that perfectly complement your fish meal!
Jump to: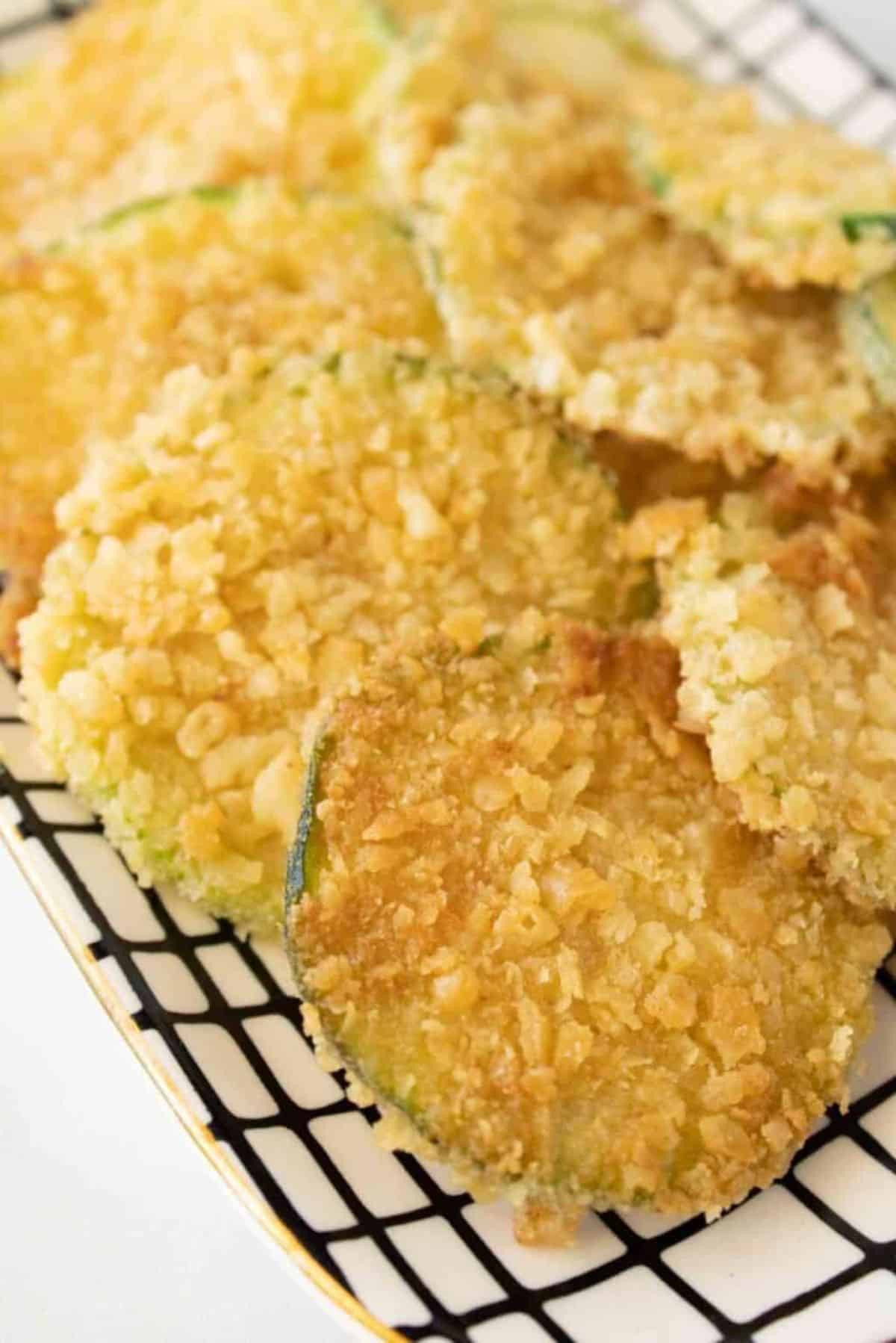 Fried zucchini chips are a delectable vegetable side dish that pairs wonderfully with fish. Zucchini chips' crispy and flavorful nature add a delightful crunch to your meal, contrasting texture to the tender and juicy fish.
The mild and slight sweetness of zucchini is complemented by the savory notes of the breading, making for a perfect balance. When fried to perfection, these golden-brown chips have a satisfyingly crispy exterior while retaining a tender interior.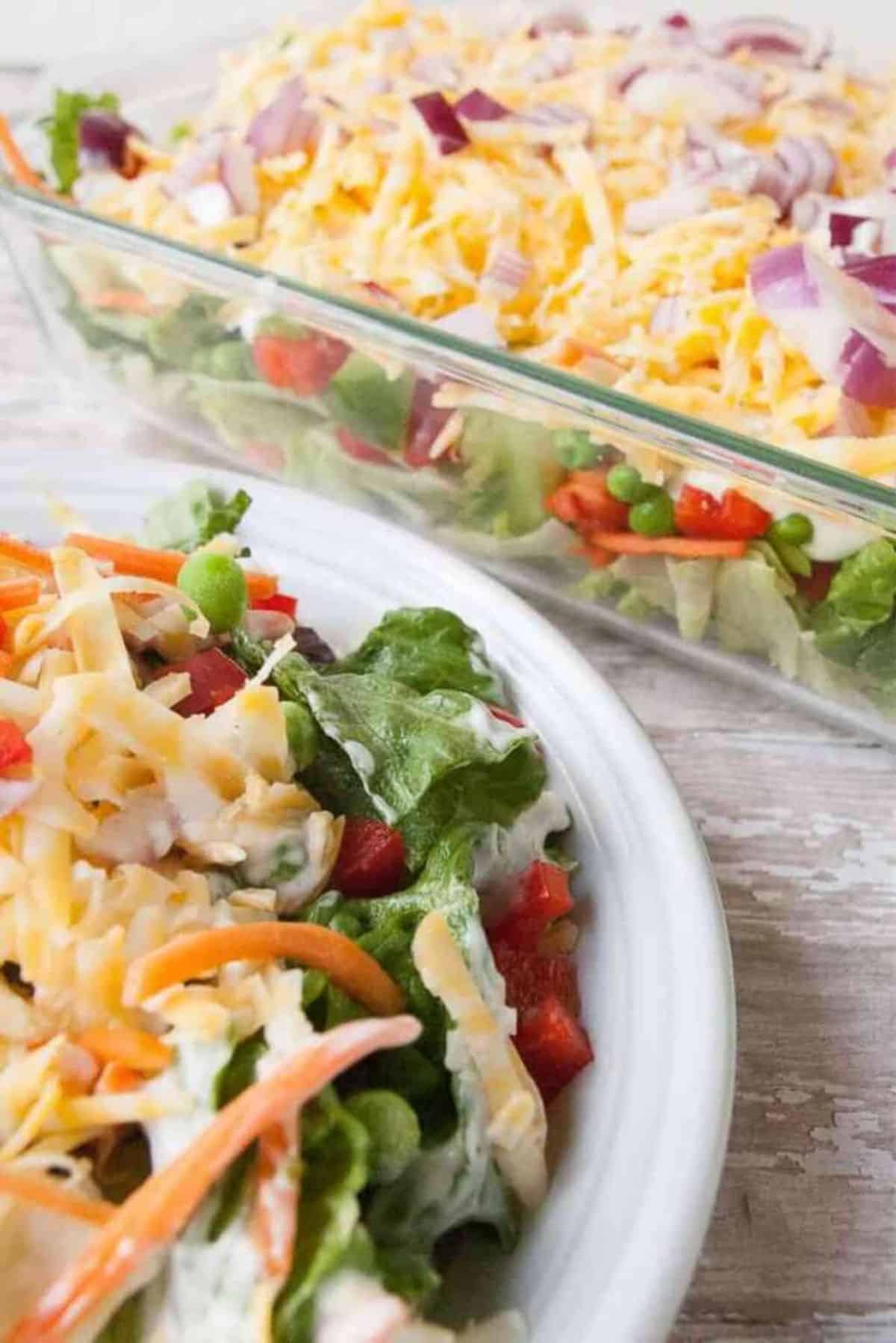 This unique salad is not only visually appealing with its beautiful layers of colorful vegetables and complements fish dishes wonderfully.
The crisp and fresh layers of lettuce, spinach, cucumbers, and bell peppers provide a refreshing crunch, while the creamy layers of mayonnaise, sour cream, and cheese add a rich and indulgent creaminess. The tangy dressing made with vinegar, sugar, and mustard adds a zesty kick, balancing out the taste of the vegetables.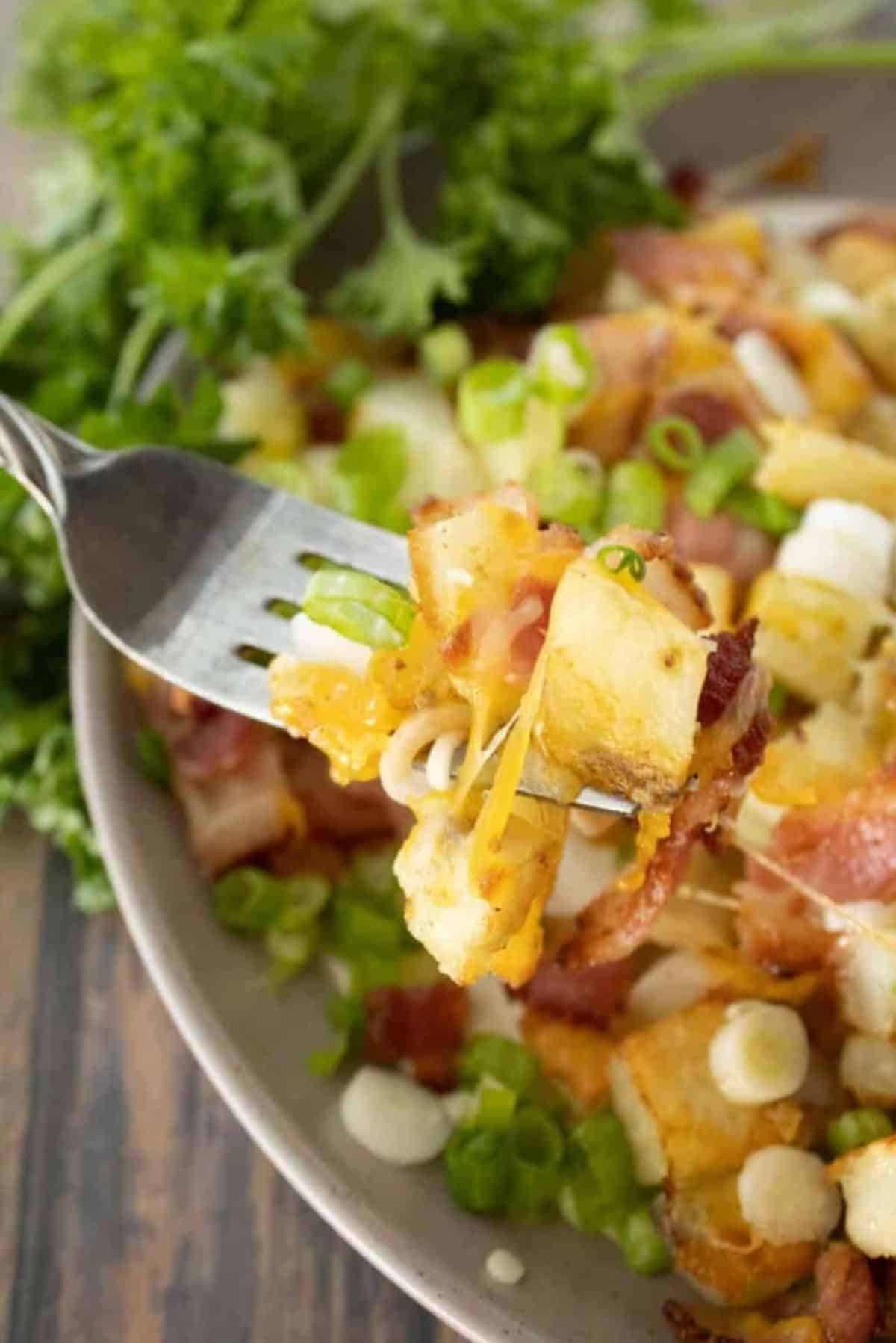 These loaded potatoes are flavorful and are topped with an irresistible combination of cheese, bacon, green onions, and sour cream. The melted cheese adds a gooey and savory element, while the crispy bacon provides a smoky and salty crunch.
The green onions add a fresh and zesty kick, while a dollop of sour cream adds a creamy tang. Roasted Loaded Potatoes create a mouthwatering experience that enhances the taste of your fish dish.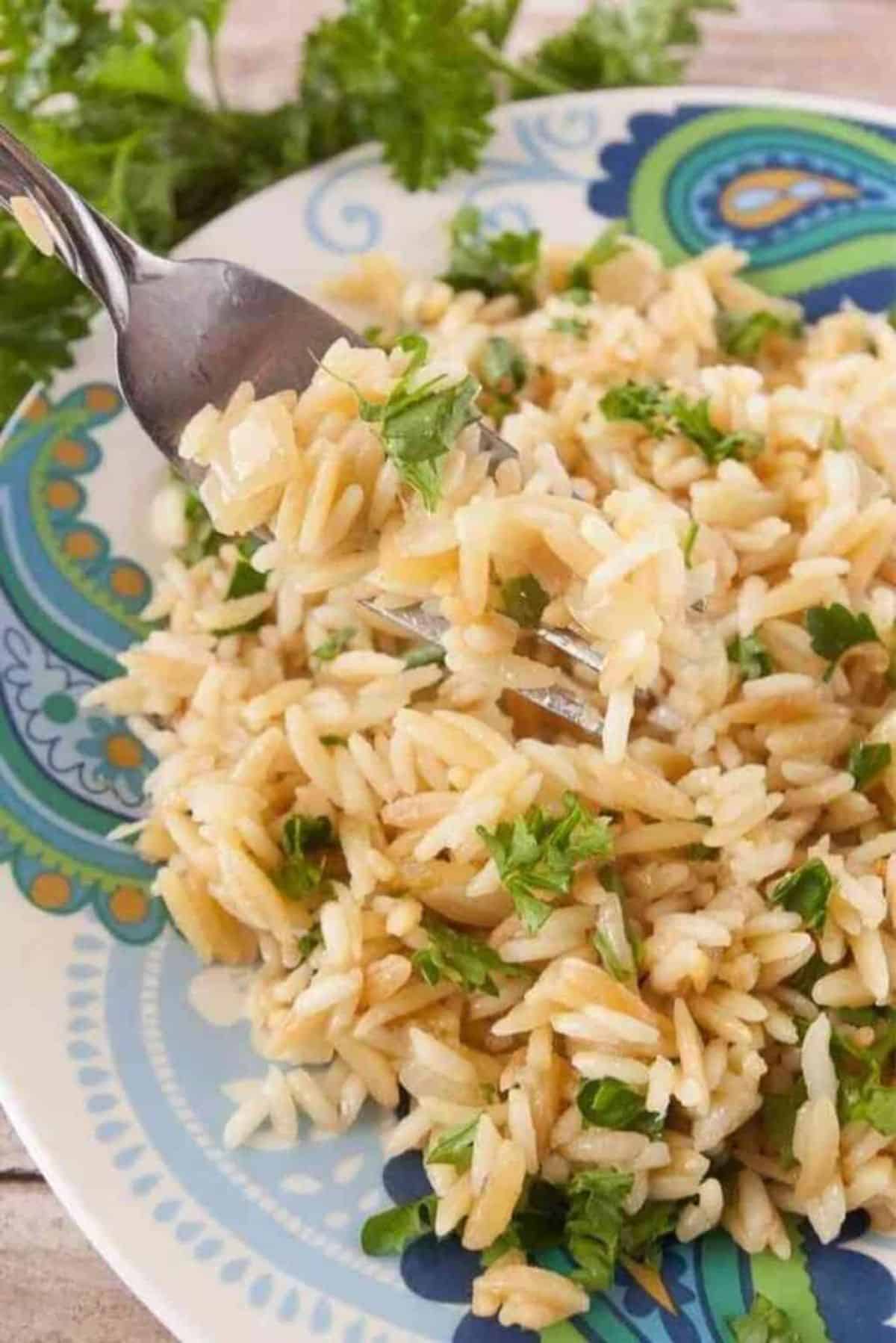 Orzo Rice Pilaf is nothing short of magical, with the buttery richness, the savory undertones of herbs, and the sweet notes of onions and garlic all coming together in a symphony of deliciousness. This dish is not only a taste sensation, but it is also a visual masterpiece with its beautiful golden hue and fluffy texture.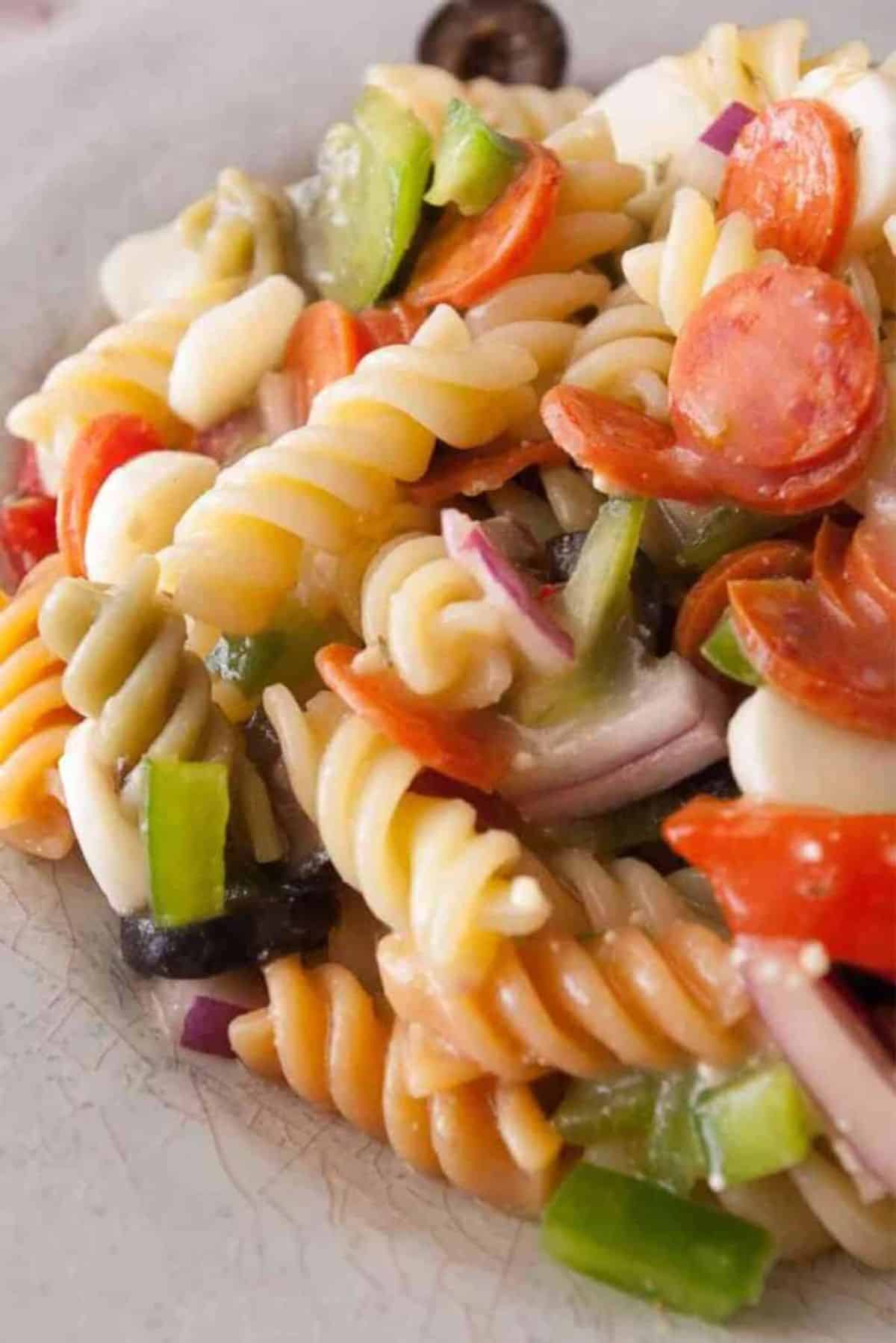 Get ready to tantalize your taste buds with the vibrant flavors of Zesty Italian Pasta Salad! This sensational side dish is the perfect accompaniment to fish, bringing zesty and tangy flavors to your meal. Made with al dente pasta tossed in a tangy Italian dressing, this salad is loaded with colorful veggies like cherry tomatoes, bell peppers, olives, and red onions, adding a rainbow of taste, flavor, and color.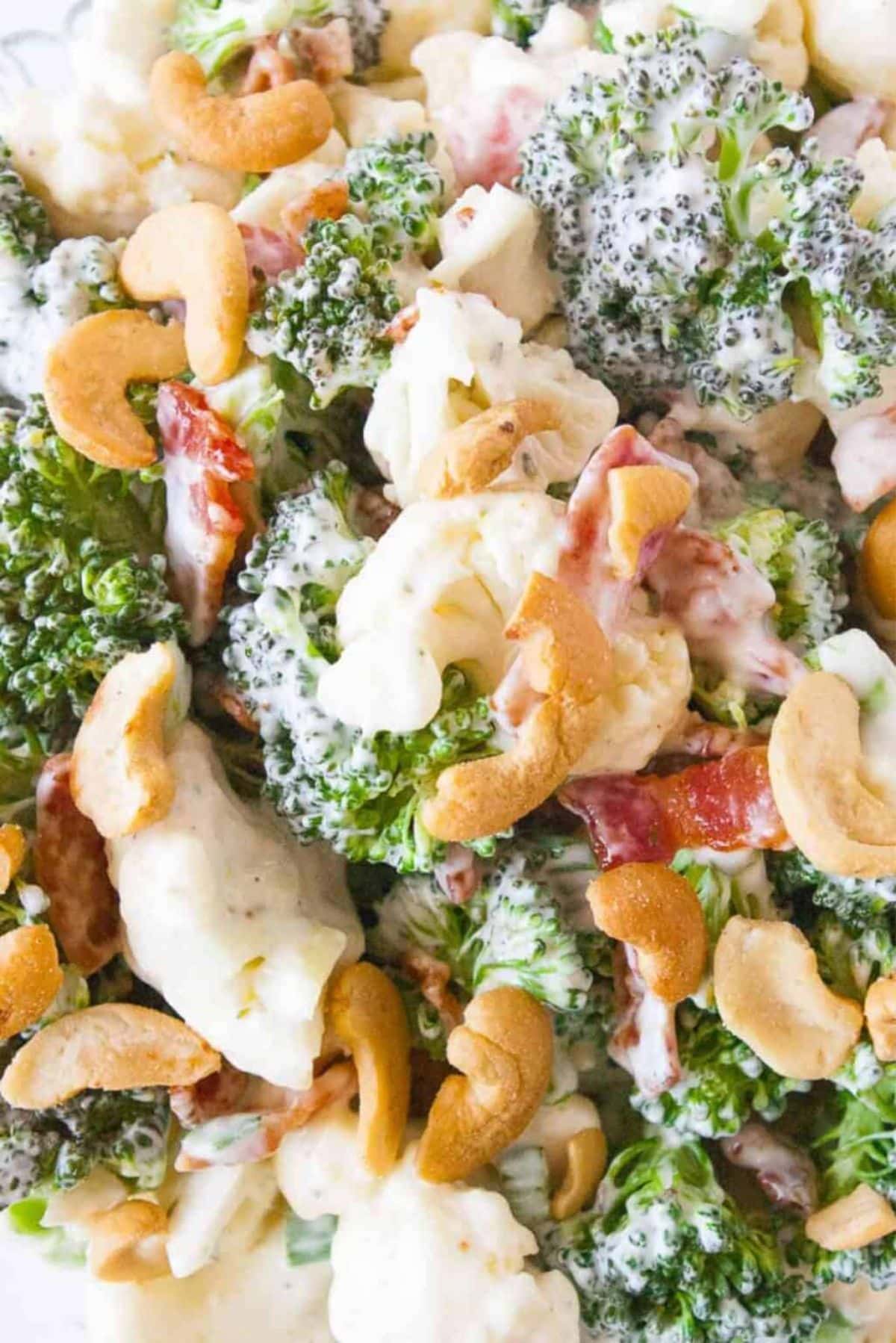 The smoky and savory notes from the bacon perfectly complement the mild and tender fish, creating a harmonious and satisfying bite. The creamy dressing, made with mayo, sour cream, and a hint of tanginess from vinegar, adds a luscious and velvety coating that brings all the flavors together in perfect harmony.
Most fish dishes are on the lighter side, but this salad rounds out your meal with the addition of the protein in the bacon and the heartier vegetables. This dish will ensure that you are full at the end of your meal.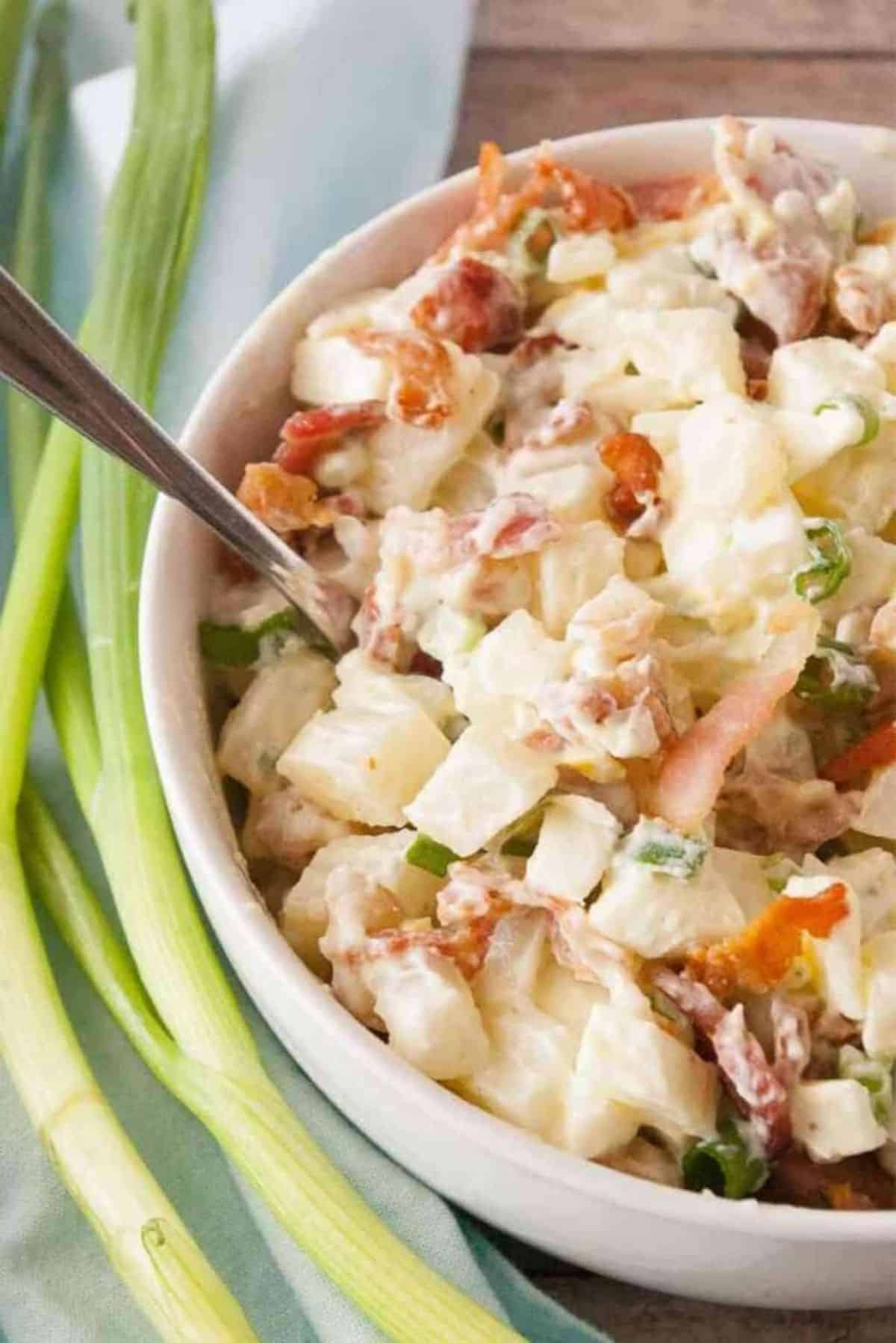 This herbaceous side dish is a perfect match for fish, adding a burst of briny notes that perfectly complement the delicate flavors of fish. The combination of tender boiled potatoes tossed with a creamy dressing infused with dill pickle juice creates a taste bud explosion that is both refreshing and addictive.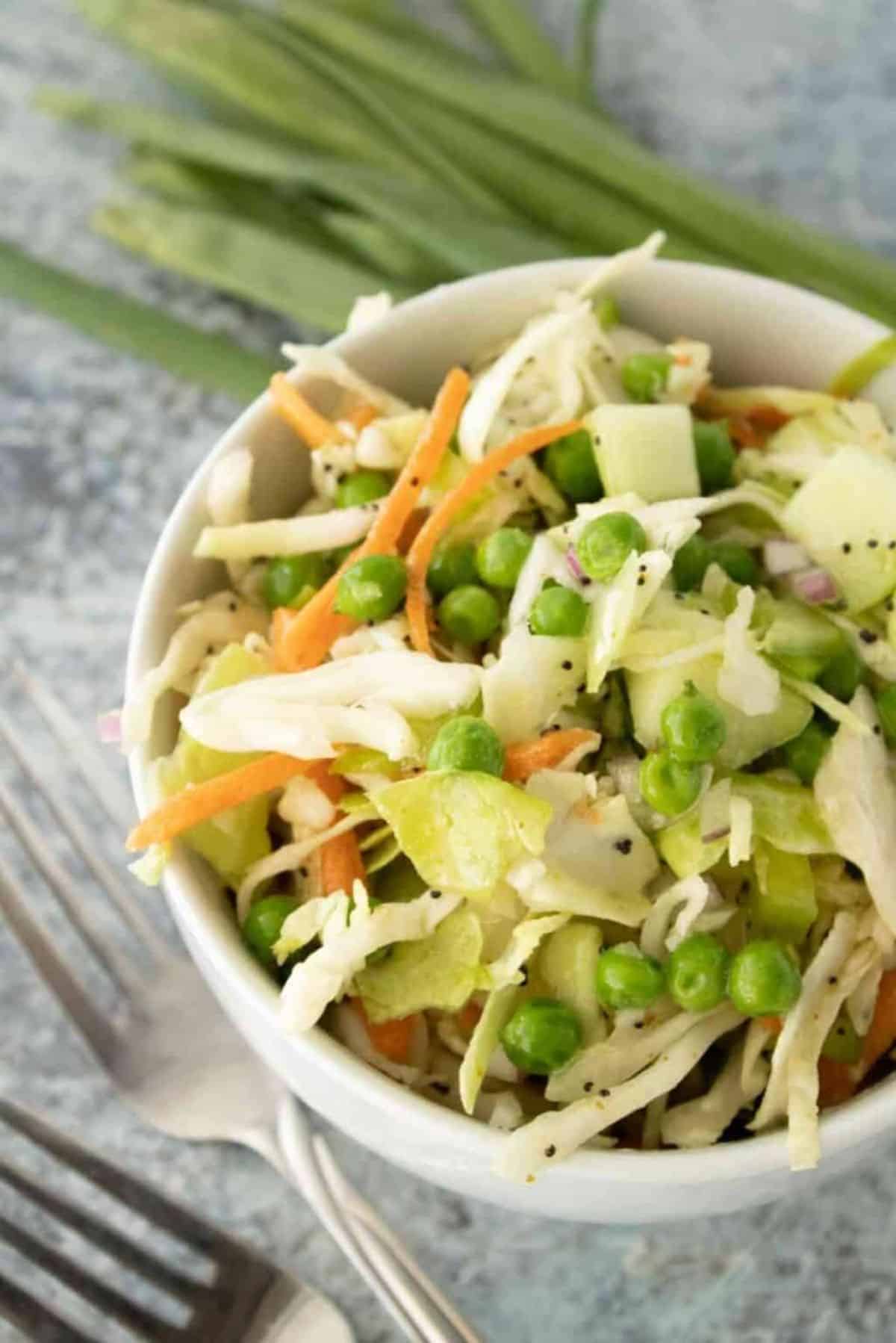 The poppy seeds add a subtle nutty taste, adding depth and complexity to the dish. Sweet Poppy Seed Coleslaw is a visually stunning dish that will impress your guests and make your fish meal genuinely memorable. So, if you're a food lover who appreciates the perfect balance of sweet and tangy flavors with a satisfying crunch, this coleslaw is a must-try that will elevate your fish dinner to a whole new level of deliciousness!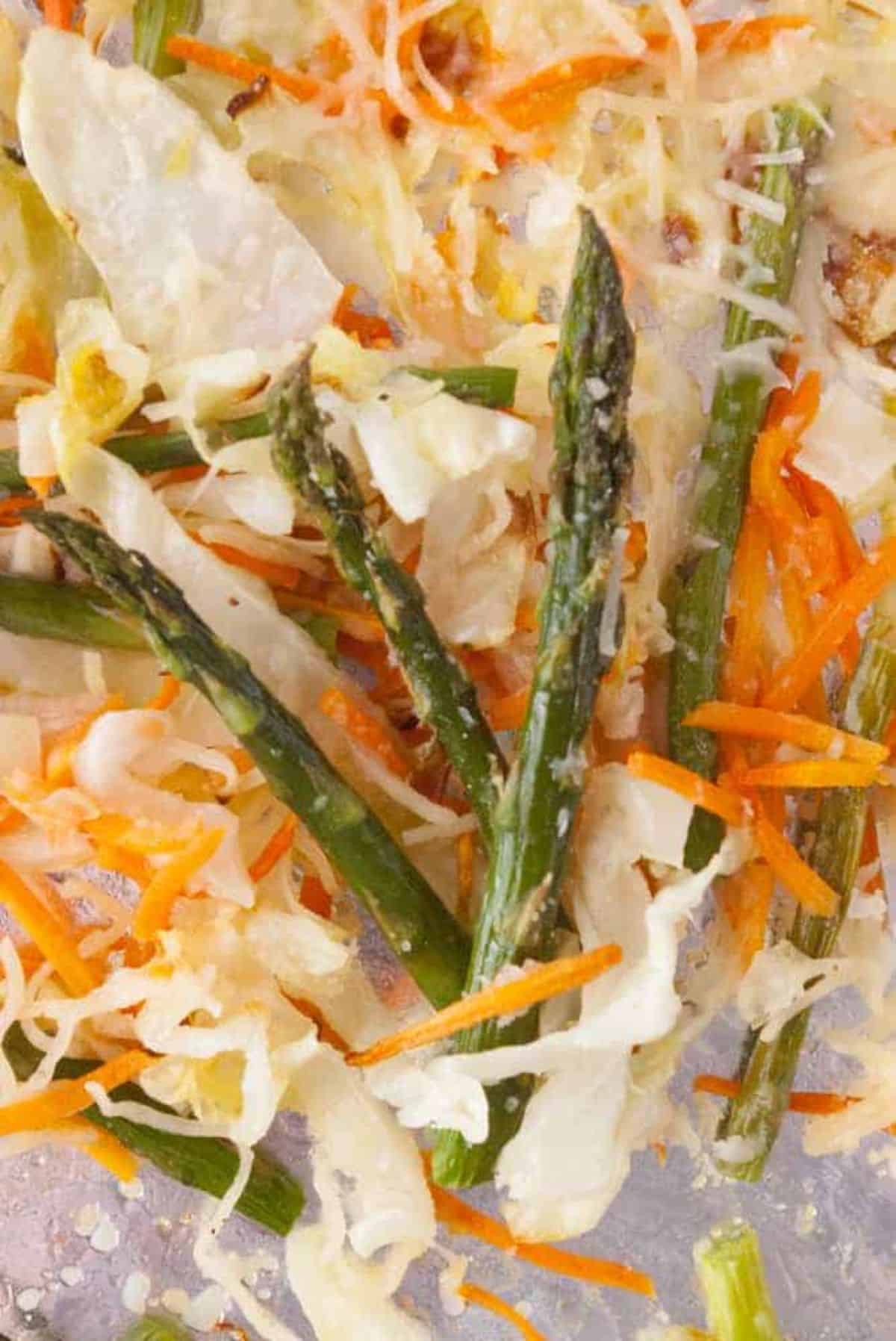 The roasted asparagus, tossed with a blend of herbs, spices, and olive oil, creates a heavenly combination of flavors that is both savory and slightly sweet. The asparagus retains its natural crispness while developing a caramelized exterior that adds depth and complexity to the dish.
So, if you're a food lover who appreciates the perfect balance of textures and nutrition, this roasted asparagus blend is a must-try addition to your fish dinner that will take your taste buds on a culinary adventure!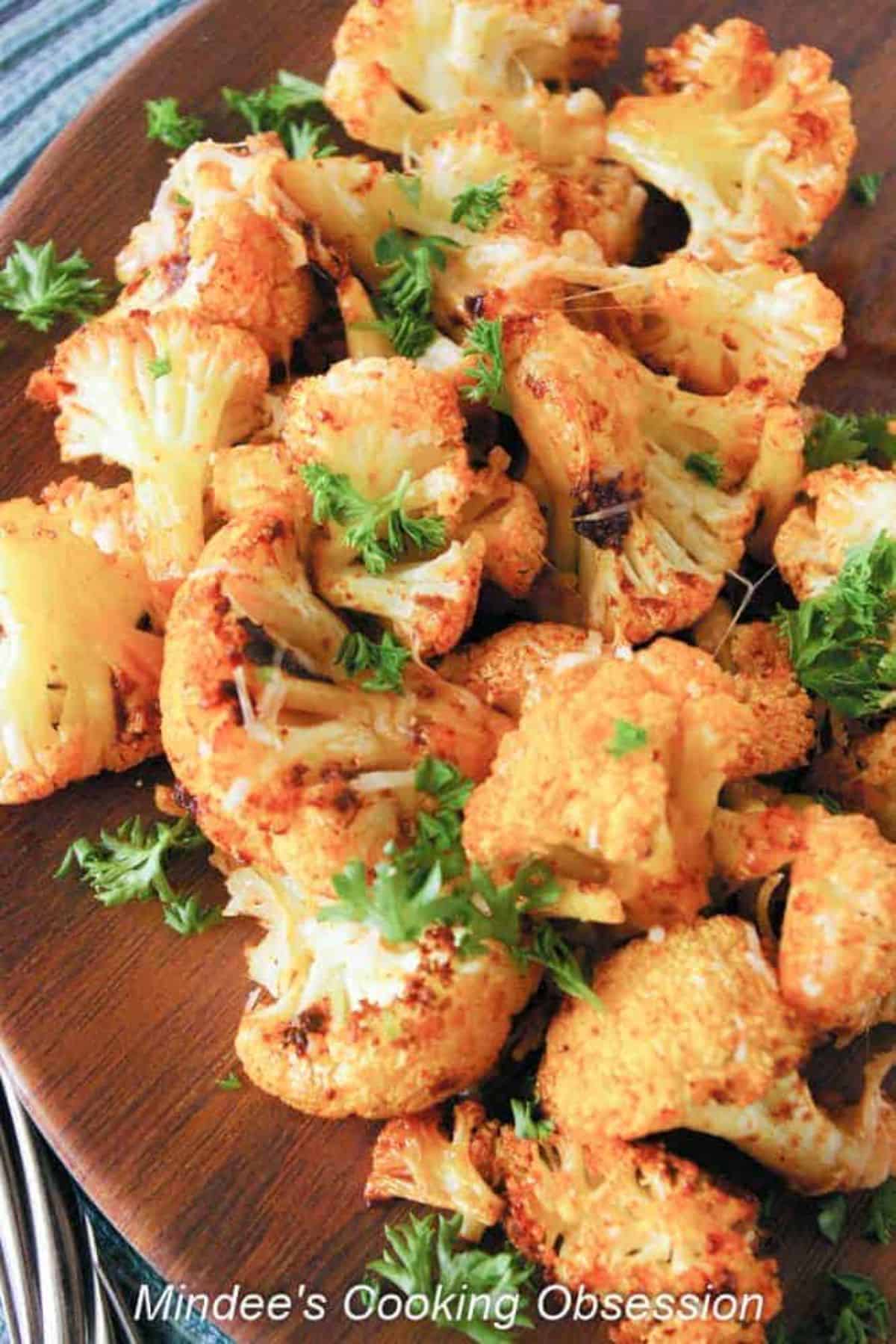 Smokey Parmesan Roasted Cauliflower is not only a delicious side dish, but it's also a unique and creative way to enjoy cauliflower. The cauliflower develops a crispy exterior while retaining its natural sweetness and tenderness on the inside. The addition of parmesan cheese adds a creamy richness that enhances the cauliflower and adds a lusciousness to every bite. The smoky paprika adds a tantalizing aroma that will excite your taste buds.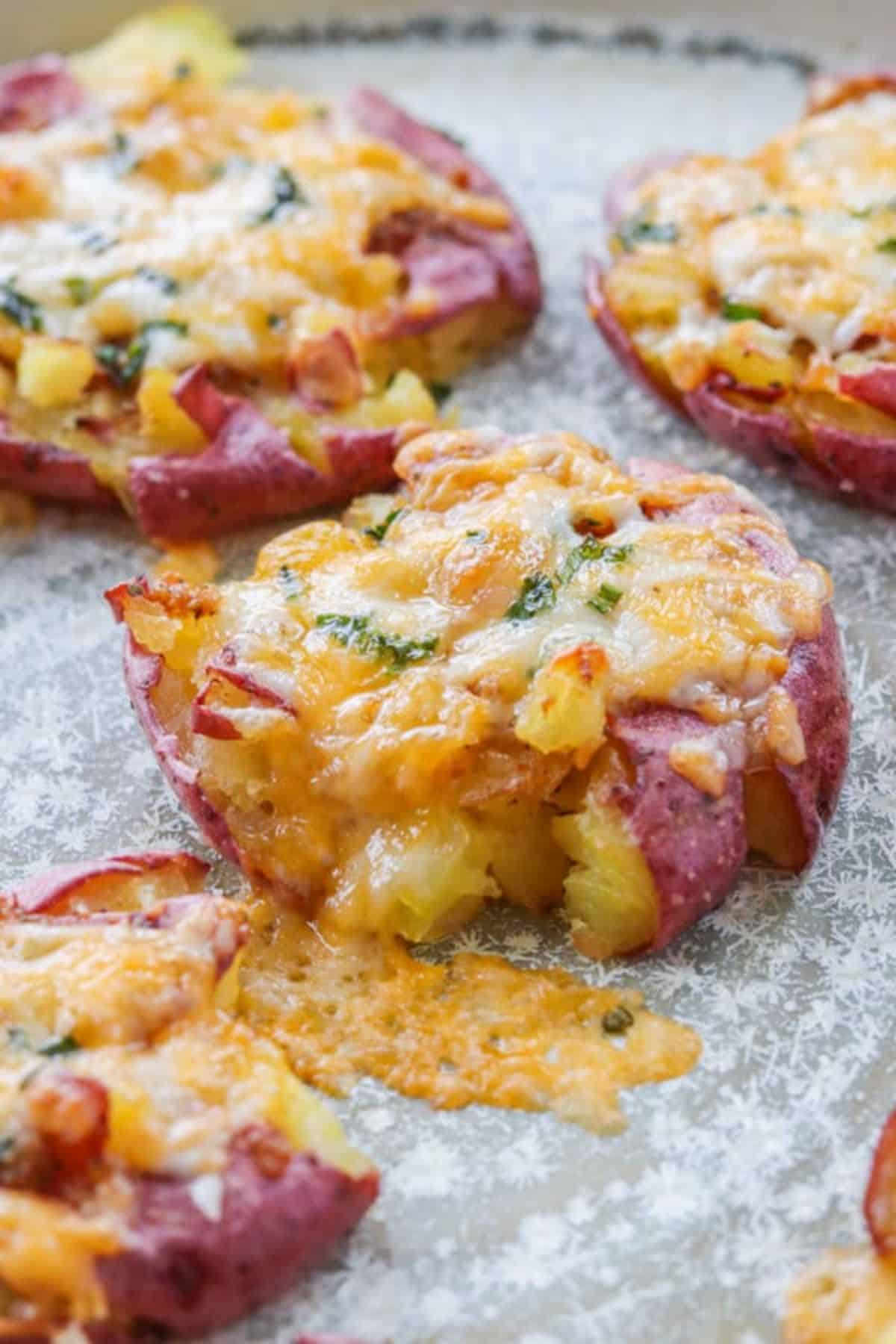 This dish is a match made in culinary heaven, as it perfectly complements the delicate tasting notes of fish with its creamy, savory, and crispy goodness. The tender potatoes are boiled until they are fork-tender, then gently smashed to create a rustic and crispy texture that adds a delightful crunch to every bite.
Smashed Potatoes with Cheese is not only a mouthwatering side dish but also a creative and comforting addition to your fish dinner that will impress your guests and satisfy your foodie cravings.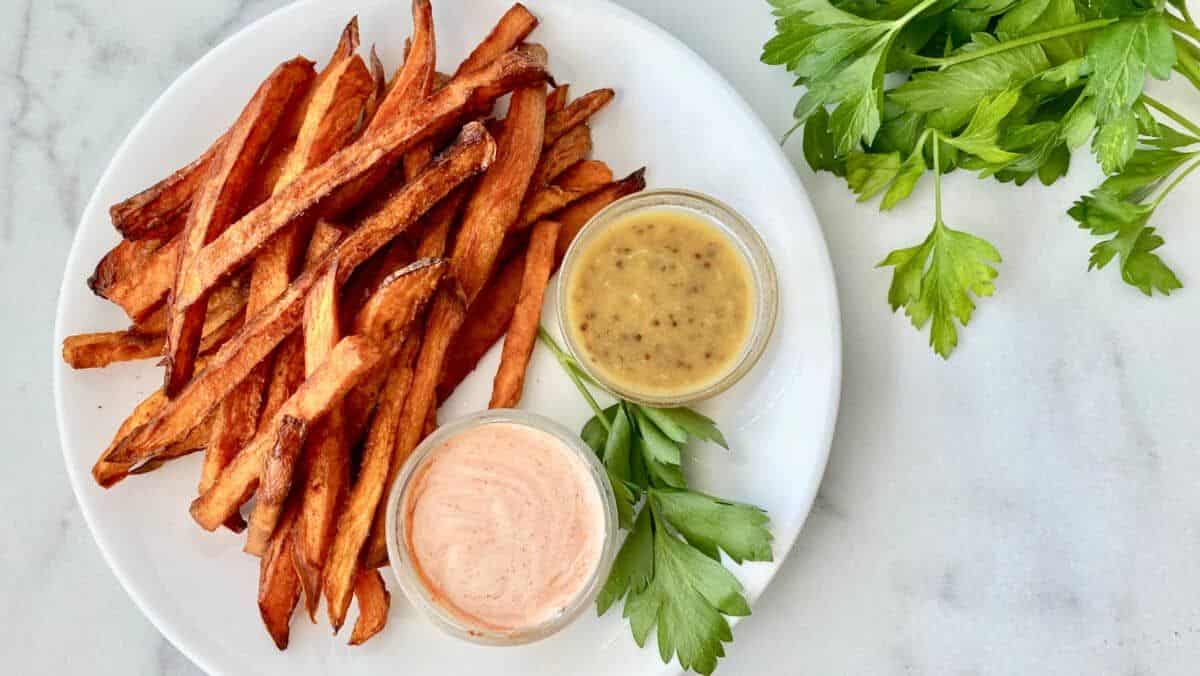 Indulge in a scrumptious, satisfying side dish that perfectly complements your fish meal - Deep Fried Sweet Potato Fries! These crispy and golden fries are a match made in culinary heaven with fish, offering a delightful contrast. The natural sweetness of the sweet potatoes adds a touch of caramelized deliciousness that pairs harmoniously with the savoriness of fish.
Combining juicy cherry tomatoes, creamy mozzarella cheese, fragrant basil leaves, and tangy balsamic vinaigrette creates a symphony of taste. The al dente pasta adds a satisfying chewiness and serves as the perfect canvas for a Caprese salad. With its zesty and tangy notes, this salad adds freshness to your fish meal, making it a perfect choice for warm-weather gatherings or a light and satisfying side dish any time of the year.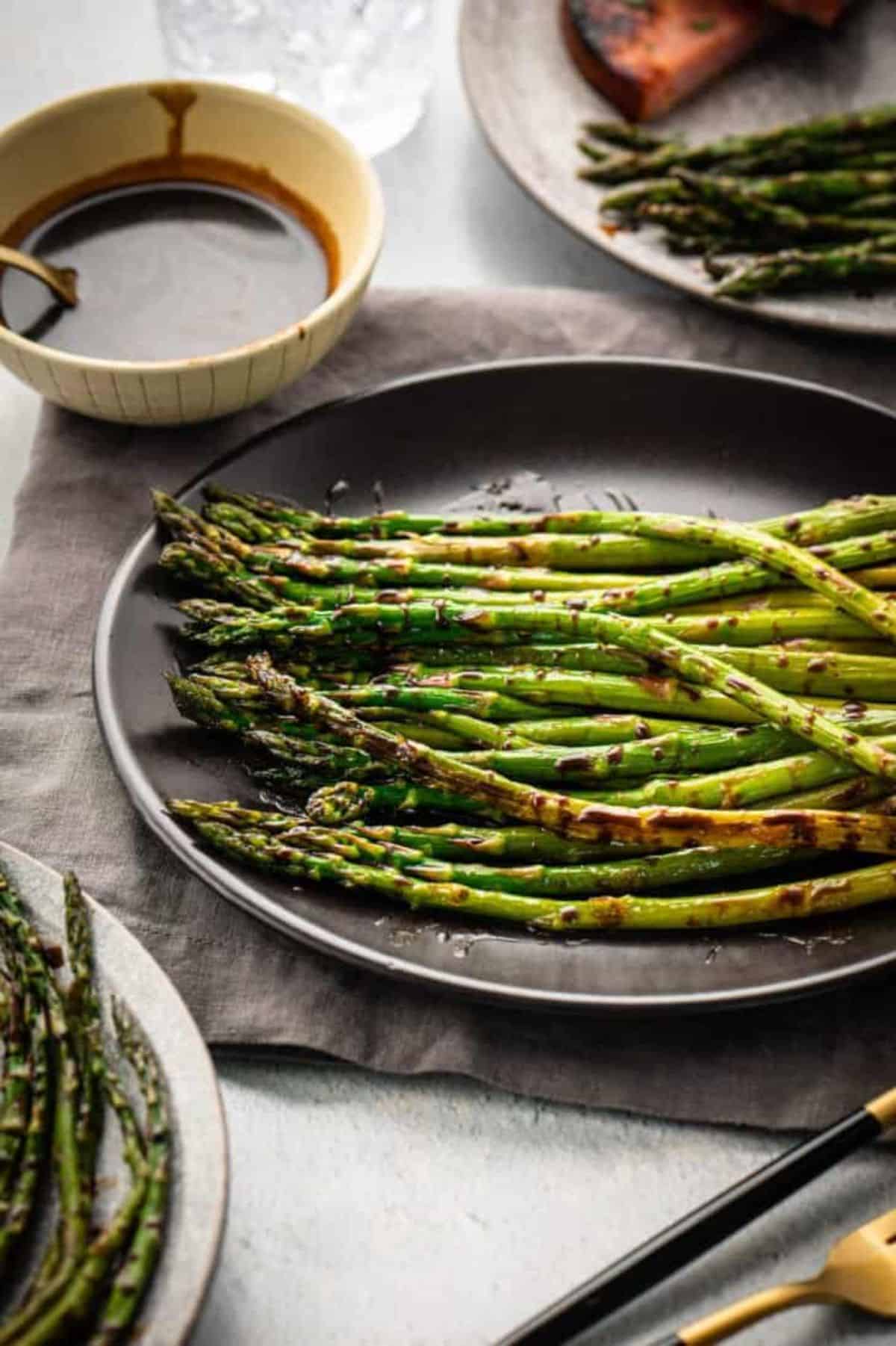 This delectable side dish pairs well with fish. The earthy and tender asparagus spears are perfectly roasted to retain their natural sweetness and crispness and then drizzled with a luscious balsamic glaze that adds a tangy and slightly sweet note to the dish.
Combining the caramelized balsamic glaze with the natural umami of the asparagus creates a harmonious balance that complements the delicate taste of fish. The bright green color of asparagus adds a pop of vibrancy to your plate, making it visually appealing and enticing.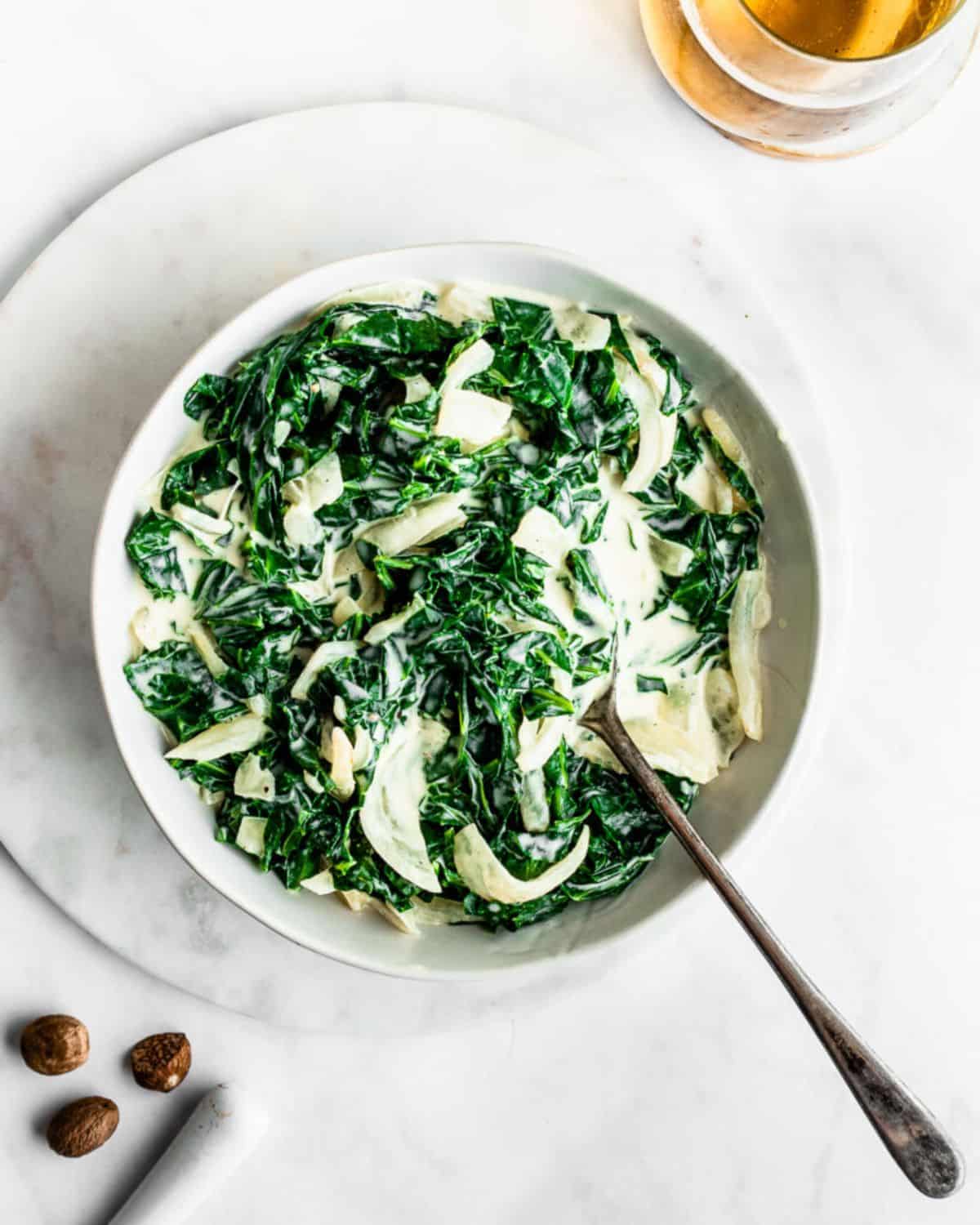 The collard greens are simmered with aromatic herbs and spices, creating a delightful medley of flavors that perfectly harmonize with the delicate taste of fish. The dish's creaminess adds a luxurious touch to your meal, making it an indulgent treat for your taste buds. The natural bitterness of collard greens is mellowed out by the creamy sauce, resulting in a perfectly balanced dish. The creamy sauce is so good that you will forget that you are eating collard greens.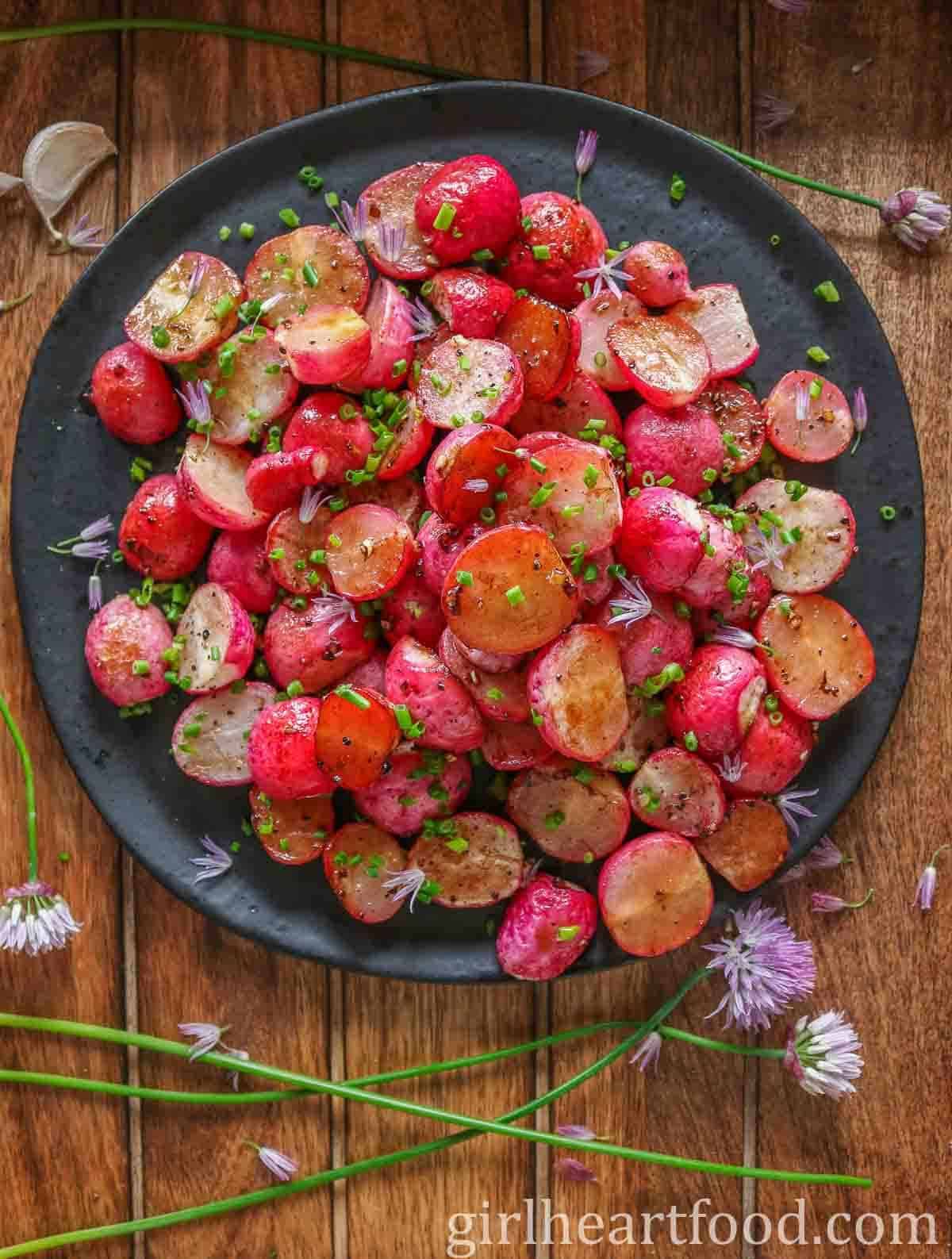 The roasting process also mellows out the sharpness of raw radishes, making them more palatable and enjoyable. The crispy texture of roasted radishes adds a satisfying crunch to your meal. Roasted Radishes are a delicious side dish for fish and a visually appealing addition to your dinner table.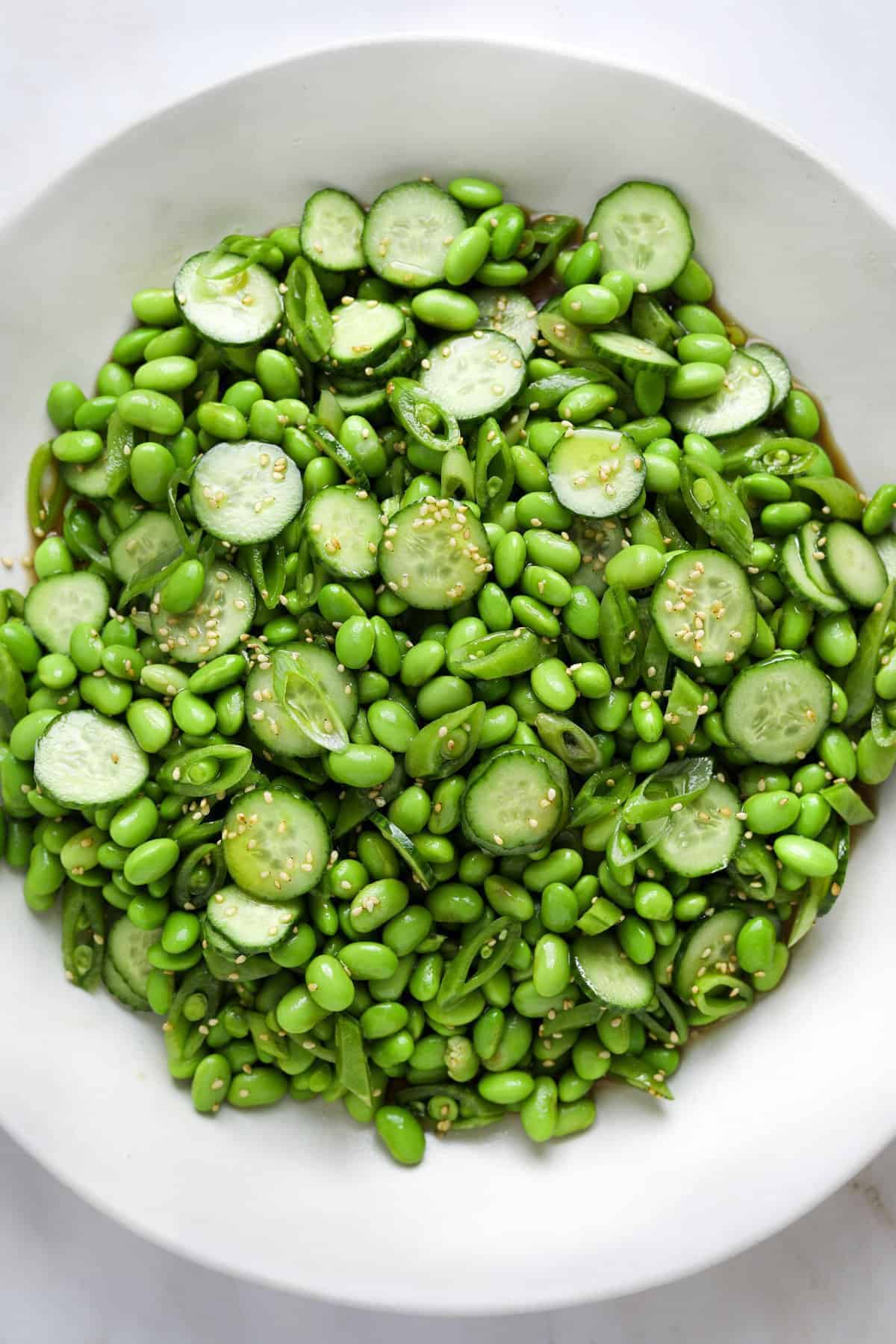 The crisp and slightly sweet edamame beans provide a satisfying crunch, while the colorful medley of vegetables adds a refreshing and crunchy texture to the dish. The dressing, often made with zesty citrus or tangy soy-based notes, adds a burst of brightness that enhances any dish.
Final Thoughts
These 17 vegetable side dishes for fish are the perfect accompaniments to elevate your seafood dining experience to new heights. From roasted asparagus to creamed collard greens, these flavorful and nutritious sides add color and texture to your fish meal. Whether you're grilling, baking, or pan-searing your fish, these vegetable sides are designed to complement the delicate features of fish and enhance your overall dining experience.