Craving a classic tartar sauce recipe to go with your fish? No worries, you can make your own tartar sauce with this simple recipe! It's so easy! Capers give this sauce an authentic taste that you just can't get from the jarred stuff. With only 4 ingredients, this homemade recipe is ready in 5 minutes!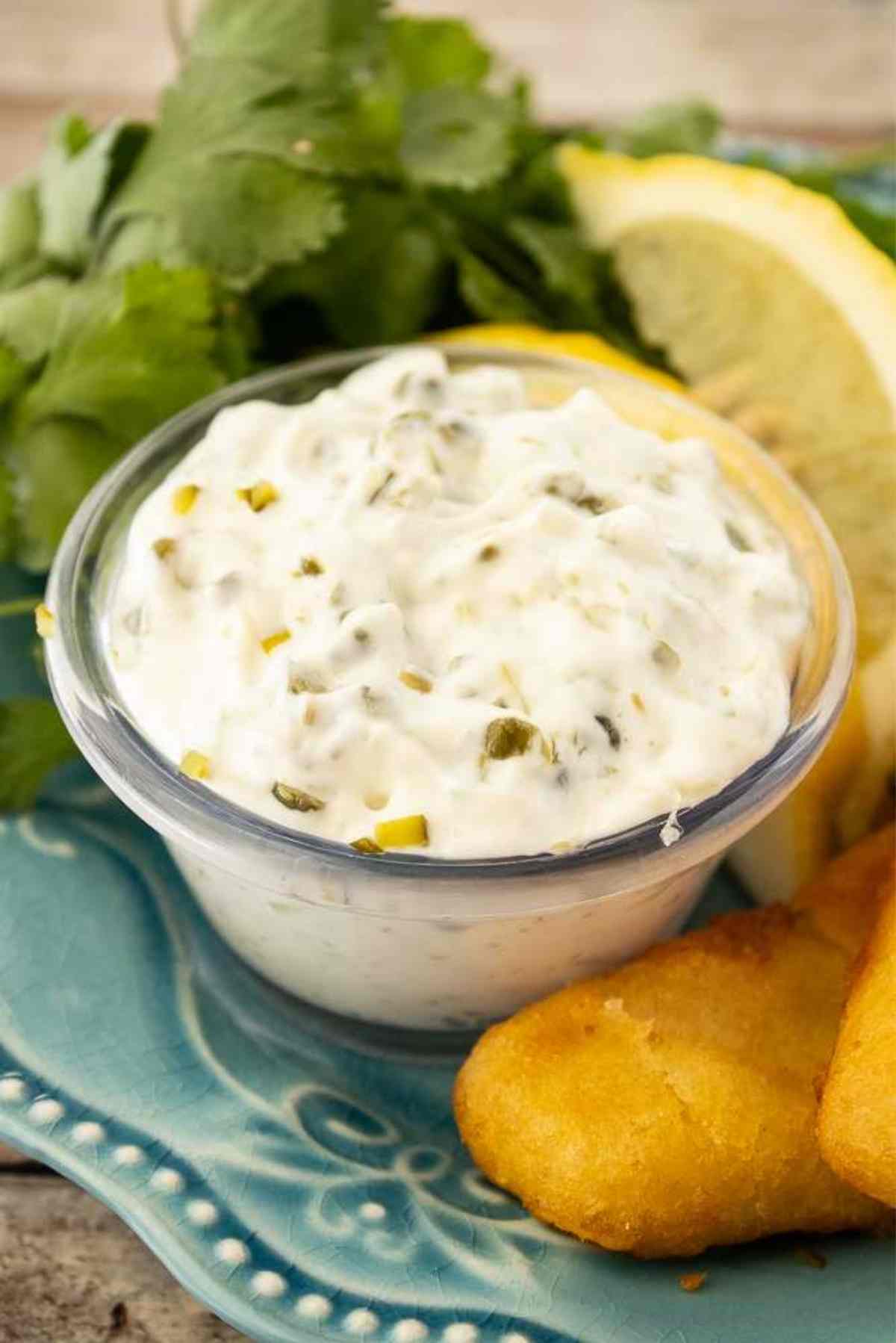 Jump to:
Why You'll Love This Recipe
Only needs 4 ingredients with a total time to make at 5 minutes!
You can make a small batch or a lot, depending on what you need to minimize waste and expense.
Homemade sauces taste better than pre-made, bottled sauces, and this one is the best!
This classic condiment goes with fish, crab cakes, fried seafood, fish sticks or even french fries!
Ingredient Notes
Capers - these are what give this homemade sauce the best flavor. Don't substitute them or leave them out. You can usually find them next to the pickles, pickled jars of peppers, olives, and such in the store. Note capers are not caper berries.
No Cream of Tartar? - It's a misconception that this sauce has cream of tartar in it. The "tartar" part of the name is from the Tatar tribe in Russia/Ukraine, who introduced finely minced meat eaten raw, which became known as hamburg steak. The sauce used in Steak Tartare became known as Tartar sauce
Dill Pickles - do not substitute sweet pickle relish.
Mayo - you can substitute Miracle Whip, but it will alter the final flavor and make it sweeter.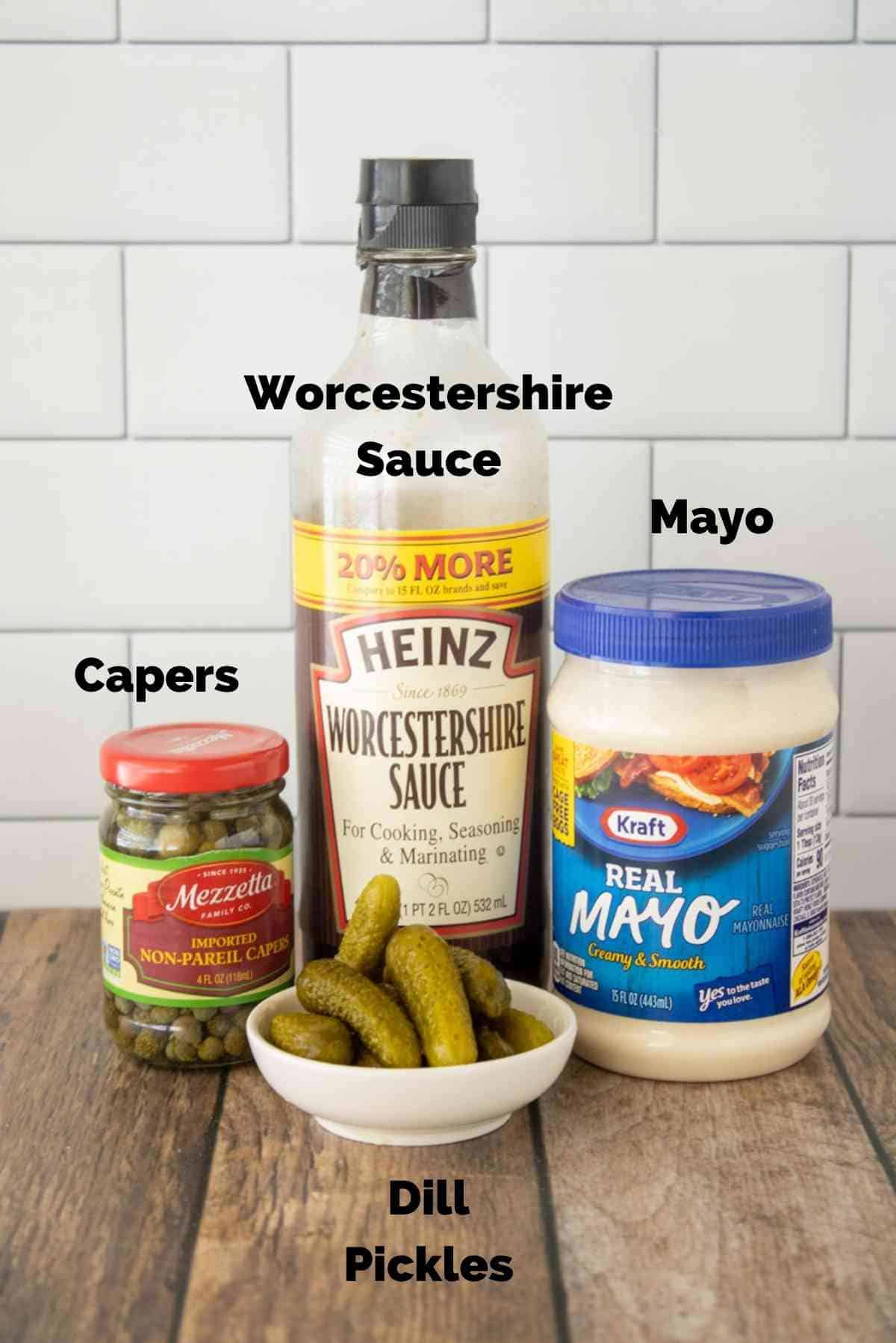 Step by Step
This easy tartar sauce recipe has a mayonnaise base.
Measure and add a cup of mayonnaise and a ¼ teaspoon Worcestershire sauce to a small bowl.
Mince the dill pickles and capers. You want to make sure you mince them instead of just chopping them. You definitely want fine pieces of the pickles and capers.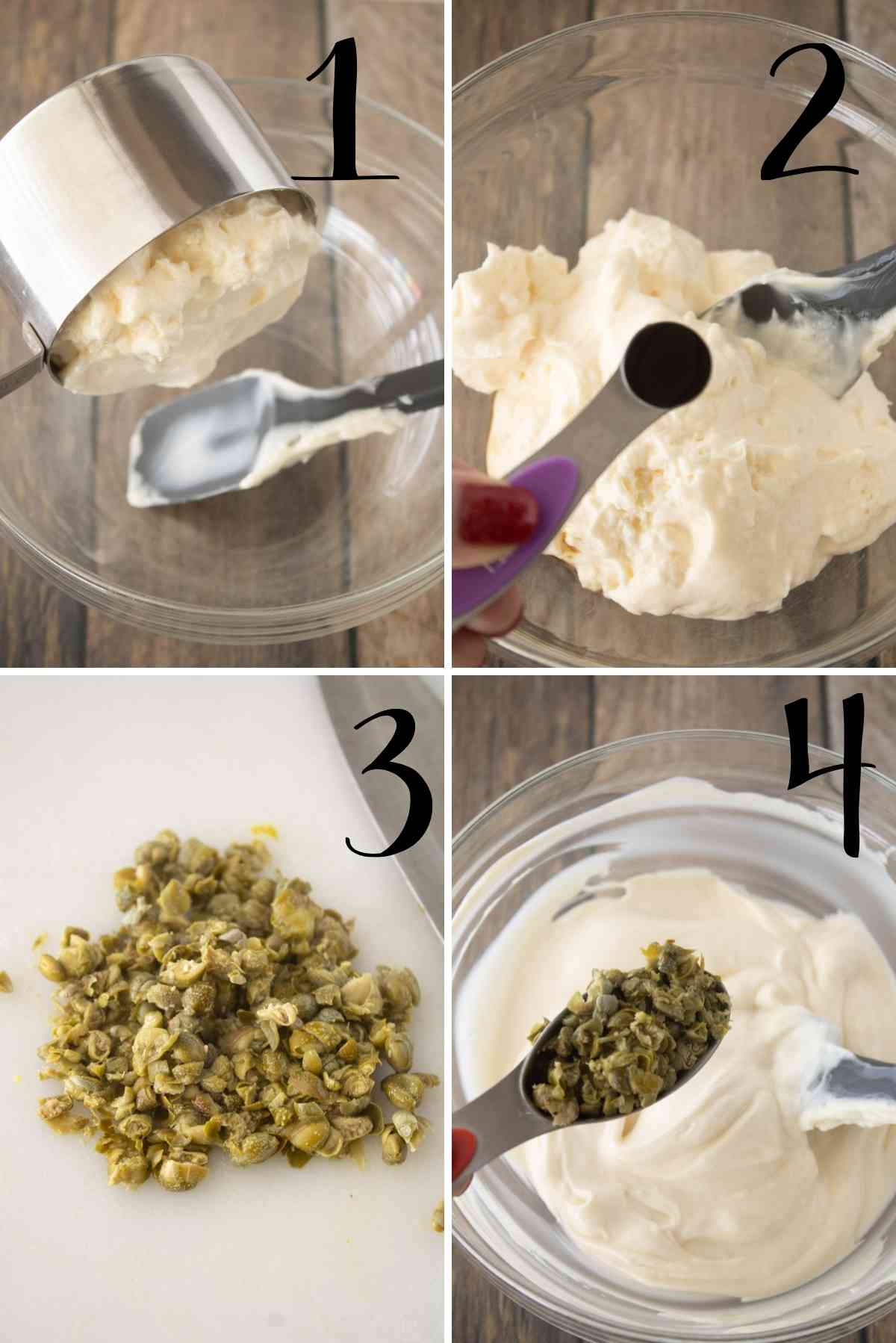 Stir the pickles and capers into the mayo and Worcestershire sauce.
Scoop into dipping cups and serve with fish or seafood recipes like crab cakes!
Store in an airtight container in the fridge.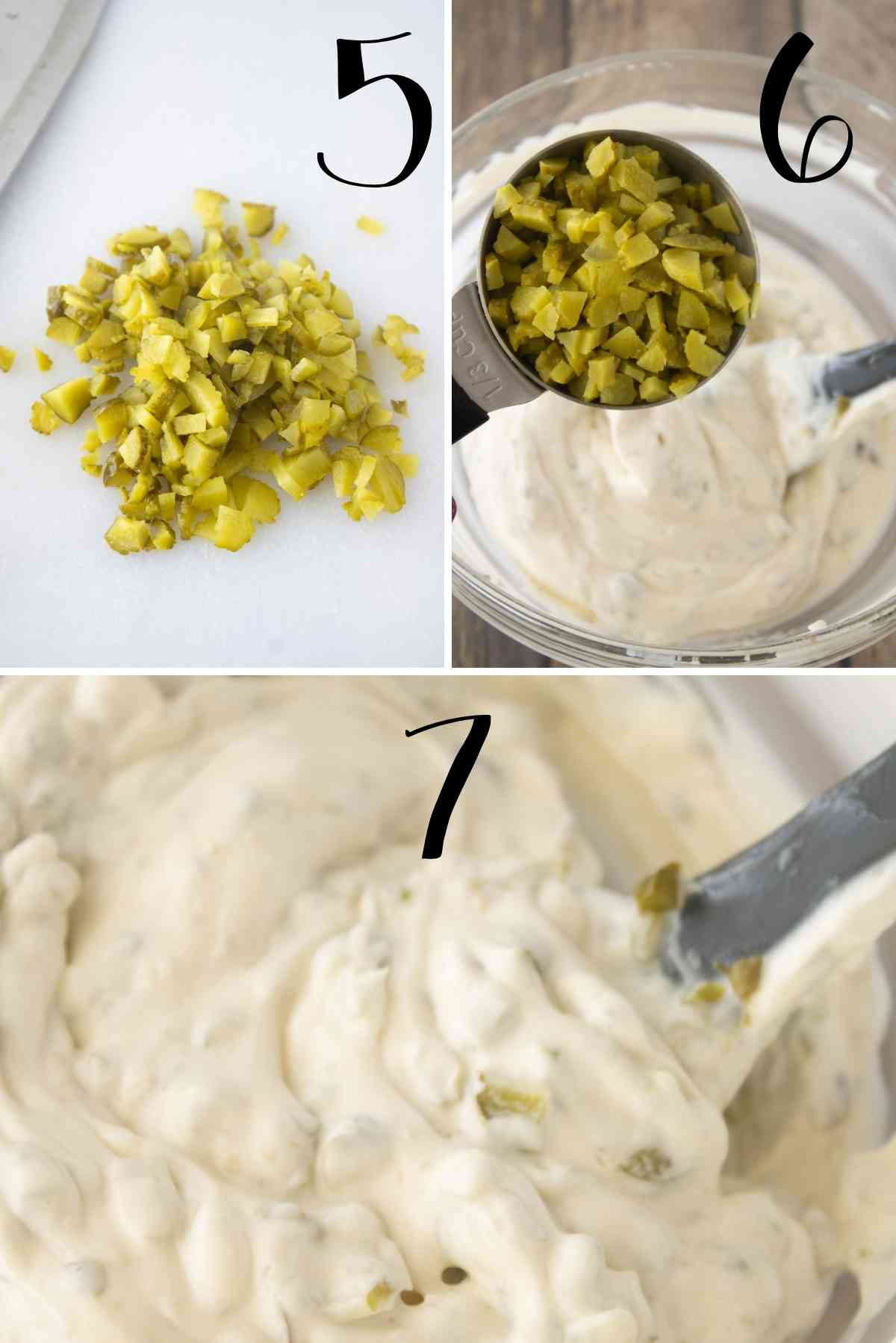 Recipe FAQs and Expert Tips
What is tartar sauce, and what does it taste like?
It's a tangy dipping sauce that's typically served with fried fish or fish dishes to enhance the flavor of the fish.
What are capers?
Capers are pickled flower buds. Tiny capers are picked from a shrub-like bush (Capparis spinosa) before the buds flower. Capers are then dried in the sun and later brined or packed in salt.  They come in small jars and are usually found in stores by the olives, pickles, and relishes.  They are also inexpensive and last for a long time in the fridge.  If you're worried about leftover capers, you can use them in this amazing Salmon Piccata or in my Salmon Piccata Salad!
Can I make this ahead of time?
Yes, I actually prefer to make this easy tartar sauce an hour or two before we plan to eat it because it gives the flavors time to blend. You can make it a day or two in advance as well.
What kind of fish or seafood do I serve this with?
Fried fish like this Beer Battered Fish is probably the most common fish dish to serve tartar sauce with. It can also be served alongside of fish or seafood cakes like these Crispy Cod Fish Cakes. Some people serve it with baked or pan-fried fish recipes like this Blackened Cod.
Related Recipes
Have you tried this recipe? If so, leave me a rating and a comment below! And don't forget to subscribe to get my latest recipes sent right to your email! You can also follow me on Facebook, Pinterest, and Instagram!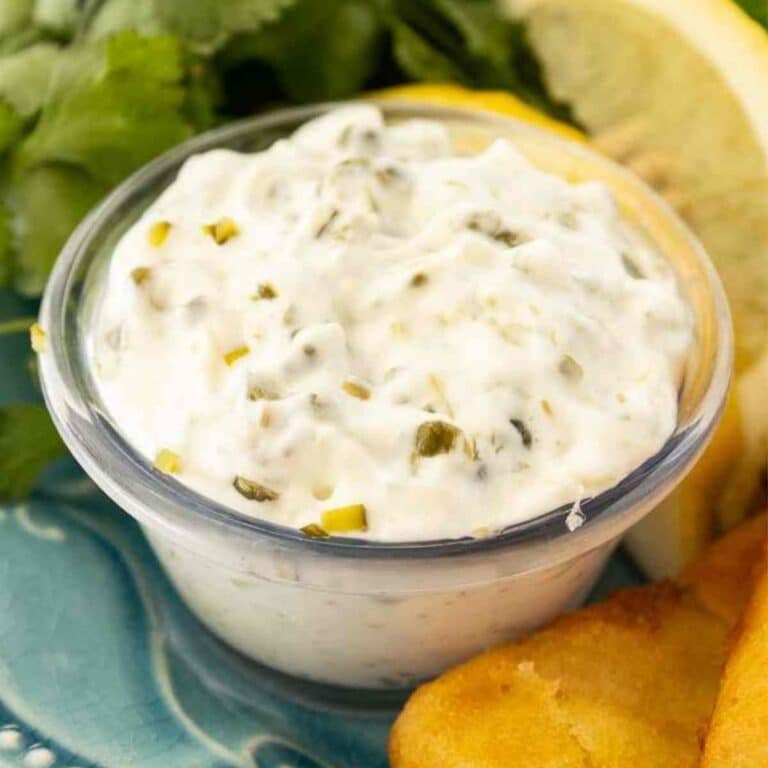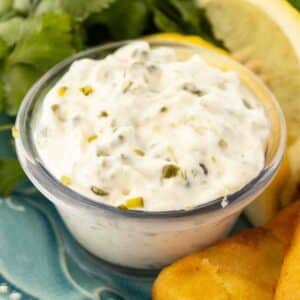 4 Ingredient Tartar Sauce with Capers Recipe
Craving a traditional sauce to go with your fish?  No worries, you can make your own with this DIY recipe!  It's so easy!  Capers give this sauce an authentic taste that you just can't get from a bottle.  With only 4 ingredients, this homemade recipe is ready in 5 minutes!
Ingredients
1

Cup

Mayo

⅓

Cup

Dill Pickles

minced (Seriously. Minced, not diced.)

1

Tbs.

Capers

minced

¼

teaspoon

Worcestershire Sauce
Instructions
Measure out the mayo and Worcestershire sauce.

Whisk them together in a small mixing bowl.

Mince the dill pickled and capers.

Mix them into the mayo mixture.

Either serve immediately or cover and put in the fridge until you're ready to use.
Notes
This tartar sauce is good for up to 2 weeks in the fridge.
You can make this hours or days in advance.  Doing so allows the flavor to blend fully, making it taste even better.
Subbing Miracle Whip for the mayo will alter the flavor of this sauce, and it will end up much sweeter.
Nutrition
Calories:
1532
kcal
Carbohydrates:
3
g
Protein:
3
g
Fat:
168
g
Saturated Fat:
26
g
Polyunsaturated Fat:
100
g
Monounsaturated Fat:
38
g
Trans Fat:
0.4
g
Cholesterol:
94
mg
Sodium:
2049
mg
Potassium:
113
mg
Fiber:
1
g
Sugar:
2
g
Vitamin A:
245
IU
Vitamin C:
2
mg
Calcium:
48
mg
Iron:
1
mg
Thanks for stopping by! Before you go, be sure to check out a few of my most popular recipes!