I'm always on the lookout for Christmas cookies my kids can help me make. They can help unwrap kisses while I measure out and start the cookie dough, then help scoop the cookies onto the pan. You'll love the heavenly peppermint aroma that fills your kitchen while this bake!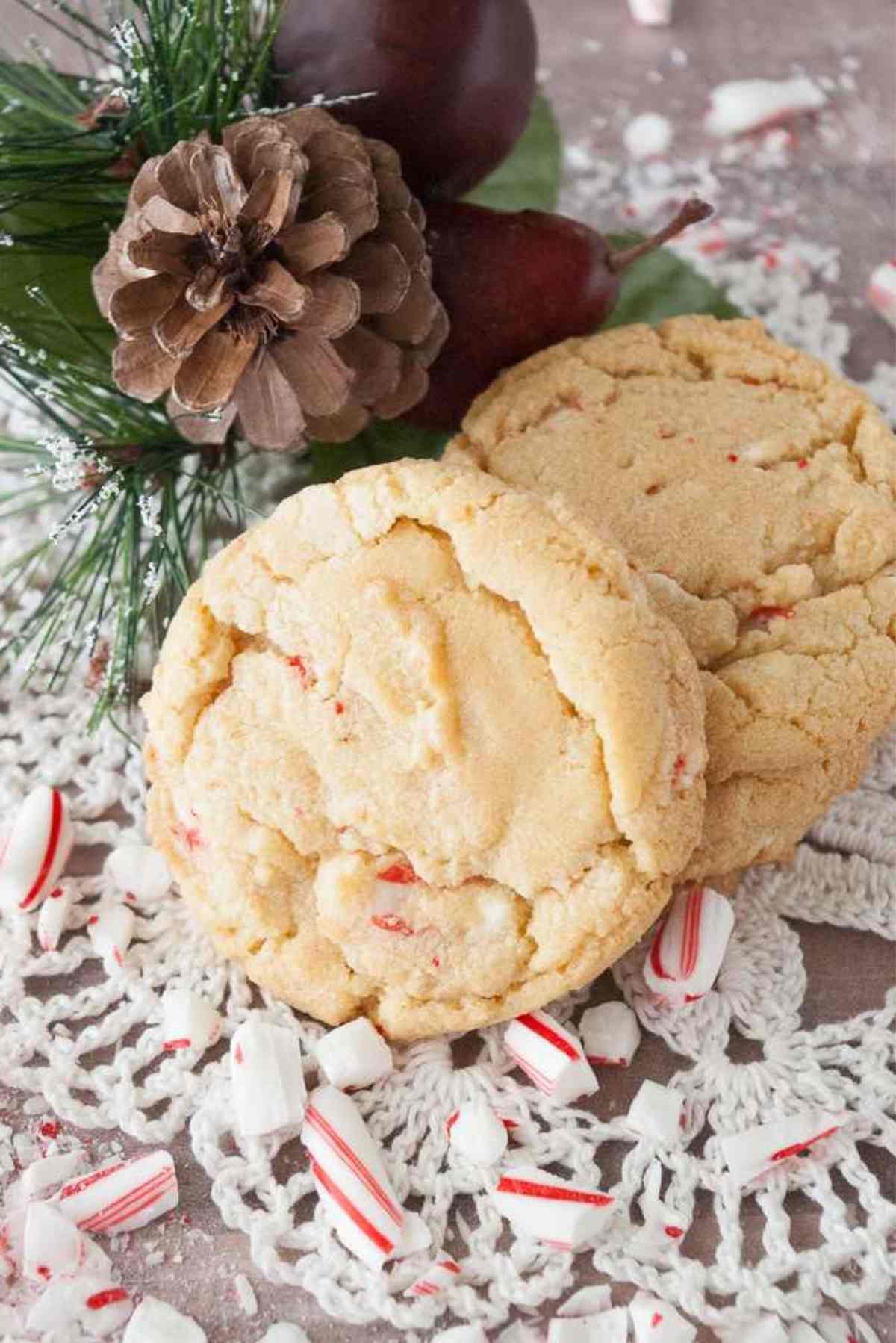 Jump to:
Why You'll Love This Recipe
This recipe has simple tasks that children can do to help with these holiday cookies!
Very similar to the Otis Spunkmeyer peppermint chip cookies!
Delicious peppermint Christmas cookies speckled with red and white color are ideal for a cookie exchange!
Much like my Chocolate Chip Cookie recipe but with a peppermint holiday twist!
Ingredient Notes and Substitutions
Peppermint Extract - If you find you don't have this in your cupboard or you prefer not to add peppermint extract, it's OK. The cookies won't be as pepperminty but will still be good.
Candy Cane Kisses - This recipe calls for 70 candy cane kisses. This is at least a 10-ounce bag. The bag sizes seem to vary year to year, and sometimes I just want to get the large bag. As long as you have 70 kisses, you're covered. I usually get mine at the grocery store, but you can order them from Amazon as well.
Butter Flavored Shortening- Using shortening in this recipe is what makes them work. If you want to substitute half butter, you can, but I wouldn't substitute all of it. It's also important to use the butter-flavored shortening. Regular shortening will make these taste borderline nasty.
Flour - Always all-purpose flour, never self-rising.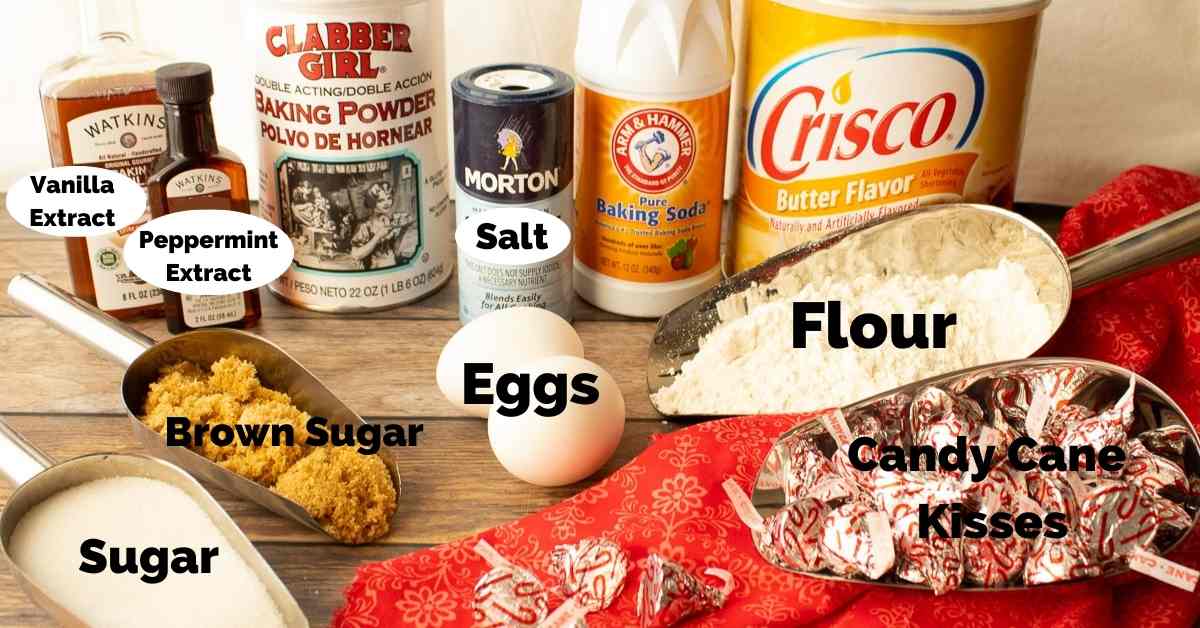 A Few Things You'll Need For This Recipe
How to Make Step-by-Step Recipe Instructions
Preheat your oven to 350 degrees.
Line your

baking sheets

with

parchment paper

or lightly spray them with non-stick cooking spray.
Unwrap and chop up 70

Candy Cane Kisses

.
In a large bowl or in the mixing bowl of a stand mixer fitted with a paddle attachment, cream butter flavored shortening, brown sugar, and white sugar.
Add the eggs, vanilla, and peppermint extracts. Mix well at a medium speed.
Add the baking powder, baking soda, and salt. Mix well.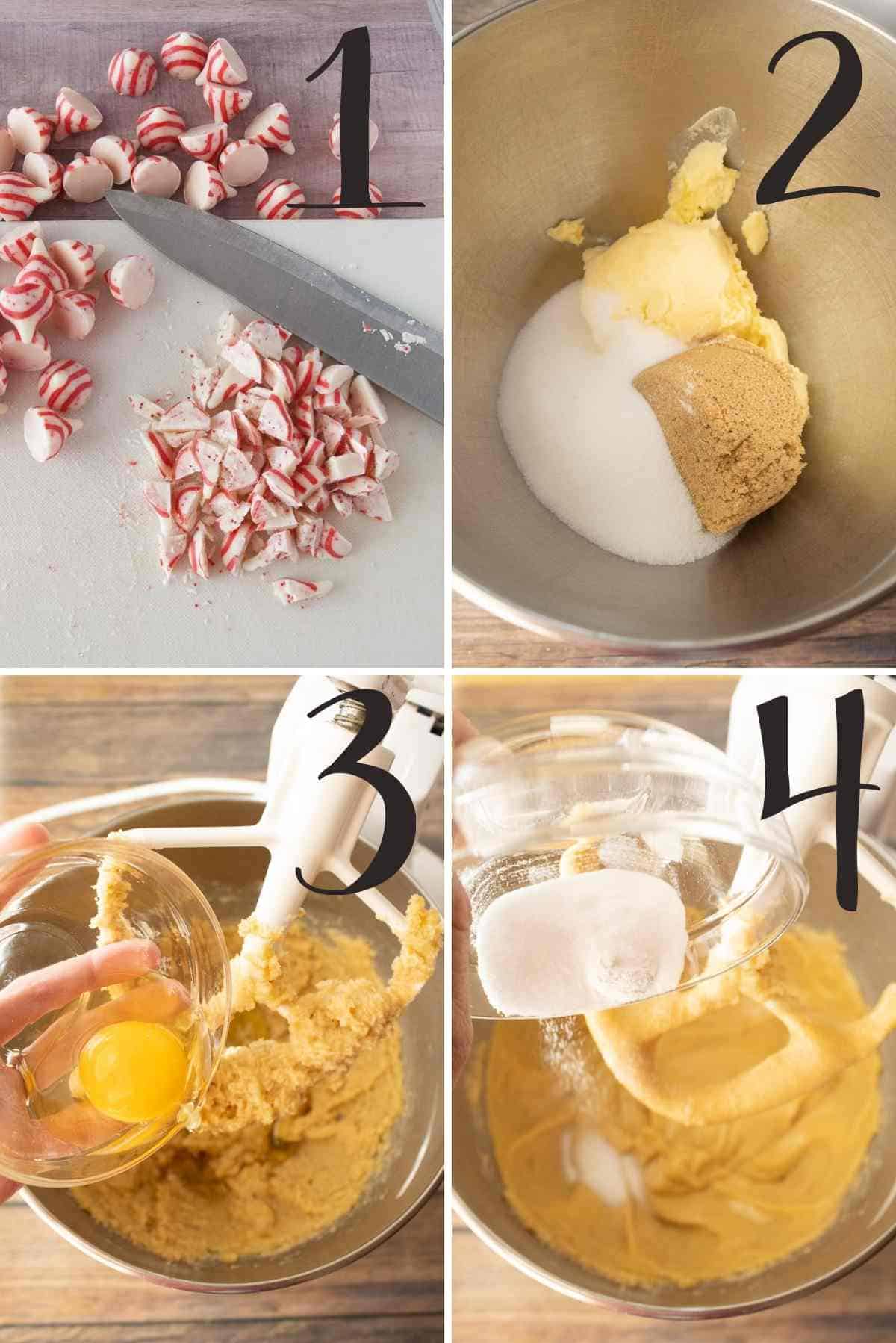 Add half the flour. Mix well at low speed.
Scrape down the sides of the bowl.
Add the chopped Candy Cane Kisses and the last half of the flour. Mix until all the flour is mixed in.
Using a

cookie scoop

or a tablespoon, scoop the cookie dough onto a prepared cookie sheet.
For soft and chewy cookies, bake them at 350 degrees for 8 minutes.
The bottom edges should be starting to turn golden brown, but the tops will not be browned at all.
For a crisper, chewy cookie, adjust the baking time to 10 minutes; they will be lightly golden all over.
Cool on wire cookie racks.
Store the cooled cookie in an airtight container.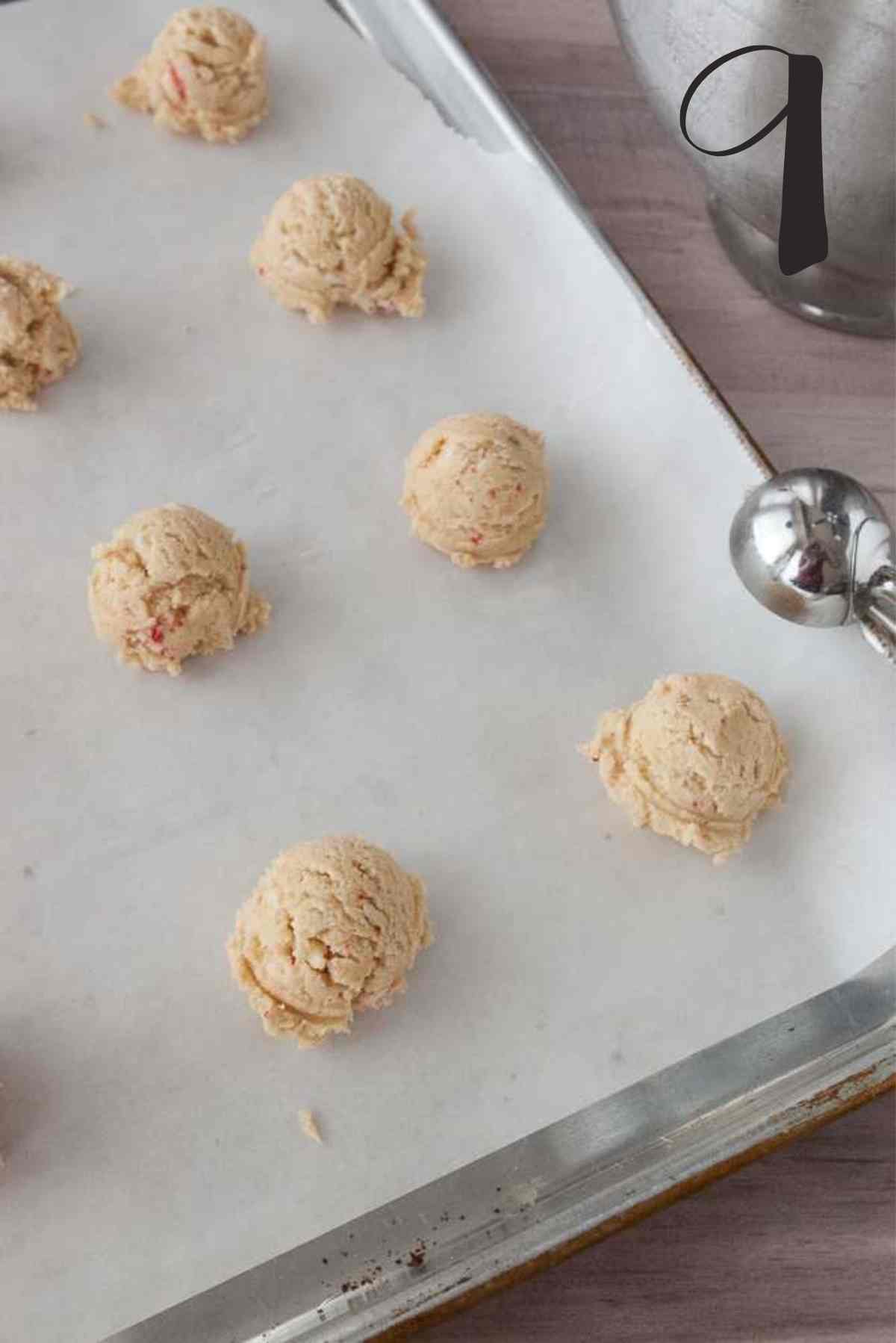 Recipe FAQs
Related Christmas Treat Recipes
Have you tried this recipe? If so, leave me a rating and a comment below! And don't forget to subscribe to get my latest recipes sent right to your email! You can also follow me on Facebook, Pinterest, and Instagram!
Thanks for stopping by! Don't forget to check out a few of my most popular recipes while you're here!