It's that candy-making time of year, and everybody loves caramels, but you don't always want a million pieces! This small batch recipe makes enough chewy homemade caramels for you to enjoy a little and share a little but not have more than you know what to do with.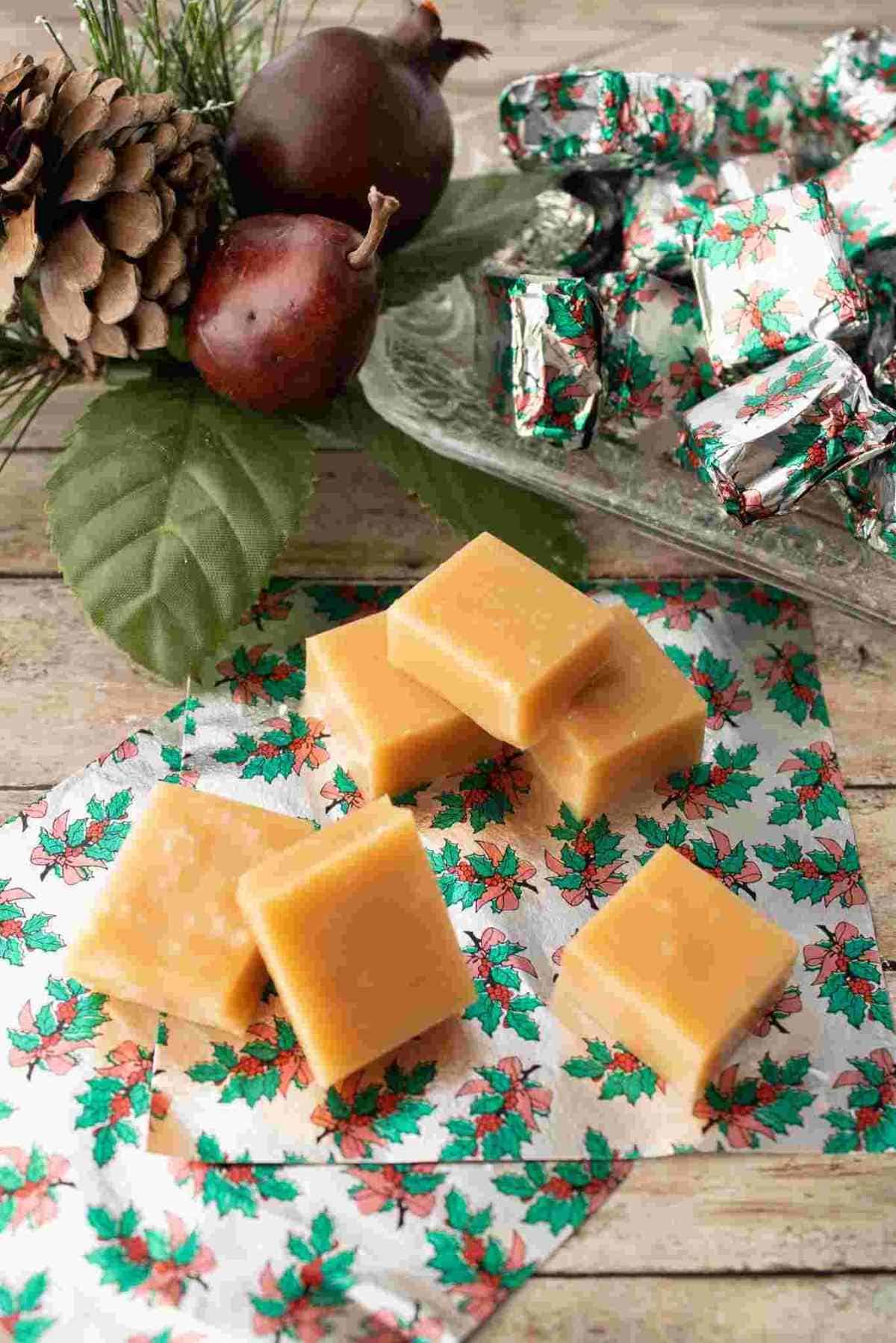 Jump to:
Why You'll Love This Recipe
Makes only 60 homemade caramel candies instead of hundreds of pieces!
Chewy caramel that is still soft but holds its shape!
Makes the perfect gift this holiday season for family, friends, and neighbors!
Ingredient Notes
Light Corn Syrup - I know many people want to substitute something for corn syrup; however, candy recipes are not the place to swap ingredients like that out. So, yes, you must use light corn syrup (not dark corn syrup) for this recipe.
Butter - It doesn't matter whether you use unsalted butter or salted butter, but it does matter if you use butter. Please don't substitute anything for the butter.
Heavy Cream - Do not substitute milk, evaporated milk, or sweetened condensed milk for the cream.
Sugar - This recipe uses white granulated sugar. Don't substitute brown sugar.
Chocolate - Feel free to dip the caramel squares or drizzle them with dark chocolate!
Salt - For a salted caramel variation, sprinkle the hot caramel once it's poured in the baking pan with coarse sea salt or sea salt flakes.
⅛ Sheet Pan - For this recipe I highly recommend an ⅛ size (10 x 7 x 1 inches) baking sheet .  It is half the size of a 9x13 pan.  I use mine ALL the time.  It's the perfect size to reheat stuff or cook small amounts of food.  I totally recommend them! I use this little pan way more than I ever thought I would, but if you don't want to buy one, you can use a bread loaf pan.  It will just make the caramels thicker, so when you cut them up, you'll be cutting them into thinner strips, and your caramels will be more rectangular shapes instead of cube shapes.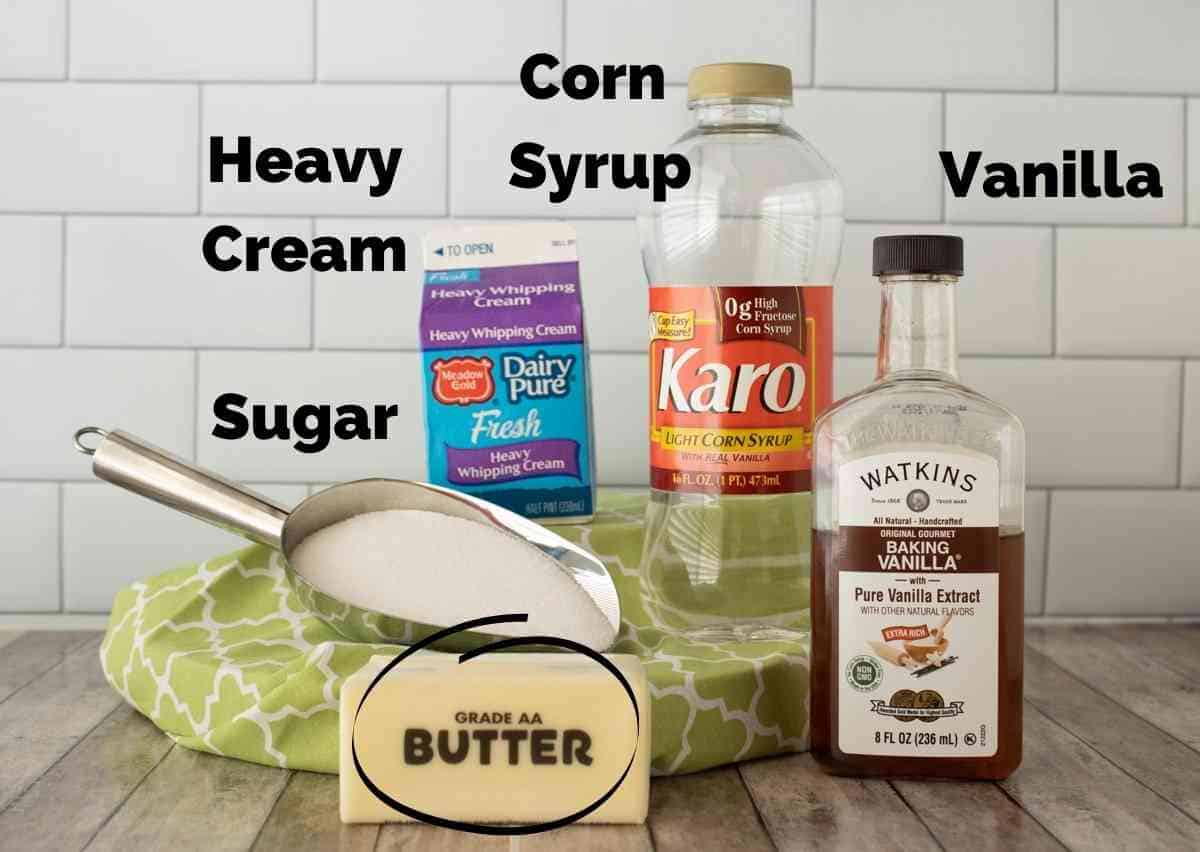 What You'll Need For This Recipe
How to Make Homemade Caramels
Line a ⅛ size (10 x 7 x 1 inch with aluminum foil. (Make sure it's foil, not wax paper or parchment paper)
Grease it WELL with softened butter. Seriously, butter that foils well! It's the most important part when making these caramels because getting the caramels all the way done just to find out they're stuck to the foil is the worst!
Measure the sugar, corn syrup, and cream in a non-stick medium pot.
Have your

candy thermometer

, cubed butter, and vanilla extract right there, ready to add when it's time. It's important to have the butter cubed so it doesn't cool the hot caramel so fast that it can't all melt.
Bring the contents of your pot to a boil over medium heat, stirring here and there so the sugar incorporates and doesn't burn to the bottom of the pan.
Once boiling, attach the candy thermometer to the side of the pan. I will be measuring temperature by Fahrenheit.
Continue to cook the caramel until it reaches 250 degrees F. (firm ball stage) for a softer caramel or 260 degrees F. (hard ball stage) for a firm caramel.
Continue to stir frequently, especially as the caramel gets closer to the right temperature.
In the pictures, you can see the difference in color as the caramel cooks. It's at about 230 degrees or softball stage that it really starts to turn that nice golden color.
TIP If you don't have a candy thermometer, read about the cold water test here.
TIP If sugar crystals form around the sides of the pot, you can wash sugar crystals from the side of the pot with a pastry brush dipped in water.
Once the desired temperature is reached, remove the pot from the heat and immediately stir in the butter cubes and vanilla.
Whisk until all the butter is incorporated. This may take a minute or so of stirring.
Pour the caramel into the prepared pan and allow to cool to room temperature on the countertop for a few hours.
Lift the caramel out by the foil, place it on a cutting board, and cut it into small squares using a sharp knife.
TIP - It may be helpful to chill your caramel in the fridge just until cold to make the cutting easier.
Wrap each caramel in a foil candy wrapper or pieces of wax paper.
If properly wrapped, there is no need to keep them in an airtight container. A pretty candy dish is one of my favorite ways to display this homemade candy!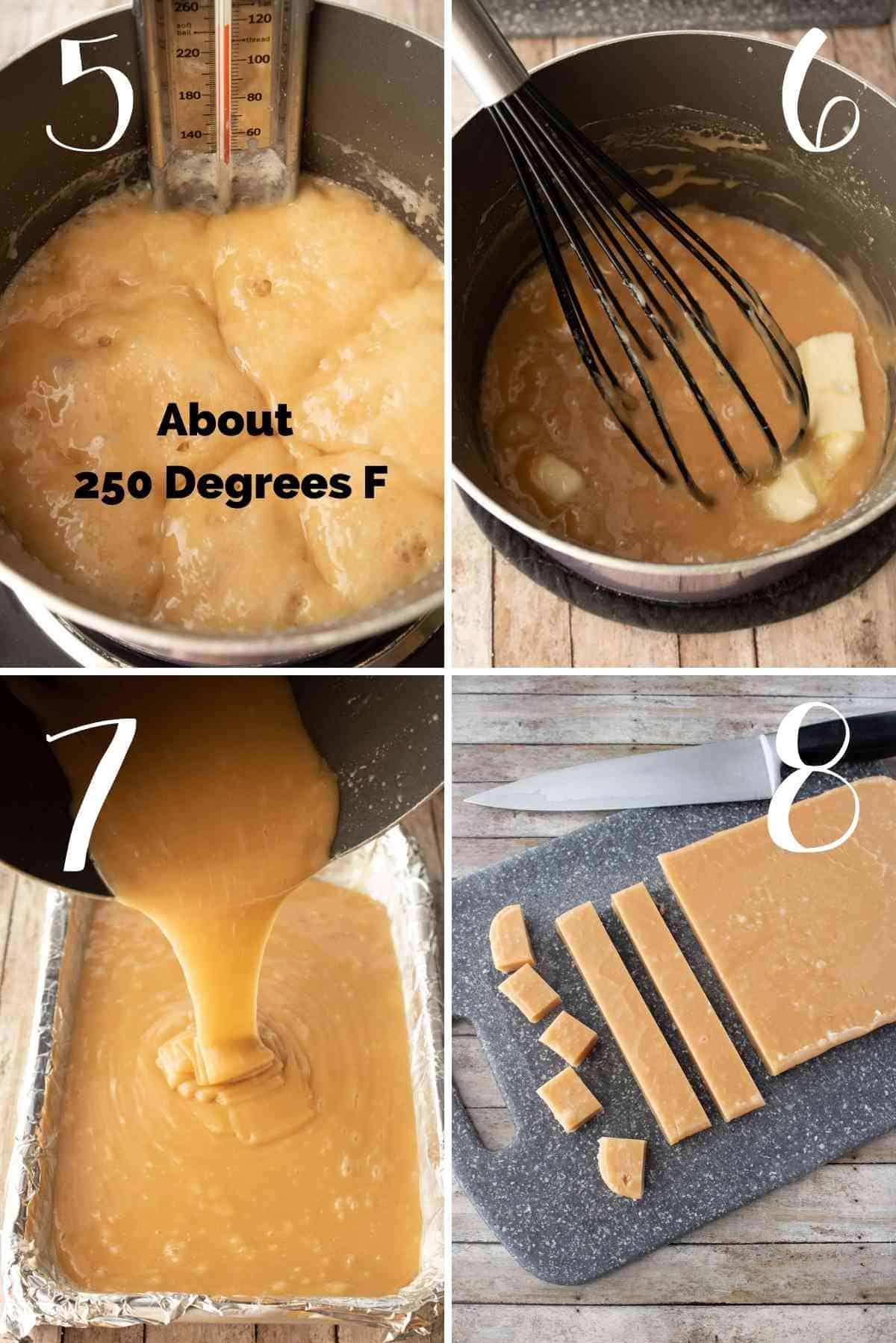 Recipe FAQs
Have you tried this recipe? If so, leave me a rating and a comment below! And don't forget to subscribe to my newsletter to get my latest recipes sent right to your email! You can also follow me on Facebook, Pinterest, and Instagram!
Thanks for stopping by! Before you go, be sure to check out a few of my most popular recipes!
This recipe was adapted from Soft'n'Chewy Caramels.