Broccoli, known for its vibrant green hue and powerful health benefits, often gets a bad reputation for its taste. However, I strongly believe it's because people aren't cooking it right!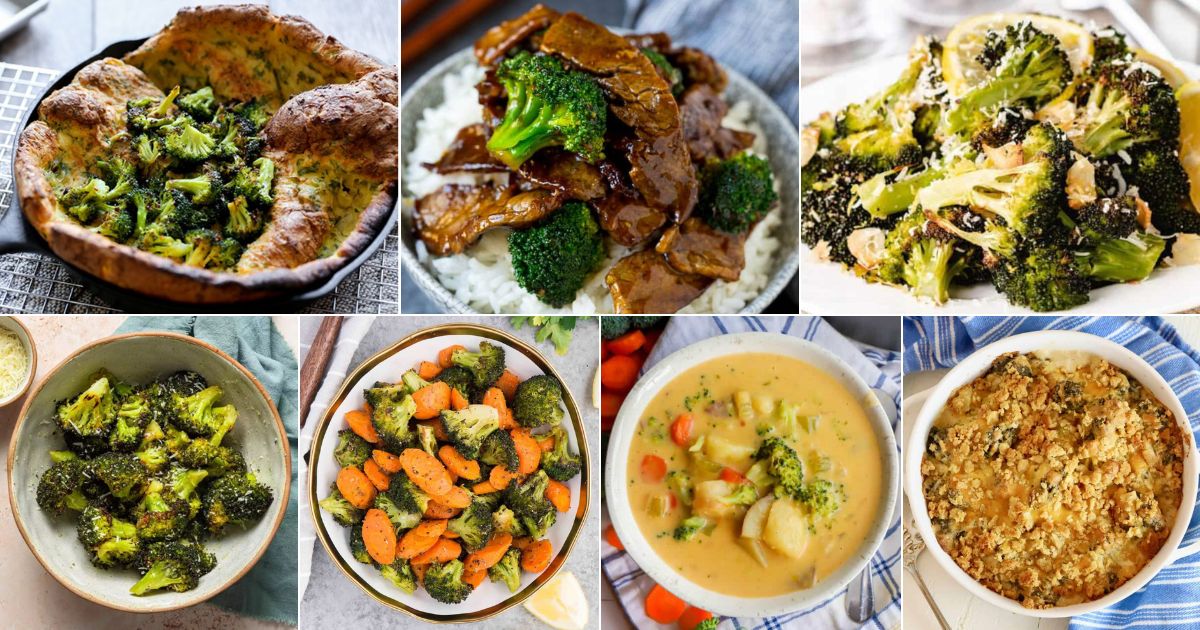 That's why I've combined a list of 27 mouth-watering broccoli recipes; to prove that you can create a nutritious meal with this superfood without compromising any flavor.
From crispy roasted broccoli to creamy broccoli soups and beyond, these recipes showcase the versatility of this nutritious vegetable in ways you've never imagined.
Jump to: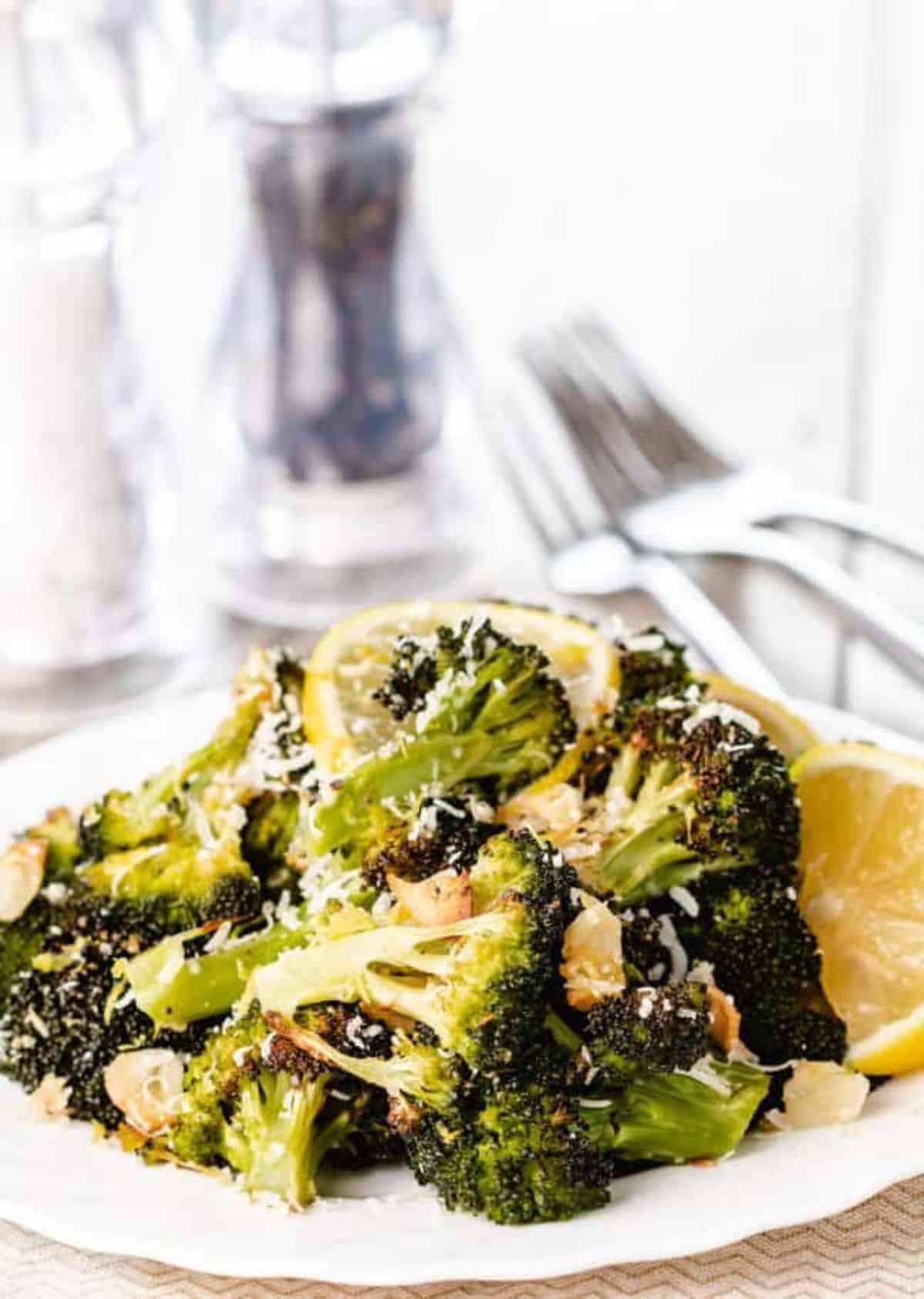 This recipe has a bold name, but it lives up to it in terms of texture, taste, appearance, and everything in between.
It's amazing what just the right amount of garlic olive oil, black pepper, and lemon zest can do to perk up what some consider an otherwise bland green veggie.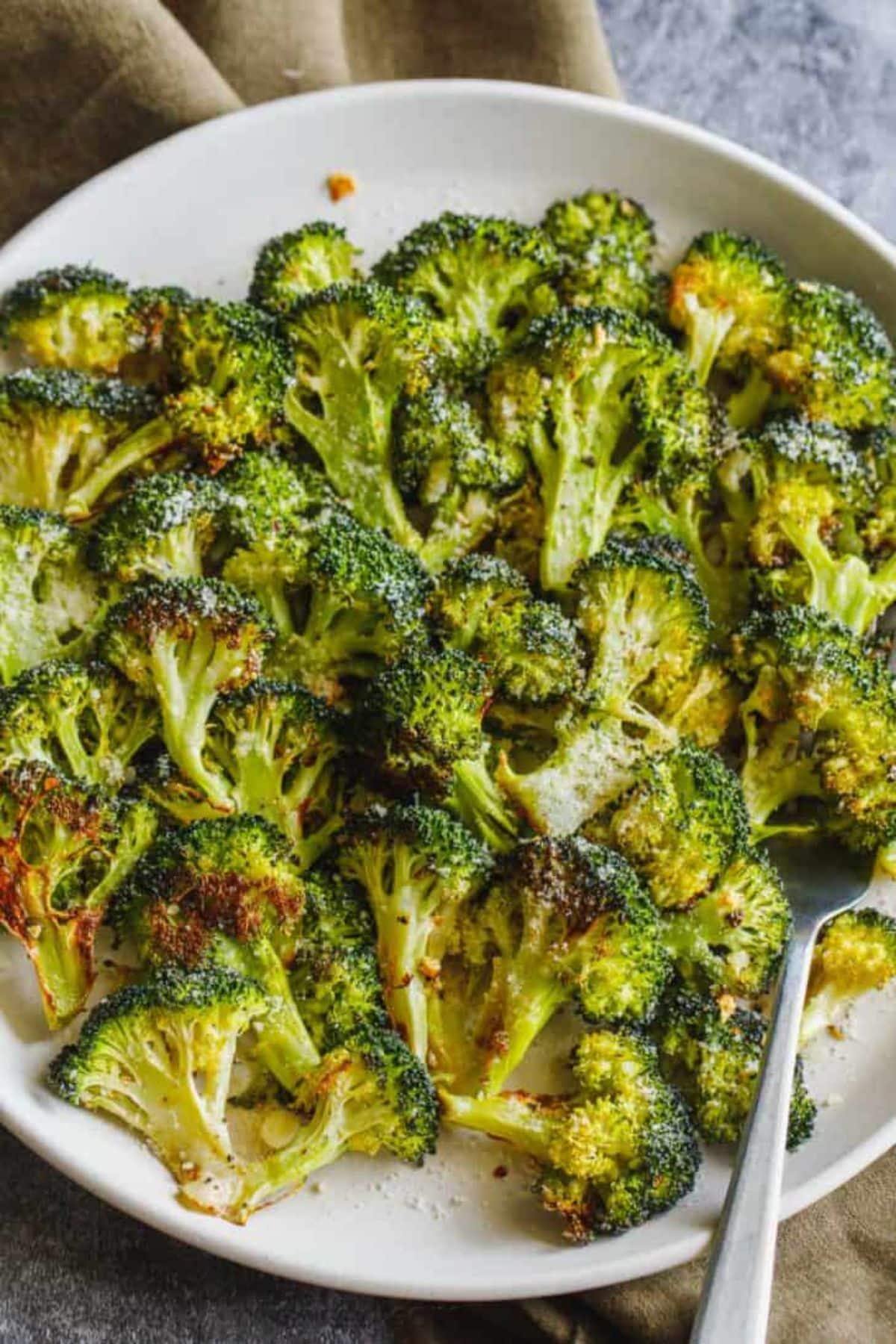 The oven-roasting process works wonders for this broccoli, transforming the broccoli into tender florets with perfectly caramelized edges.
But it's the garlic and olive oil that take the lead, infusing each piece with their aromatic magic and resulting in a balance of earthiness and nuttiness.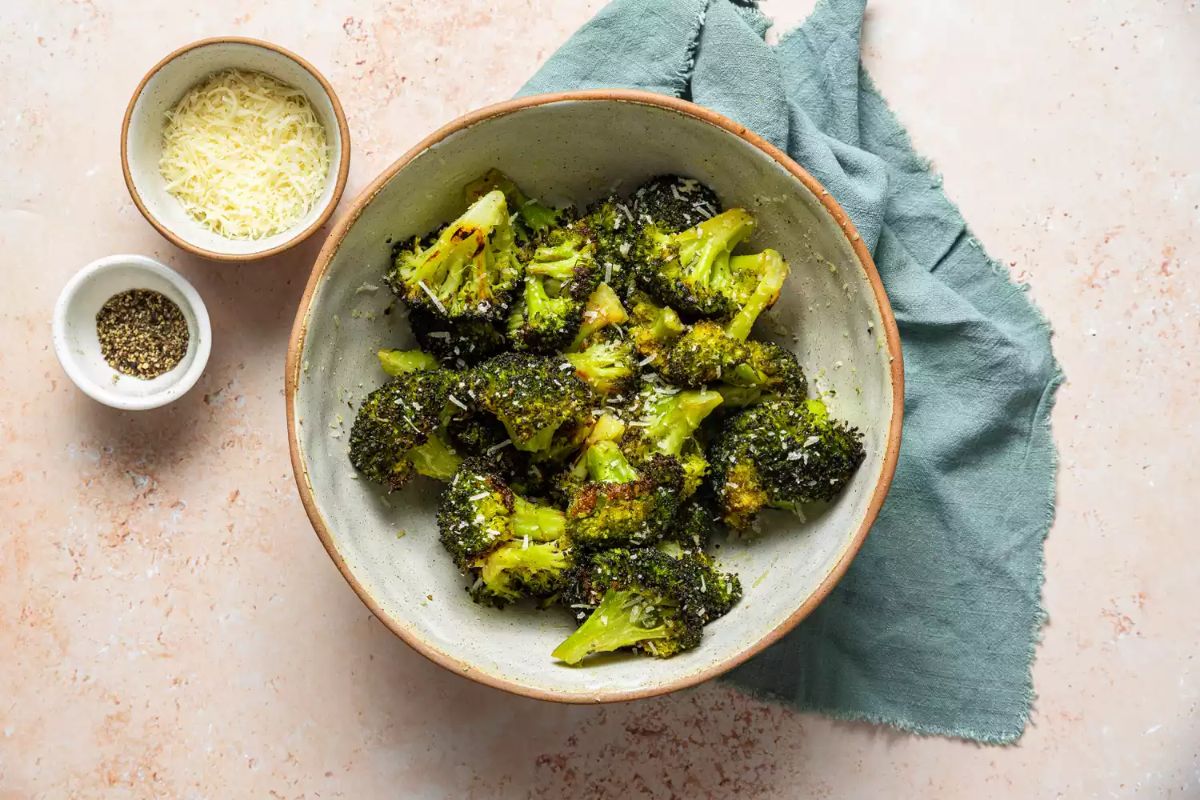 What I love about this recipe is that it doesn't skimp on the Parmesan nor the black pepper, infusing each floret with a rich and savory umami goodness that will leave you craving for seconds.
This dish is fantastic any time when you want to elevate your meal with a mouth-watering side, especially alongside seared steak or roasted chicken.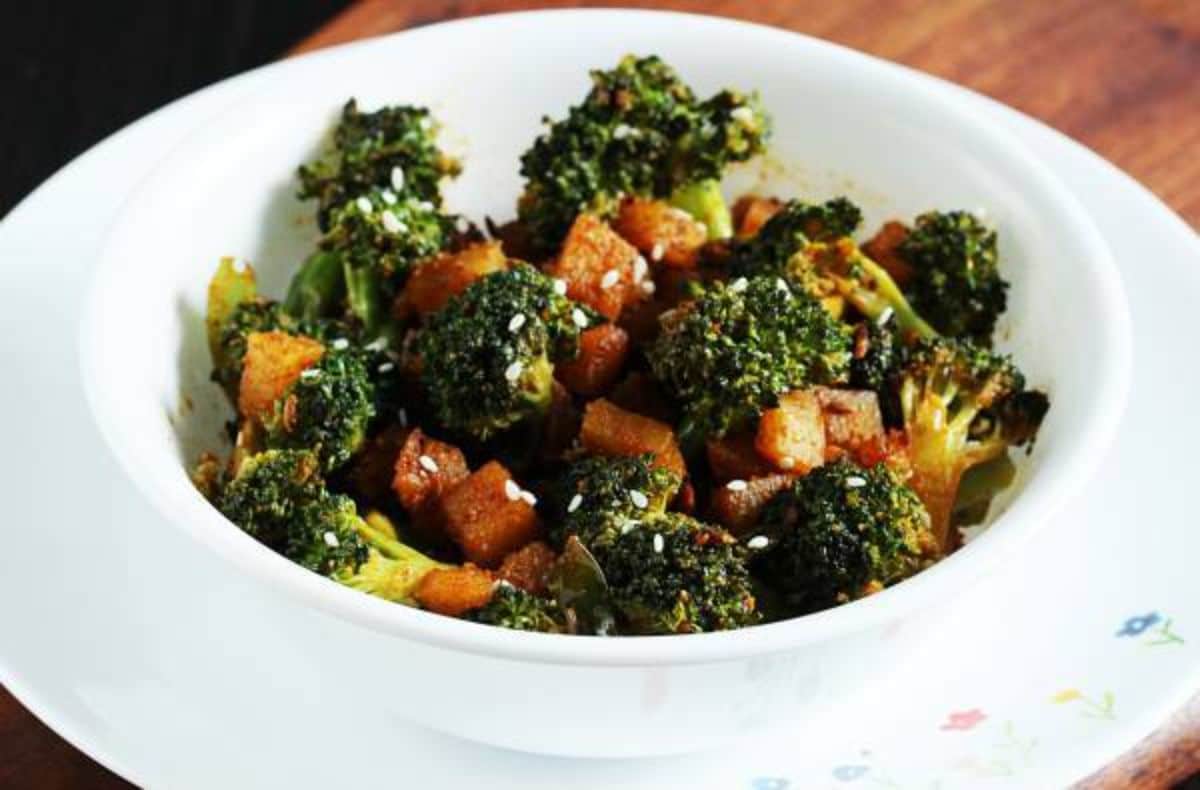 This magnificent dish combines broccoli and potatoes with a myriad of spices and aromatics to create an unforgettable taste experience reminiscent of the invigorating streets of India.
This dish is meant to be savored during cozy evenings or when you're in need of a comforting meal, and it pairs well with warm naan bread or fragrant basmati rice, allowing you to savor every bit of the rich flavors.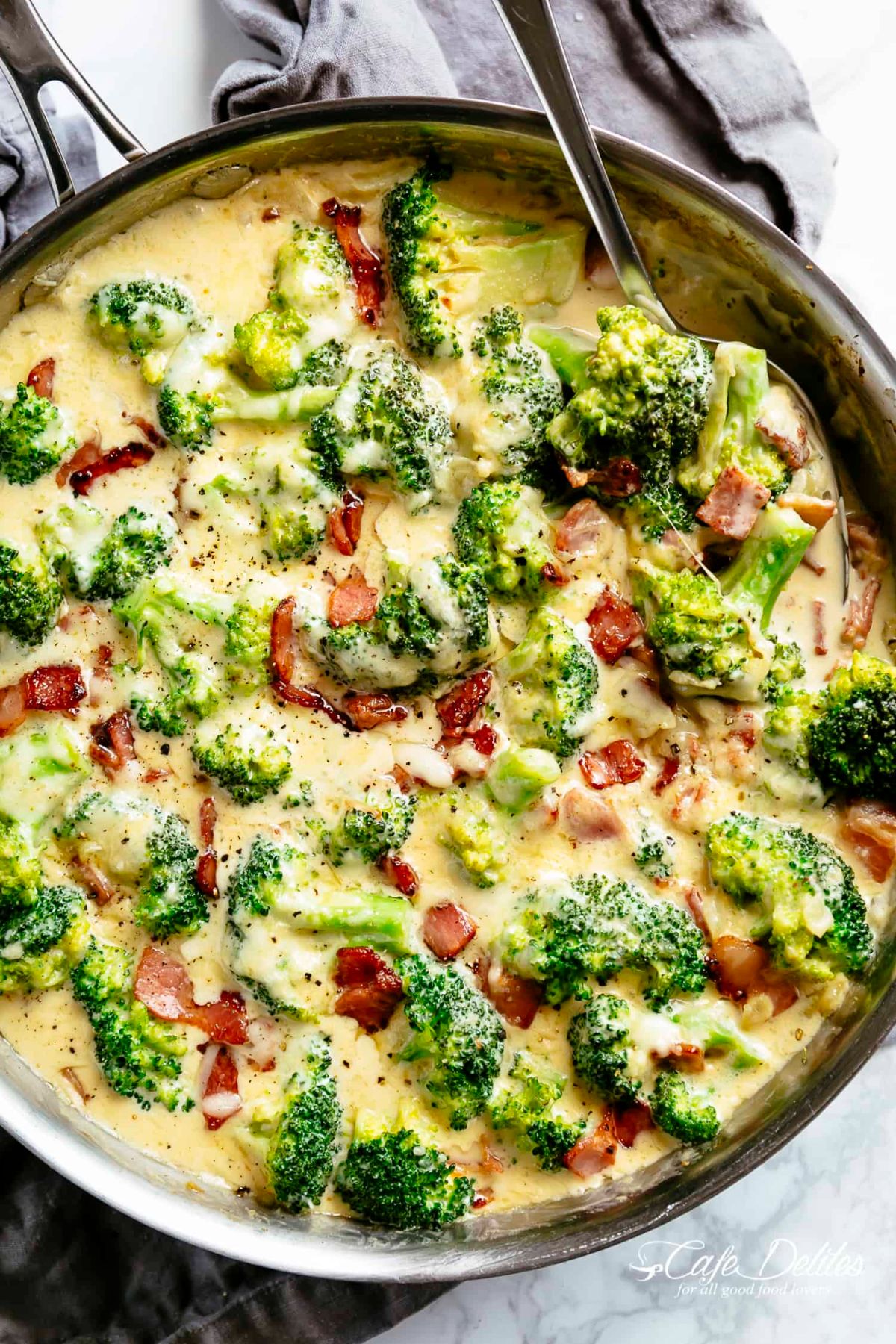 This garlic parmesan broccoli dish involves a velvety, creamy sauce that coats each tender floret, and when you add the savory notes of the crispy bacon, you get the perfect sprinkling of saltiness throughout the bowl.
We recommend serving it alongside a crusty baguette or fluffy mashed potatoes to soak up every drop of the delicious sauce.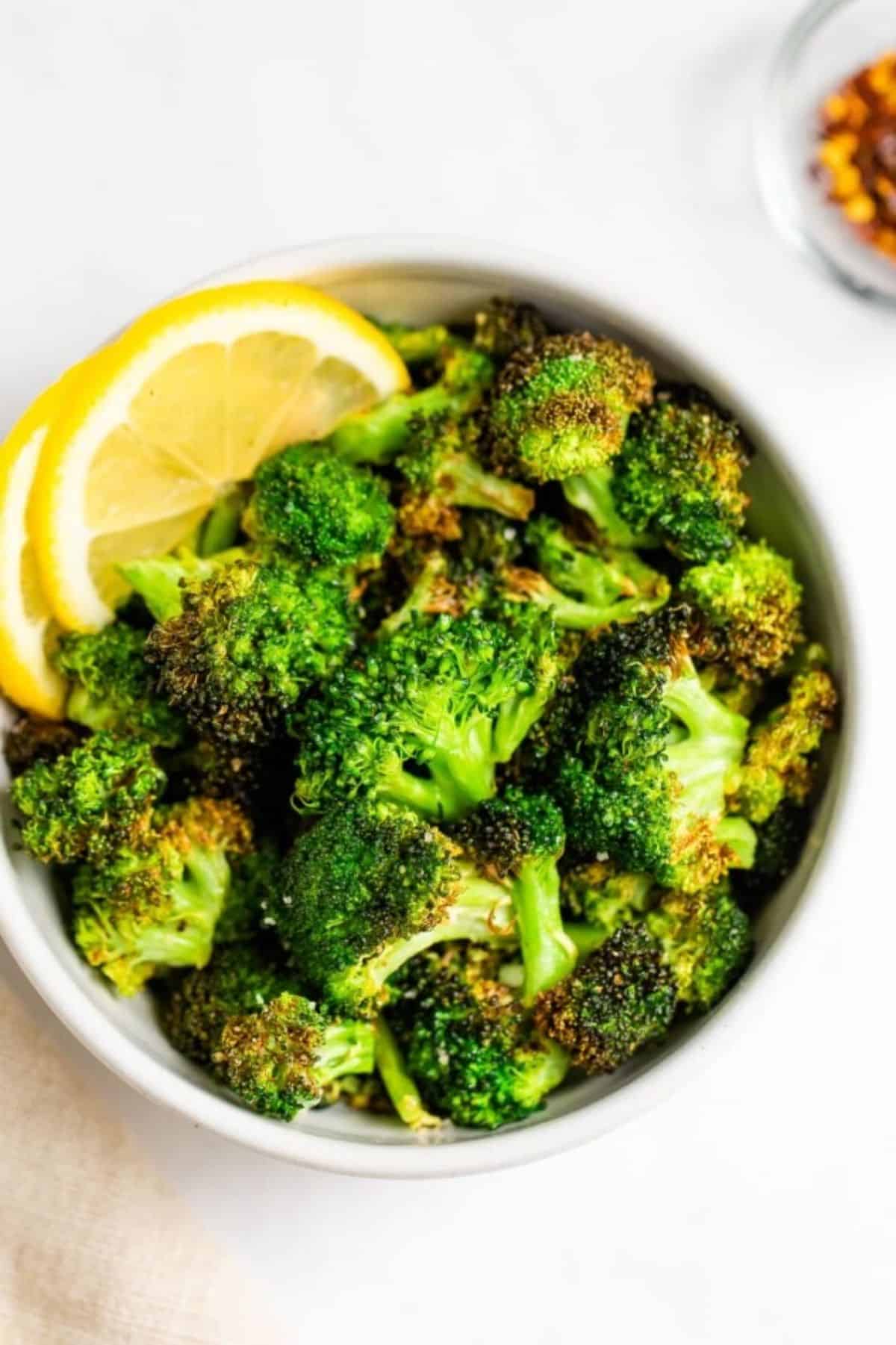 The air fryer in this broccoli recipe creates an outer layer that's wonderfully crisp, and the taste is similar to oven-roasted broccoli but is much simpler and quicker to achieve.
Air fryer broccoli is ideal for busy weeknights when you need a quick and healthy side dish, and it pairs well with grilled meats, adding a refreshing element to balance heartier flavors. But it also makes for a wonderful standalone snack.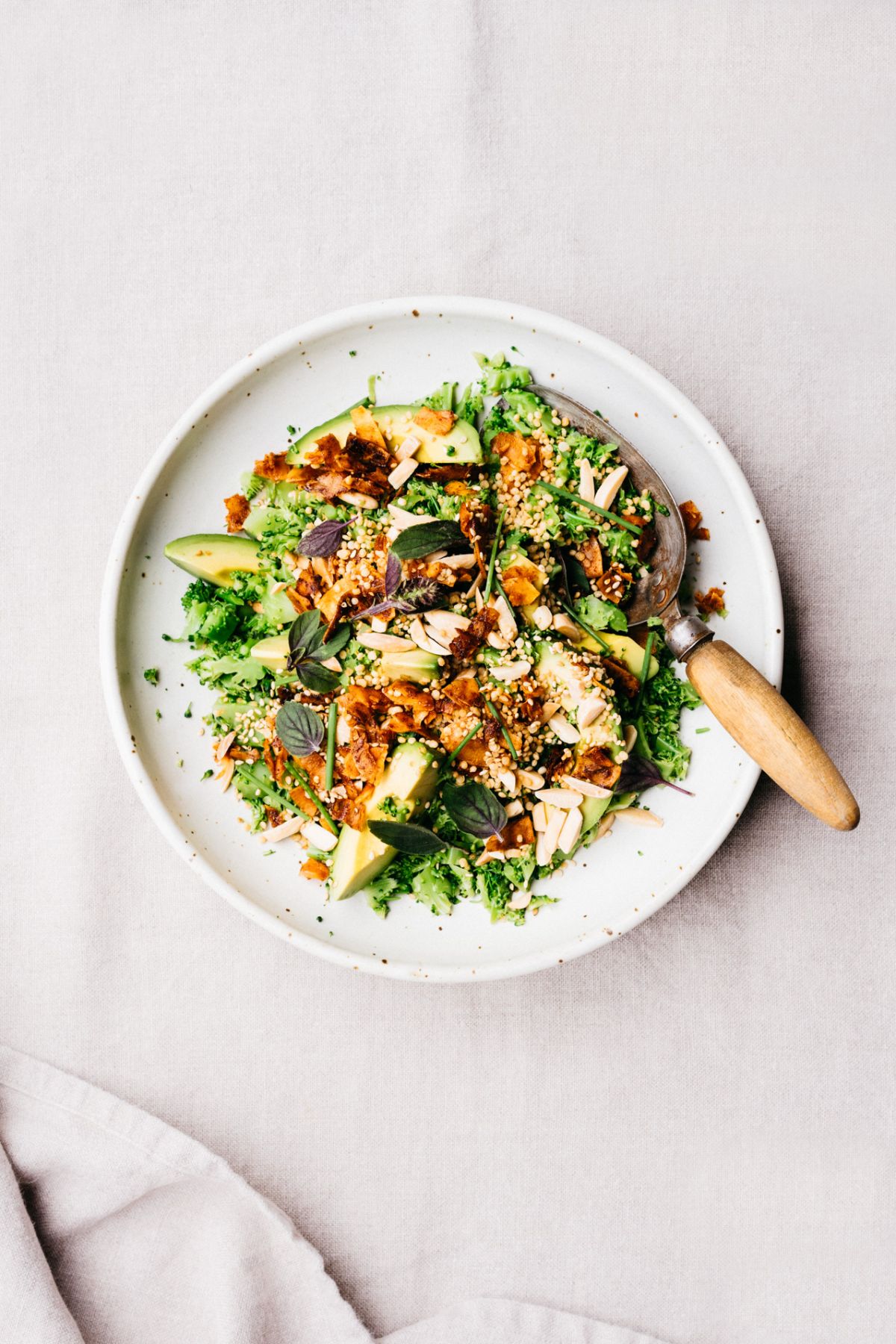 Broccoli crunch salad is a remarkable creation that combines the fresh crunch of broccoli florets with an array of delightful ingredients like almonds, quinoa, sesame seeds, and more.
The creamy cashew honey mustard dressing coats every nook and cranny, propelling the salad to new heights.
This inventive, gluten-free, vegan, and dairy-free creation brings together the vibrant flavors of broccoli, cauliflower, and couscous in a light, refreshing manner.
These wraps would pair magnificently with a zesty lemon vinaigrette or a tangy yogurt sauce, adding a refreshing and tangy element to the dish.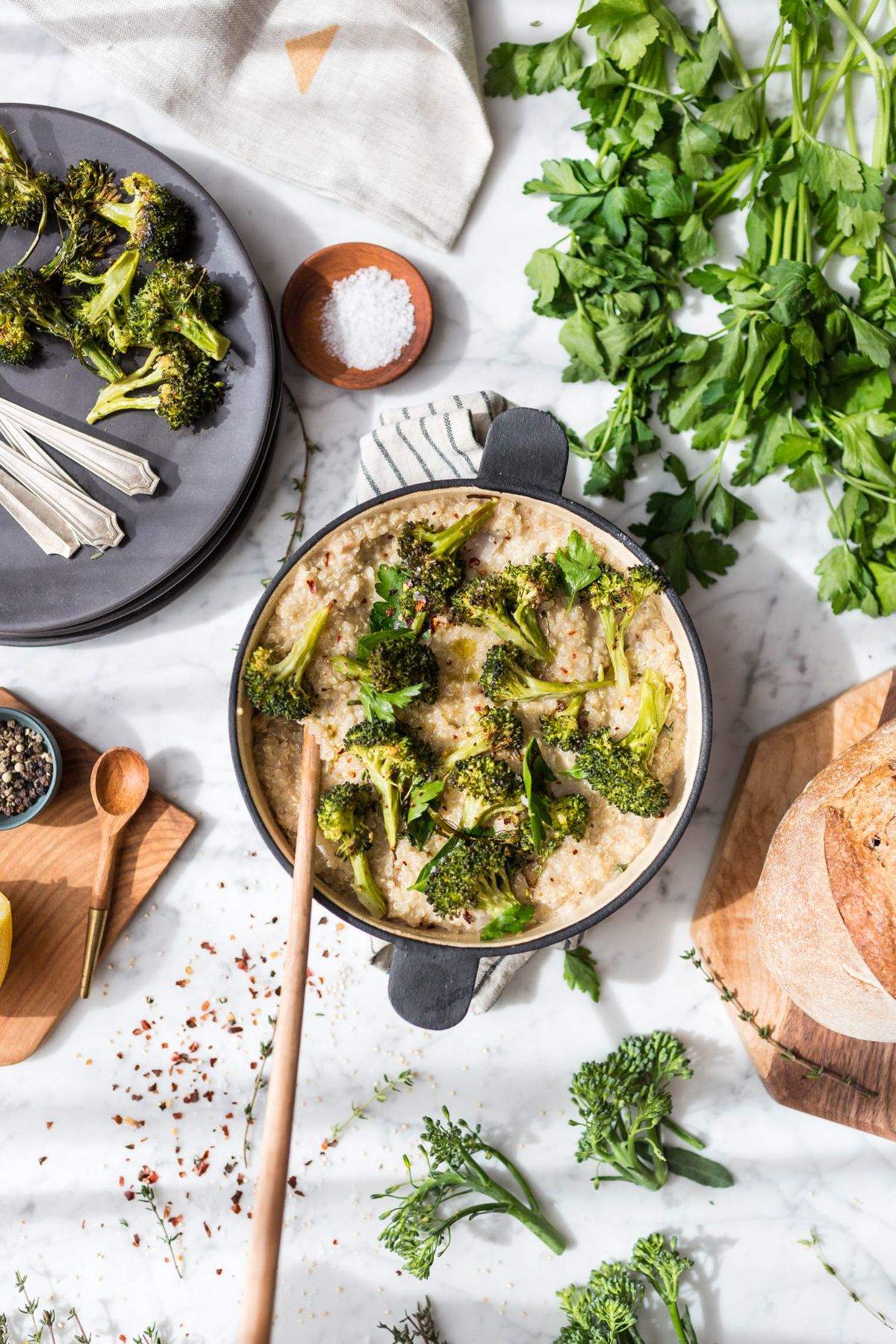 If you want to savor a luxurious and comforting dish, we highly recommend this creamy quinoa recipe, which combines the nuttiness of quinoa, the creaminess of white beans, and the crunch of brassica florets (broccoli or cauliflower) in an awe-inspiring way.
We suggest using broccoli over cauliflower for this dish because its earthy flavor and vibrant color pair exceptionally well with the creamy risotto.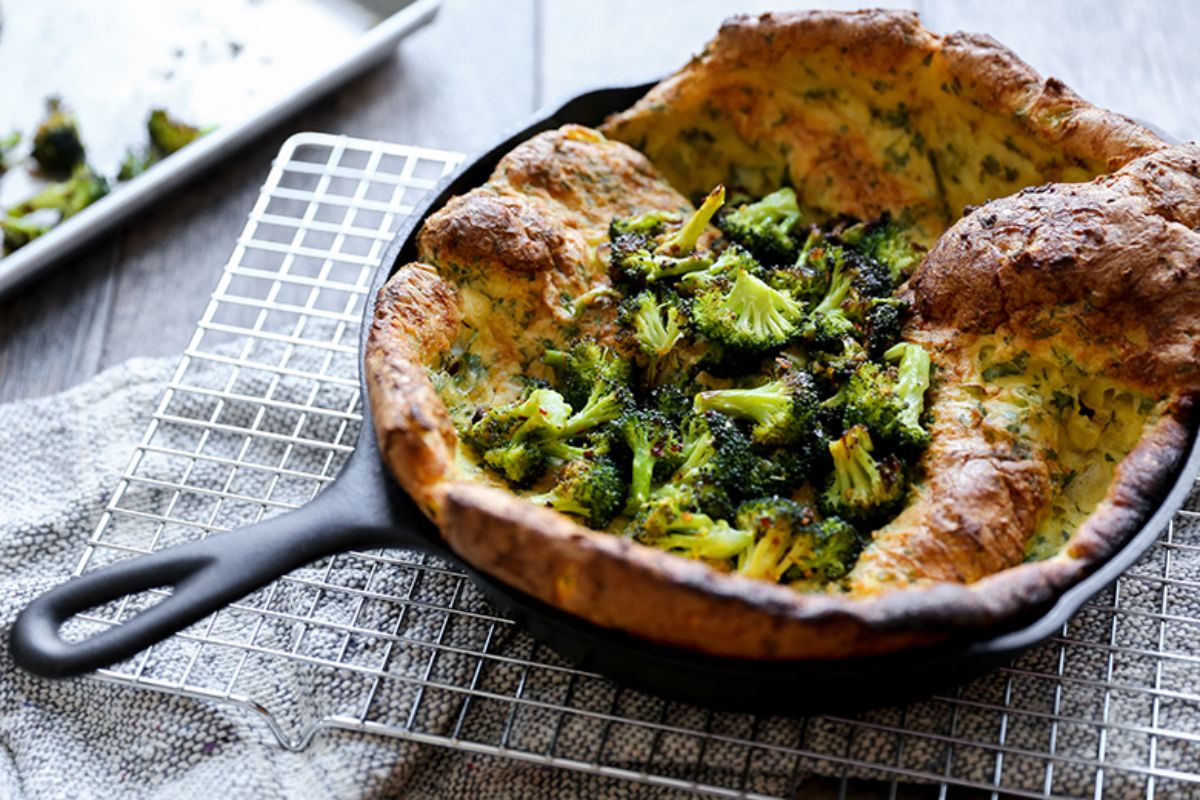 The appearance of this Dutch baby is one of my favorite aspects, with its golden brown crown and beautifully roasted broccoli taking center stage.
This dish is perfect for a leisurely brunch or a light dinner when you're in the mood for something out of the ordinary, especially if you pair it with creamy goat cheese or a sprinkle of sharp Parmesan.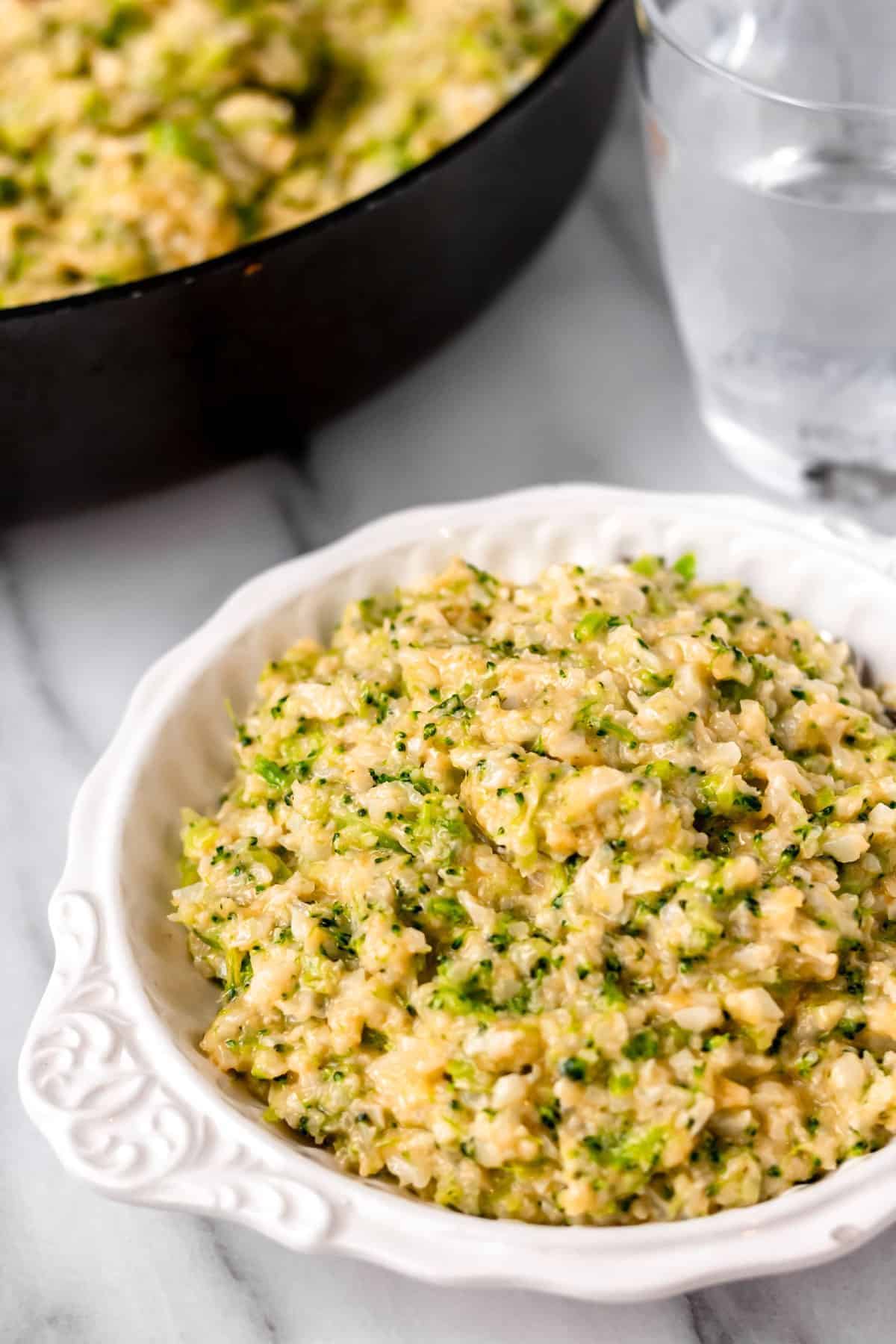 This cheese broccoli cauliflower rice incorporates nuttiness from cauliflower rice and adds a delightful depth, with the broccoli offering a fresh and slightly bitter note that cuts through the richness of the cheese.
Whether you're looking for a weeknight dinner or a crowd-pleasing potluck option, this cheesy broccoli cauliflower rice won't disappoint.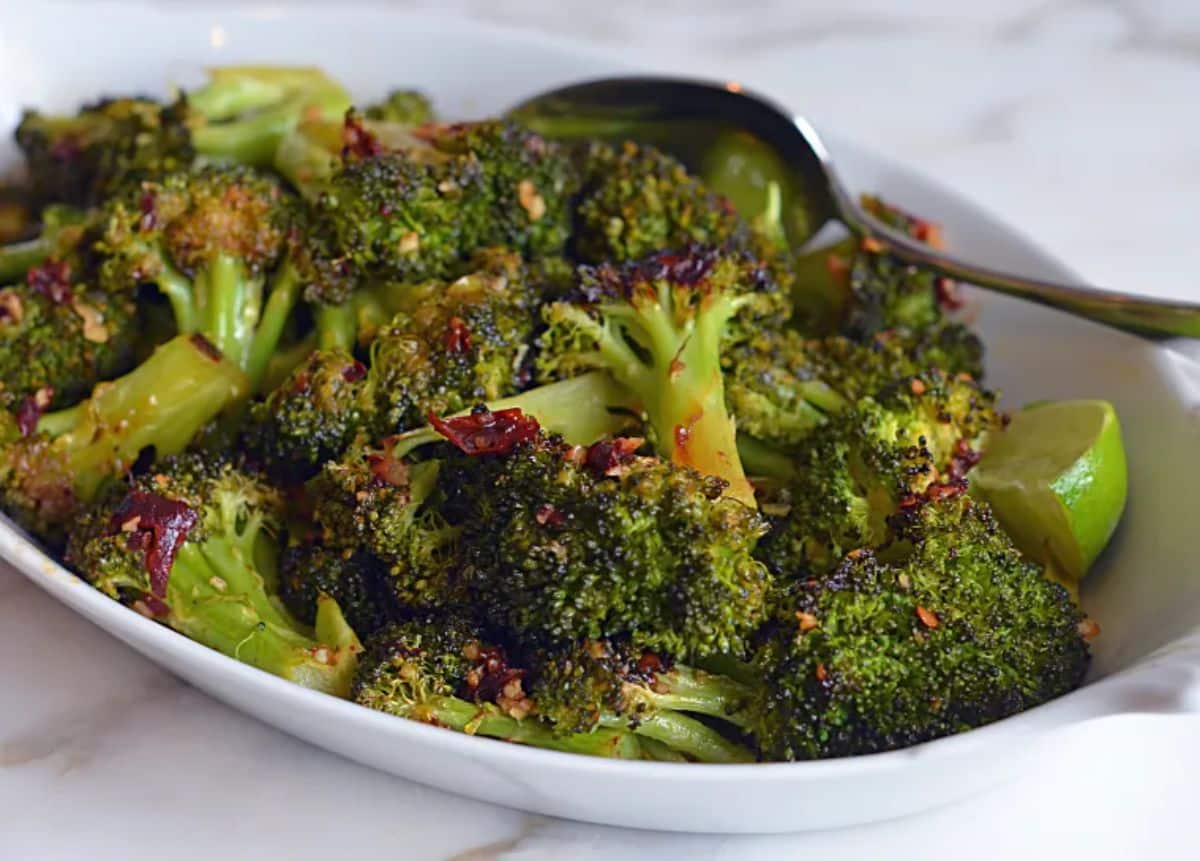 This sensational dish takes the timeless and beloved roasted broccoli to a new level with the addition of a delectable chipotle honey butter.
The roasted broccoli, with its tender yet slightly crisp texture, perfectly complements the richness and heat of the chipotle honey butter.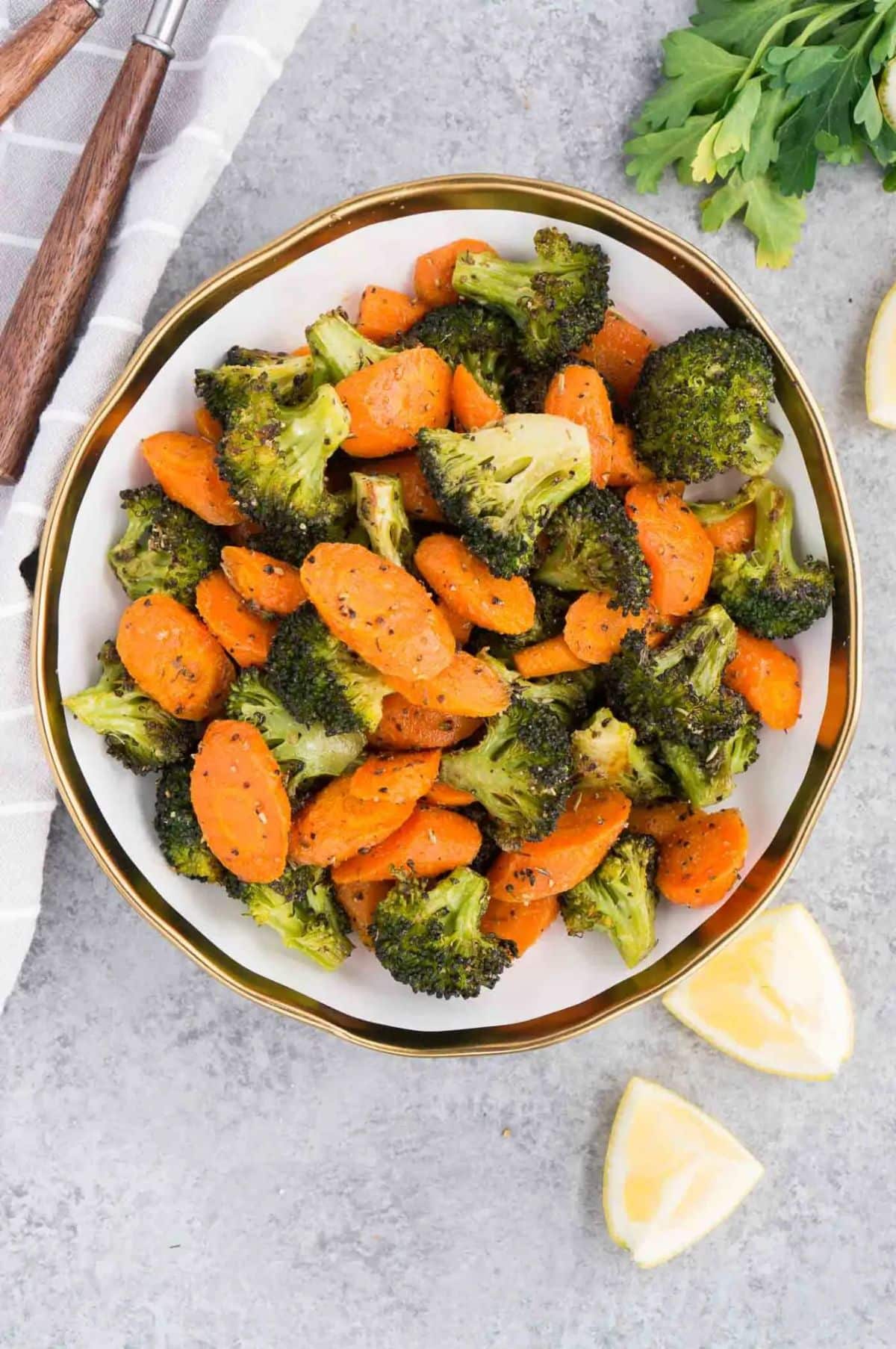 You'll surely be delighted by the satisfying crunch and subtle sweetness of the roasted carrots, perfectly complemented by the tender yet slightly crisp broccoli florets.
You'll also get to enjoy a pleasant blend of earthiness, sweetness, and a hint of caramelization from the roasting process in this simple yet highly pleasant side dish.
Cheese and broccoli go together like peanut butter and jelly, so it's no surprise that this classic broccoli cheddar soup is a crowd-pleaser like no other.
It's ideal for a chilly, cozy evening by the fireplace in the winter, but you can enjoy it any time of the year.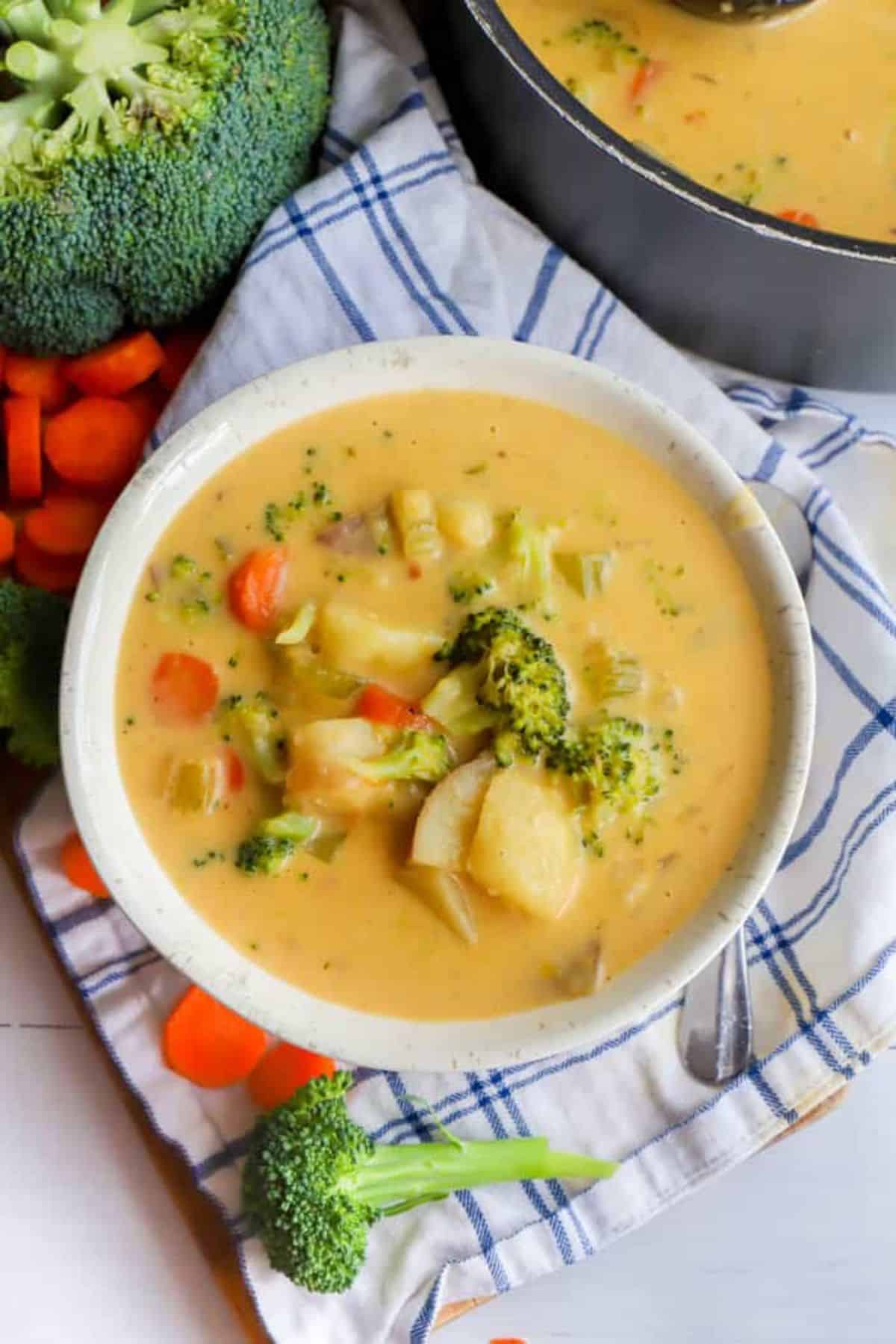 Another broccoli and cheese soup is this one, which emphasizes the addition of potatoes, which add a delightful contrast to the more fibrous broccoli.
I appreciate potatoes in my cheese-heavy soups because they help soak up all the cheesy goodness.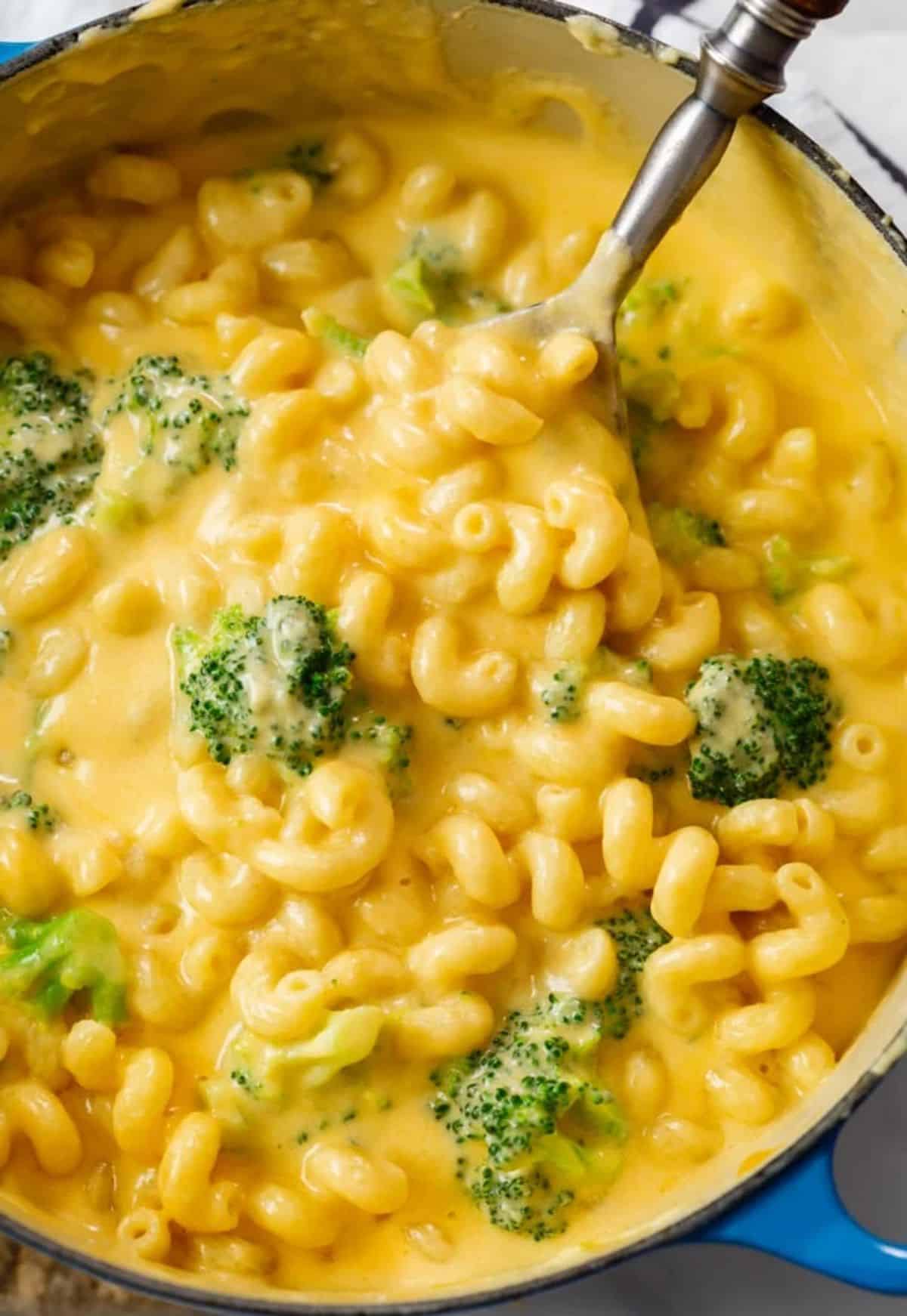 The cavatappi pasta, cooked al dente, pairs magnificently with the creamy cheese sauce, and the broccoli florets add a delightful earthiness and dynamic consistency.
It's truly a crowd-pleaser that satisfies both kids and adults alike, making it ideal for extended family potlucks.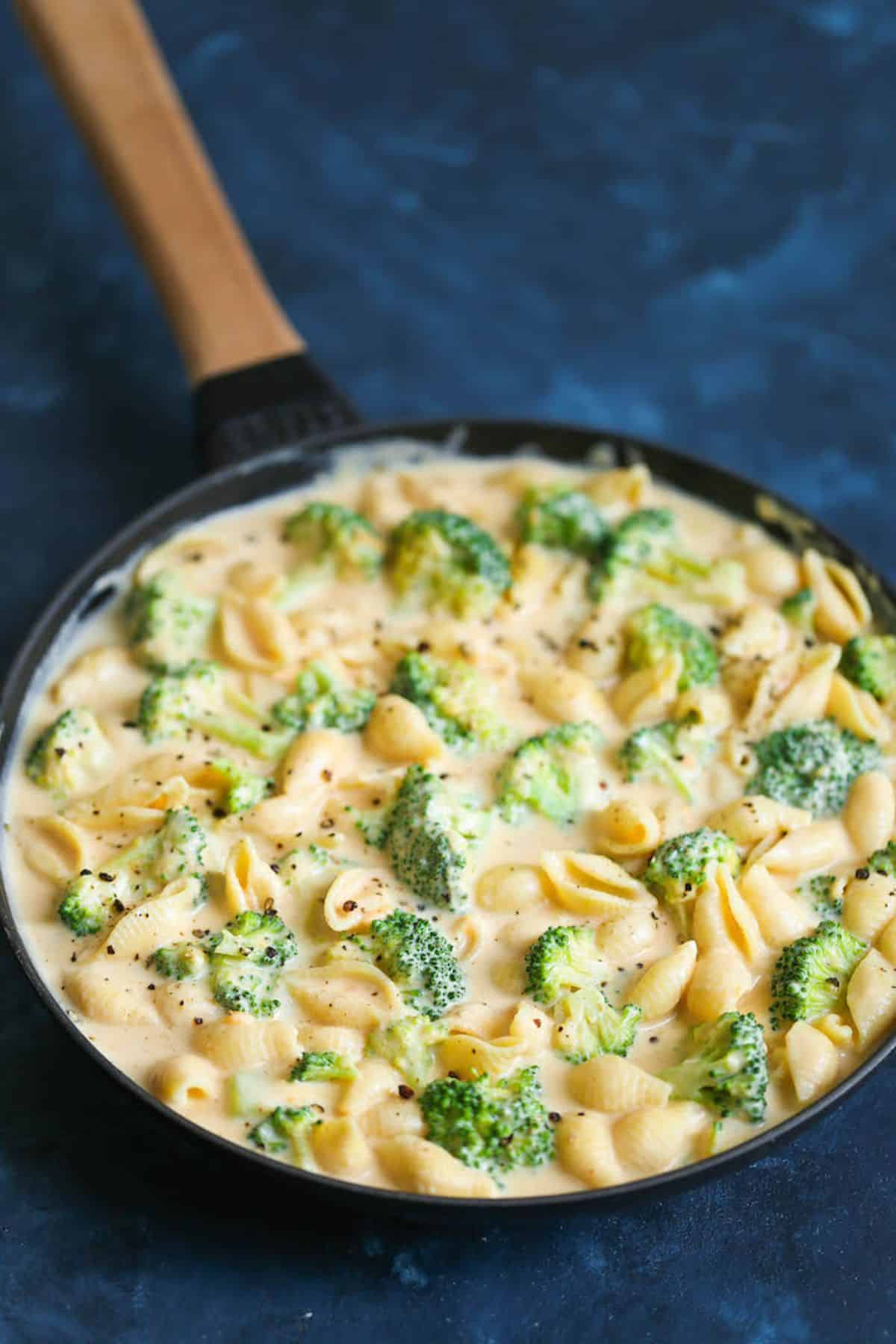 If the previous recipe sounded good, but you prefer your mac & cheese to be exceptionally creamy, try out this creamy broccoli mac & cheese recipe.
It incorporates standard pasta shells, which capture the creamy sauce well, extra-sharp cheddar for a punchier taste, and Dijon mustard for extra creaminess, tanginess, and spice - what more could you ask for?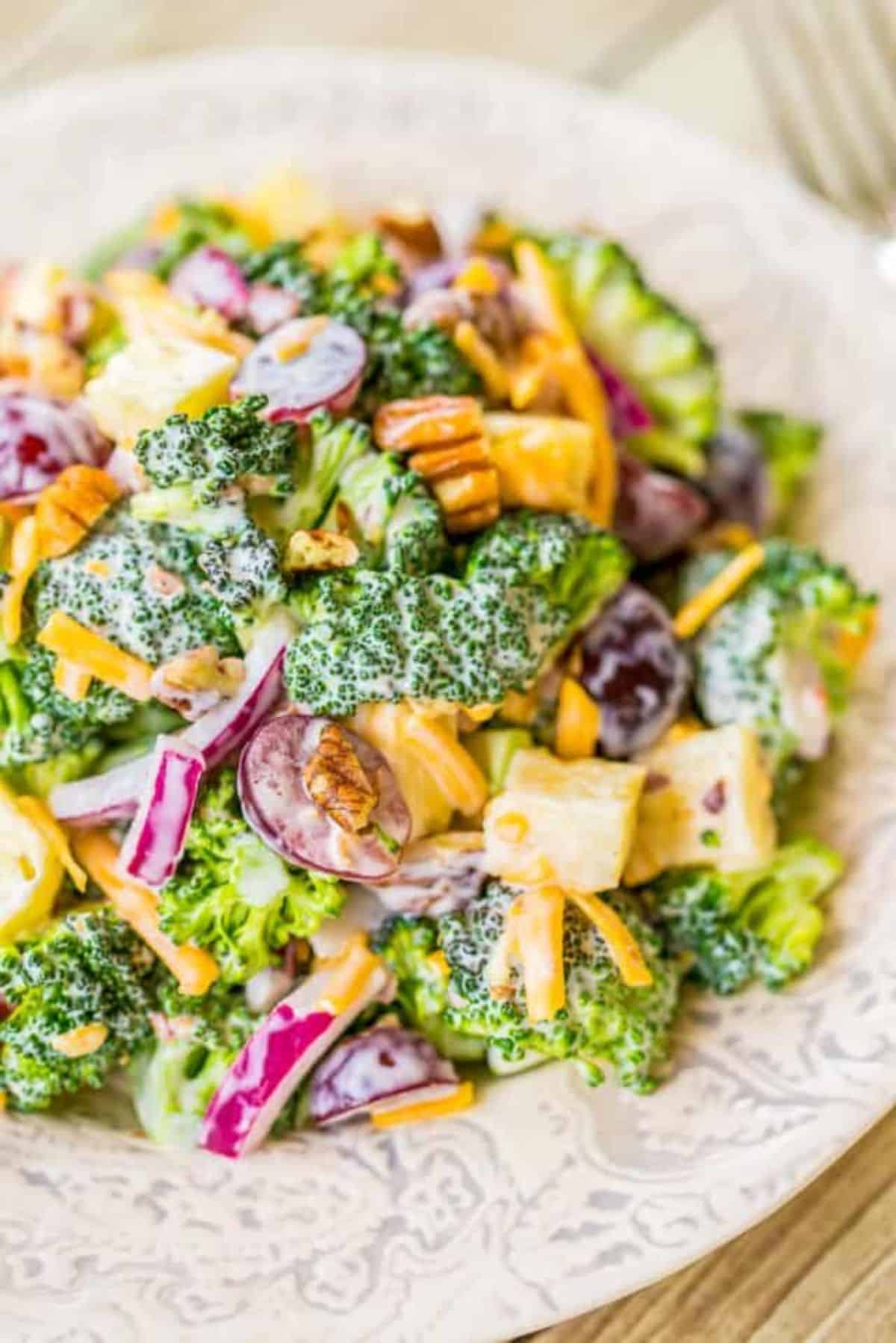 This remarkable creation unites the homely of broccoli and the tropical sweetness of pineapple in a refreshing and unexpected way.
The vibrant green broccoli looks striking next to the yellow-gold of chopped pineapple, and it pairs magnificently with grilled seafood, such as shrimp or salmon.
Adding a crispy and buttery topping of crushed Ritz crackers to this broccoli cheese casserole is genius!
The taste is a perfect balance of creamy, cheesy, and slightly salty notes, with the crunchy Ritz cracker topping adding an irresistible texture.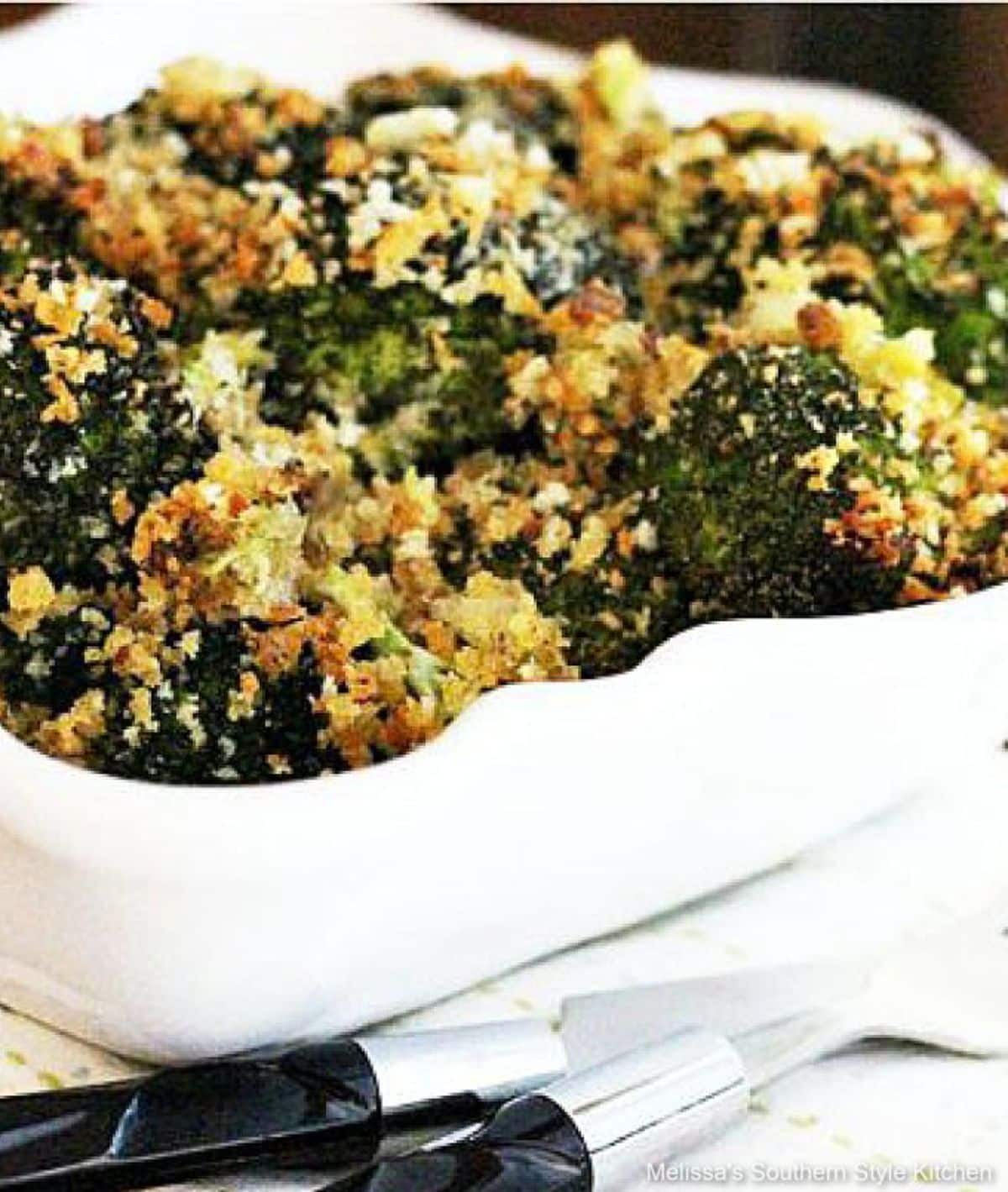 In this roasted panko parmesan broccoli dish, the tender broccoli florets, perfectly roasted to retain their natural sweetness, are coated in a golden panko parmesan crust that adds an irresistible crunch.
You'll get a delightful fusion of nuttiness from the Parmesan, a subtle tang from the panko breadcrumbs, and a burst of freshness from the roasted broccoli.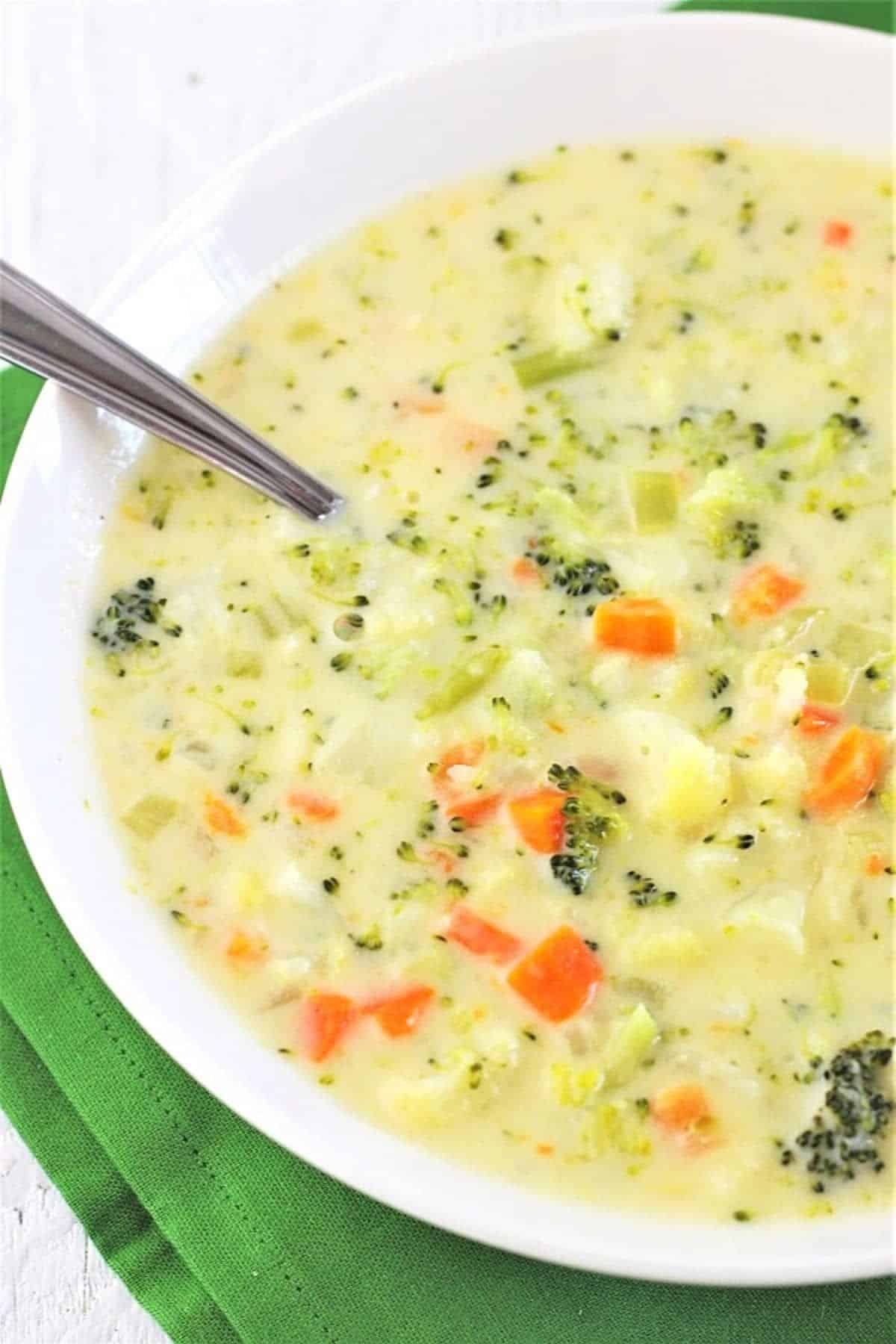 If you're looking for a nutritious, soul-warming bowl of goodness, don't hesitate to make this broccoli and cauliflower cheese soup.
This magnificent creation takes the beloved combination of broccoli and cauliflower and transforms it into a creamy, velvety soup that will warm you from the inside out.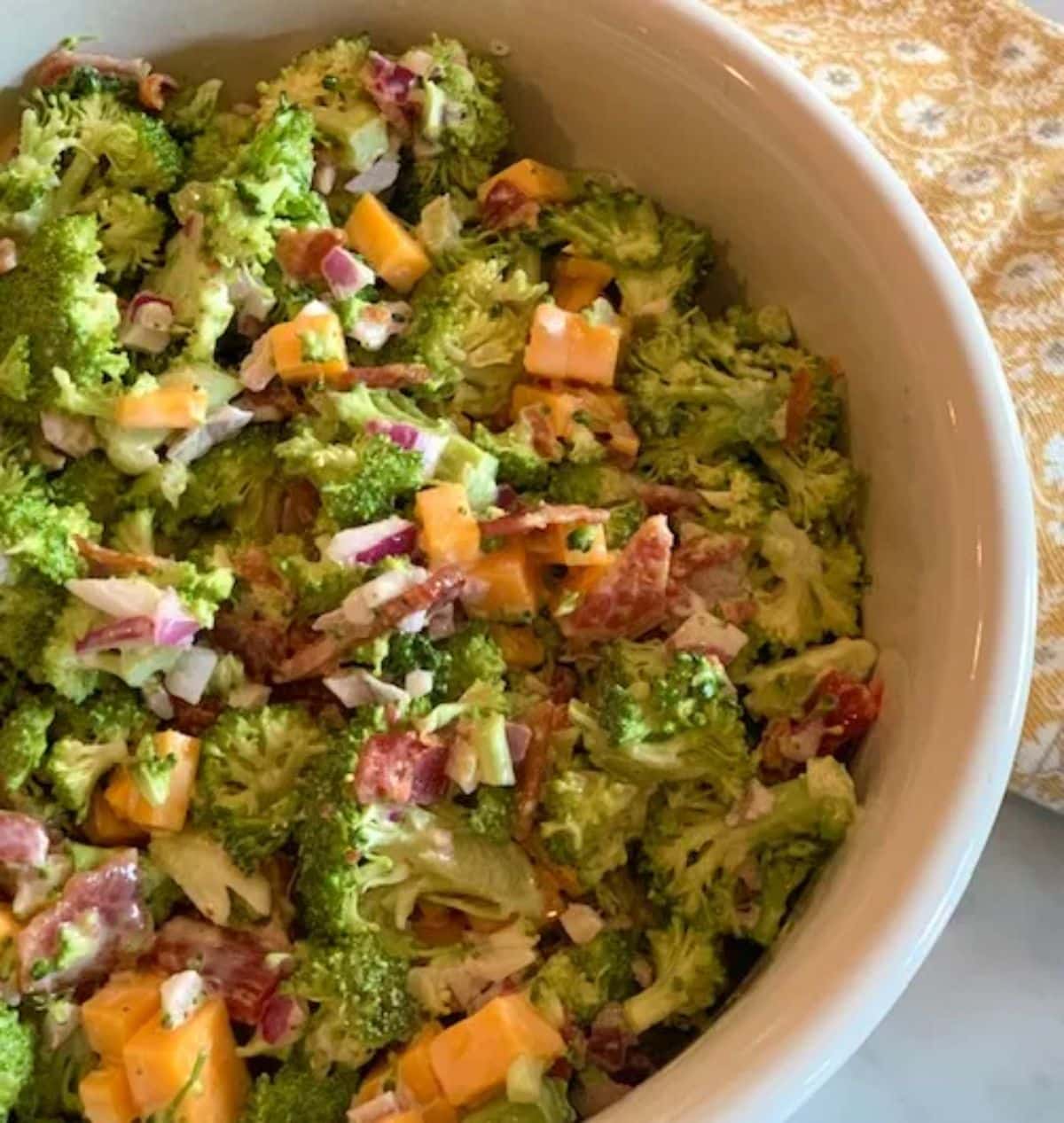 While the star of the show in this salad is the broccoli, the combination of ingredients like bacon, cheese, apple cider vinegar, red onion, and mayonnaise gives this salad its "Southern" title.
The bacon adds a smoky and savory note, while the cheese brings a creamy richness, and the apple cider vinegar and red onion combo provides a tangy and zesty kick that cuts through the richness.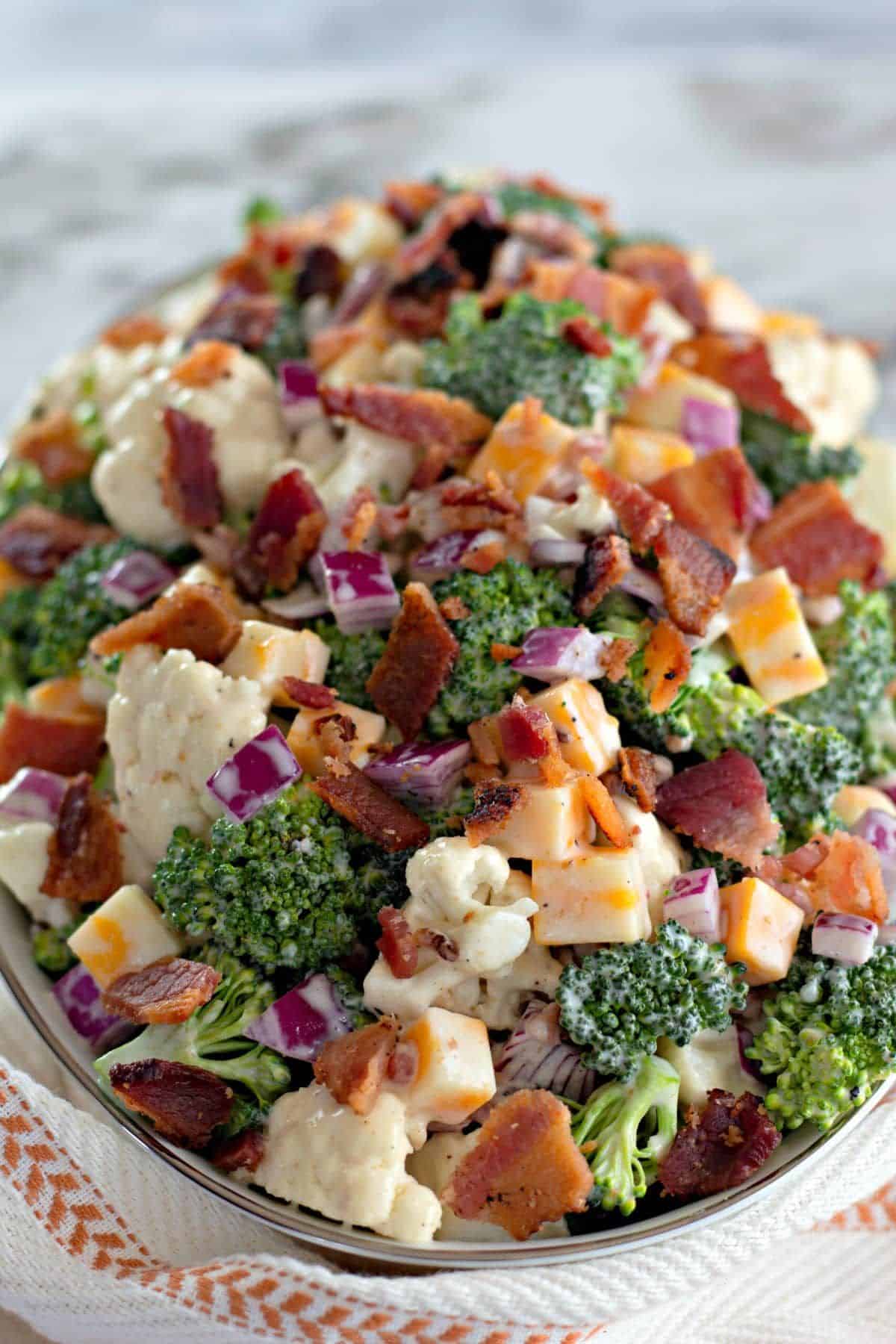 This low-carb loaded broccoli salad takes the simple concept of a classic loaded salad and gives it a healthy twist by incorporating low-carb ingredients that are as delicious as they are nutritious.
The plain Greek yogurt adds a creamy tanginess reminiscent of traditional mayonnaise-based dressings, while the red wine vinegar brings a zesty and acidic kick that balances the flavors perfectly.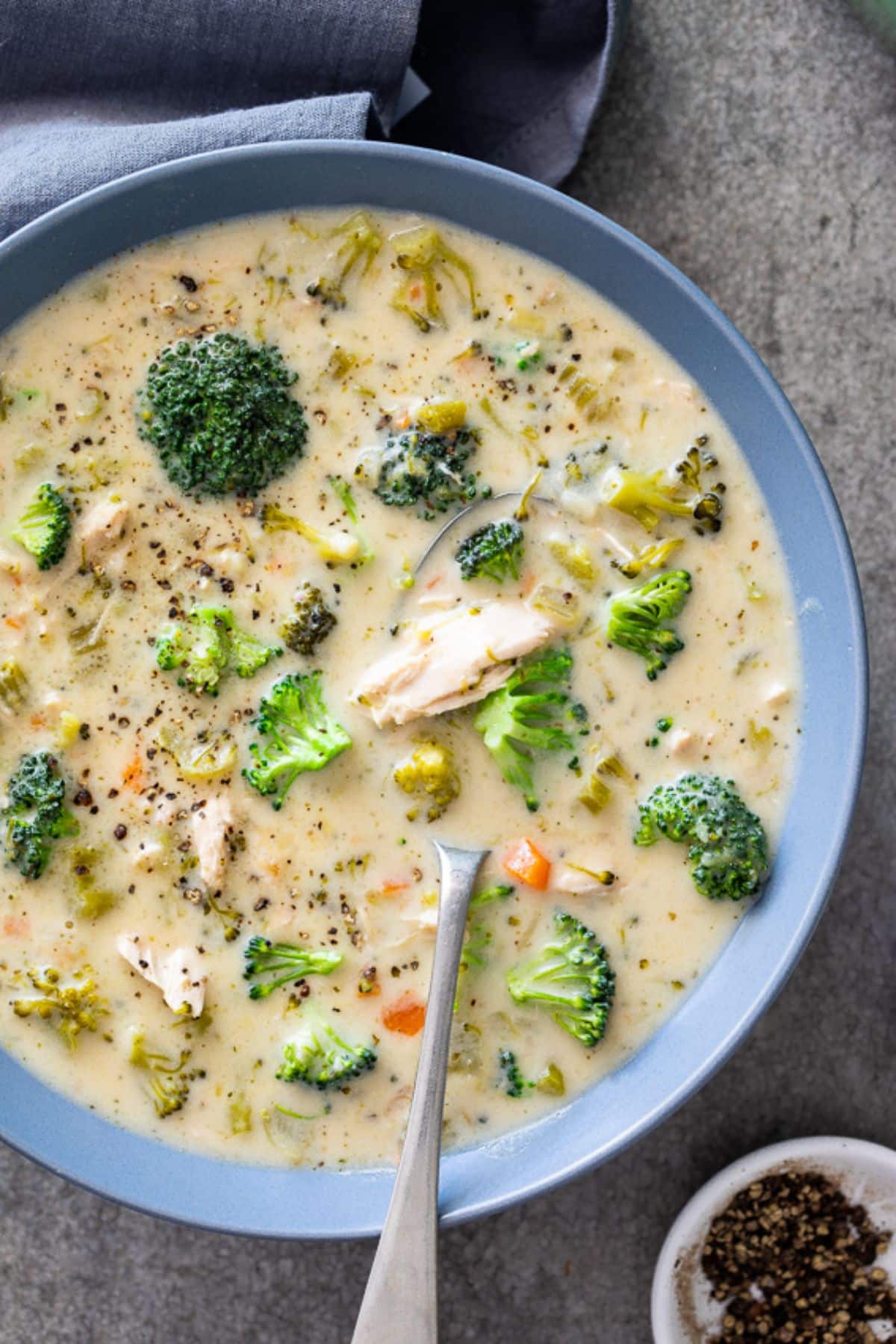 If you're hoping to find a warm winter dinner, this healthy chicken broccoli soup should certainly be on your list, especially if you can pair it with a side of whole-grain bread or a simple green salad to complete the meal.
It's a testament to the power of wholesome ingredients coming together, perfect for when you're seeking a nourishing meal for lunch or dinner any night of the week.
The garlic, sautéed until golden and fragrant, adds a savory note that complements the earthiness of broccoli quite beautifully.
It's a relatively sophisticated meal that pairs beautifully with roasted meats, such as juicy roast chicken or tender grilled steak, allowing the flavors to shine.
You'll get to enjoy succulent beef, tender broccoli, and a medley of vibrant ingredients in this classic stir fry, resulting in a harmonious fusion of umami flavors, with hints of soy sauce, garlic, and ginger infusing every mouthful.
To take it up a notch, this particular recipe includes ginger for extra flavor and an added dimension of spiciness.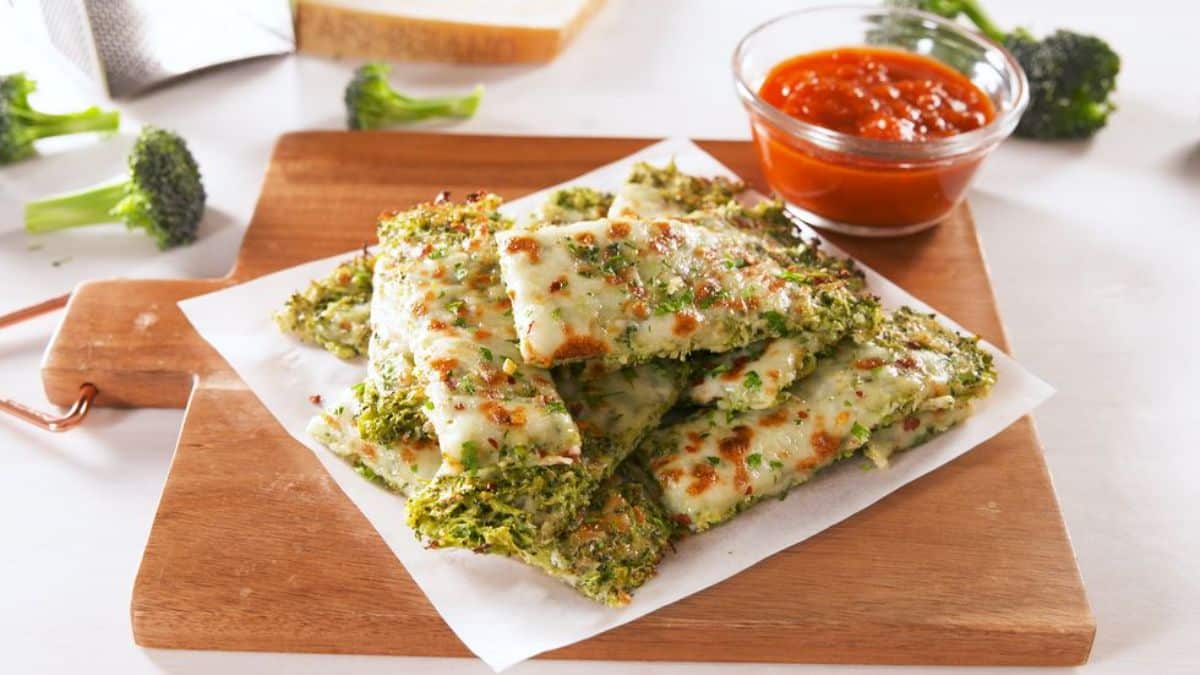 This broccoli cheesy bread recipe ensures bread that's perfectly toasted to a golden brown, providing a delightful crunch that gives way to a soft and cheesy center.
The taste is a gorgeous mix of creamy, gooey cheese and the earthy freshness of the broccoli, perfect for serving as a unique appetizer, especially when paired with a bowl of warm tomato soup or as a side dish alongside a juicy grilled steak.