What to do with all that leftover ham from the holidays? If you've never had a ham pot pie, you're in for a treat! Just as delicious as a chicken pot pie with a flaky pie crust filled with a rich filling of tender potatoes, ham, and cheese.
Talk about the ultimate comfort food! Takes about 30 minutes to prepare to go in the oven, or it freezes well too!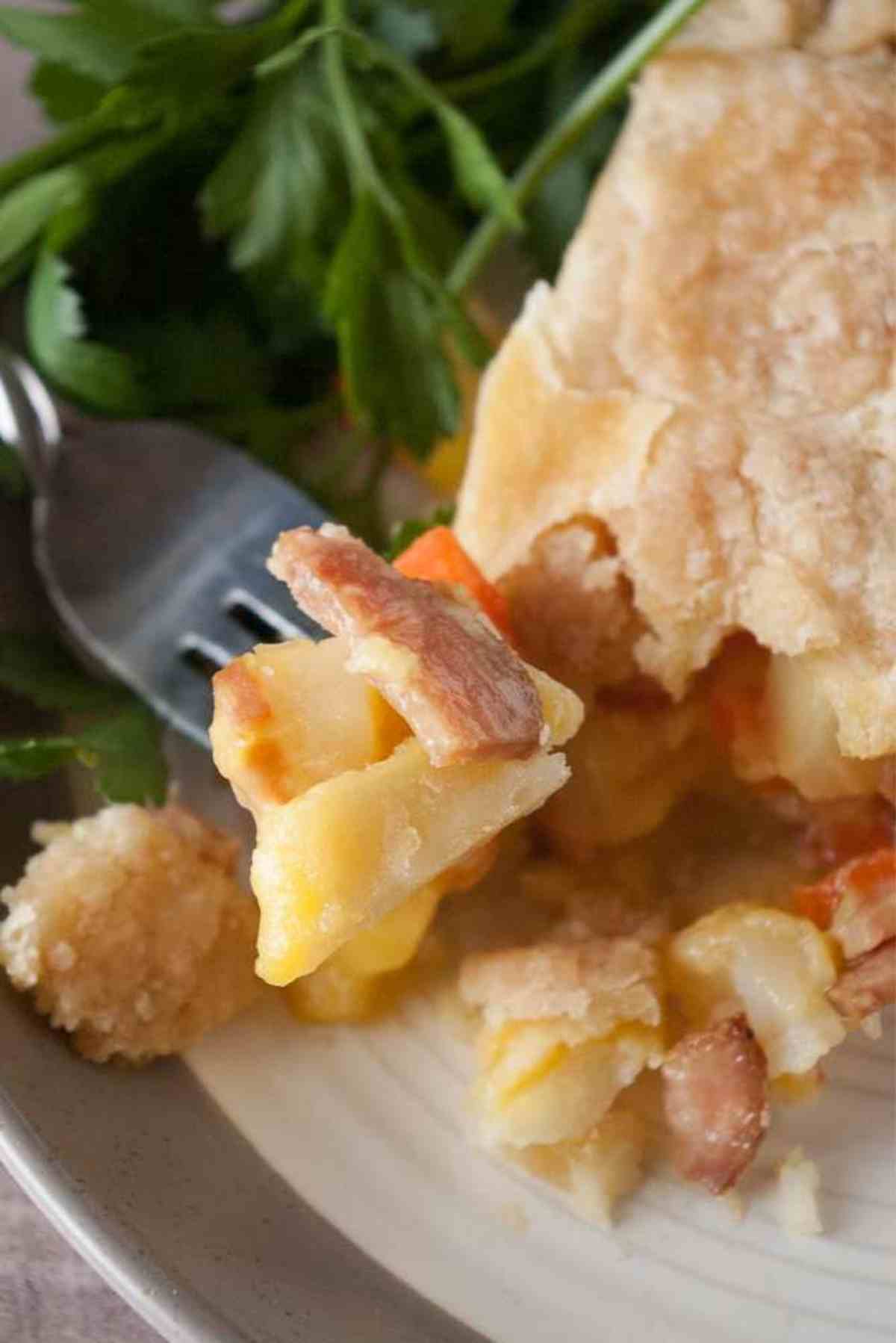 Jump to:
Why You'll Love This Recipe
Uses leftover ham from Christmas or Easter dinner, leftover ham steak, or ham cubes!
Easy to prepare and is a fantastic make-ahead recipe!
Ready to bake in 30 min!
This ham pot pie recipe freezes extremely well!
Ingredient Notes
Pie Crust - Either make a

Homemade Pie Crust

or a store-bought one will work fine as well.
Ham - Any leftover ham will work for this recipe. If you're just in the mood for a ham pot pie but don't have leftover ham, you can pick up a package of cubed ham pieces from the store to use instead.
Butter - Both salted butter and unsalted butter work just fine. Olive oil can be substituted for the butter.
Flour - All-purpose flour, never self-rising flour.
Chicken Broth - I always make my broth from a chicken base instead of the bouillon granules. The granules tend to be stale and have much less flavor. My favorite base is the Better than Bouillon brand! You can also use cartons or cans of chicken broth or chicken stock.
Cheese - I use cheddar cheese or Colby jack cheese for this recipe.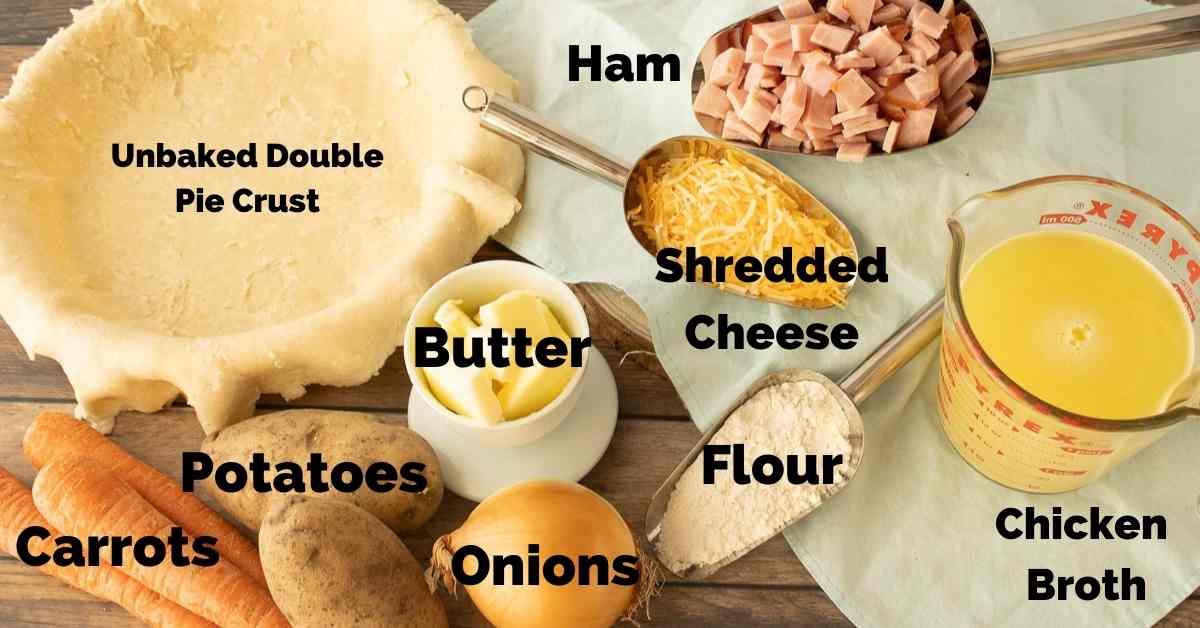 What I Used For This Recipe
How to Make Step-by-Step Instructions
Prepare the pie dough and roll the dough out into a double crust.
Line a 9-inch pie plate or pie dish with the bottom crust. Set aside.
Preheat oven to 350 degrees.
Melt butter (2 Tbs) to sizzle over medium heat in a large skillet or medium soup pot.
Sauté the carrots and onions just until the onions are cooked through.
Stir in ⅛ cup of flour and stir to make a paste.
Add 2 cups of chicken broth a little at a time, mixing well after each addition until all the broth is incorporated.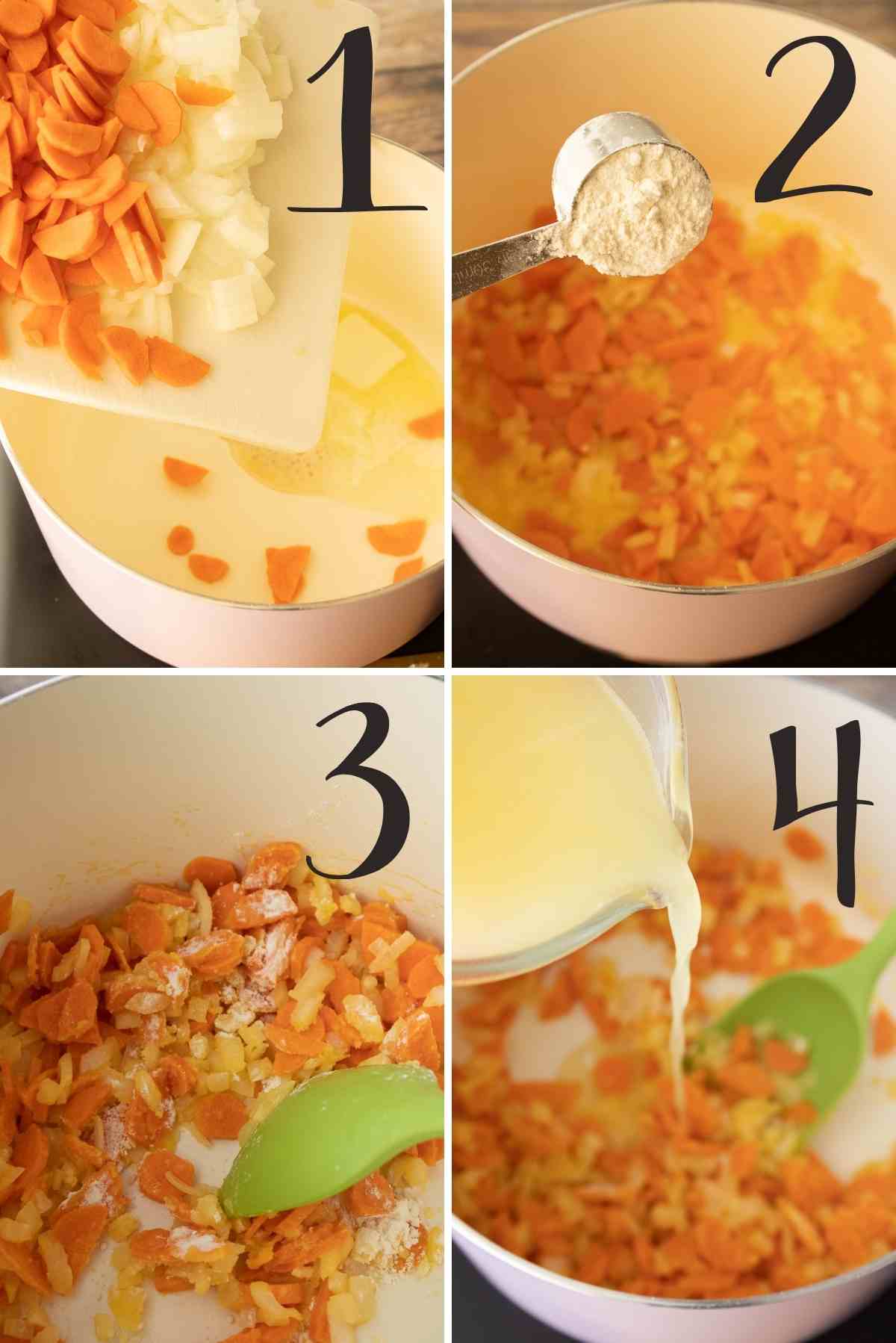 Stir in the potato cubes and simmer until the potatoes are mostly done.
Stir in the grated cheese and ham. Stir until smooth.
If you wanted to add some frozen peas, you could do so at this point. I personally like peas; I do not, however, like having to pick out peas from my kid's dinners. So I didn't add them.
Pour the pot pie filling into the prepared pie plate.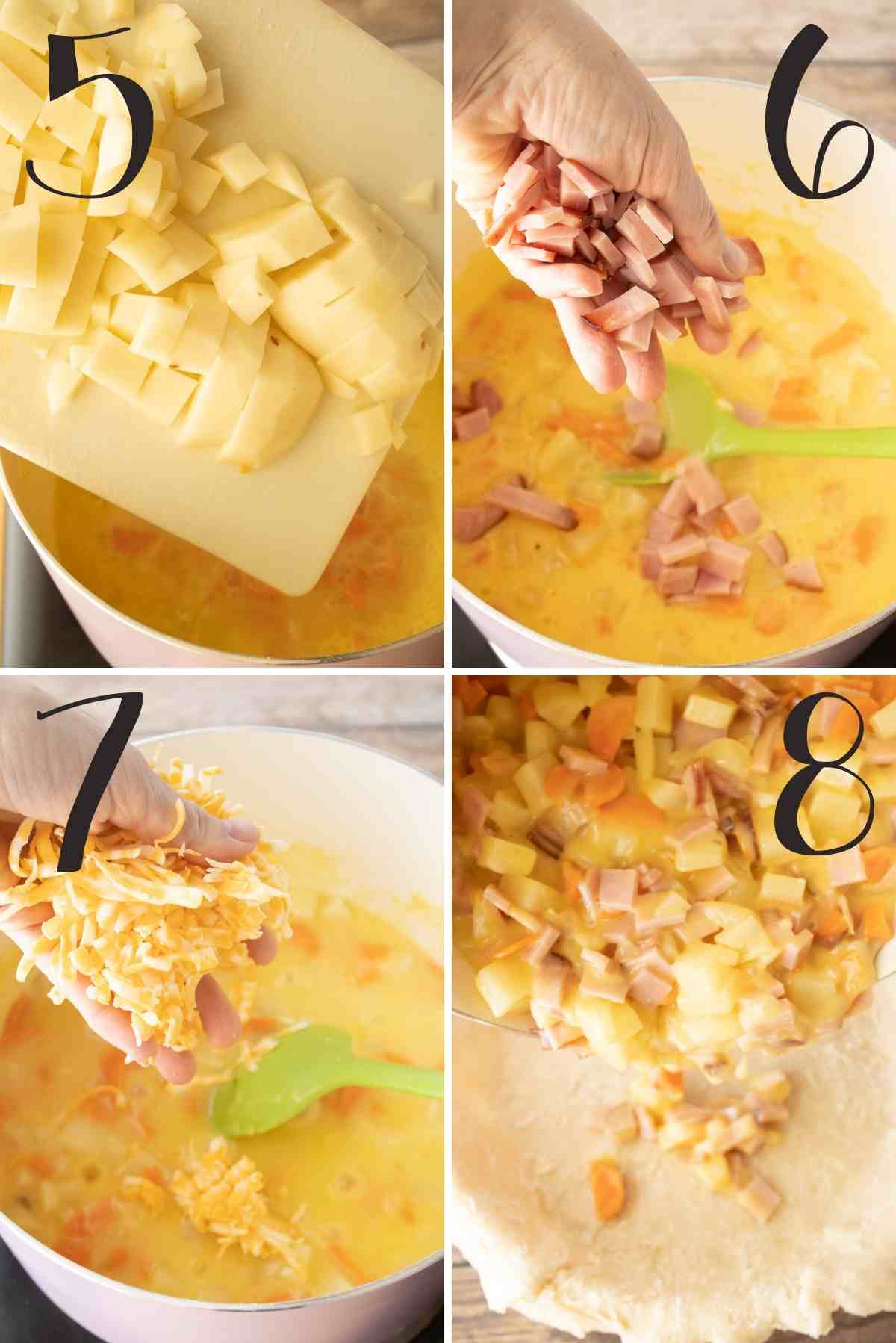 Top with a top crust, seal the edges, and cut a few slits in the top for the steam to escape from.
Follow this link for 15 Pretty Ways to Finish Pie Crust Edges if you feel like getting fancy!
Bake at 350 degrees for 1 hour and 15 minutes.
The pie crust should be golden brown on the edges and lightly browned across the top.
Cool for 15 minutes before serving.
Garnish with green onions for a little pop of color!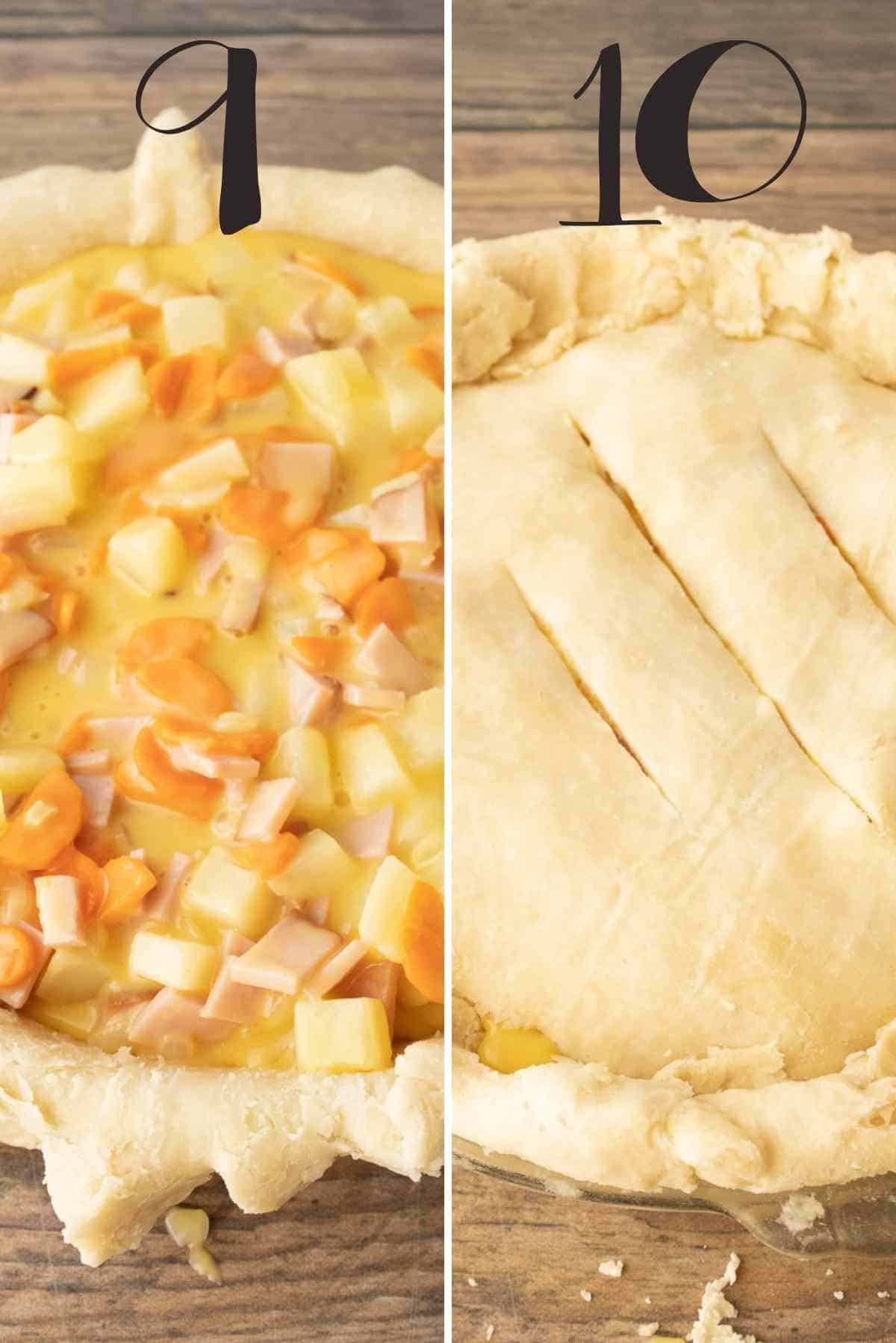 Recipe FAQs and Expert Tips
Related Recipes
Have you tried this recipe? If so, leave me a rating and a comment below! And don't forget to subscribe to my newsletter to get my latest recipes sent right to your email! You can also follow me on Facebook, Pinterest, and Instagram!
Thanks for stopping by! Before you go, be sure to check out a few of my most popular recipes!