Sauerkraut is a fermented cabbage dish that has traveled the world since its ancient Chinese origins over 2,000 years ago. Finally, it reached Europe and eventually became a staple in German cuisine.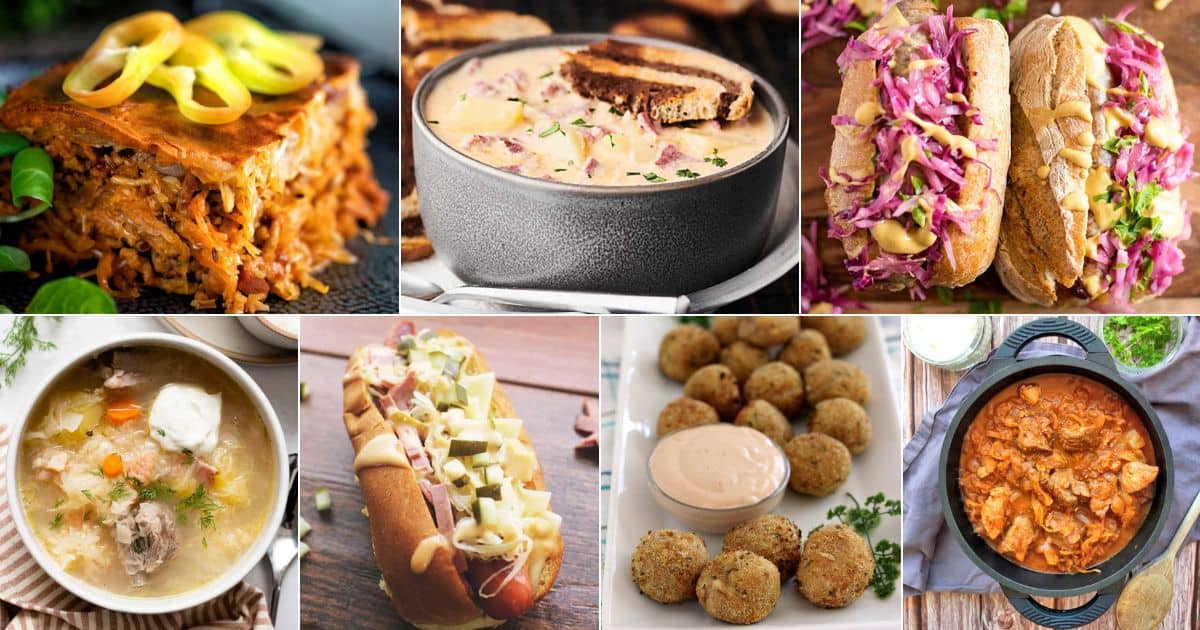 We've compiled a diverse selection of 27 recipes that go well with sauerkraut to inspire your culinary creativity.
Jump to:
1. Instant Pot Hash Brown Casserole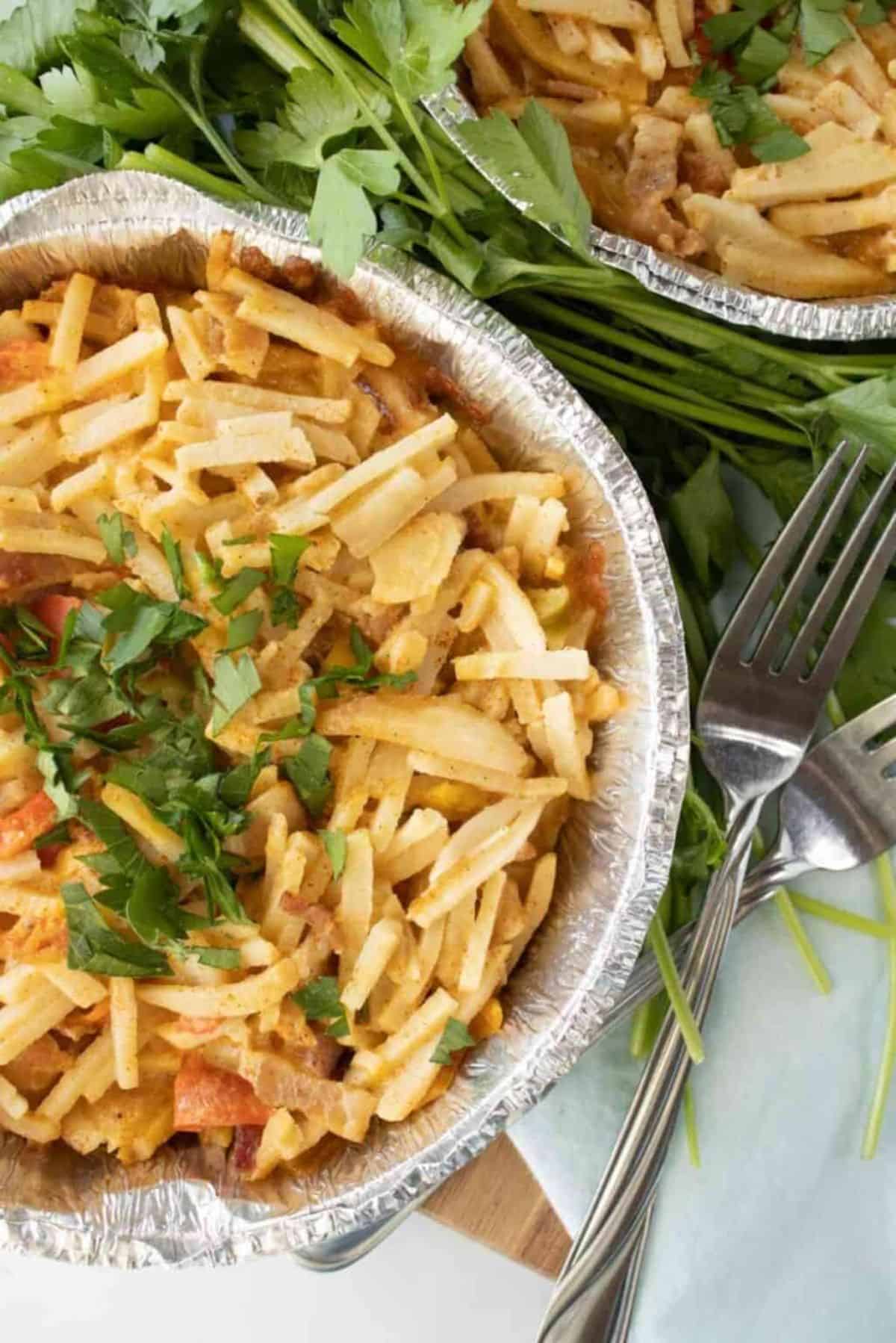 The creamy, comforting goodness of this cheesy, potato-packed delight offers a delectable counterbalance to the tangy punch of sauerkraut.
3 cups frozen hash brown shreds
1 ½ cups shredded cheddar or Colby Jack cheese
1 2.5 oz bag of bacon pieces
1 ½ cups frozen pepper and onion mix
5 eggs
2 tablespoon sour cream
¾ teaspoon salt
¾ teaspoon onion powder
¾ teaspoon garlic powder
¾ teaspoon smoked paprika
¼ teaspoon chili powder
⅛ teaspoon white pepper
2. Easy Turkey Reuben Sandwiches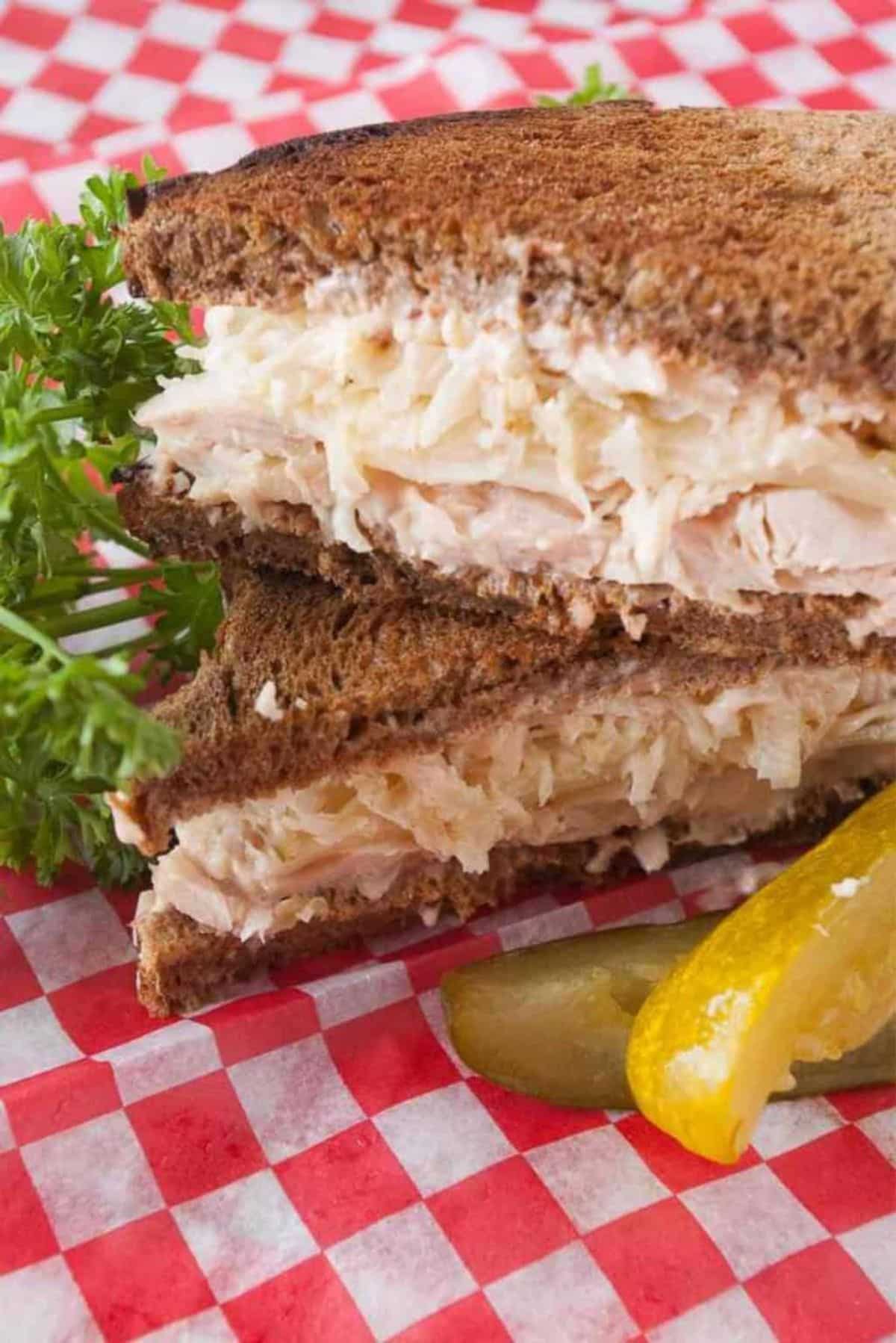 Who says you can't be a little fancy with your sauerkraut? These easy turkey reuben sandwiches are a delightful combination of juicy turkey, melty cheese, and tangy sauerkraut; all snuggled up between toasty slices of pumpernickel or rye bread.
Pumpernickel or rye bread
Sauerkraut
Sliced Swiss cheese
Leftover Thanksgiving turkey
Thousand Island Dressing:
½ cup mayo
¼ cup sour cream
¼ cup ketchup
1 ½ tablespoon white vinegar
1 tablespoon sugar
2-3 tablespoon minced Famous Dave's Spicy Sweet Hot pickles
½ teaspoon onion powder
3. Cheesy Honey Mustard Chicken with Bacon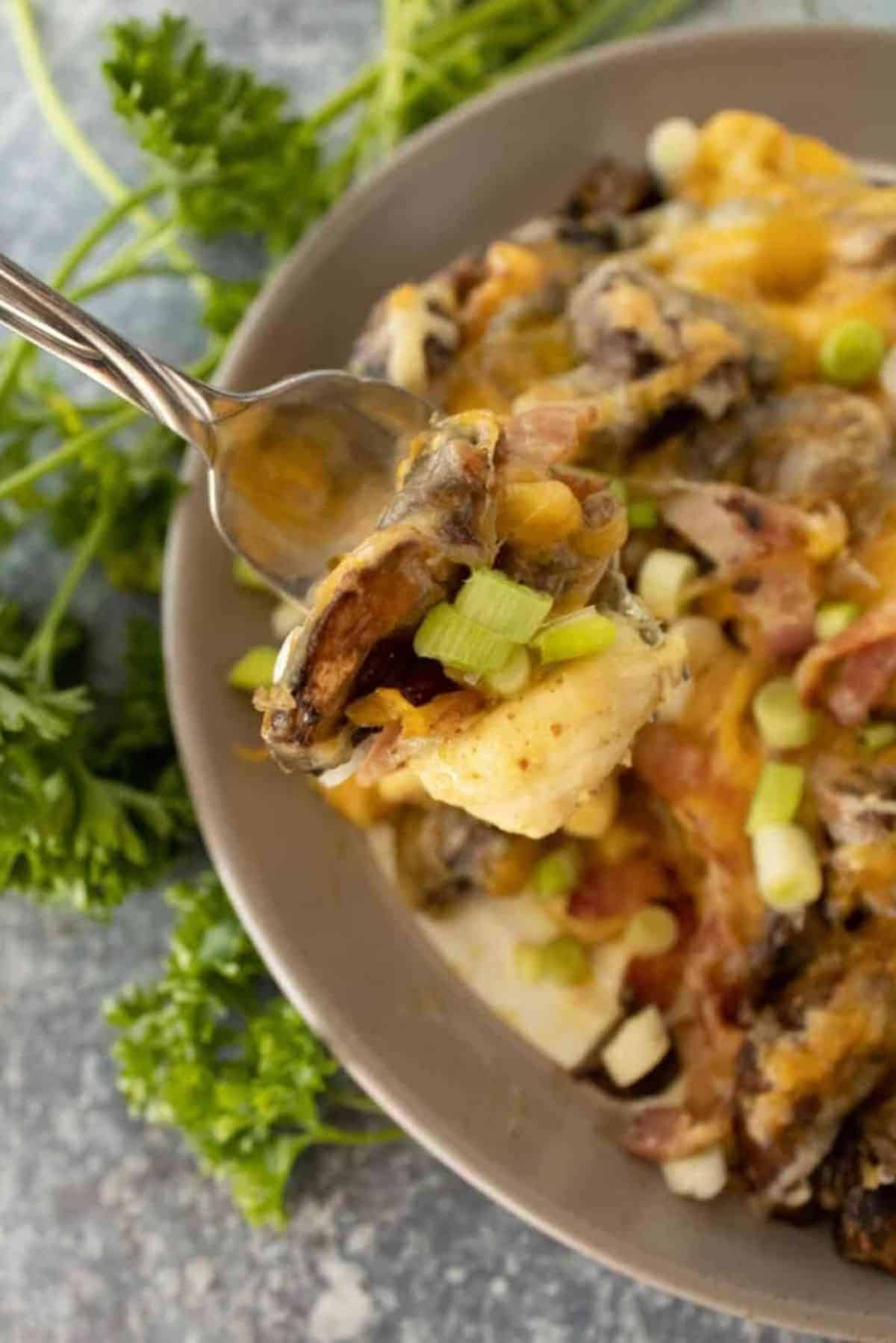 This cheesy honey mustard chicken, adorned with crispy bacon, brings a succulent sweetness to the table that pairs beautifully with the zesty zing of sauerkraut.
6 boneless, skinless chicken breasts cut into bite-sized pieces
1-gallon size Ziploc bag
¾ cup spicy brown mustard
¾ cup honey
1 teaspoon lemon juice
1 Tbs. olive oil
2 cups fresh-sliced mushrooms
1 lb. bacon, sliced into small pieces
2 cups shredded cheddar cheese or Colby Jack cheese
Additional olive oil for cooking
4. Easy Ground Beef Stroganoff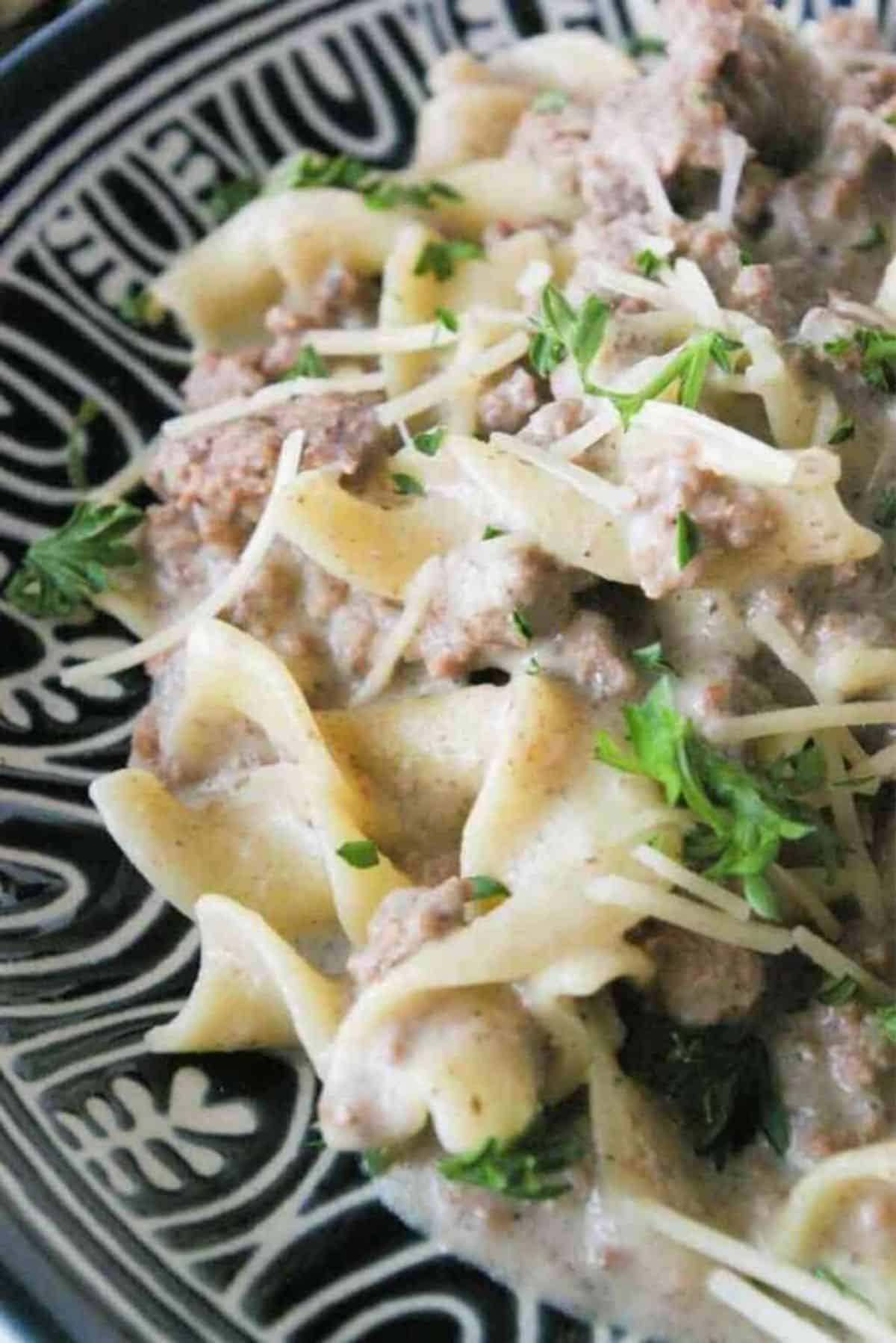 The rich, savory flavors of easy ground beef stroganoff create a bold and satisfying counterpart to the bright tang of sauerkraut, making for a dazzling pas de deux on the plate.
¼ cup butter
¼ cup onion, chopped
8 oz sliced or whole mushrooms
¼ cup flour
2 ½ cups beef broth
1 teaspoon salt
½-1 cup whole milk (slightly warmed)
¼ cup sour cream
1 lb ground beef
3 cups medium egg noodles
5. Cheesy Ham and Potato Soup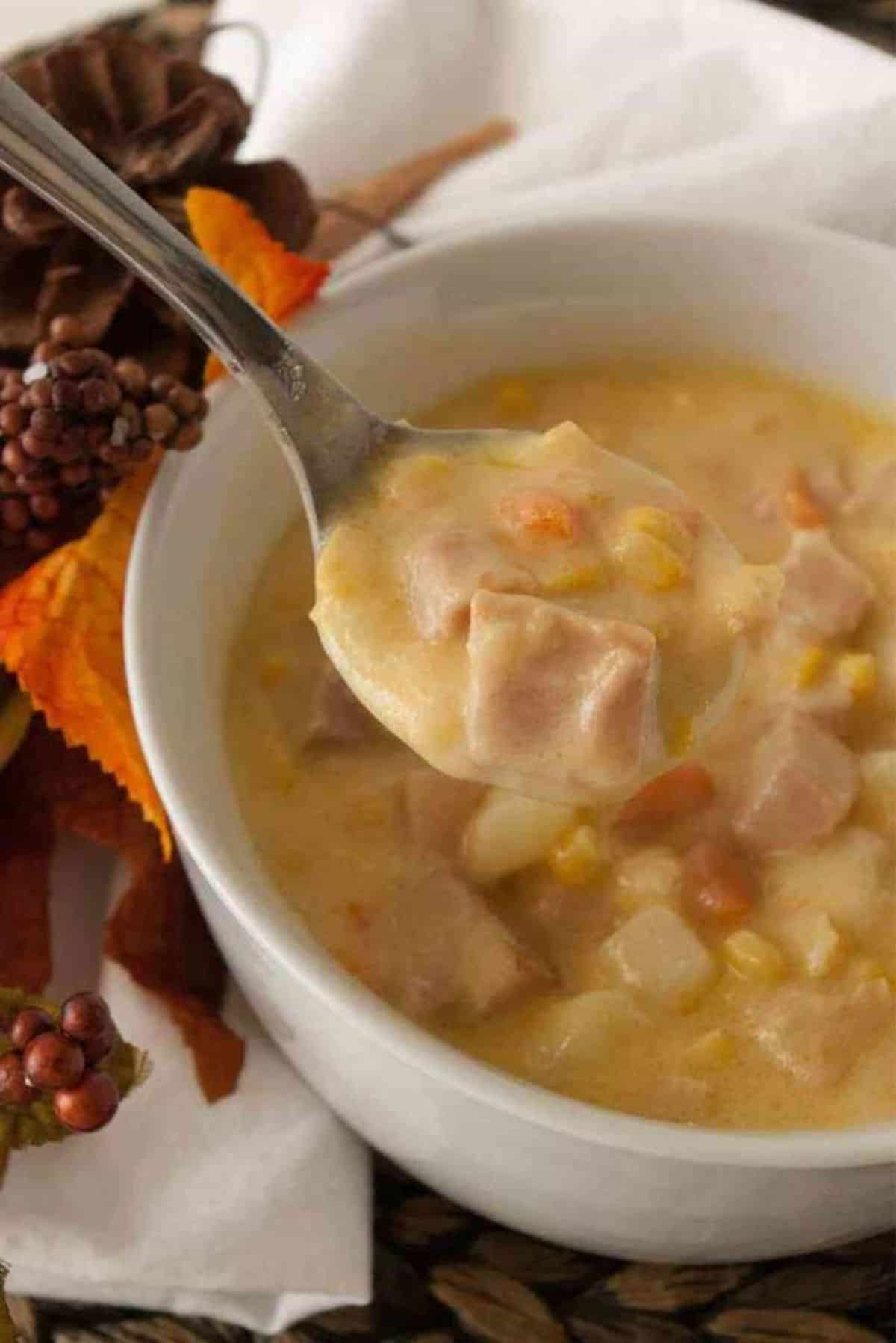 The creamy, cheesy base of this soup is studded with tender ham and potatoes, making for a comforting counterpart to a bit of sauerkraut seasoning.
½ cup chopped onion
1 cup sliced or diced carrots
½ cup butter
⅛ cup flour
6 cups chicken broth
2 cups small cubed potatoes
2 cups cubed ham
1 (15.25 oz) can of corn kernels, drained
8 oz. Velveeta cheese
6. German Sauerkraut Casserole with Bacon and Brown Sugar
This German-inspired casserole, featuring smoky bacon and a touch of brown sugar sweetness, is an irresistible tribute to sauerkraut's heritage.
1-quart fresh sauerkraut do not drain
1 cup diced onion
1 15-ounce can of petite diced tomatoes drained
½ pound bacon, cooked crisp, reserve 2-3 tablespoon drippings
½ cup sugar
½ cup brown sugar
7. Kielbasa and Sauerkraut Skillet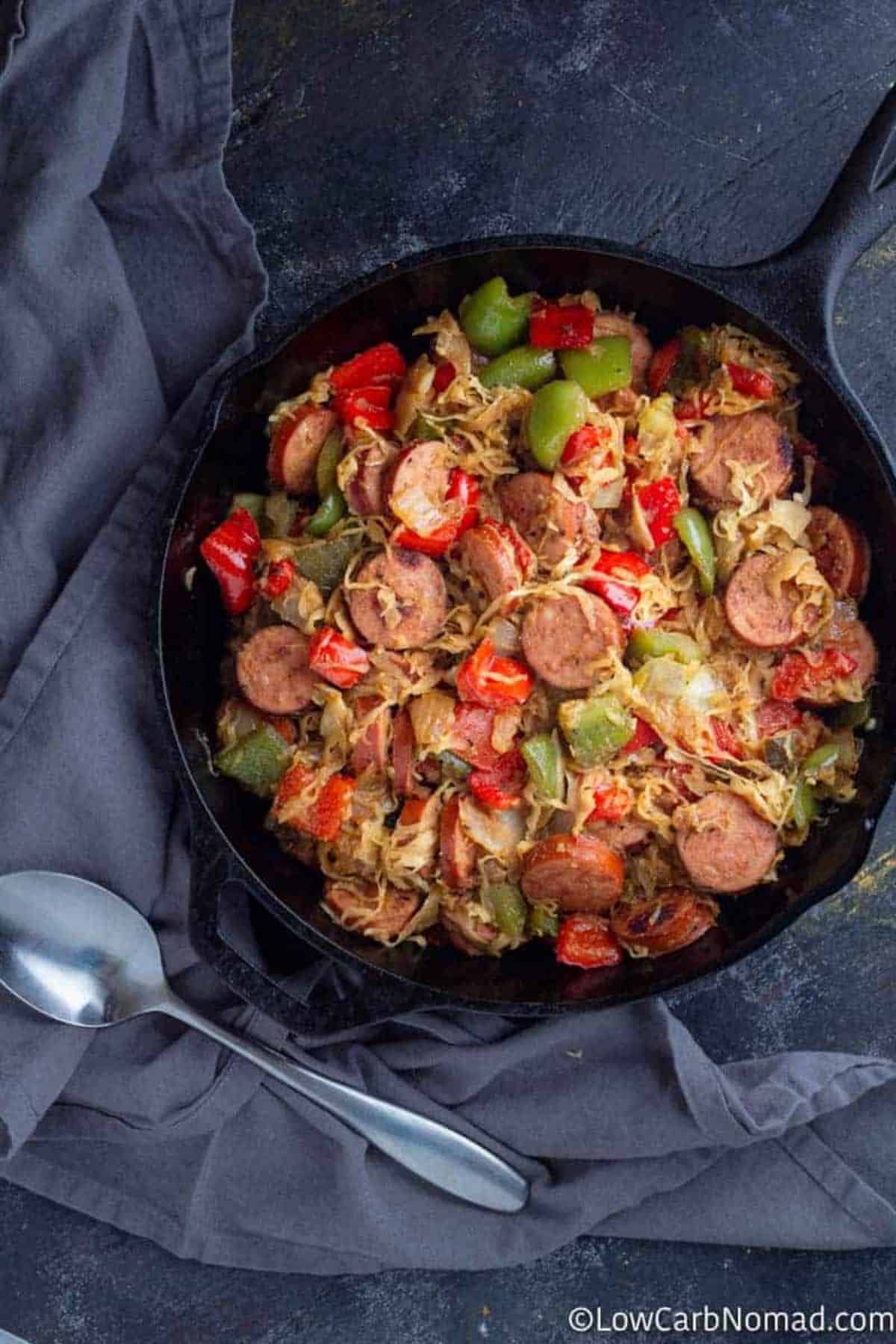 The Kielbasa and sauerkraut skillet is a hearty, one-pan wonder that's easy to toss together and even easier to clean up.
2 tablespoon olive oil
14 oz polish kielbasa
1 onion
2 bell peppers
1 ½ cup sauerkraut
1 teaspoon garlic powder
Salt and pepper to taste
8. Kapusniak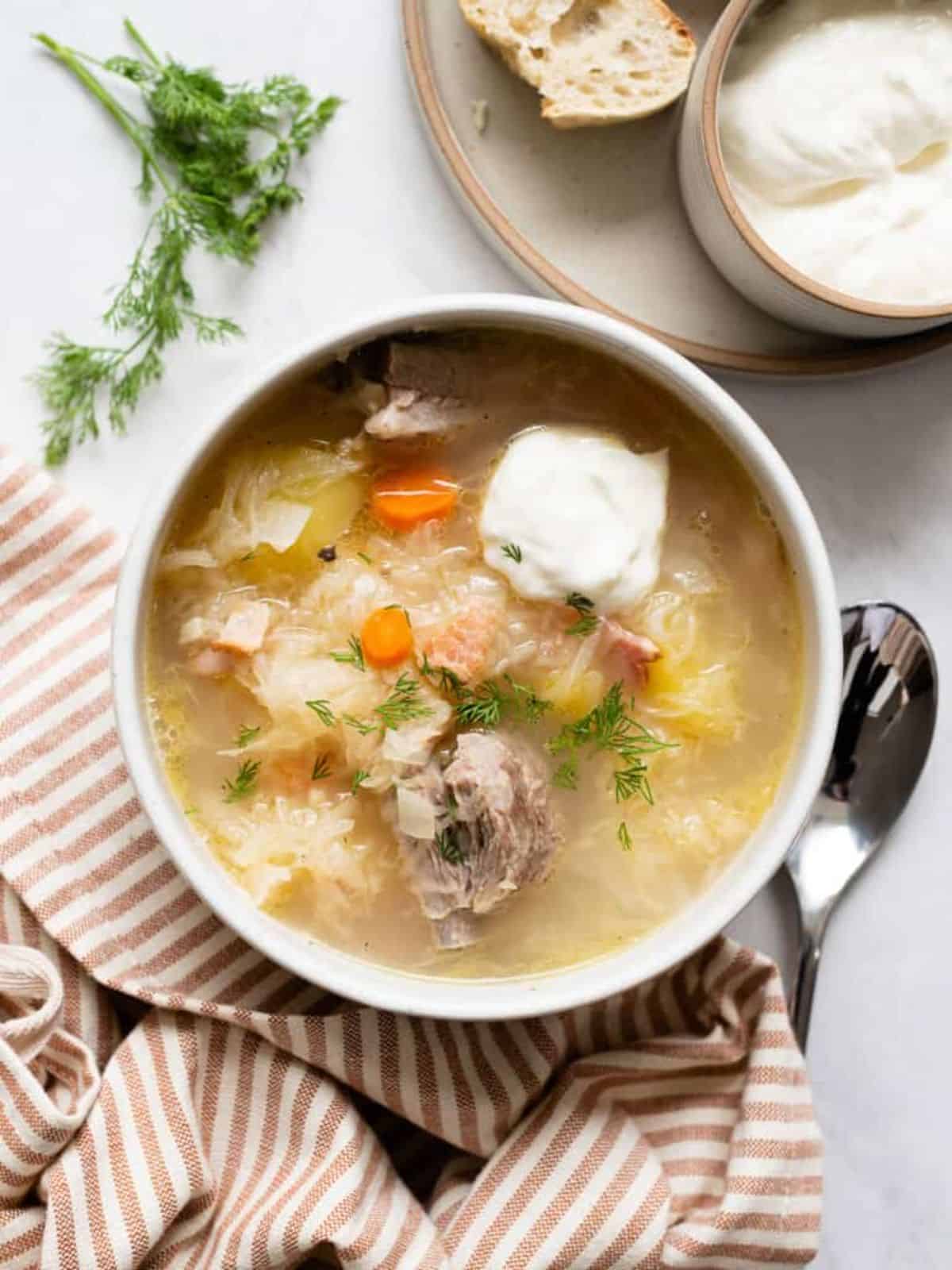 This traditional Polish soup has a flavorful broth packed with tender veggies and smoky rib meat.
2 lbs pork short ribs or pork side ribs
12 cups water
3 bay leaves
2 slices bacon
1 large yellow onion, chopped
2 large carrots, chopped
4 large potatoes, peeled and cubed
4 cups sauerkraut
1 teaspoon salt
½ teaspoon freshly ground black pepper
1 tablespoon fresh dill
9. Sauerkraut Balls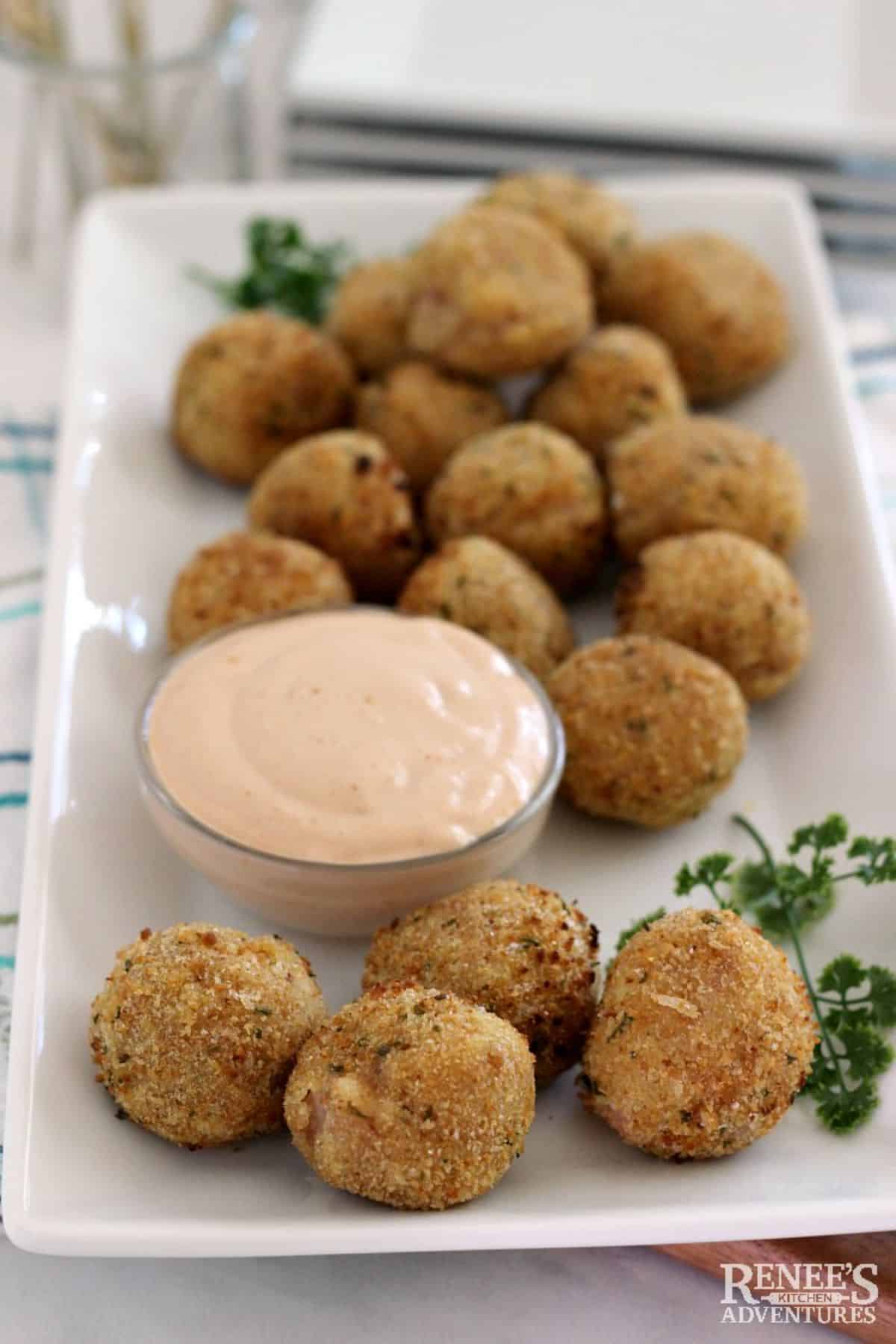 Crispy on the outside and filled with sauerkraut goodness on the inside, these flavorful sauerkraut balls are the perfect nibble.
2 tablespoon unsalted butter
½ cup finely chopped onion
1 cup finely chopped ham
½ teaspoon garlic powder
2 tablespoon all-purpose flour
14-ounce can of sauerkraut, well-drained, reserve juice
¼ cup sauerkraut juice
2 tablespoon dried parsley flakes
Dash Worcestershire sauce
Breading:
½ cup all-purpose flour
1 large egg + 2 tablespoon water
½ cup to 1 cup seasoned dry bread crumbs
Cooking spray or oil for pan frying
Russian dressing dipping sauce:
½ cup mayonnaise
2 tablespoon ketchup
½ teaspoon onion powder
2 - 4 tsp. prepared horseradish
½ teaspoon hot sauce
Dash of Worcestershire sauce
Dash paprika
Pinch of salt
10. German Meatballs With Sauerkraut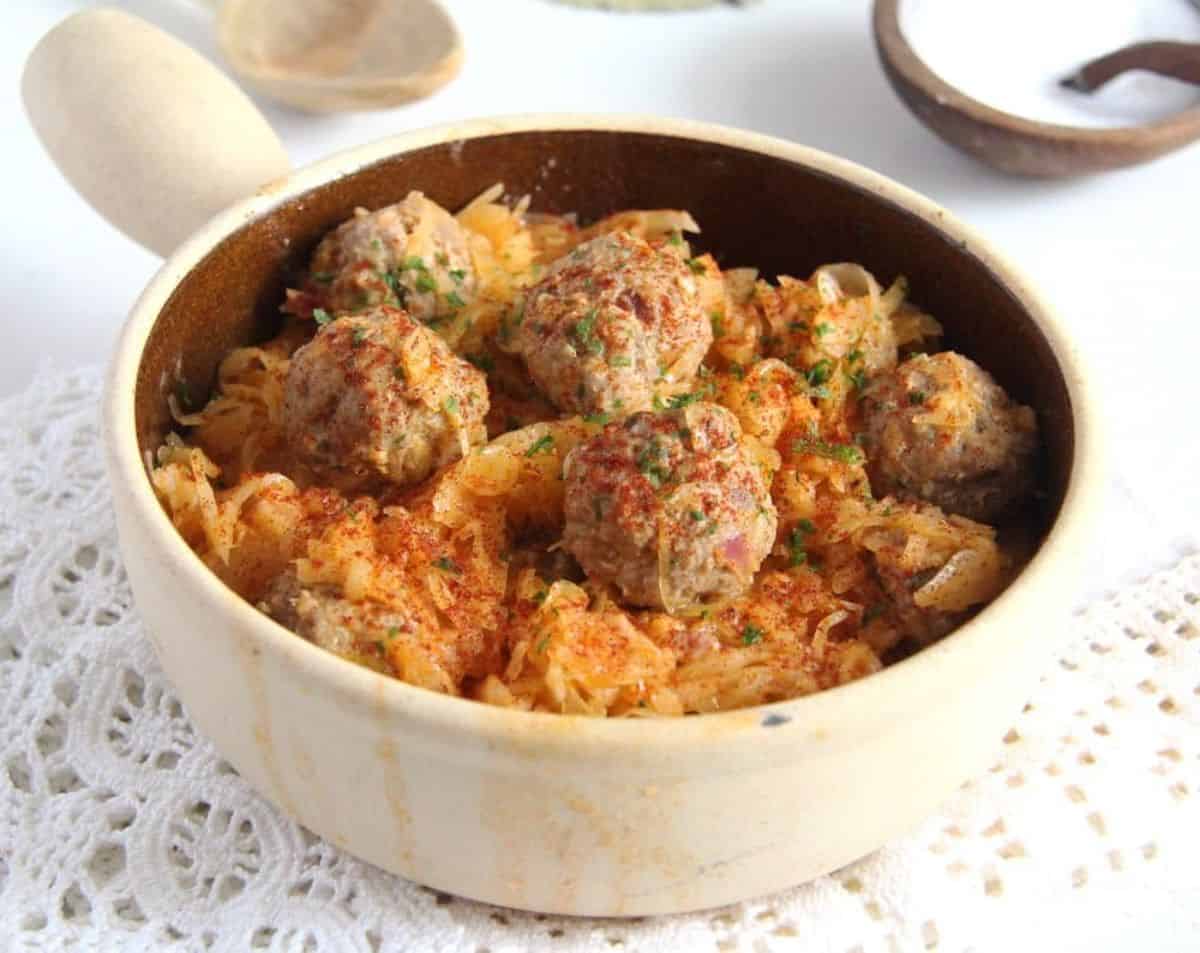 These juicy, tender German meatballs, laced with aromatic spices, are a savory partner for sauerkraut's tang, making this a must-try combination.
Meatballs:
1 lb mixed ground meat, half pork, half beef
1 onion
2 garlic cloves
1 tablespoon chopped parsley
1 large slice of white bread crust removed, about 60 g/ 2.1 oz
1 egg
1 tablespoon sweet paprika powder
½ – 1 teaspoon fine sea salt to taste
Black pepper
Stew:
6 lb fresh sauerkraut
3 bay leaves
3 tablespoon tomato paste
1 tablespoon sugar
¾ cup crème fraiche
Fine sea salt and black pepper
11. Sauerkraut Pancakes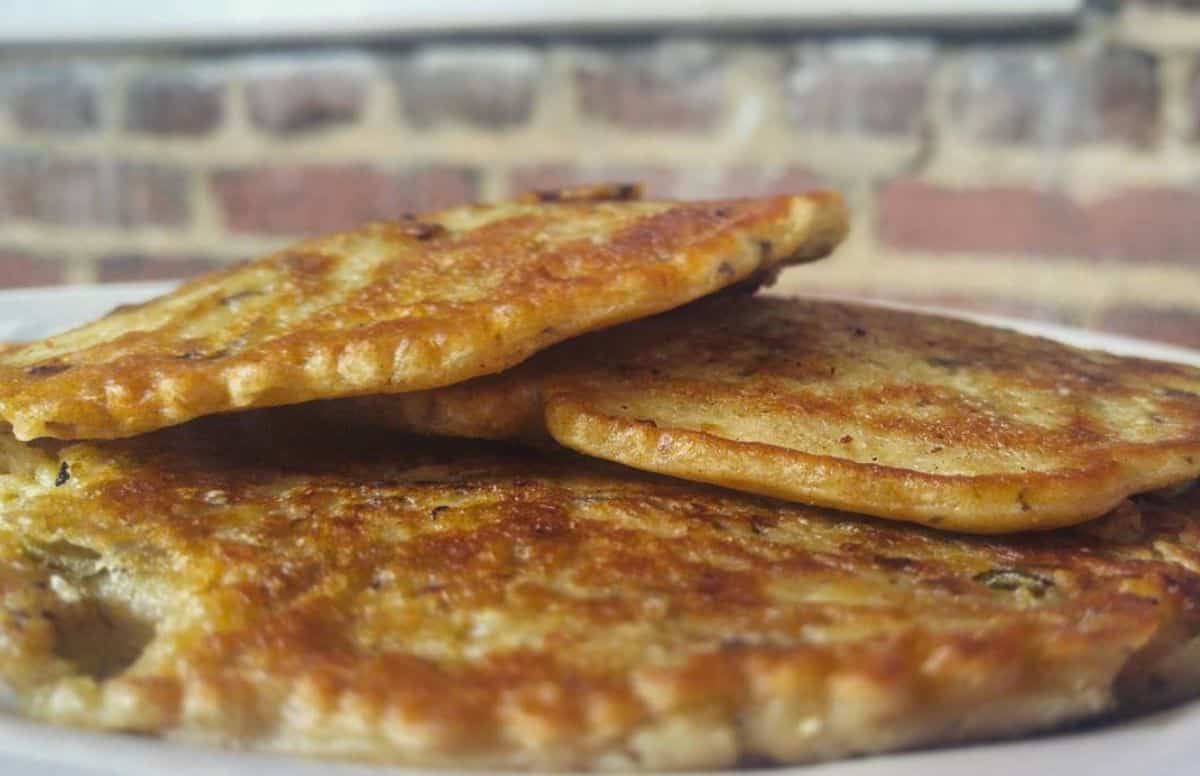 Who knew sauerkraut could be so versatile? These sauerkraut-flecked pancakes are a playful twist on "breakfast for dinner."
2 cups sauerkraut, drained
1 cup milk
1 cup flour
1 egg
Paprika
Oil for frying
12. Easy Reuben Soup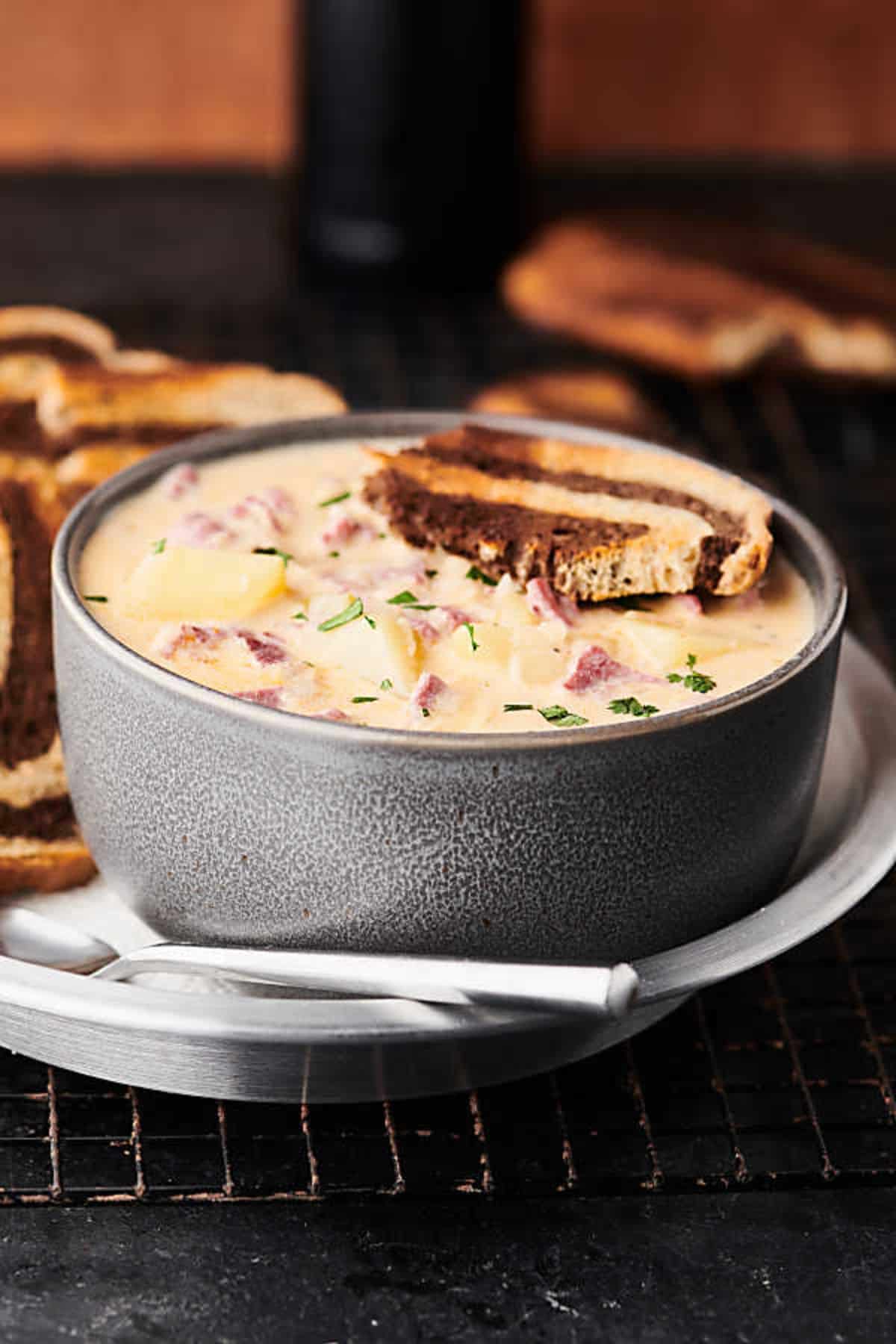 The warm, cheesy Reuben soup broth, loaded with corned beef and sauerkraut, delivers a symphony of flavors that'll have you savoring every last spoonful.
2 tablespoon unsalted butter
2 stalks of celery, diced
1 small yellow onion, chopped
4 cloves garlic, minced
½ teaspoon salt, plus more to taste
½ teaspoon pepper
2 tablespoon unsalted butter, melted
¼ cup all-purpose flour
3 cups chicken broth, divided
2 cups half and half, warmed
½ cup Russian dressing
1 pound Yukon gold potatoes peeled and cubed
¾ cup sauerkraut, drained
1 pound cooked, deli-sliced corned beef, chopped
1 cup shredded Swiss cheese
Marbled rye bread toasted for serving
13. Pierogi with Sauerkraut and Mushrooms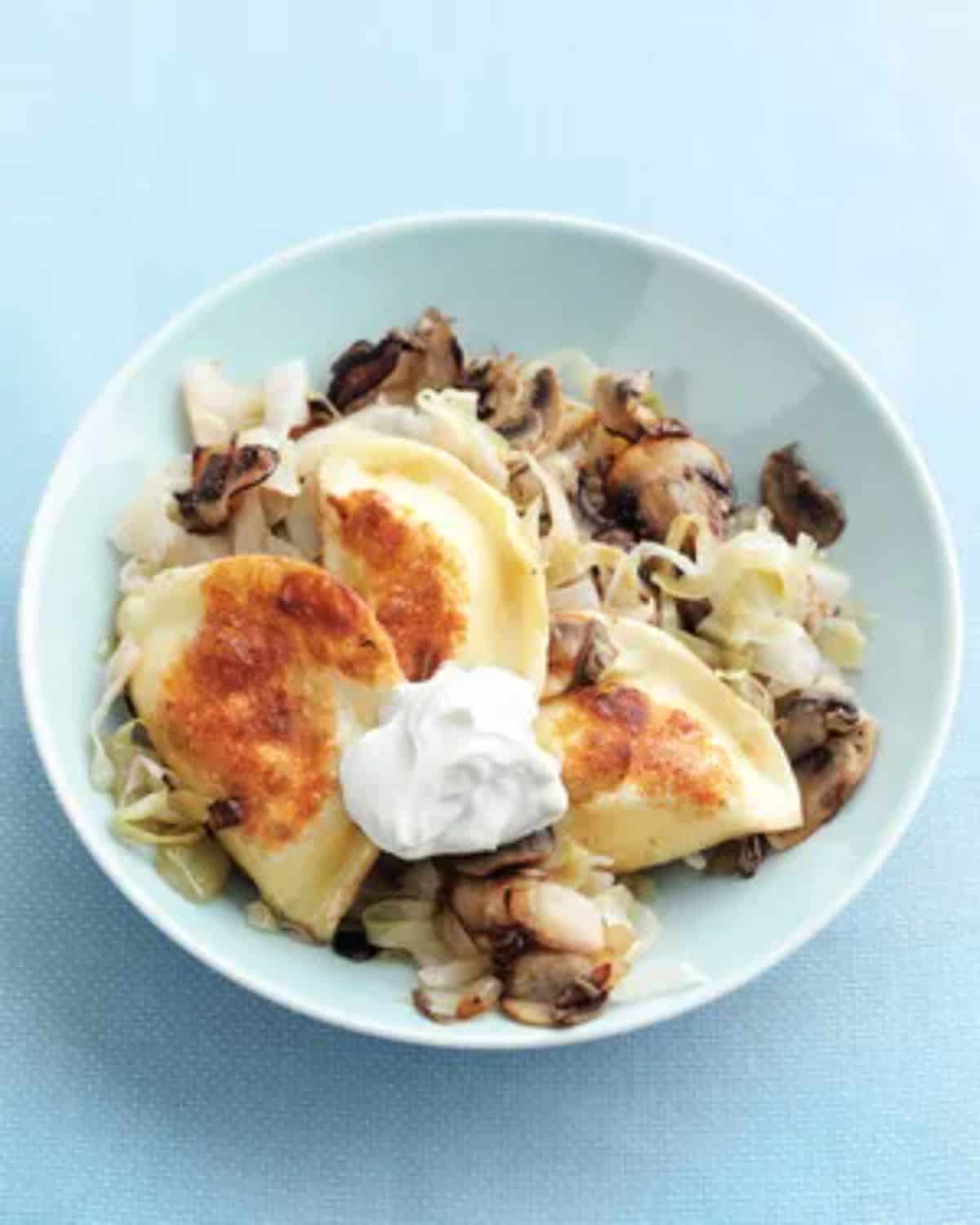 This Polish classic brings sauerkraut front and center, while the use of premade, frozen pierogies makes it an effortless weeknight meal.
1 tablespoon olive oil
1 small onion, chopped
Coarse salt and ground pepper
10 ounces white button mushrooms, trimmed and thinly sliced
2 cups sauerkraut
1 pound frozen potato pierogi
14. Smoked Sausage Sauerkraut with Potatoes and Green Beans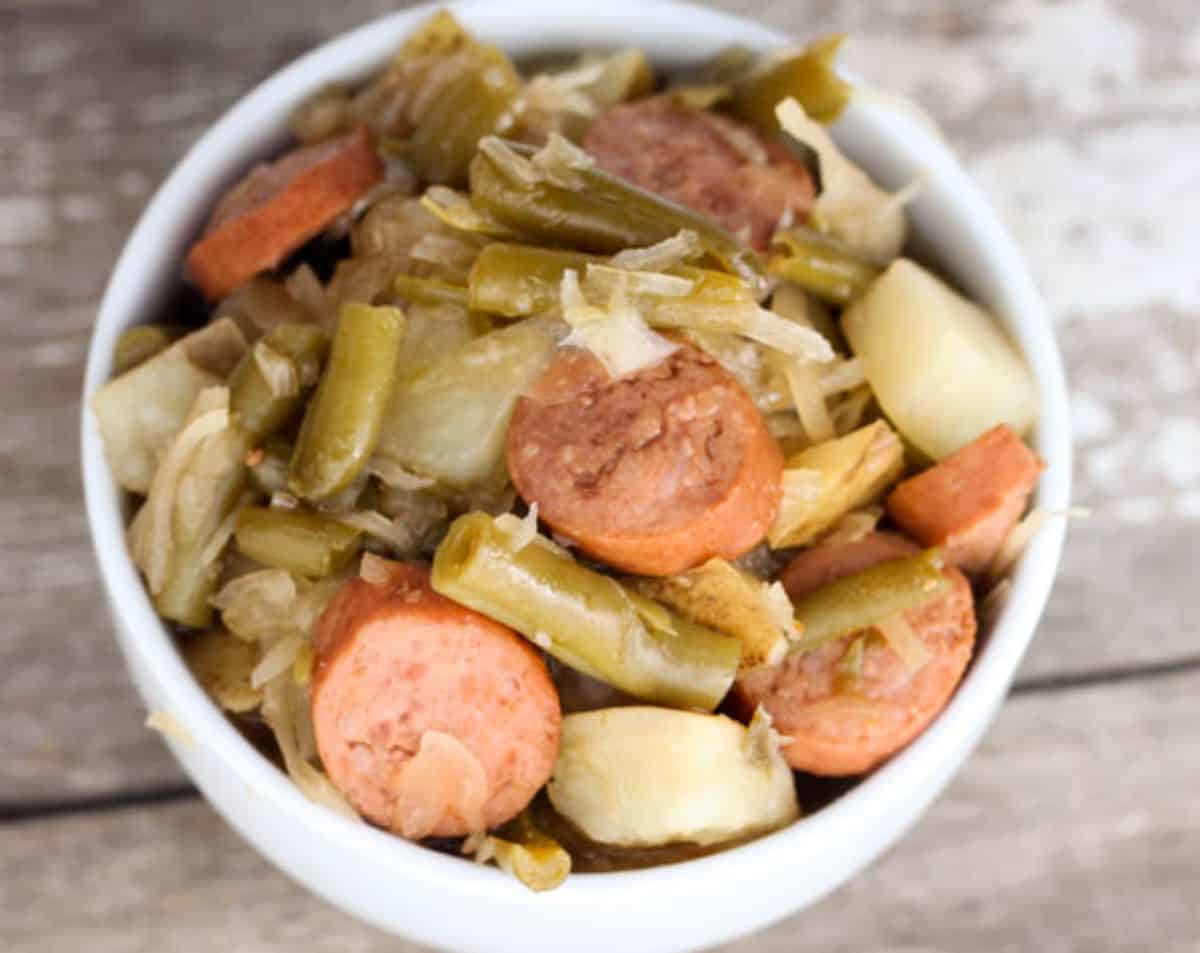 This cozy, rustic dish has smoky sausage, hearty potatoes, and fresh green beans. It'll become your family's most requested comfort food.
1 10-ounce package of smoked sausage, sliced
3 Idaho potatoes cubed
1 28-ounce can cut green beans
½ of a medium onion chopped
2 14-ounce cans of beef broth
½ can of water
1 ½ cups sauerkraut
1 teaspoon minced garlic
1 teaspoon beef base or bouillon
½ teaspoon salt
½ teaspoon pepper
15. Krokiety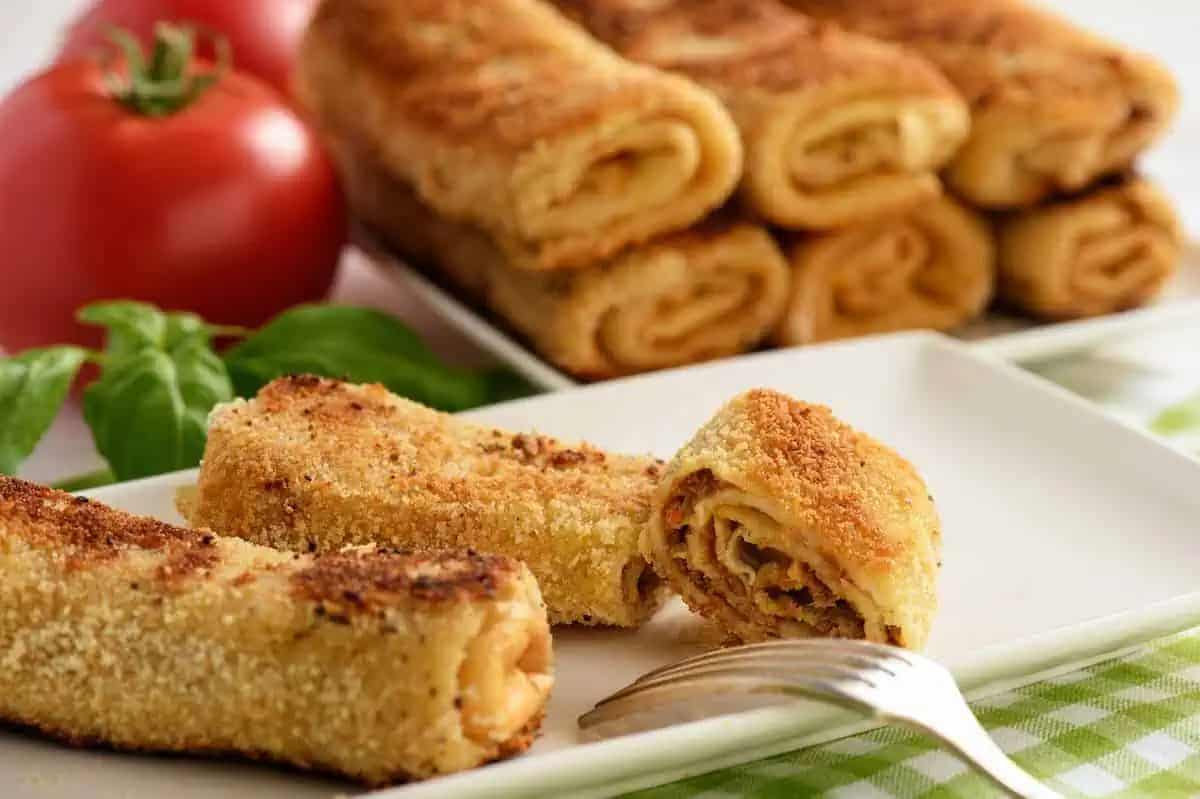 Krokiety is a crispy, golden Polish croquette filled with any number of ingredients. These have a winning combination of sauerkraut, mushrooms, and onions.
Filling:
3 ½ cups of sauerkraut
2 cups of mushrooms
1 big onion
Salt, pepper, and a bit of butter
Dough:
1 cup of milk
¾ cup of water
2 eggs
1 cup of flour
A pinch of salt and sugar
Breading:
16. Bierocks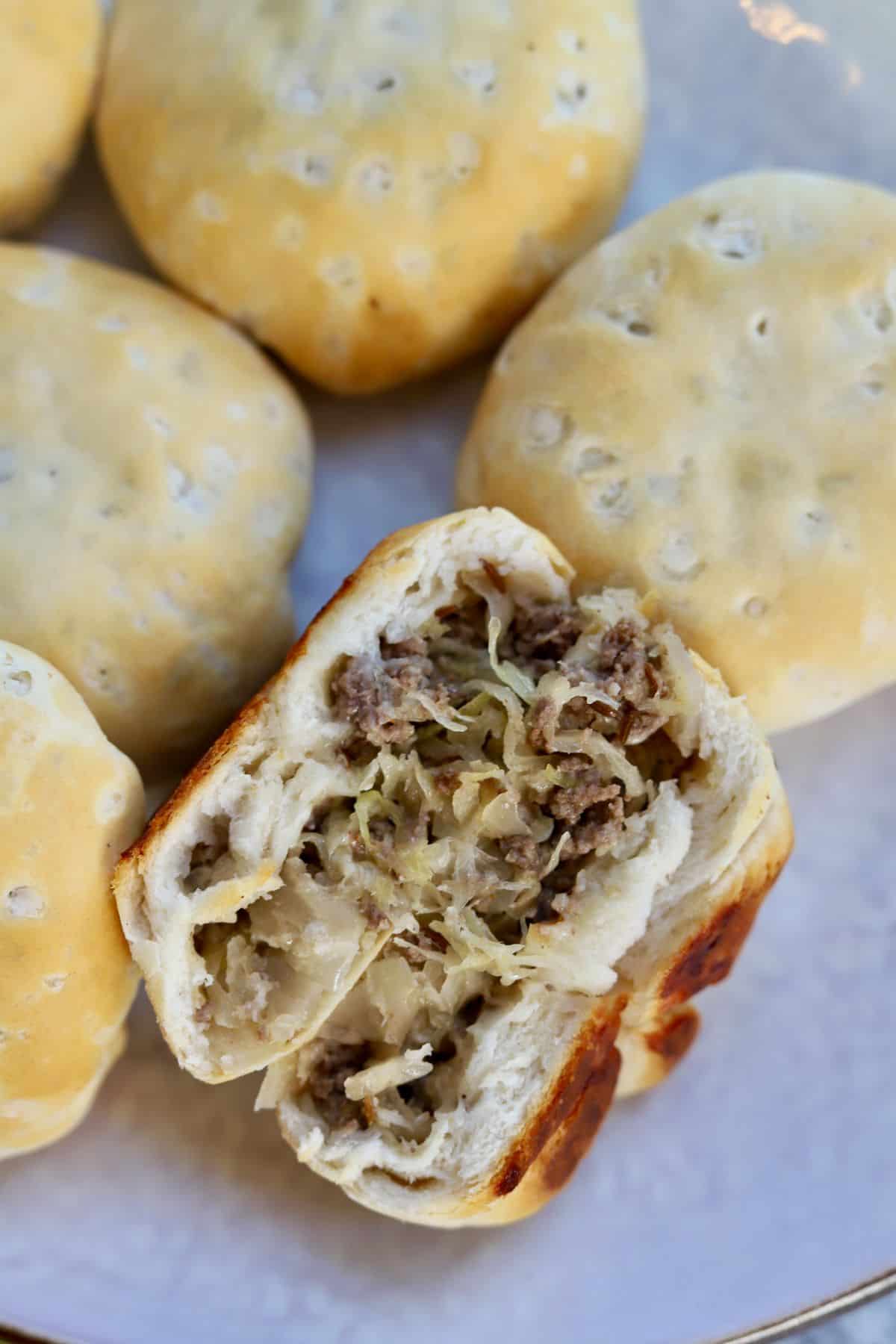 Bierocks are delightful pockets of dough filled with a savory blend of sauerkraut, ground beef, and onions—a handheld taste sensation that'll have you reaching for seconds (and thirds)! This recipe makes whipping them up even easier, thanks to canned biscuits.
1 lb. ground beef
1 yellow onion, thinly sliced
2 garlic cloves, minced
1 teaspoon smoked paprika
½ teaspoon cayenne pepper
1 teaspoon cumin
6 oz Gruyère, shredded
16 oz Bavarian sauerkraut
2 cans Grands Southern Homestyle Buttermilk biscuits
All-purpose flour, as needed
17. German Bratwurst Hot Dog With Red Cabbage Sauerkraut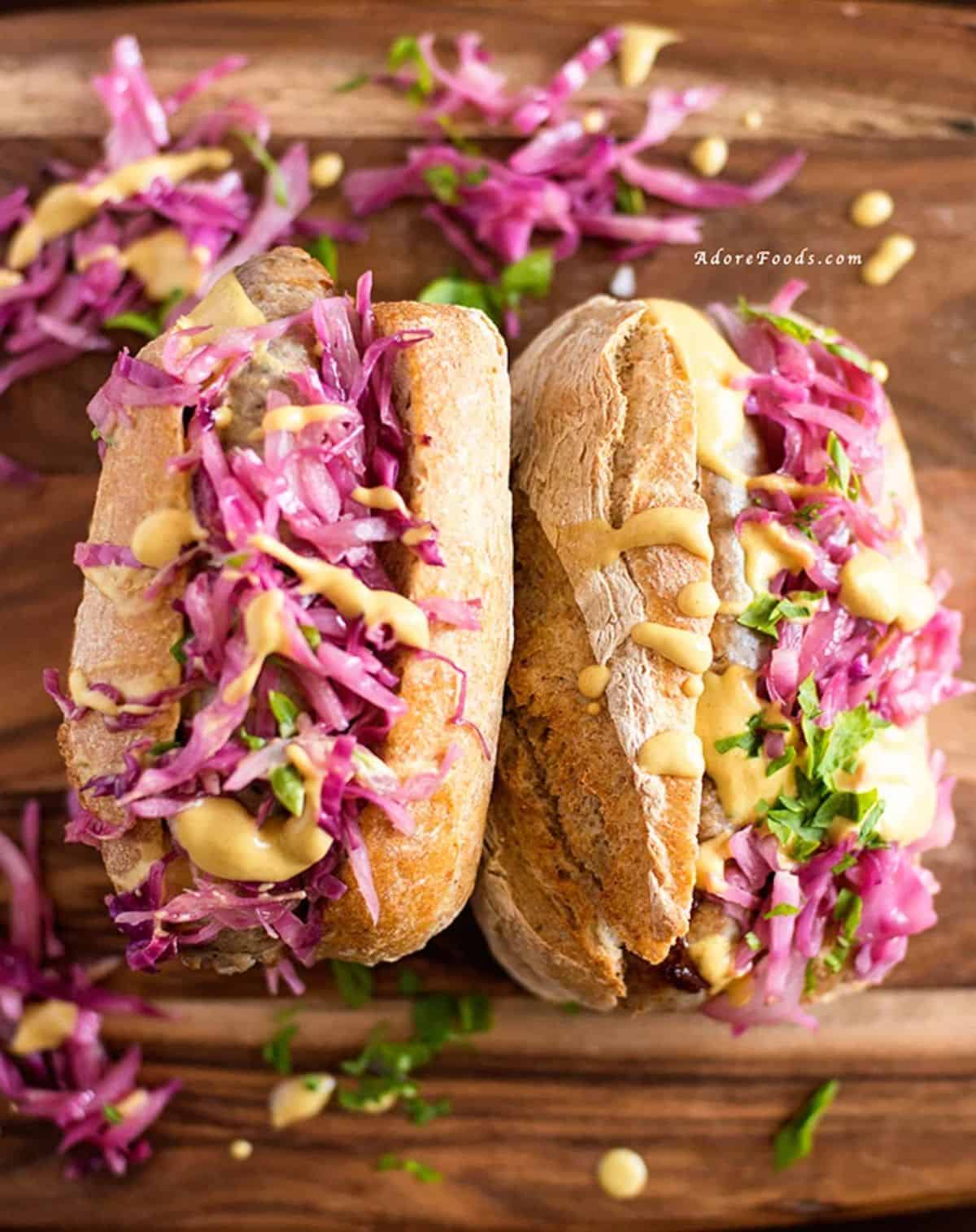 Topped with colorful red cabbage sauerkraut, this juicy bratwurst is a flavor celebration that'll transport your taste buds straight to Germany.
4 fresh Bratwurst sausages
2 tablespoon olive oil
1 teaspoon caraway seeds
1 small red onion, halved, thinly sliced
½ red cabbage, core removed, leaves shredded
4 tablespoon apple cider vinegar
1 tablespoon roughly chopped parsley leaves
Mild English mustard to serve
Bread rolls to serve
18. Chicken and Sauerkraut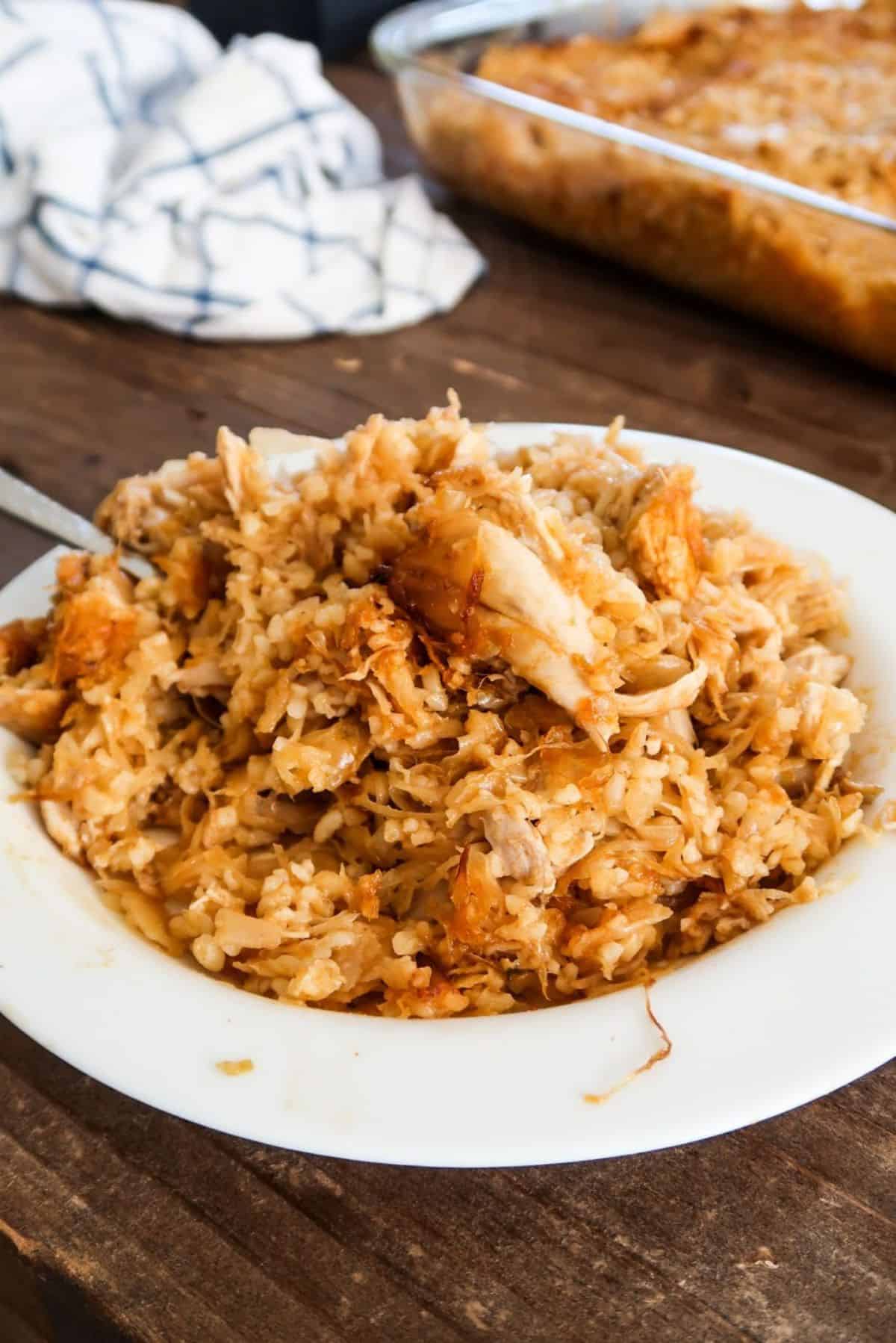 Wholesome and satisfying, thanks to the hearty bulgar, chicken and sauerkraut is a fantastic way to explore the versatility of sauerkraut while enjoying a nourishing meal.
1 lb chicken drumsticks
1 lb sauerkraut
1 tablespoon paprika
1 teaspoon crushed red pepper
½ cup bulgur, coarse
¼ cup olive oil
19. German Knockwurst Sausage Sandwich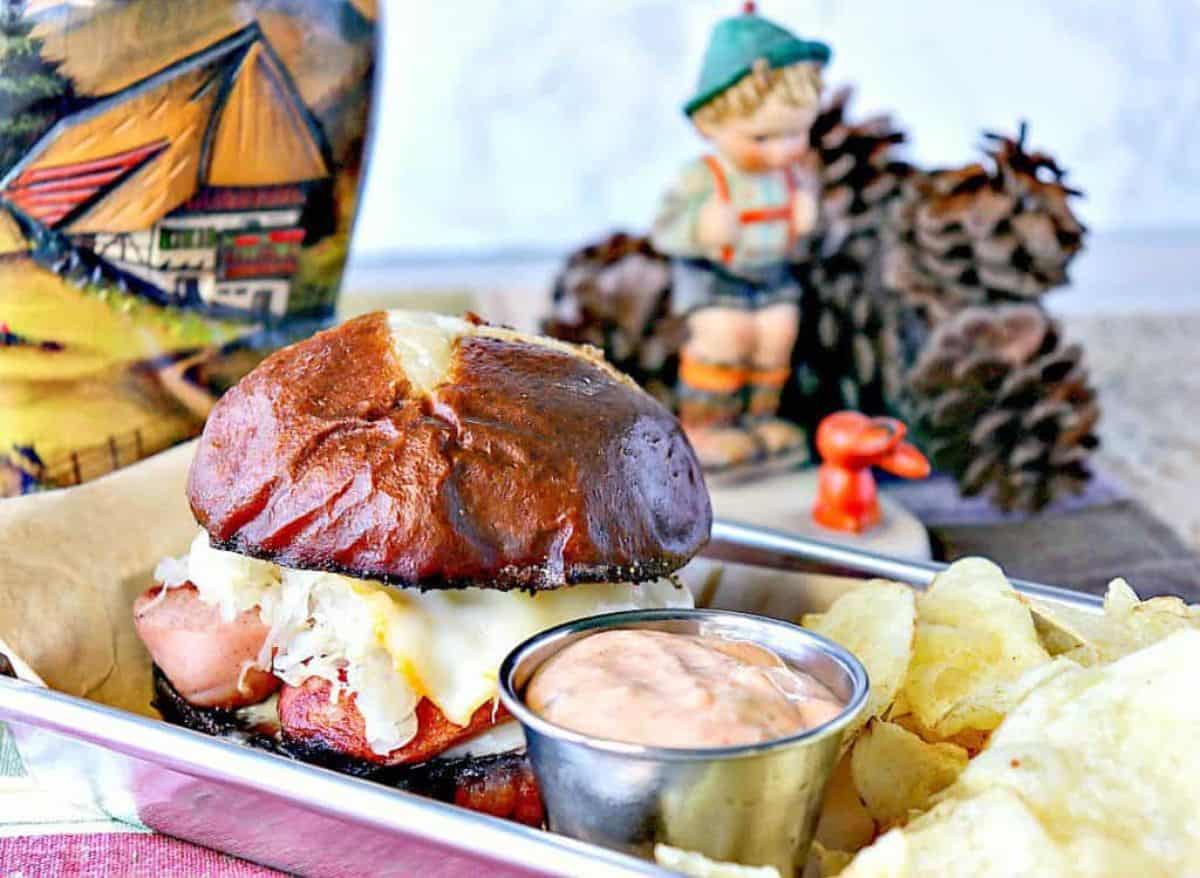 The smoky, juicy knockwurst sausage, nestled in a crusty bun and topped with sauerkraut, is a fun way to jazz up your picnic lunch.
For the German sausage sandwich:
4 knockwurst, cut in half lengthwise
4 pretzel rolls
4 tablespoon softened butter
2 teaspoon garlic powder
1 cup sauerkraut
8 slices Muenster cheese
½ cup mayonnaise
Thousand Islands sauce:
3 tablespoon ketchup
2 tablespoon sweet pickle relish
1 tablespoon prepared horseradish
1 teaspoon smoked paprika
pinch black pepper
20. Rakott Kaposzta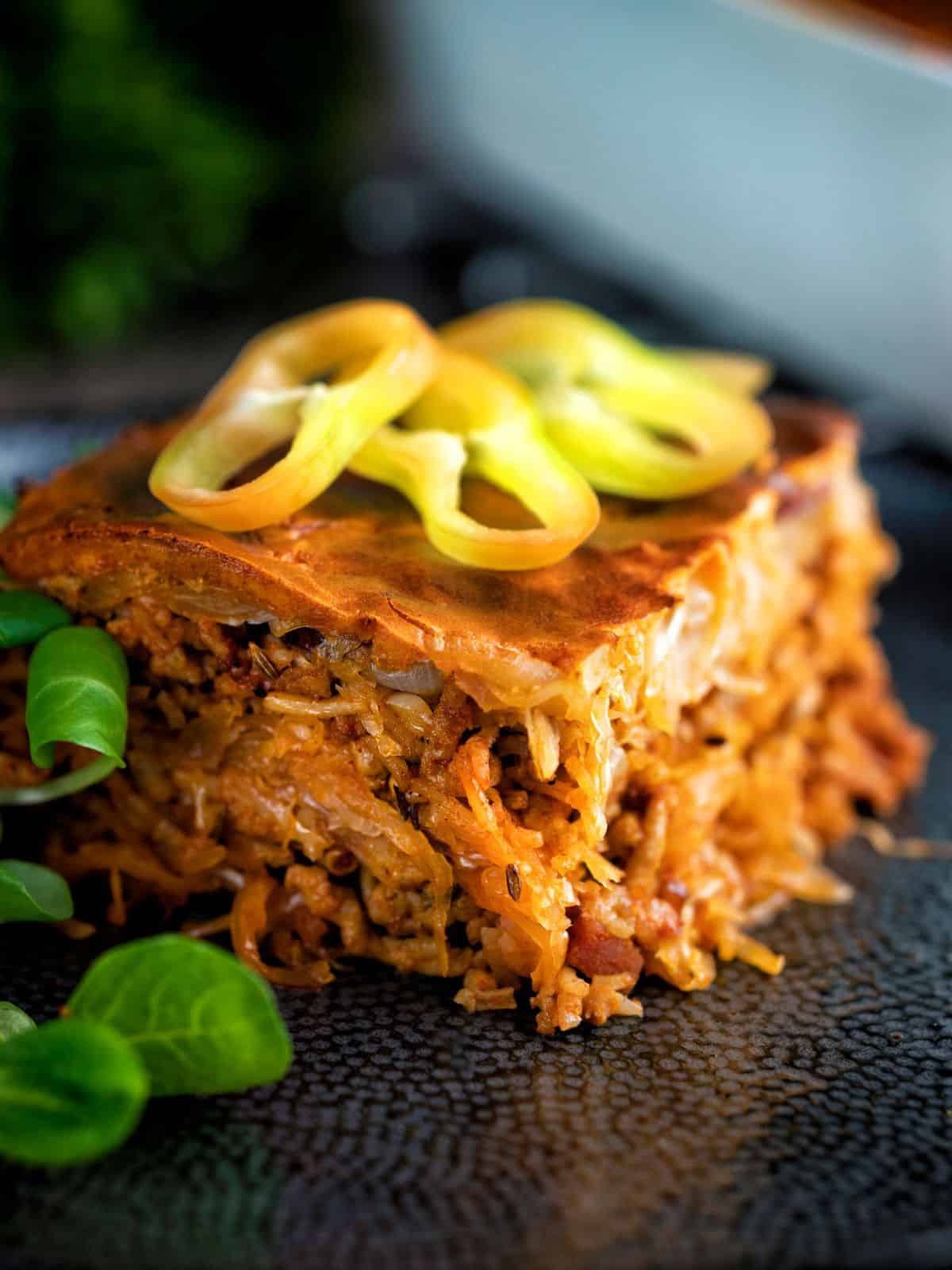 Rakott kaposzta is a Hungarian layered casserole featuring harmonious layers of sauerkraut, tender pork, and a delicious sour cream topping.
Sauerkraut layer:
2¾-3 cups sauerkraut
1 tablespoon cooking oil
3 garlic cloves
⅓ cup pepperoni
⅔ Cup onion
½ teaspoon salt
½ cup water
Pork ragout:
½ cup Basmati rice
17oz minced pork
1 tablespoon oil
⅔ cup onion
3 garlic cloves
½ cup smoked bacon lardons
1½ tablespoon sweet paprika
1 tablespoon caraway seeds
½-¾ teaspoon salt
½ teaspoon black pepper
For the Sour Cream Topping:
½ cup sour cream
1 tablespoon flour
1 teaspoon sweet paprika
1 pinch salt
1 egg yolk
21. Sauerkraut Burgers with Oven Fried Pickles
Take your burger game to the next level with tangy sauerkraut and crispy oven-fried pickles drizzled in homemade sweet Sriracha sauce.
Oven Fried Pickles:
¾ cup bread & butter chip pickles
¼ cup buttermilk
¼ cup unbleached all-purpose flour
¼ cup yellow cornmeal
½ teaspoon seasoned salt
¼ teaspoon black pepper
Sweet Sriracha Sauce:
¼ cup mayonnaise
2 tablespoon ketchup
2 tablespoon sweet relish
1 tablespoon white vinegar
1 tablespoon Sriracha sauce
¼ tablespoon yellow mustard
Pinch of salt
Burgers:
1 ¼ lb ground beef
1 teaspoon kosher salt
1 teaspoon Worcestershire sauce
2 tablespoon Sweet Sriracha Sauce
Burger Toppings:
¼ cup sauerkraut
1 tablespoon Sweet Sriracha sauce
4-5 oven-fried pickles
1 whole wheat bun
22. Reuben Dog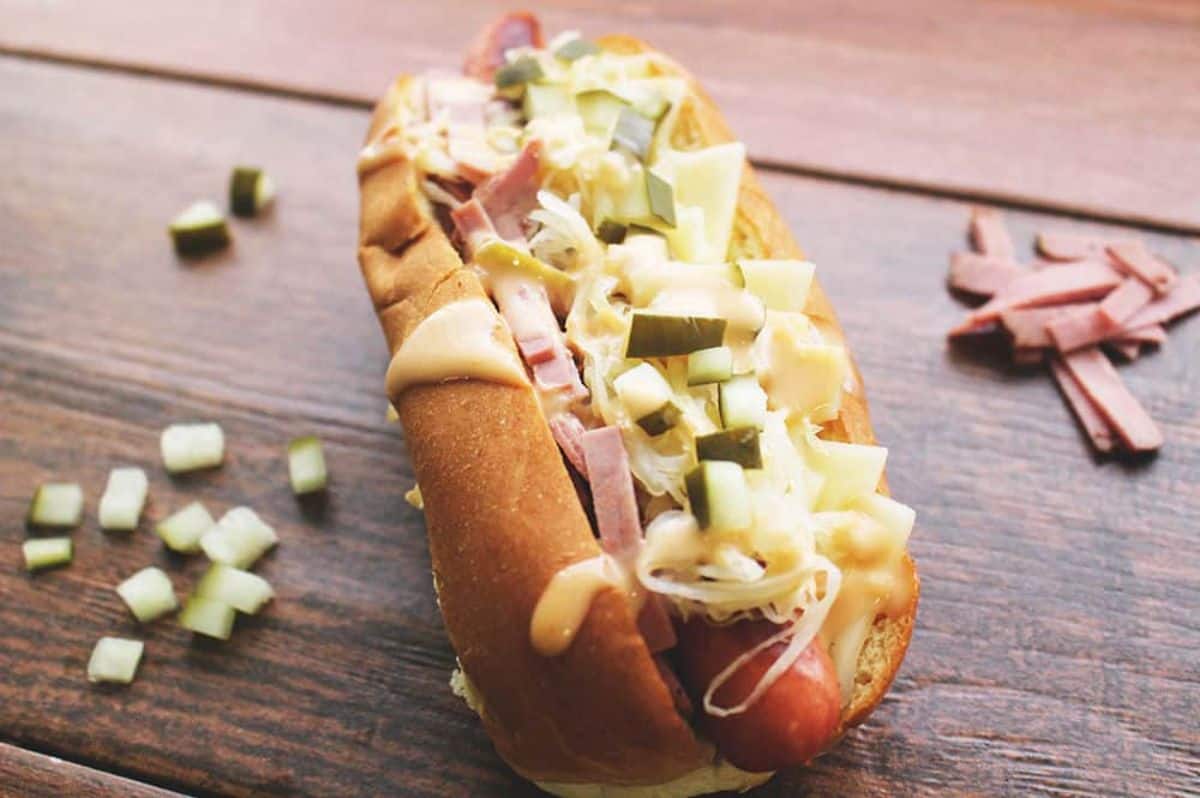 ​​A delightful twist on the classic Reuben sandwich, this Reuben dog is a handheld masterpiece perfect for spicing up backyard barbecues.
1 can Sauerkraut, drained well
1 package of hot dogs
1 package of hot dog buns
Pastrami, roughly chopped
Swiss cheese, sliced, roughly chopped
Dill pickles, diced
Thousand Island Dressing
23. Ultimate German Pork Chops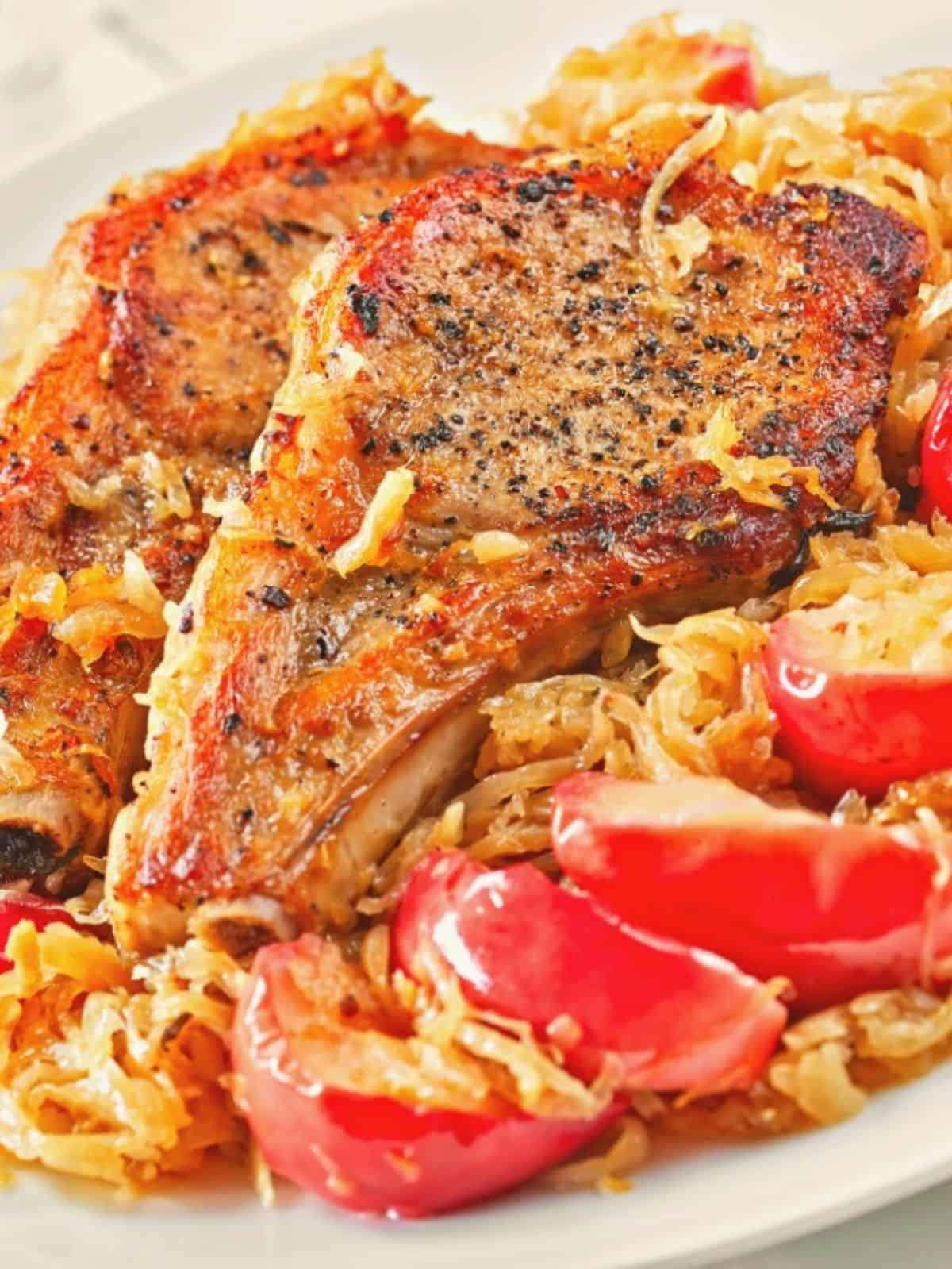 Ultimate German pork chops are a sweet and savory canvas that sauerkraut fits in with beautifully.
4 boneless pork chops
2 tablespoon of olive oil
2 apples, sliced
20 oz of sauerkraut, undrained
1 ½ teaspoon of caraway seeds
1 onion
salt and pepper
24. Sauerkraut Grilled Cheese With Dijon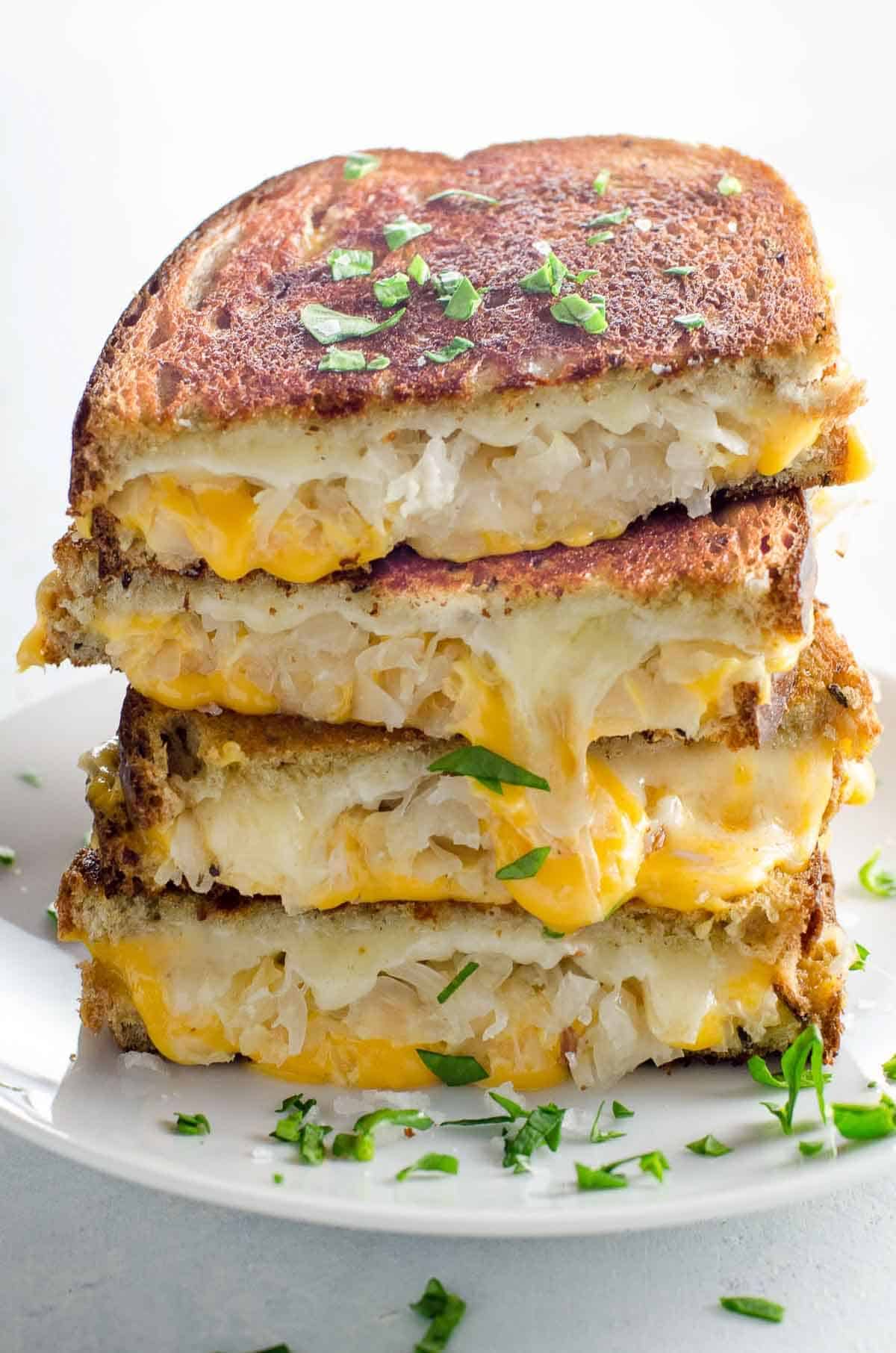 The sauerkraut grilled cheese with dijon is a creative spin on the classic grilled cheese and a sauerkraut lover's dream.
2 slices good seeded rye or sourdough bread
1 tablespoon Dijon mustard
2 slices American cheese
1-ounce extra-sharp cheddar cheese, sliced thin
⅓ cup sauerkraut drained very well
1 ½ tablespoon salted butter, softened
25. Székely Gulyás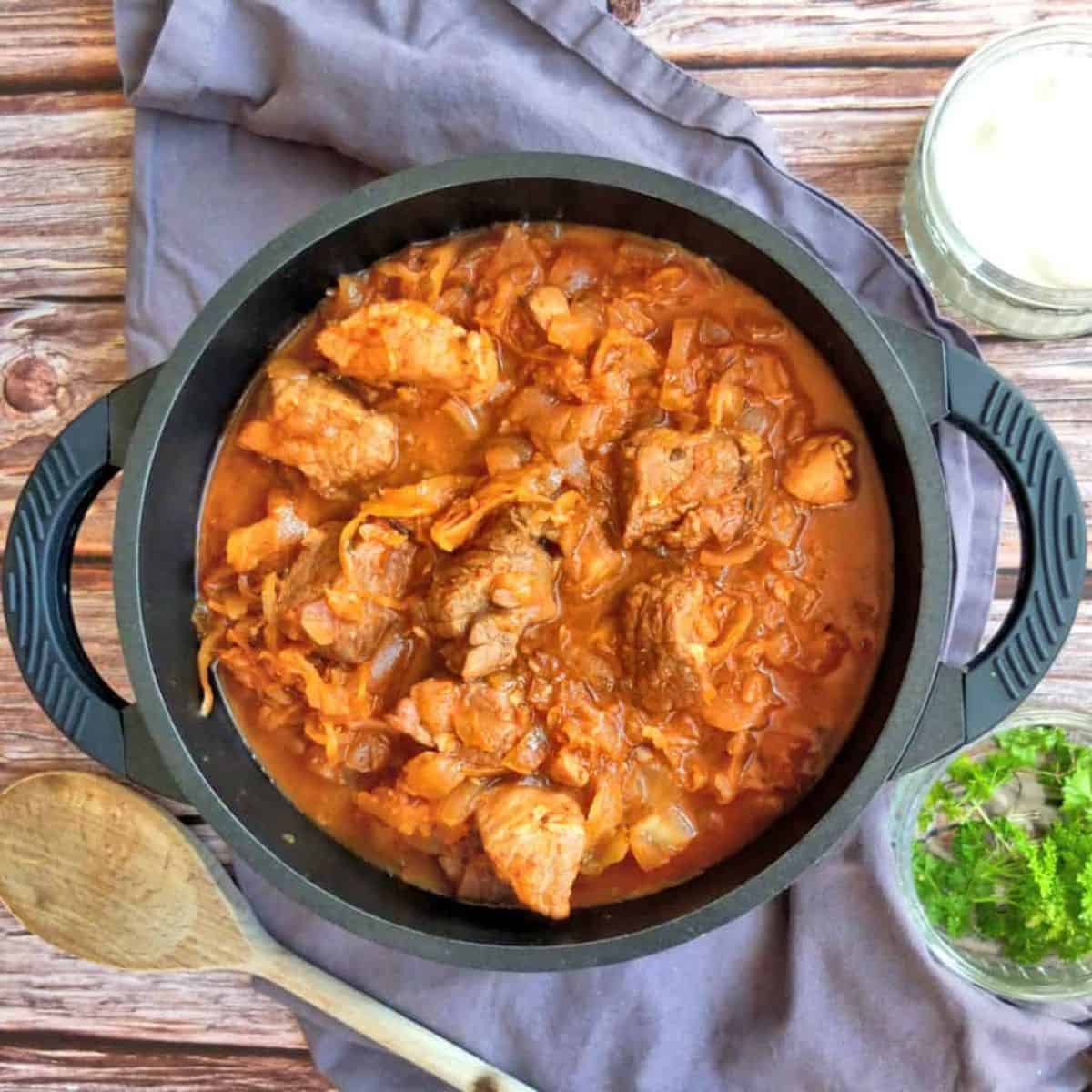 This hearty Hungarian stew is a soul-warming treat that beautifully showcases the tang of sauerkraut.
2 lb pork, cubed
4 tablespoon vegetable oil
30 g flour
500 g onions
500 g sauerkraut
1 teaspoon salt
1 teaspoon white pepper
1 teaspoon ground caraway seeds
1 teaspoon dried thyme
1 teaspoon marjoram
5 tablespoon ground sweet Hungarian paprika
2 garlic cloves
3 tablespoon tomato puree
17 oz vegetable broth
26. Classic Sauerkraut Salad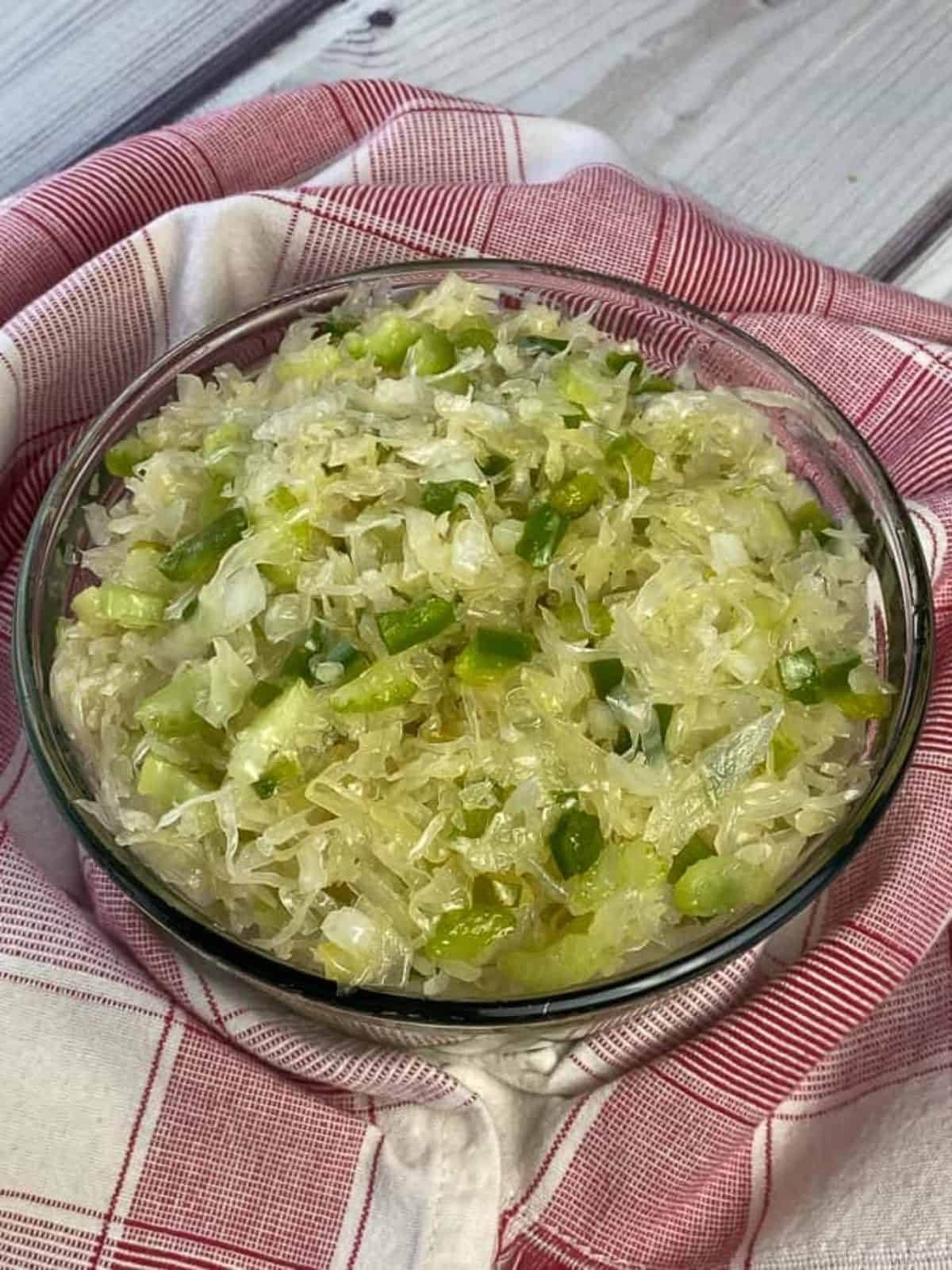 The zesty sauerkraut, crisp veggies, and tangy dressing come together in a vibrant, tasty salad that's perfect for picnics or potlucks.
32 ounces sauerkraut
1 cup celery, diced
½ cup onion, chopped
½ cup green pepper, chopped
1 cup sugar
⅓ cup vegetable oil
⅓ cup vinegar
27. Bratwurst Burger With Onion Sauerkraut Topping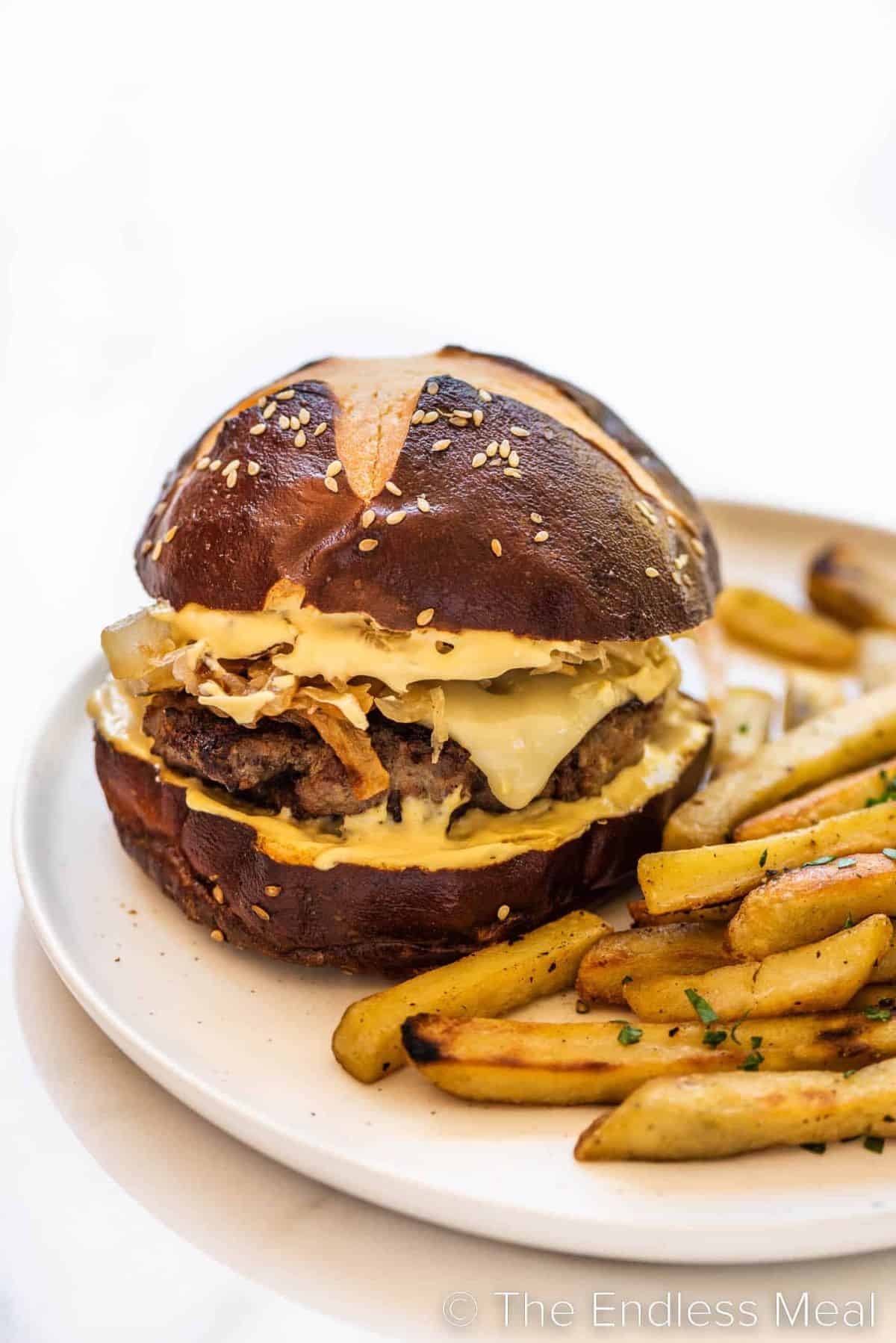 Say hello to your new favorite burger! The juicy, flavorful bratwurst patty, topped with a tangy onion-sauerkraut mixture, creates a mouthwatering fusion of flavors.
1 tablespoon olive oil
1 large onion, sliced
½ cup sauerkraut
¼ cup mayonnaise
1 tablespoon German mustard
6 links bratwurst sausages
4 slices Swiss cheese
4 hamburger buns
Final Thoughts
And there you have it—an irresistible selection of recipes that go well with sauerkraut. No matter your level of sauerkraut experience, these tantalizing dishes celebrate the briny bite of this classic cabbage dish.