Are you craving the perfect sidekicks for your succulent brisket? Look no further!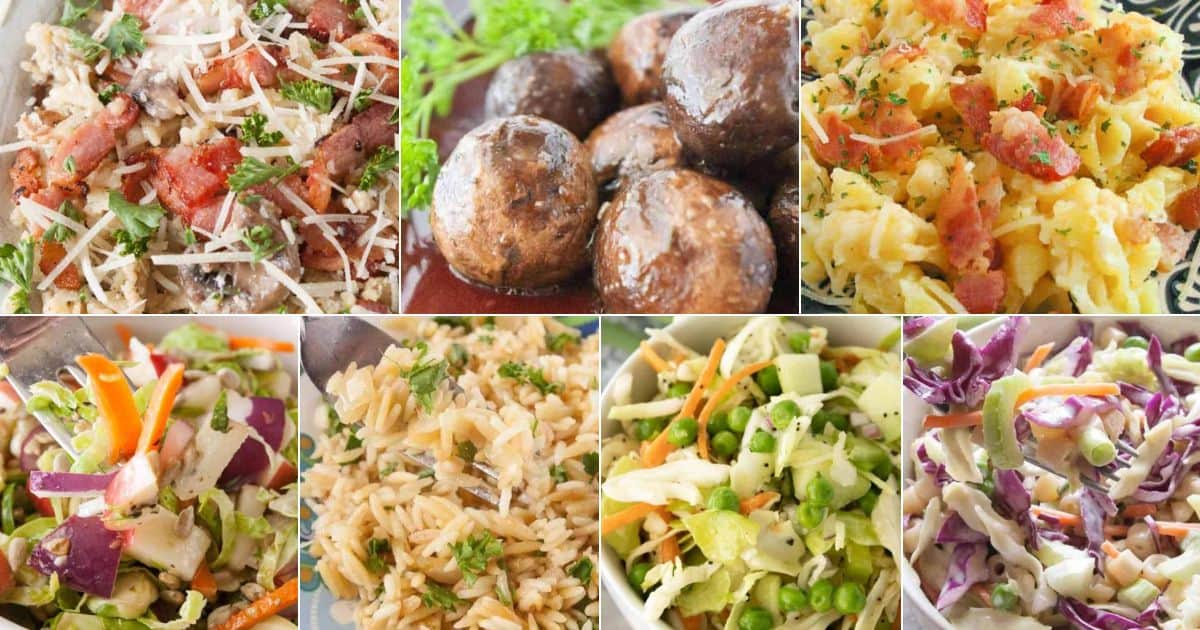 We've gathered 17 exceptional side dishes for brisket designed to add color, flavor, and variety to your table. Your family is in for a good gastronomic time.
Jump to:
1. Simple Salty Cucumbers
Refreshingly light and crisp, these simple salty cucumbers provide a delightful palate-cleansing experience to contrast the rich, savory flavor of brisket. They're also a valuable source of vitamin C!
3 teaspoon salt
2 cups water
2-3 large cucumbers
2. Garlic Butter Herb Rolls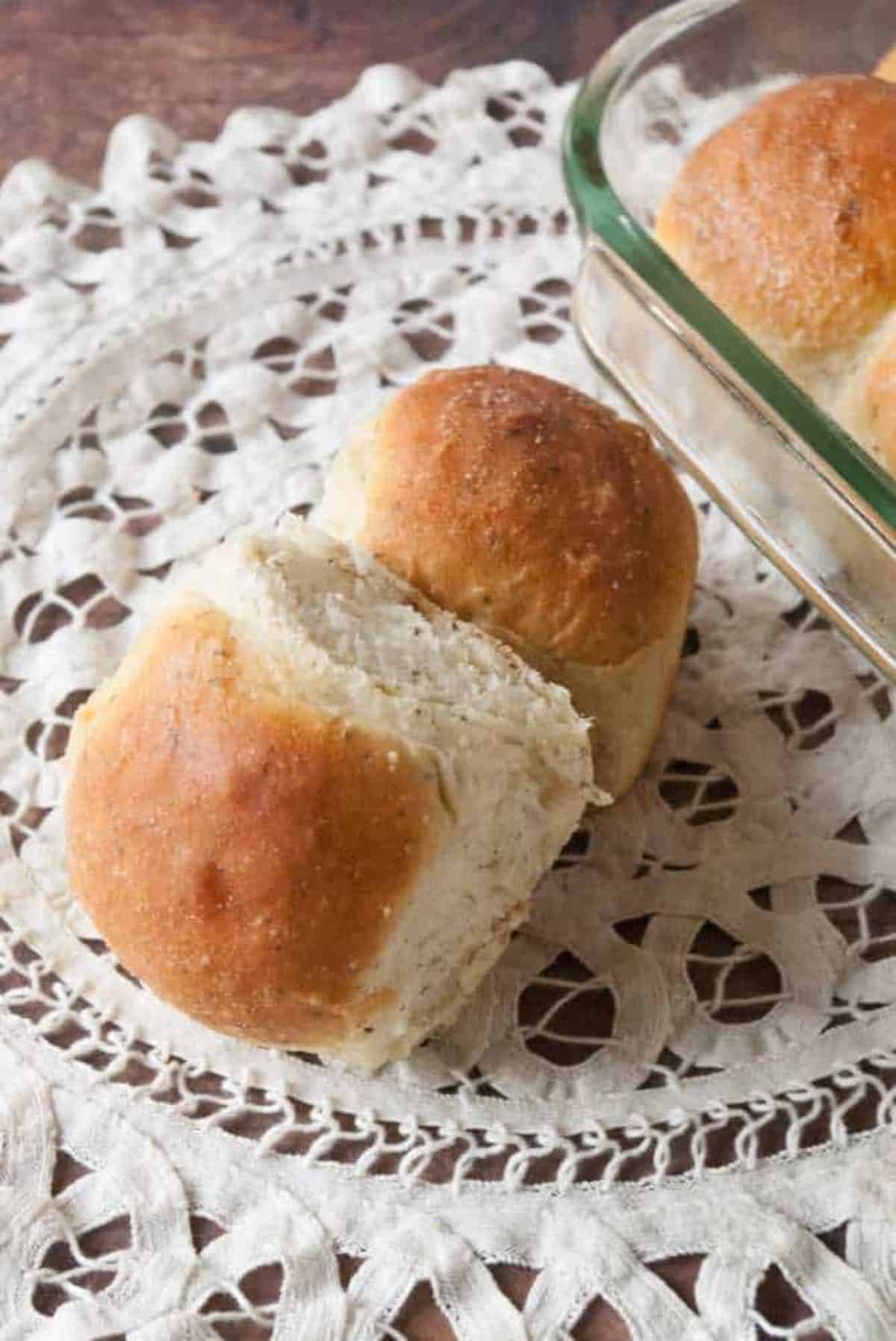 Soft, fluffy, and packed with irresistible flavor, these garlic butter herb rolls are a tasty complement to your brisket dinner. The enticing aroma of garlic and herbs and the satisfying texture make them an ideal accompaniment for soaking up those delicious brisket juices.
1 ½ cups warm water
1 tablespoon active dry yeast
3 tablespoon sugar
6 tablespoon butter, softened
2 teaspoon salt
1 ½ tablespoon Italian seasoning blend
3-4 cups flour
¼ teaspoon garlic powder
3. Brussels Sprout Slaw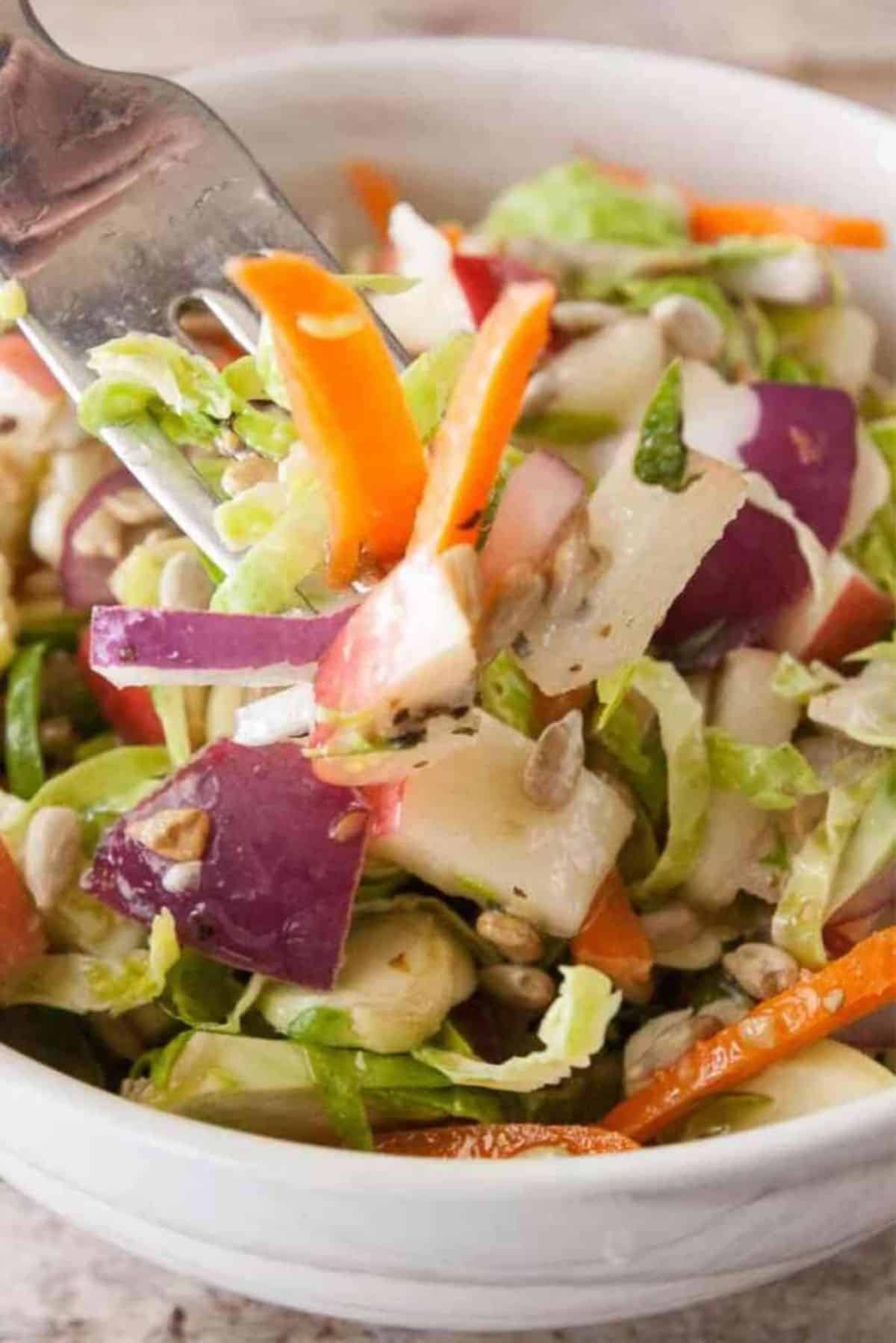 Put some pep on your plate with this spritely slaw, where crunchy Brussels sprouts and a tangy dressing combine so beautifully that your cabbage will get jealous.
6 cups thinly-sliced Brussels sprouts
1 cup thinly sliced red onion
1 cup matchstick carrots
1 large Honeycrisp apple, diced
1 cup salted and roasted sunflower kernels
1 bottle of Brianna's Real French Vinaigrette
4. Roasted Asparagus Blend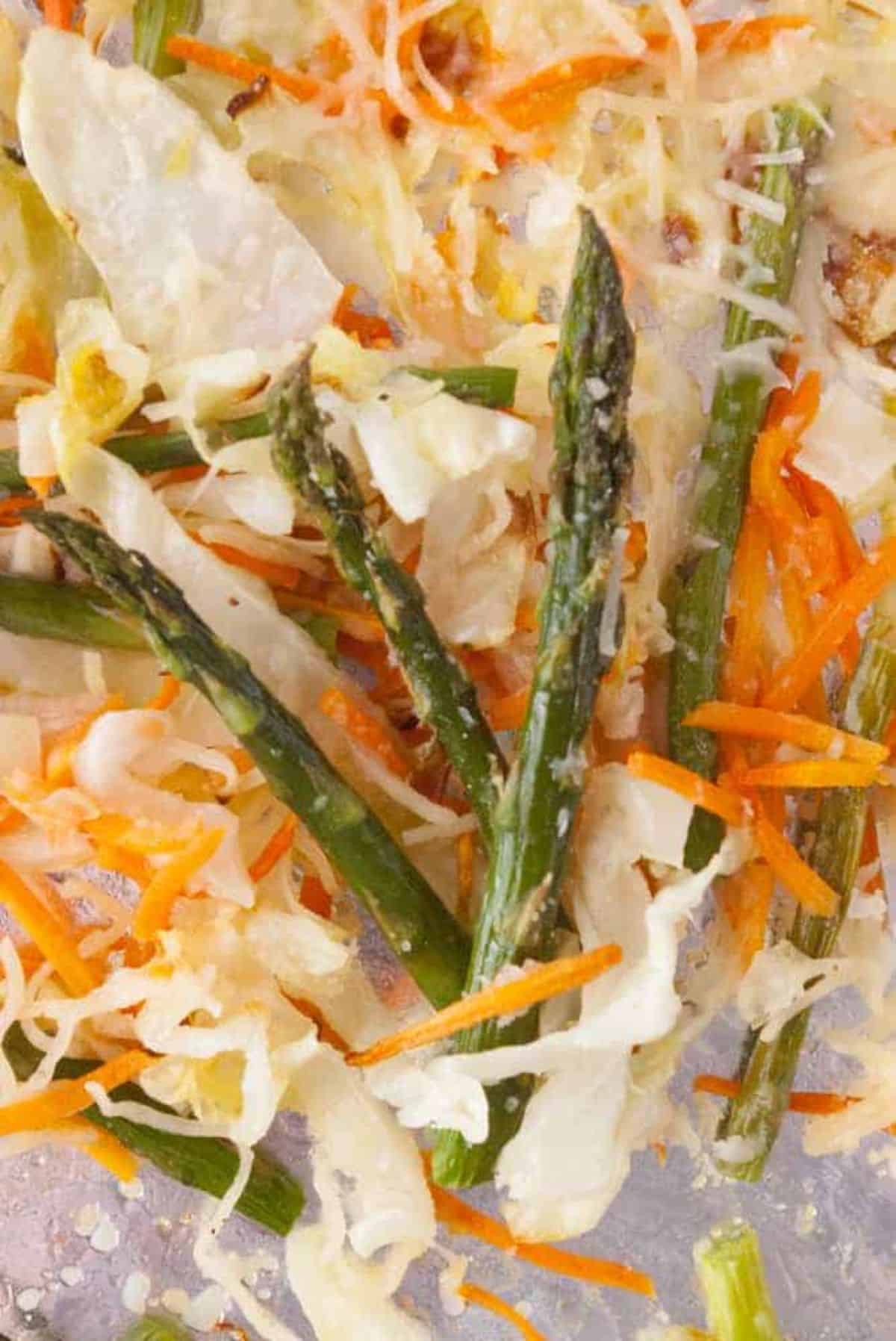 Tender asparagus spears, perfectly seasoned with herbs and spices, create a flavorful and nutritious addition to your brisket meal. The roasted asparagus blend not only adds visual appeal to your plate but also offers a wholesome, delicious option to balance out the hearty main dish.
36 small/medium asparagus spears
2 cups shredded cabbage
1 cup matchstick carrots
2-3 tablespoon melted butter
Garlic salt
½ cup parmesan cheese
5. 90-Minute Dinner Rolls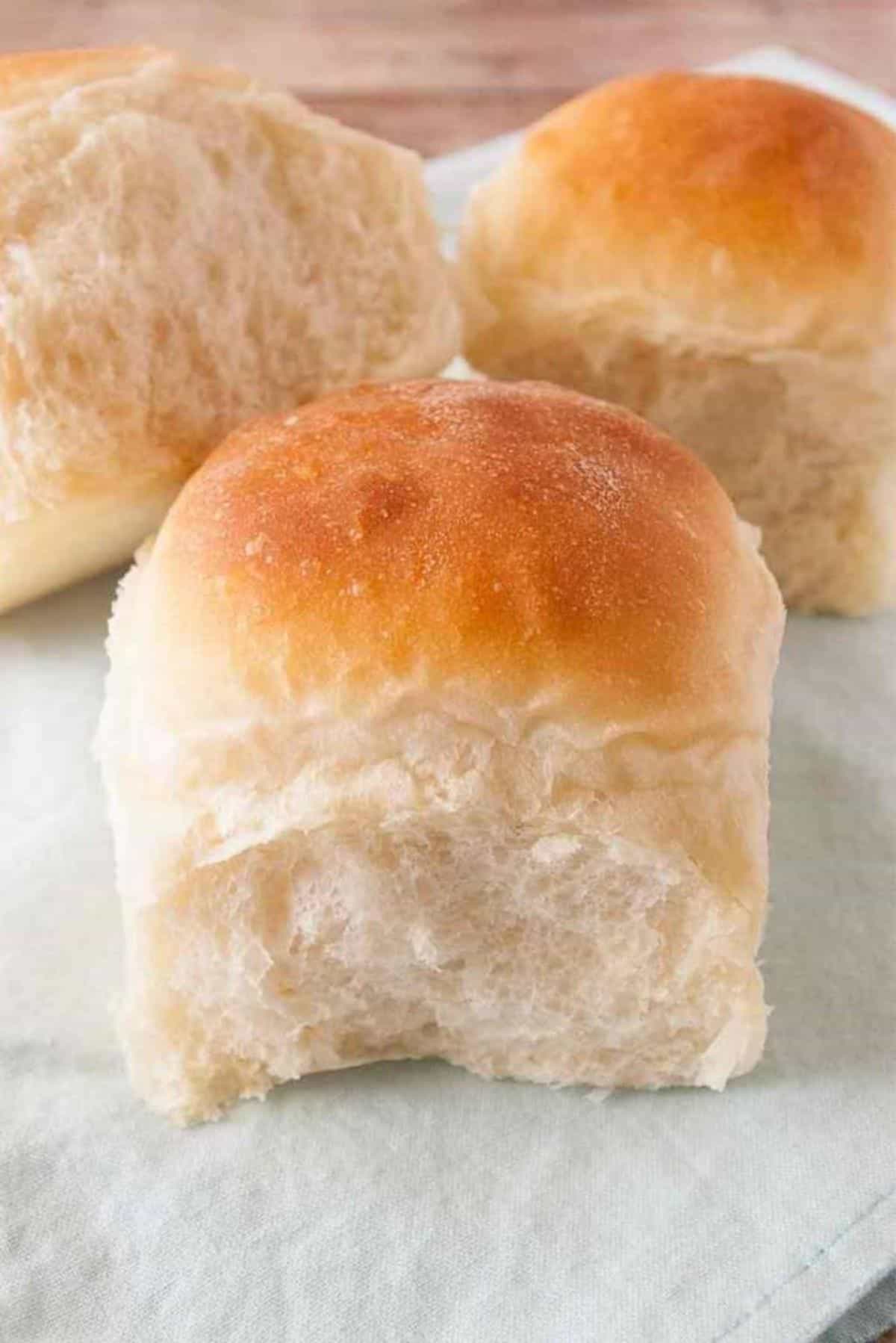 Do you need side dishes for brisket in a hurry? These warm, fluffy rolls will have you swooning in just 90 minutes.
1 ½ cups warm water
3 tablespoon sugar
1 tablespoon active, dry yeast
4 tablespoon room-temperature butter
3-4 cups of all-purpose flour
6. Barbecue Ranch Pasta Salad
This delicious barbecue ranch pasta salad introduces a smoky, creamy twist to your brisket dinner. A perfect blend of bold barbecue sauce and tangy ranch dressing, this salad unites the best of both worlds.
1 16 oz box rotini pasta
1 lb. bacon, crisped and crumbled
6-8 green onions, sliced
1 6 oz can sliced black olives
1 can of corn kernels
1 can pre-seasoned black beans, drained and rinsed
1 cup Hidden Valley Ranch dressing
1 cup Sweet Baby Ray's barbecue sauce
2 4.5 oz bags chili lime flavored tortilla strips
7. Italian Pasta Salad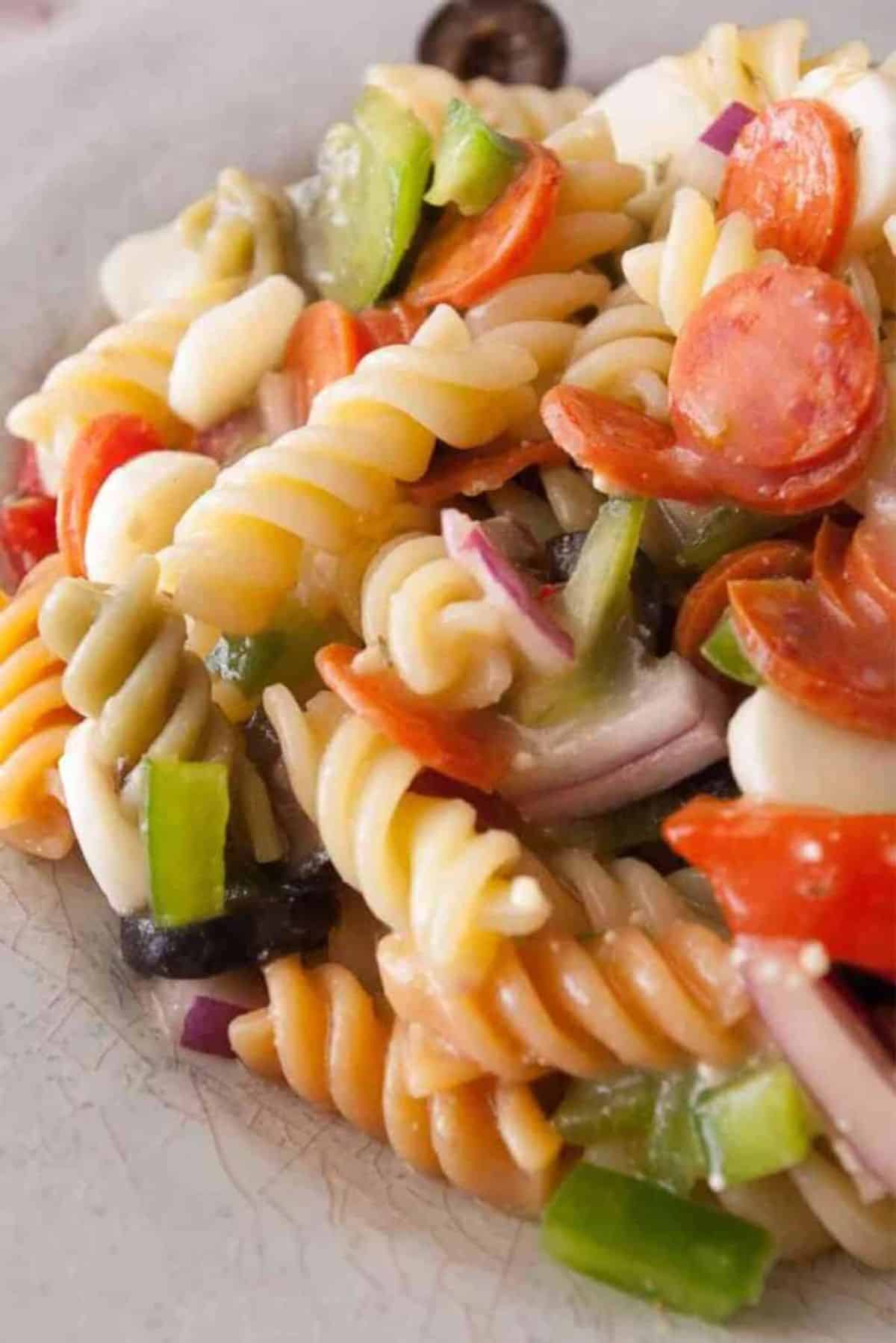 Infuse your brisket meal with a touch of Italian charm through this bright and appetizing pasta salad. Loaded with fresh veggies, zesty dressing, and perfectly cooked pasta, it creates a harmonious balance of flavors, making every bite a Mediterranean adventure.
1 16 oz box garden rotini
1 3.8 oz cans sliced olives
5 oz mini pepperonis
3 quality mozzarella string cheese sticks, sliced into thin discs
¾ - 1 cup chopped green bell pepper
½ - ¾ cup chopped red onion
½ to a whole 16 oz jar of roasted red peppers, chopped
1 16 oz bottle of Olive Garden Italian dressing
8. Roasted Loaded Potatoes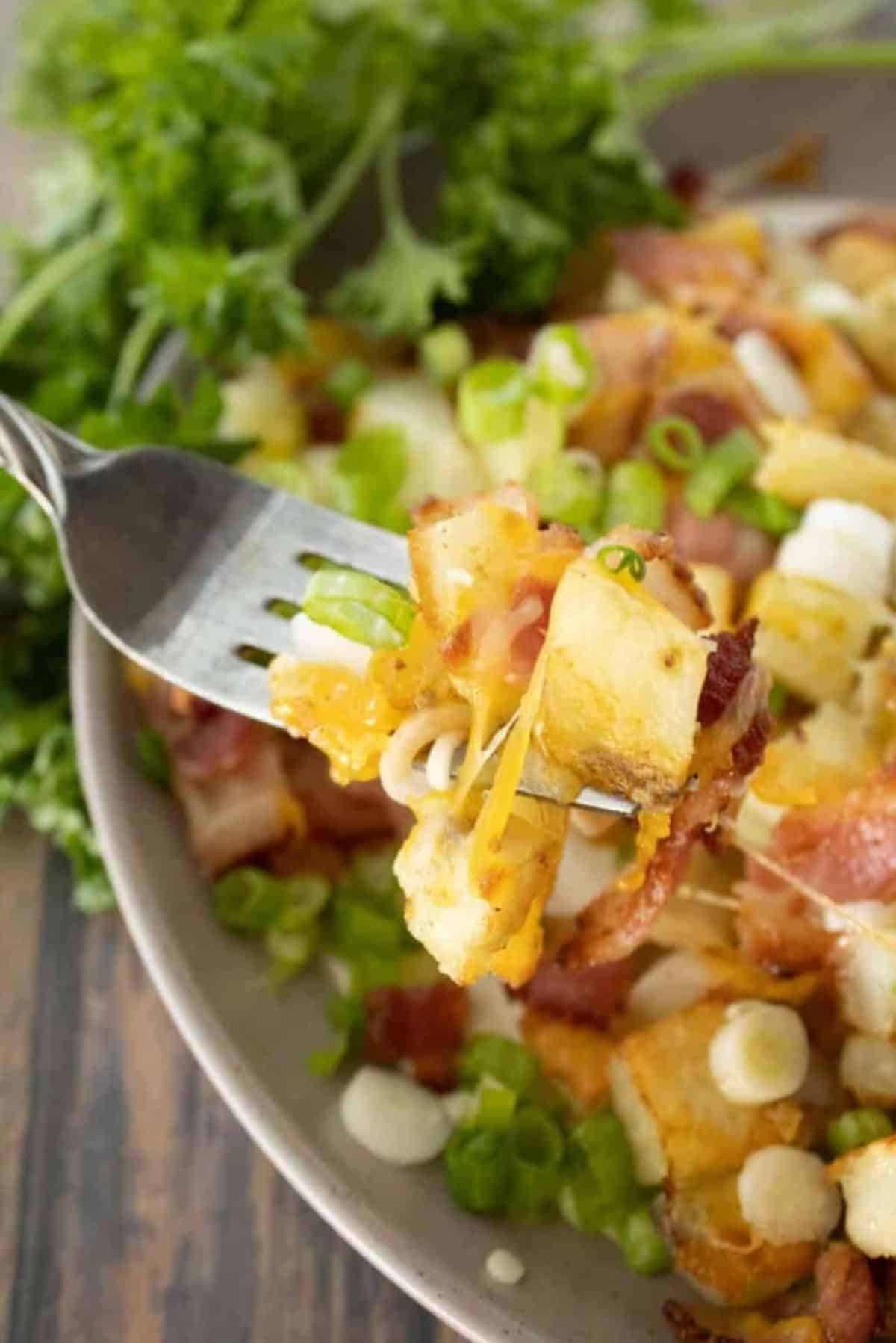 Hearty, crispy, and tender, these roasted loaded potatoes are the ultimate side dish for your brisket dinner. Bursting with flavor from the melted cheese, crispy bacon, and fresh herbs, they effortlessly complement the savory brisket while adding a lovely, indulgent touch to your meal.
5 cups potatoes, peeled and cubed
4 tablespoon butter, melted
Dash or seasoning of choice
1 lb. bacon, cooked and crumbled
1 ½ cups shredded cheddar cheese
5-6 green onions, thinly sliced
9. Dill Pickle Potato Salad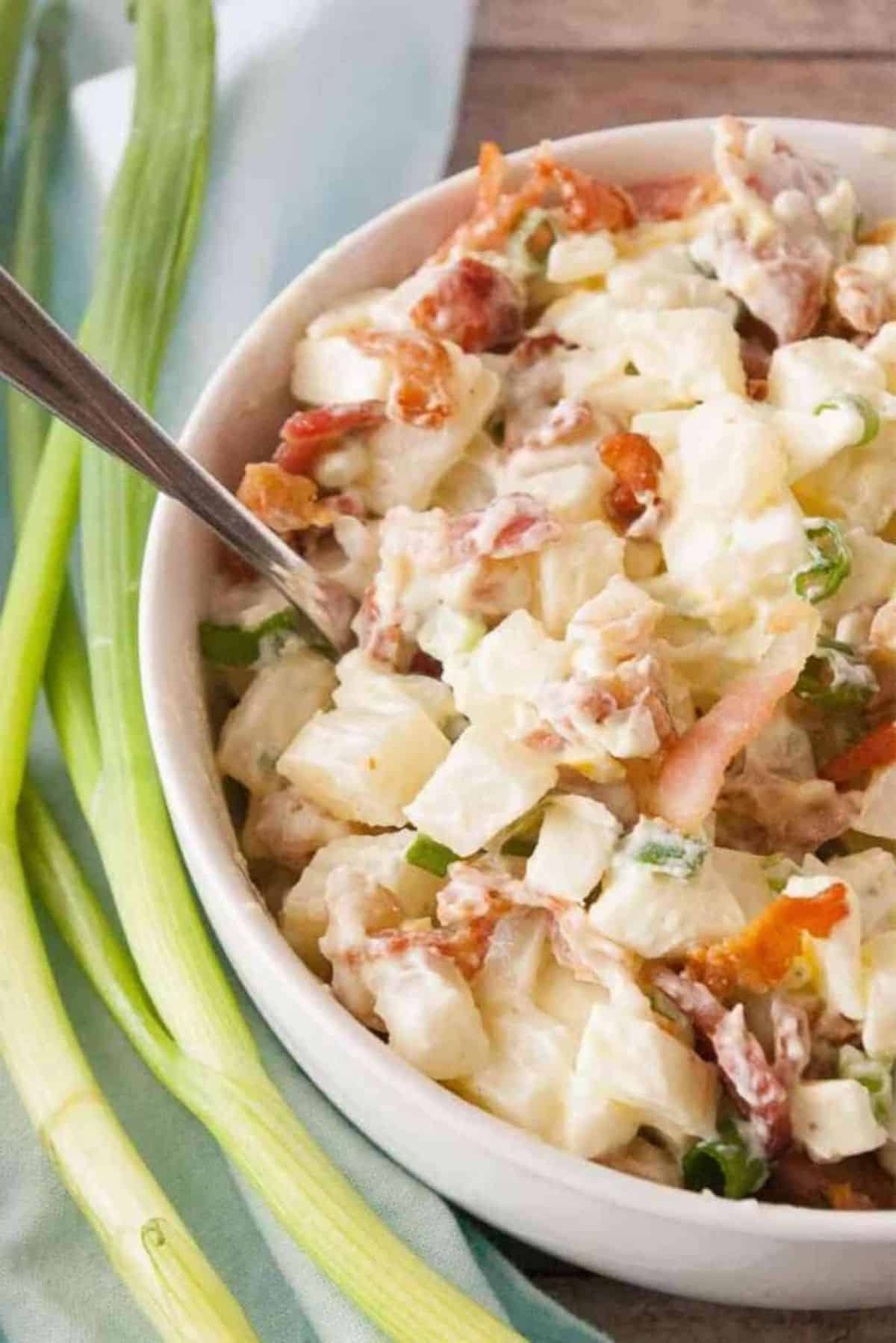 This tangy dill pickle potato salad adds a refreshing element to your brisket feast. Its harmonious combination of creamy potatoes, crunchy pickles, and a well-seasoned dressing makes it an unforgettable dish.
6 cups potatoes, cooked and cubed small
6 large hard-boiled eggs, peeled and diced
½ lb bacon, crisped and crumbled
5 green onions, thinly sliced
¼ cup dill pickles, diced
1 ½ cups mayonnaise
1 tablespoon vinegar
1 teaspoon sugar
3 tablespoon dill pickle juice
¼ teaspoon celery salt
¼ teaspoon onion salt
¼ teaspoon white pepper
10. Macaroni Coleslaw Salad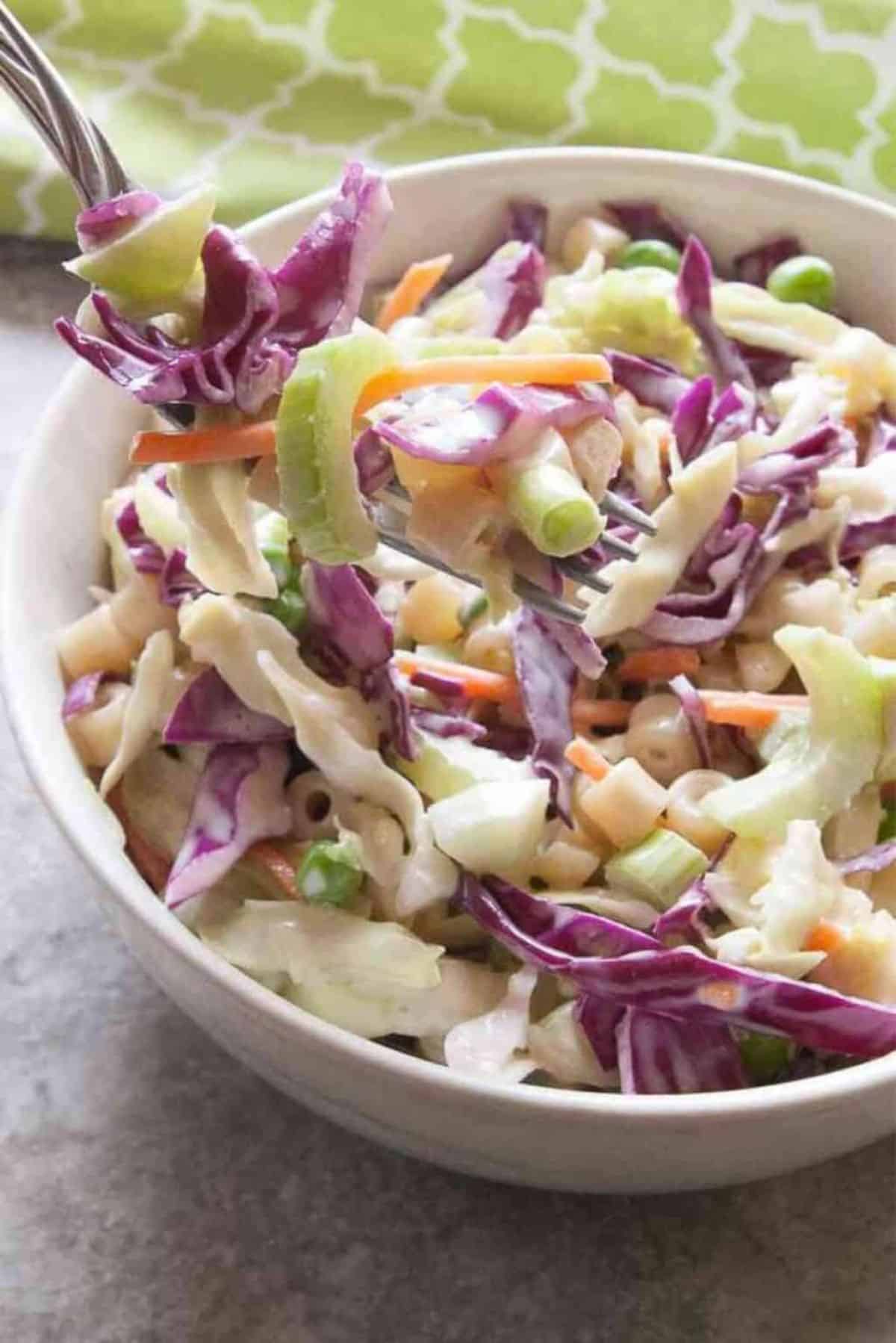 A playful fusion of textures and tastes, this macaroni coleslaw salad is an exciting twist to your brisket feast. The refreshing crunch of coleslaw paired with tender macaroni creates a delightful side dish bound to spark conversation.
¾ cups mayonnaise
2 ½ tablespoon sugar
⅛ cup apple cider vinegar
¼ teaspoon salt
¼ teaspoon white pepper
¾ cup ditalini pasta
1 ½ cups thinly-sliced green cabbage
1 ½ cups thinly-sliced red cabbage
½ cucumber
¾ cup matchstick-cut carrots
2 stalks celery
6 green onions
½ cup frozen peas
⅓ cup green bell pepper chopped up
11. Sweet Poppy Seed Coleslaw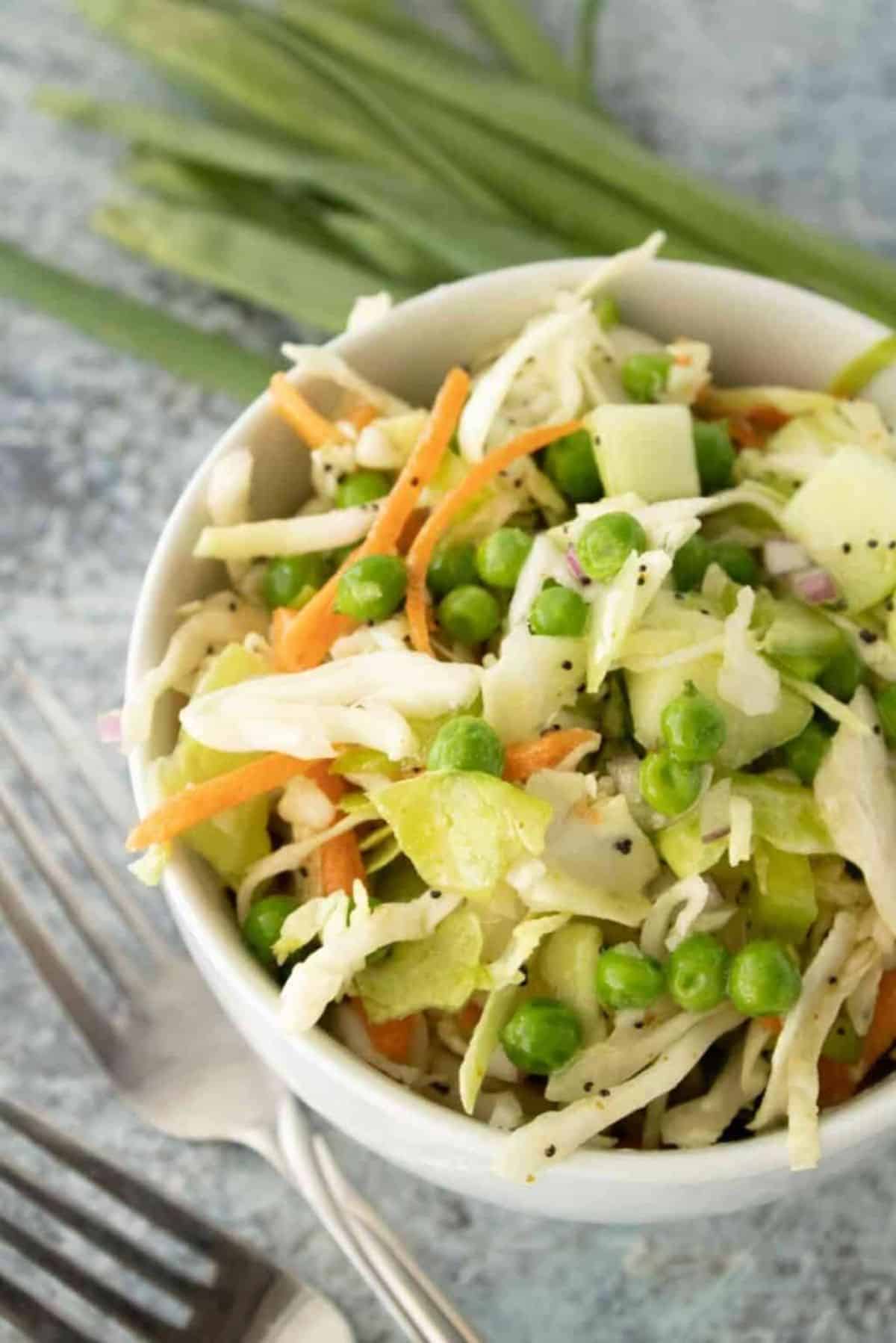 Poppy seed coleslaw brings a delightful contrast to the savory brisket. The crisp, fresh vegetables are lightly coated in a sweet, creamy dressing and sprinkled with poppy seeds, creating an enticing and flavorsome dinner dish.
⅓ cup sugar
½ teaspoon spicy brown mustard
½ teaspoon salt
3 tablespoon apple cider vinegar
½ cup olive oil
½ tablespoon poppy seeds
4 cups coleslaw blend
1 cup frozen peas
1 cup cucumber, peeled and diced
½ cup green pepper, chopped
⅓ cup minced red onions
12. Streusel Topped Sweet Potatoes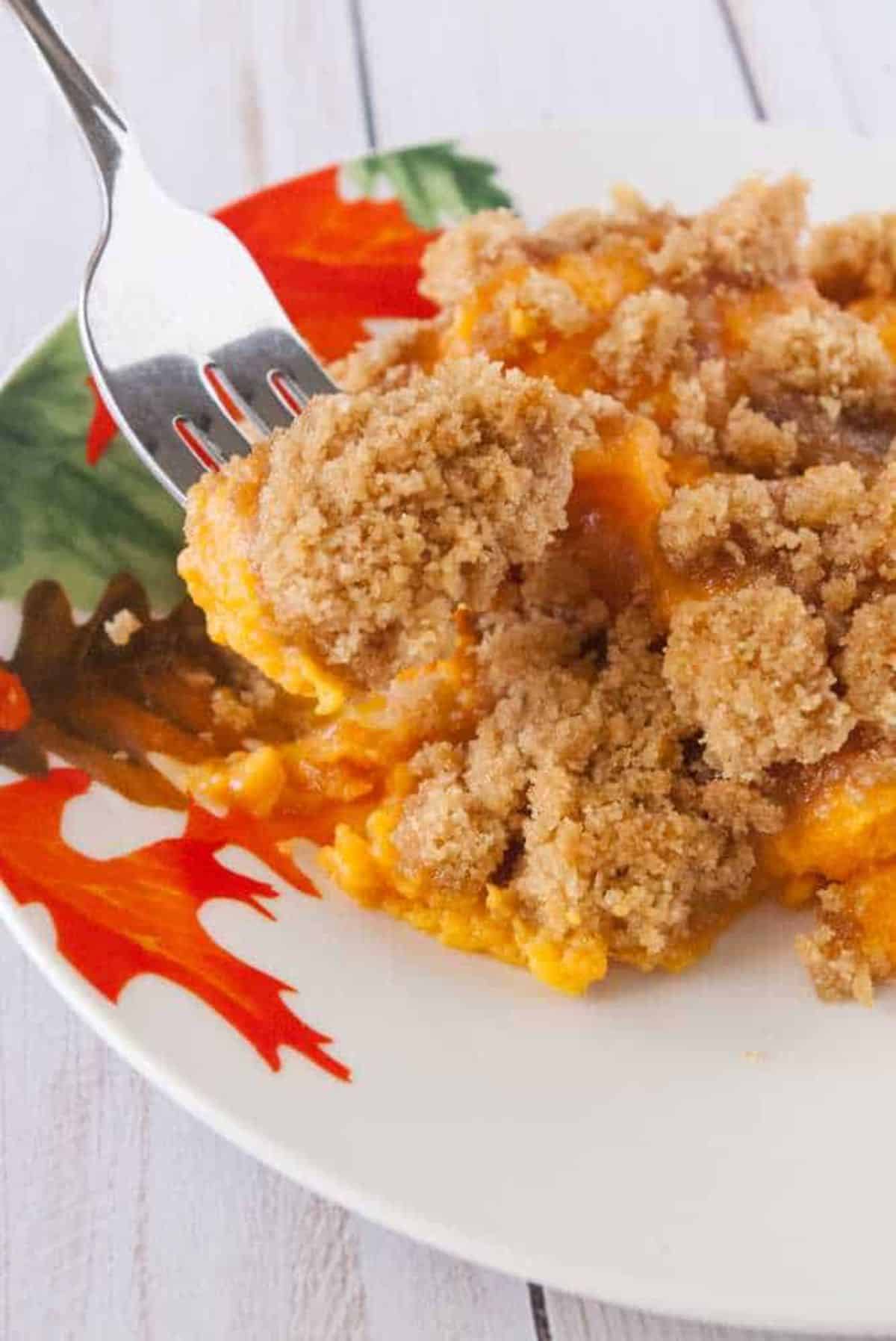 Indulge in the comforting warmth of these tender sweet potatoes, topped with a buttery, crumbly streusel. The natural sweetness and rich, caramelized topping make this side dish a delectable addition to your brisket dinner, pleasing both your taste buds and your appetite.
4 cups sweet potatoes, peeled and cubed
½ cup sugar
½ teaspoon salt
8 tablespoon butter, softened
½ cup milk, 2% or higher
2 eggs
½ teaspoon vanilla
¾ cup brown sugar
½ cup flour
¾ cup pecan chips
13. Orzo Rice Pilaf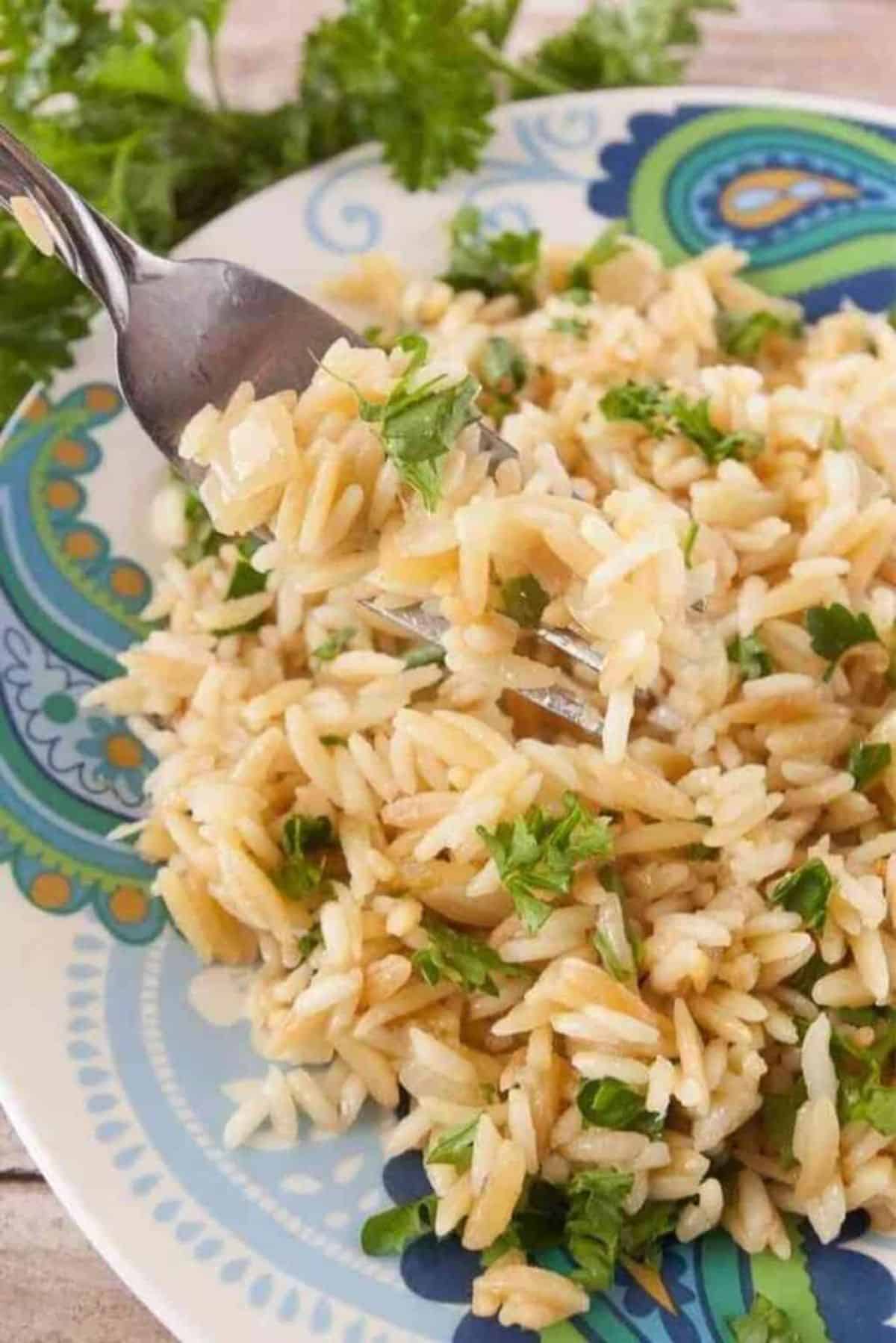 Infused with fragrant herbs and spices, this delicate yet sophisticated pilaf side dish provides a light, flavorful alternative to heavier side options.
2 tablespoon butter
¼ cup finely chopped onion
2 cloves minced garlic
½ cup white rice
½ cup orzo pasta
2 cups chicken broth
14. Smokey Parmesan Roasted Cauliflower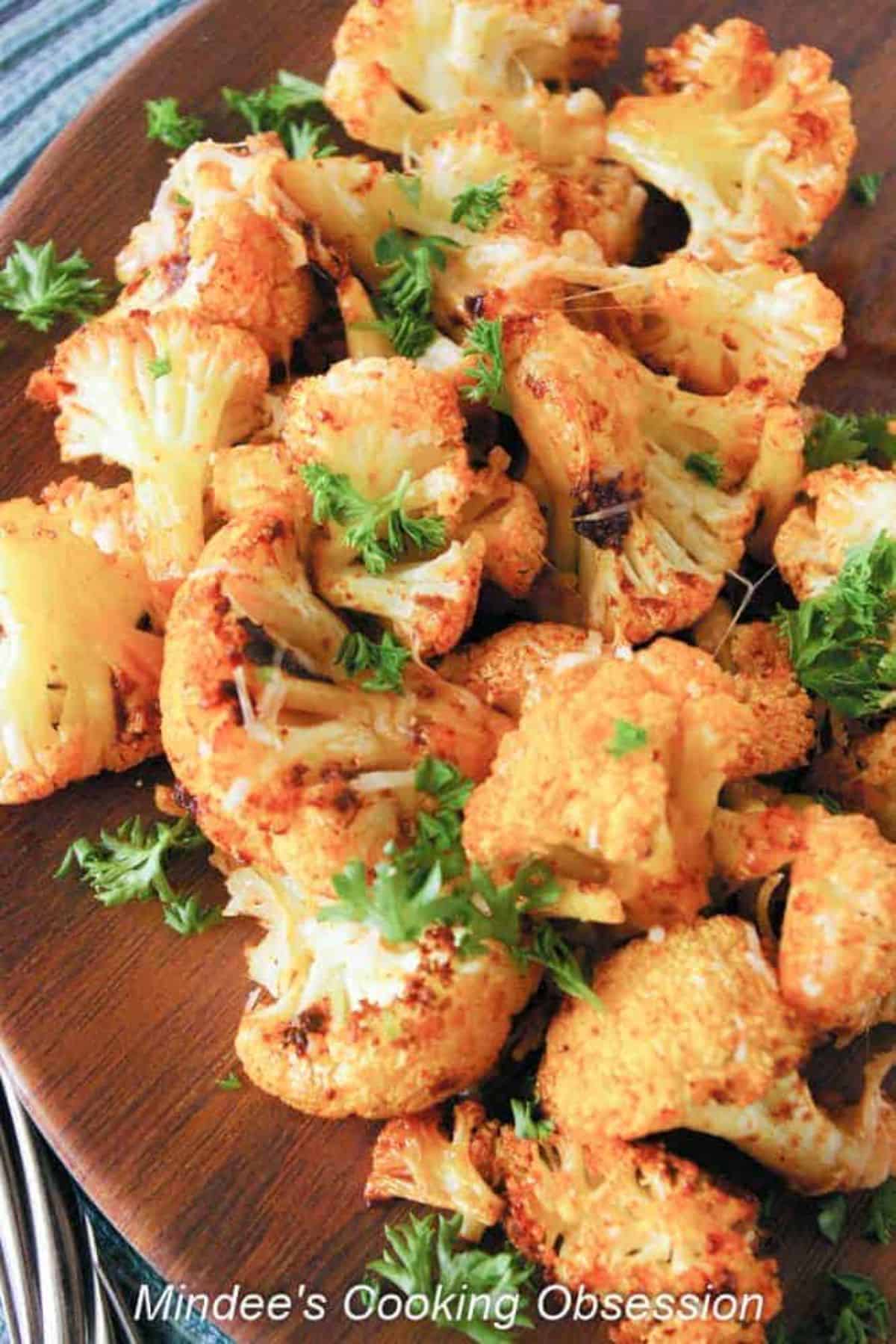 With its caramelized edges and enticing cheesy crust, this smoky Parmesan-roasted cauliflower is a side dish to be reckoned with. The bold flavors and satisfying texture are perfect for your tender brisket.
6 cups bite-sized cauliflower pieces
¼ cup melted butter
1 teaspoon smoked paprika
¼ teaspoon chili powder
¼-½ cup shredded parmesan
15. Slow Cooker Italian Mushrooms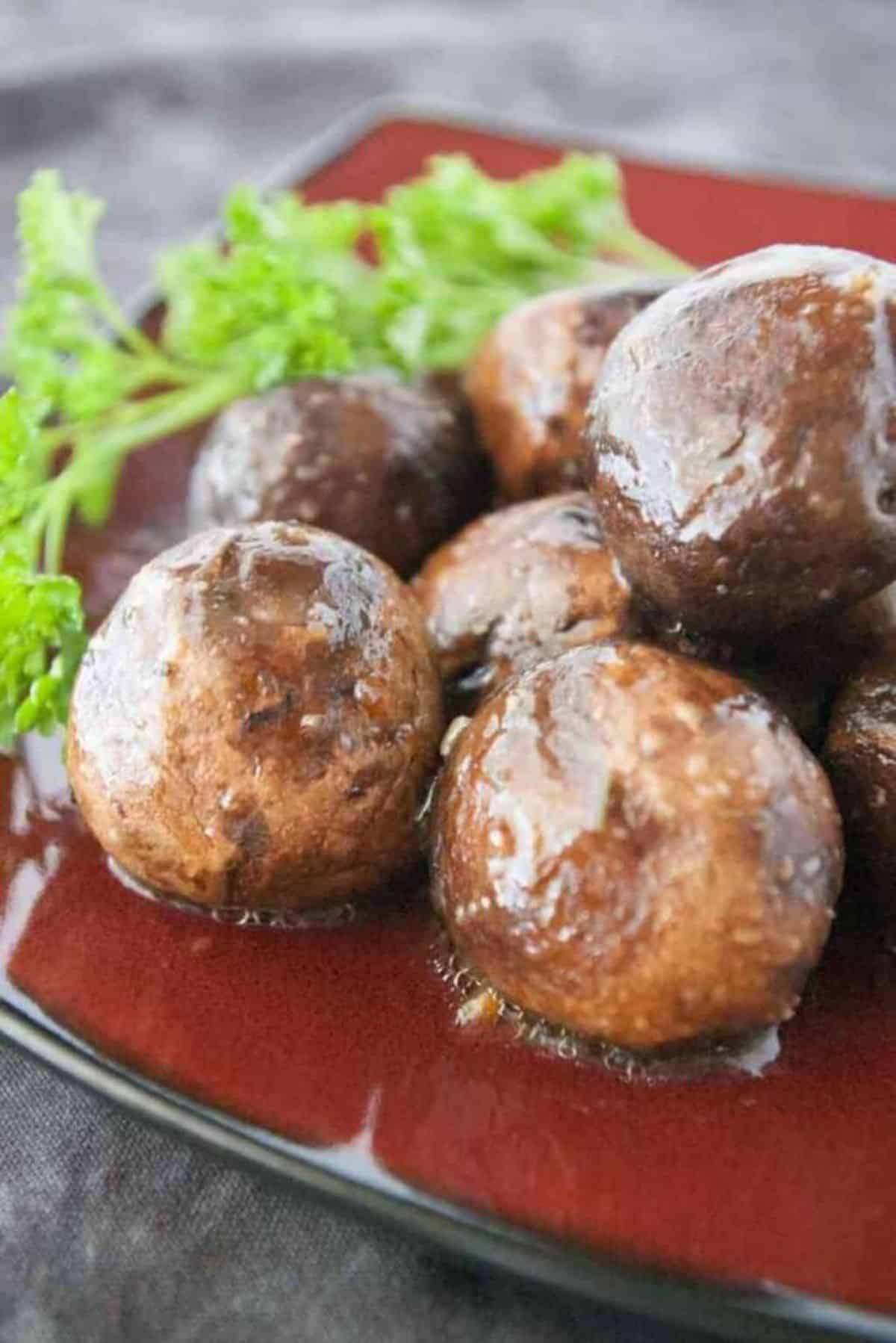 Indulge in the earthy goodness of these slow-cooked Italian mushrooms, tenderly prepared to complement your brisket. Imbued with the aromatic essence of Italian herbs, these mushrooms offer a delightful, flavorsome side dish that adds depth and warmth to your meal.
1 lb whole medium-sized mushrooms
½ cup butter
1 envelope of Italian dressing mix
16. Slow Cooker Mac and Cheese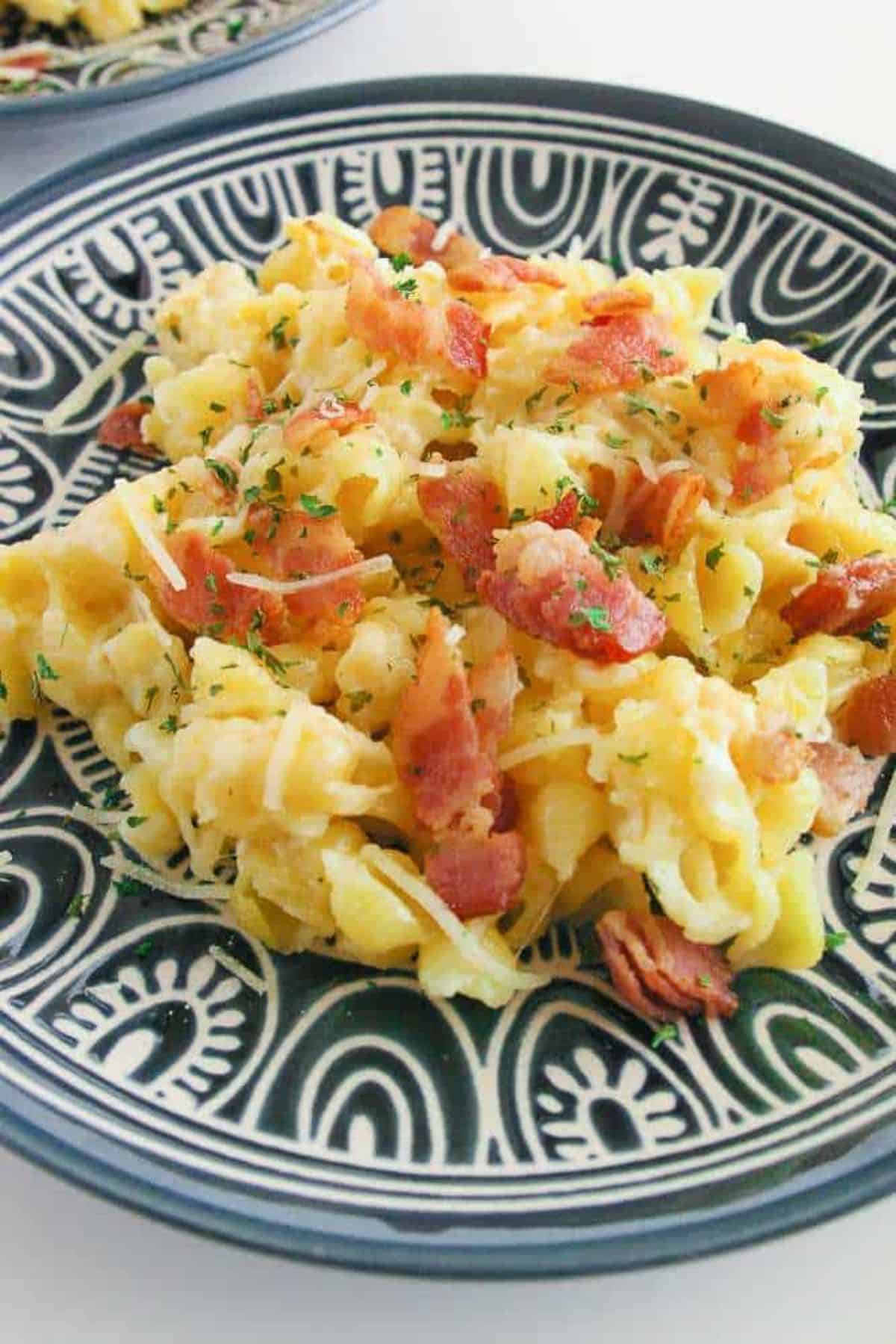 Nothing says comfort food quite like creamy, gooey slow cooker mac and cheese. This rich, velvety side dish pairs beautifully with your brisket, delighting diners of all ages.
1 16 oz box small shell pasta
1 cup shredded Monterey jack cheese
1 cup shredded Italian cheese blend
1 cup shredded provolone
1 lb bacon
4 cups 2% milk
1 12 oz can of evaporated milk
1 egg
¼ cup melted butter
1 Tbs. flour
1 tsp. salt
17. Italian Orzo Bacon Mushroom Bake
Savor the enticing combination of bacon, mushrooms, and orzo in this hearty, Italian-inspired bake. Rich in flavors and satisfying in texture, this side dish is a match made in heaven for your brisket.
1 cup uncooked orzo
½ lb bacon, sliced into small pieces
½ cup diced onions
1 cup diced mushrooms
1 6 oz. package of Canadian bacon, chopped into bite-sized pieces
1 tablespoon butter
1 ½ tablespoon flour
1 cup chicken broth
1 cup milk, slightly warmed
1 ½ teaspoon Italian seasoning
1 cup shredded Italian cheese blend
½ cup Italian-seasoned panko bread crumbs
½ cup grated parmesan cheese
Final Thoughts
With these 17 delectable side dishes for brisket in your culinary arsenal, your brisket dinner is destined for greatness.
Mix and match these delicious accompaniments, and treat your taste buds to an unforgettable feast.