Are you tired of the same old maple syrup on your pancakes? Are you looking to elevate your breakfast game to new heights? Look no further! This article will explore 15 pancake syrups that will take your breakfast to the next level.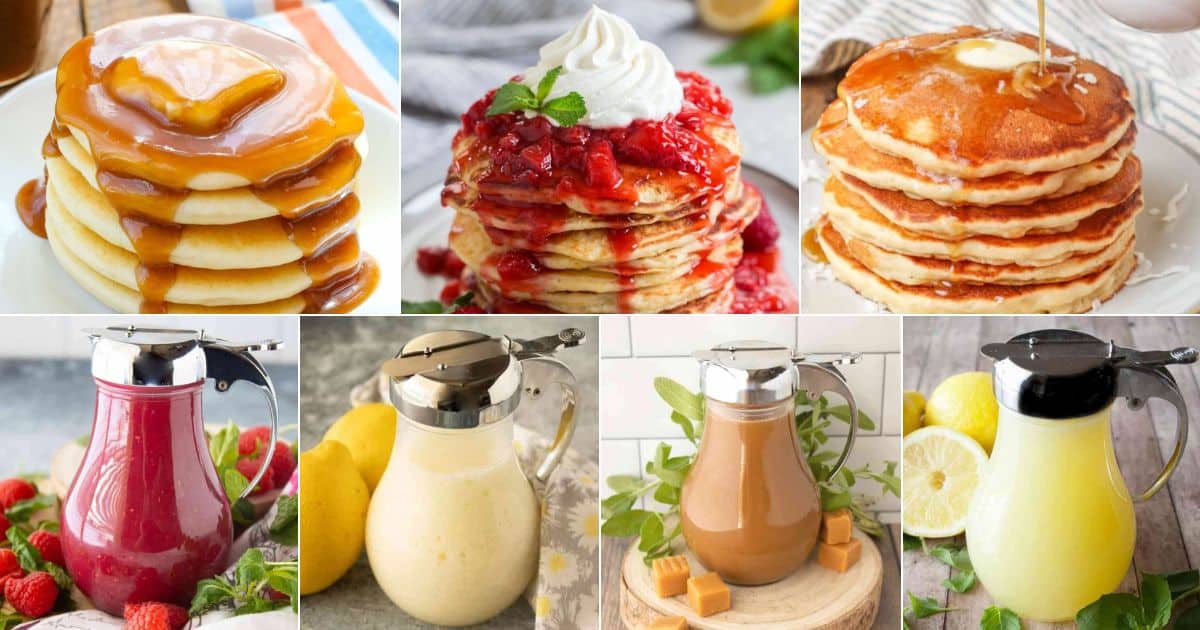 From unique and exotic flavors to classic favorites with a twist, these syrups will tantalize your taste buds and flavor your morning stack of pancakes.
Whether you're a pancake connoisseur or just looking to switch things up, get ready to embark on a deliciously sweet journey as we delve into the world of pancake syrups that are guaranteed to elevate your breakfast experience to new heights. Get ready to pour on the goodness and make your pancakes the talk of the town!
Jump to: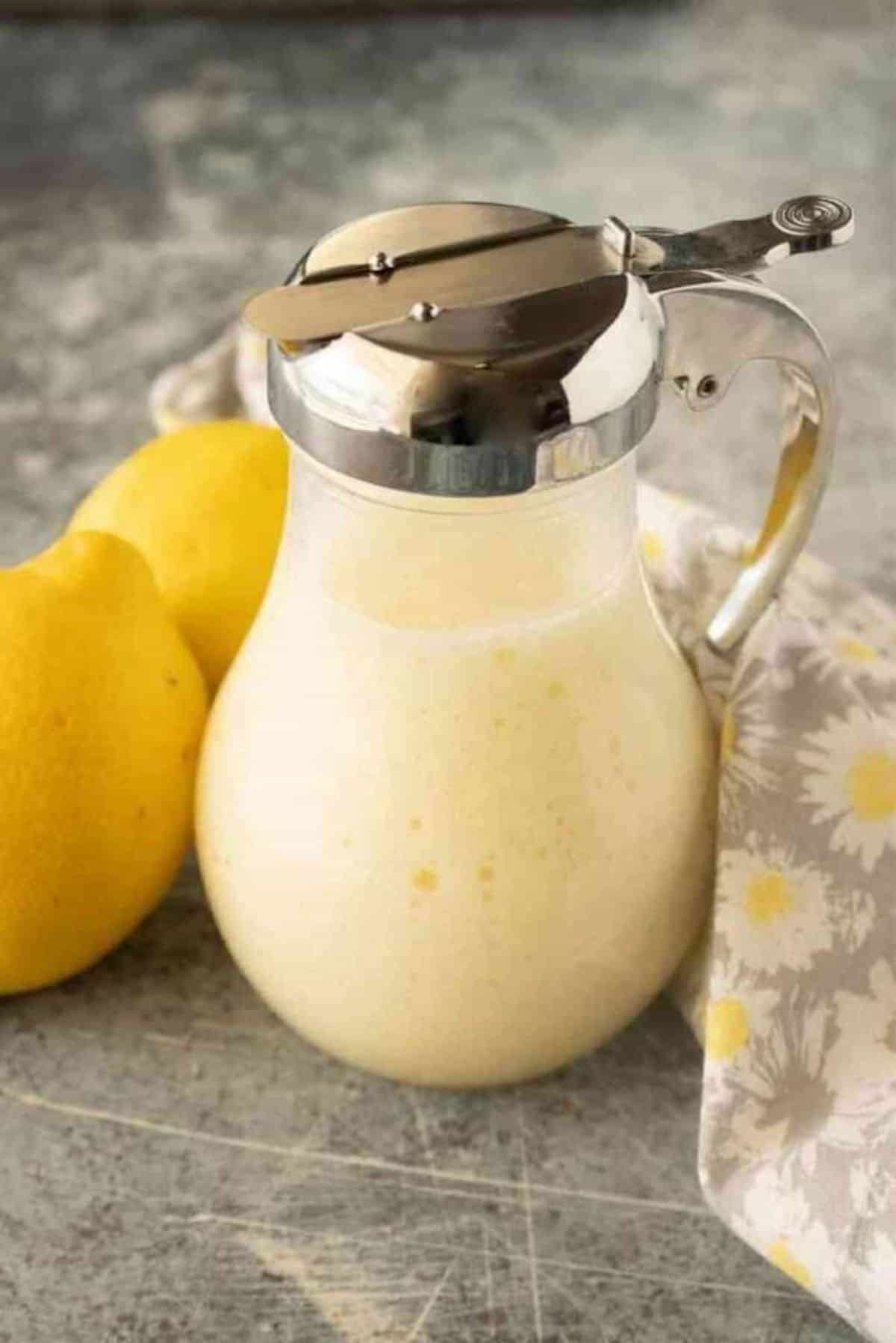 The key ingredients in Cream Cheese Syrup typically include cream cheese, butter, powdered sugar, and vanilla extract, combined and melted to create a creamy and dreamy syrup perfect for drizzling over pancakes. The cream cheese adds a creamy richness that pairs perfectly with the powdered sugar's sweetness and the vanilla extract's warmth.
Cream cheese syrup is thicker than regular and perfect for red velvet or lemon pancakes. You can also try it with banana pancakes.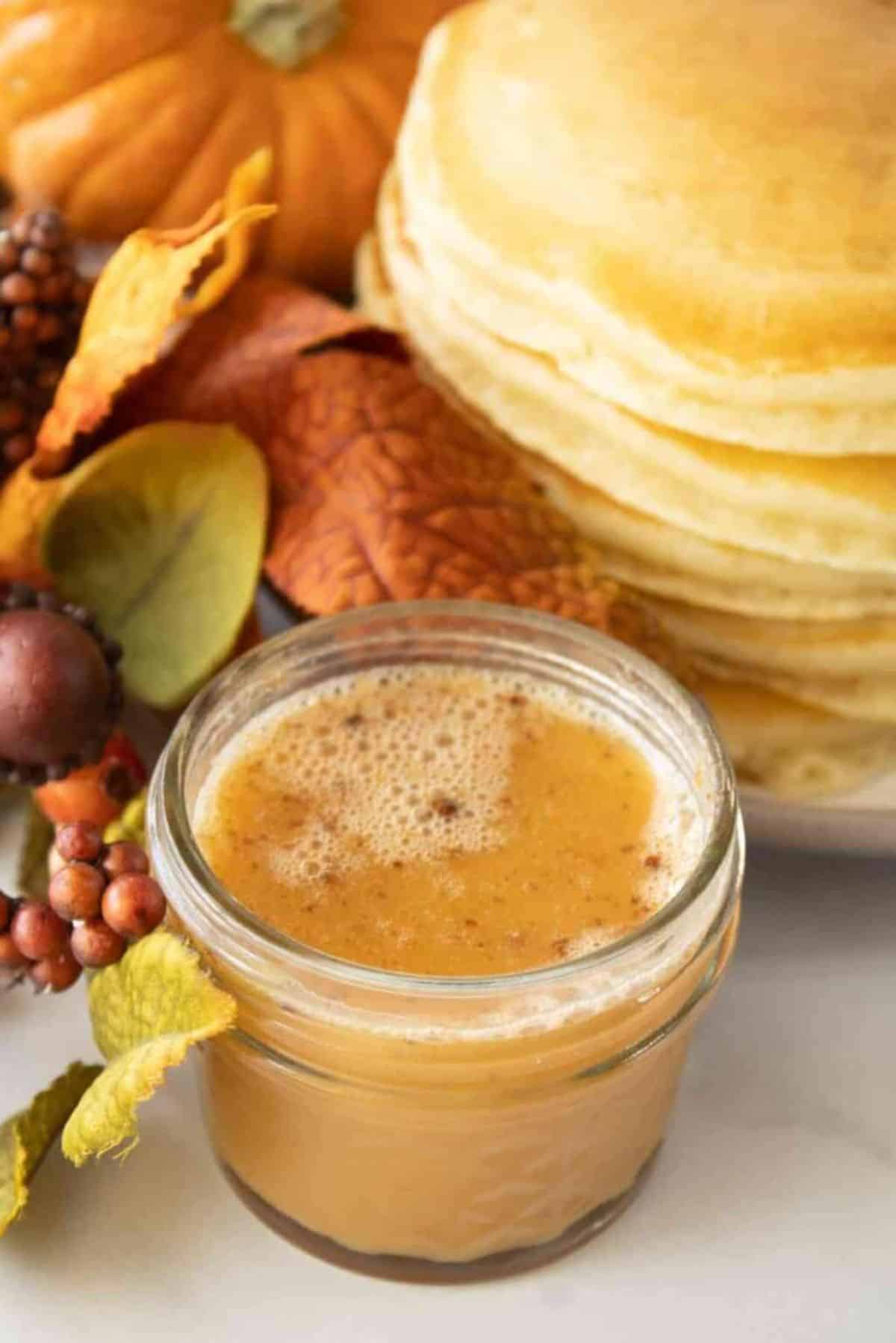 Pumpkin Pie Syrup is a seasonal delight that captures the cozy flavors of autumn in a bottle. It has a warm and aromatic taste with notes of cinnamon, nutmeg, ginger, and cloves that evoke the familiar flavors of pumpkin pie. What makes this syrup unique is its distinctive pumpkin spice flavor that adds a cozy and nostalgic twist to your pancakes.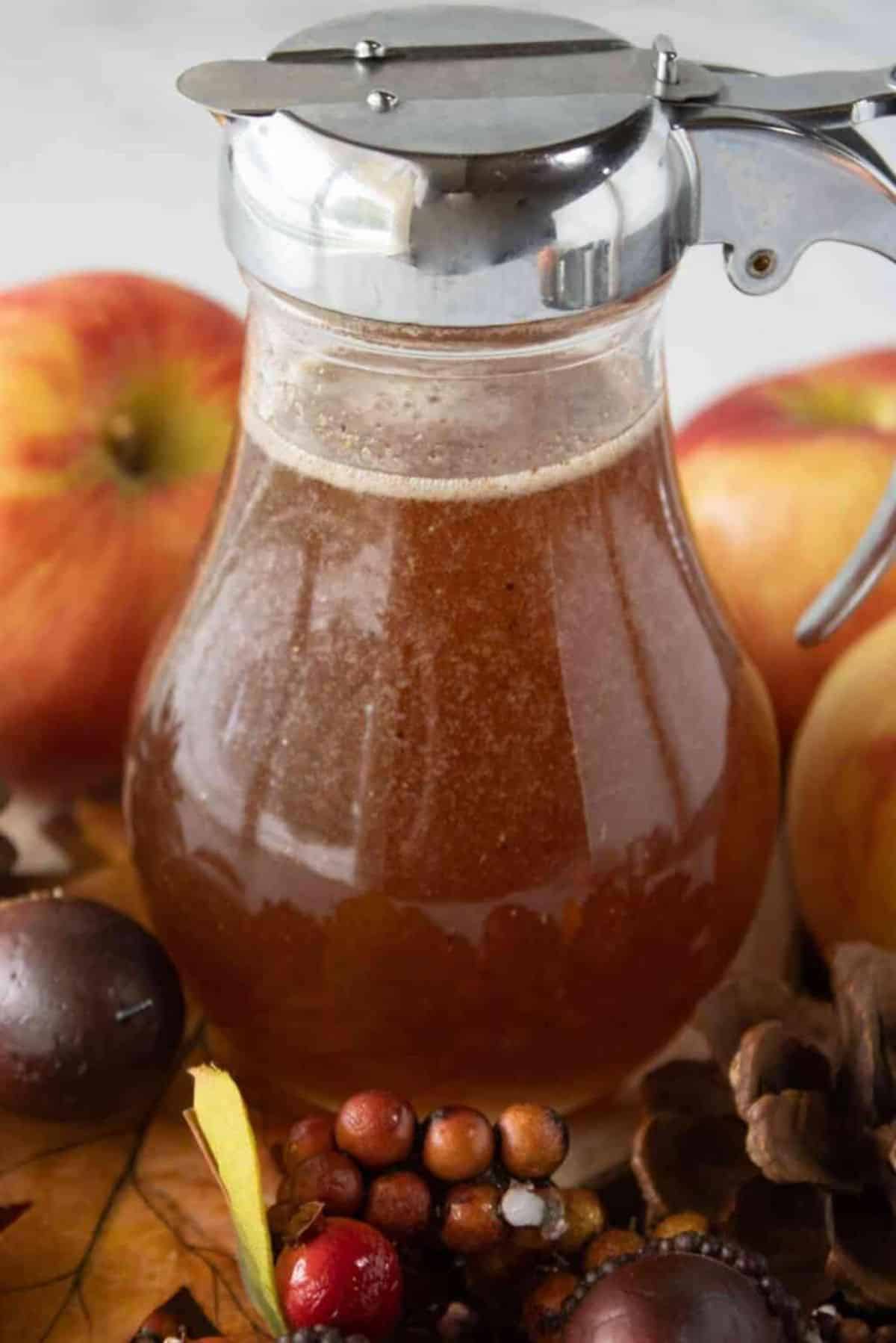 Do you love the fall? Is your favorite order at Starbucks a pumpkin spice late? Well, I have some syrup for you!
Easy Apple Cider Syrup is a delightful and refreshing twist on traditional pancake syrups. It has a tangy and slightly tart taste with hints of sweetness reminiscent of freshly pressed apple cider. It tastes like a warm and cozy slice of pumpkin pie, with notes of cinnamon, nutmeg, ginger, and cloves that evoke fall flavors. What makes this syrup unique is the use of apple cider as the base, which gives it a natural and refreshing taste that's perfect for a crisp fall morning.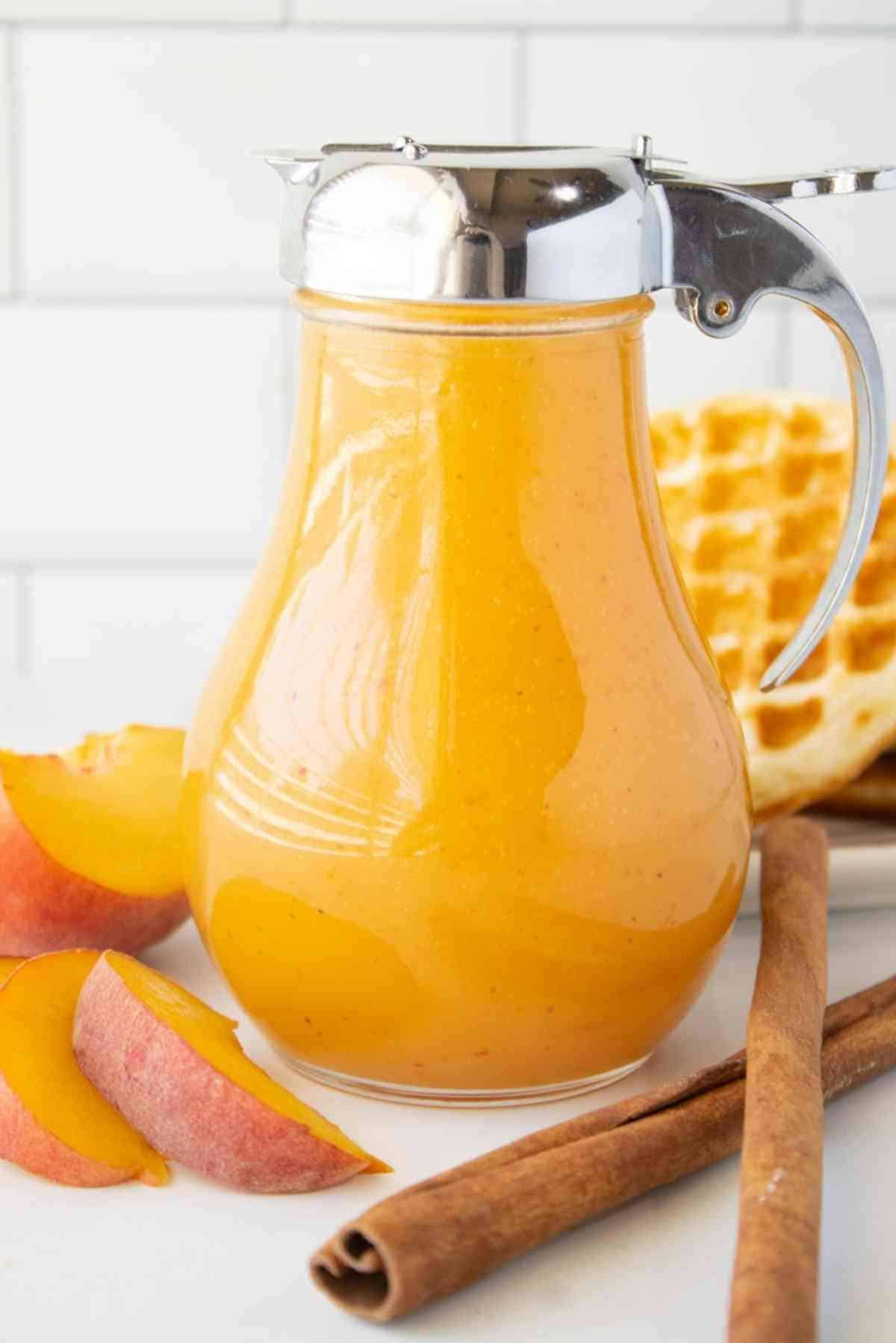 Spiced Peach Syrup is a delightful aromatic syrup that brings together the natural sweetness of peaches with a warm and spicy kick. Combining sweet peaches with warm spices like cinnamon, cloves, and ginger adds depth and complexity to the overall taste.
I love the inclusion of ginger. When you take a bite of a pancake with this syrup, it warms up your whole body. Given the intense flavors in this syrup, it goes best with plain pancakes.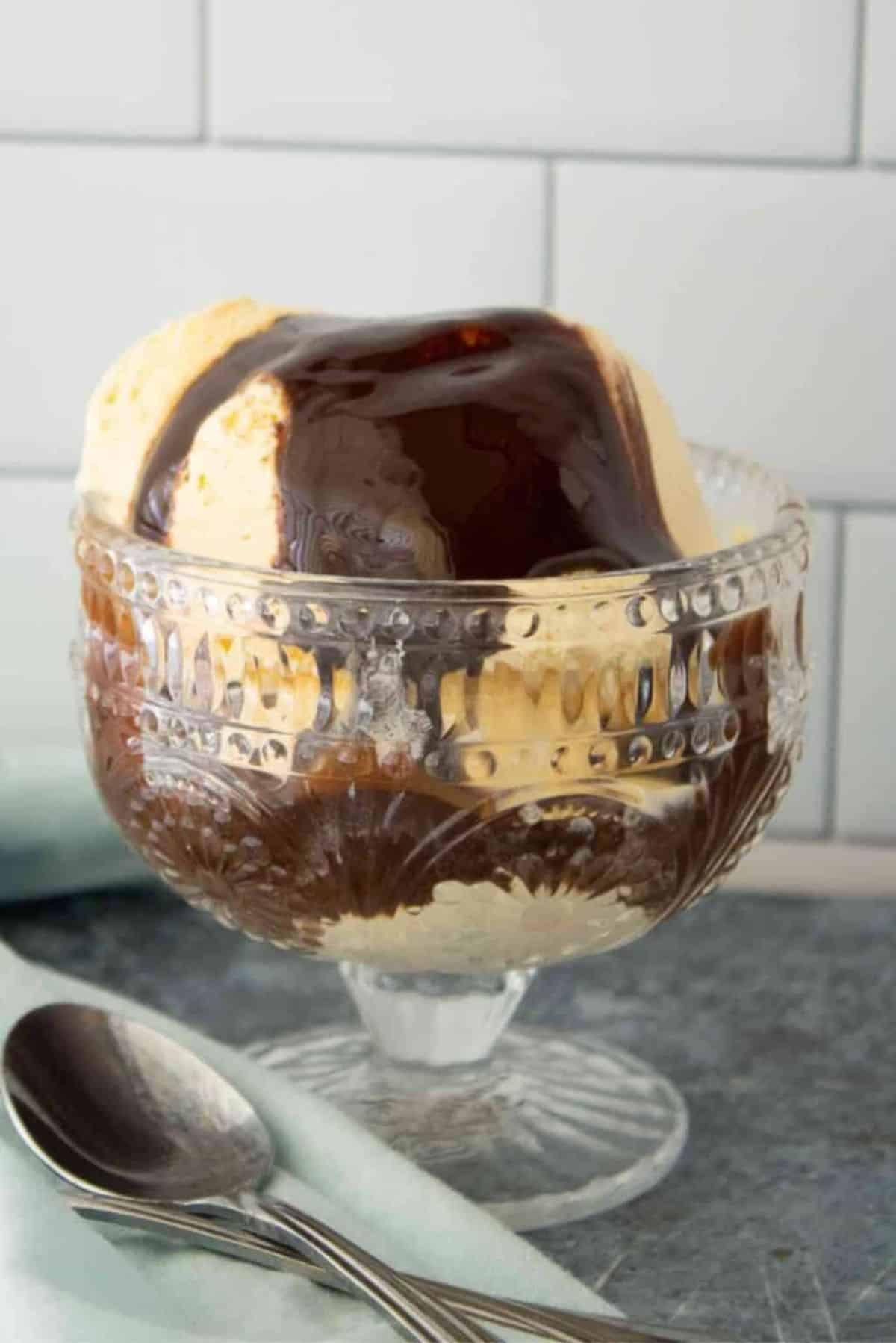 This syrup's authentic Hershey's chocolate taste makes it unique, achieved by using cocoa powder and other simple ingredients to recreate the iconic flavor. The critical elements in Copycat Hershey's Chocolate Syrup typically include cocoa powder, sugar, water, corn syrup, vanilla extract, and a pinch of salt.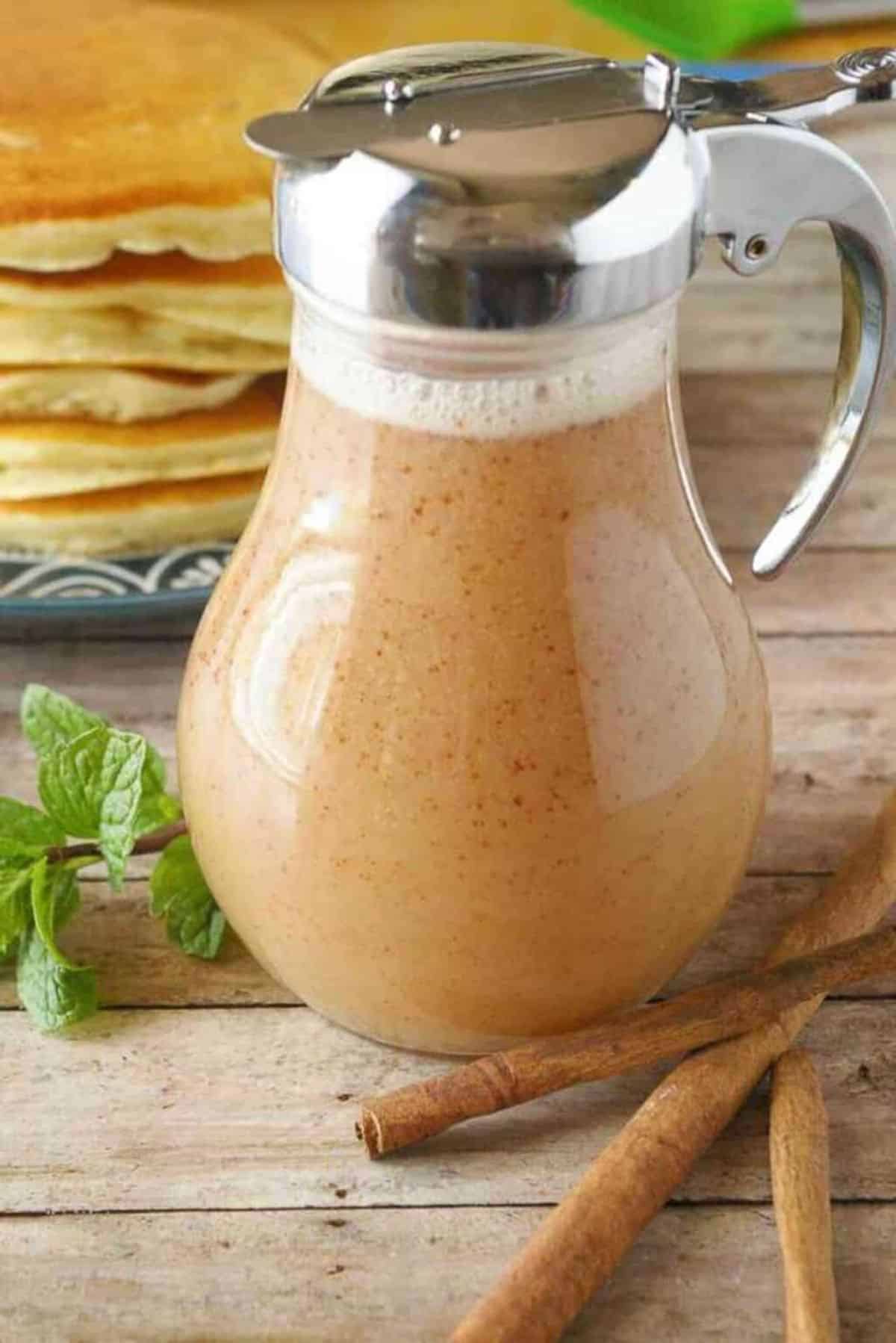 This syrup has a smooth and velvety texture with a heavenly combination of cinnamon and cream flavors. What makes this syrup unique is the perfect balance of cinnamon and cream, creating a harmonious blend of spicy sweetness and creaminess that's simply irresistible.
This syrup will save you if you can't decide between a cinnamon roll and pancakes. The thick richness of the syrup and the fluffy pancake is a match made in heaven. This combination will become a breakfast staple for you and your family. No matter your mood, this creamy cinnamon syrup will be a flavor powerhouse that everyone can agree on.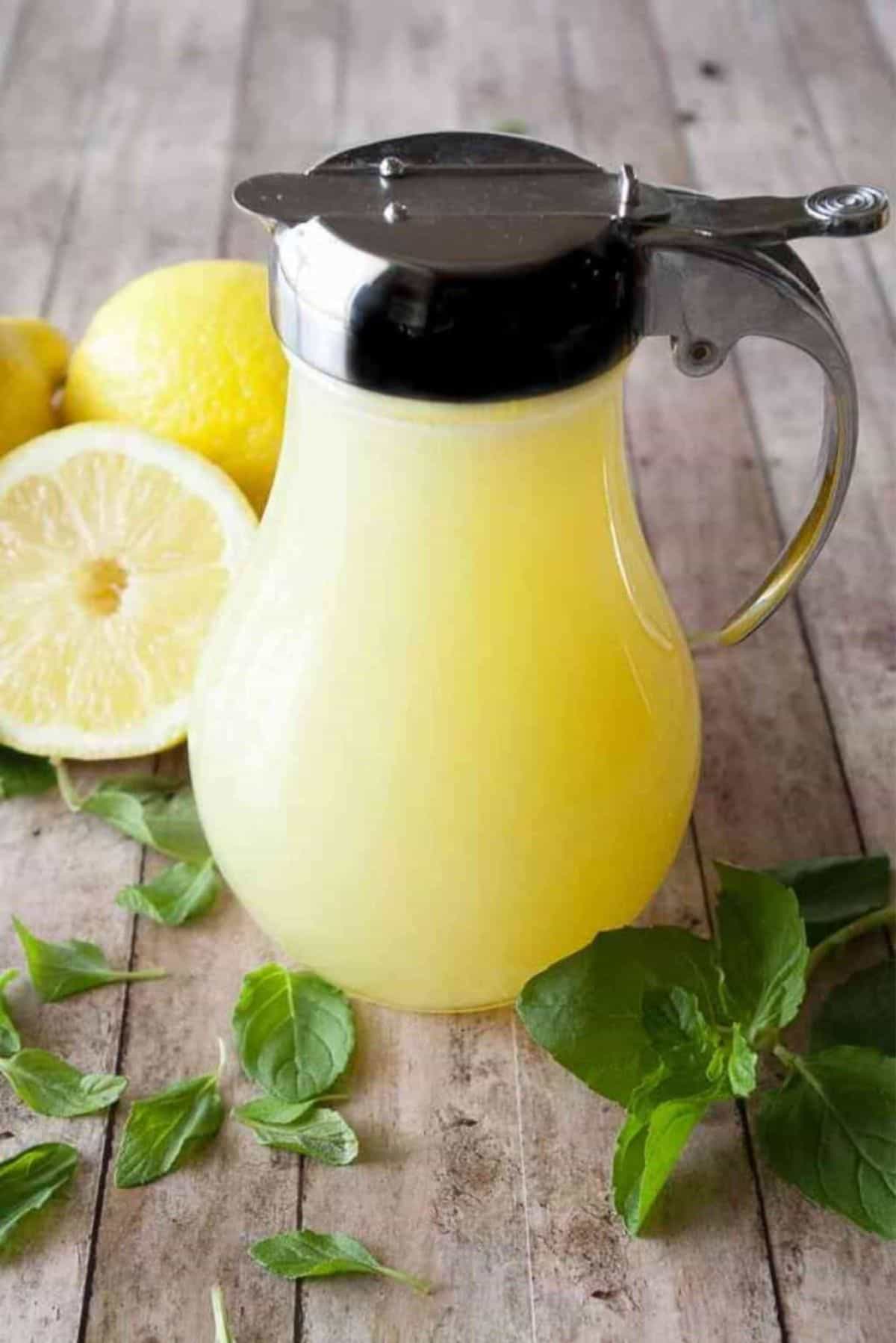 This syrup is different from other syrups as it offers a unique and refreshing twist with the addition of lemon, which adds a burst of brightness and tanginess to the overall taste. It's a perfect choice for those who love the zesty flavor of lemon and want to add a touch of creaminess to their breakfast.
You will love this syrup if you like tart flavors and don't have as much of a sweet tooth. It is fun to experiment with different types of lemon when making this syrup. Eureka lemons will give you that classic lemon taste, while Meyer lemons are sweeter and less tart.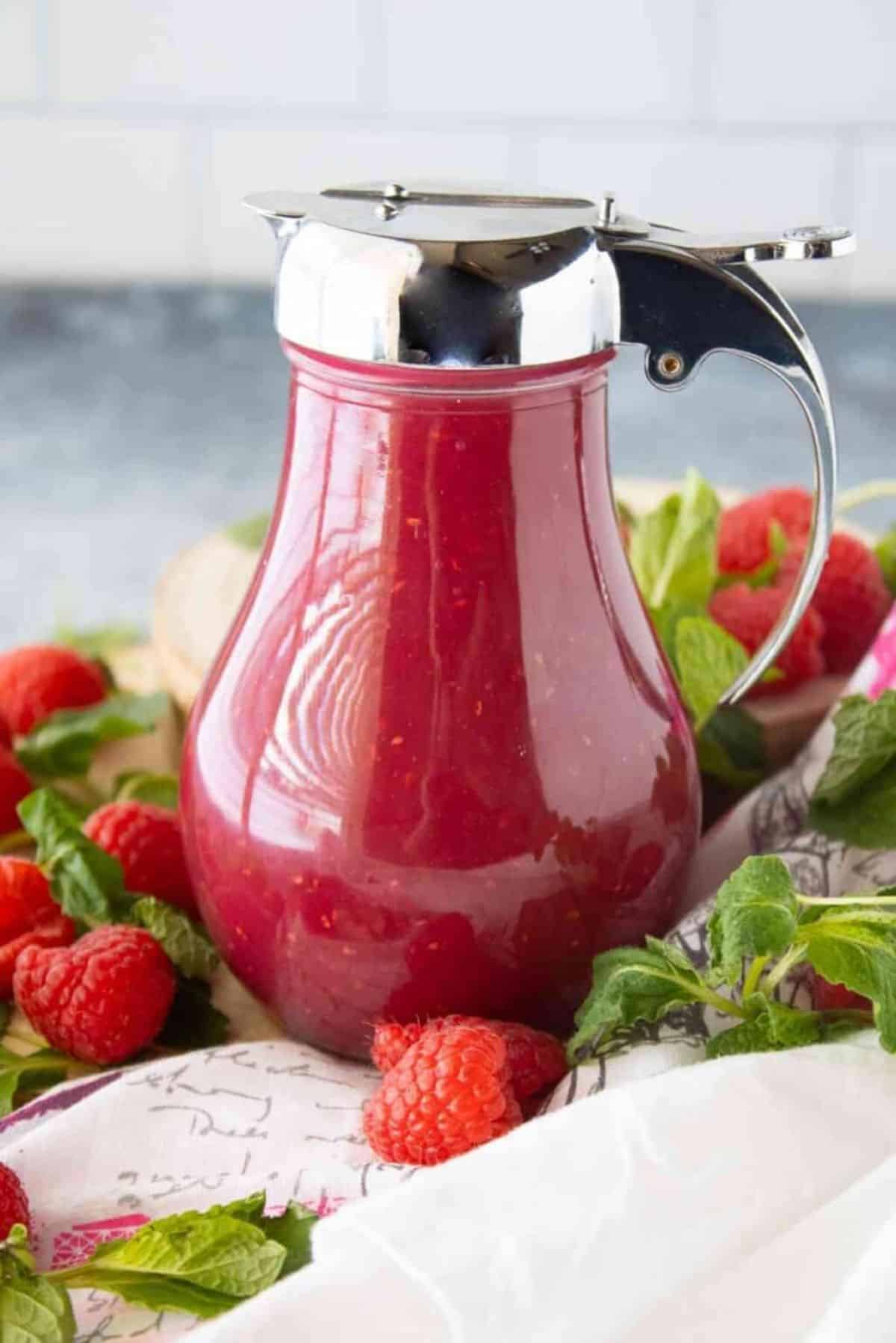 What makes this syrup unique is the delightful combination of raspberry flavor and creamy texture, creating a luxurious treat that's tangy and sweet. It's perfect for raspberry lovers who want to indulge in decadent and flavorful syrup for their pancakes.
You can make this syrup with store-bought raspberries, but it's best to pick your own. You can make large amounts of this syrup, store it, and give it to friends as a gift. Or, you can save it all for yourself.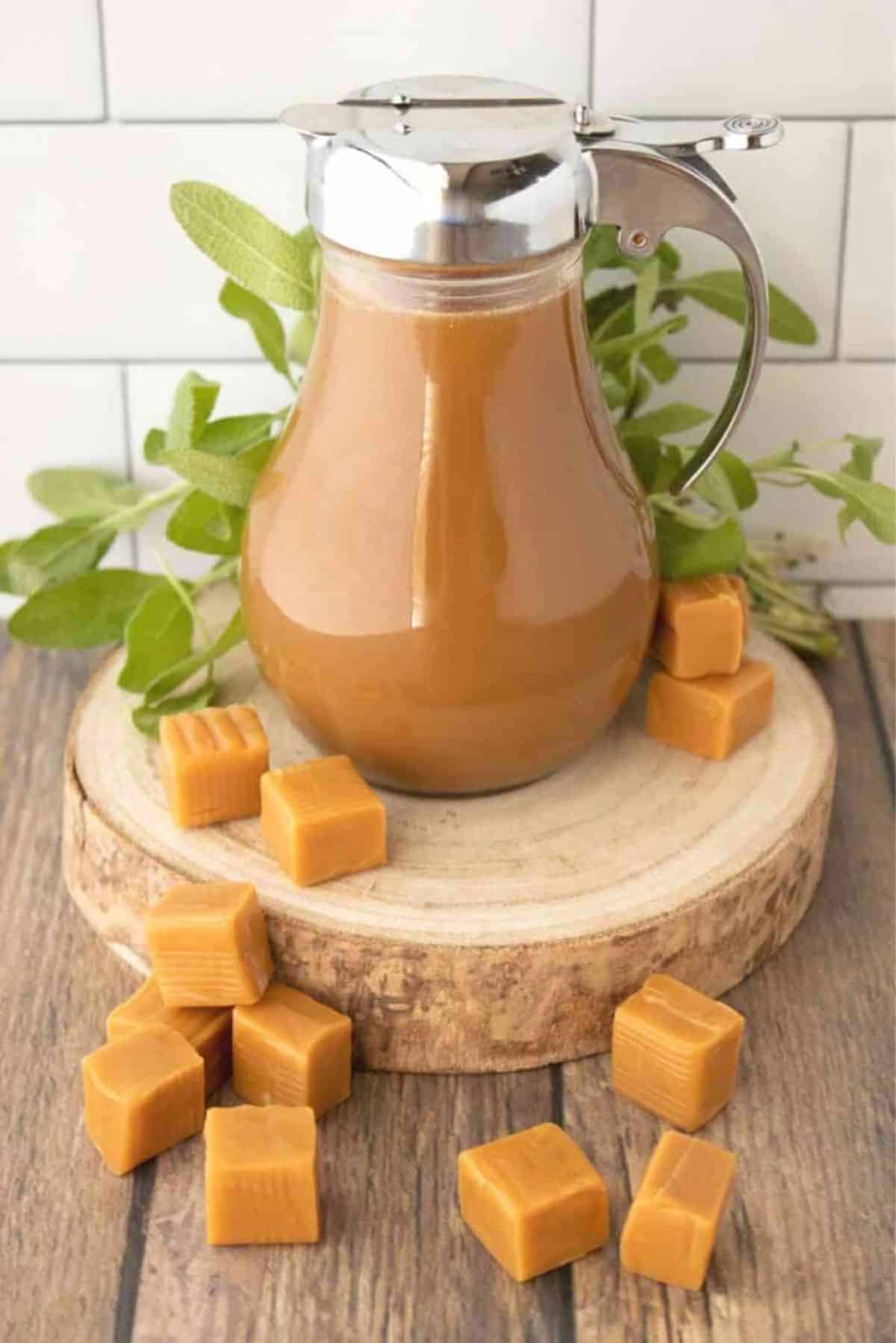 The Best Caramel Syrup is a rich, velvety sauce with a deep, buttery, and slightly sweet flavor that drizzles over pancakes, waffles, ice cream, or desserts. It has a smooth and glossy texture with a luxurious caramel taste.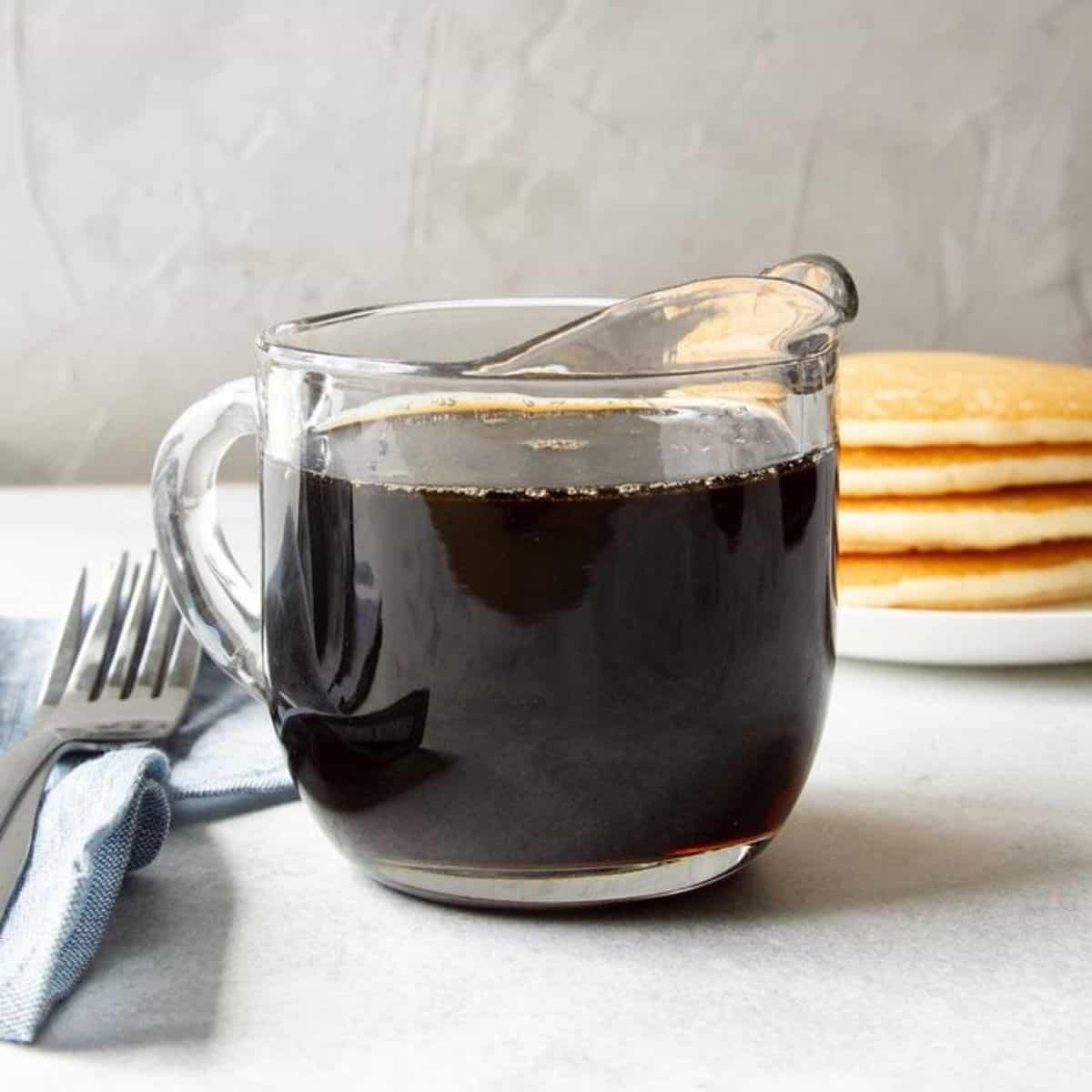 Who needs the store-bought stuff when you can make it even better at home? Not only is making your pancake syrup at home fun, but you can customize the flavor profile based on your preferences.
This syrup has a classic sweetness with a touch of warmth from adding ingredients such as vanilla extract, cinnamon, or maple flavoring, depending on the recipe. This syrup is unique because it can be easily made at home using simple pantry staples, giving you complete control over the flavors and sweetness level.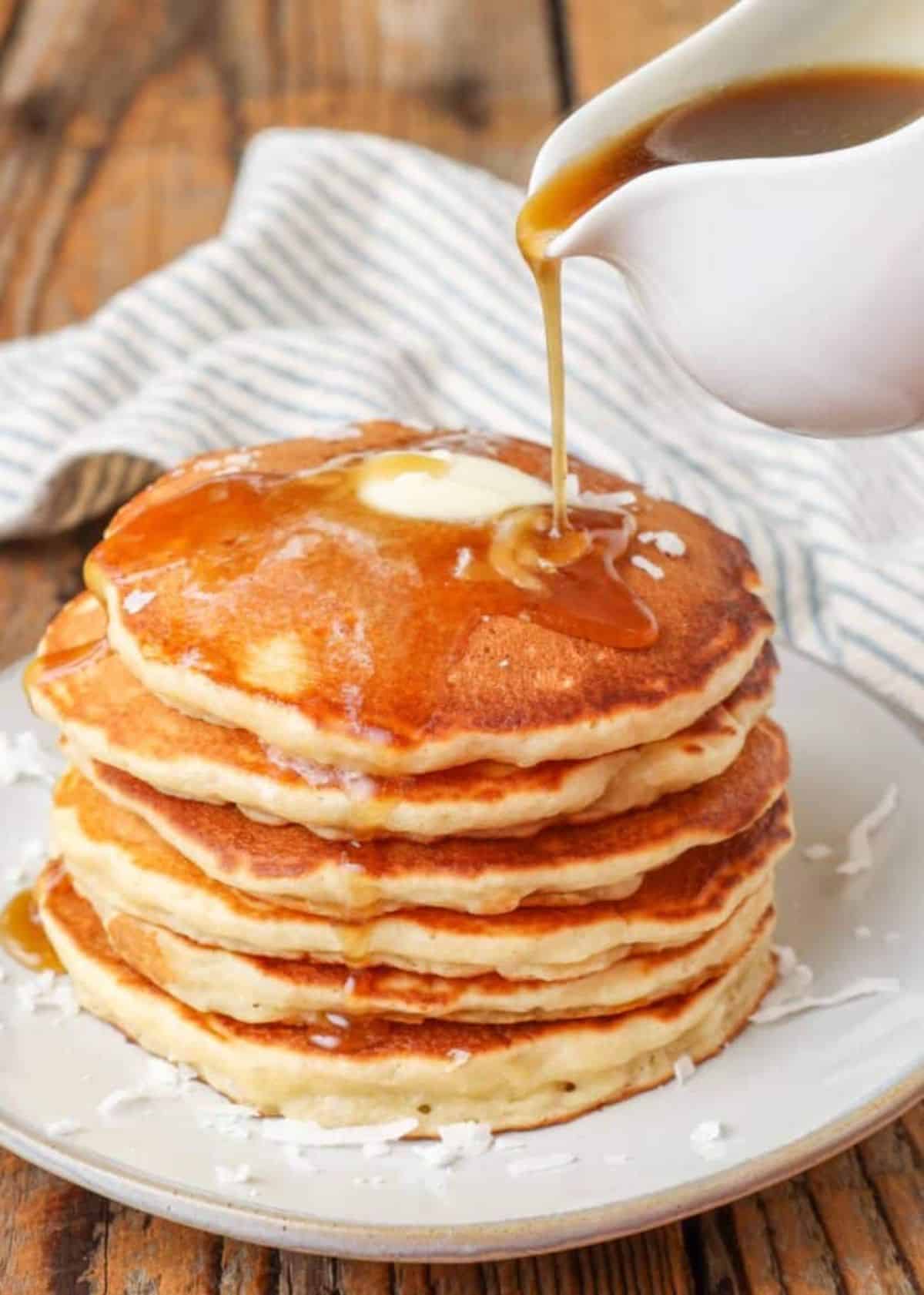 Brown Sugar Butter Syrup is a divine concoction that will transport your taste buds to breakfast nirvana. Picture this:
A velvety-smooth
Caramel-like syrup bursting with the rich flavors of brown sugar and butter
Melting in your mouth with every drizzle
This syrup is a culinary masterpiece with just a few key ingredients, including brown sugar, butter, water, and a pinch of salt.
This syrup typically combines the deep caramel-like sweetness of brown sugar with the luscious creaminess of the butter, resulting in a velvety smooth, indulgent syrup. If you like to experiment, I recommend adding some nutmeg and a dash of cinnamon.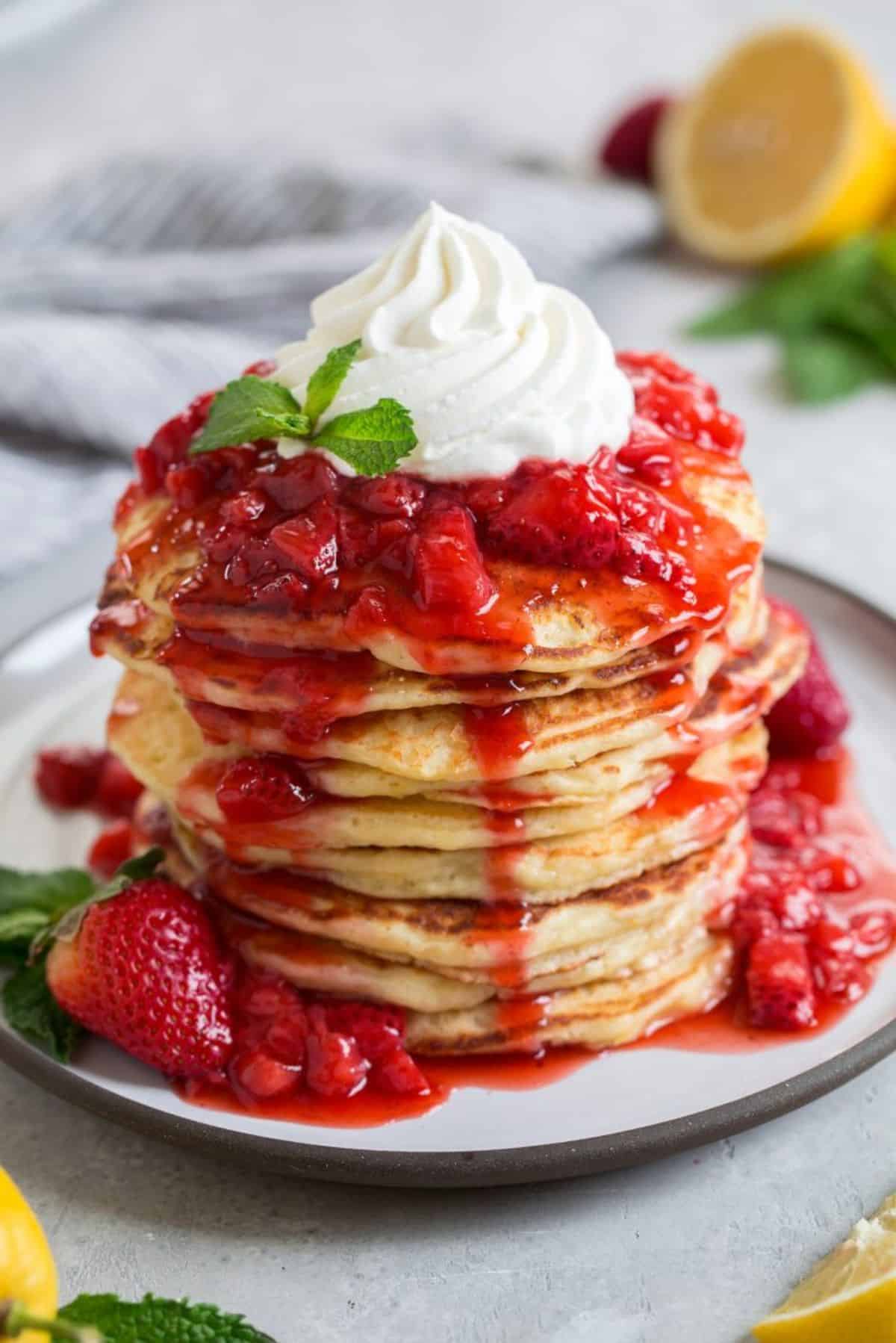 Strawberry Syrup is a breakfast lover's dream come true, with its luscious sweetness and vibrant berry flavor reminiscent of a summer morning. This syrup tastes like pure sunshine and joy, with the perfect balance of sweetness and tartness from the ripe strawberries.
The key ingredients in this syrup typically include fresh strawberries, sugar, water, and a hint of lemon juice for brightness. It's a foodie's delight and a breakfast lover's fantasy, adding a touch of summer freshness to your morning routine.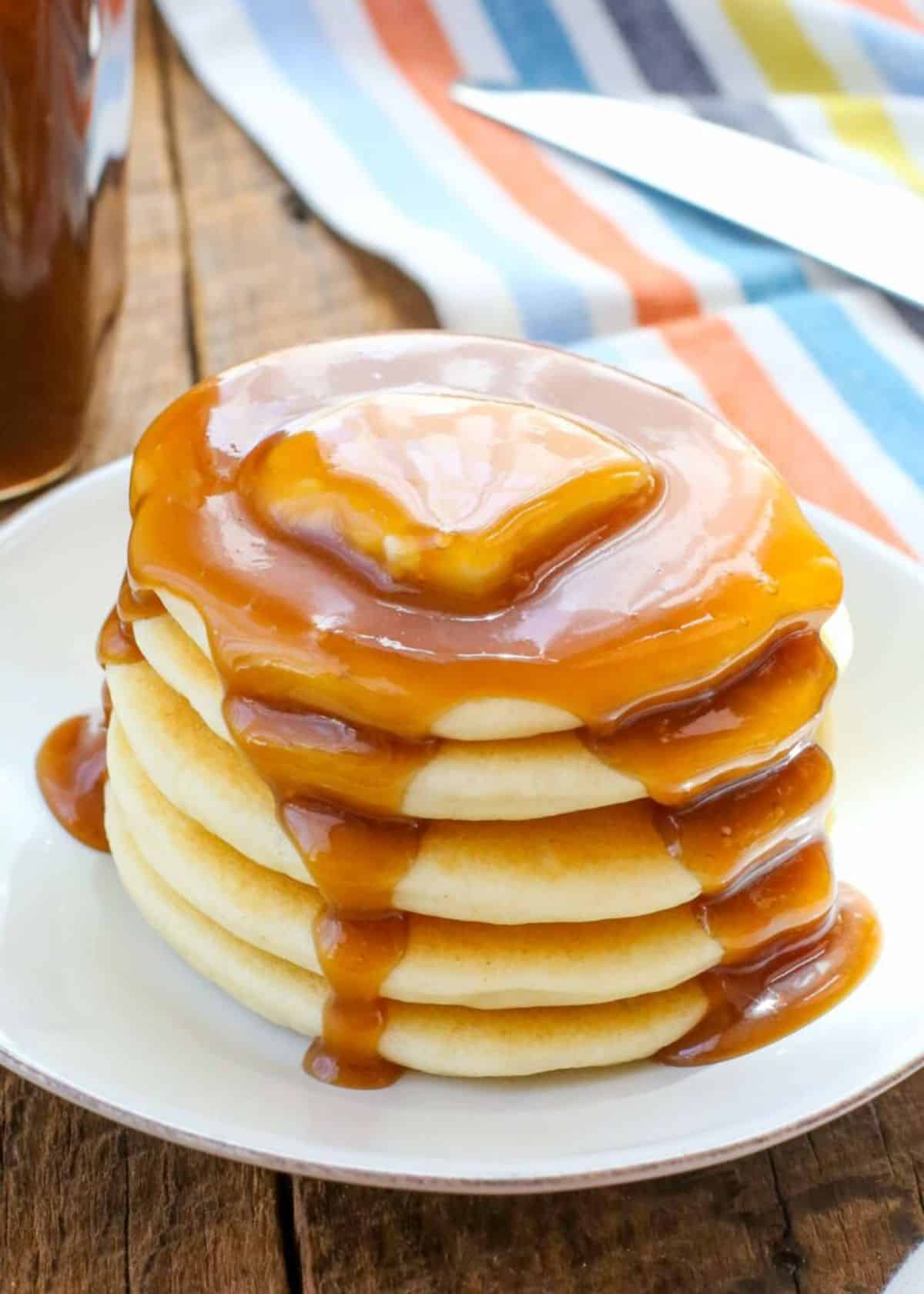 Homemade Buttermilk Syrup is a culinary gem that will revolutionize your breakfast game with its unparalleled flavor and velvety texture. The combination of buttermilk, butter, sugar, and vanilla extract results in a syrup that's a harmonious blend of flavors.
This syrup is the perfect indulgence for those who appreciate the complexity and depth of flavors in their breakfast dishes. It's a breakfast lover's dream come true, as it adds a layer of decadence and sophistication to pancakes, waffles, or French toast.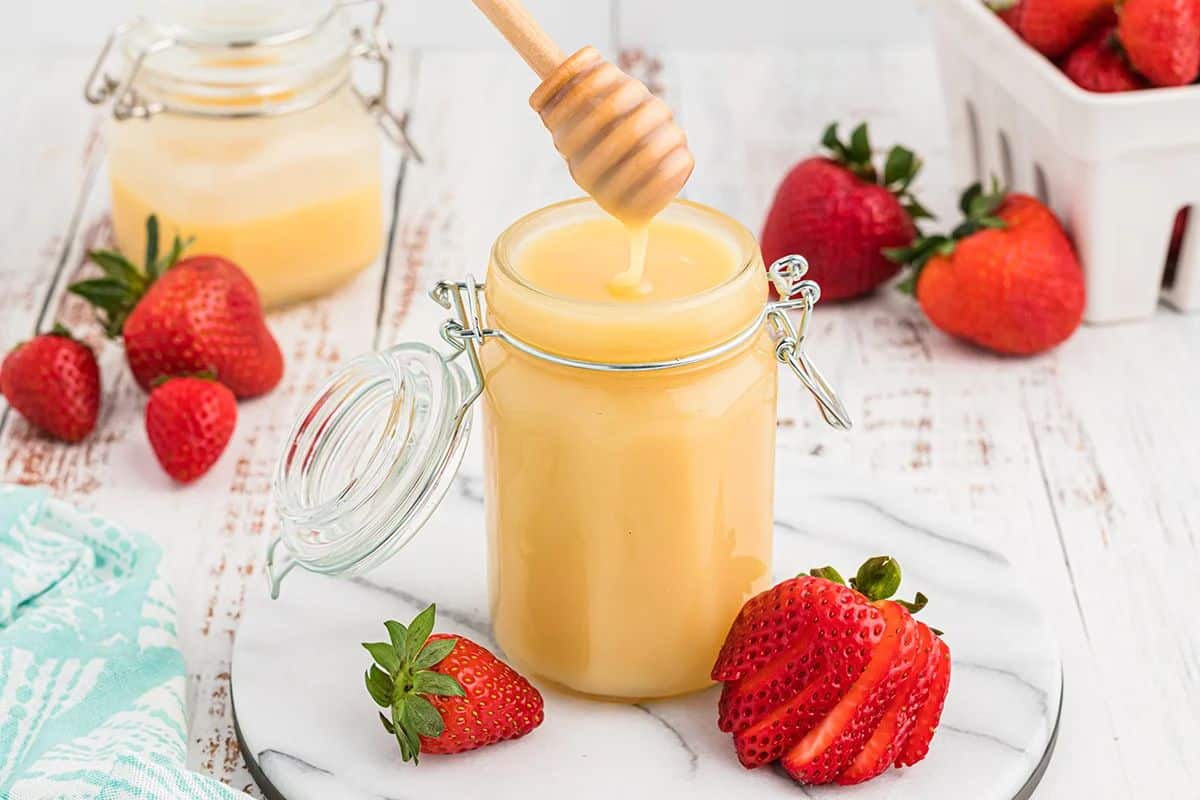 Dutch Honey Syrup is a treasure from the Netherlands that will elevate your breakfast to new heights of indulgence. This syrup is unique because it uses high-quality Dutch honey, known for its exceptional taste and superior quality.
With its exquisite taste and authentic Dutch flair, this Honey Syrup is a must-try for those who appreciate the finer things in life and seek culinary adventures in their breakfast routine.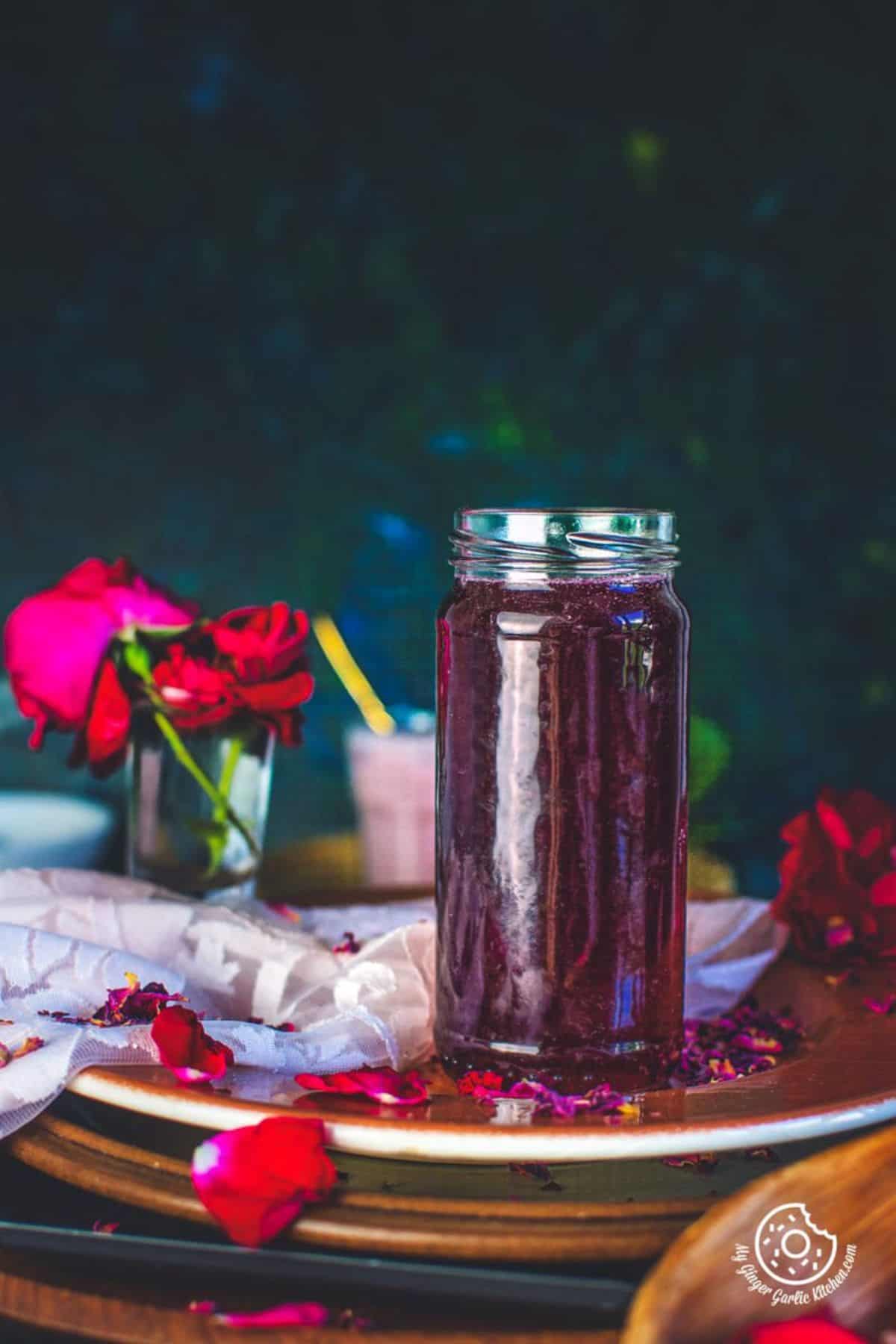 The delicate floral notes are balanced with just the right amount of sweetness, making it a perfect complement to pancakes, French toast, or even drizzled over yogurt or fruit. This syrup captures the essence of roses in a bottle.
Its exquisite taste, and aromatic aroma will captivate foodies and breakfast lovers alike. So indulge in a culinary adventure with this floral-infused syrup and elevate your breakfast to a new level of sensory delight.
Final Thoughts
Breakfast got sweeter with these 15 pancake syrups that will take your morning meal to the next level. Whether you prefer classic flavors with a twist or want to explore unique and exotic options, there's syrup on this list for everyone. From fruity to decadent, spicy to savory, these syrups will surely add flavor and excitement to your pancakes.
So try different combinations, get creative in the kitchen, and make your breakfasts unforgettable with these delicious pancake syrups. It's time to elevate your breakfast game and start your day sweetly! Happy pancake flipping and syrup pouring!