When you're whipping up an Italian meal for your loved ones, lasagna's cheesy, saucy layers are genuine showstoppers. However, the right accompaniments can take your meal to the next level.
In this article, we've compiled a unique selection of side dishes for lasagna that offers something for everyone, from light and refreshing salads to warm, pillowy bread.
Jump to:
1. Simple Salty Cucumbers
Enjoy the crunchy, refreshing bites of simple salty cucumbers, perfect for cleansing your palate between lasagna layers. These briny delights are a breeze to make when you're looking for a last-minute side dish or just a late-night snack.
3 teaspoon salt
2 cups water
2 to 3 large cucumbers
2. Copycat Italian Cheese Bread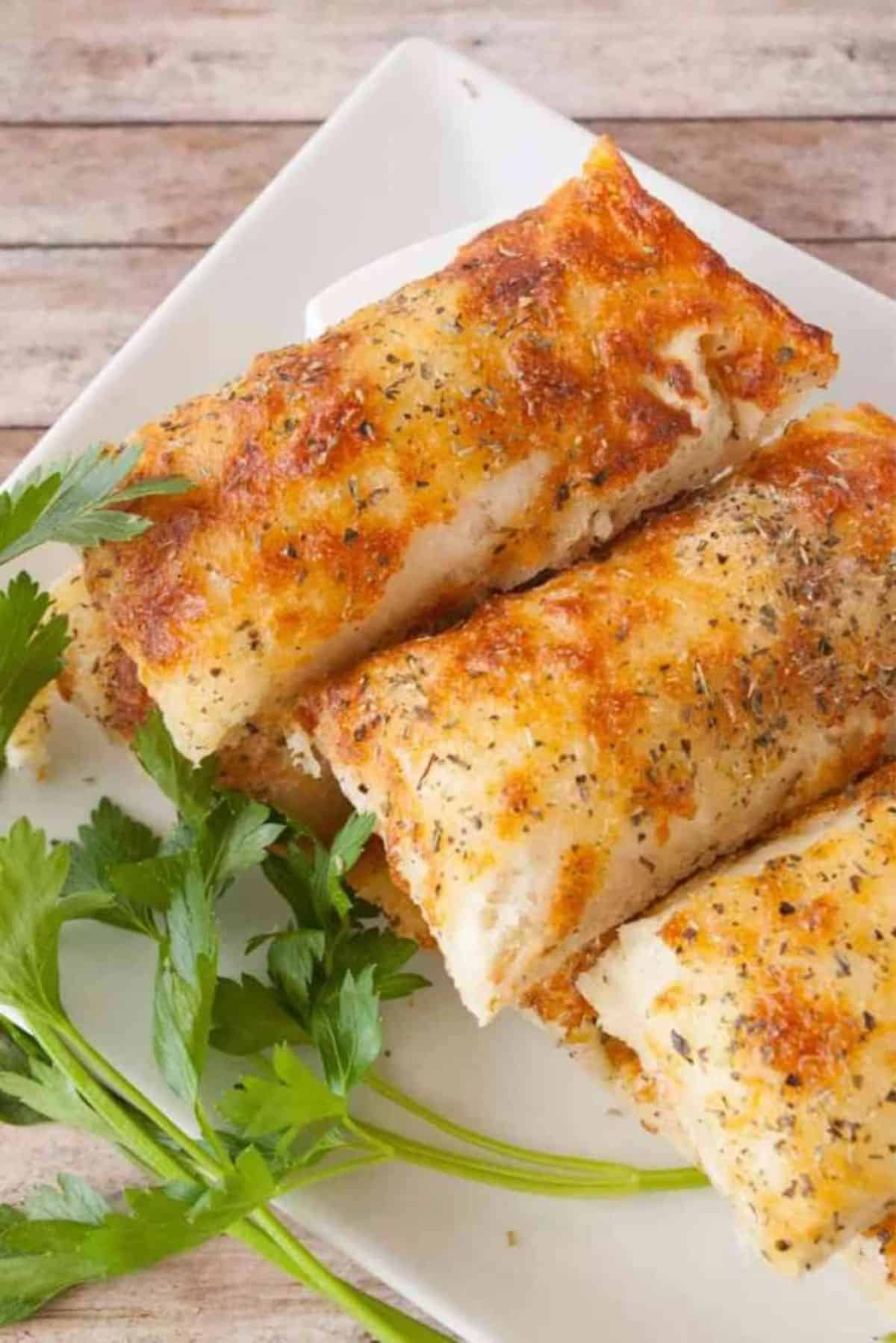 This copycat Italian cheese bread is a savory mix of rich, gooey cheese atop pillowy bread with a delightfully crispy crust. We recommend taking advantage of the dippable shape for soaking up any lingering sauce on your plate.
2 ¼ teaspoon active dry yeast
2 teaspoon sugar
1 cup warm water
2 tablespoon olive oil
1 teaspoon salt
2 cups flour
2 cups shredded Italian blend cheese
3 tablespoon butter
Garlic salt
Italian seasoning blend
3. Broccoli Cauliflower Salad with Bacon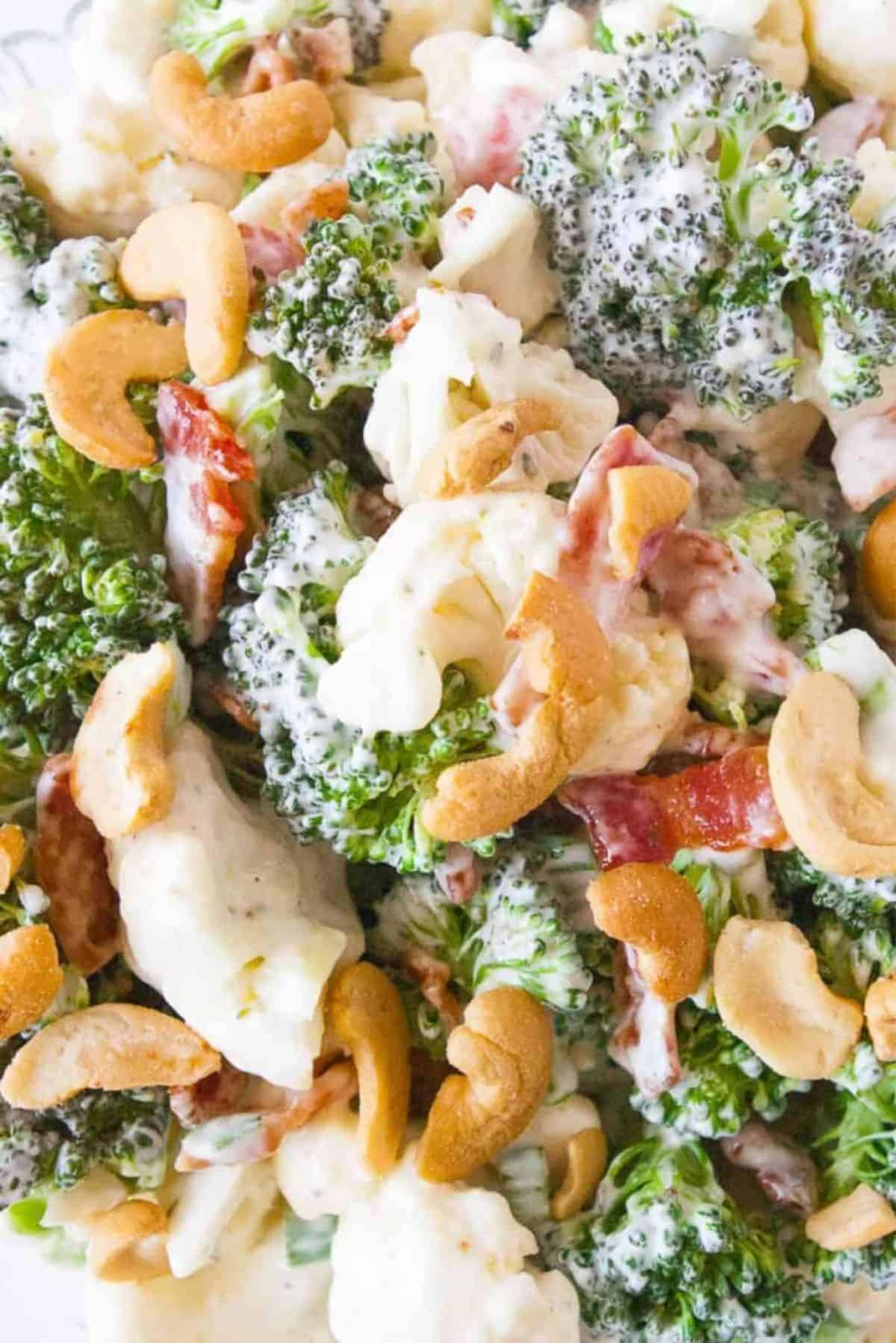 The vibrant, crisp medley of fresh veggies, smoky bacon, and creamy dressing in this salad is a delicious accompaniment to the pasta's soft texture. The cashew halves give this side dish a buttery crunch, while the bacon provides plenty of smoked saltiness.
4 cups bite-sized broccoli pieces
4 cups bite-sized cauliflower pieces
4 thinly sliced green onions
½ lb cooked and crumbled bacon
1 cup ranch dressing
5 oz cashew pieces
4. Garlic Butter Herb Rolls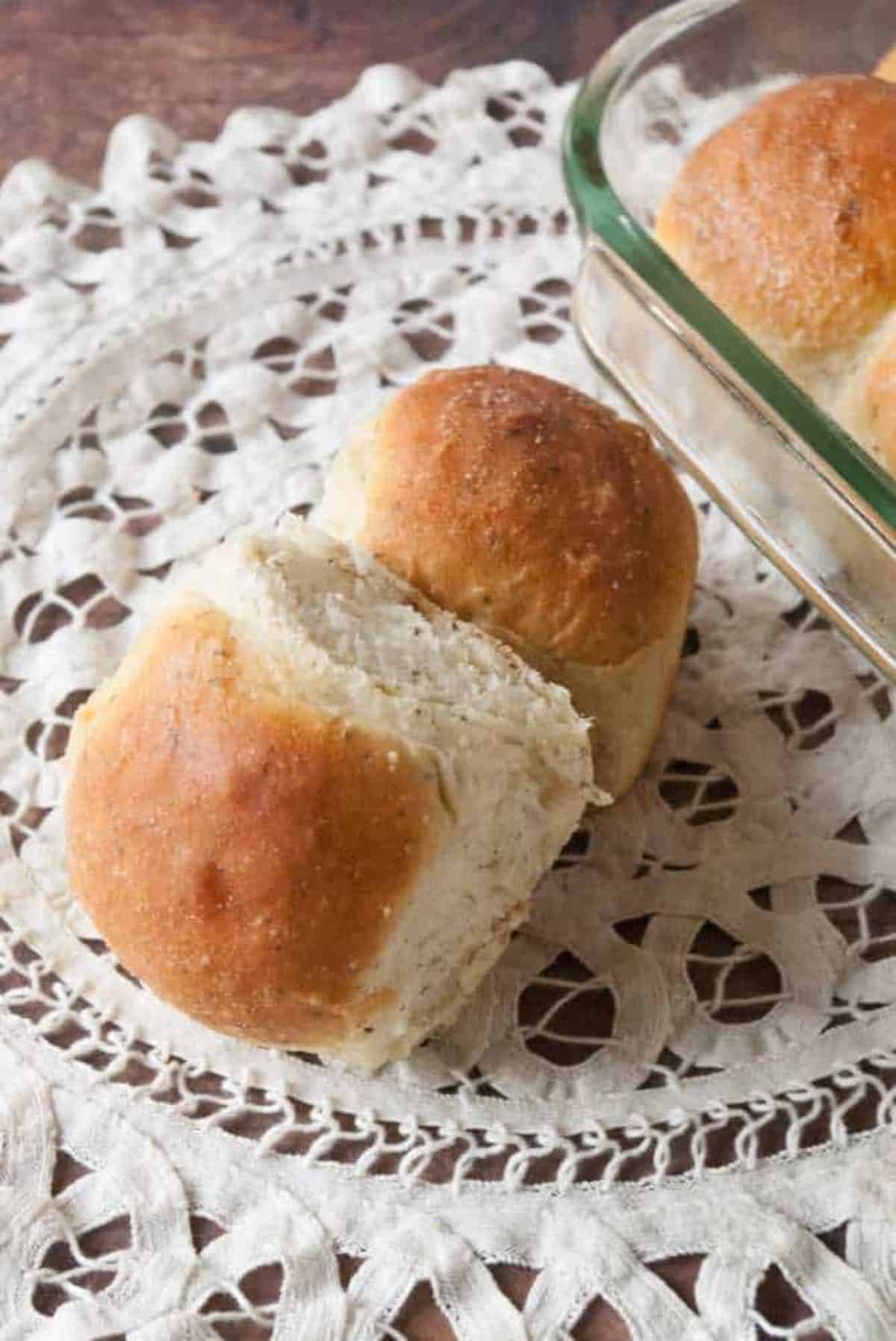 Treat yourself to some scrumptious garlic butter herb rolls bursting with flavor. If you've never tried making yeasted bread, it's much easier than it looks. Just be sure to proof your yeast before you start mixing.
1½ cups warm water
1 tablespoon active dry yeast
3 tablespoon sugar
4 tablespoon softened butter
1½ teaspoon salt
1½ tablespoon Italian seasoning blend
3-4 cups flour
For the topping:
¼ teaspoon garlic powder
2 tablespoon butter
½ teaspoon salt
5. Overnight Layered Green Salad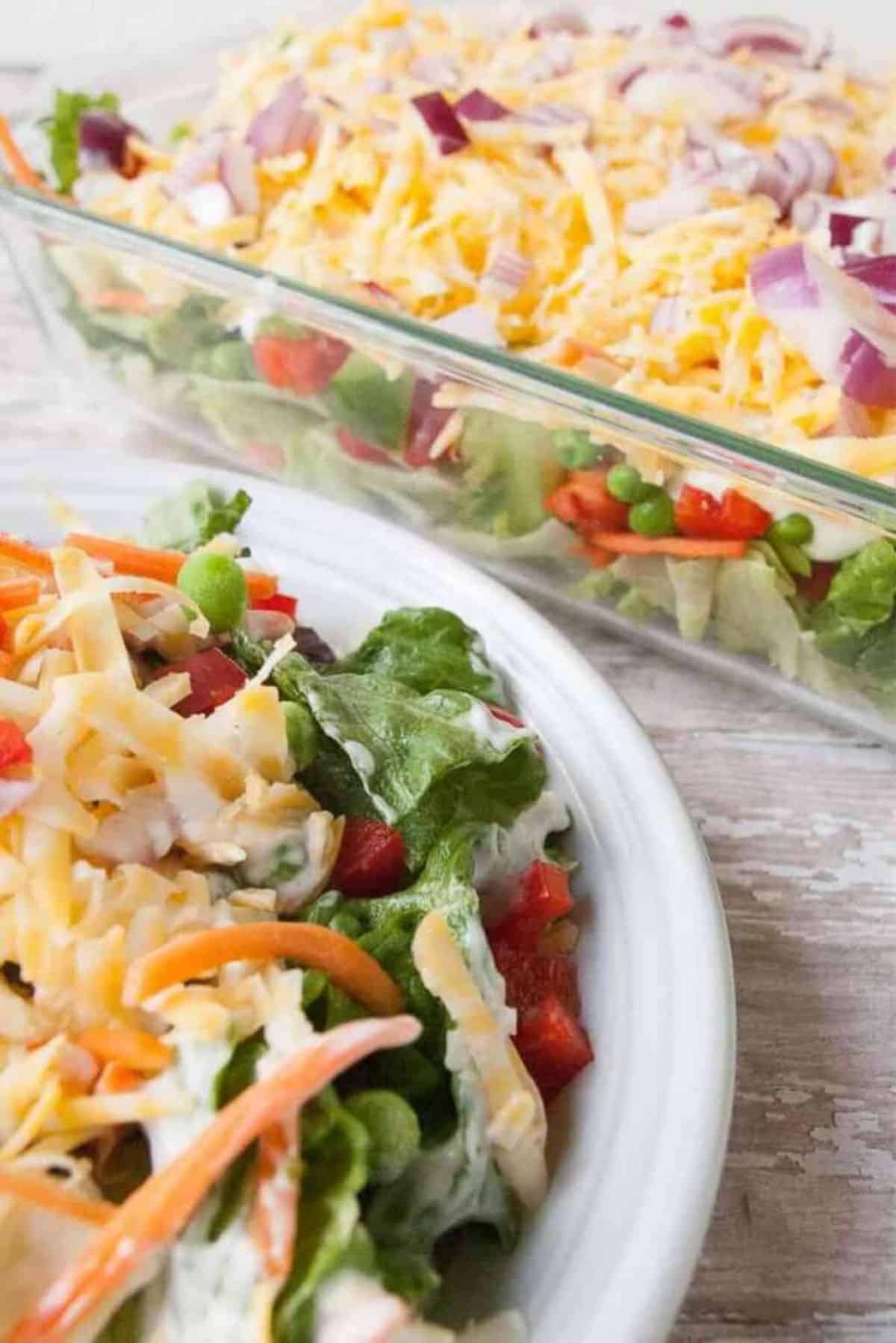 Set yourself up for supper success with a make-ahead green salad featuring an entire garden's worth of veggie goodness. Prep everything the night before, then let the layers mingle in the fridge until dinner the next day.
For the dressing:
1½ cups mayonnaise
2 tablespoon sugar
For the salad:
3 cups shredded iceberg lettuce
3 cups shredded romaine lettuce
½ cup thinly sliced carrots
½ cup chopped celery
½ cup chopped green pepper
½ cup chopped cucumber
½ cup sliced radishes
½ cup frozen peas
1 ½ cups grated cheddar cheese
½ cup chopped red onion
6. Brussels Sprout Slaw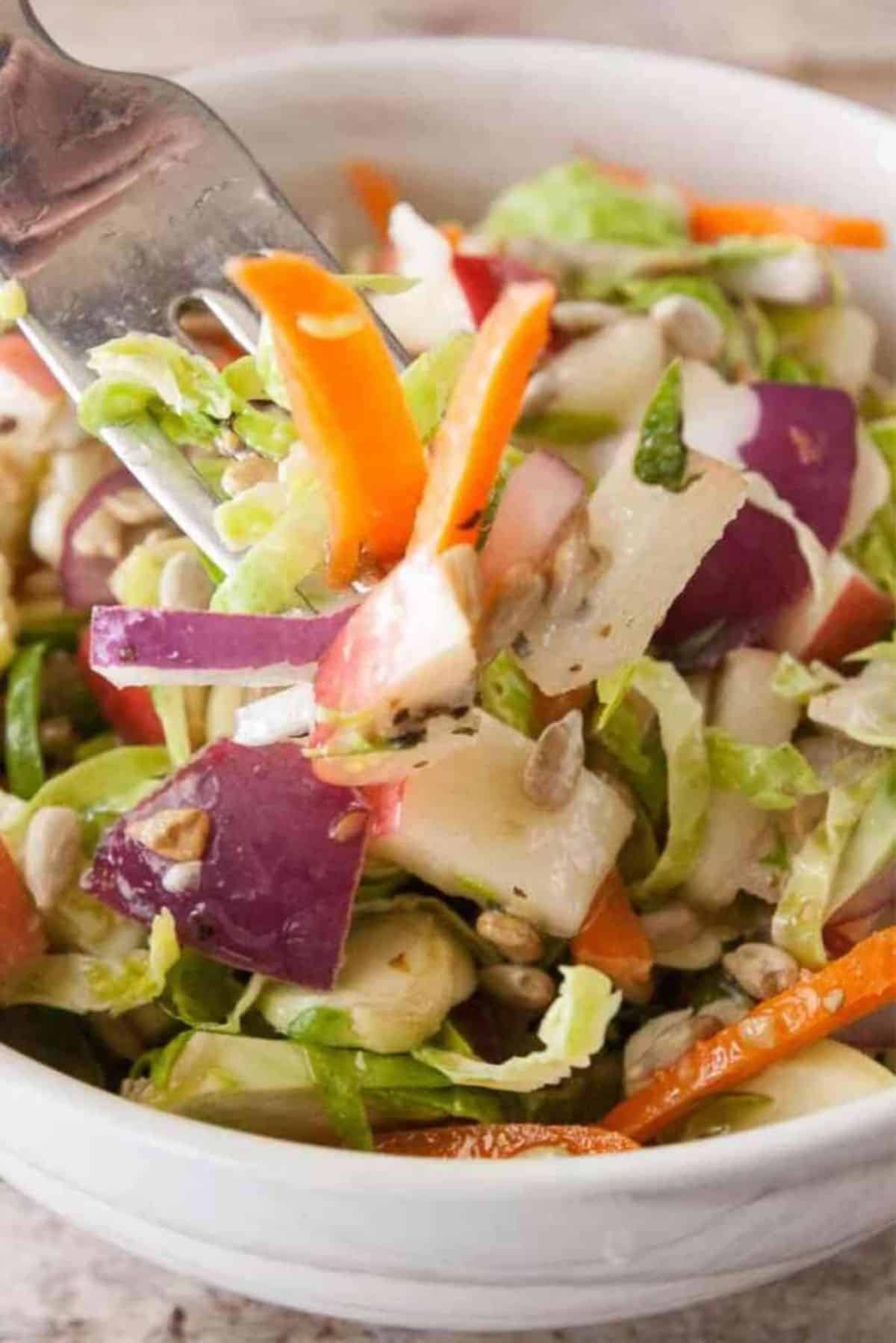 Vibrant apples pair beautifully with the delicate bitterness of Brussels sprouts in this tangy slaw. You'll also save time whisking up a homemade vinaigrette with some help from Brianna's dressing.
6 cups thinly-sliced Brussels sprouts
1 cup thinly sliced red onion
1 cup matchstick carrots
1 diced Honeycrisp apple
1 cup roasted and salted sunflower kernels
1 bottle of Brianna's Real French Vinaigrette dressing
7. Roasted Asparagus Blend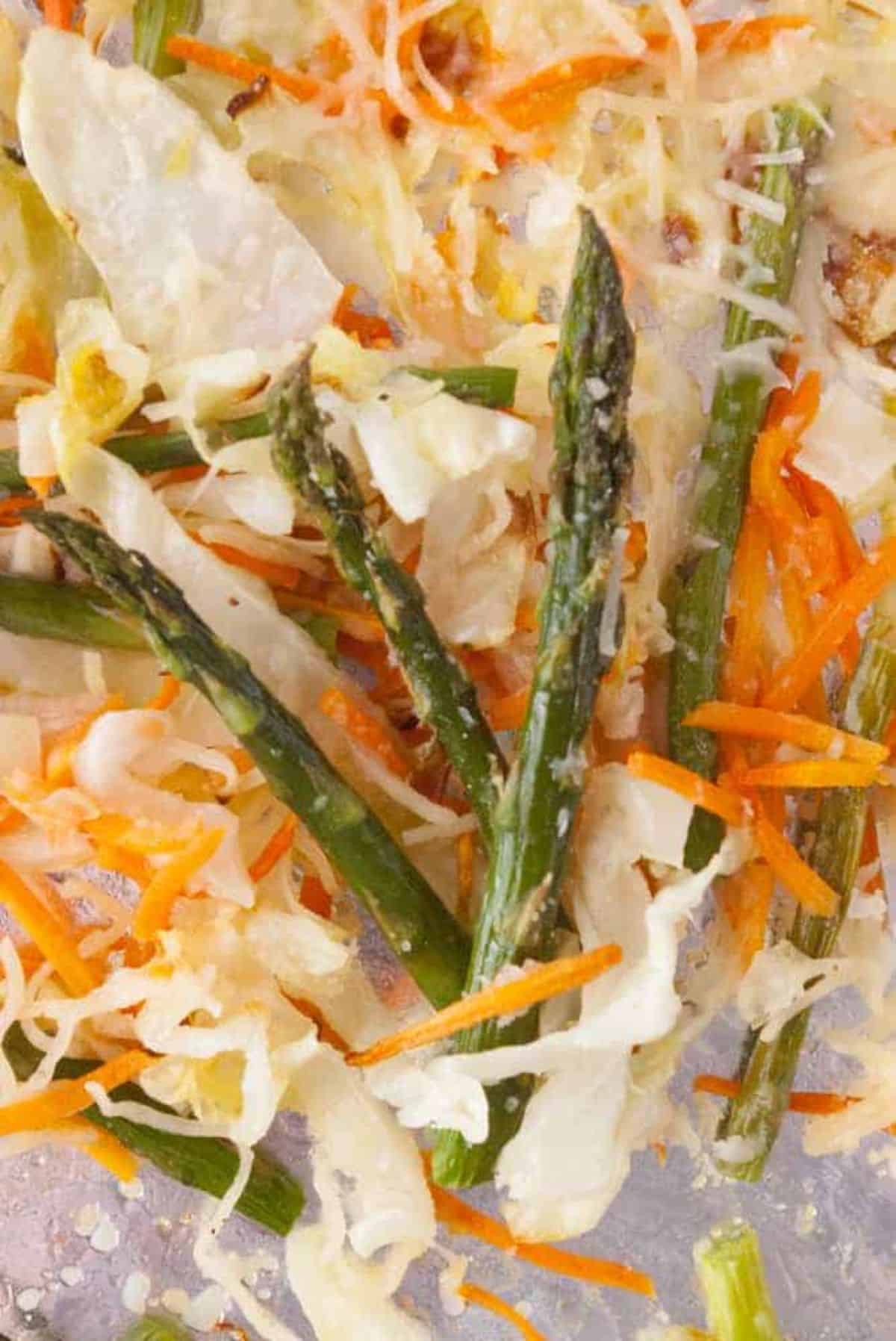 The earthiness of this roasted asparagus blend complements the more decadent flavors of ricotta and tomato sauce, striking a harmonious balance between your entree and side. Even if you aren't a huge fan of asparagus, this side dish might change your mind.
36 small-medium asparagus spears
2 cups shredded cabbage
1 cup matchstick carrots
2-3 tablespoon melted butter
Garlic salt
½ cup parmesan cheese
8. 90-Minute Dinner Rolls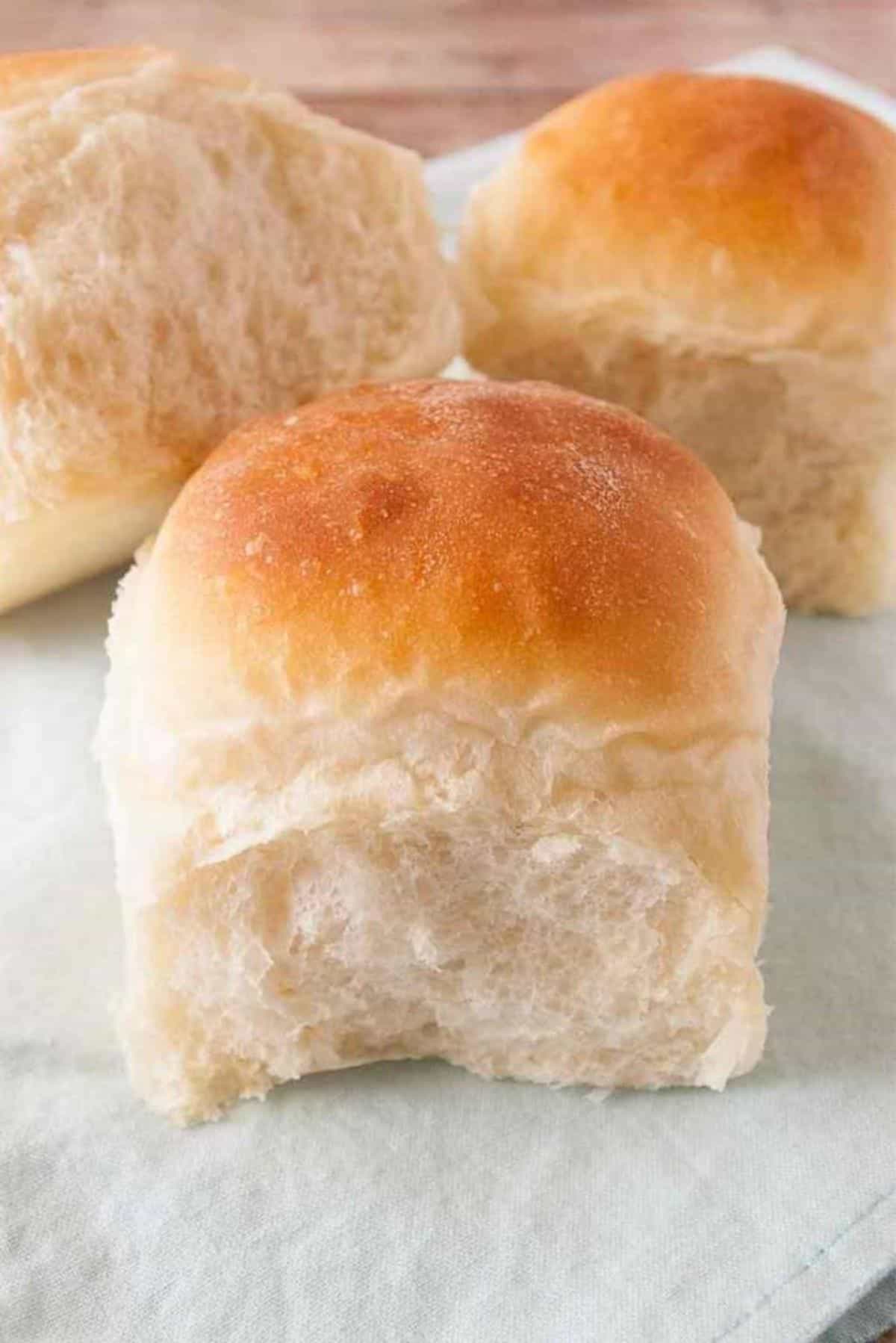 There's nothing quite as tasty (or convenient) as warm, fluffy 90-minute dinner rolls, fresh from the oven and ready to complete your Italian spread. This recipe is especially suitable for people allergic to eggs but craving the delightful taste of rolls.
1½ cups warm water
3 tablespoon sugar
1 tablespoon active, dry yeast
4 tablespoon room-temperature butter
1½ teaspoon salt
3-4 cups of all-purpose flour
9. Smokey Parmesan Roasted Cauliflower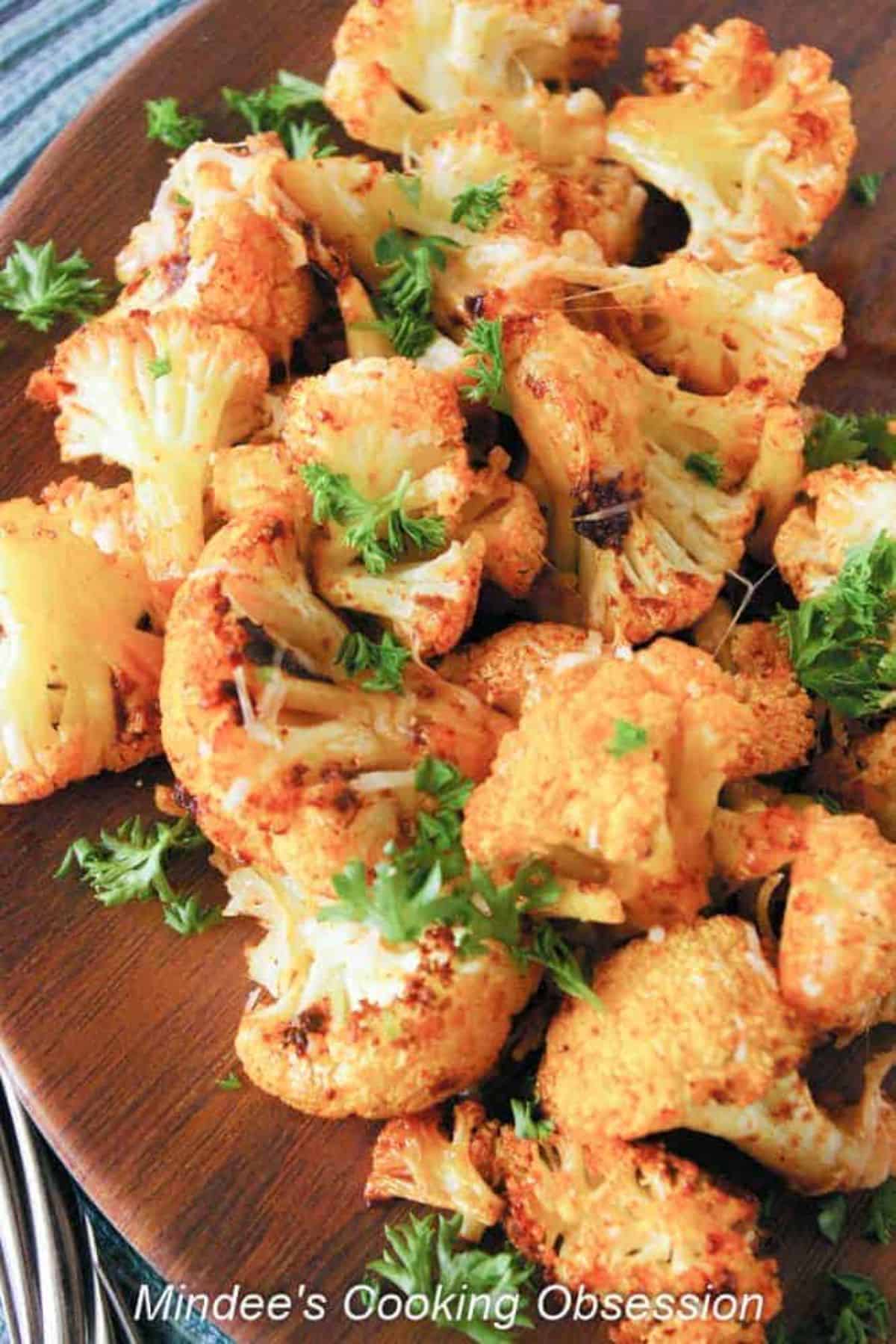 Smokey parmesan roasted cauliflower is a robust, savory delight that comes together in around 30 minutes and requires only five kitchen staples you likely have around the house. The cheesy crust caramelizes in the oven for a mouthwatering finish.
6 cups bite-sized cauliflower pieces
¼ cup melted butter
1 teaspoon smoked paprika
¼ teaspoon chili powder
¼ to ½ cup shredded parmesan cheese
10. Slow Cooker Italian Mushrooms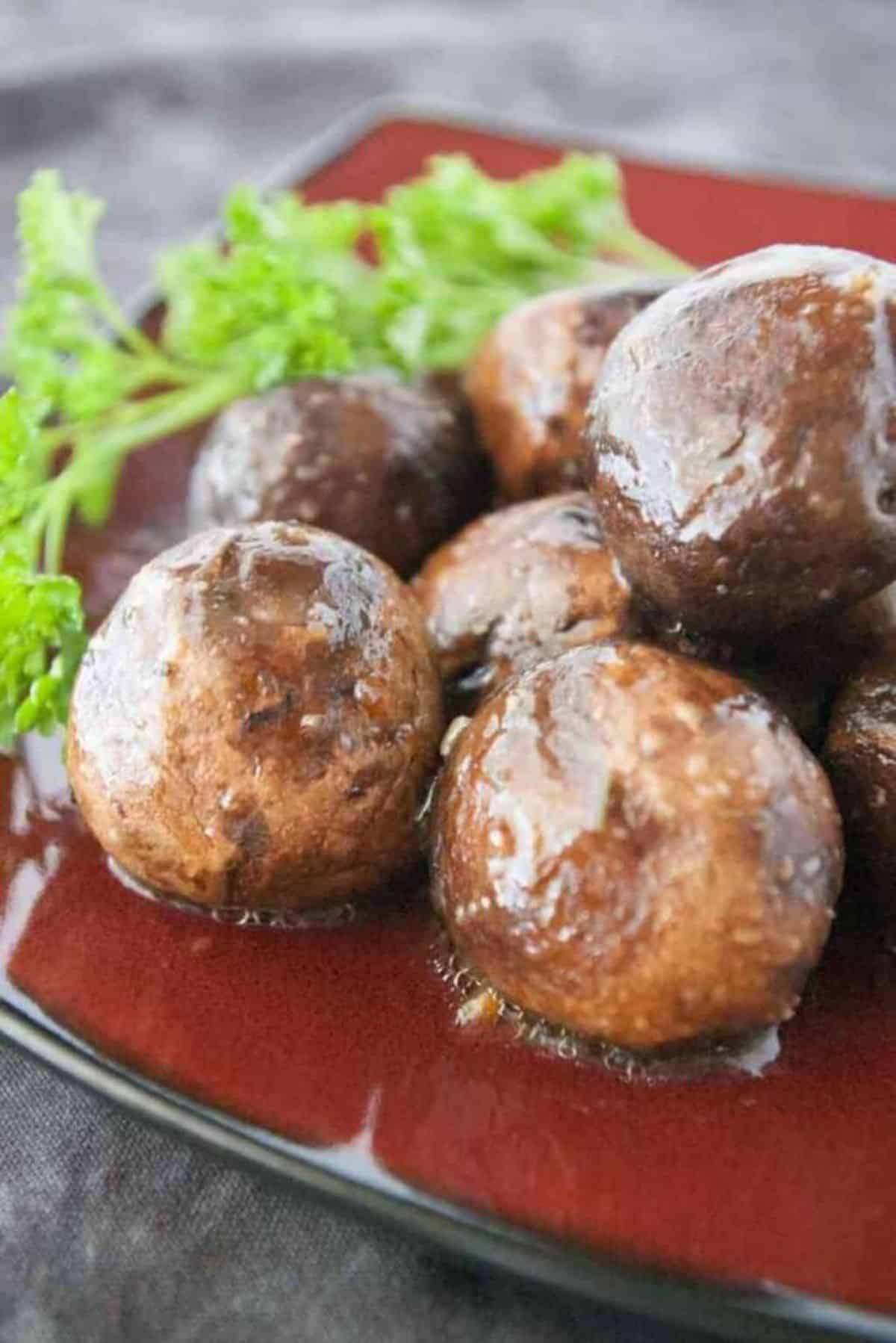 What better way to complete an Italian entree than with a side dish hailing from the same corner of the globe? Pop these mushrooms into your slow cooker and enjoy the rich aroma while layering the main dish.
1 lb whole medium-sized mushrooms
½ cup butter
1 Italian dressing mix
11. Simple Vegan "Parmesan" Zucchini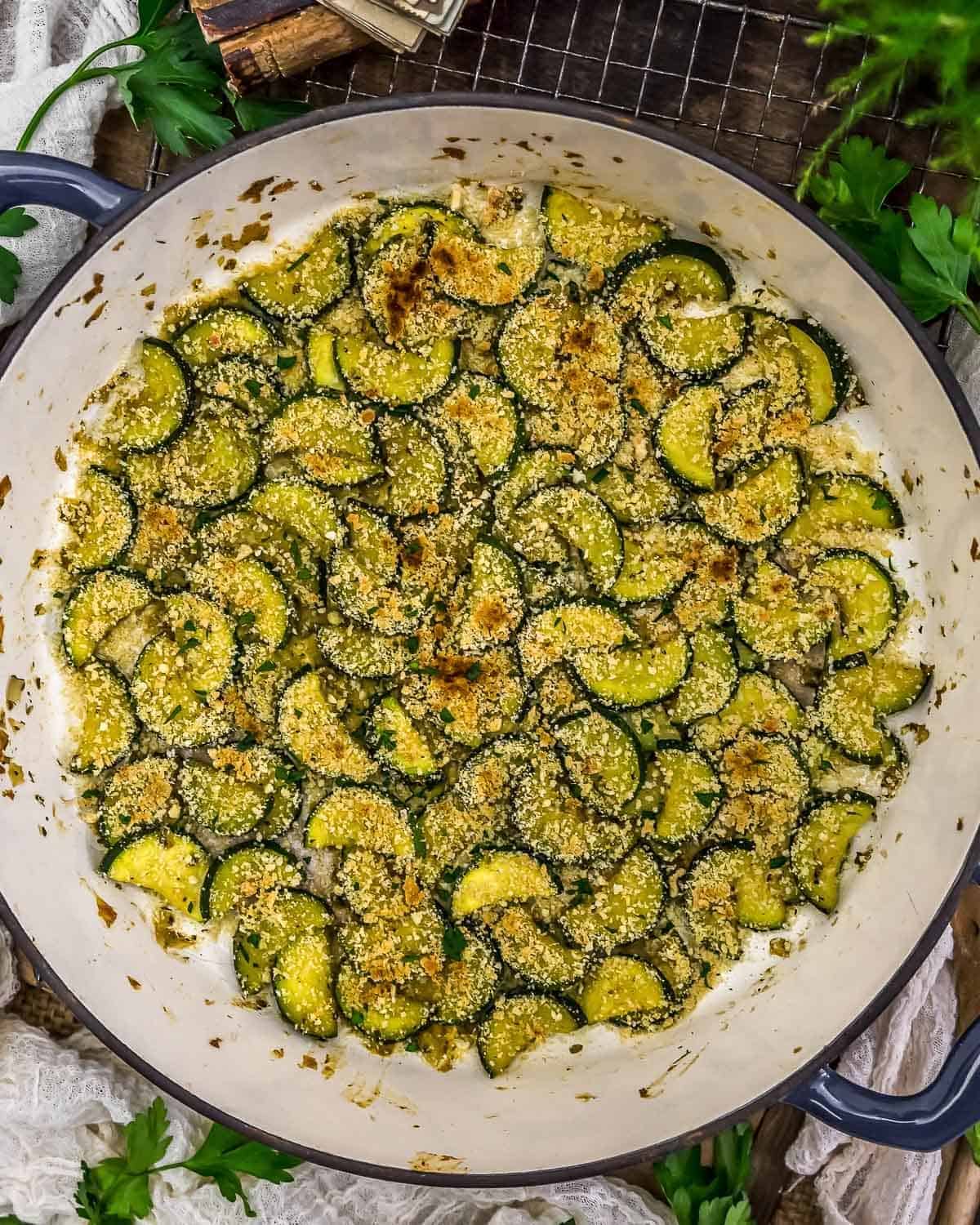 If you're having guests with dietary restrictions over for dinner on lasagna night, this simple vegan parmesan zucchini recipe is a flavorful side dish everyone can enjoy. It's elegant, guilt-free, and surprisingly easy to make.
¼ cup finely chopped yellow onions
2 sliced medium zucchini
¼ cup water
¼ cup vegetable broth (low-sodium)
½ teaspoon of garlic powder
¼ teaspoon of onion powder
½ teaspoon Italian seasoning
¼ teaspoon of dried oregano
1 tablespoon nutritional yeast
⅛ to ¼ teaspoon salt
⅛ teaspoon of black pepper
For the topping:
2 tablespoon vegan parmesan cheese
1 tablespoon panko breadcrumbs
12. Garlic Parmesan Roasted Brussels Sprouts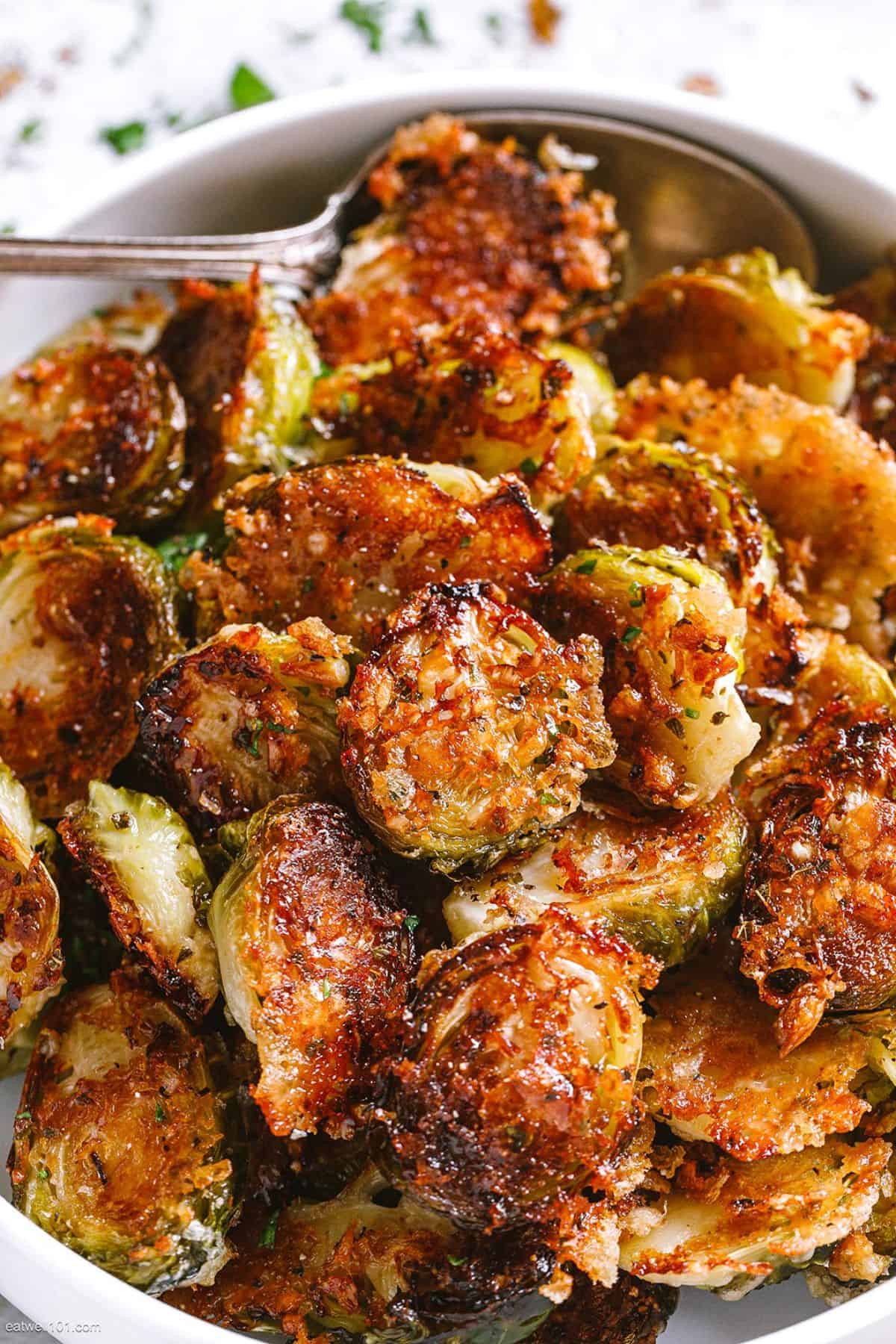 Don't be surprised if you can't stop munching on these irresistible garlic parmesan roasted Brussels sprouts featuring crispy, oven-roasted outsides and tender, delectable insides.
16 oz Brussels sprouts
3 tablespoon olive oil
½ teaspoon kosher salt
½ teaspoon freshly crushed black pepper
1 teaspoon Italian seasoning
3 minced garlic cloves
½ cup grated Parmesan cheese
13. Italian Roasted Potatoes
Hearty and savory Italian roasted potatoes are like little pillows of earthy deliciousness, with golden exteriors hiding fluffy interiors. Be sure to season well before you dig in.
1½ lbs halved baby potatoes
2 sliced garlic cloves
2 tablespoon olive oil
2 teaspoon Italian seasoning
½ teaspoon kosher salt
Chopped parsley for garnish (optional)
14. Rosemary Focaccia Bread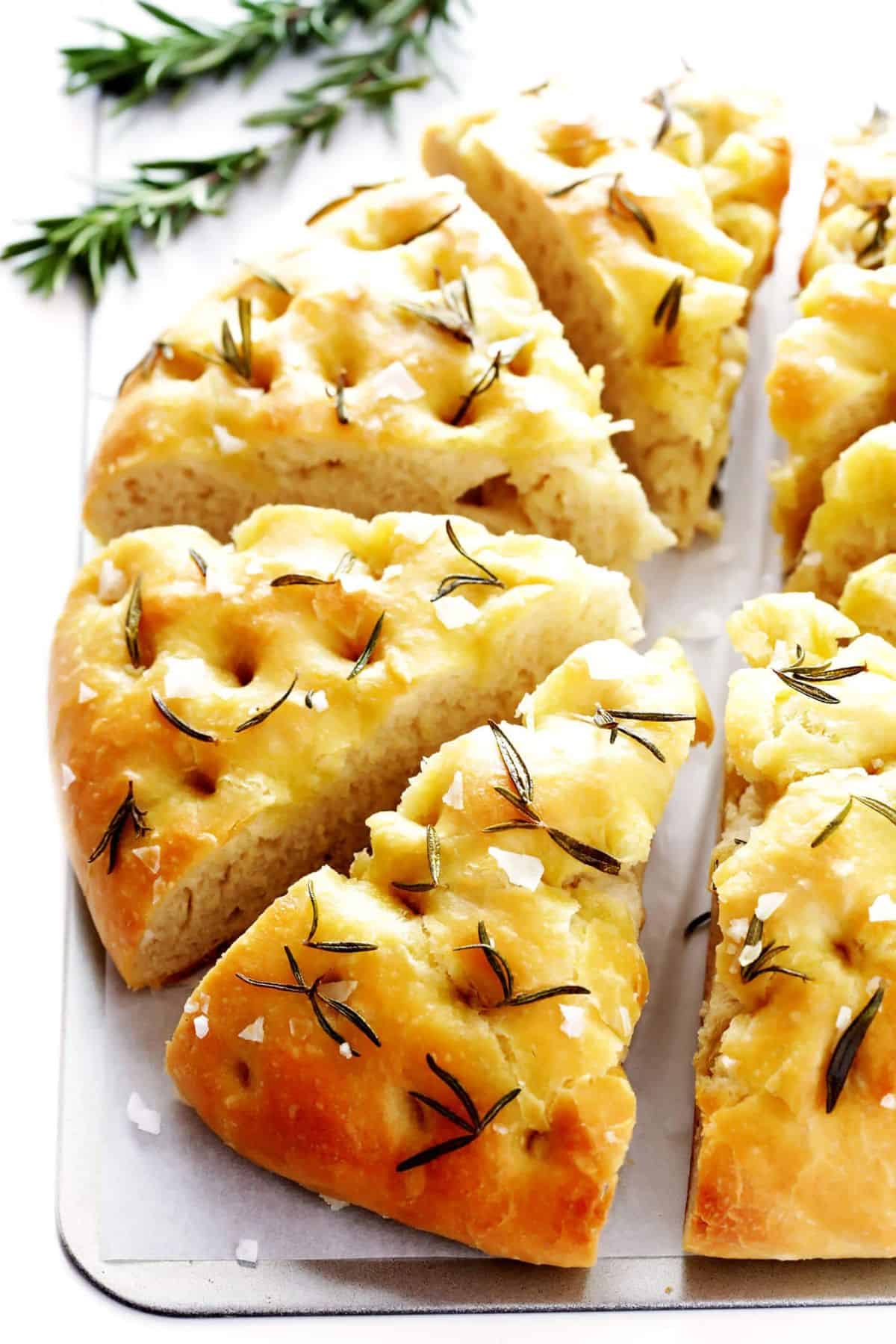 Is there anything more fragrantly tempting than rosemary warming in the oven? Only if the rich aroma of baking bread accompanies it. It's worth learning the proper technique to dimple focaccia so you can enjoy this classic Italian bread anytime.
1⅓ cup warm water
2 teaspoon sugar (or honey)
1 packet of active dry yeast
3½ cups all-purpose flour
¼ cup extra virgin olive oil
2 teaspoon flaky sea salt
2 sprigs of fresh rosemary
15. Italian Broccoli, Olive Oil, and Garlic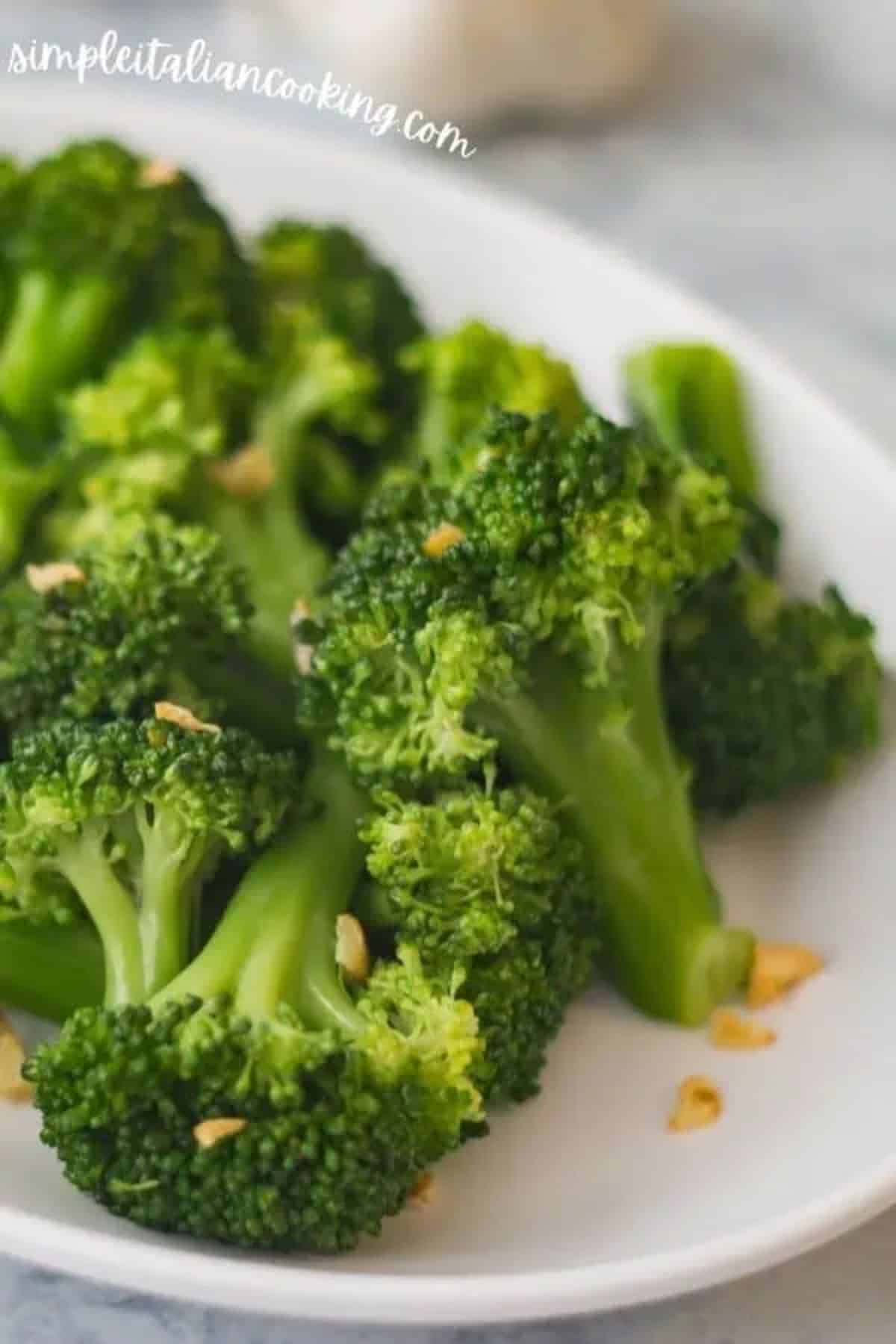 This simple yet satisfying recipe for Italian broccoli features tender broccoli florets sauteed in rich olive oil and bold garlic. Additionally, the Romano cheese gives the dish a dash of indulgence.
1-2 cups freshly chopped broccoli
2 tablespoon extra virgin olive oil
2 chopped garlic cloves
Romano cheese sprinkled on top (optional)
2 tablespoon water
16. Roasted Asparagus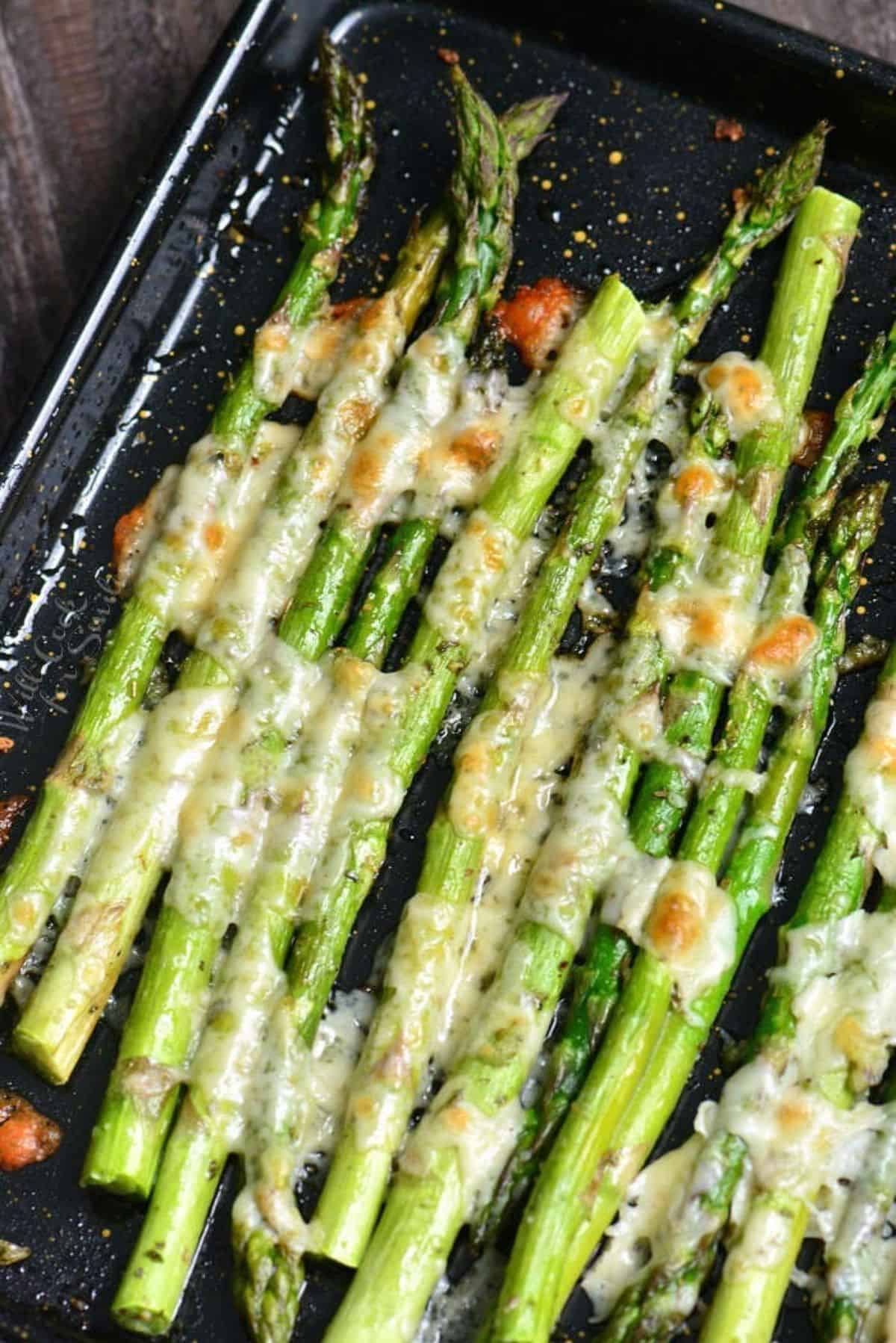 Asparagus has featured frequently on this list of the best side dishes for lasagna, and for a good reason. The asparagus is roasted to perfection with garlic, olive oil, and Parmesan cheese, resulting in a mouthwatering combination of tangy and savory flavors. The Italian herbs and spices really shine through in this delectable recipe.
1 lb thin asparagus
2 tablespoon olive oil
2 large garlic cloves
Salt
Freshly crushed black pepper
1 tablespoon dried parsley
1 teaspoon dried oregano
3 oz grated parmesan cheese
17. Italian Green Beans
Treat yourself and your family to the bright crispness of Italian green beans, cooked to perfection in chicken broth and tossed in a flavorful garlic herb sauce. It's just the right amount of freshness and flavors your lasagna needs to reach peak perfection.
5 cups of chicken broth
1½ lbs of fresh green beans with the ends trimmed
3 tablespoon of olive oil
2 minced medium garlic cloves
½ teaspoon of dried oregano
½ teaspoon of dried parsley flakes
½ teaspoon of dried basil
¼ teaspoon of dried thyme
¼ teaspoon of red pepper flakes
¼ teaspoon of sea salt
½ cup of breadcrumbs
½ cup of freshly grated parmesan cheese
Final Thoughts
If you want to enhance your lasagna experience, you have to go beyond the main dish.
These diverse side dishes for lasagna bring balance by offering different textures and flavors to complement the hallmark richness of this Italian classic. Each recipe is a mouthwatering option you can mix and match to satisfy even the pickiest eaters.