Who wants a recipe for an no bake chocolate pie that needs only 7 ingredients and takes just 15 minutes to make? The silky smooth filling that melts in your mouth, in an Oreo crust cannot be beat!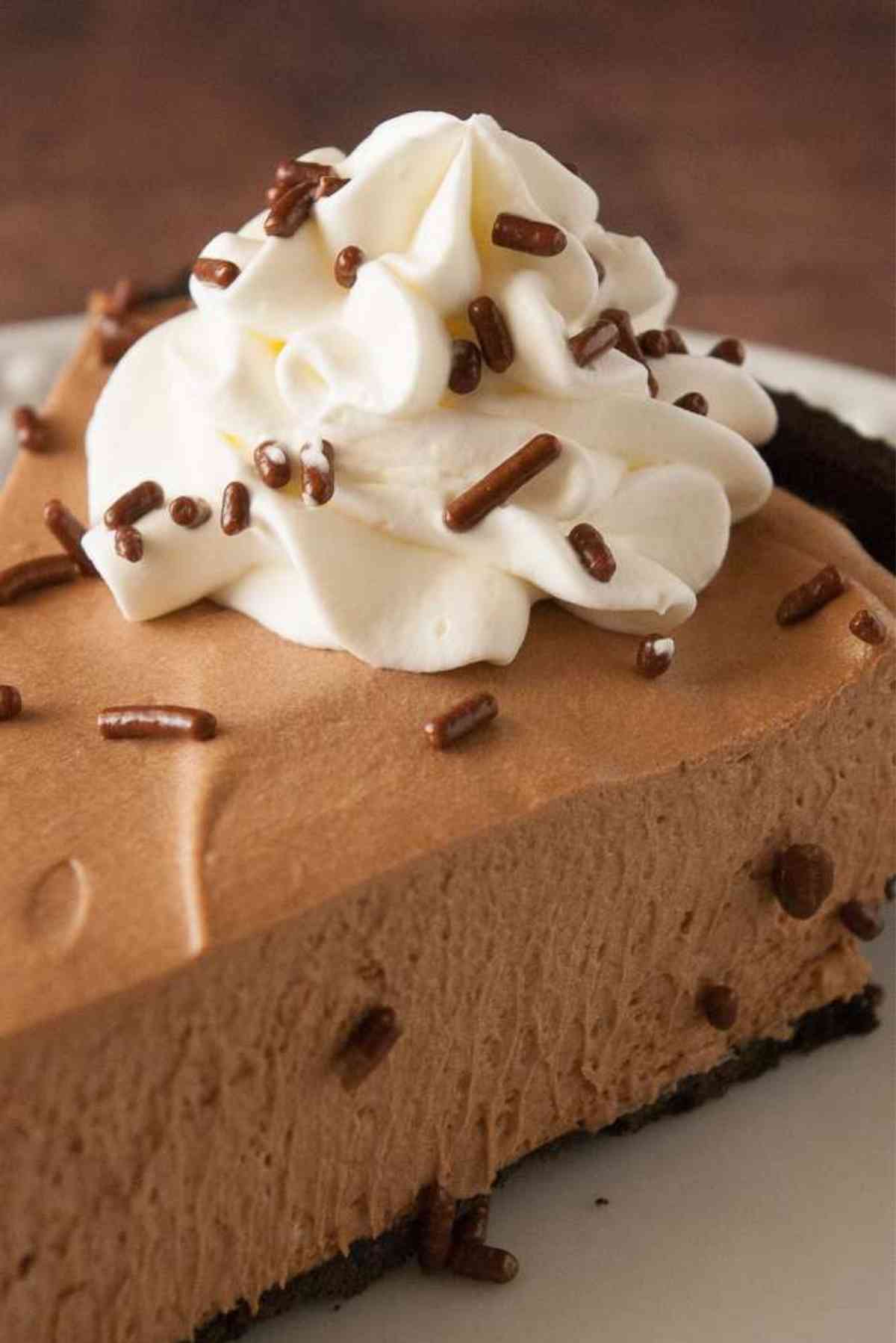 Jump to:
Why You'll Love This Recipe
Easy recipe! No Bake! Elegant look!
Addicting smooth chocolate flavor that's ideal for the chocolate lover in your life!
Ingredient Notes and Substitutions
Heavy Cream - aka...heavy whipping cream. If you want to substitute cool whip for the fresh whipped cream you can. You will need 2 (8oz) containers.
Oreos - This recipe calls for the chocolate crème filled Oreo cookies. The chocolate filling in those slightly different than the white crème filling. However, regular Oreos are fine you will just need to add 2 tablespoons of butter to hold the crust together. OR for a gluten free pie you can use the new gluten free oreos! You will need to add the additional butter for that kind of oreo as well. Purchasing a pre-made oreo pie crust is an option as well, however, you will only need ½ to ⅔rds of the amount of filling this recipe makes so I would buy 2.
Butter - both unsalted butter and salted butter work fine for this recipe.
Chocolate Chips - You can use milk chocolate chips, semi-sweet chocolate chips, or dark chocolate chips. If you prefer to use Baker's chocolate instead you will need 6 ounces.
9 Inch Pie Dish - You can use an 8 inch springform pan in place of the pie dish.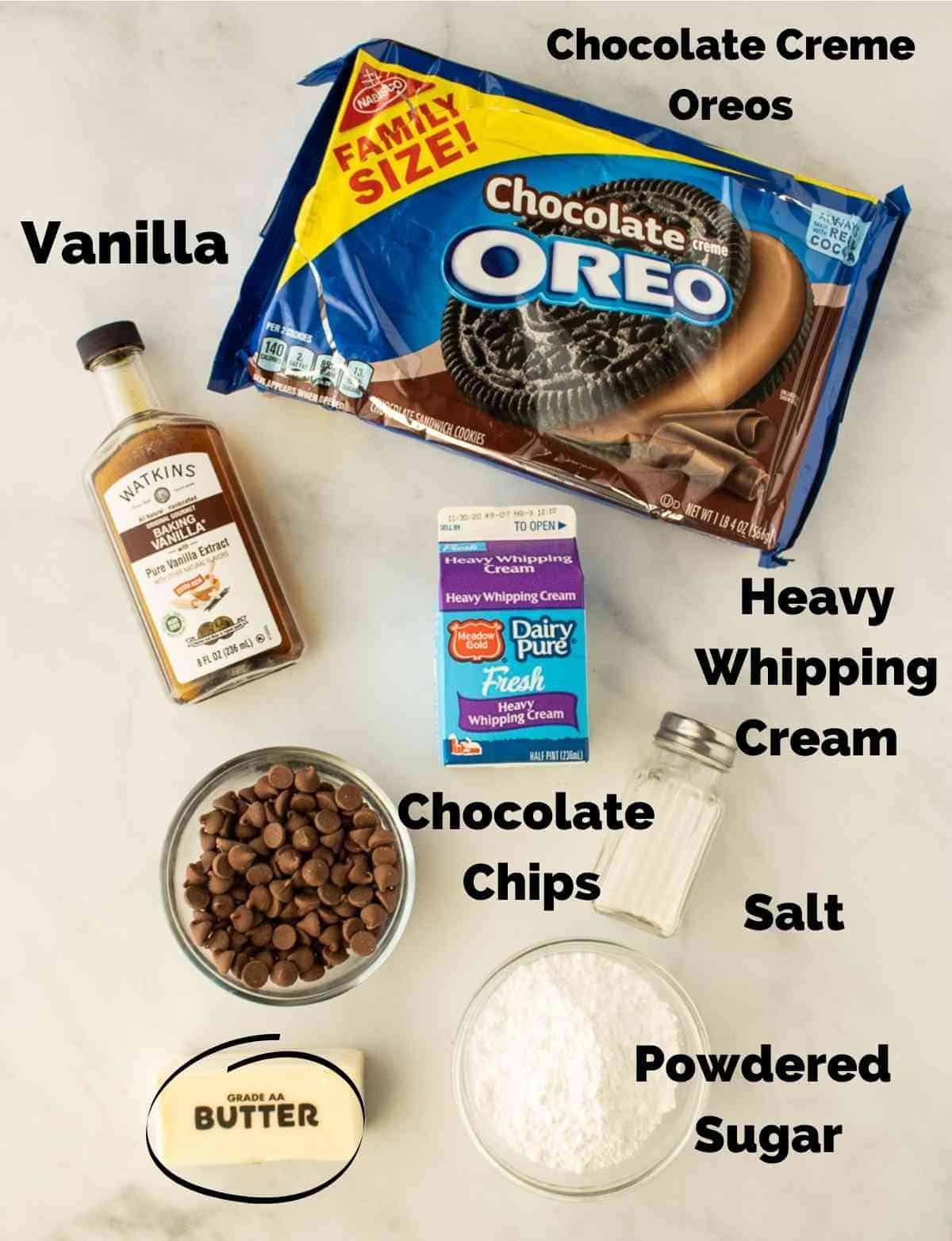 Things I personally use for this recipe!!!
Step by Step Instructions
Place 20 chocolate crème filled Oreos in the base of a food processor.
NOTE - You can also place them in a ziploc bag and crush them with a rolling pin.
Process the Oreos into fine crumbs.
Add the butter to the cookie crumbs and pulse until blended in.
Press the crumbs into a 9-inch pie plate to create the Oreo pie crust.
Set Aside.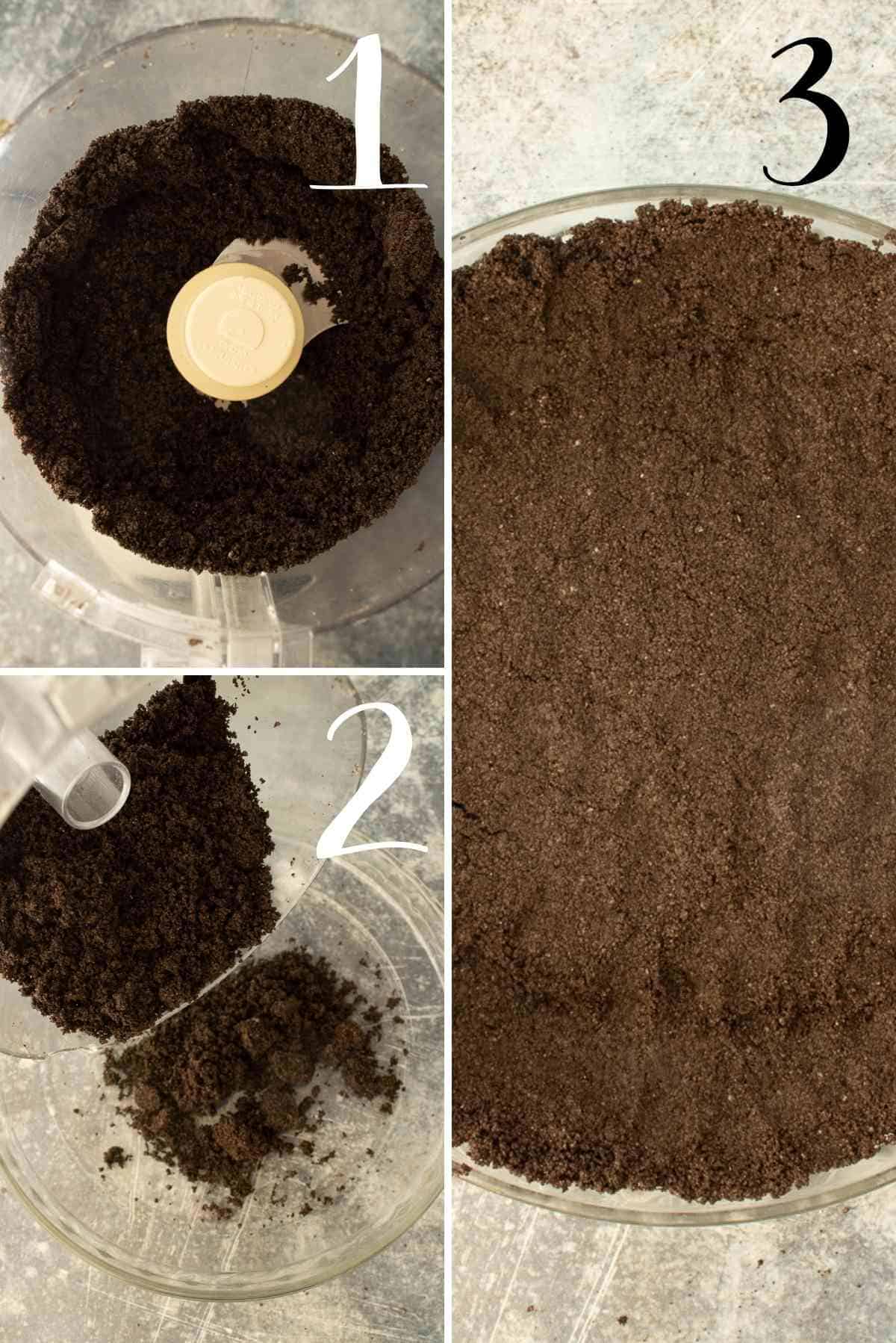 Measure chocolate chips into a microwave safe bowl or measuring cup. I LOVE these silicone melting cups for melting chocolate!
NOTE - you could also use a double boiler.
Add ½ cup heavy cream and salt to the chocolate.
Microwave 20 to 30 seconds at a time to melt the chips until the mixture whisks smoothly together.
IMPORTANT -Heat only enough to just melt the chips. If you overheat the chocolate can scorch. Also heating more than necessary makes it take forever to cool.
Cool the melted chocolate mixture to room temperature.
TIP - You can speed this up by placing the container in the fridge or freezer for a few minutes stirring here and there to cool faster. Keep an eye on it though because you don't want it to become too cold.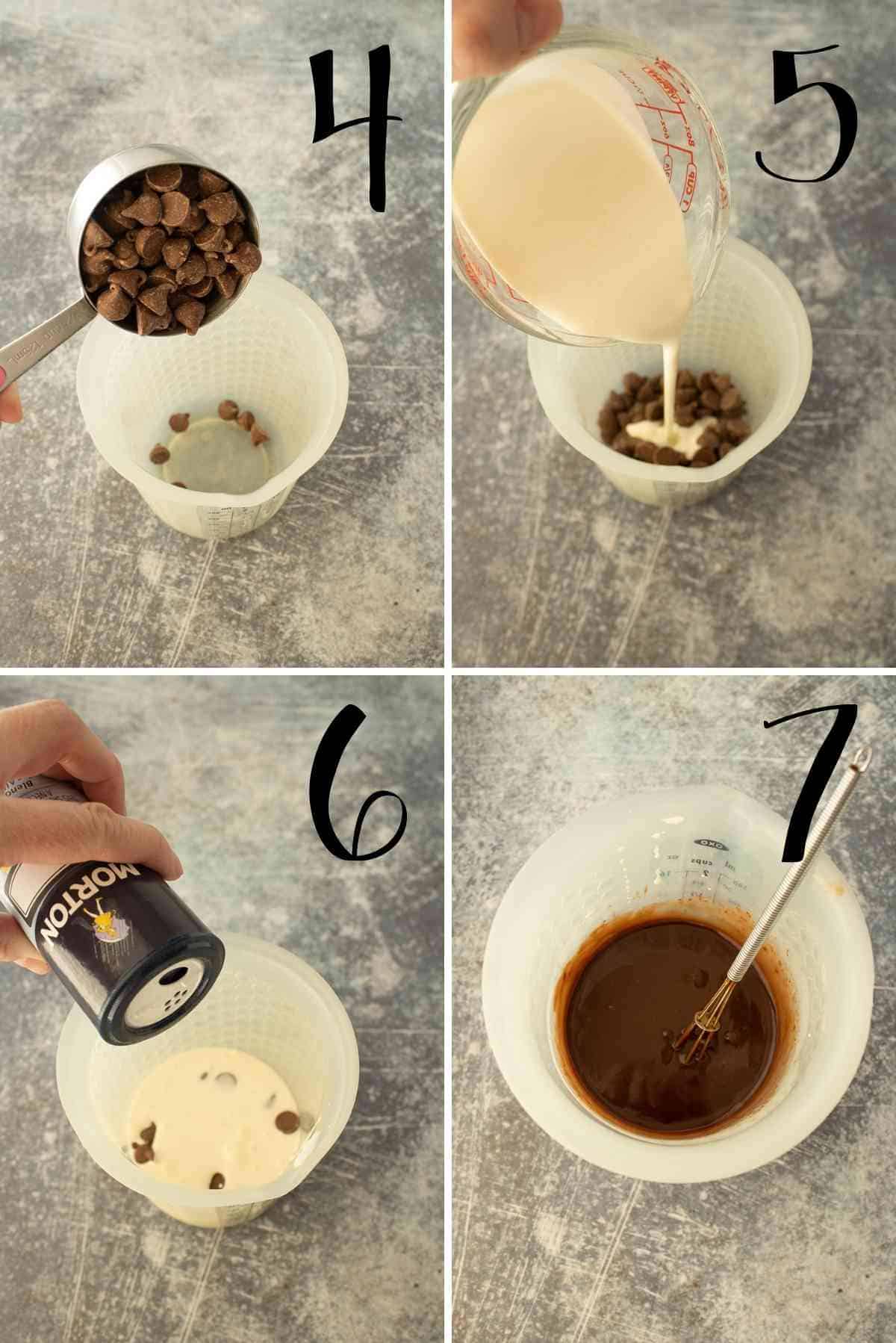 Beat 1 cup of heavy cream, vanilla extract and ⅛ cup powdered sugar in a medium bowl (or in my case a 4 cup measuring cup) until stiff peaks form.
You can do this with hand beaters or and immersion beater with the whisk attachment.
See this tutorial if you're unsure of the difference between soft peaks and stiff peaks.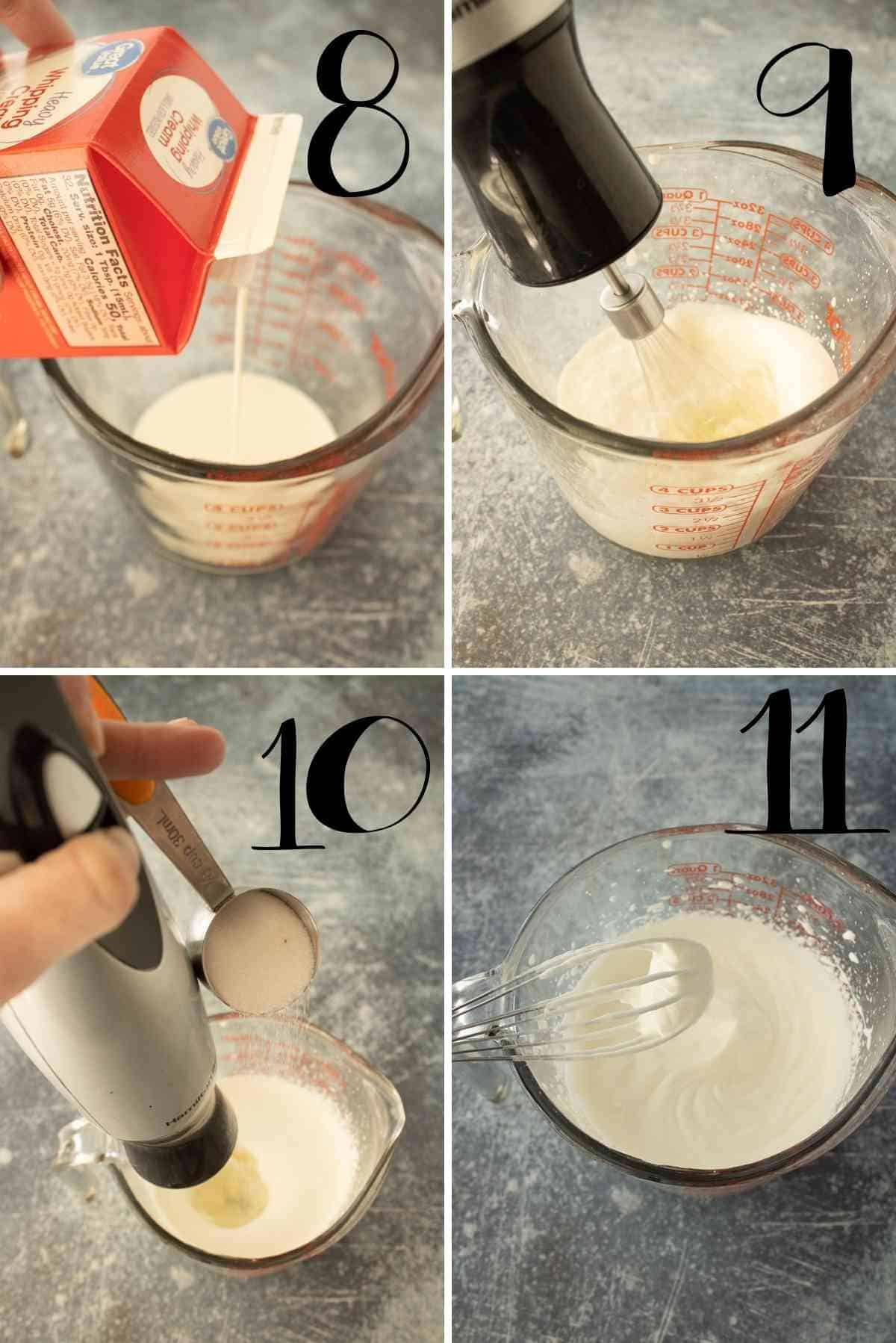 Carefully

fold

the whipped cream into the chocolate mixture.
Make sure to fold, not stir. See this tutorial if you're unsure how.
Scoop the chocolate mousse filling into the Oreo pie shell.
Use a rubber spatula or the back of a spoon to smooth the filling into the crust.
Refrigerate for at least 6 hours.
Garnish the top of the pie with additional whipped cream and chocolate shavings or jimmies if you would like.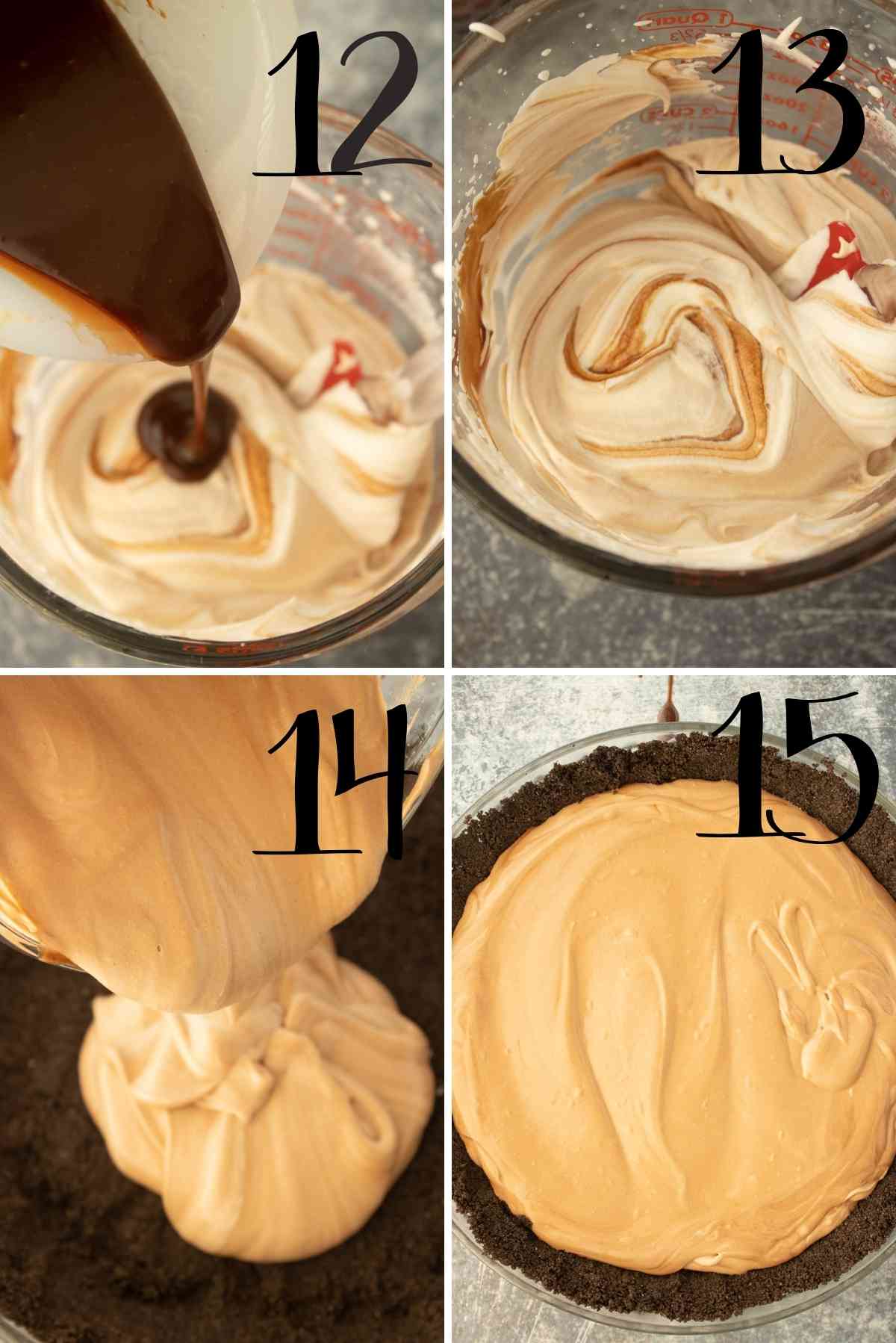 Recipe FAQs and Expert Tips
Have you tried this recipe? If so, leave me a rating and a comment below! And don't forget to subscribe to my newsletter to get my latest recipes sent right to your email! You can also follow me on Facebook, Pinterest, and Instagram!
ANY NUTRITIONAL ANALYSIS ON THIS SITE IS BASED ON AN ESTIMATE, CALCULATED BY NURTIFOX PLUGIN (OR OTHER THIRD-PARTY SOURCE) FROM THE INDIVIDUAL INGREDIENTS IN EACH RECIPE. VARIATIONS MAY OCCUR FOR VARIOUS REASONS, INCLUDING PRODUCT AVAILABILITY AND FOOD PREPARATION. WE MAKE NO REPRESENTATION OR WARRANTY OF THE ACCURACY OF THIS INFORMATION.