Pork chops are truly the chameleons of the culinary world. Whether you dress them up or down, they're always ready for some culinary creativity.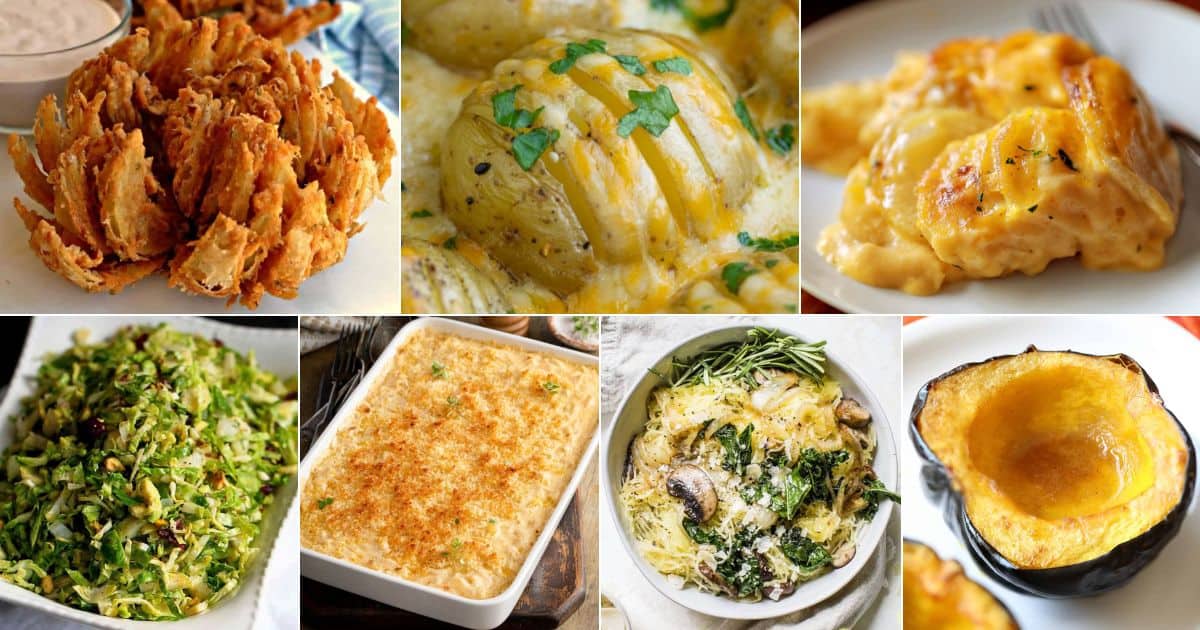 But what's a pork chop without a trusty sidekick to bring out the best in its flavors? We've rounded up 27 sides that will put an end to wondering, "What goes well with pork chops?"
Jump to:
1. Fried Zucchini Chips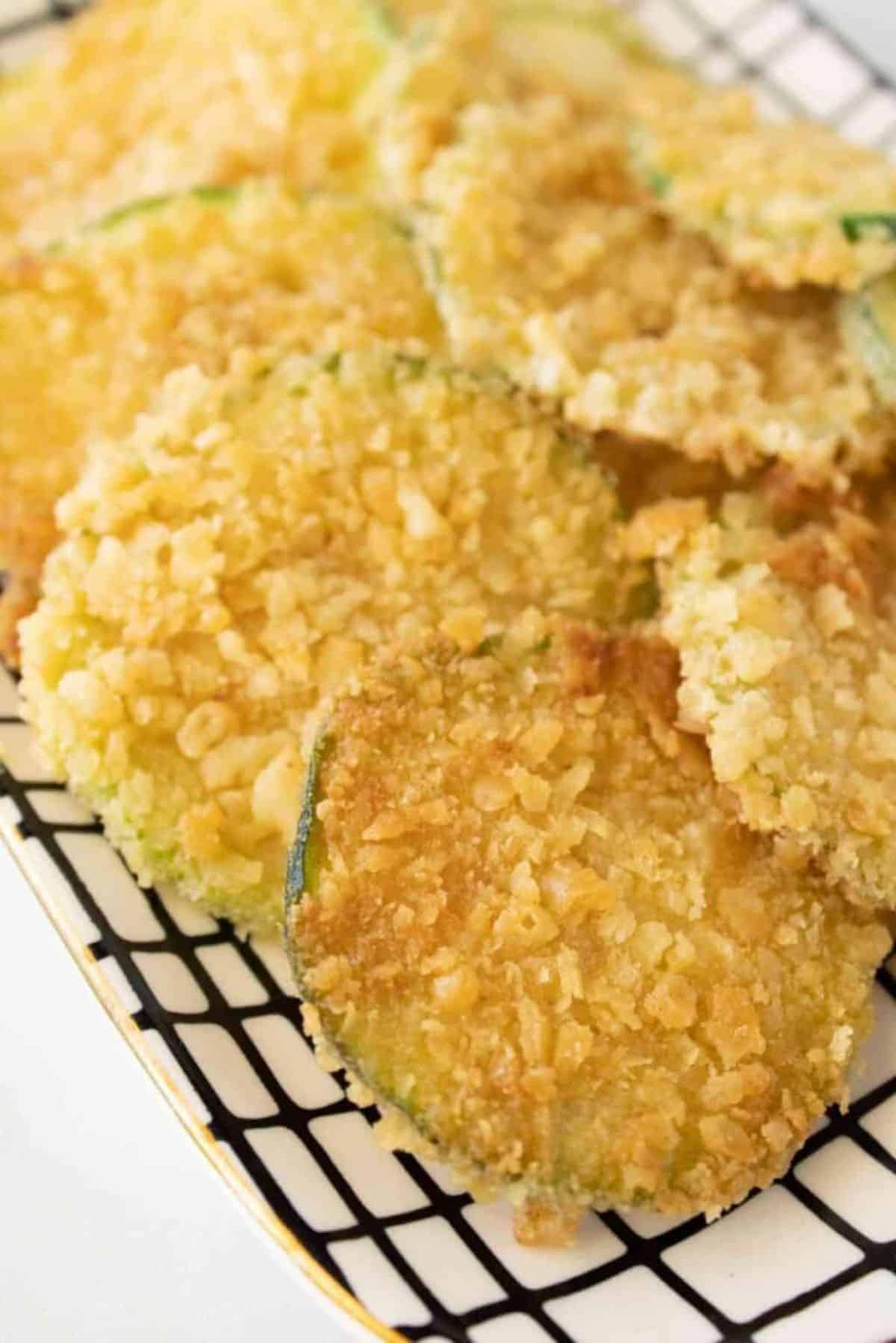 The delicate crunchiness and subtle earthy flavors of these delightful little bites make fried zucchini chips the perfect companion for your savory pork chops.
Fresh zucchini
Salt
Saltine crackers
Eggs
Butter
Olive oil
2. Streusel Topped Sweet Potatoes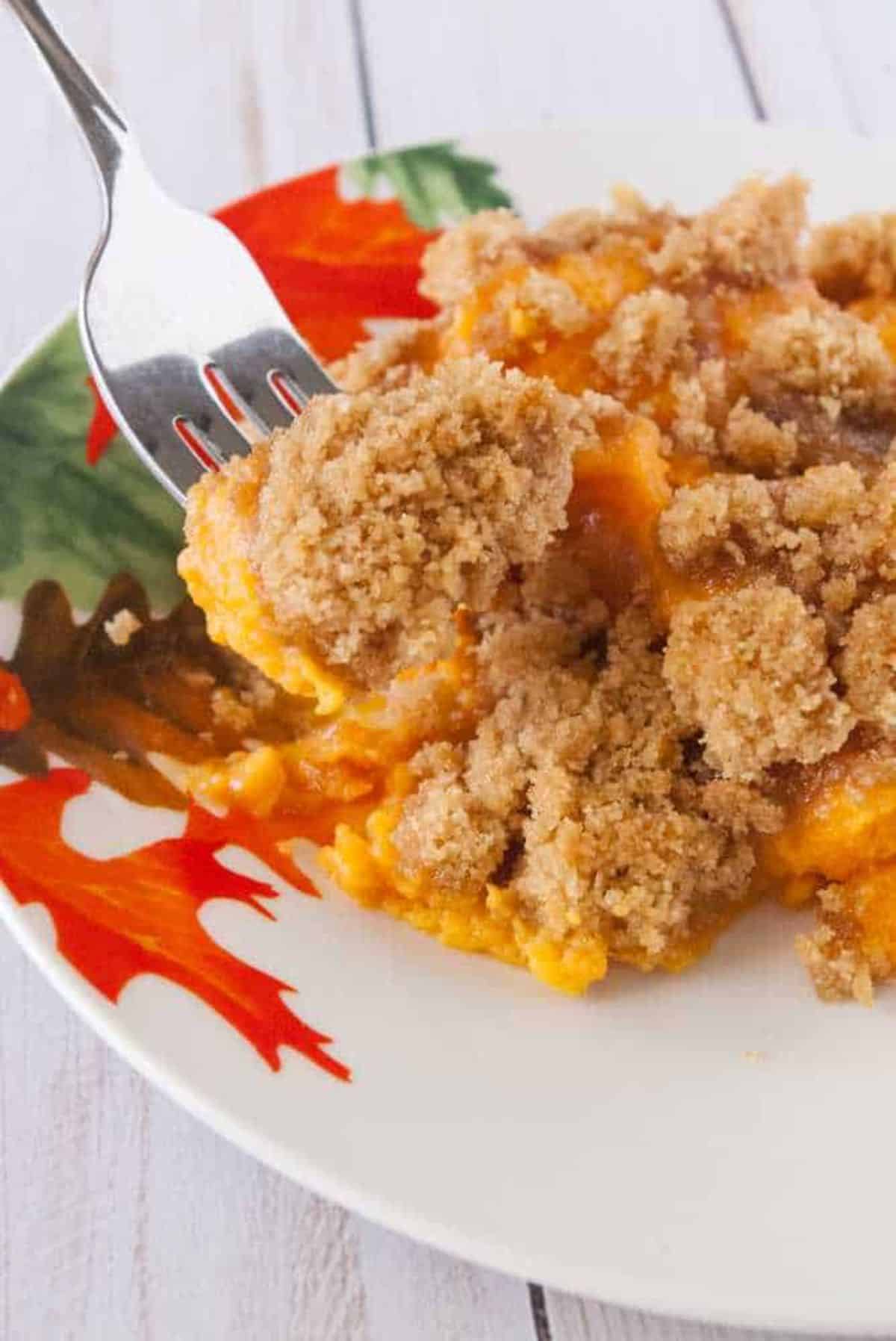 Sweet and savory collide in these buttery, crumbly, streusel-topped sweet potatoes. The topping adds an extra layer of yum to the sweet potatoes, perfectly complementing the savory richness of your pork chops.
Potatoes:
4 cups sweet potatoes, peeled and cubed
½ cup sugar
½ teaspoon salt
3 butter, softened
½ cup milk, 2% or higher
2 eggs
½ teaspoon vanilla
Streusel:
¾ cup brown sugar
½ cup flour
5 tablespoon butter
¾ cup pecan chips
3. Drive-In Style French Fries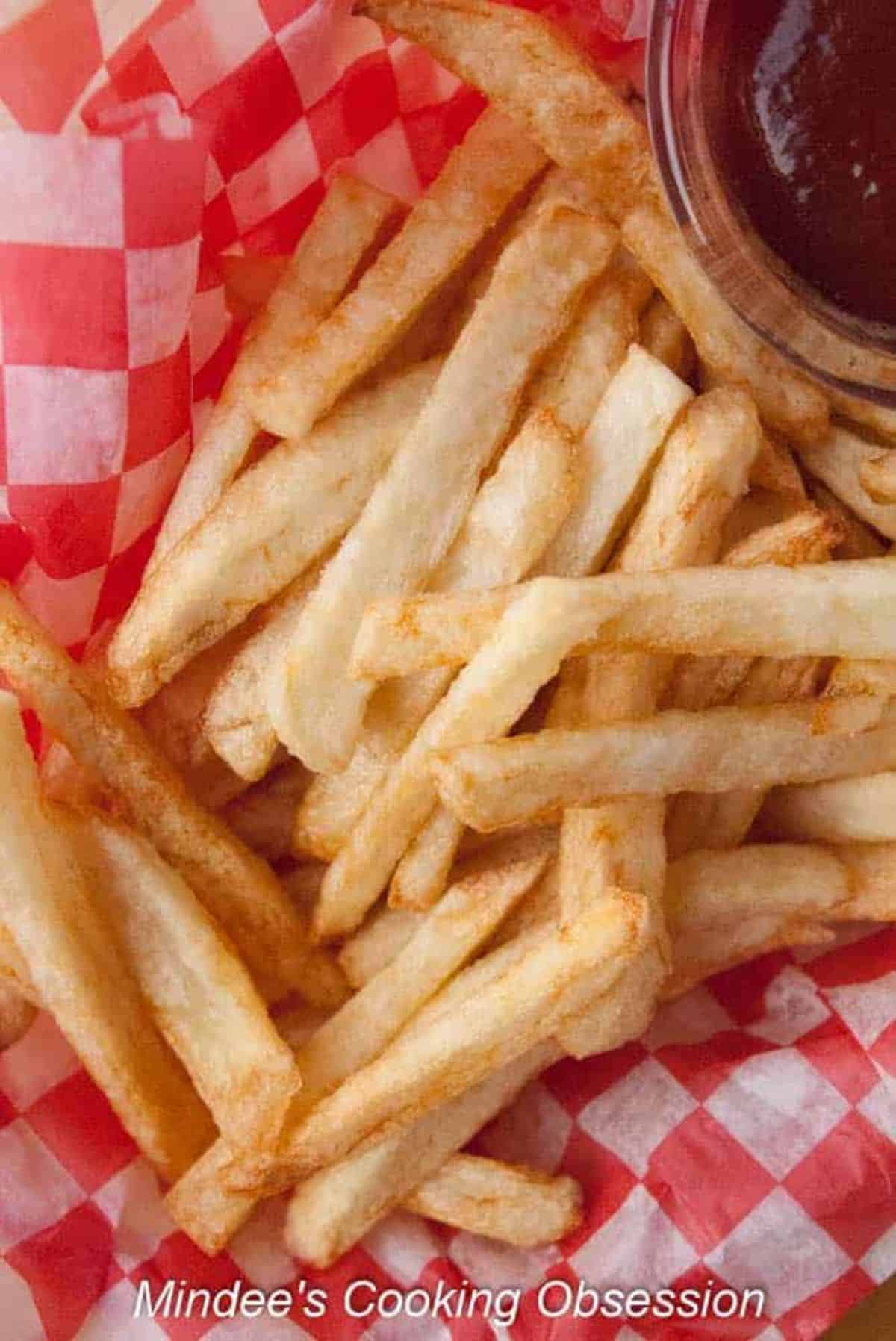 Channel those nostalgic drive-in vibes with a classic side of crispy, golden french fries. The unpretentious goodness of these fries brings out the best in your pork chops.
4 medium potatoes
Oil for frying
Salt
Dipping Sauces
4. Dill Pickle Potato Salad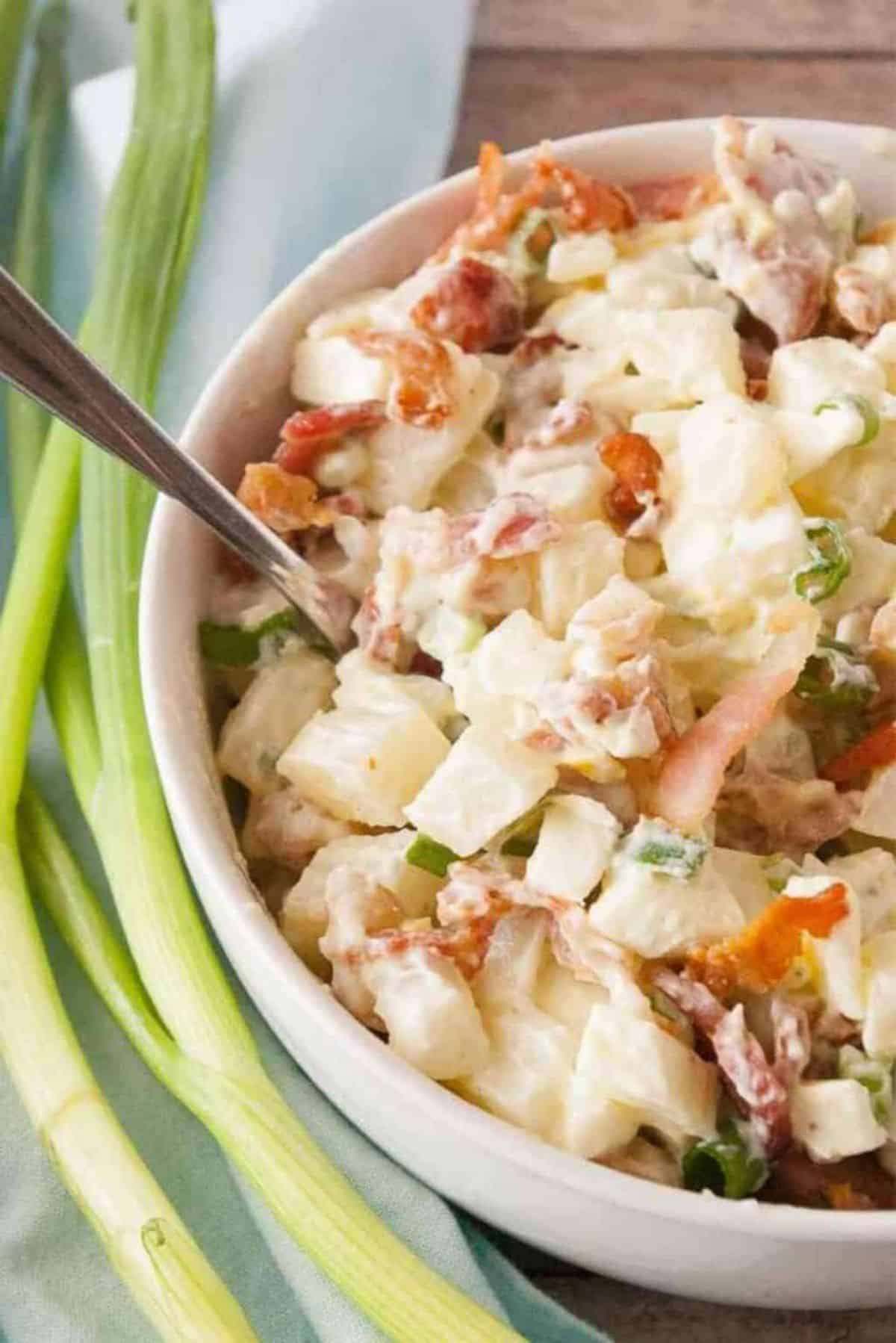 This tangy twist on the classic potato salad introduces a refreshing zing, effortlessly cutting through the richness of the pork chops. You'll wonder how you ever lived without this dill pickle potato salad recipe in your repertoire.
Potato Salad:
6 cups potatoes, cooked and cubed small
6 large hard-boiled eggs, peeled and diced
½ lb. bacon, crisped and crumbled
5 green onions, thinly sliced
¼ cup dill pickles, diced
Dressing:
1 ½ cups mayonnaise
1 tablespoon vinegar
1 teaspoon sugar
3 tablespoon dill pickle juice
¼ teaspoon celery salt
¼ teaspoon onion salt
¼ teaspoon white pepper
5. Zesty Italian Pasta Salad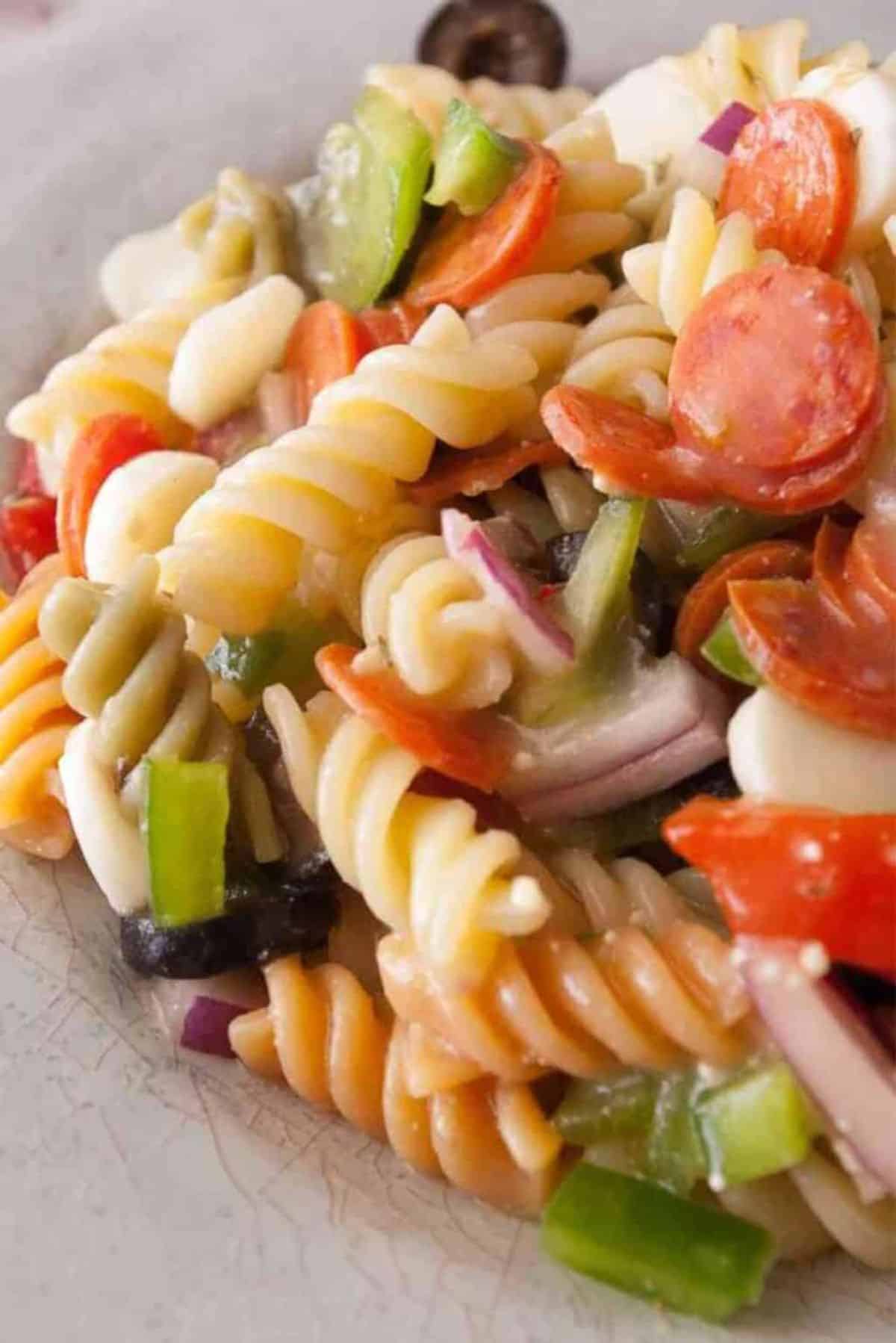 Add a splash of Mediterranean flair to your pork chop soiree with this flavor-packed, zesty Italian pasta salad.
1 16 oz. box garden rotini
2 3.8 oz cans sliced olives
½ a 5 oz. bag of mini pepperoni
3 quality mozzarella string cheese sticks, cut into thin discs
¾ -1 cup chopped green bell pepper
½-¾ cup chopped red onion
½ to a whole 16 oz jar of roasted red peppers, chopped up
1 16 oz. bottle of Olive Garden Italian dressing
6. Roasted Loaded Potatoes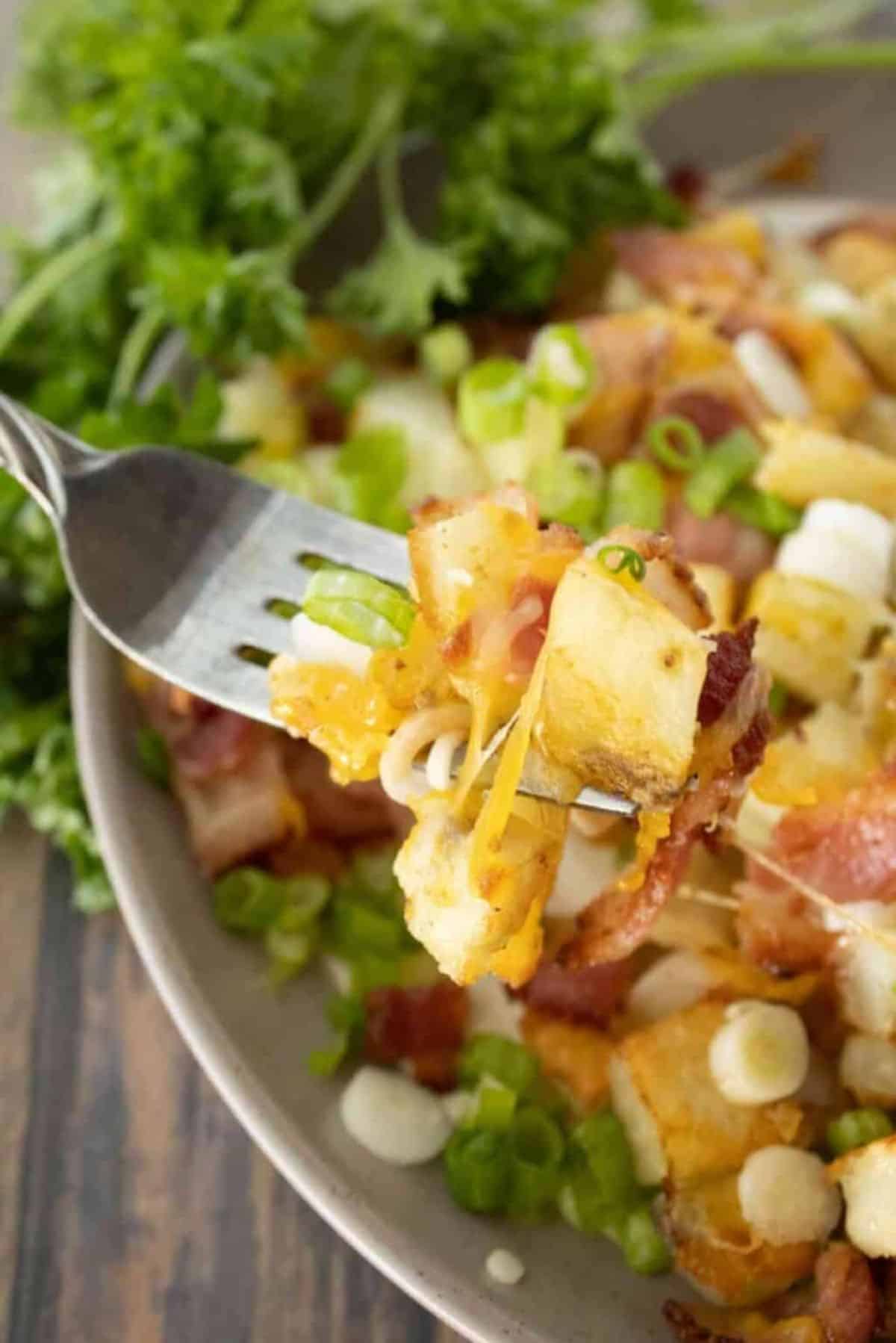 What's better than potatoes? Roasted loaded potatoes, of course! With gooey cheese, crispy bacon, and a sprinkle of green onions, these scrumptious spuds are the ultimate indulgence.
5 cups potatoes, peeled and cubed
4 tablespoon butter, melted
Dash or seasoning of choice
1 lb. bacon, cooked and crumbled
1 ½ cups shredded cheddar cheese
5-6 green onions, thinly sliced
7. Funeral Potatoes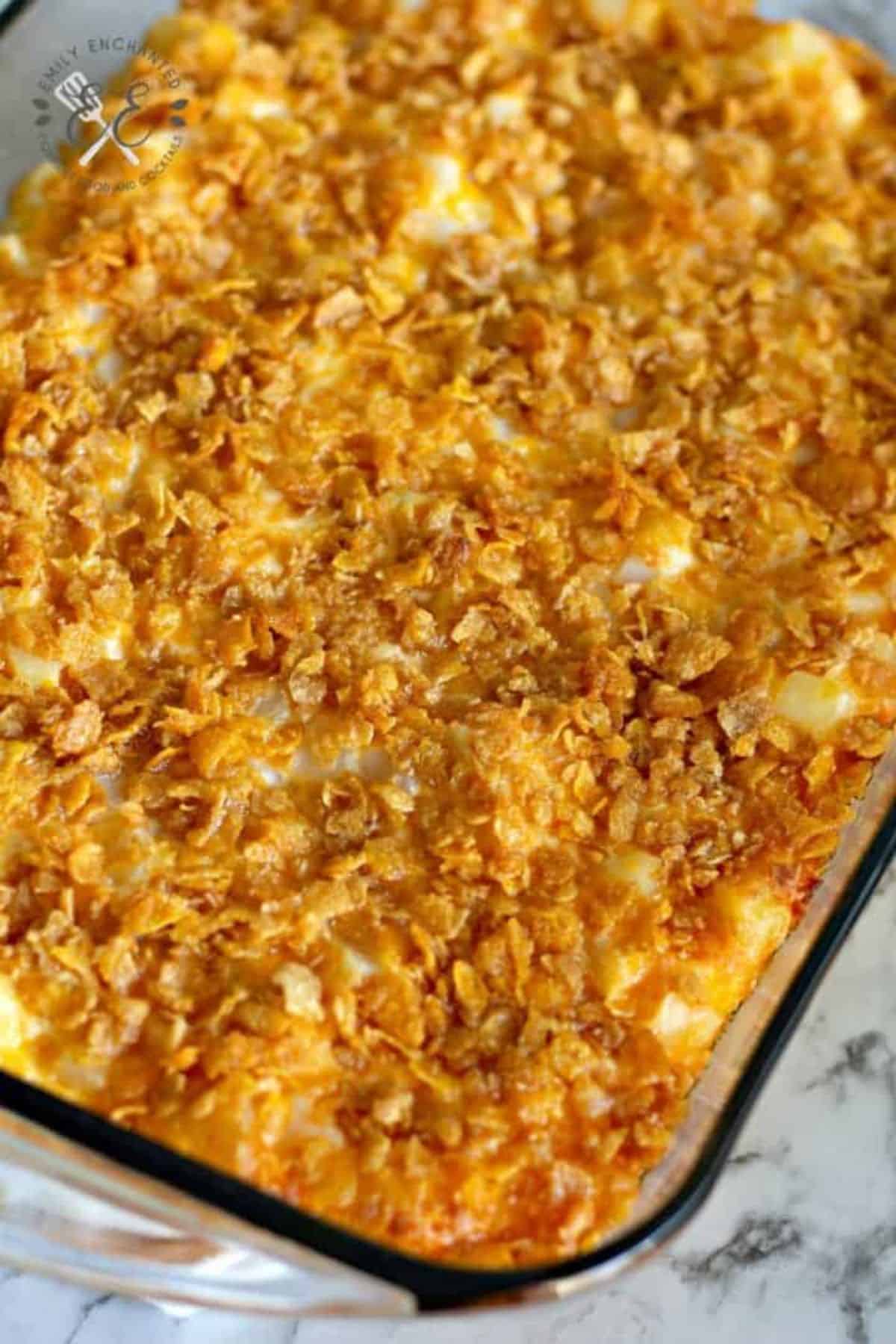 Don't let the name fool you—this dish is pure comfort food magic! The creamy, cheesy goodness of this classic funeral potatoes casserole brings out the tender juiciness of your pork chops.
⅓ cup butter, melted
2 cups sour cream
1 can (10.5 oz) cream of chicken soup
1 teaspoon salt
1 teaspoon onion powder
2 cups shredded cheddar cheese
24 ounces frozen diced hash browns, thawed
For the crunchy topping:
½ cup butter (1 stick), melted
3 cups cornflakes, slightly crushed
8. Garlic Butter Pasta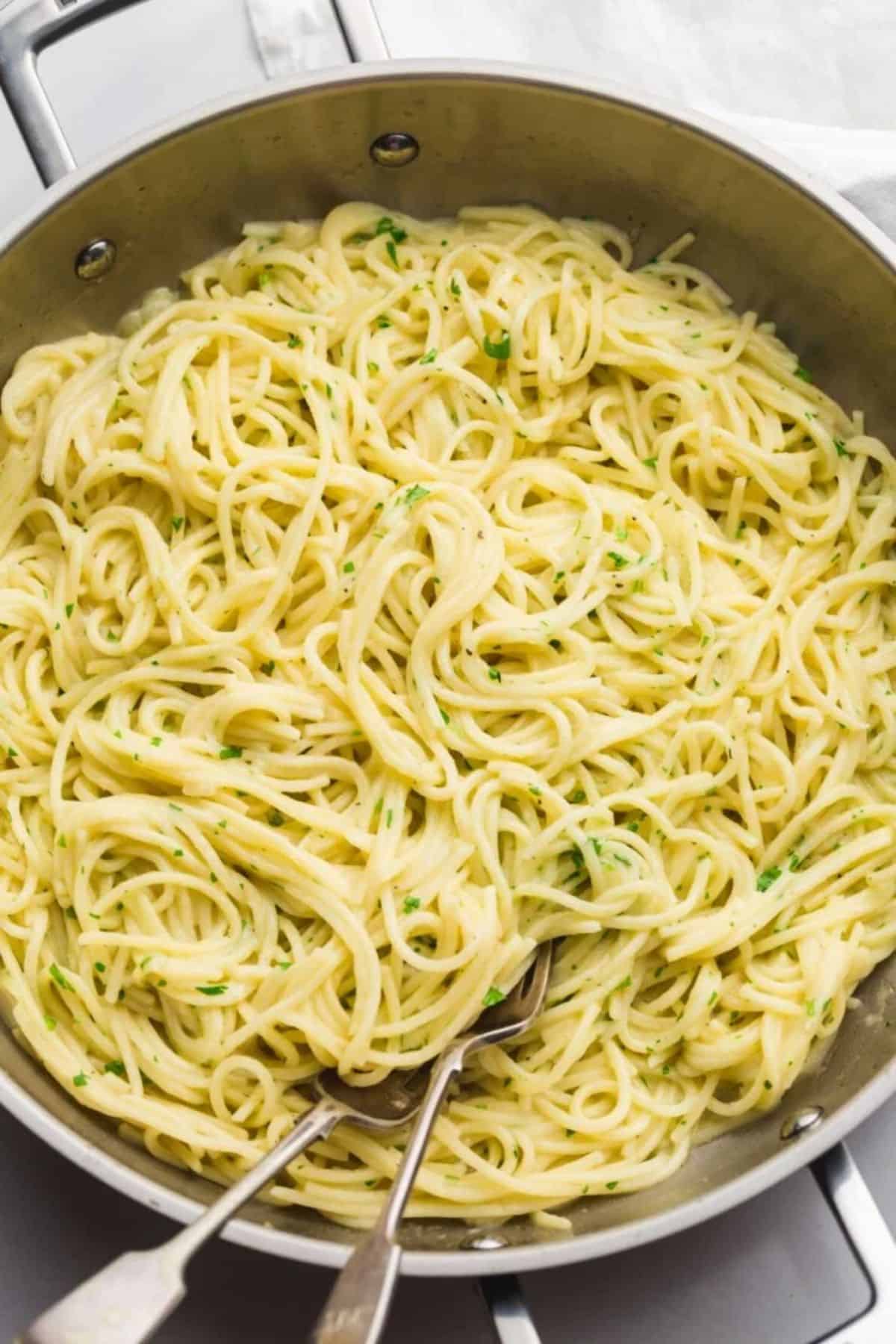 This simple yet satisfying garlic butter pasta features silky, garlicky noodles that make a divine backdrop for the meaty star of the show.
8 oz (225g) pasta
4 tablespoon butter divided
3 cloves garlic sliced
¼ teaspoon ground black pepper
1 teaspoon salt
½ cup parmesan
¼ cup parsley
9. Creamy Orzo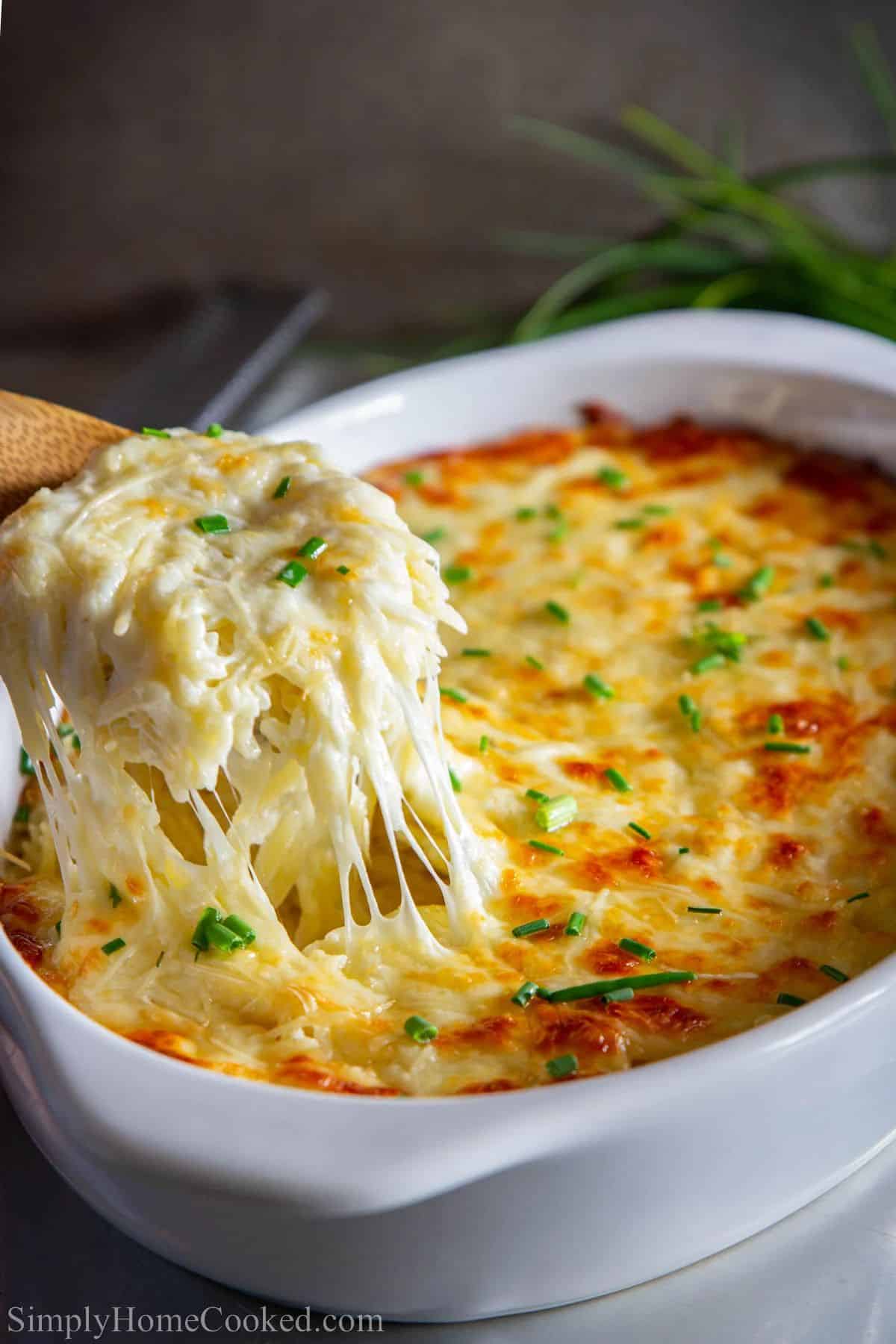 If you're looking for something a bit more elegant to pair with your meal, this creamy orzo has a smooth, rich texture that pairs beautifully with the juiciness of thick-cut, pan-friend chops.
1-pint heavy whipping cream
1-2 garlic cloves grated
1 ½ cups shredded Parmesan cheese divided
1 lb orzo uncooked
1 cup shredded mozzarella cheese
Salt to taste
10. Brown Sugar Glazed Carrots
Add a touch of sweetness to your pork chop meal with glistening, caramelized brown sugar glazed carrots. The brown sugar glaze gives the carrots a melt-in-your-mouth quality that is irresistible.
1 lb baby carrots
2 tablespoon butter
2 tablespoon light brown sugar
1 tablespoon honey
1 teaspoon Allspice
½ cup water
11. Hasselback Scalloped Potatoes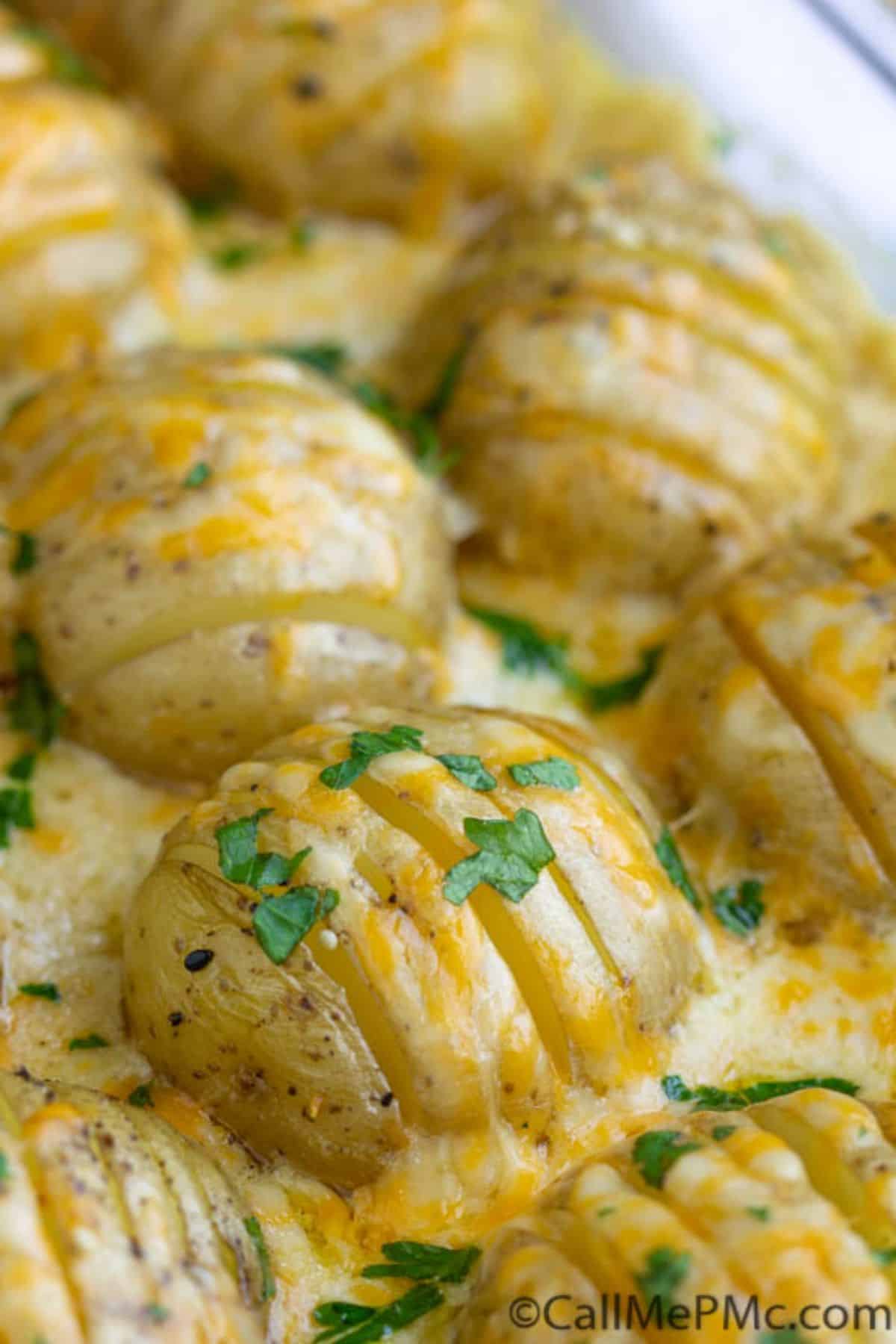 Take a walk on the fancy side with these accordion-style hasselback scalloped potatoes. Each delicate layer of the spuds is smothered in a creamy sauce, making for showstopping side dishes that go well with pork chops.
For the potatoes:
2 pounds Yukon Gold potatoes
2 tablespoon butter, melted
2 tablespoon olive oil
¼ teaspoon salt
¼ teaspoon black pepper ground
For the sauce:
3 tablespoon butter
3 tablespoon all-purpose flour
3 cups milk
2 medium garlic cloves minced
½ teaspoon salt, adjust to your tastes
½ teaspoon black pepper ground
2 cups cheddar and Colby cheese grated
12. California Blend Vegetables With Parmesan Bread Crumbs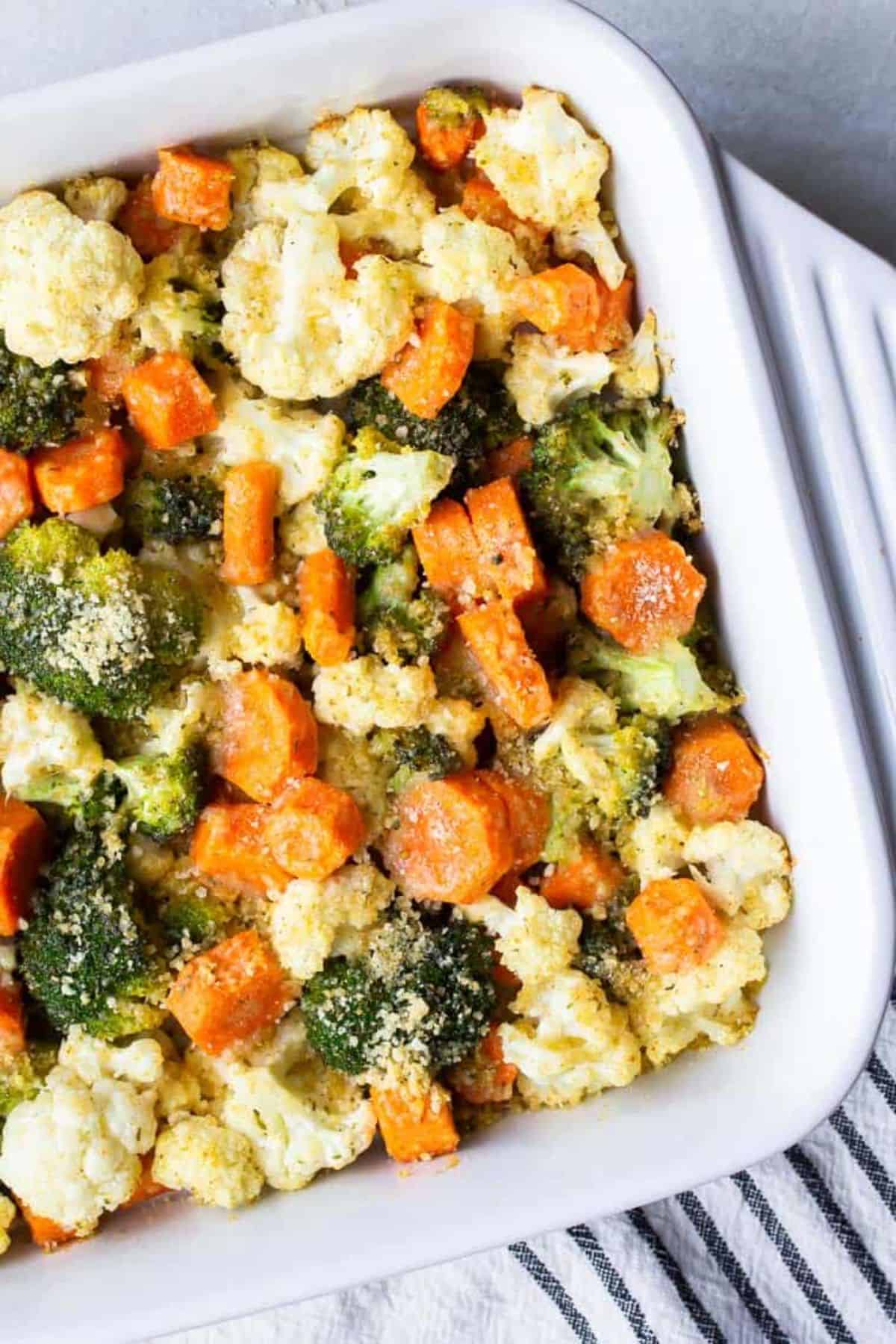 Go for something healthy and delectable with California blend vegetables with parmesan bread crumbs. This veggie-packed side is a colorful medley of crispy, cheesy, and crave-able flavors.
2 cups carrots, cut into bite-size pieces
2 cups broccoli florets, cut into bite-size pieces
2 cups cauliflower, cut into bite-size pieces
2 tablespoon butter, melted
¼ cup Parmesan cheese, grated
¼ cup panko bread crumbs
⅛ teaspoon cayenne pepper, optional
13. Homemade Baked Mac & Cheese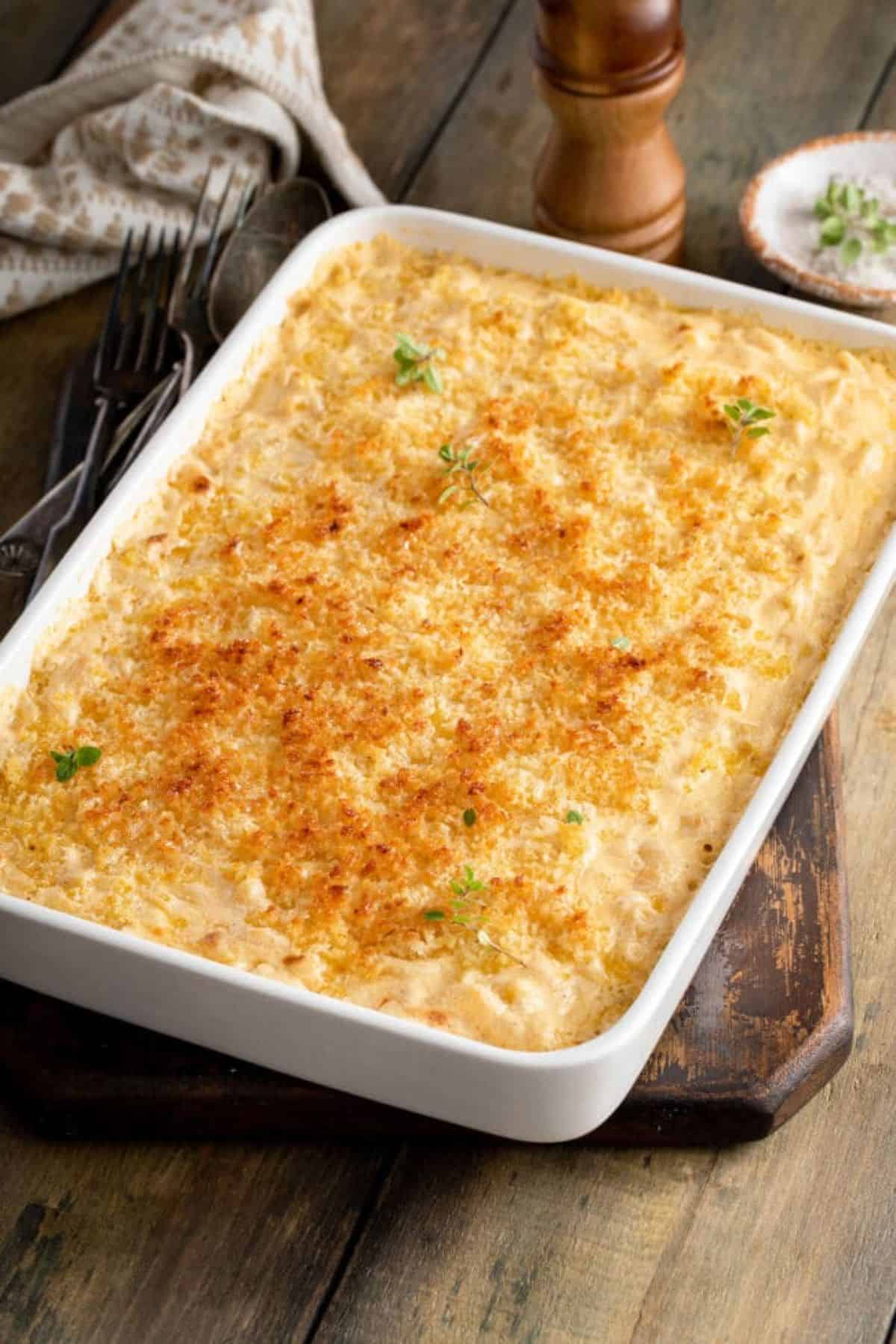 Unleash your inner comfort food connoisseur with this ooey-gooey, cheesy delight. This rich and creamy homemade baked mac & cheese cozies up to pork chops like they're long-lost best friends.
1 pound dry macaroni pasta
8 tablespoon butter
½ cup all-purpose flour
2 cups whole milk
2 cups half and half
½ teaspoon black pepper
Pinch of nutmeg
1 teaspoon garlic powder
½ teaspoon dried mustard
3 cups sharp cheddar cheese, shredded
2 cups Gruyere cheese, shredded
1 cup white cheddar cheese, shredded
Topping:
½ cup panko
3 tablespoon melted butter
¼ teaspoon seasoned salt
14. Caramelized Onion Spaghetti Squash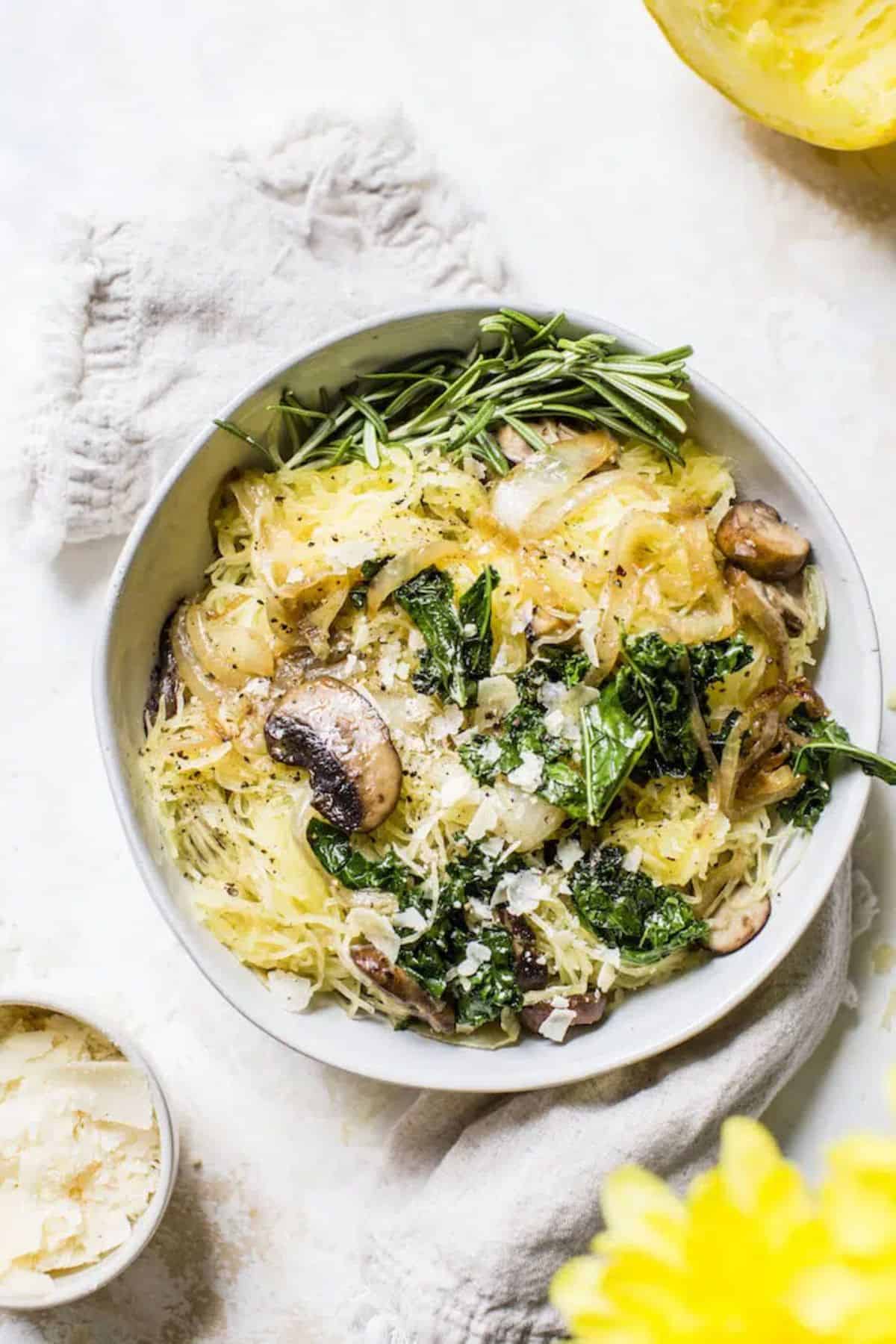 Caramelized onion spaghetti squash is gourmet goodness, with tender strands of the gourd intertwined with sweet, savory onions.
1 2-3 lb. spaghetti squash
¼ cup olive oil
2 tablespoon butter
2 medium yellow onions, peeled and sliced
1 ½ cups mushrooms
1 cup kale
¼ teaspoon rosemary
Salt and pepper to taste
Optional: sprinkle parmesan cheese
15. Balsamic Honey Roasted Vegetables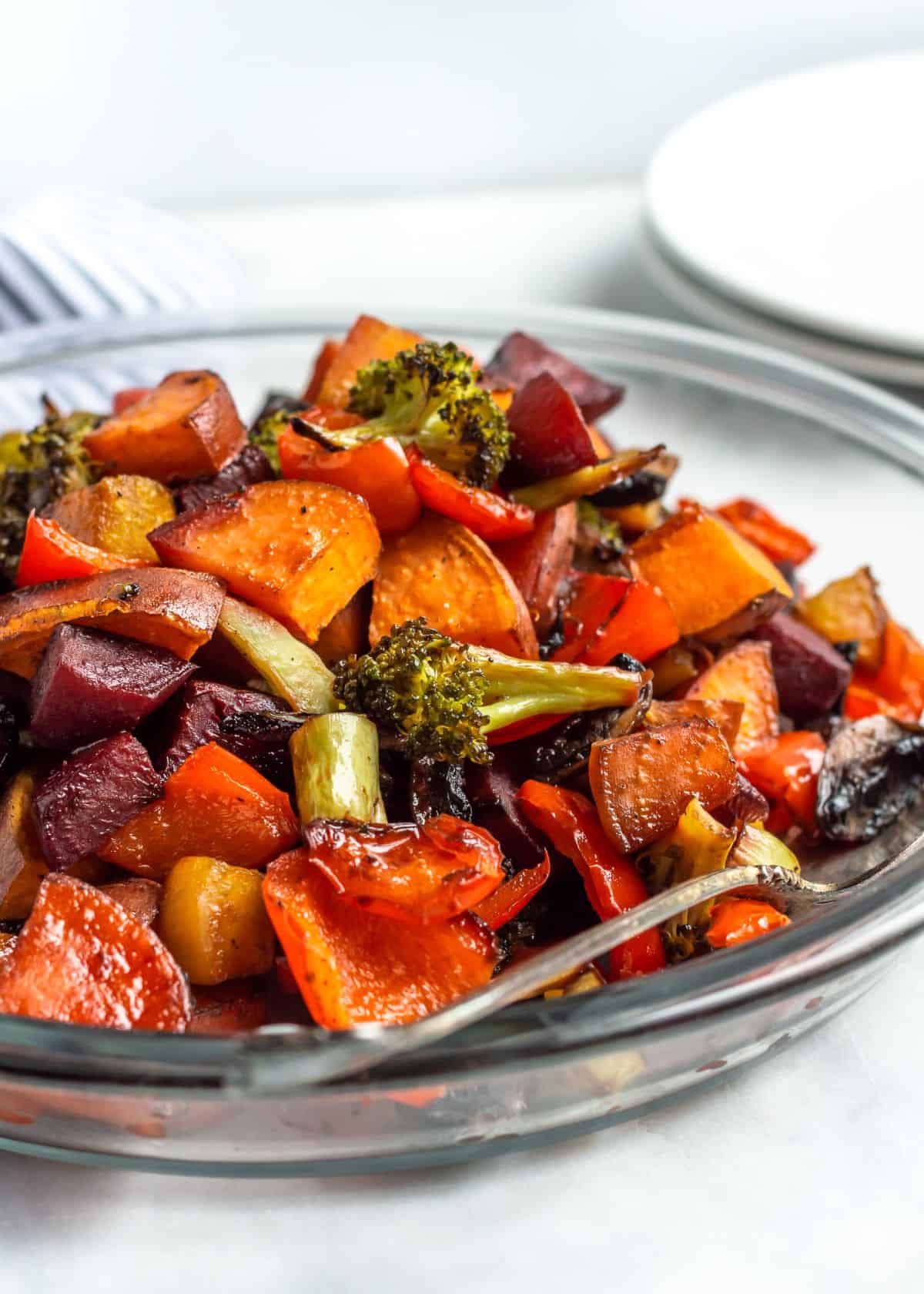 The sweet-tart glaze and tender-crisp vegetables of balsamic honey-roasted vegetables create a heavenly contrast to the savory pork, making every bite a veritable flavor explosion.
8–10 cups of sweet potato, beet, broccoli, mushrooms, and bell pepper, all washed, trimmed and chopped into roughly even-sized pieces
2 tablespoon extra virgin olive oil
¼ teaspoon sea salt
Fresh ground pepper, to taste
2 tablespoon balsamic vinegar
2 tablespoon honey
16. Melting Potatoes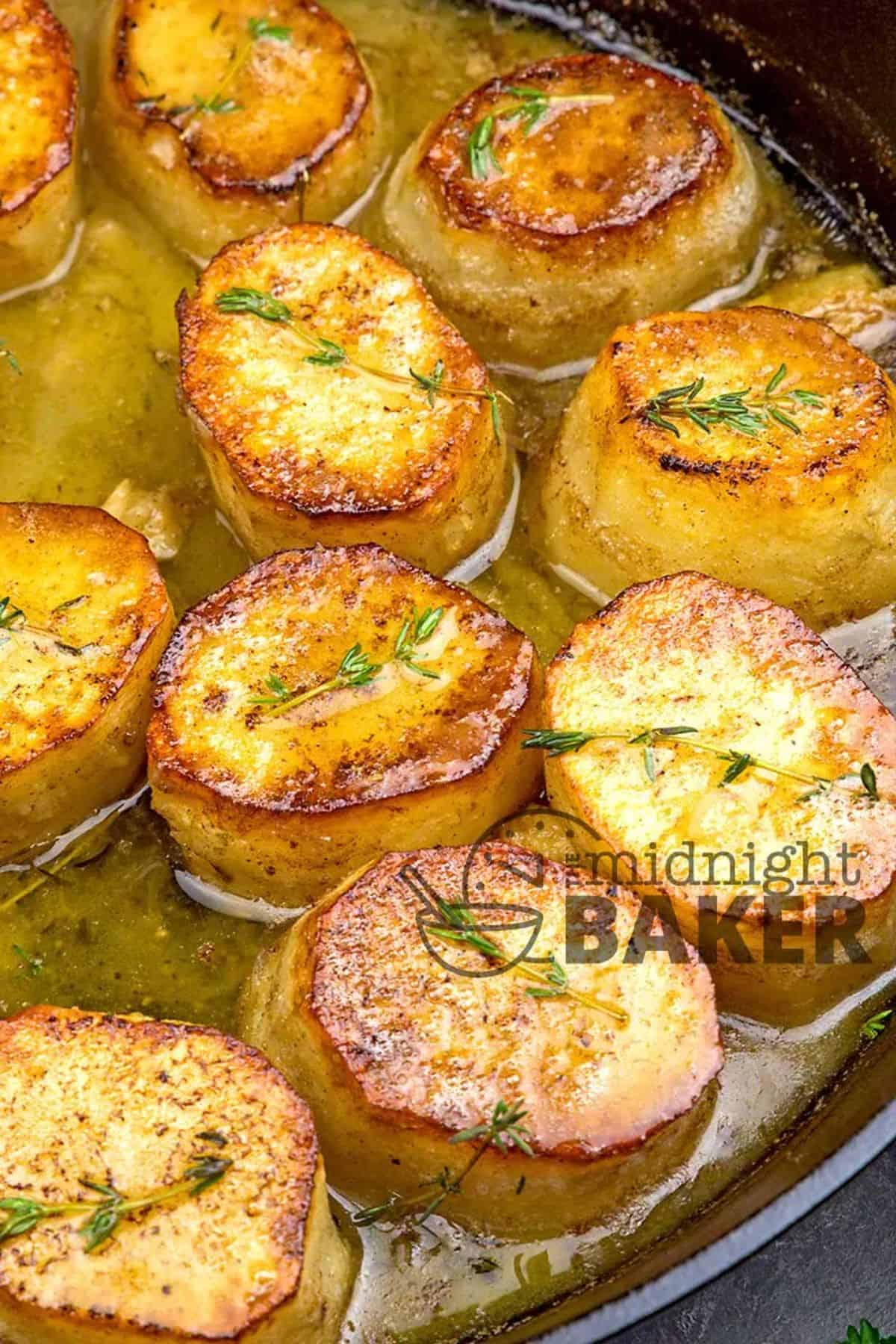 Indulge in the luxuriousness of these melting potatoes, where crisp exteriors give way to fluffy buttery interiors.
3 large russet potatoes
10 tablespoon unsalted butter divided
2 tablespoon vegetable oil
1 cup chicken stock
2 cloves crushed garlic
4 sprigs of fresh thyme
Kosher salt
Coarsely ground black pepper
17. Honey Butter Skillet Corn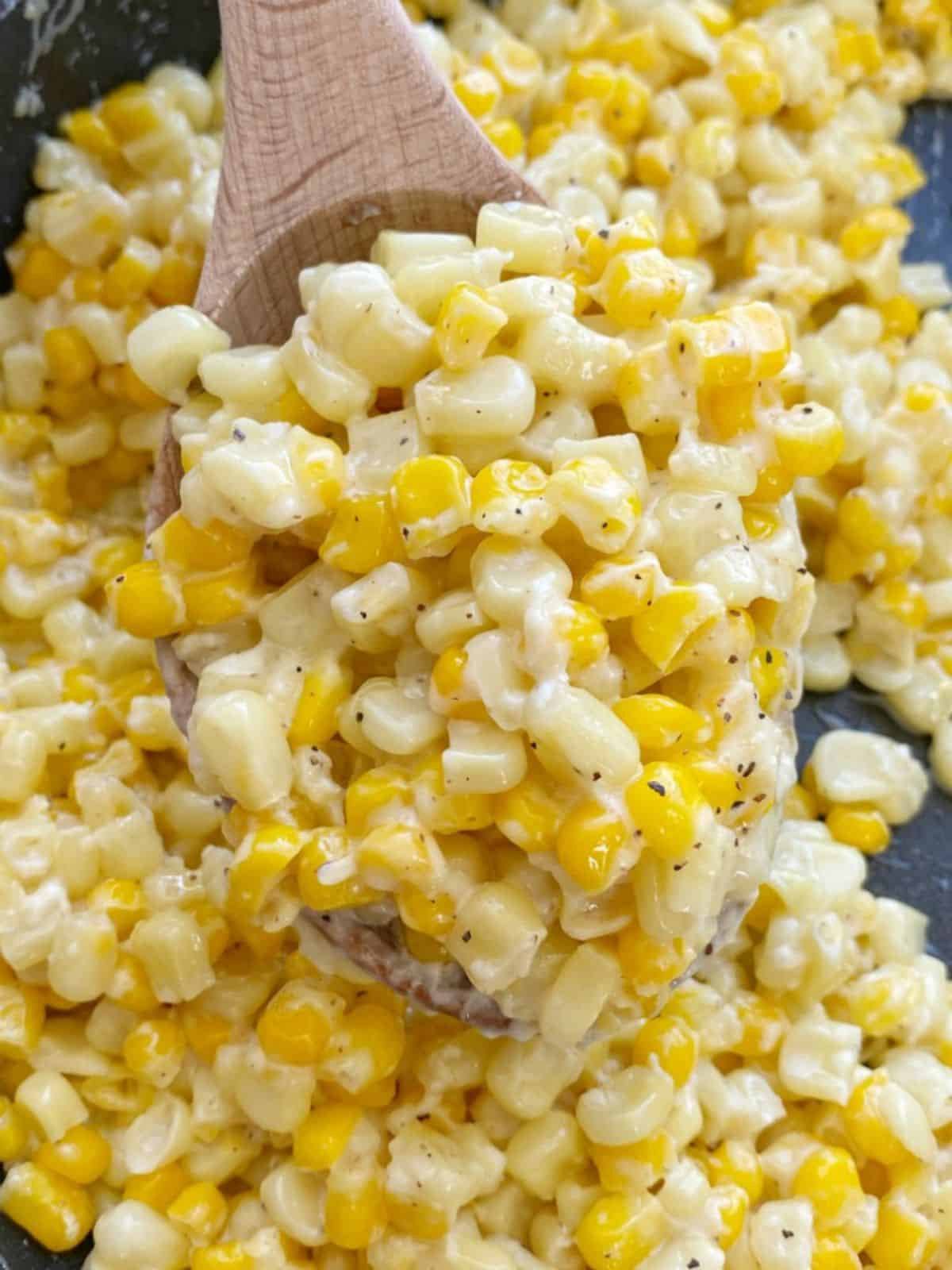 Sweeten your dinner deal with this delectable honey butter skillet corn, a luscious blend of honey, butter, and golden kernels that draws out the natural caramelized flavors of pan-seared chops.
2 tablespoon butter
2 tablespoon honey
1 16 oz bag of frozen corn
2 ounces of cream cheese cut into chunks
¼ teaspoon salt
¼ teaspoon black pepper
18. Hot Buttered Apple Sauce With Cinnamon and Nutmeg
Is there any better pairing for pork chops than apple sauce? Give your meal a warm, autumnal embrace with hot, buttered apple sauce. The fragrant blend of cinnamon and nutmeg adds a cozy depth of flavor.
12 fresh Fuji apples
2 cups water
Topping:
1 to 2 tablespoon pastured butter
1 pinch of ground cinnamon
1 pinch of ground nutmeg
19. Firehouse Green Beans With Bacon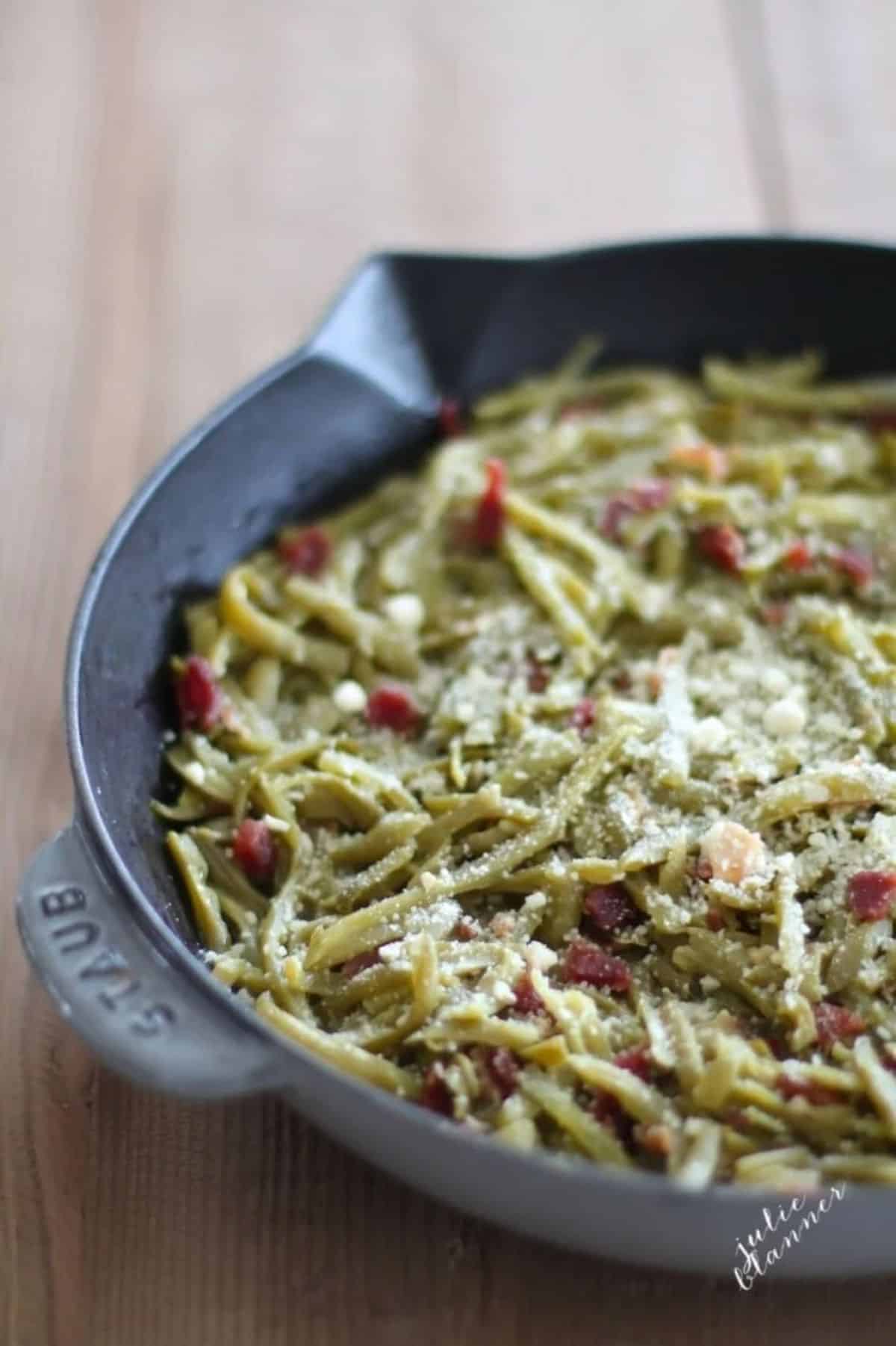 The crispy bacon and tender green beans in these firehouse green beans make for a dynamic duo, adding a delightful twist to the classic porkchop pairing.
3 tablespoon butter salted or unsalted
1 tablespoon minced garlic
½ shallot minced
2 ounces bacon or ½ pkg real bacon pieces
2 29-ounce cans French cut green beans, strained
½ cup parmesan grated
20. Roasted Acorn Squash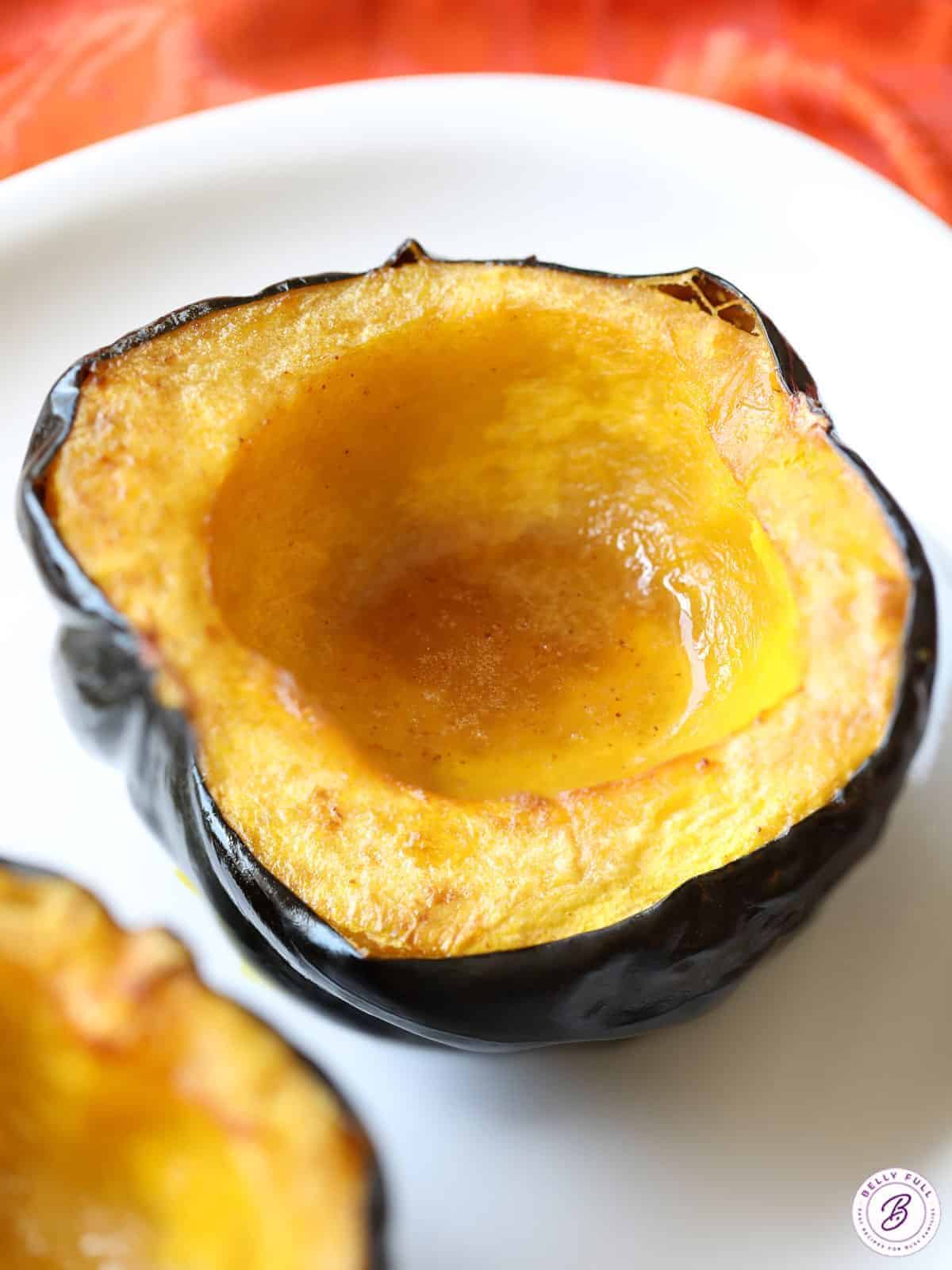 The caramelized edges and tender flesh of this roasted acorn squash make for a delectable side that complements your pork chops like a dream.
1 ½ pound acorn squash
1 tablespoon unsalted butter, softened
2 tablespoon brown sugar
sprinkle salt to taste
sprinkle of cayenne pepper
21. Cheesy Scalloped Potatoes
The rich, creamy layers of cheesy scalloped potatoes are a match made in culinary heaven for your pork chops, creating a soul-satisfying experience that'll have you coming back for seconds.
4 russet potatoes, peeled and sliced into ¼-inch slices
1 yellow onion, cut into rings
3 tablespoon unsalted butter
3 tablespoon all-purpose flour
½ teaspoon kosher salt
2 cups whole milk, room temperature
1 ½ cups mild cheddar cheese, shredded
salt and pepper to taste
22. Oven-Baked Okra
Bring some Southern charm to your pork chop dinner with crispy, oven-baked okra. The crispy crust is perfectly spiced and brings out the vegetal tastiness of the tender interior.
1 lb okra
2 tablespoon olive or vegetable oil
1 teaspoon Himalayan salt
½ teaspoon black pepper
1 teaspoon paprika
½ teaspoon garlic powder
1 teaspoon paprika
⅛ teaspoon cayenne pepper, optional
23. Cheesy Broccoli Rice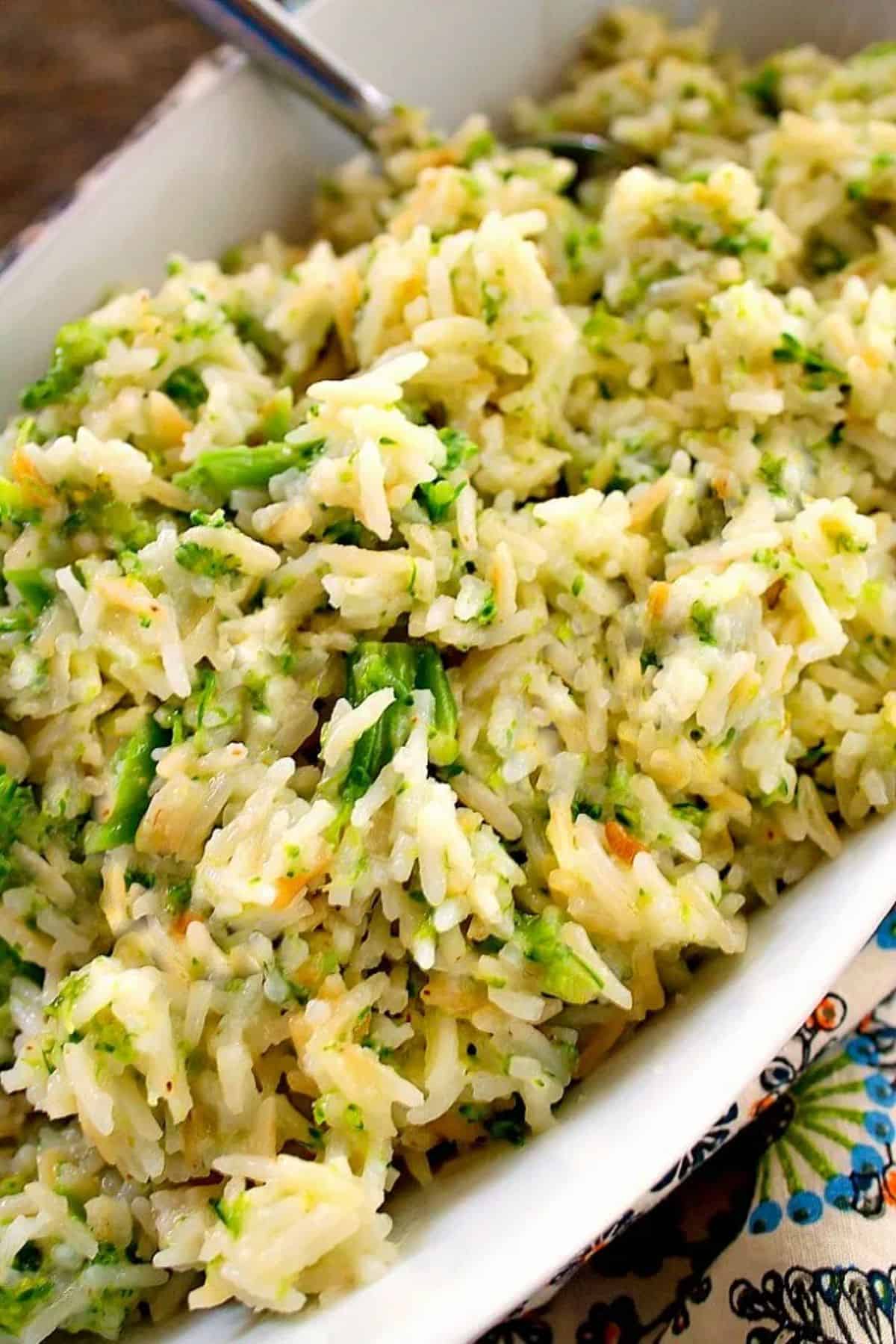 Go for gourmet gold with cheesy broccoli rice, a delicious medley of toothsome long-grain rice, and al dente broccoli wrapped in the unctuous embrace of cheese sauce.
1 tablespoon oil
1 cup long-grain white rice
2 cups chicken broth
2 tablespoon butter
2 cups broccoli or veggie of your choice, steamed and chopped roughly
1 ⅓ cup grated cheese
1 teaspoon garlic powder
salt and pepper to taste
milk as needed to thin before serving if necessary
24. Easy Blooming Onion
Unleash your inner food artist with this showstopping, easy-blooming onion. The crispy, golden petals create playful side dishes that go well with pork chops.
2 eggs
1 cup milk
2 cup flour
1 tablespoon paprika
1 tablespoon cumin
1 teaspoon dried oregano
tsp thyme
1 teaspoon salt
1 teaspoon ground cayenne pepper
½ teaspoon ground black pepper
½ teaspoon garlic powder
3 medium sweet onions
Vegetable oil
25. Baked Garlic Parmesan Potato Wedges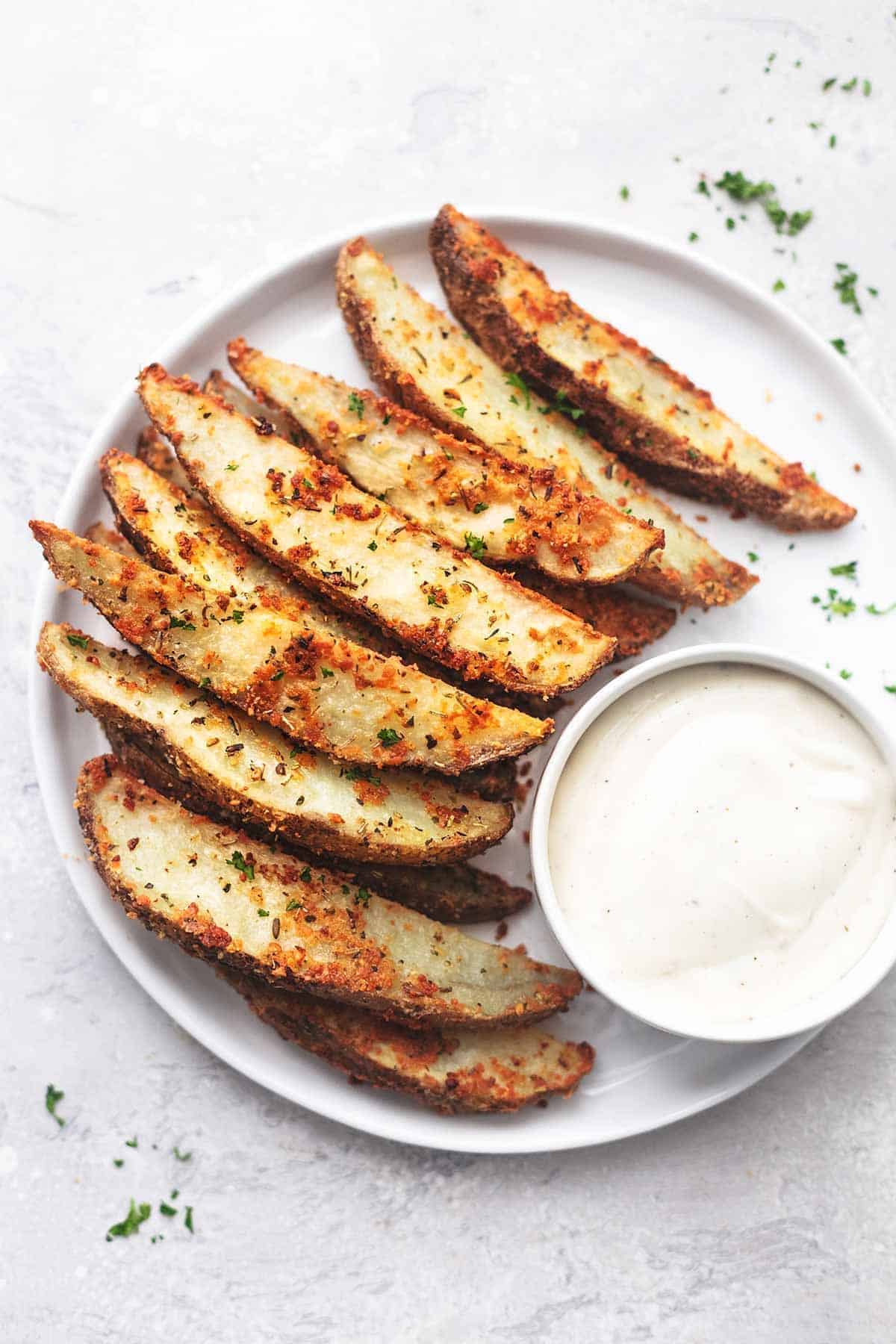 The robust garlic and nutty parmesan of these baked potato wedges create a savory symphony that harmonizes with the richness of pork chops.
3-4 large russet potatoes - sliced into wedges
4 tablespoon olive oil
2 teaspoon salt
2 teaspoon garlic powder
2 teaspoon Italian seasoning
½ cup shredded parmesan cheese
26. Ultimate Cornbread Casserole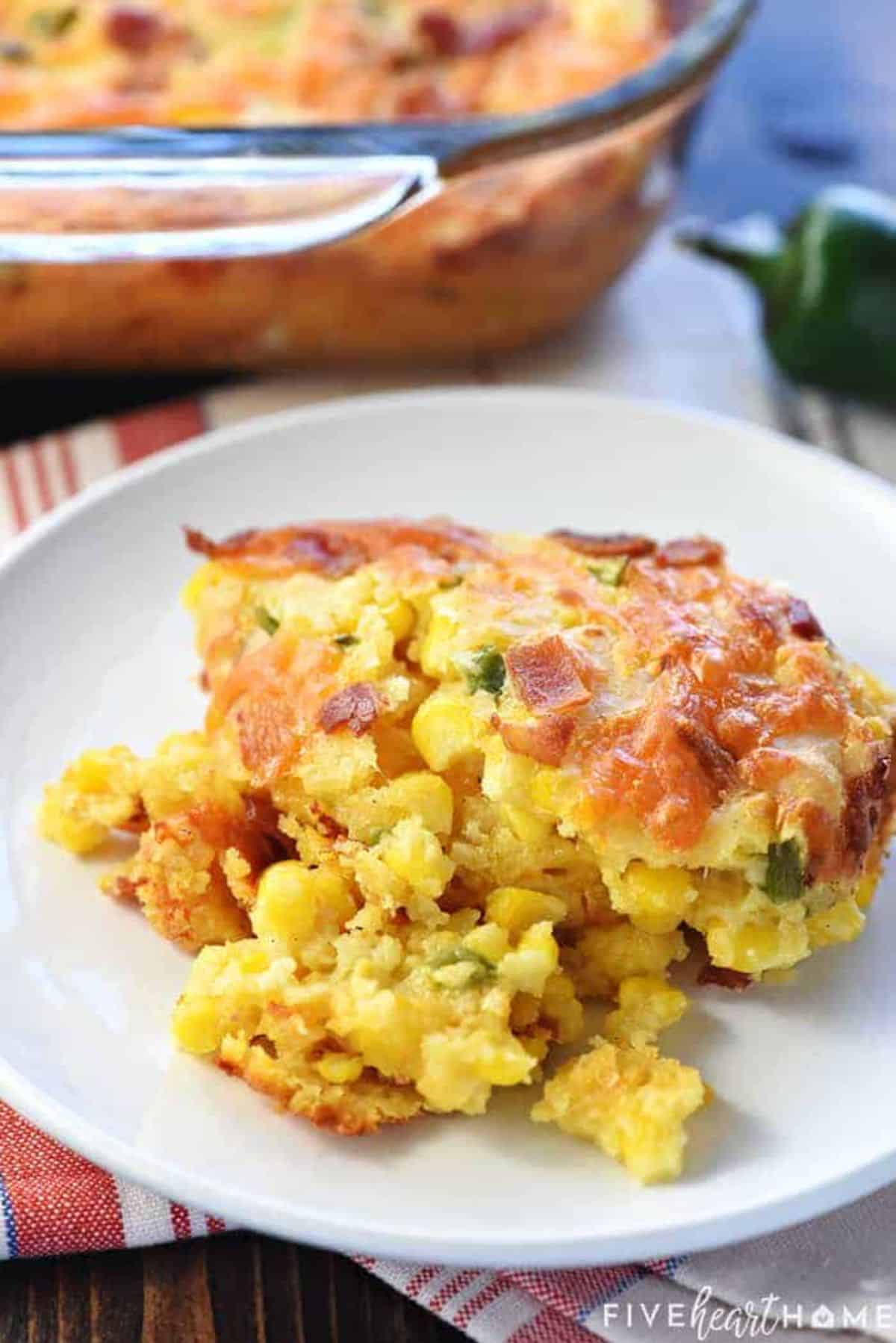 Fluffy Ultimate cornbread casserole melds with savory add-ins to create a side dish that's not only comforting but downright addictive, making it a perfect match for your tender, juicy pork chops.
1 cup cornmeal
1 cup all-purpose flour
1 tablespoon baking powder
¾ teaspoon salt
1 to 2 tablespoon sugar
1 16-ounce bag of frozen corn, thawed & drained
1 cup milk
1 cup sour cream
6 tablespoon butter, melted
Freshly ground black pepper, to taste
8 ounces bacon, cooked until crispy and diced
1 to 2 jalapeños, minced
1 ½ cups grated cheddar cheese
27. Shredded Brussels Sprouts with Pistachios, Cranberries & Parmesan
These shredded Brussels sprouts are adorned with crunchy pistachios, tart cranberries, and savory Parmesan, creating a vibrant, delicious side dish to impress your guests.
1 ¼ pounds Brussels sprouts
2 teaspoon olive oil divided
½ yellow onion diced
⅓ cup shelled pistachios chopped
⅓ cup dried cranberries
⅓ cup grated Parmesan cheese
½ teaspoon ground pepper
salt to taste
Final Thoughts
We've journeyed through the mouthwatering world of what dishes go well with pork chops, unearthing a treasure trove of flavor-packed, palate-pleasing delights just begging to grace your plate.
With this fabulous array of culinary companions, your pork chop dinners will never be the same again!