Scallops are tender, succulent sea treasures that deserve only the finest accompaniments to accentuate their divine flavor.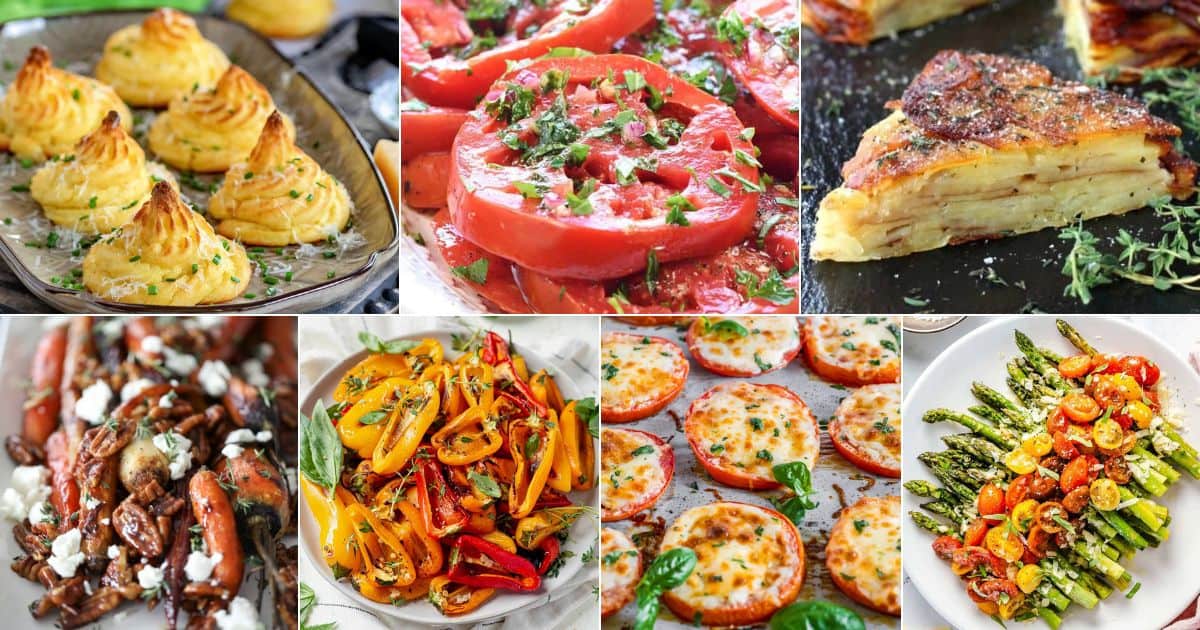 Prepare to be swept away on a tidal wave of tastiness as we uncover a collection of 27 dishes that go well with scallops.
Jump to:
1. Butterflake Rolls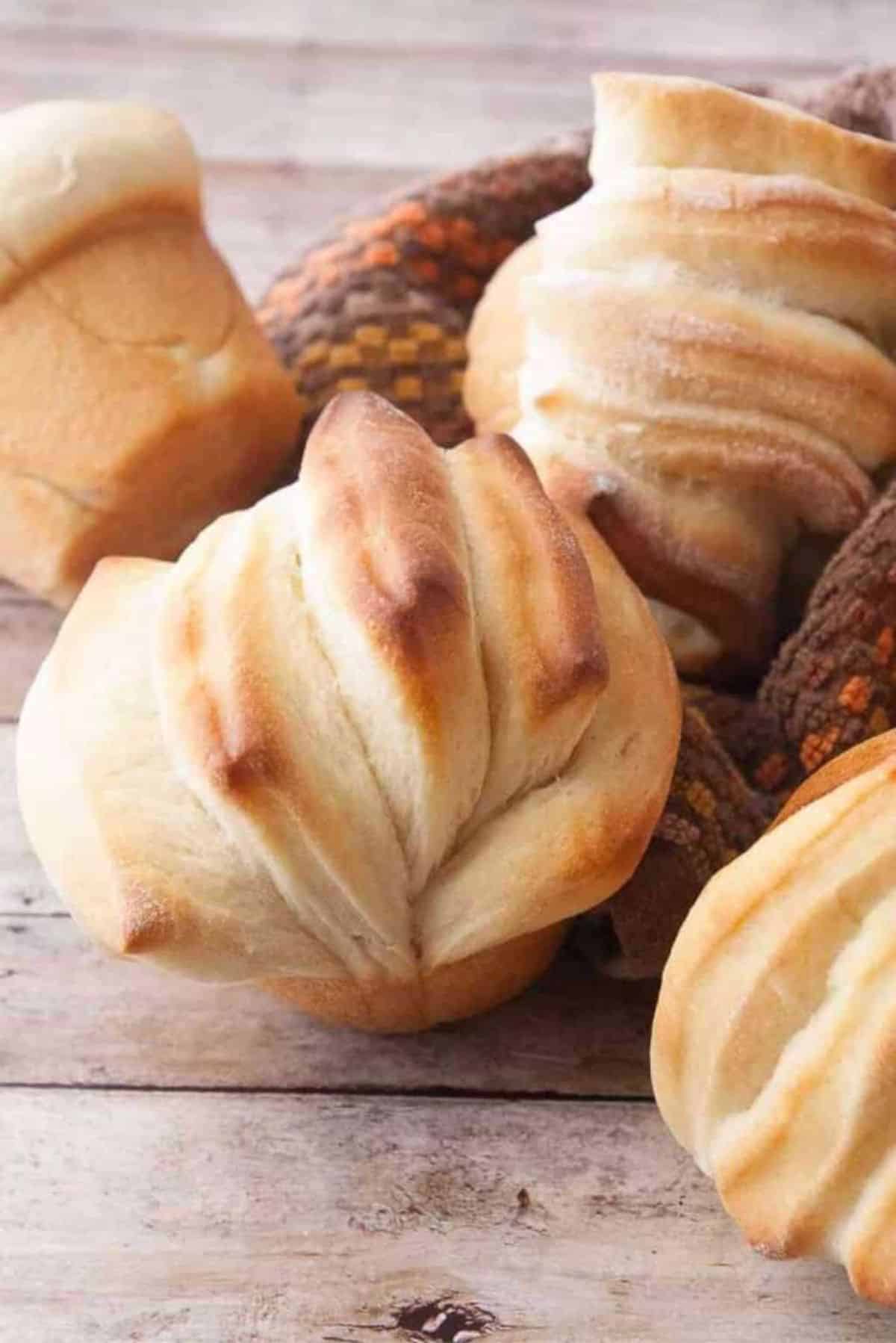 Butterflake rolls provide a soft, flaky texture and rich taste, making them the ideal accompaniment for soaking up those sumptuous, velvety pan-seared scallop juices,
¼ cup butter, cut into cubes
¼ cup sugar
1 teaspoon salt
¾ cup buttermilk
1 tablespoon active dry yeast
¼ cup warm water
1 egg
3 cups of flour
1 tablespoon of softened butter
2. Slow Cooker Italian Mushrooms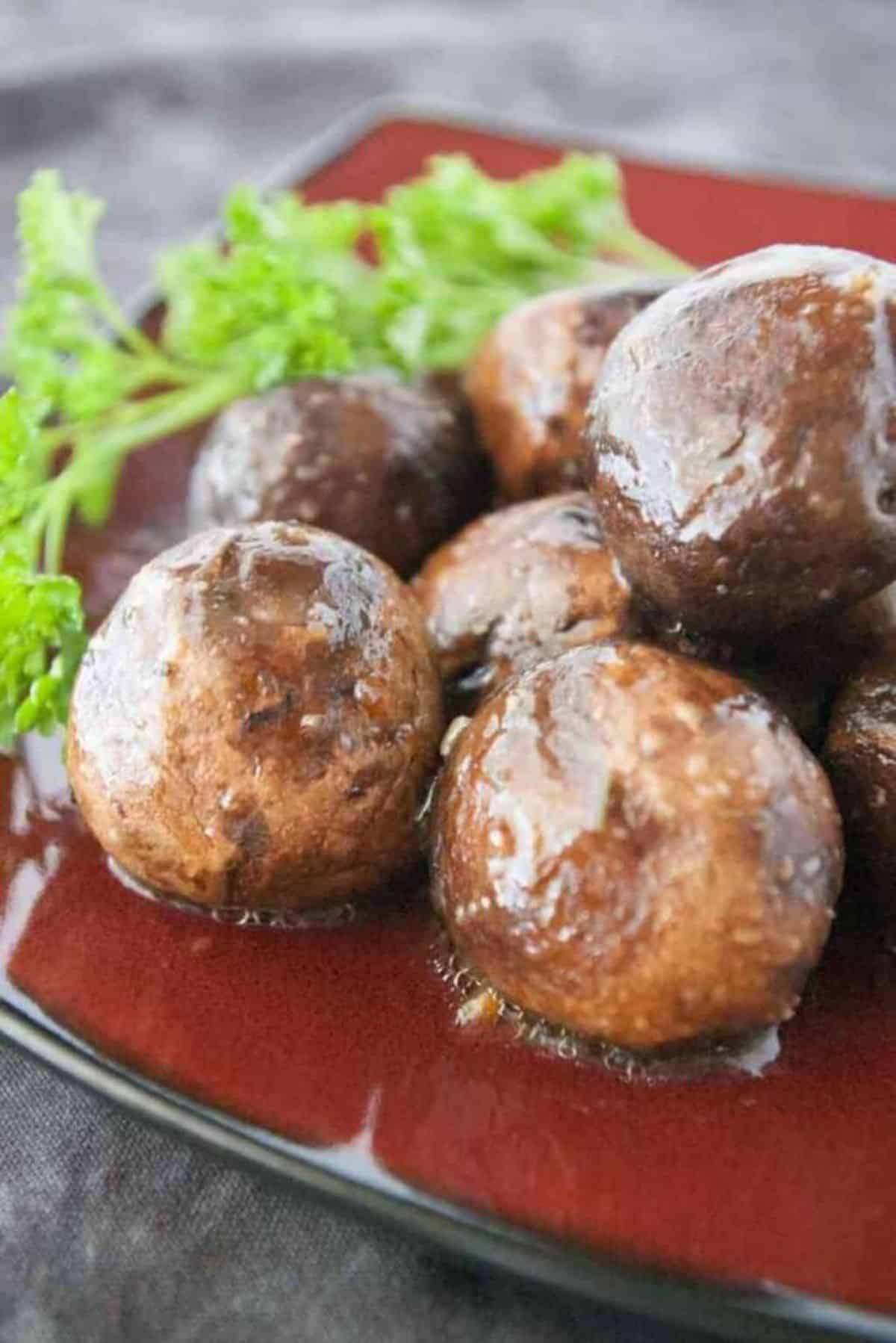 Infuse your scallops with earthy, aromatic flavors as these tender, slow-cooked Italian mushrooms meld harmoniously with your seafood centerpiece.
1 lb. whole medium-sized mushrooms
½ cup butter (no substitutes)
1 envelope of Italian dressing mix
3. Salmon Piccata Salad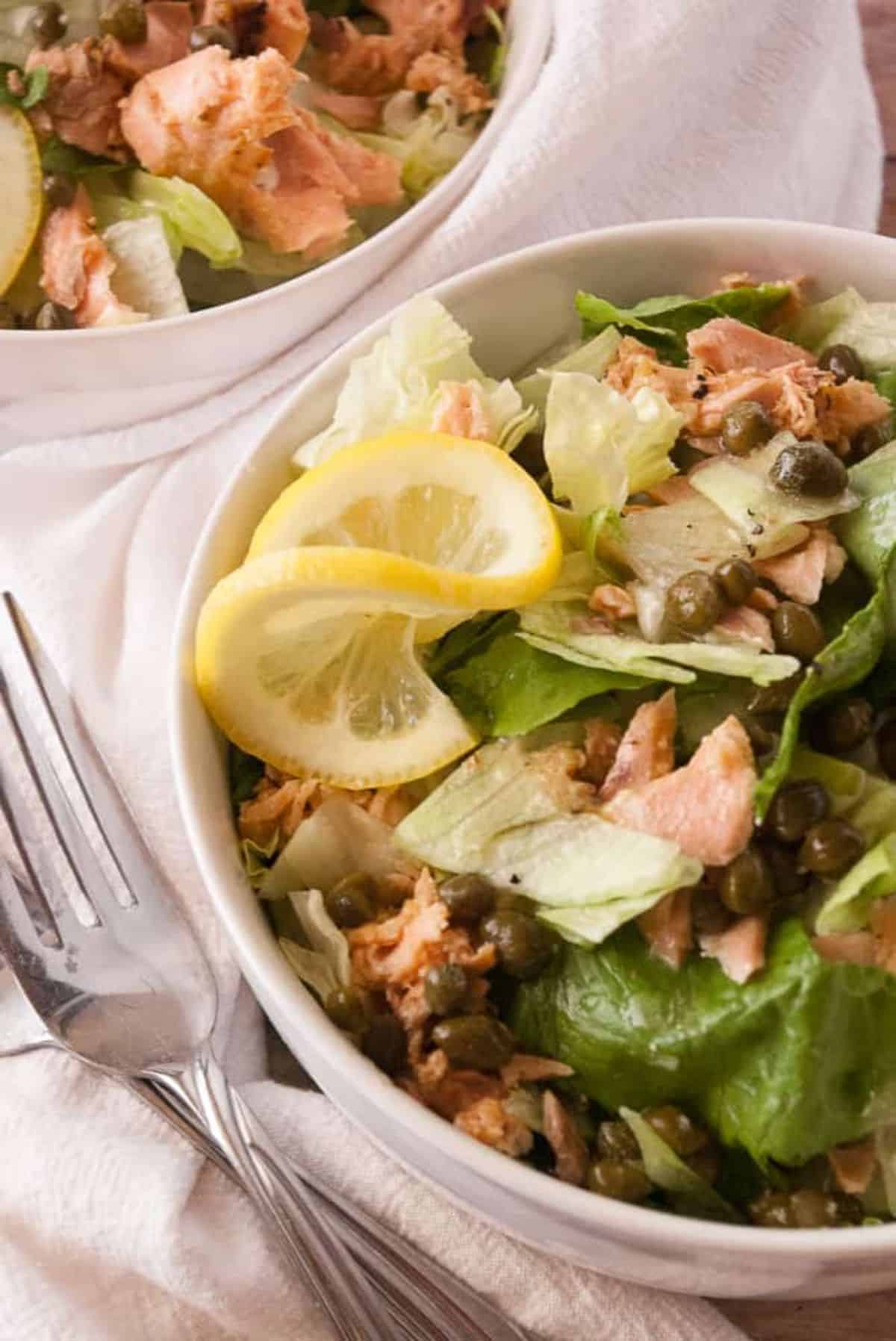 Salmon piccata salad has a bright lemon-caper dressing and tender greens, adding a lively, tangy contrast to the sweetness of the scallops.
2-3 (4oz) fully cooked salmon fillets
2 cups chopped romaine lettuce
2 cups chopped iceberg lettuce
1 bottle Brianna's Real French Vinaigrette Dressing
Piccata Sauce:
1 tablespoon butter
2 cloves garlic, minced
⅓ cup white cooking wine
1 cup chicken broth
¼ cup fresh lemon juice
1 teaspoon cornstarch
¼ cup capers, rinsed and drained
4. Instant Pot Spicy Mac and Cheese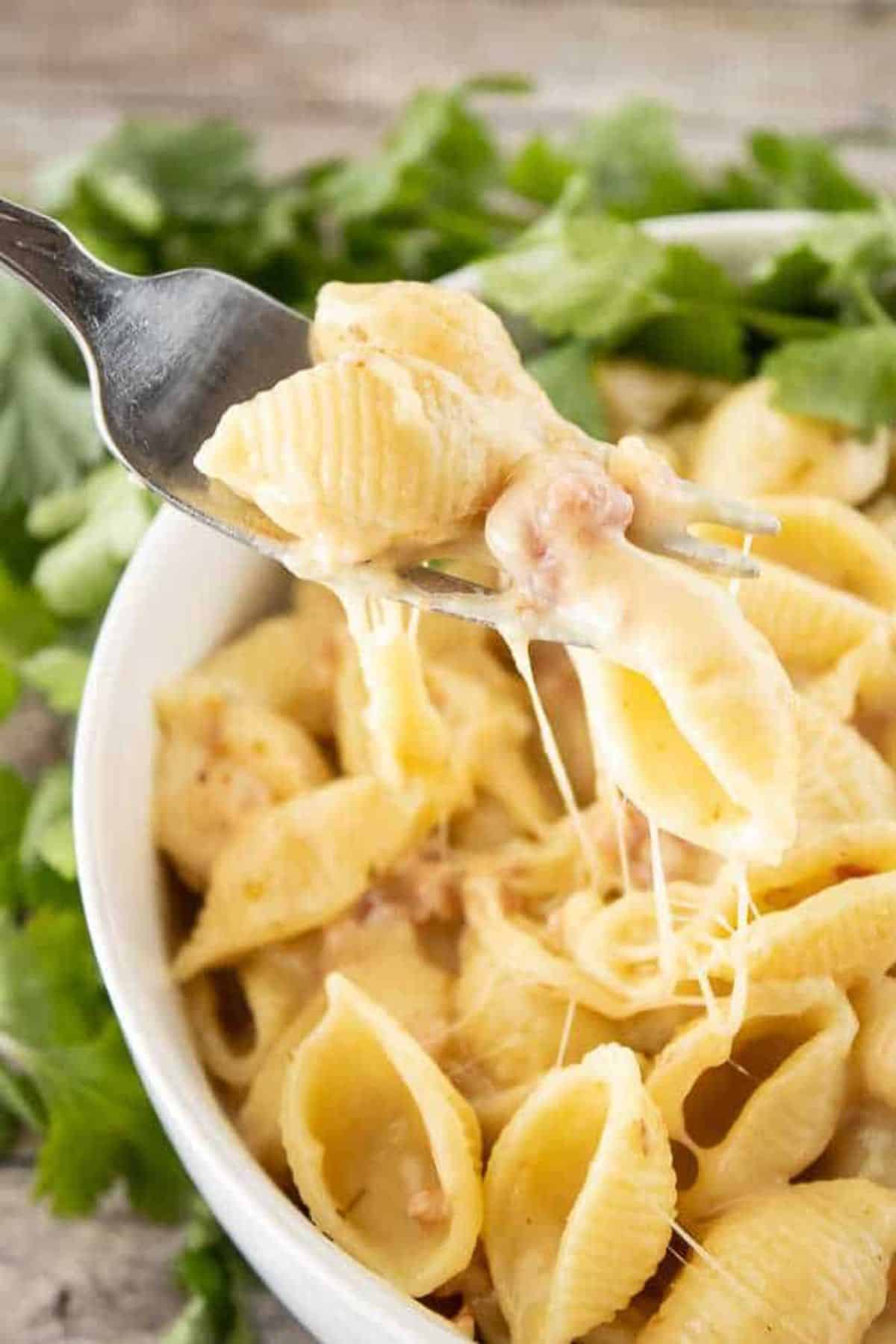 Turn up the heat and add a punch of flavor to your scallop dish with this creamy, spicy mac and cheese.
16 oz box of small or medium shells
4 cups chicken broth
½ tablespoon garlic powder
½ tablespoon oregano
½-1 teaspoon red pepper flakes
1 2.5 oz bag of bacon pieces
3 cups of shredded queso quesadillas cheese
½-1 cup milk
5. Three Cheese Manicotti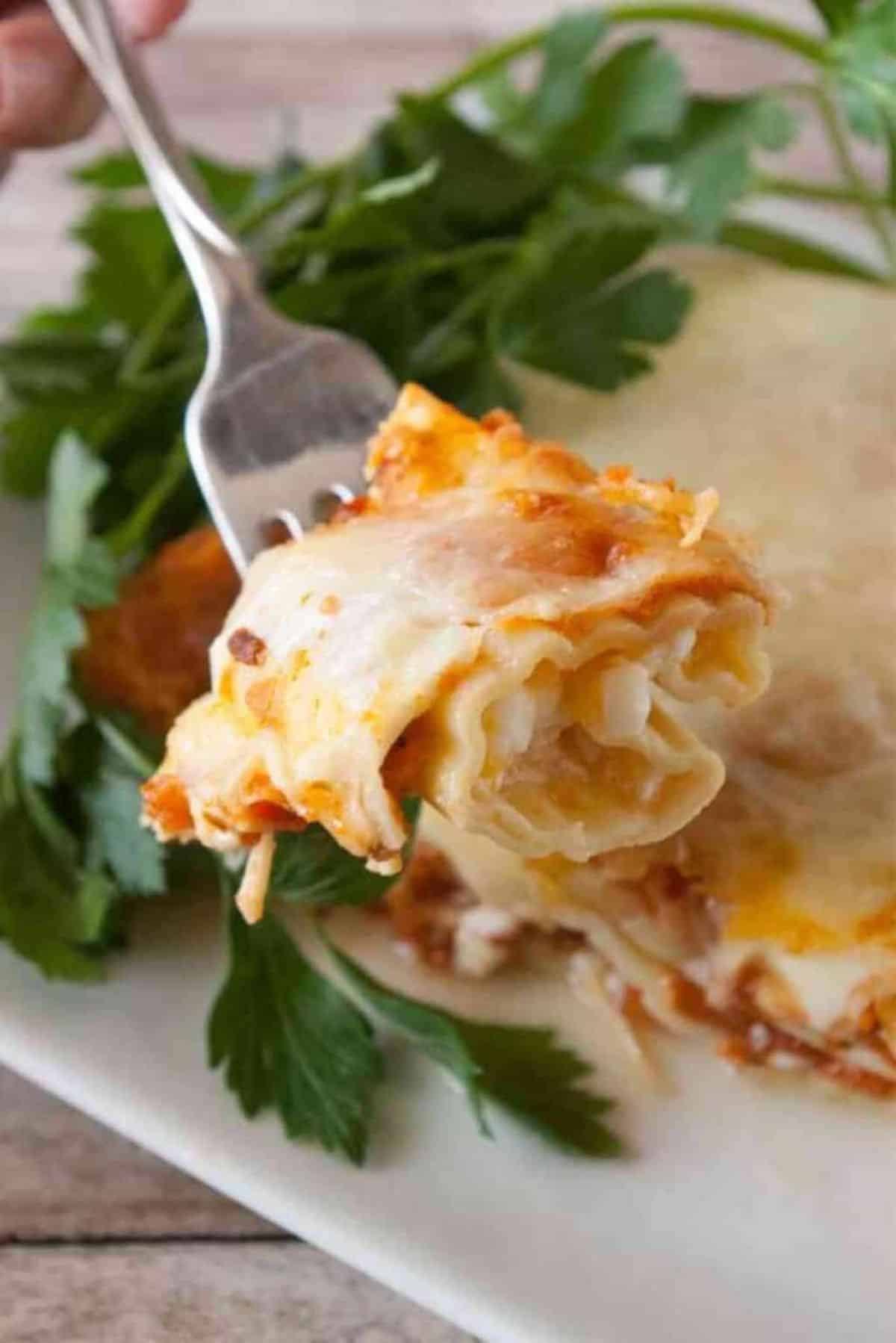 Three cheese manicotti is a lusciously cheesy Italian classic, offering a rich contrast to the delicate, sweet scallops.
14 uncooked manicotti shells
1 16 oz container small curd cottage cheese
1 egg
½ cup shredded parmesan cheese
2 cups shredded Colby Jack cheese
1 24 oz can spaghetti sauce
3 teaspoon Italian seasoning
1 teaspoon garlic powder
1 teaspoon onion powder
1 ½ cups shredded mozzarella cheese
6. Italian Orzo Bacon Mushroom Bake
This Italian orzo bake's crispy bacon and earthy mushrooms have depth and texture that perfectly complement the tender scallops.
1 cup uncooked orzo
½ lb bacon, sliced into small pieces
½ cup diced onions
1 cup diced mushrooms
1 6 oz. package of Canadian bacon, chopped into bite-sized pieces
1 tablespoon butter
1 ½ tablespoon flour
1 cup chicken broth
1 cup milk, slightly warmed
1 ½ teaspoon Italian seasoning
1 cup shredded Italian cheese blend
½ cup Italian seasoned panko bread crumbs
½ cup grated parmesan cheese
7. Teriyaki Rice Pilaf With Mushrooms and Peas
Explore the fusion of East and West as this flavorful teriyaki rice pilaf, studded with mushrooms and peas, lends an exotic flair to your scallop dish, enhancing it with a touch of umami.
16 oz sliced baby portabella mushrooms
3 tablespoon olive oil
6 green onions thinly sliced
2 cloves garlic minced
¼ teaspoon ground ginger
¼ teaspoon crushed red pepper flakes
¼ teaspoon garlic salt
¼ teaspoon black pepper
4 cups cooked long-grain white rice
⅓ cup teriyaki sauce
1 teaspoon sesame oil
½ cup frozen petite peas
8. Garlic Herb Muffin Pan Potato Galettes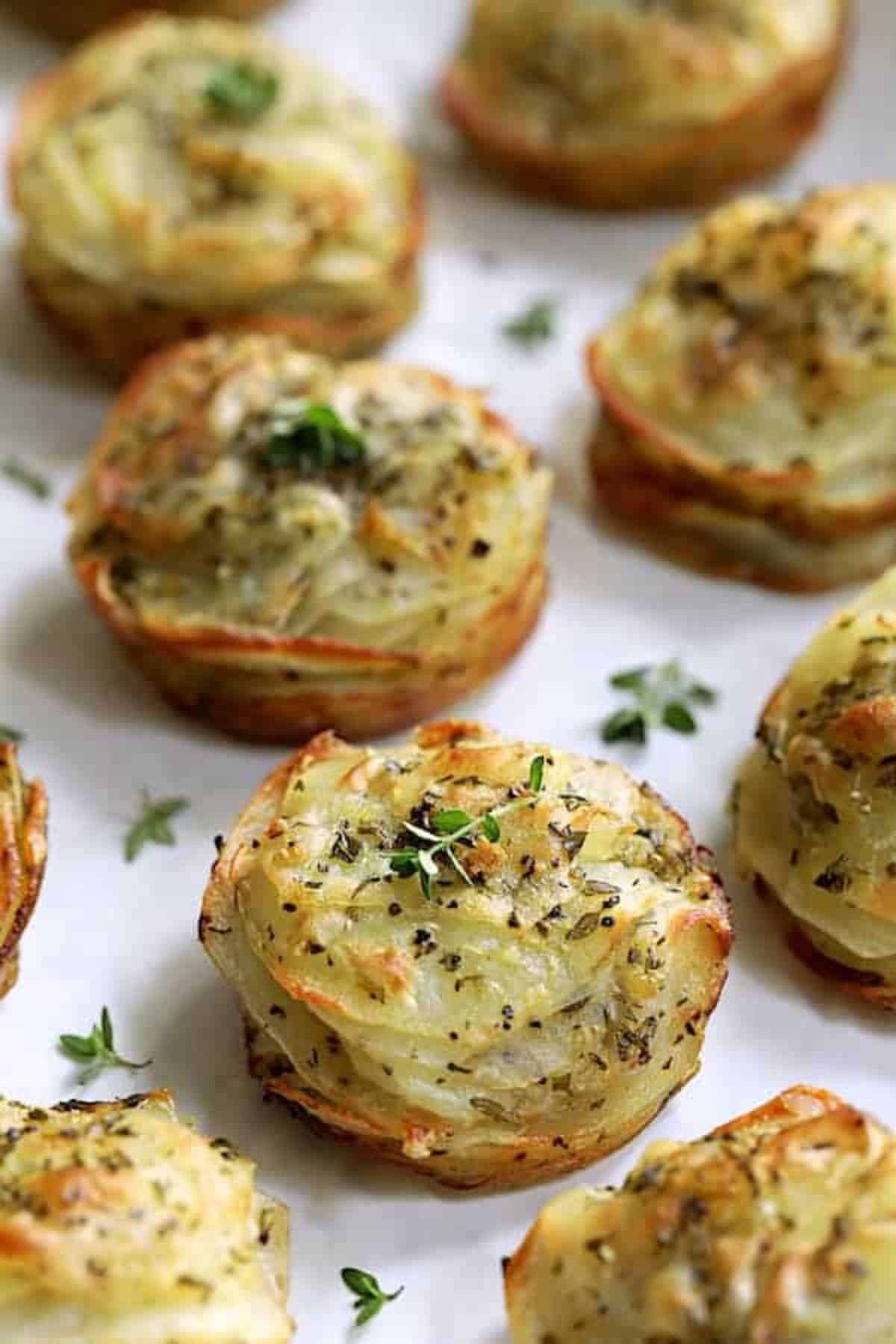 Thanks to their enticing aroma and satisfying crunch, your family will love the crisp, golden perfection of these garlic herb potato galettes.
Cooking spray
4 large Russet potatoes
3 tablespoon melted, unsalted butter
2 tablespoon olive oil
4 cloves garlic - minced
1 tablespoon chopped fresh thyme
1 tablespoon chopped fresh rosemary
1 teaspoon fine sea salt
Freshly ground black pepper - to taste
Thyme and rosemary sprigs - for garnish
9. Baked Artichoke Hearts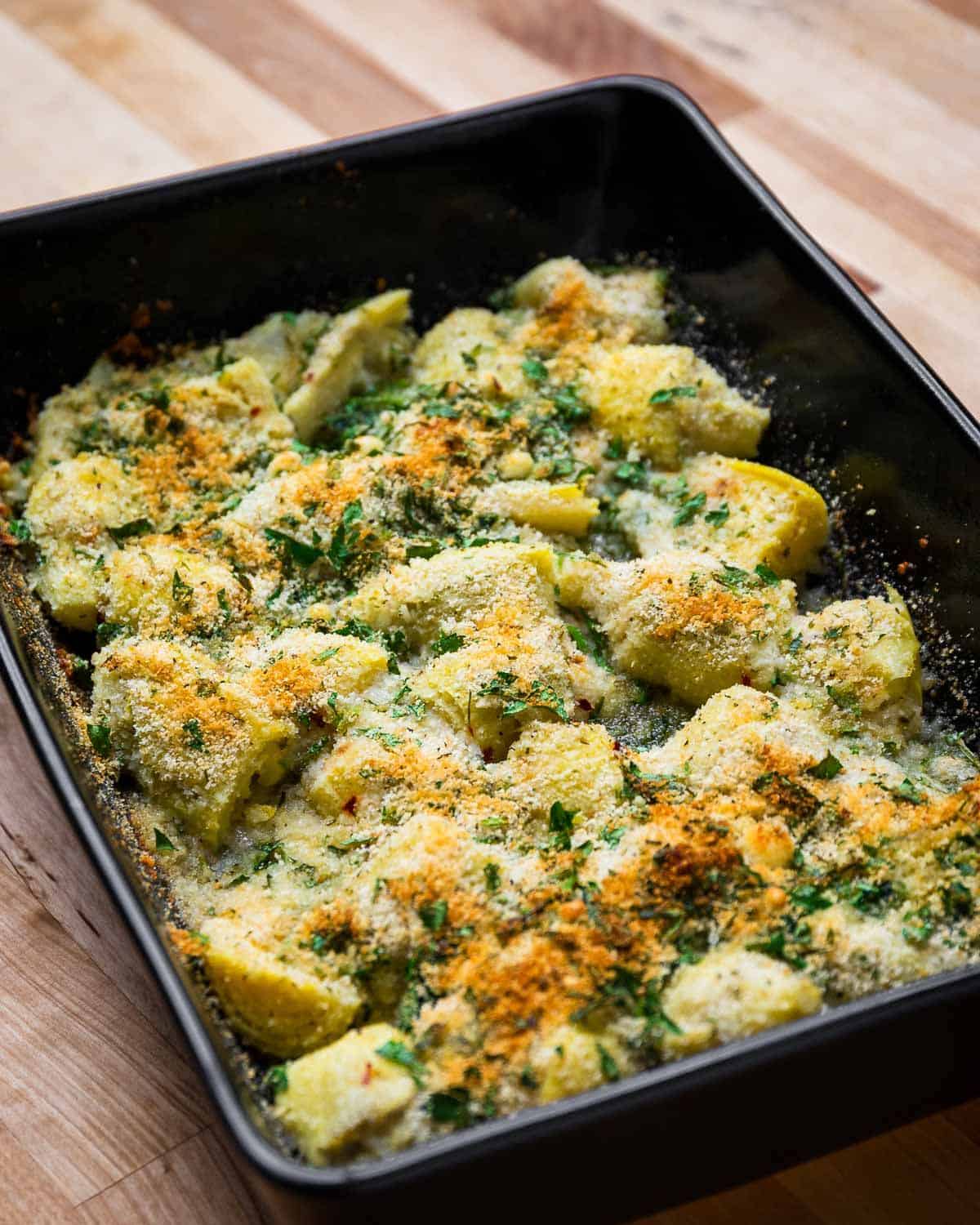 With these tempting baked artichoke hearts, your tastebuds are in for a Mediterranean adventure. Our favorite little touch is the seasoned breadcrumb topping.
¼ cup olive oil
3 14-ounce cans of artichoke hearts, rinsed and drained
3 cloves minced garlic
¼ teaspoon crushed red pepper flakes
For seasoned breadcrumbs:
½ cup plain breadcrumbs
½ cup Parmigiano Reggiano, grated
¼ cup parsley, minced
1 tablespoon fresh lemon juice
½ teaspoon kosher salt
¼ cup dry white wine
10. Cheesy Asparagus with Tomatoes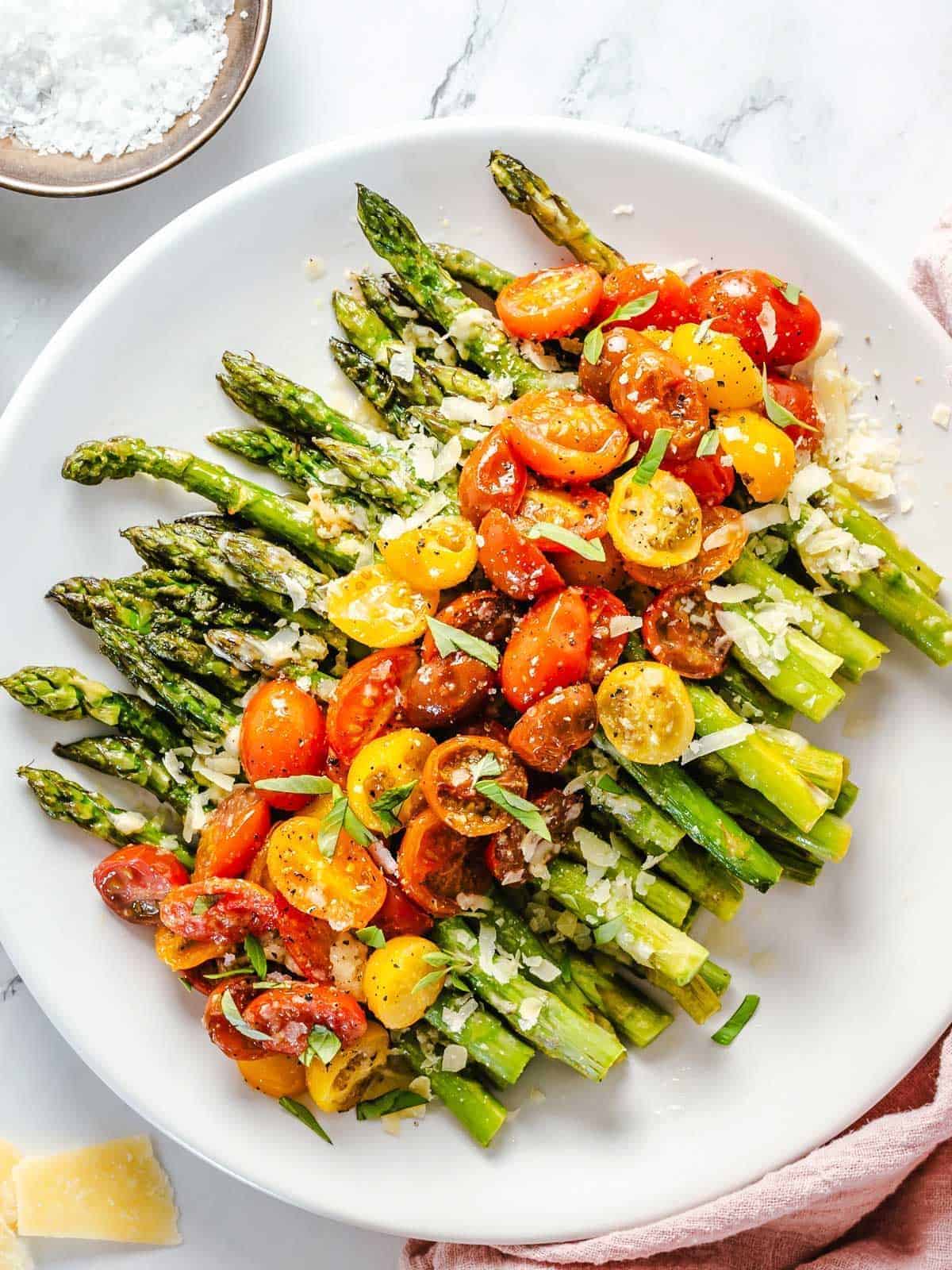 Savor the vibrant, fresh flavors of this cheesy asparagus and tomato medley. Its colorful presentation and delightful taste add a bright, delectable dimension to your scallop feast.
1 lb asparagus
½ cup parmesan
1 teaspoon onion powder
1 teaspoon garlic powder
1 ½ cup cherry or plum tomatoes, cut in half
2 tablespoon olive oil
Salt and pepper to taste
1-2 tablespoon basil leaves
Lemon slices/wedges for garnish
11. Cheesy Cauliflower Bake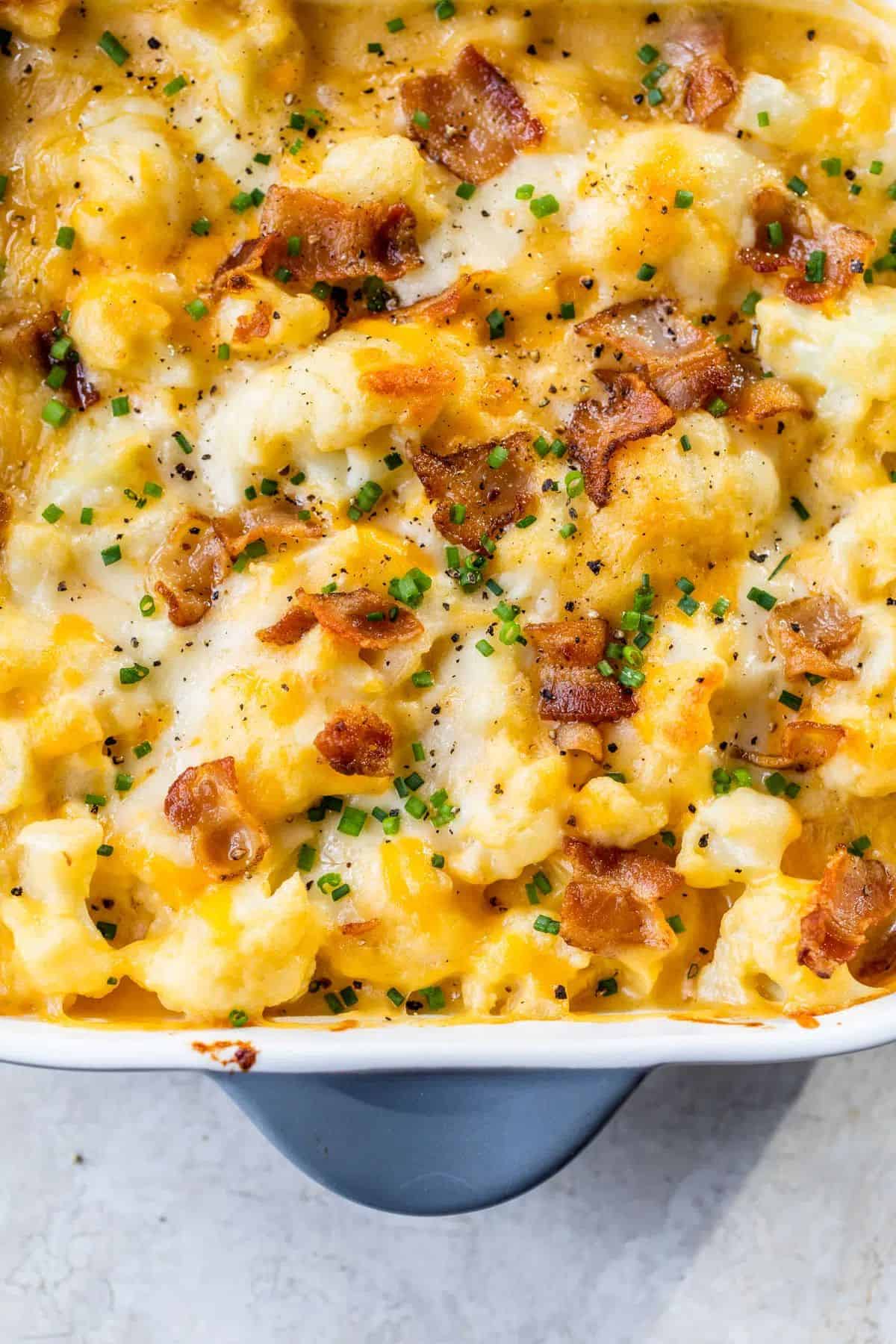 Cheesy cauliflower bake is creamy, decadent goodness that contrasts nicely with crisp, pan-seared scallops.
1 head cauliflower chopped into florets
2 slices bacon, chopped
1 tablespoon olive oil
¼ cup yellow onion, diced
3 garlic cloves, minced
1 cup almond milk
2 tablespoon all-purpose flour
1 cup shredded cheddar cheese
1 cup shredded parmesan cheese
½ teaspoon salt
2 tablespoon chives, chopped
12. Roasted Broccoli and Carrots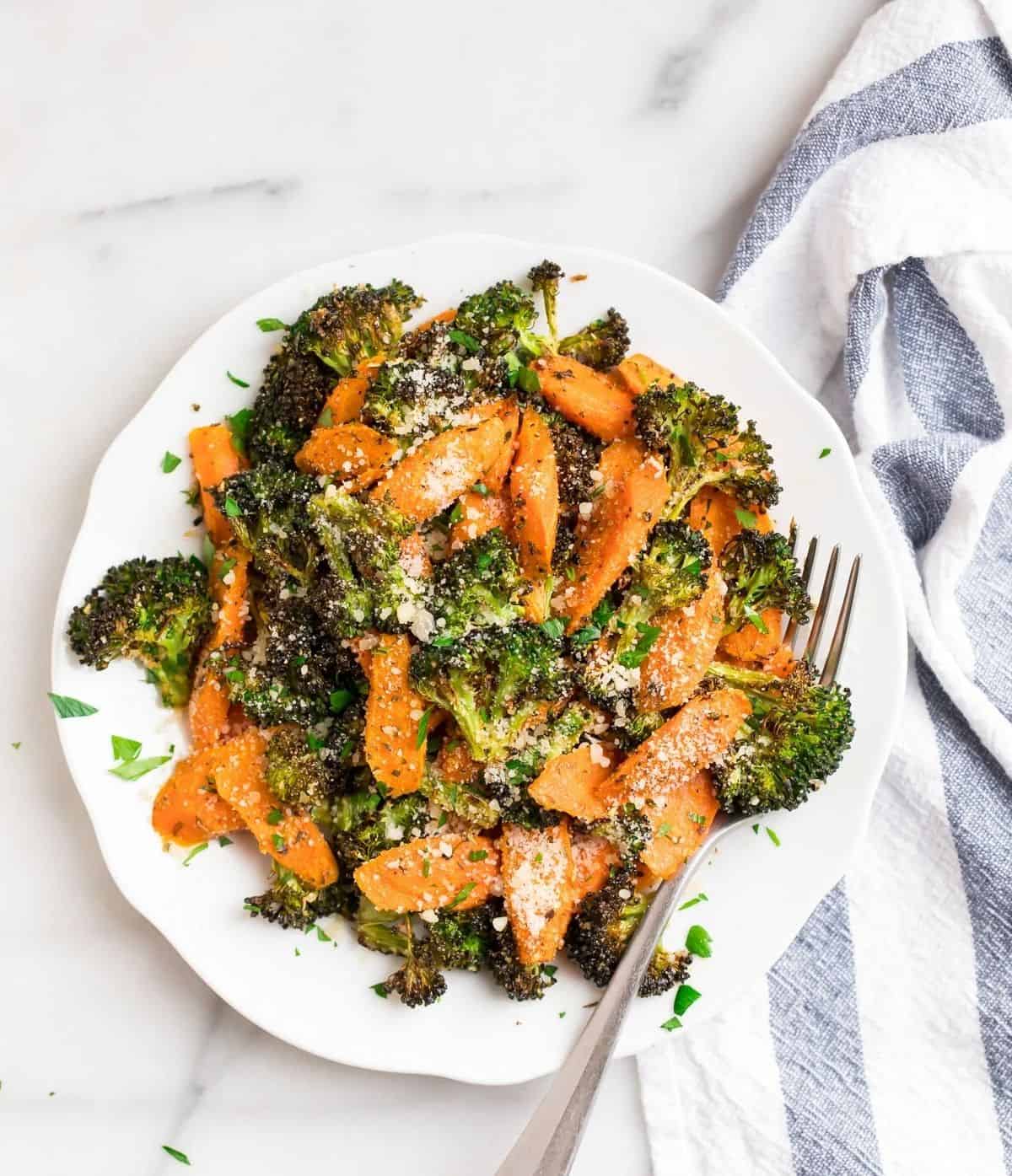 Delight in the roasted broccoli and carrots' caramelized flavors, their natural sweetness creates a harmonious balance alongside the succulent scallops.
6 medium carrots peeled
1 large head of broccoli cut into floret
1 ½ teaspoon Italian seasoning
½ teaspoon kosher salt
½ teaspoon garlic powder
½ teaspoon onion powder
¼ teaspoon black pepper
2 tablespoon extra-virgin olive oil
3 tablespoon finely grated parmesan cheese
13. Brown Butter and Thyme Potato Torte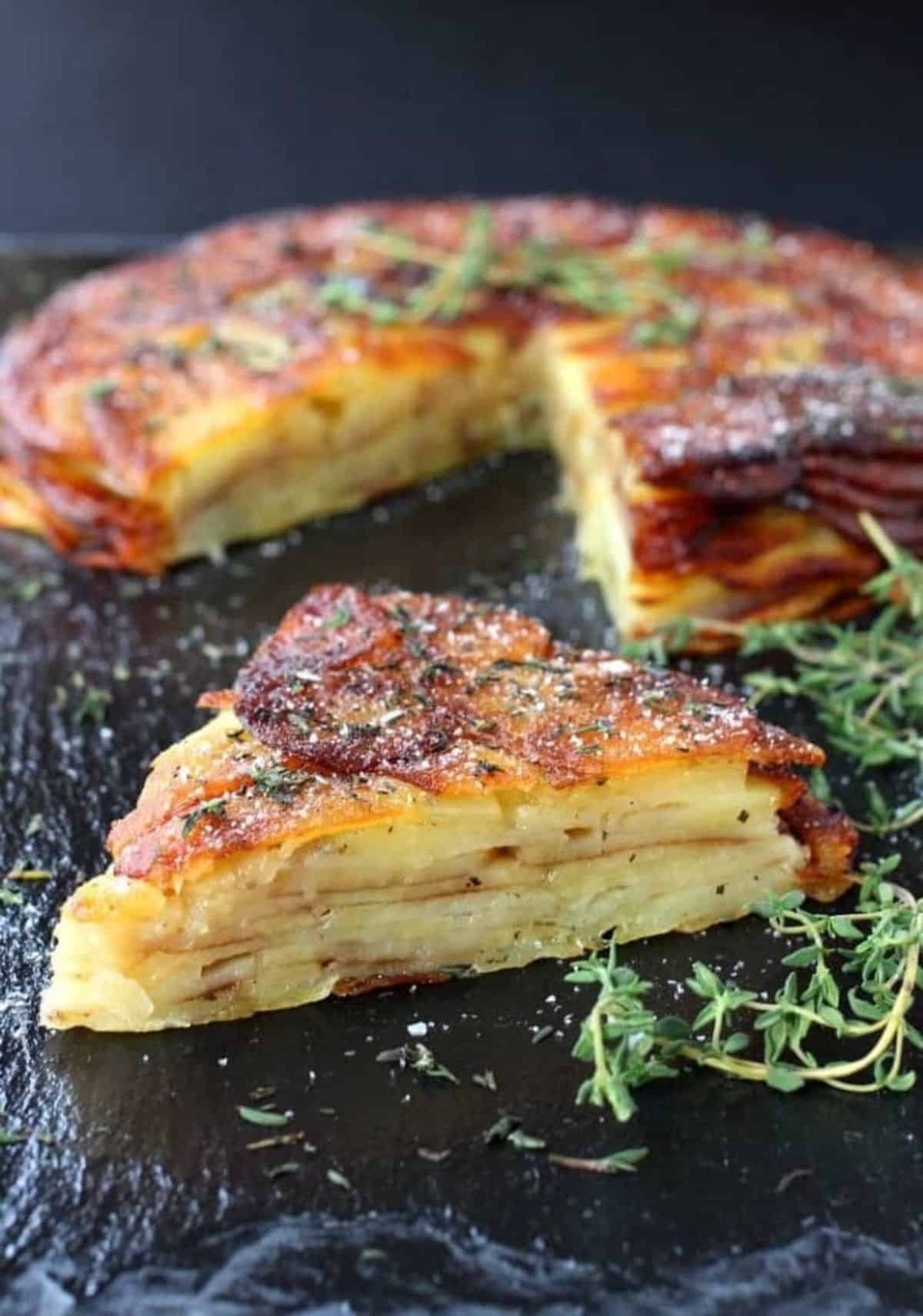 Are you looking for something a bit more sophisticated? With its delicate herb-infused flavor notes, the layers of this brown butter and thyme potato torte accentuate the scallops' exquisite flavors.
4 lbs. Yukon Gold potatoes
6 tablespoon butter, divided
3 tablespoon fresh thyme, chopped
¼ cup balsamic glaze
1 ½ tablespoon salt
1 ½ teaspoon fresh ground black pepper
14. Baked Tomatoes with Mozzarella & Parmesan
This irresistible combination of tangy tomatoes, creamy mozzarella, and nutty Parmesan is an easy last-minute dish that goes well with scallops.
4 Roma tomatoes sliced
1 cup shredded mozzarella cheese
1 cup shredded parmesan cheese
½ cup fresh basil chopped
olive oil
15. Duchess Potatoes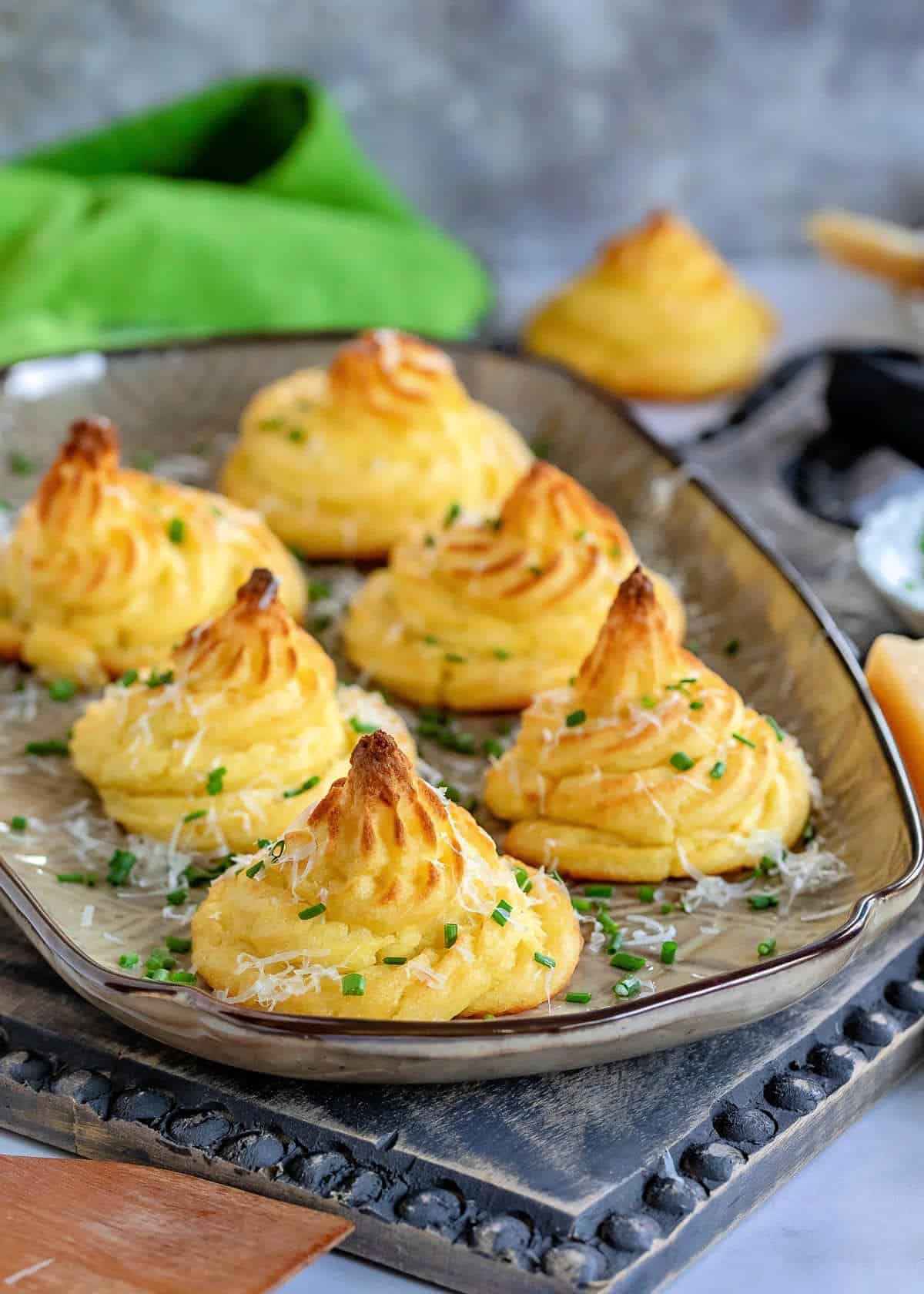 Duchess potatoes are elegant, pillowy swirls of mashed potatoes with a smooth, whipped interior and golden, crispy exterior.
2½ pounds Yukon Gold potatoes
1 tablespoon salt sea salt or kosher salt
6 cloves garlic, optional
6 tablespoon unsalted butter divided
¼ cup heavy cream
pinch ground nutmeg
½ teaspoon salt sea salt
½ teaspoon white pepper or black pepper
3 large egg yolks
Chopped herbs chives, parsley, thyme, rosemary
Parmesan cheese freshly grated
16. Easy Sauteed Mushrooms With Garlic Butter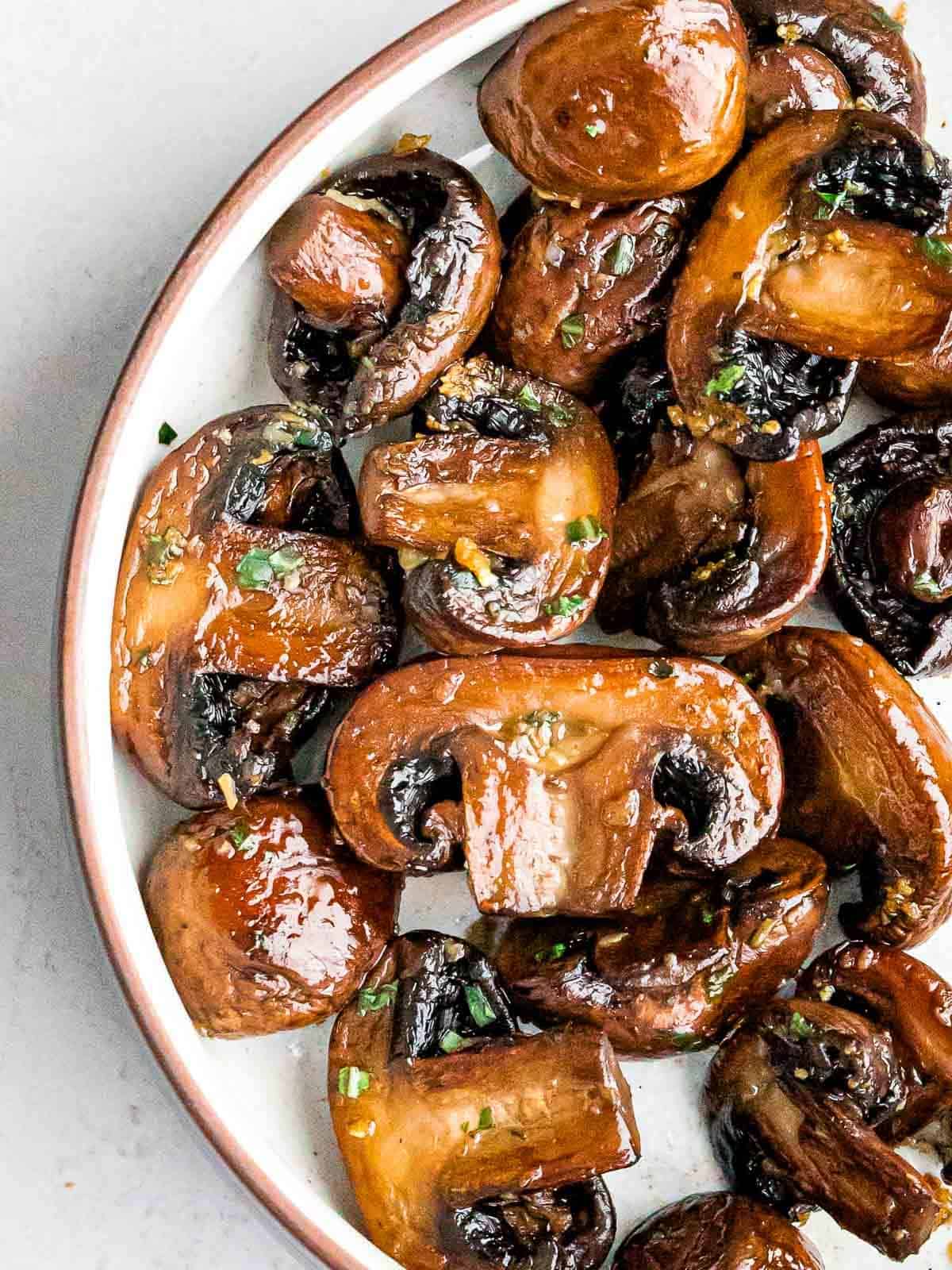 Immerse yourself in the rich, earthy aroma of these garlic butter-sauteed mushrooms, their savory, umami-laden flavor profile providing a superb counterpart to scallops.
2 lb mushrooms
2 tablespoon butter
1 tablespoon avocado oil
3 cloves garlic, minced
Chopped parsley or other herbs for garnish
Salt and pepper, to taste
17. Oven Roasted Cabbage Steaks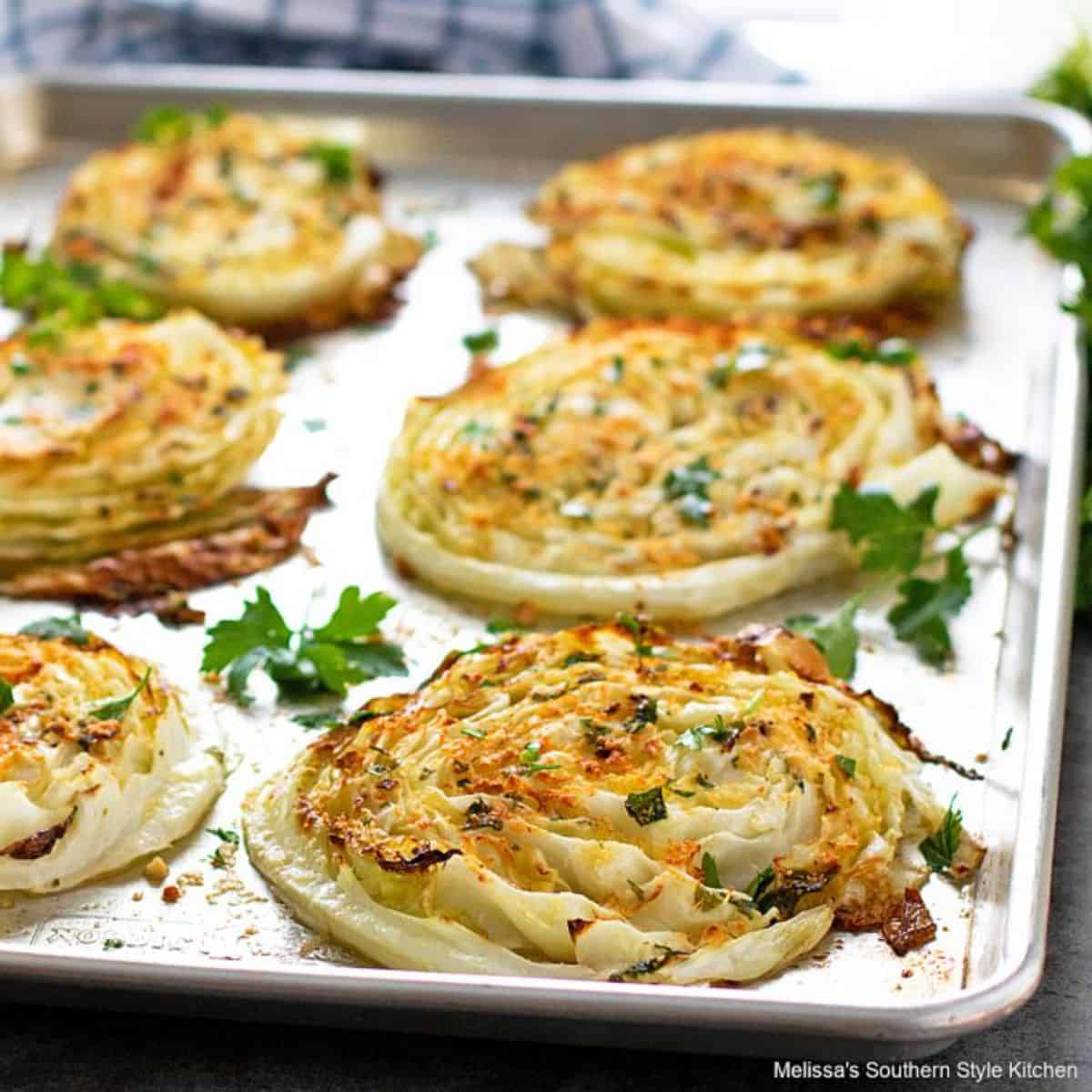 Oven-roasted cabbage steaks have an undeniable rustic charm, with charred edges and savory flavors that transform the humble vegetable into a fitting partner for the sophisticated scallop.
1 medium head green cabbage
¼-⅓ cup olive oil
1 teaspoon salt
¼ teaspoon black pepper
¼-½ teaspoon crushed red pepper flakes optional
1 tablespoon chopped fresh Italian parsley
4-6 cloves minced garlic
2-4 tablespoon grated Parmesan cheese
18. Roasted Carrots with Candied Pecans and Goat Cheese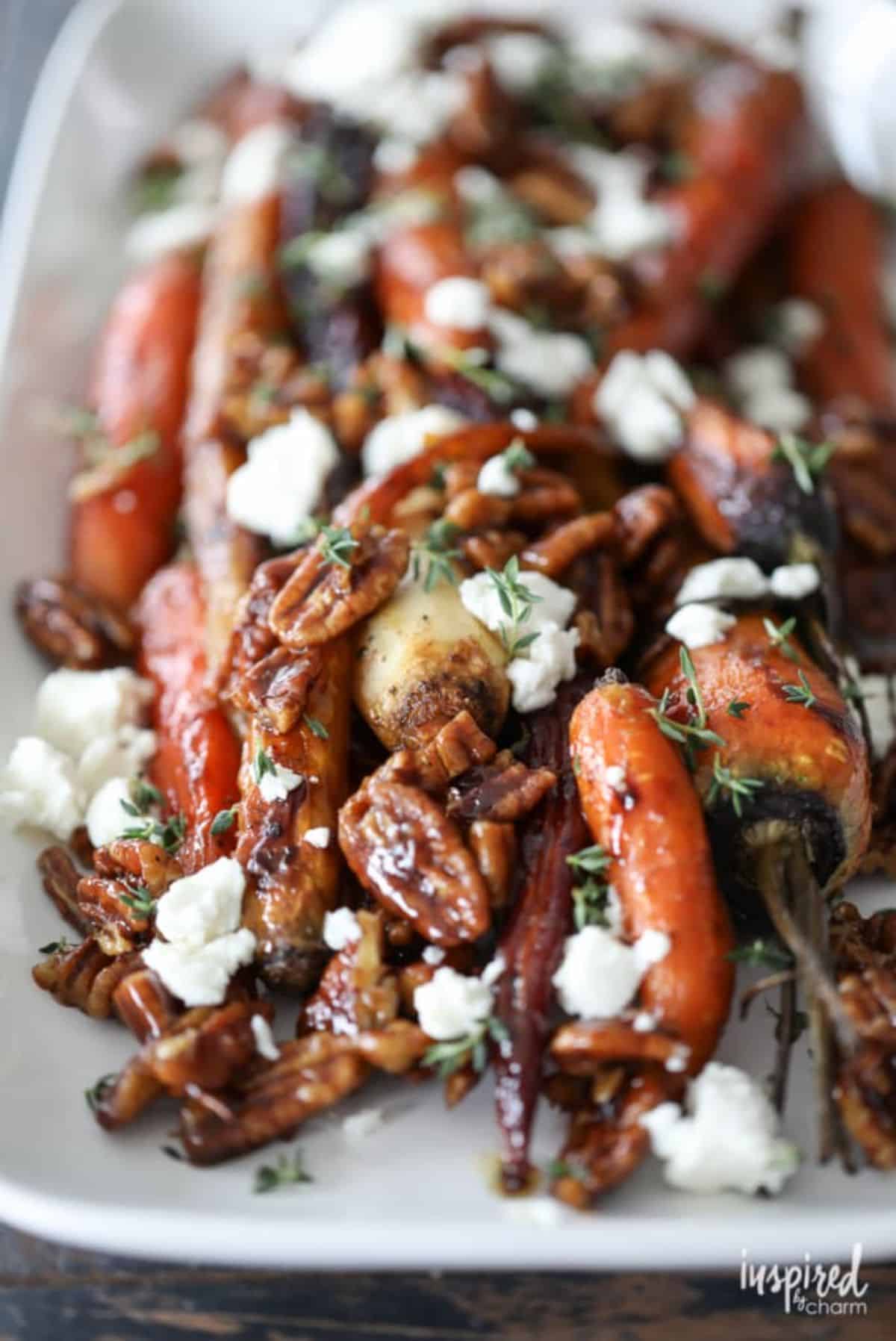 Go full-on fancy with roasted, caramelized carrots featuring crunchy pecans and creamy goat cheese.
2 pounds carrots peeled
½ cup brown sugar
4 tablespoon unsalted butter cut into pats
1 teaspoon salt
½ teaspoon pepper
½ teaspoon cinnamon
4 ounces of goat cheese crumbled
1 tablespoon fresh thyme leaves to garnish
Candied Pecans:
2 tablespoon butter
3 tablespoon maple syrup
1 tablespoon brown sugar
1 cup roughly chopped pecan halves
¼ teaspoon flaked sea salt
19. Mediterranean Chickpea Salad
Bask in the sun-kissed flavors of this Mediterranean chickpea salad with its zesty, herb-infused dressing and wholesome, hearty ingredients.
2 cans garbanzo beans rinsed
1 large cucumber diced
1 cup cherry tomatoes halved
¼ cup diced red onion
¼ cup diced kalamata olives
2 garlic cloves grated
⅓ cup fresh chopped parsley
2 tablespoon fresh chopped dill
½ cup crumbled feta cheese
¼ cup extra-virgin olive oil
1 tablespoon red wine vinegar
1 tablespoon lemon juice
½ teaspoon coarse salt
¼ teaspoon cracked black pepper
20. Potatoes Au Gratin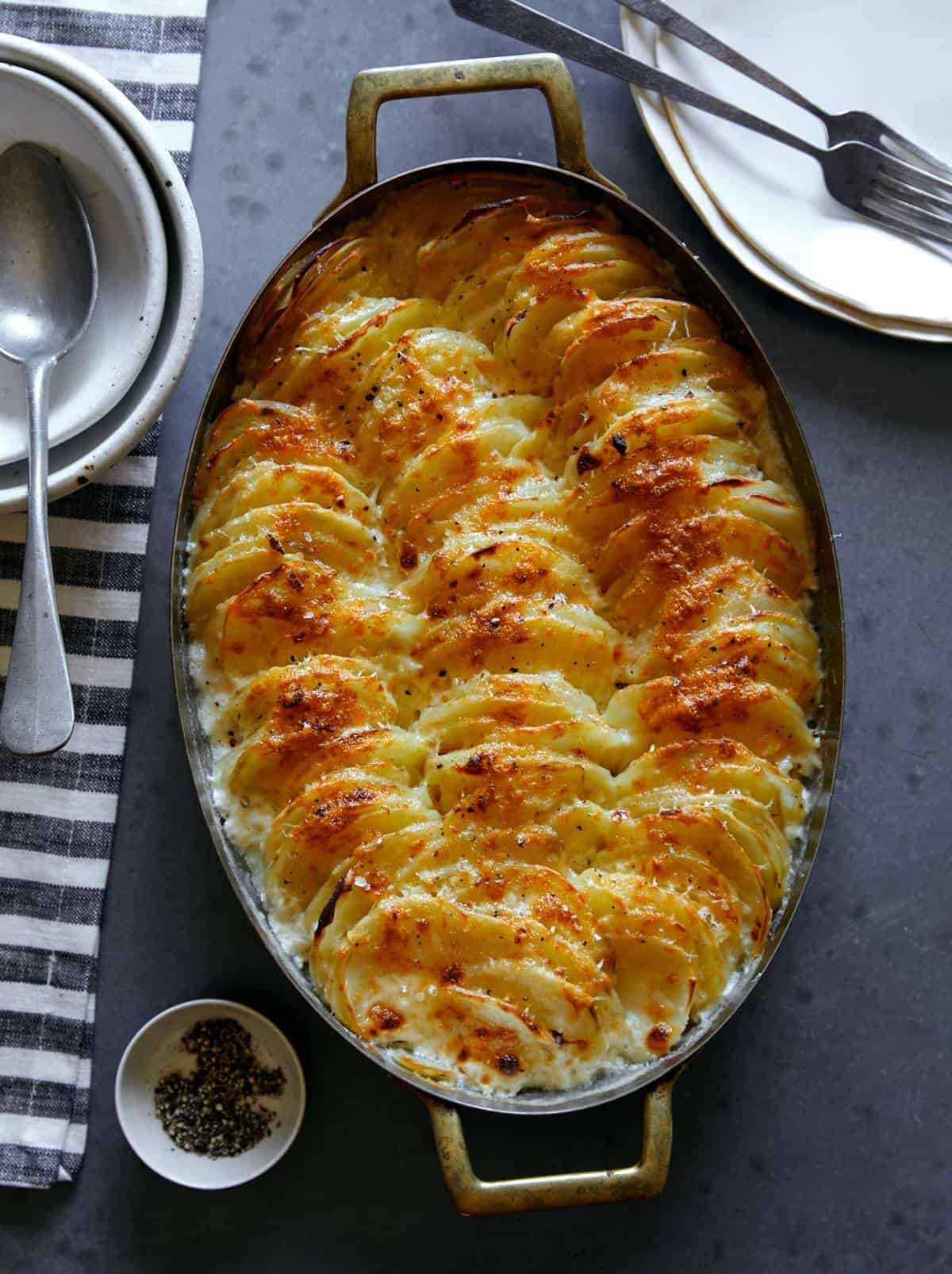 Potatoes au gratin are a classic pairing for scallops, with layers of sliced spuds soaked in an ooey-gooey cheese sauce.
4 tablespoon softened unsalted butter
3 pounds peeled russet potatoes
1 cup heavy cream
½ cup shredded white cheddar cheese
6 tablespoon grated Parmesan divided
3 garlic cloves minced
Salt and pepper to taste
21. Keto Deviled Egg Salad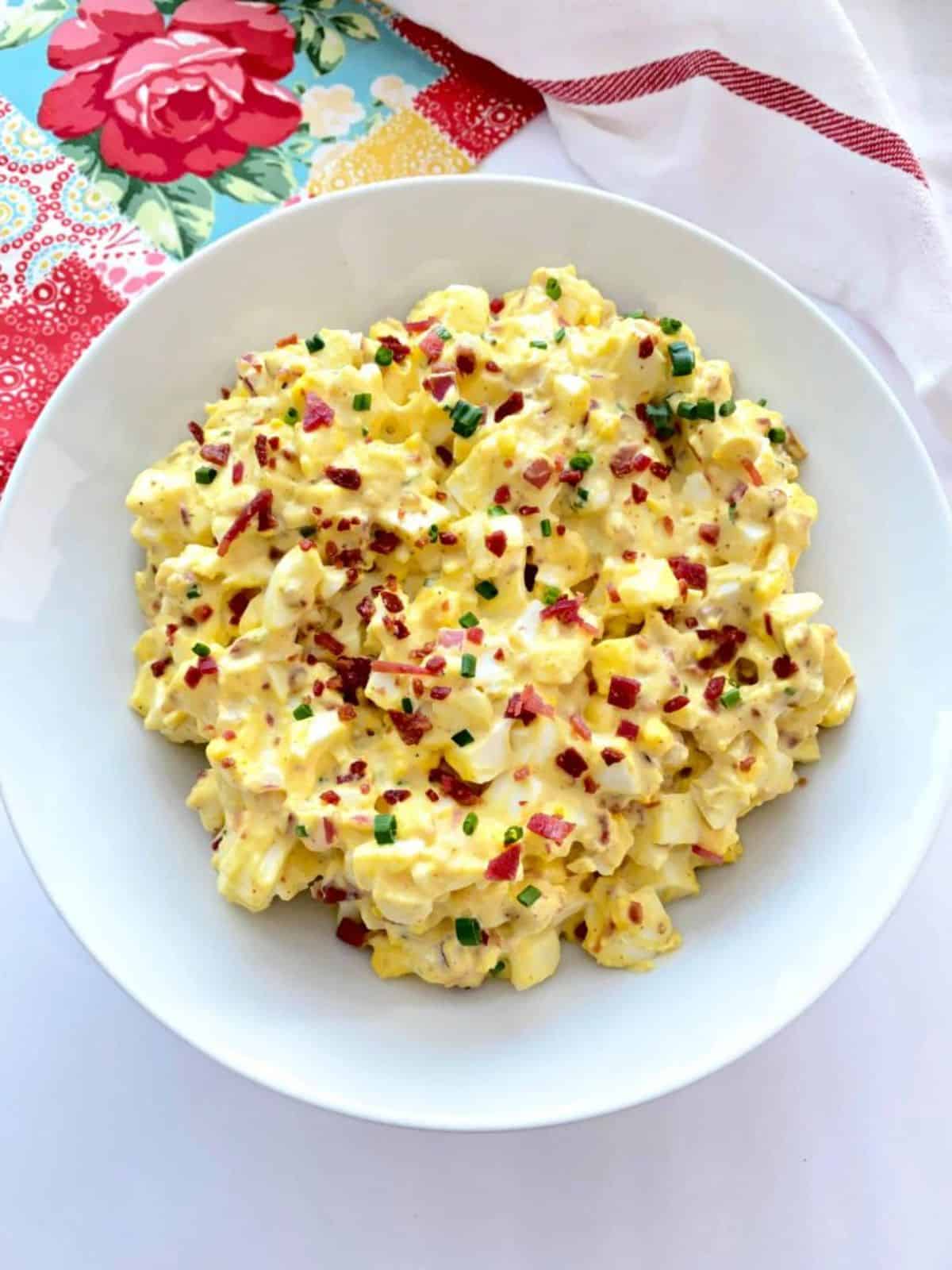 Deviled egg salad features a creamy, yolky dressing for a keto-friendly, low-carb side dish to complete your scallop meal.
12 hard-boiled eggs
6 slices of crumbled turkey bacon
¾ cup mayonnaise
¼ cup diced red onions
1 tablespoon Dijon mustard
2 tablespoon sliced chives
¼ teaspoon salt; add more if needed
¼ teaspoon ground pepper
¼ teaspoon paprika
22. Garlic Herb Roasted Potatoes, Carrots, and Zucchini
This rustic medley of garlic-herb-roasted potatoes, carrots, and zucchini has a delicious mix of earthy flavors and caramelized goodness.
1 ½ lb baby potatoes, halved
1 lb medium carrots, scrubbed clean, cut into 2-inch pieces
3 tablespoon olive oil, divided
1 tablespoon minced fresh thyme
1 tablespoon minced fresh rosemary
Salt and freshly ground black pepper
12 oz. zucchini, trimmed and cut into 1-inch pieces
4 cloves garlic, minced
23. Marinated Tomatoes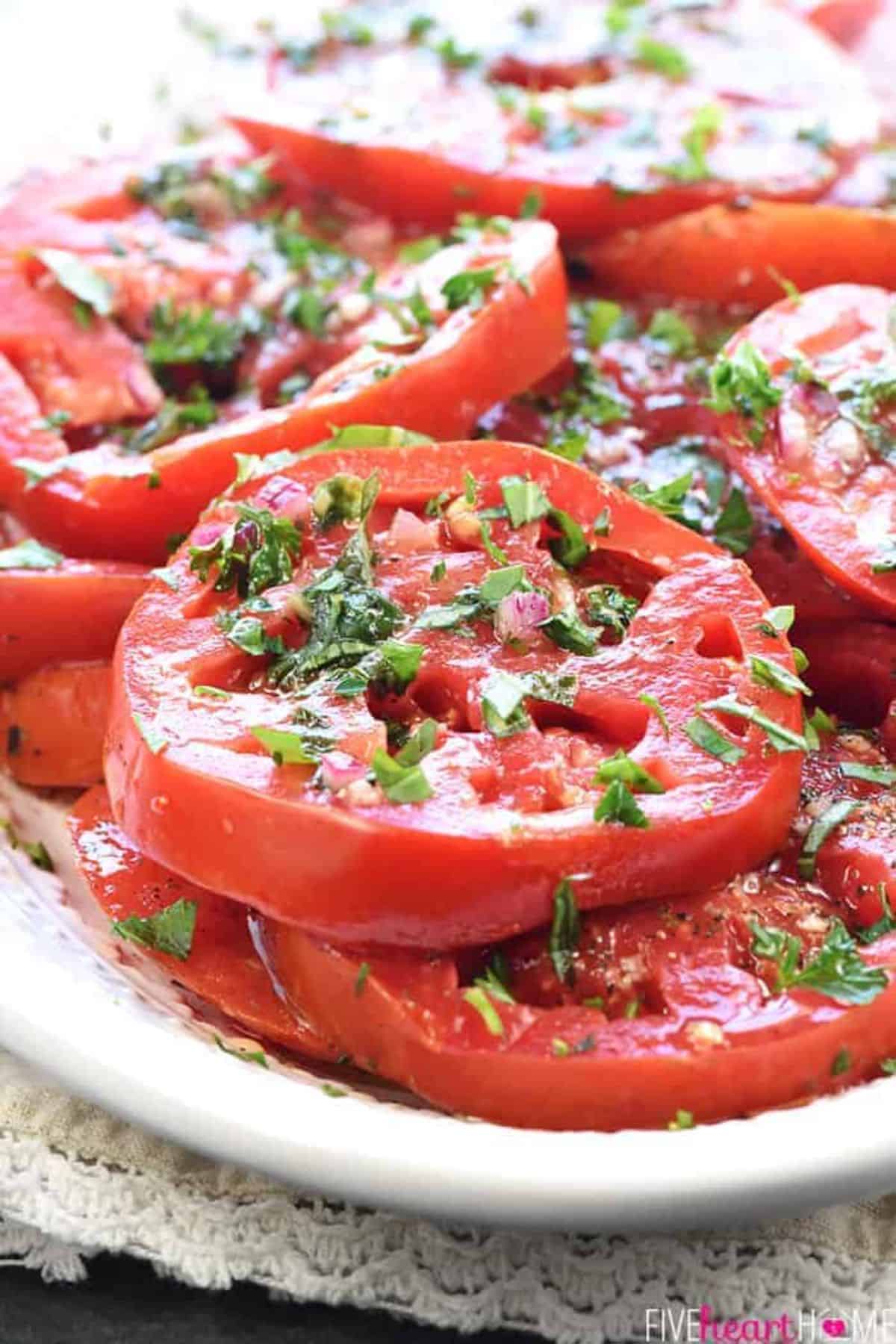 Celebrate a bountiful summertime harvest with tomatoes marinated in a homemade herbaceous vinegarette.
3 extra-large tomatoes
⅓ cup extra-virgin olive oil
¼ cup red wine vinegar
2 tablespoon finely chopped red onion
1 large clove of garlic, finely minced or crushed
1 tablespoon minced fresh parsley
1 tablespoon minced fresh basil
1 teaspoon salt
Freshly ground black pepper, to taste
24. German Cucumber Salad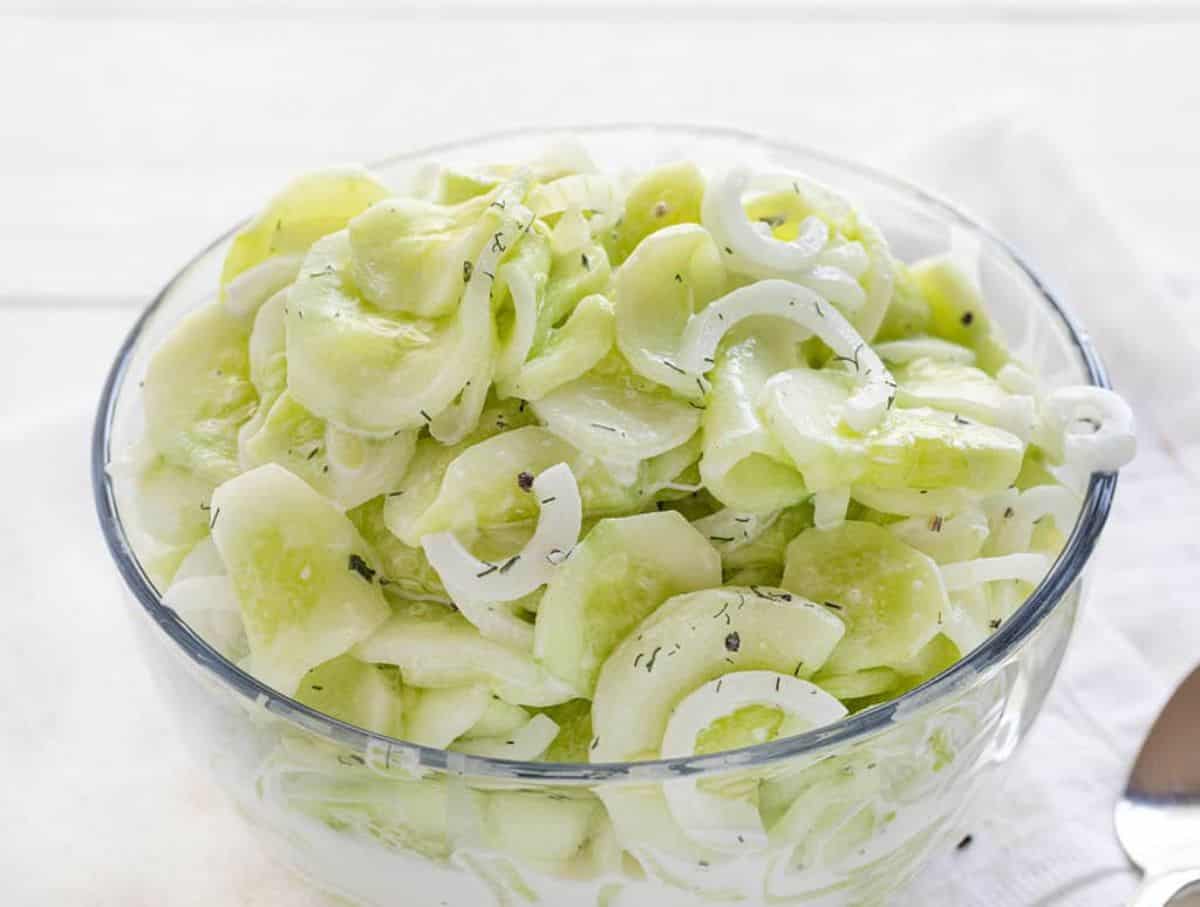 Complement your scallops with a refreshingly crisp German cucumber salad with a creamy dressing.
2-4 medium cucumbers
1 large white onion, thinly sliced
3 tablespoon salt
2 teaspoon vinegar
1 cup heavy whipping cream or sour cream
2 tablespoon fresh dill, chopped fine
25. Honey Roasted Sweet Potatoes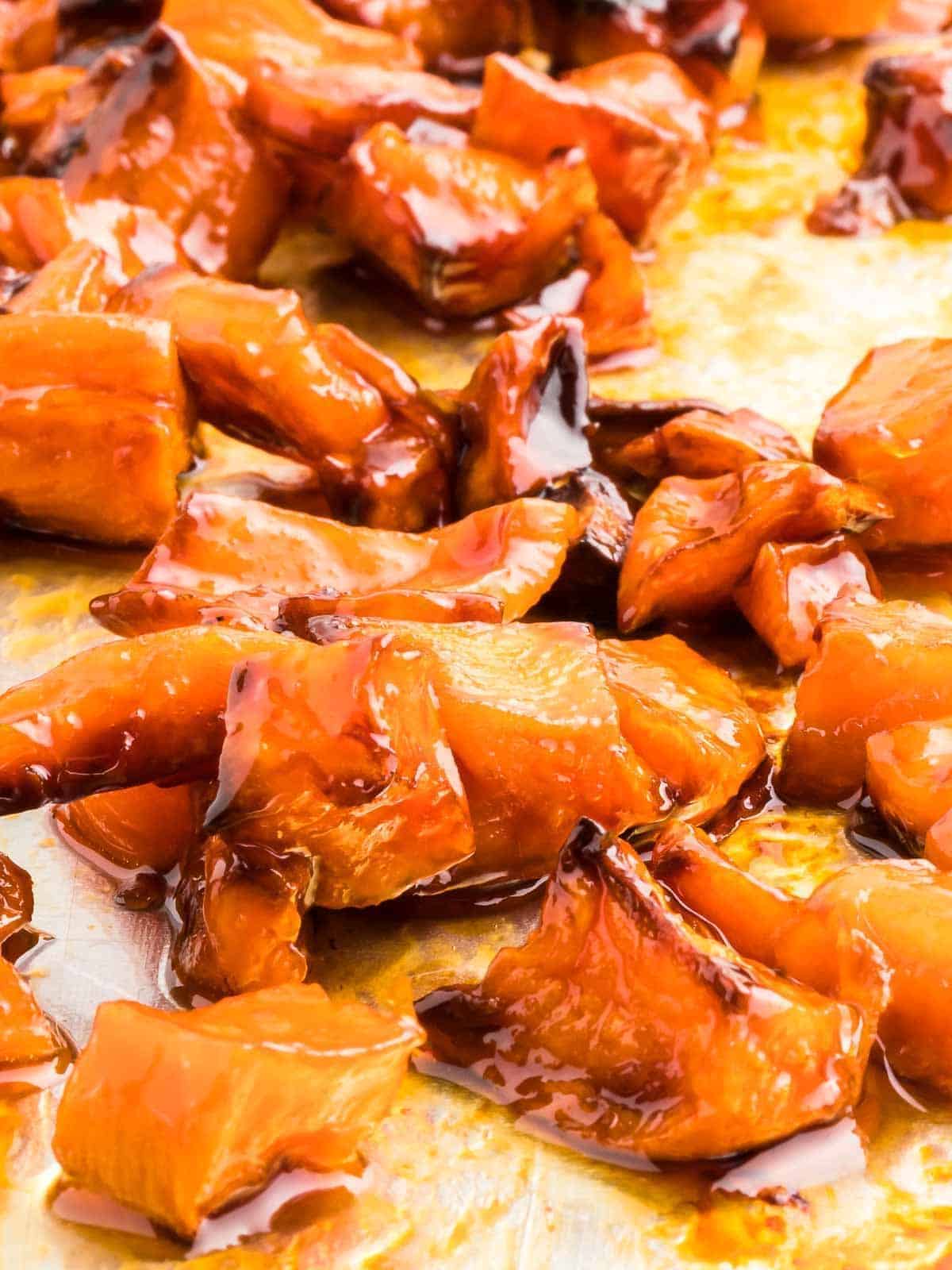 Honey-roasted sweet potatoes boast caramelized sweetness, enhanced by a delectable honey glaze, offering a savory, tender side dish to complement your seafood dinner.
2 pounds sweet potatoes peeled and chopped
1 tablespoon olive oil extra virgin
2 tablespoon butter melted
1 lemon juice + zest
¼ cup honey
26. Turmeric Lemon Rice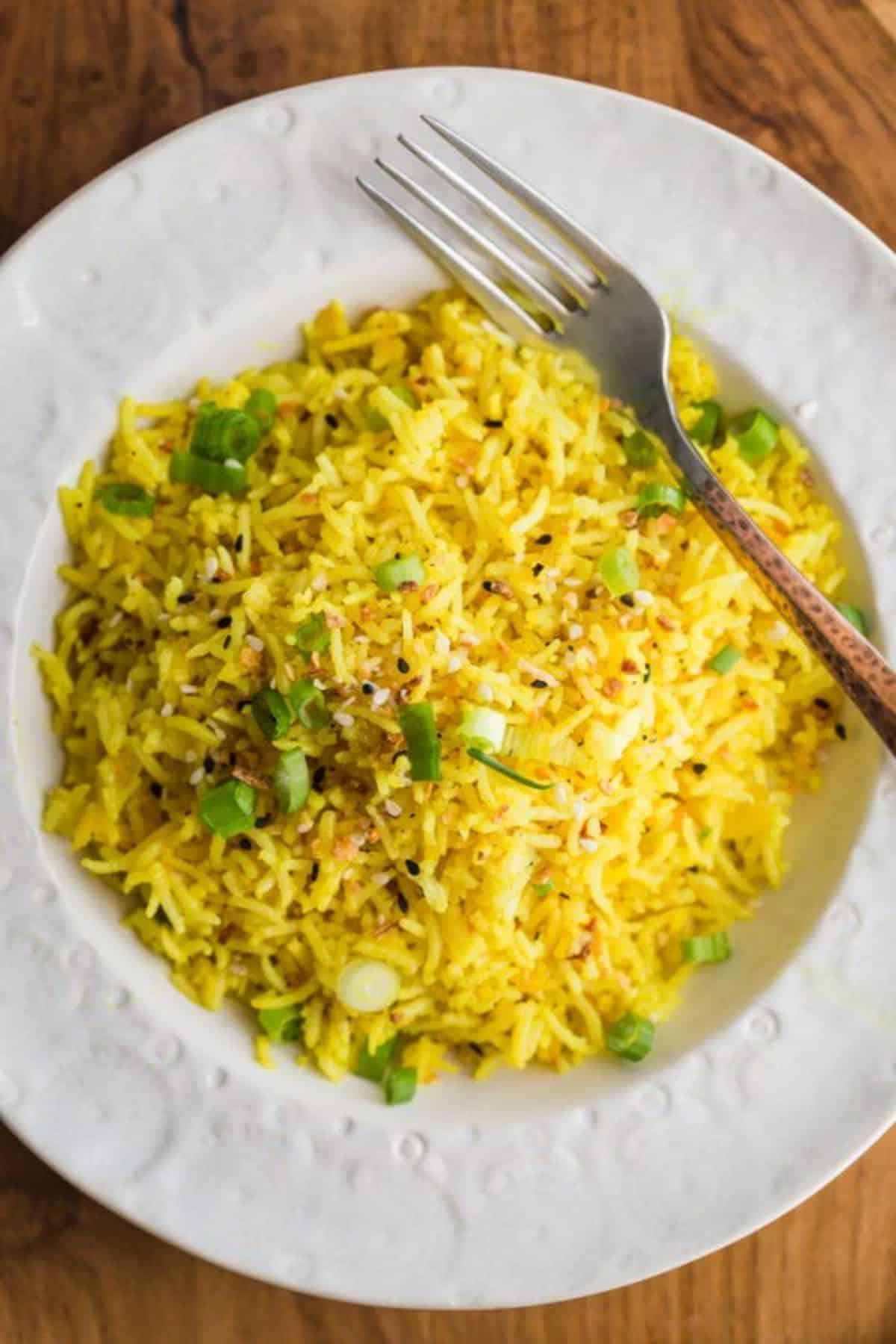 Turmeric lemon rice has exotic, vibrant flavors that make for delightfully aromatic partners for your scallops.
1 tablespoon of oil
2 cups of cooked basmati rice or other long-grain rice
1 cup of sweet onion, finely chopped
3 cloves of garlic, minced
Juice and zest of 1 lemon, about 1 tablespoon of zest, and 3 tablespoon of juice
1 ½ teaspoon of turmeric
Salt and pepper to taste
27. Garlic Roasted Mini Peppers
Add a colorful and healthy side to your scallop dish with these roasted mini peppers' tender, charred exterior and garlicky aroma.
2 16-ounce packages of sweet mini peppers
1-2 tablespoon olive oil or avocado oil
3 cloves minced garlic
Kosher salt and pepper to taste
Optional: fresh chopped basil and thyme for garnishing
Final Thoughts
As we conclude our exploration of dishes that go well with scallops, remember that the culinary possibilities are endless.
Be bold and experiment with these mouthwatering pairings to elevate your scallop experience.