If gingerbread houses are one of your holiday traditions, you need my no-fail royal icing recipe! I'll give you easy steps and the secret to success!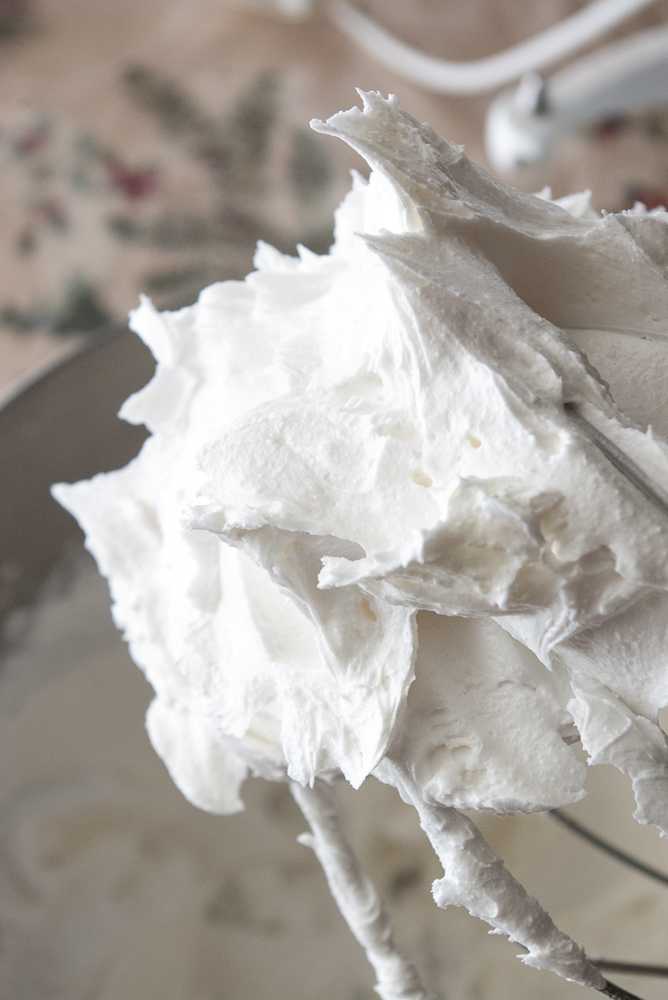 We make Gingerbread Houses every year. We use real gingerbread and this no-fail royal icing. I think that royal icing has gotten a bad reputation for being difficult and temperamental. It is actually really easy, and as long as you remember the few tips and hints that I'll share with you, you will have success every time.
Jump to:
How to make Royal Icing:
Measure out the powdered sugar, meringue powder, and water into your mixing bowl and beat until it comes together in a shiny ooze, as shown above. Now, if you have a

stand mixer

(affiliate link), I recommend using it for this icing. You can use hand beaters; just don't do more than a single batch at a time with time and give them a rest between batches. Royal icing can be tough on hand-beater motors. If you are using a stand mixer, you can double your batch.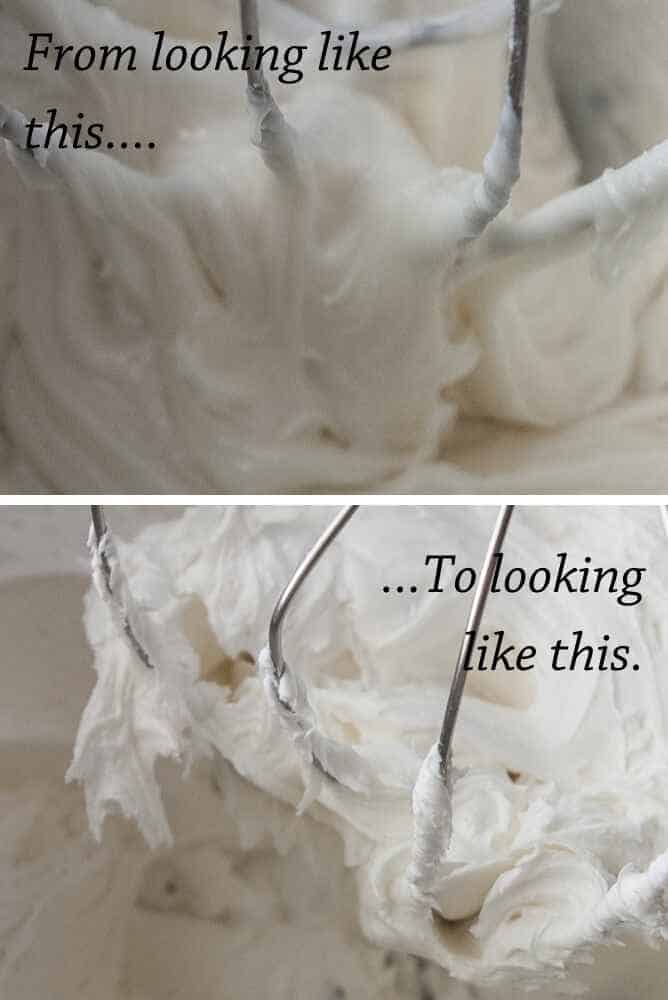 Beat at a medium-high speed for 7 minutes. As you can see in the pic above, the royal icing will be white, have a dull sheen, and be a bit stiff.
Tips for successful royal icing every time!
My first tip is one of the most important. You've probably heard that an ounce of prevention is worth a pound of cure, right? This tip right here is your ounce of prevention. Grease is to royal icing as kryptonite is to Superman. Even the tiniest bit will ruin your whole batch of royal icing. That means you need to thoroughly, thoroughly wash everything that is going to come in contact with your icing with a good dish soap like dawn. The mixing bowl, the beaters, measuring equipment, frosting tips (tips on frosting bags are further down), and also the bowl you plan to store your royal icing in. I know a lot of people who have made beautiful royal icing and then stored it in a plastic container, only to discover their icing has turned into soup. Plastic containers, no matter how much you paid for them or how well you washed them, retain grease from other foods, as do their lids. Only store royal icing in a squeaky clean glass bowl covered with saran wrap.
Tip #2! Use meringue powder instead of egg whites. Meringue powder is an egg white substitute that's frequently used in baking and cake decorating. The powder is primarily made of dehydrated egg whites. The reason I recommend using meringue powder instead of egg whites is that you will consistently get the same result every time. Success using egg whites depends on the quality and age of the eggs. I personally would only use egg whites if your eggs came from your own chicken. There is just really no telling how old store-bought eggs are or if the chicken who laid them was properly fed and cared for. Meringue powder can be bought from any kitchen specialty store, Walmart, or right here (affiliate link) on Amazon. If properly stored in an airtight container, it lasts for a year or so.
Tip #3! Use disposable frosting bags. (affiliate link) You do not want to get this far and scoop your icing into a frosting bag that you are not 110 percent sure is grease-free. My kids like the 12-inch bags. I prefer the 16-inch ones; totally up to you. However, you want to work quickly to bag your icing or to properly store it before it hardens.
Can I make royal icing ahead of time?
Yes! I made this frosting around noon on Saturday to use for gingerbread houses that evening. Just fill a bag with some icing, don't clip open the end, twist the top of the bag tightly, fold it over, and secure it with a rubber band like pictured below. I also like to secure the bags with rubber bands because it makes it easier for my kids to use. They can decorate on their own without icing coming out the top.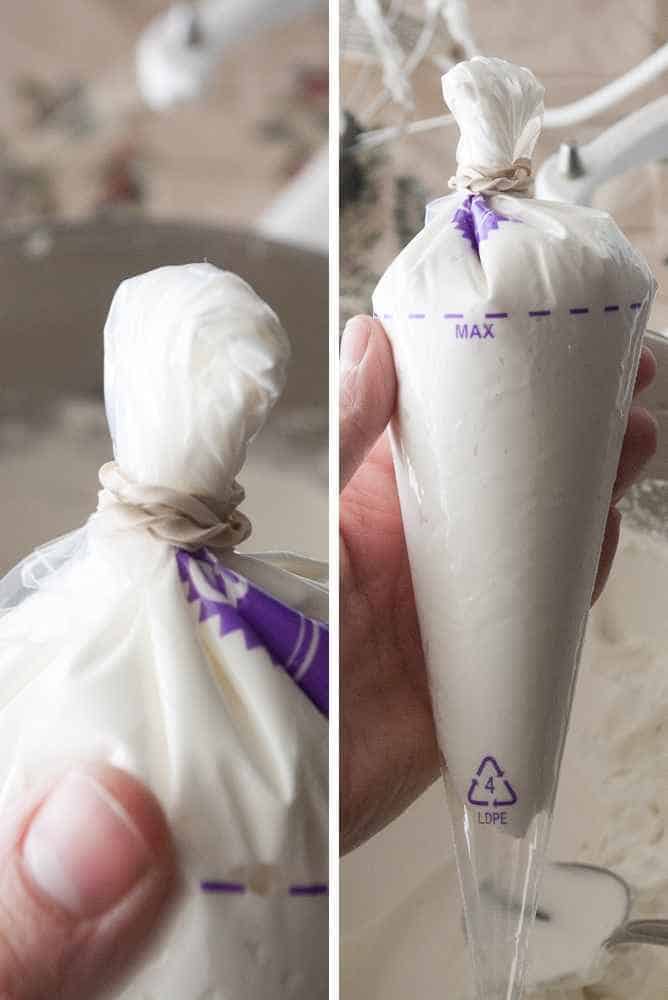 One batch of icing is enough for 2 gingerbread houses. For the template measurements for the gingerbread house above, click here. We made 6 gingerbread houses, so I made a few batches of royal icing. The icing I didn't bag it; I put it in a clean glass bowl, placed a damp paper towel on top of the icing, and then securely covered the bowl with saran wrap.
This icing doesn't need to be refrigerated. I set my bags of icing and a bowl of icing on my counter, where it stayed for several hours until we were ready to use it. This is one of my kid's favorite traditions! I hope this recipe will make it one of yours too!
Frequently Asked Questions
How long does it take for royal icing to set?
Depending on how thick your icing layer is, it takes 1-5 minutes.
Can you get salmonella from royal icing?
Not this recipe!  That's another great thing about using meringue powder instead of raw egg whites.  No salmonella here!
Other recipes I know you'll love!
Have you tried this recipe? If so, leave me a rating and comment below!
Don't forget to subscribe to get my newest recipes sent right to your email!
You can also follow me on Facebook, Pinterest and Instagram!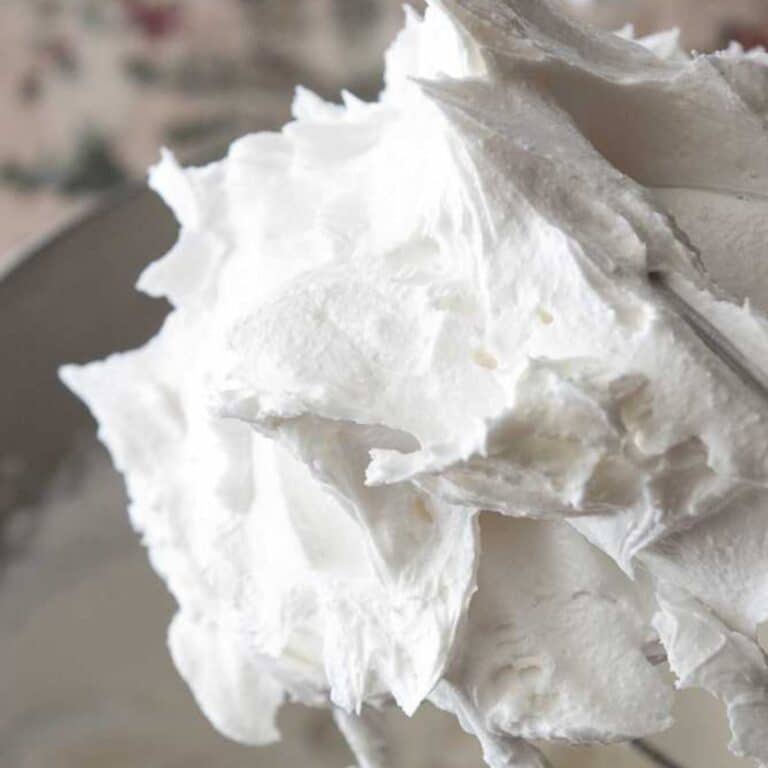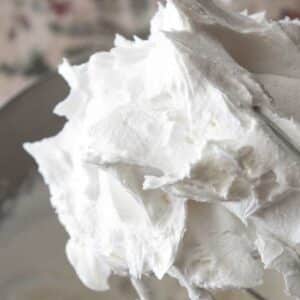 No Fail Royal Icing Recipe
If gingerbread houses are one of your holiday traditions, you need my no-fail royal icing recipe! I'll give you easy steps and the secret to success!
Ingredients
3

Tbs.

Meringue Powder

4

Cups

Powdered Sugar

sifted about 1 lb.

6

Tbs.

Water
Instructions
First of all, you have probably noticed there are no egg whites in this recipe, but there is some weird stuff called meringue powder. You can buy meringue powder at any kitchen specialty store as well as Walmart (with the cake decorating supplies). The reason I use meringue powder is that with it, I will always get the same results when it comes to the end product. Egg whites vary in quality for various reasons, therefore making the consistency and quality of the royal icing vary.

When making royal icing, it is preferable to use a stand mixer simply because royal icing is tough stuff and can be hard on a hand mixer. If you are going to use a hand mixer, do not make a double batch. You will burn out your hand mixer's motor.

Always make sure the bowl and mixer attachments are completely clean. Any grease, even the tiniest bit, will ruin royal icing.

Beat all the ingredients together at a medium speed for 7 to 10 minutes. Icing should form stiff peaks and will have lost its sheen.

It is recommended to use disposable frosting bags when using royal icing. Fill frosting bags and cover any remaining icing in the bowl with a damp towel to prevent hardening.

One batch makes 3 cups, which is enough for 2 gingerbread houses.
Notes
This recipe was adapted from the Wilton recipe.
Nutrition
Calories:
646
kcal
Carbohydrates:
163
g
Protein:
2
g
Fat:
0.3
g
Saturated Fat:
0.2
g
Polyunsaturated Fat:
0.01
g
Monounsaturated Fat:
0.1
g
Cholesterol:
4
mg
Sodium:
36
mg
Potassium:
99
mg
Sugar:
159
g
Vitamin A:
11
IU
Vitamin C:
0.3
mg
Calcium:
74
mg
Iron:
0.1
mg