If you've tried my mini cream puffs then you'll love these mini eclairs! They make the perfect treat for any occasion! Whether you need something a little fancy or just a midnight snack these little pastries topped with rich chocolate ganache will hit the spot!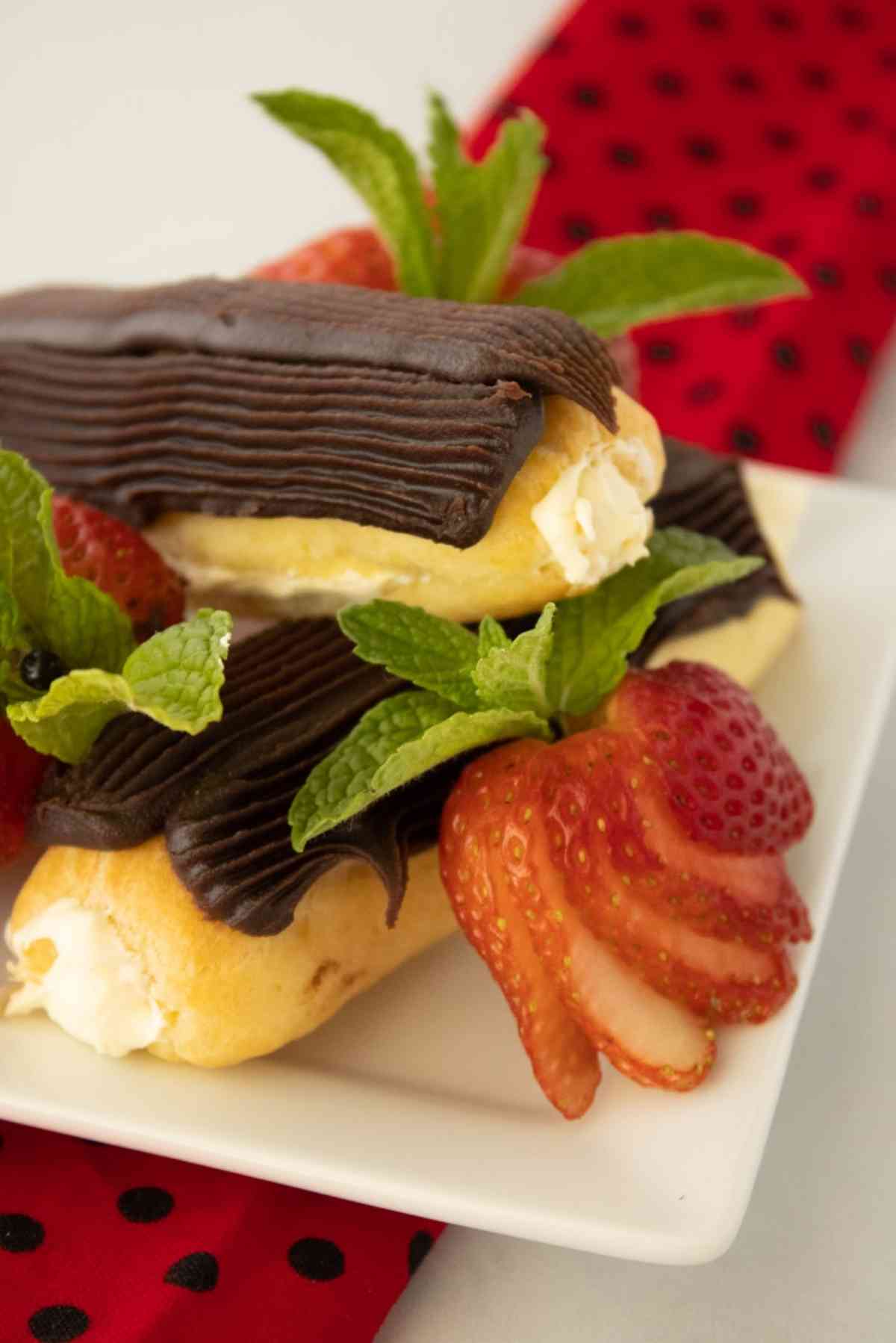 Jump to:
Why You'll Love This Recipe
This really an easy recipe with fancy looking results!
These freeze well!
This choux paste recipe can be used to make cream puffs, profiteroles, churros, croquembouche, french cruller donuts, choux beignets and many more.
Ingredient Notes and Substitutions
Butter - I used salted butter. You can use unsalted butter but you will need to increase the amount of salt called for to ½ tsp.
Milk - For best results use either whole milk or 2% milk. Lower fat content than that will results in a soupy filling.
Flour - All purpose flour, not pastry flour.
Pudding Mix - Make sure to grab the instant pudding mix instead of the cook and serve kind. Also you can substitute instant chocolate pudding mix for the vanilla if you'd prefer a chocolate filling in your eclairs.
Cool Whip - You can substitute 2 cups of freshly whipped cream for the cool whip.
Large Eggs - You will be using the entire egg, both the egg whites and egg yolks in this recipe. Traditional choux paste calls for just egg yolks but I find it to be very finicky and dry. I prefer a little wiggle room for error. Egg whites make the choux paste light and puff up properly without cracking.
Chocolate - I prefer dark chocolate for this recipe but you can use semi-sweet chocolate chips if you'd rather.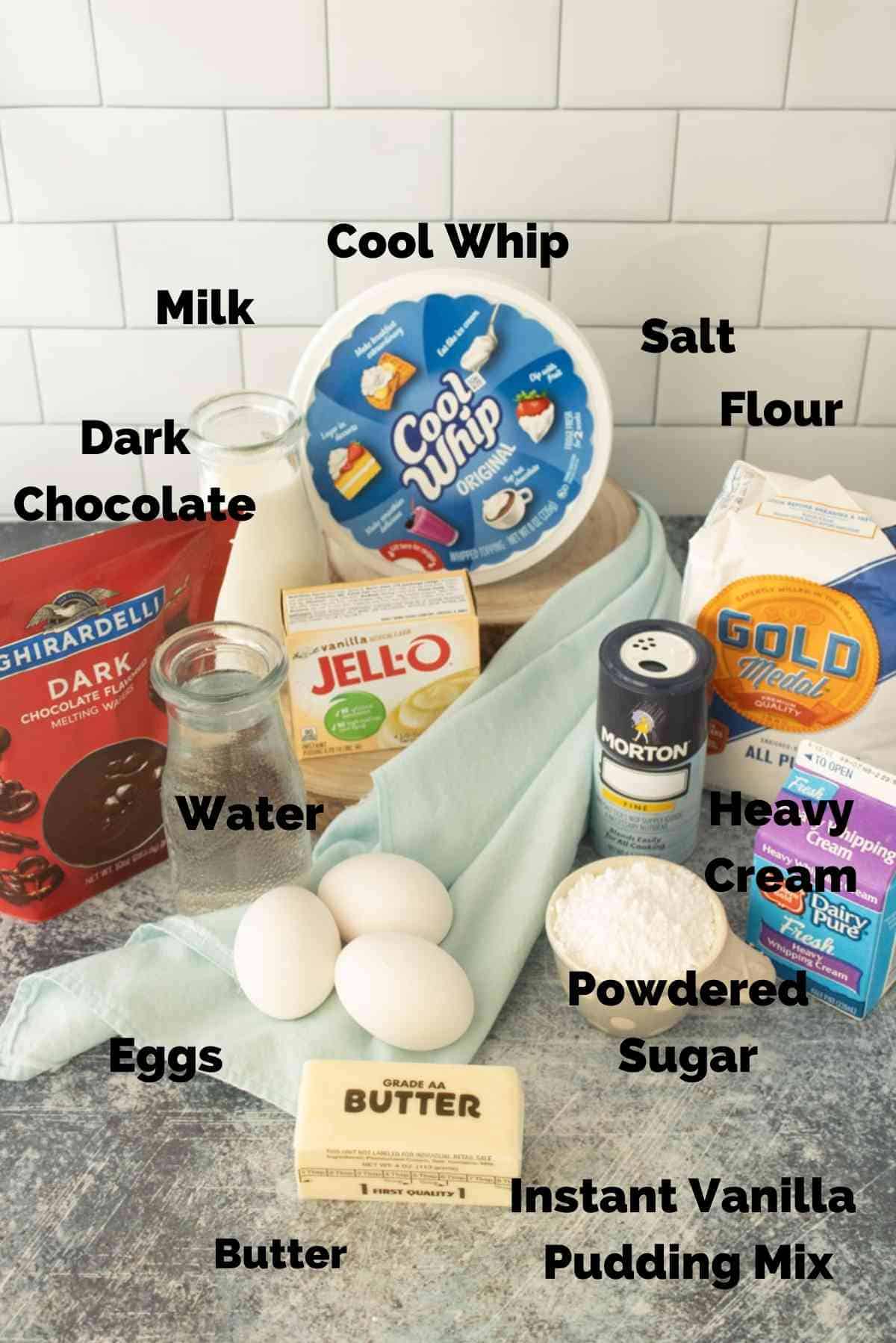 A Couple Things You'll Need
Expert Tips
Before you begin there are a couple thing to note.
This recipe can be cut in half but not doubled because choux paste needs to be baked immediately. S
Regular eclairs measure 6-8 inches in length. This recipe makes 4 inch eclairs. If you want 2 inch eclairs just pipe the choux paste strips 2 inches in length instead of 3 ½ inches. The bake time will be the same and they should all still fit on one baking sheet.
Parchment paper or a silicone baking mat should be used for best results because they give the choux paste traction to puff up rather than spread out.
Step by Step Instructions
Start by making the vanilla filling aka vanilla pastry cream.
In a small bowl or a 4 cup measuring cup, beat the powdered sugar, instant vanilla pudding mix and mix together at a medium speed.
Once it starts to thicken beat in the cool whip.
Cover the bowl with plastic wrap and put in the fridge to set and chill.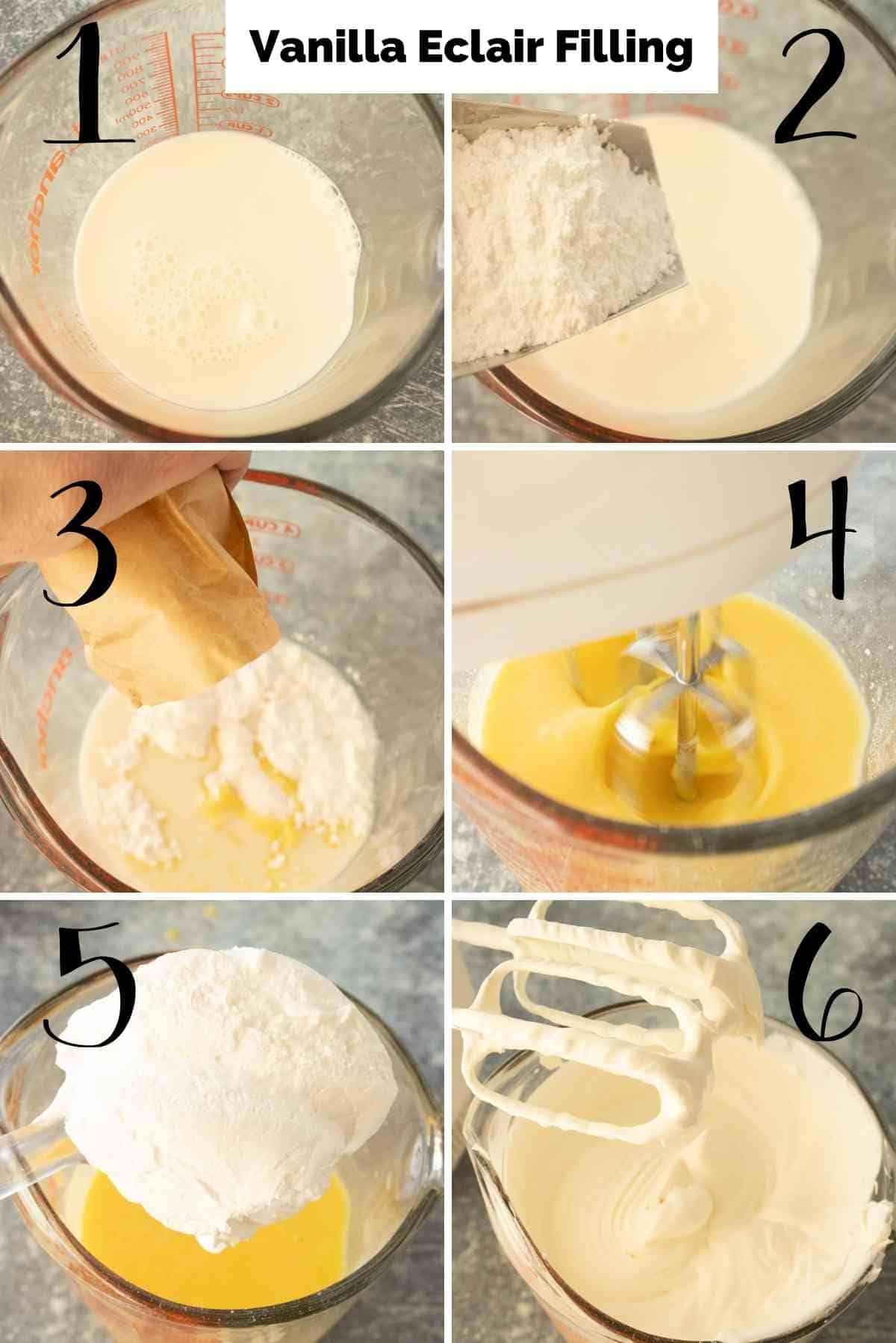 On the stovetop in a medium saucepan over medium high heat, bring the butter, salt and water to a rolling boil.
Once boiling add the flour all at once while stirring vigorously with a wooden spoon.
When the mixture pulls together into a smooth ball remove the pot from the heat.
Allow the choux pastry to sit for 10 minutes to slightly cool.
While this is cooling pre heat oven to 400 degrees f. and line a cookie sheet with parchment paper.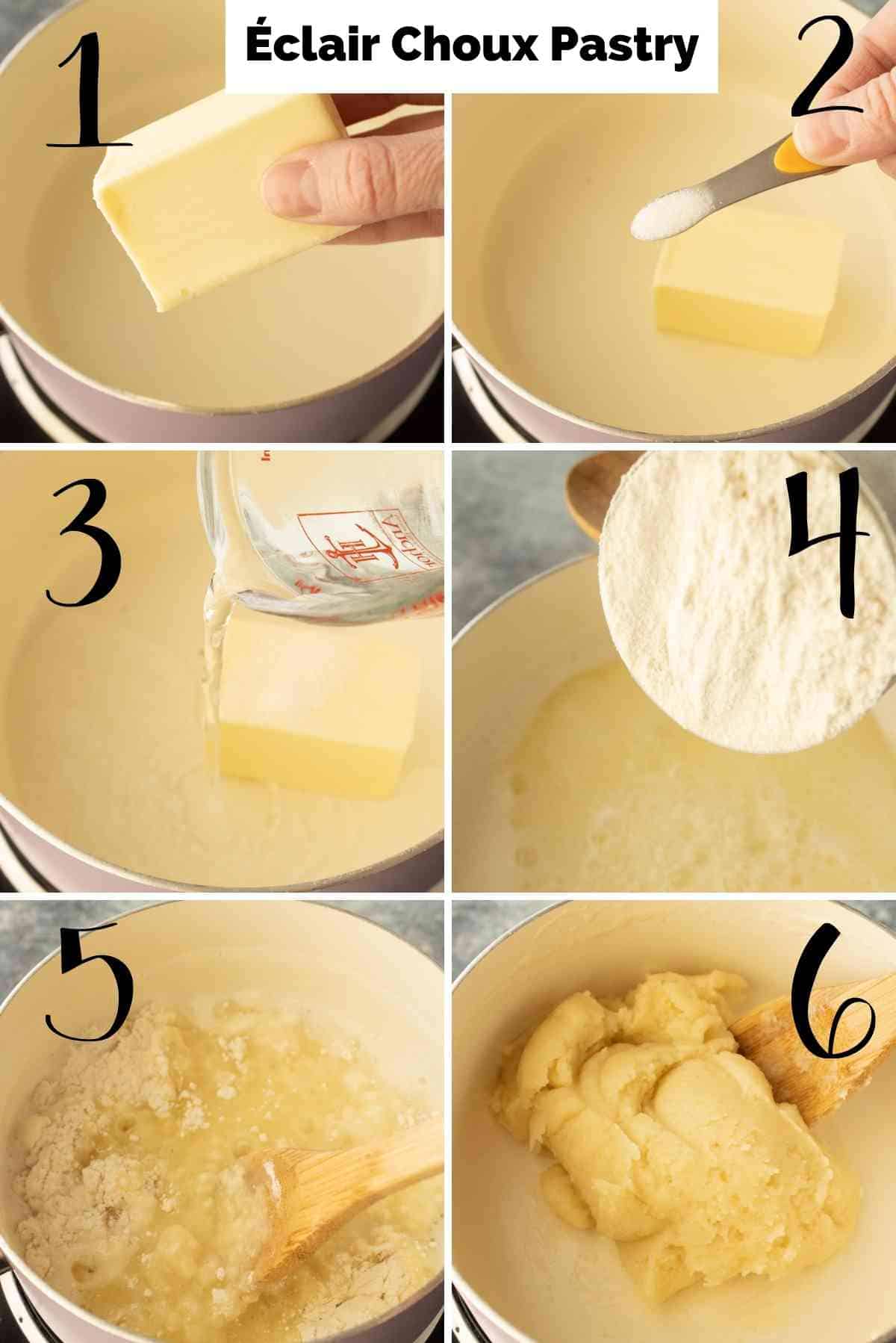 Crack the whole eggs into a small bowl or small cup.
Add the eggs one at a time to the pastry dough stirring well with each addition.
At first the eggs will seem to be resistant to mixing in but they will.
Spoon the choux pastry into a 16 inch disposable piping bag.
Cut the end off enough to pipe a strip about as big around as a regular hot dog.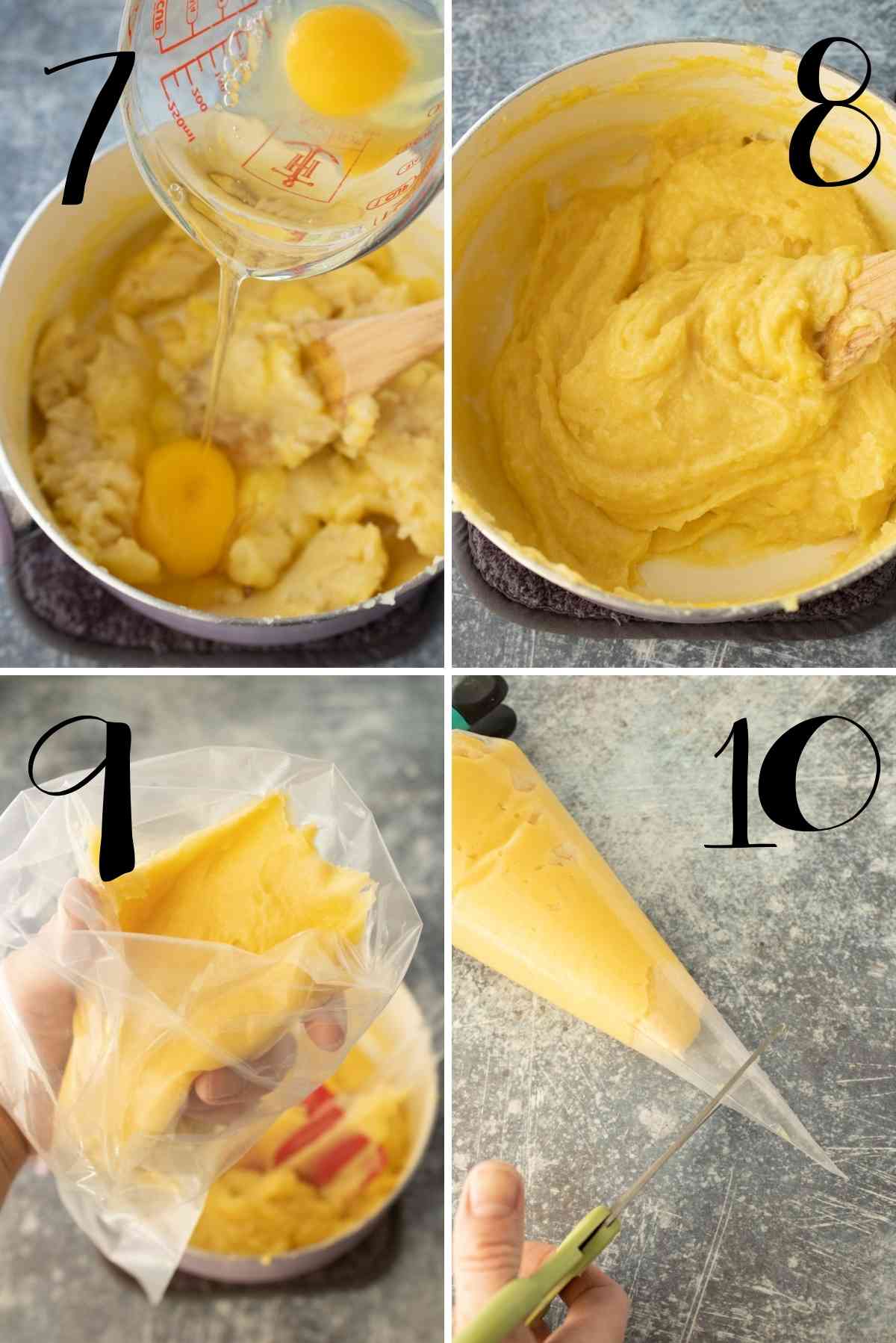 Pipe 3 ½ inch long strips of of choux paste onto the prepared baking sheet leaving a little less than an inch of space in between each.
You should be able to get all 20 eclairs on the parchment paper lined baking sheet.
Bake immediately in a preheated oven or 18-20 minutes.
DO NOT open the oven door at any time while they're baking to check them. The stream in the oven will escape and the cool air rushing in will cause the pastries to collapse.
The eclair shells should be golden brown.
Cool on a wire rack.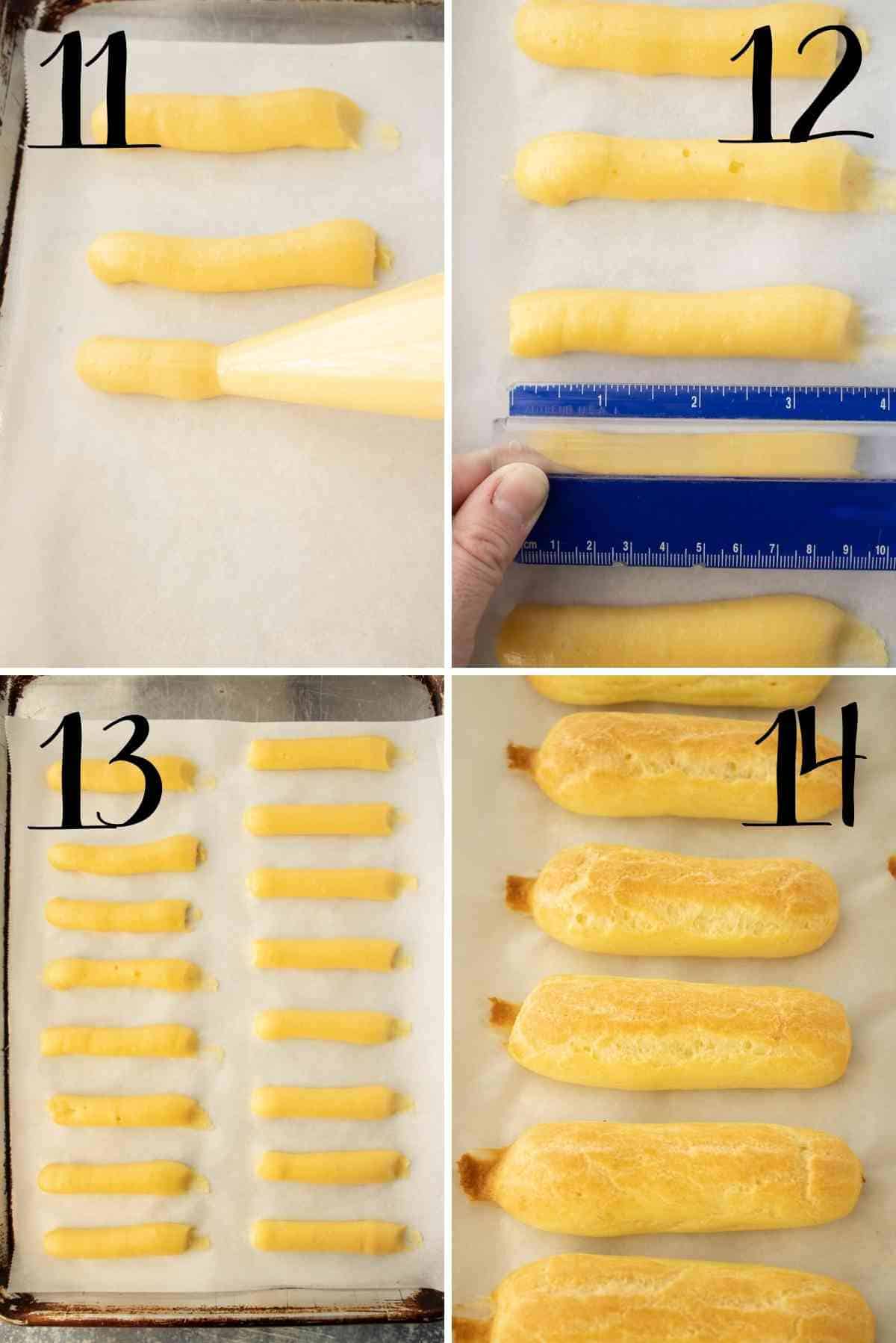 Once completely cool use a long, thin stick like a chopstick to poke a hole in one end of each pastry shell.
Wiggle the chopstick around a bit in the inside to make room for the filling.
Spoon some vanilla filling into a disposable pastry bag fitted with a #10 tip.
Poke the piping tip in the small holes at the ends of the eclairs and gently fill them with filling.
Melt the chocolate with the heavy cream carefully in the microwave or in a melter pot until completely smooth.
Allow the chocolate mixture to cool enough and set up enough to be pipeable.
Spoon the chocolate ganache in a disposable pastry bag fitted with the tip of your choice.
I used tip #895 for a flat but ridged look.
Or a #2D for a fancy swirled look.
Pipe a strip of ganache on the top of each éclair.
If you don't want to do a ganache top you can just drizzle or dip the tops of the eclairs in melted chocolate.
Store these in a loosely covered container in the fridge.
Sealing them in an airtight container will cause them to become soggy.
These also freeze well! Thaw in the fridge.
Recipe FAQs
Related Recipes
Have you tried this recipe? If so, leave me a rating and a comment below! And don't forget to subscribe to my newsletter to get my latest recipes sent right to your email! You can also follow me on Facebook, Pinterest, and Instagram!
Thanks for stopping by! Before you go, be sure to check out a few of my most popular recipes!
Any nutritional analysis on this Site is based on an estimate, calculated by Nurtifox plugin (or other third-party source) from the individual ingredients in each recipe. Variations may occur for various reasons, including product availability and food preparation. We make no representation or warranty of the accuracy of this information.