This double chocolate quick bread not only uses up that extra garden zucchini but it's also made with half the sugar other recipes call for and without canola oil for a healthier loaf.
It only takes 10 minutes and one bowl to mix up, from scratch, a loaf of this moist bread. You can even make muffins instead! If you loved how easy and delicious my Banana Zucchini Bread is, then you'll love this recipe too!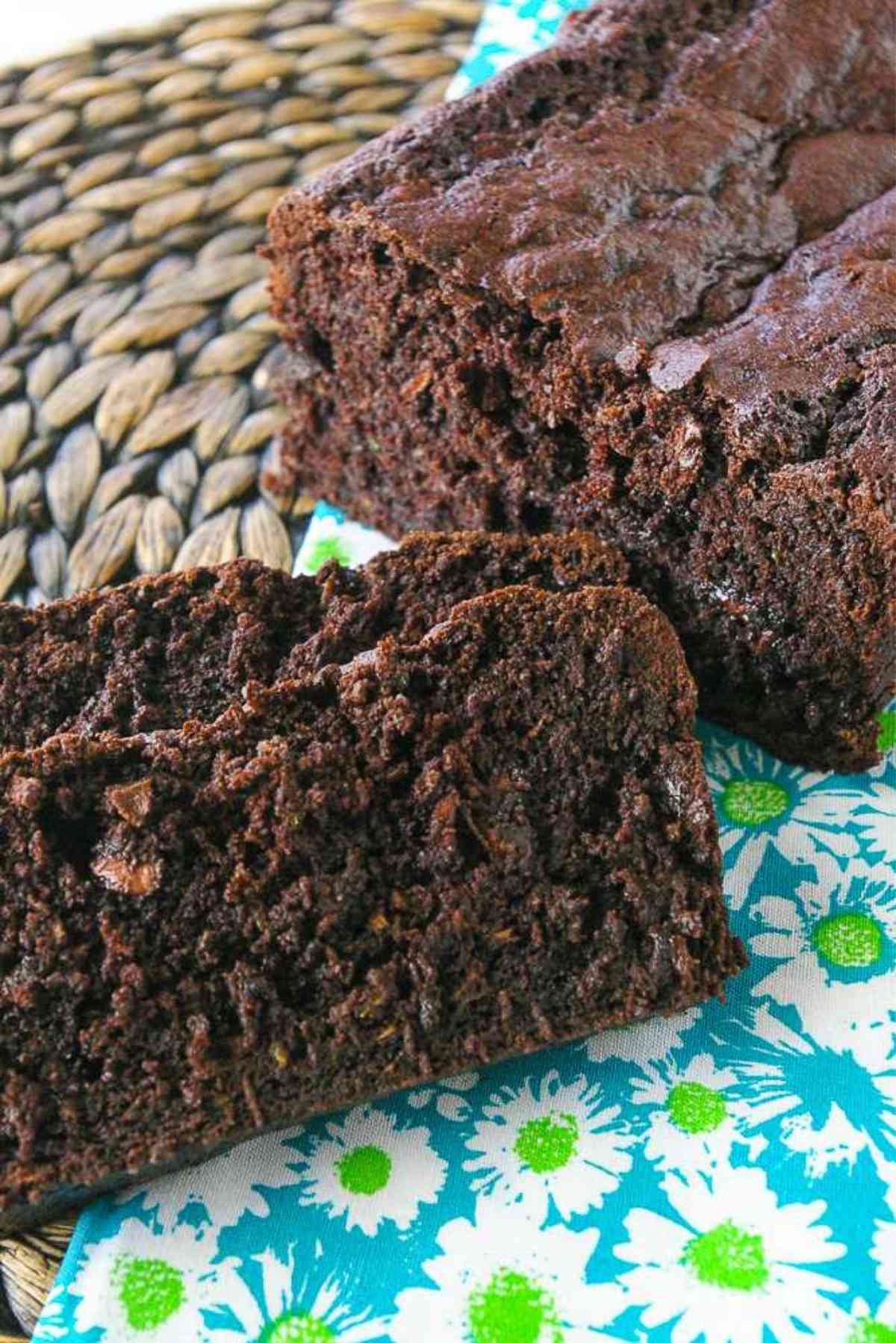 Jump to:
Why You'll Love This Recipe
Moist, dense, and rich chocolate flavor. Perfect for the chocolate lovers in your life!
This sweet treat calls for ½ the amount of sugar that other recipes do.
Freezes well!
You're garden is exploding with lots of zucchini, and you need a great way to use it!!!
Ingredients Notes
Flour - all-purpose flour, not bread flour, and never self-rising flour.
Sugar - you may be tempted to substitute applesauce for ½ the sugar, but don't. This is a heavy, dense, and very moist chocolate bread. Adding applesauce will add too much liquid to the batter, causing it to sink a lot in the center.
Fresh Zucchini -No need to peel the zucchini first. Can be either yellow (golden) or green zucchini. Small to medium zucchini are best for baking. Large ones tend to be much dryer and slightly bitter, and the seeds inside have become large, stiff, and have tough outsides. Many people wonder whether you need to squeeze the liquid out of shredded zucchini before using it. The short answer is no. If you grate it and use it immediately, you'll be fine. As grated zucchini sits out, the liquid accumulates, so if you pre-grate it, you may need to wring out the excess moisture.
Unsweetened Cocoa Powder - Most brands are fine; however, I DO NOT recommend using Hershey's brand cocoa because, to me, it has a bitter, throw-up taste. That's because some companies, such as Hershey's, put their milk through a process called controlled lipolysis. This breaks down the fatty acids in the milk and produces butyric acid - the chemical that gives vomit its very distinctive smell and acrid taste. So yeah...that's a pass for me.
Chocolate Chips - Both milk chocolate and semi-sweet chocolate chips work fine.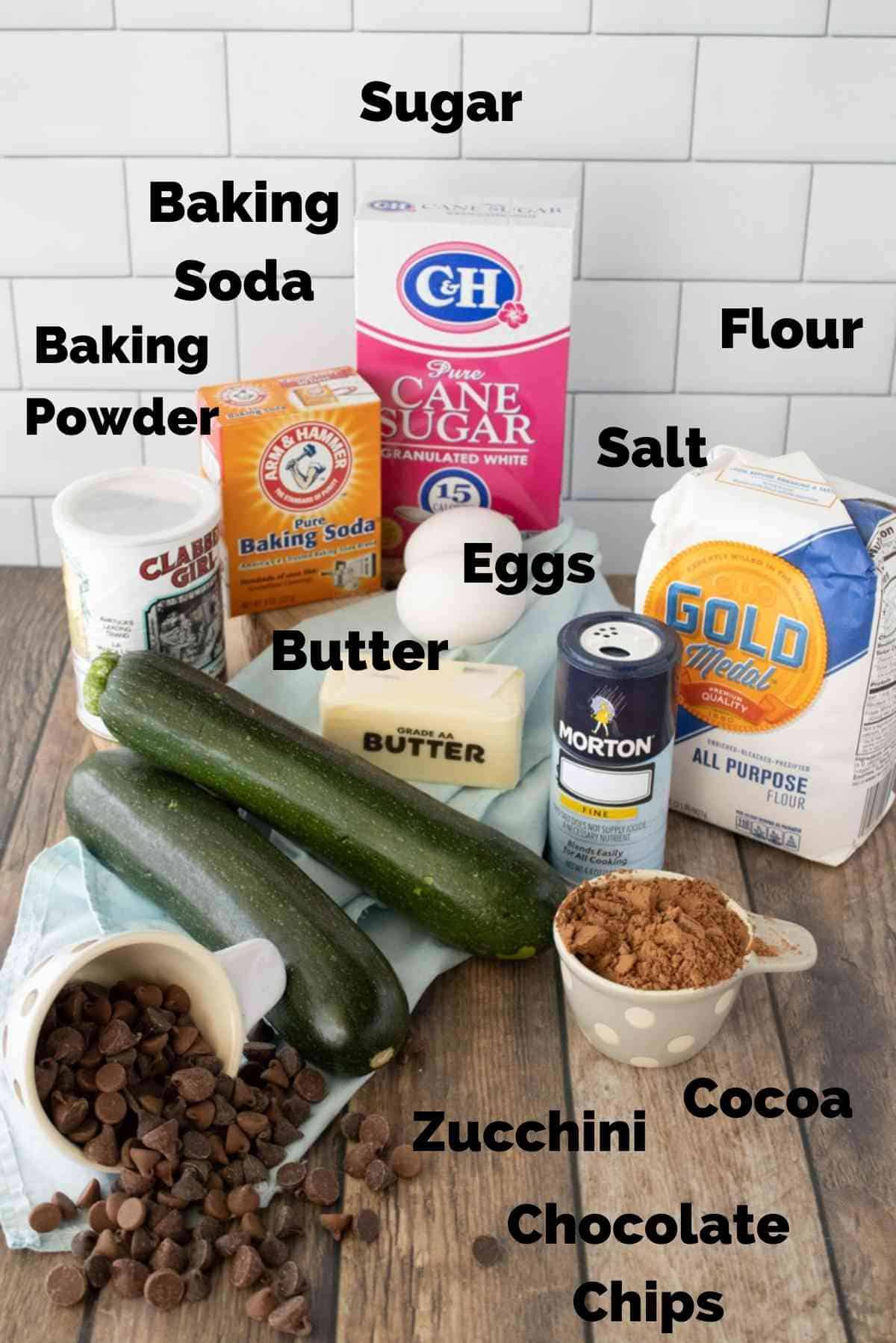 Couple Things You'll Need
Step by Step Instructions
Preheat your oven temperature to 350 degrees.
Spray a standard bread loaf pan with non-stick cooking spray OR line it with parchment paper. If you line it with parchment paper, you'll need to secure the paper with clips along the rims of the pan. You can see my clips in picture 9.
Whisk together the melted butter, eggs, sugar, and vanilla in a large mixing bowl. (This batter ends up pretty thick, so don't bother with a hand mixer. Just go with a wooden spoon.)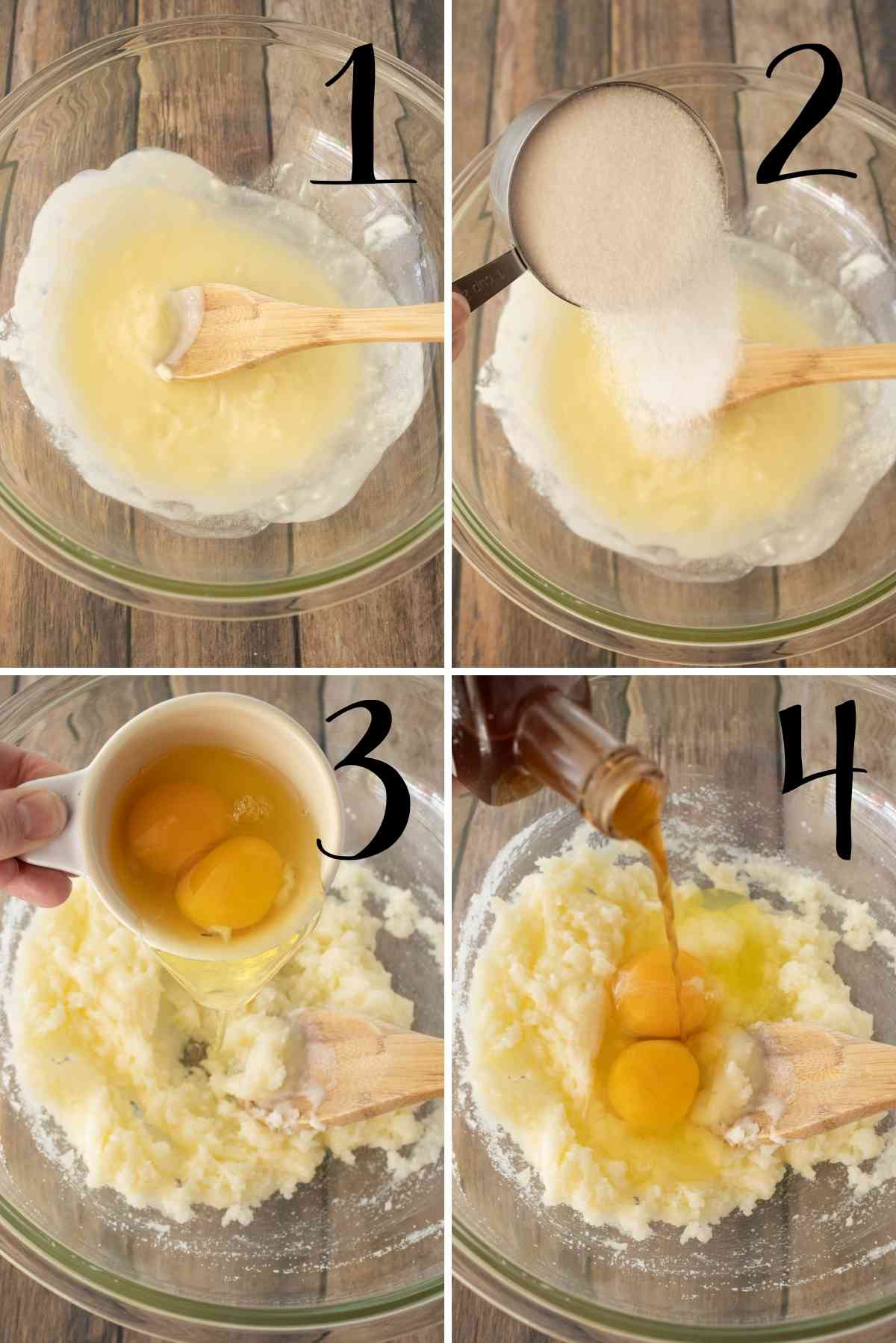 Stir in the cocoa powder, baking powder, baking soda, salt and flour.
Grate the zucchini peel and all.
Fold in the shredded zucchini and chocolate chips.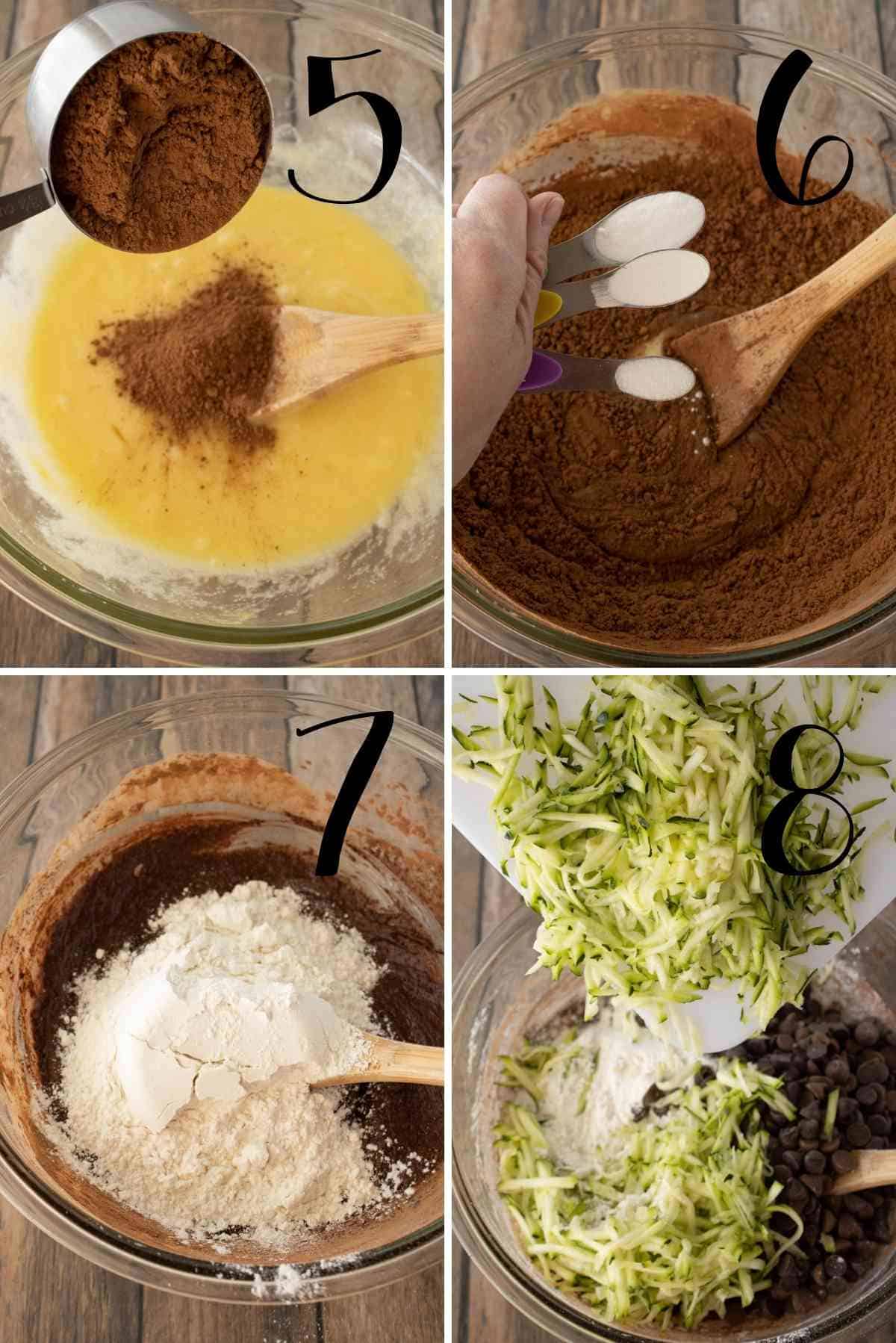 Spoon batter into the prepared loaf pan and spread into an even layer. Please note this is a very thick batter. That's how it's supposed to be. Don't add more liquid.
Bake at 350 degrees for 45 to 50 minutes. A toothpick or cake tester should not come out clean. There should be moist crumbs on it.
I let my bread cool for 20 minutes before turning the entire loaf out onto a cooling rack.
This loaf slices much nicer when it is cool, but I can't resist a warm piece myself so that one is totally your call. Enjoy!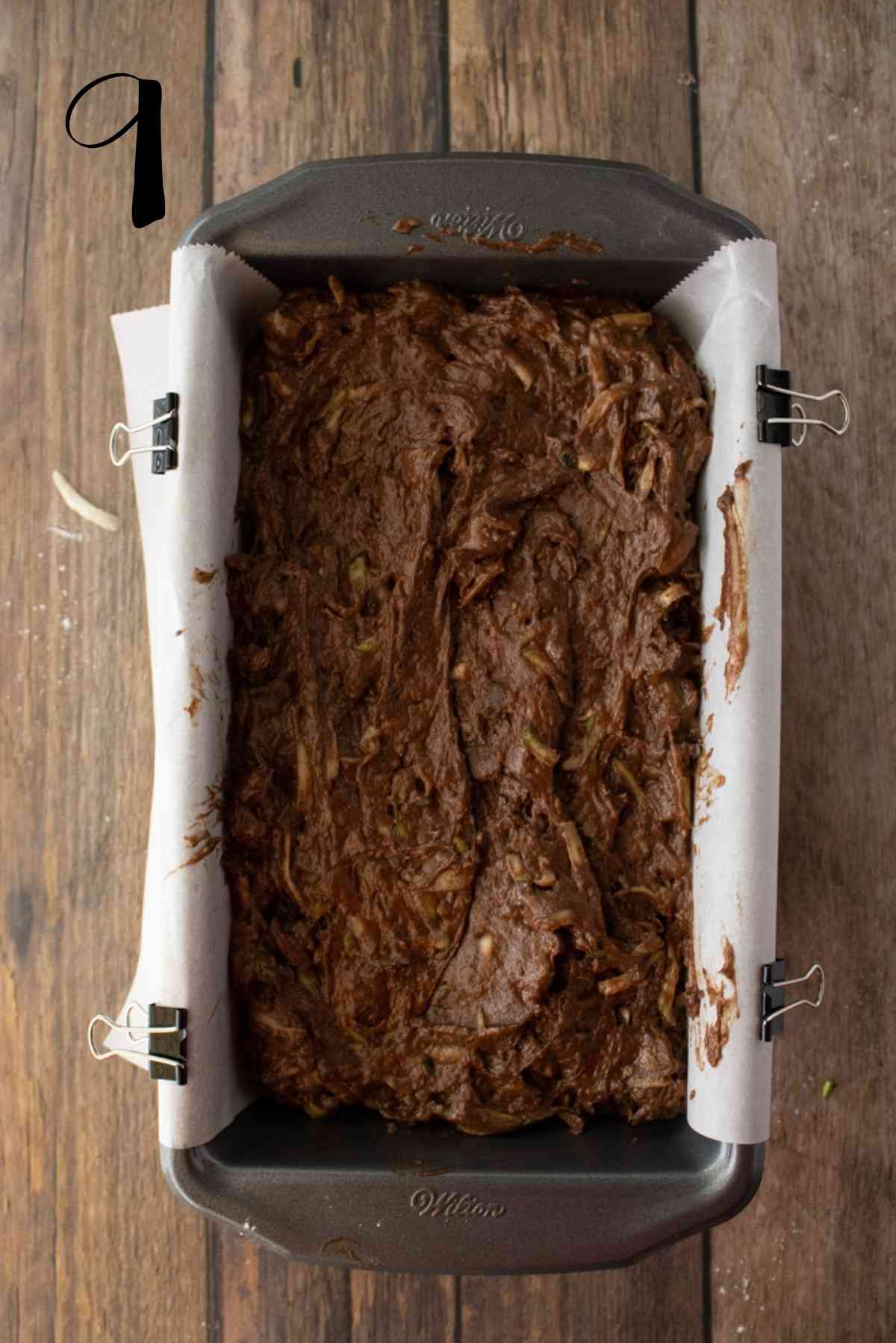 Recipe FAQs and Expert Tips
More Zucchini Recipes
Have you tried this recipe? If so, leave me a rating and a comment below! And don't forget to subscribe to my newsletter to get my latest recipes sent right to your email! You can also follow me on Facebook, Pinterest, and Instagram!
Thanks for stopping by! Before you go, be sure to check out a few of my most popular recipes!