These eggless dinner rolls are light, fluffy and easy to make! With a hint of sweetness from honey this healthier whole wheat alternative is a delicious addition to any meal!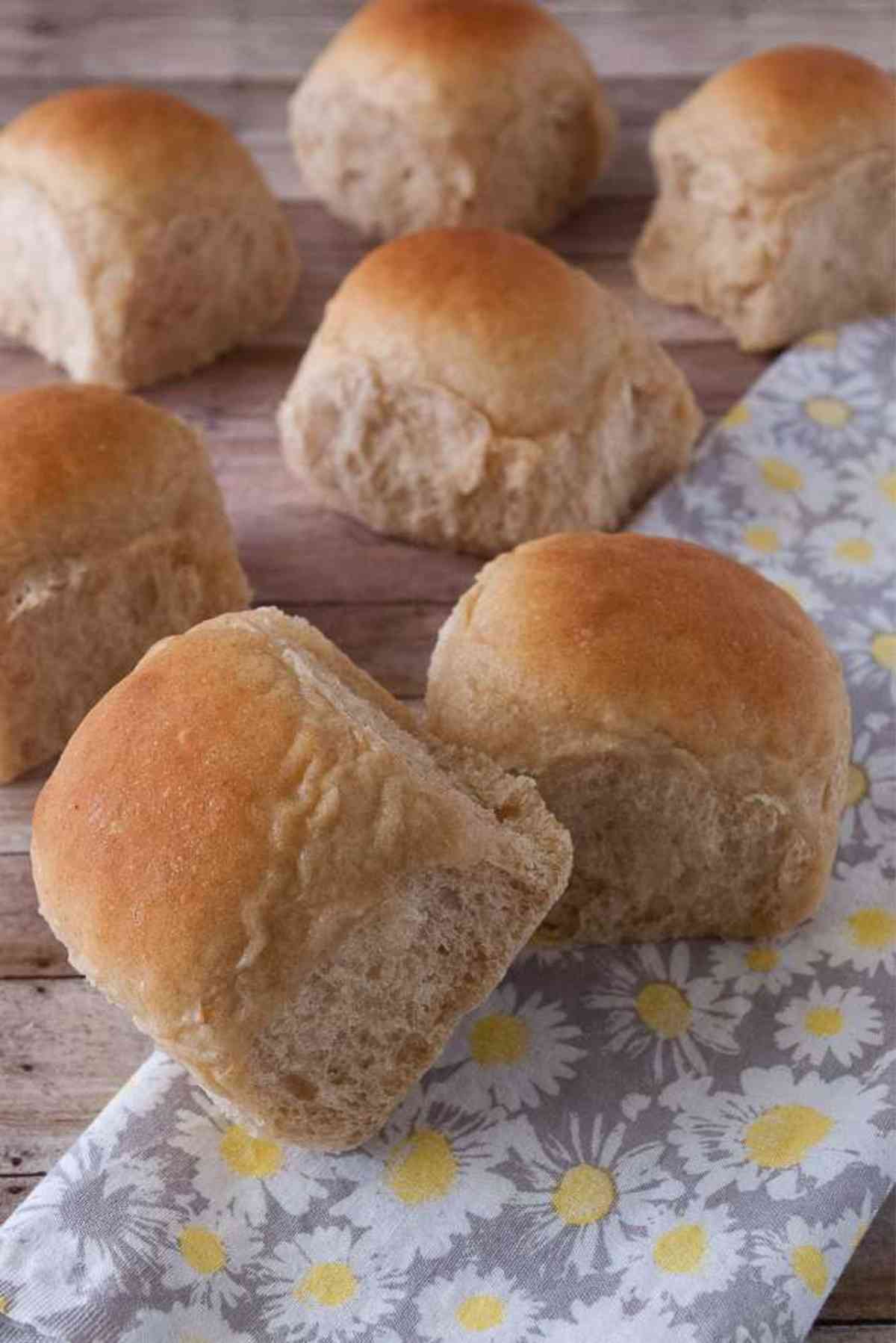 Jump to:
Why Choose This Recipe
Light, fluffy, soft dinner rolls that are egg free!
Easy as traditional

Dinner Rolls

!
Sugar is lessened with the use of honey!
Healthier alternative to White Breads
If you're wondering how to make these fluffy dinner rolls into a loaf of homemade bread instead then check our my Whole Wheat Bread recipe!
Ingredient Notes
White Flour - all purpose flour, never self rising and not bread flour.
Whole Wheat Flour - Any brand is fine.
Butter - unsalted butter or salted butter work just fine.
Honey - use regular honey not creamed honey.
Yeast - active dry yeast is the same as rapid rise yeast. Instant yeast can also be used.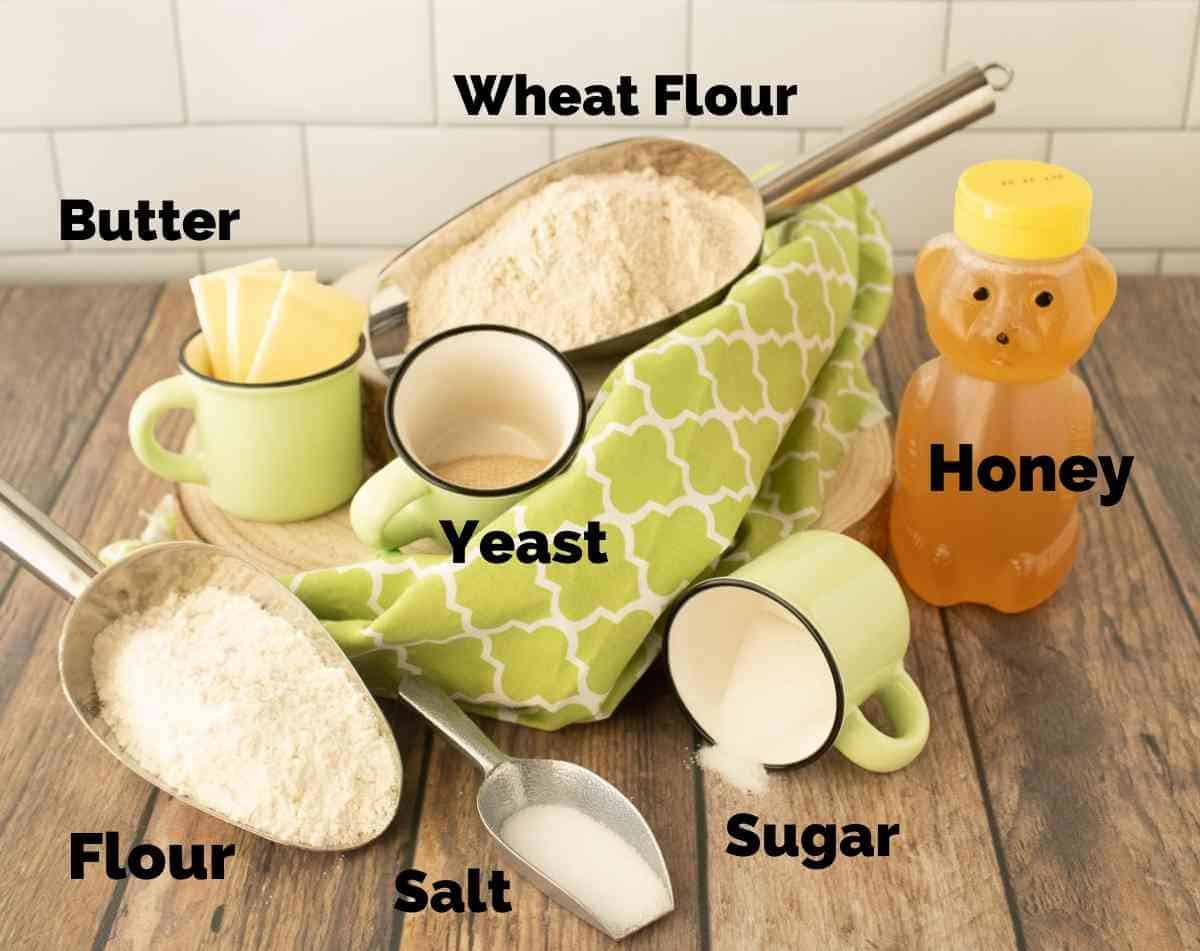 Step by Step Instructions
While I prefer to use my stand mixer fitted with a dough hook attachment, you can make this homemade roll recipe by hand as well.
Add sugar, yeast and warm water to a mixing bowl or to the bowl of a stand mixer, and let stand about 5 minutes to get foamy.
Add the salt to the yeast mixture.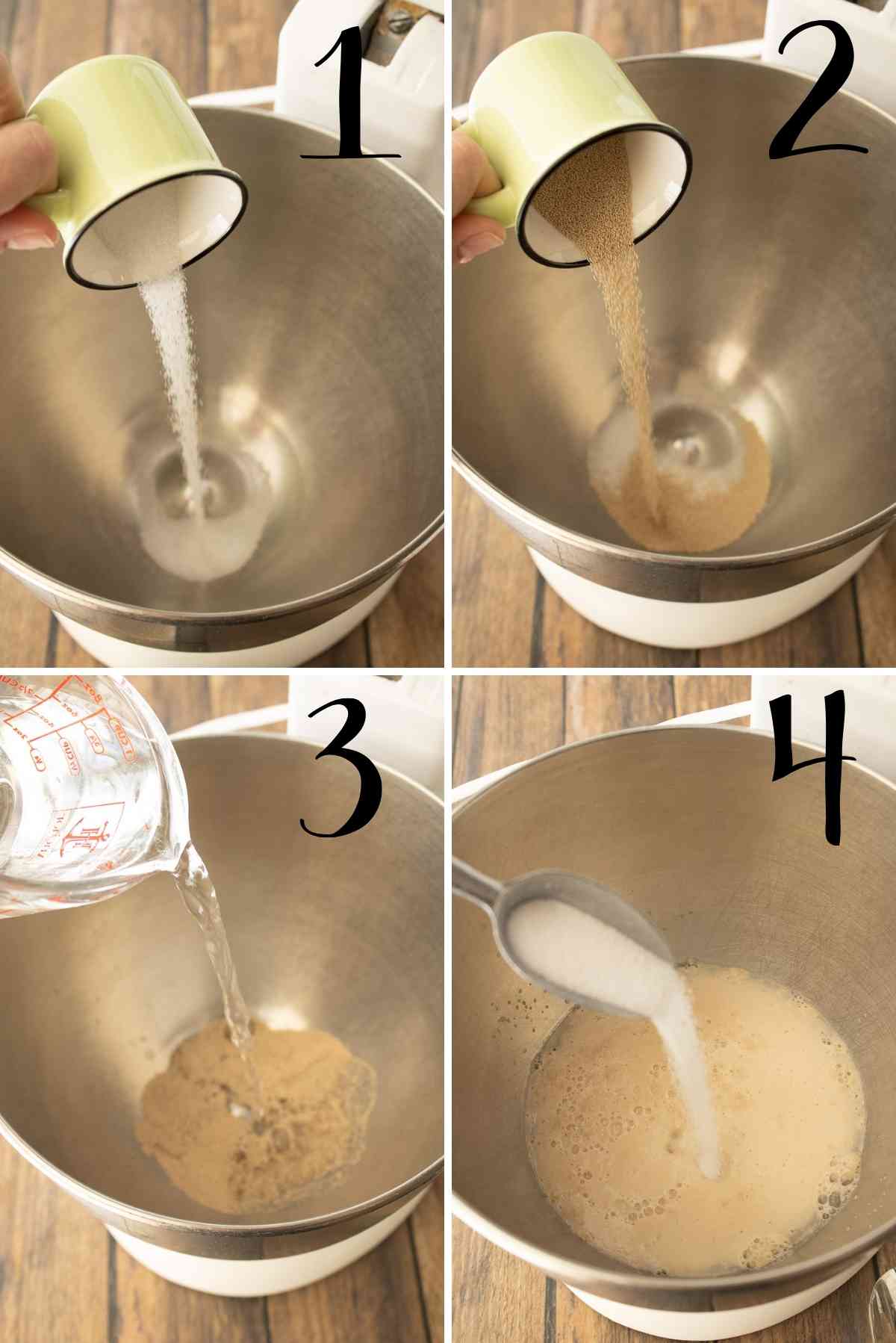 Add room temperature butter, honey, and the wheat flour to the bowl.
Add 1 ½ Cups of white flour.
Mix well, at a low speed until a soft dough forms.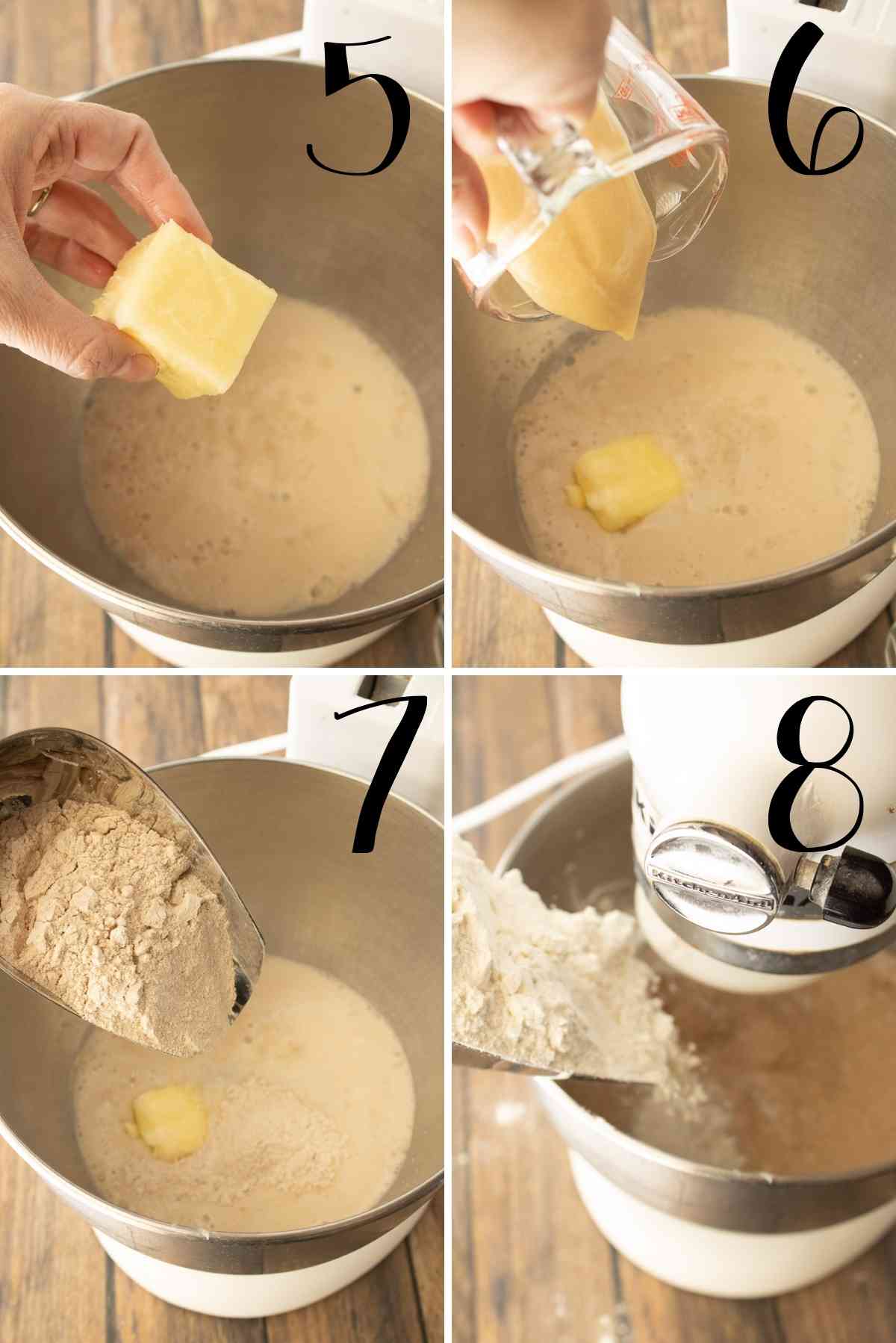 You may or may not need more white flour at this point.
Picture 9 and 10 show what my dough looked like when there was enough flour. Note that the sides of the bowl were not cleaned and the dough is still on the sticky side instead of a smooth ball.
Knead the dough at medium speed for 3 minutes.
Cover bowl with a kitchen towel or plastic wrap and let the dough rise in a warm place until doubled.
Dump risen dough out onto a lightly floured surface and divide it into 15 equal pieces.
Shape the pieces into balls.
Place dough balls in a 9x13 pan that's been sprayed with non-stick cooking spray.
Cover to let rise until doubled while you preheat your oven.
Preheat your oven to 350 degrees.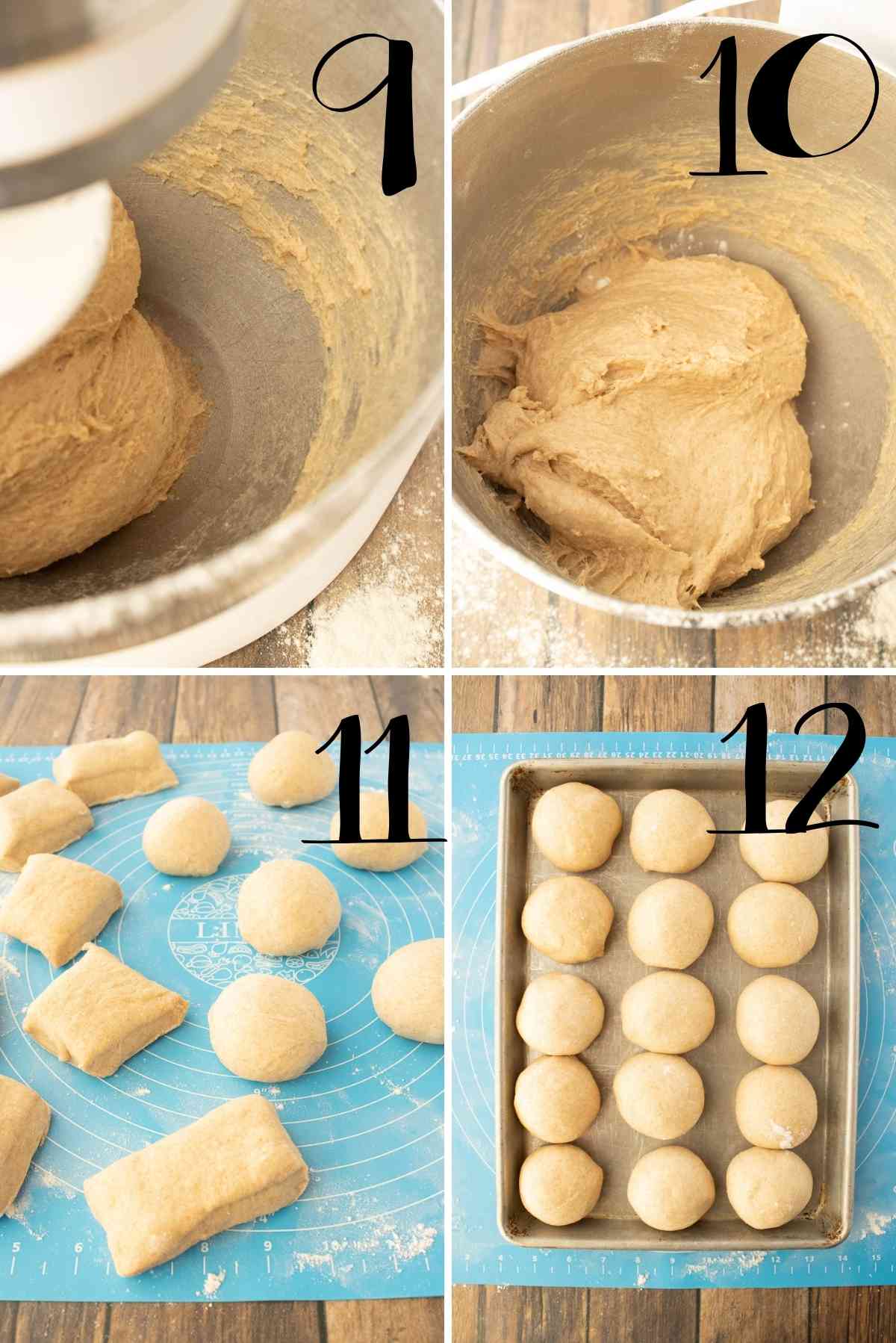 Bake rolls at 350 degrees for 15-18 minutes.
The tops should be golden brown.
Run a butter cube over the tops of the hot rolls. This is optional. That little bit of melted butter on the tops give them a buttery flavor!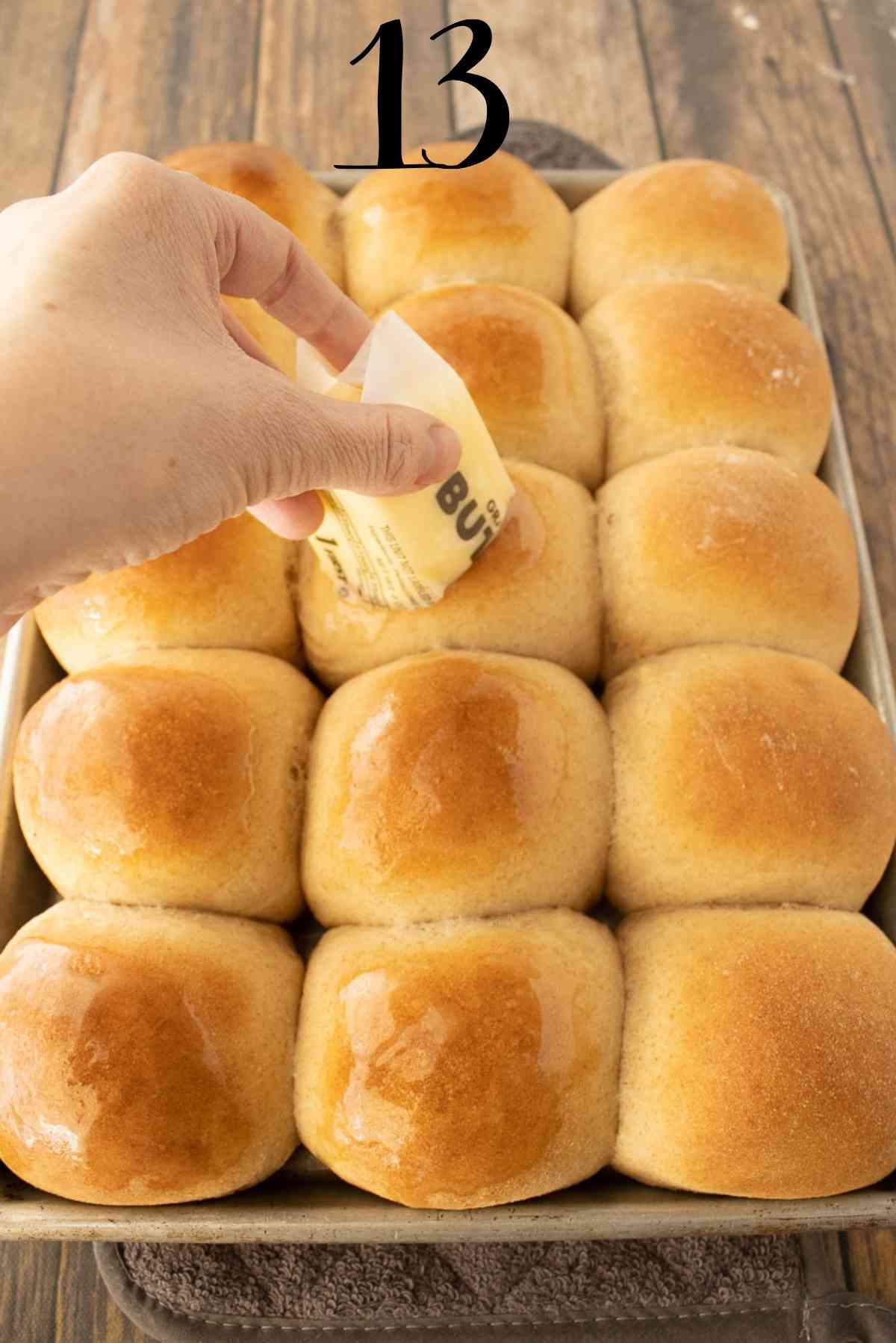 Recipe FAQs and Expert Tips
Related Recipes
Have you tried this recipe? If so, leave me a rating and a comment below! And don't forget to subscribe to my newsletter to get my latest recipes sent right to your email! You can also follow me on Facebook, Pinterest, and Instagram!
Mindee's Cooking Obsession is a positive place and I love to hear your success stories! Remember to keep comments or questions respectful and kind. I reserve the right to delete or reject any comments that are deemed not helpful to other readers or are offensive in nature.
Comments suggesting substitutions of multiple ingredients or rewrites of the above recipe to promote different dietary preferences will not be published as they are not tested for accuracy and may inhibit the success of other readers. Thanks!