Tarragon is a versatile herb with a unique flavor that combines licorice, pepper, and anise. This post explores the culinary world of tarragon recipes and how it can elevate dishes for various tastes, seasons, and occasions.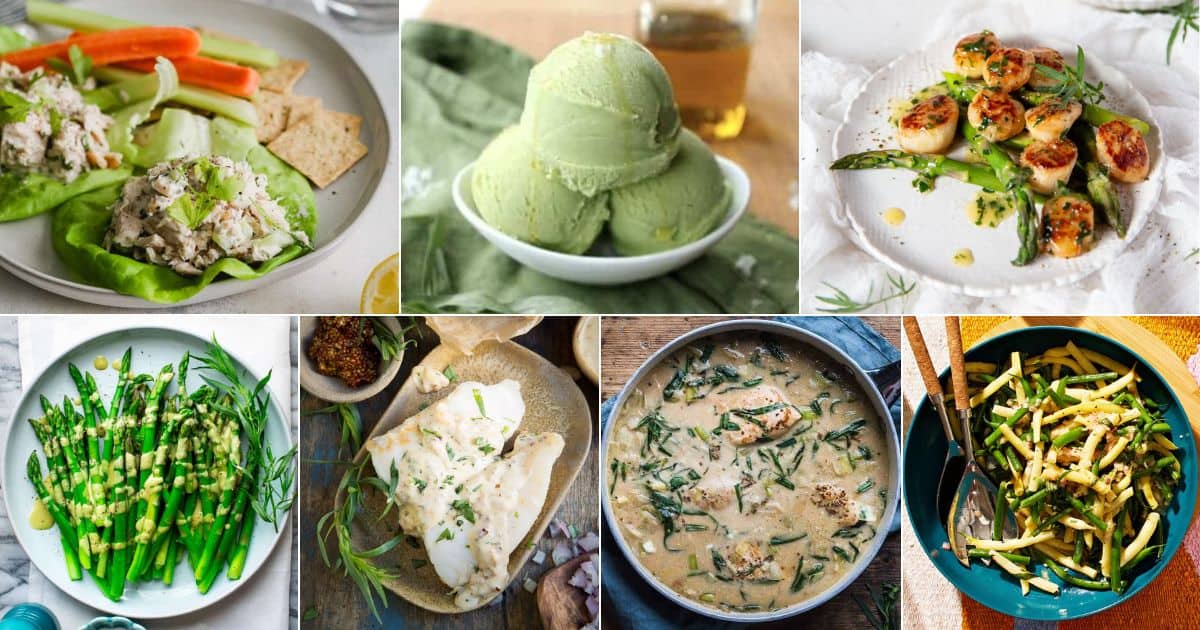 Whether you're a top-notch cook or a beginner, we've got you covered with the best tarragon recipes that are sure to impress.
Jump to: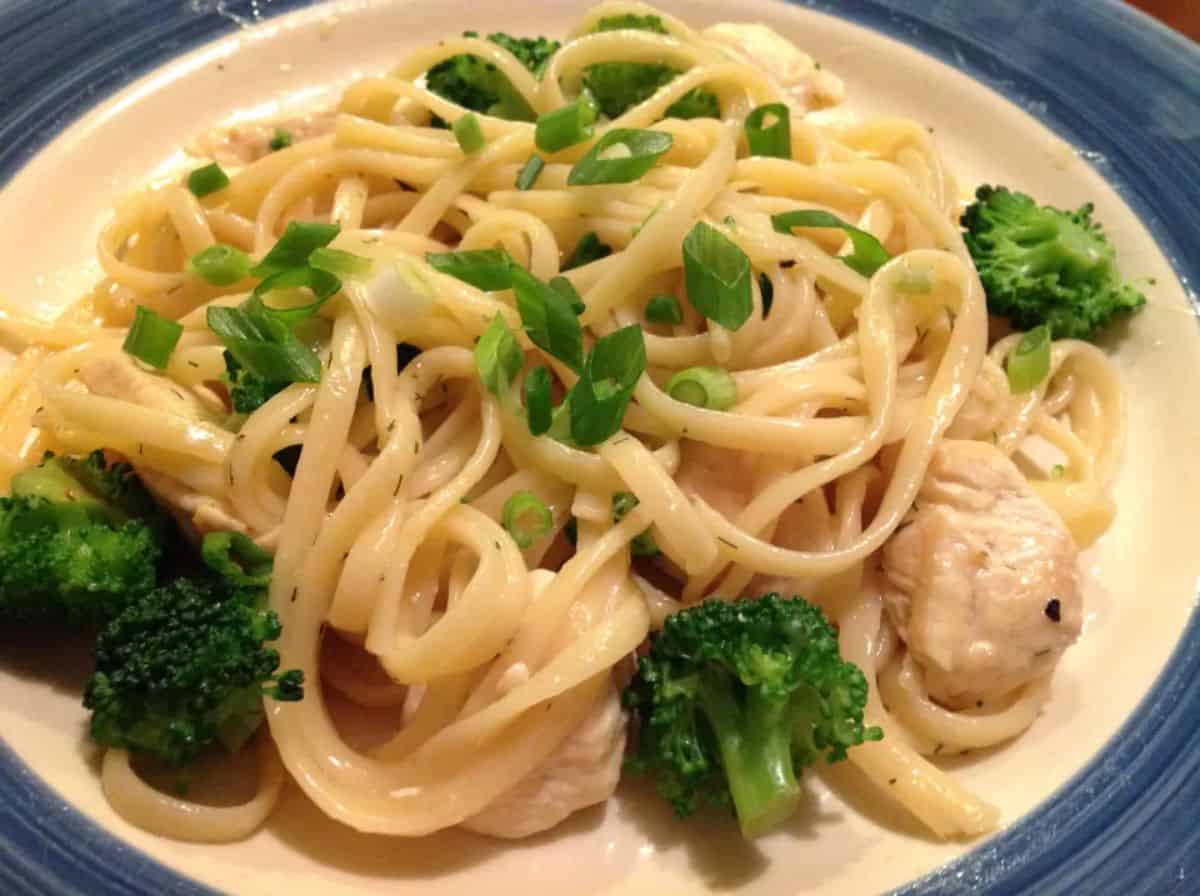 Tarragon Chicken Linguine is a delicious and flavorful pasta dish that features tender chicken cooked in a creamy tarragon sauce tossed with linguine for a comforting and satisfying meal.
Combining the licorice-like notes of tarragon with the succulent, savory, and salty chicken creates a delightful flavor profile.
This dish is perfect for a special, intimate night or a weeknight dinner when you're craving a touch of elegance in your pasta dishes.
If you want to master the art of cooking tarragon recipes, starting with learning how to make the perfect tarragon butter is helpful.
This creamy and herbaceous butter, infused with the riveting flavor of tarragon, can elevate a wide variety of dishes.
From spreading on freshly baked bread to topping grilled meats or steamed vegetables, tarragon butter adds a burst of flavor and aroma. Learn how to make this versatile condiment and unlock plenty of delicious possibilities with tarragon.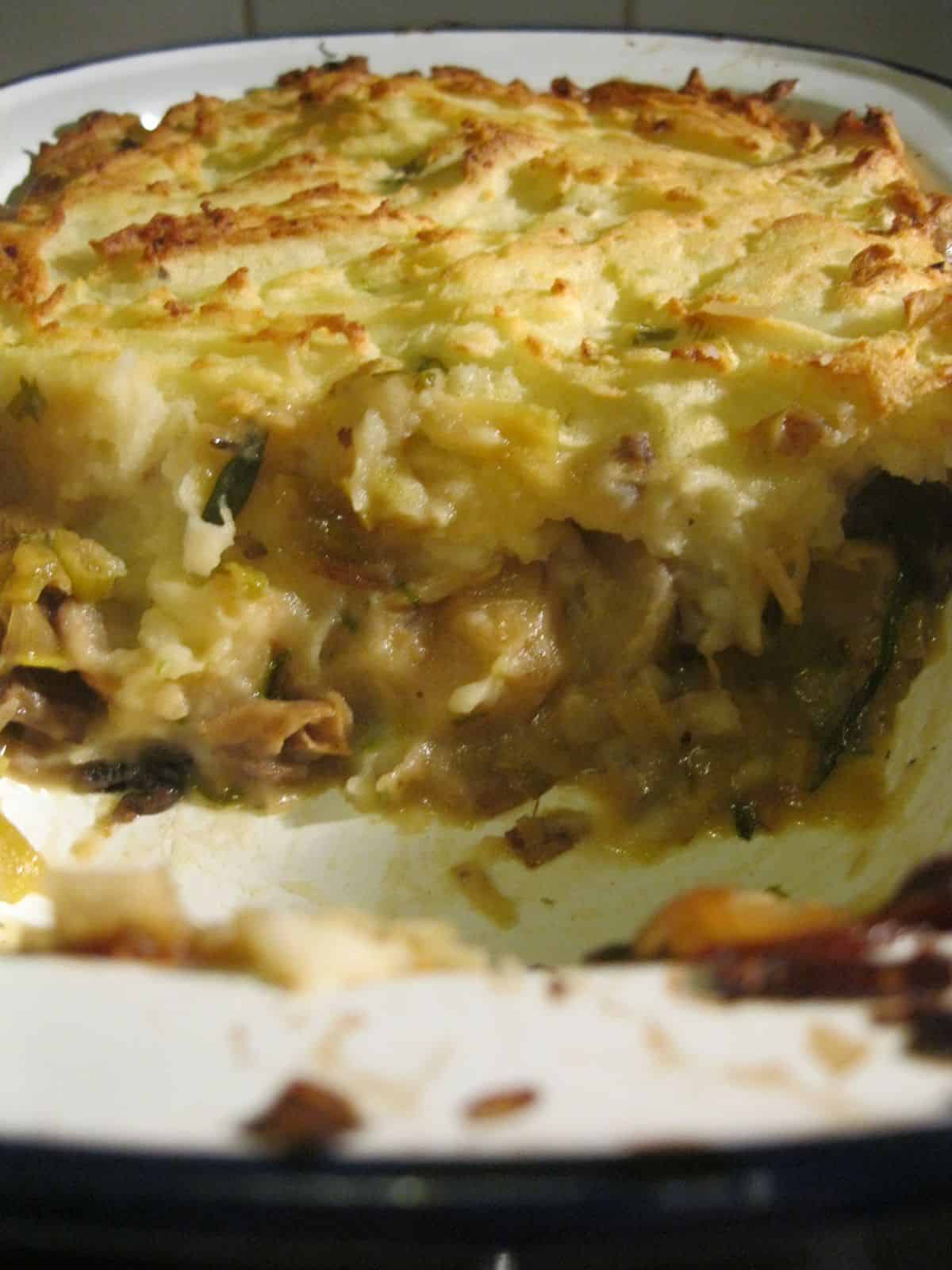 Many people have enjoyed this delicious Shepherd's Pie recipe's comforting flavors of leek, mushroom, and tarragon.
With a rich and savory filling of sautéed leeks, mushrooms, and aromatic tarragon, topped with a creamy layer of mashed potatoes, this dish is perfect for cooler weather or as a hearty meal any time of the year.
The combination of earthy mushrooms, fragrant tarragon, and tender leeks is truly irresistible, so we recommend this unique twist on the well-loved classic Shepherd's Pie.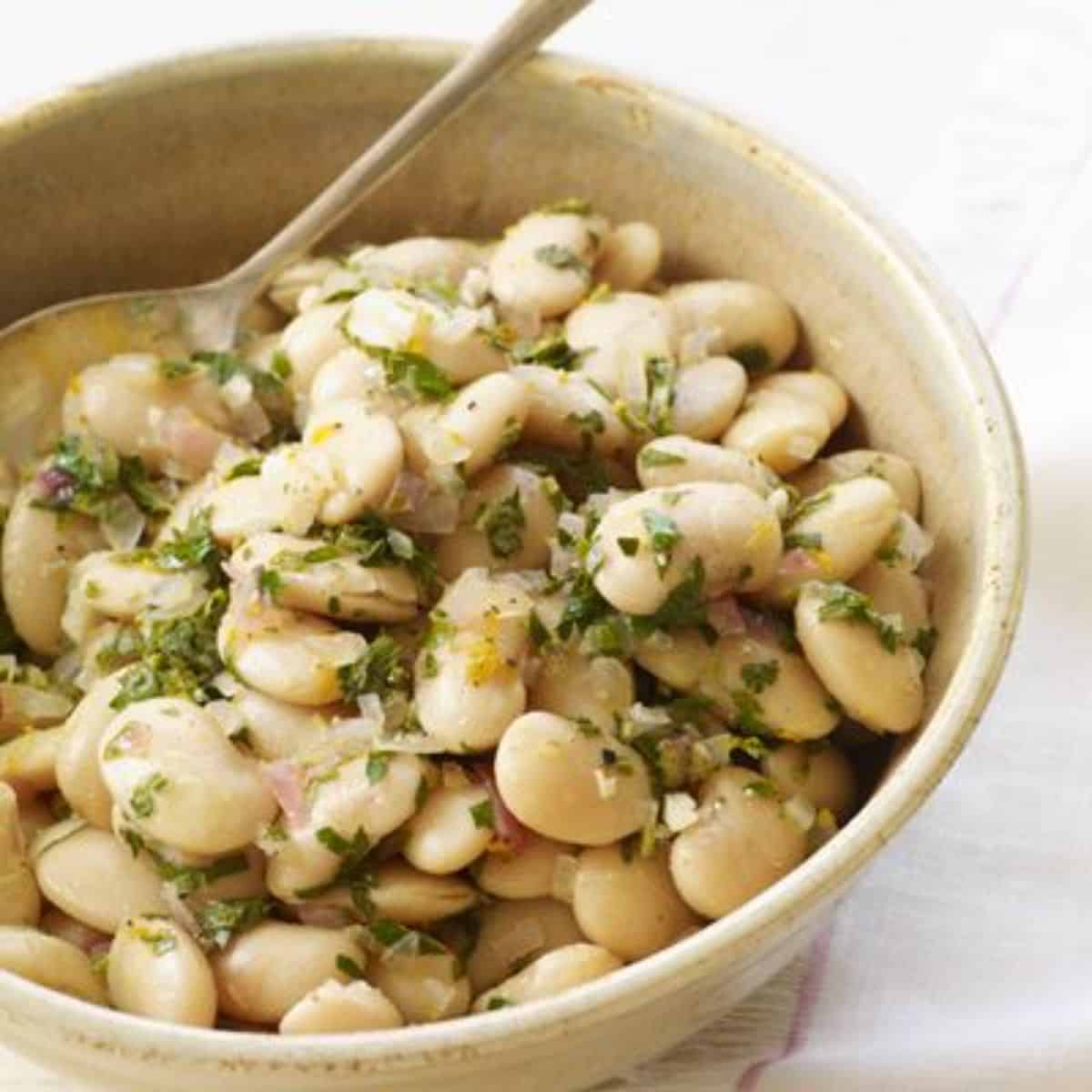 Italian Butter Beans with Meyer Lemon and Tarragon is another scrumptious dish, perfect as a side dish during the holiday season due to its festive, zesty, and flavorful nature.
This dish showcases the versatility of tarragon, as the aromatic notes of tarragon blend with the tangy brightness of Meyer lemon, bringing a burst of Mediterranean flavors to your table.
The recipe ensures you'll cook the creamy butter beans perfectly, then toss them with a simple yet irresistible lemon and tarragon-infused butter sauce.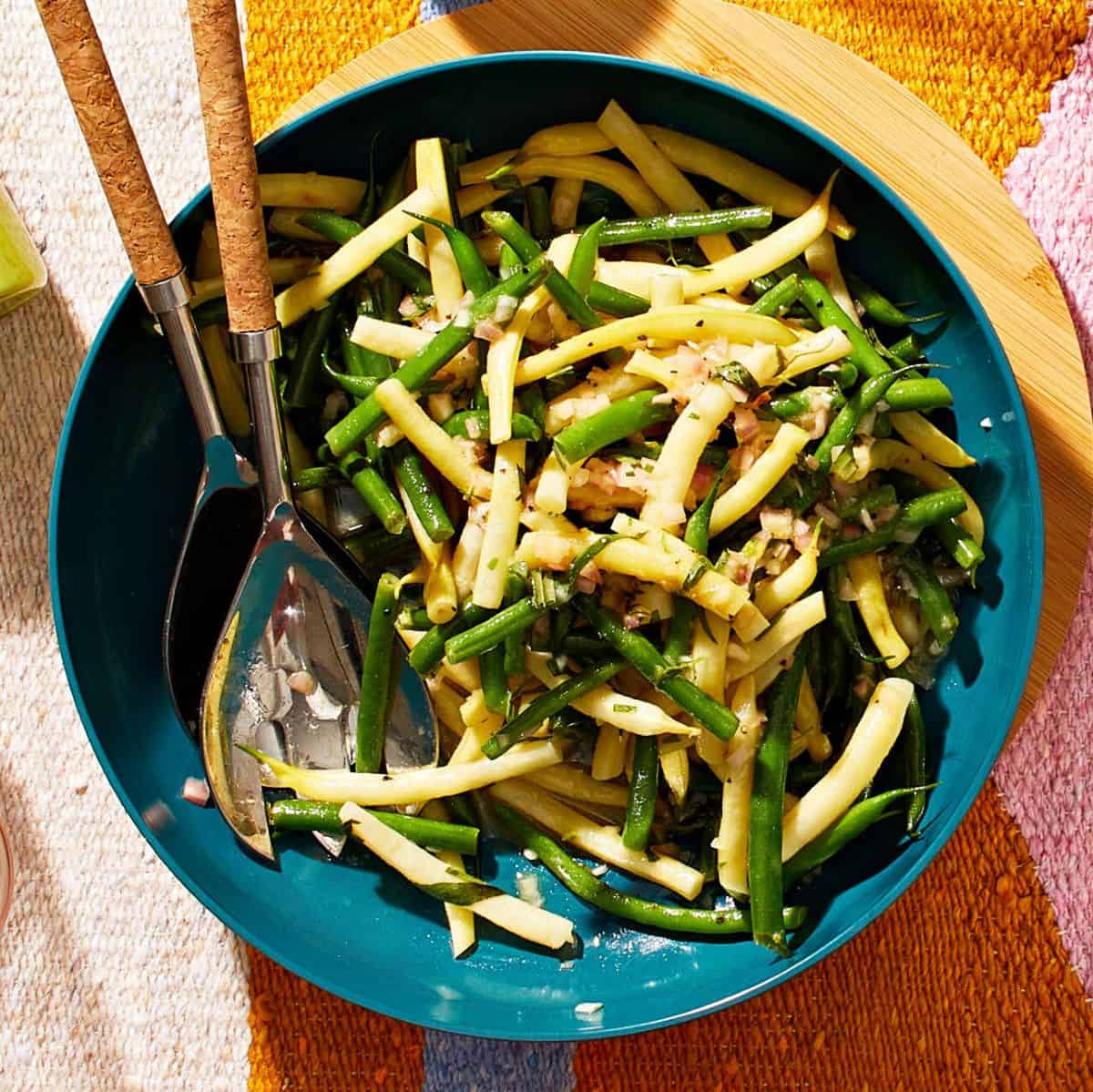 Two-bean Salad with Tarragon is a classic and simple side dish that's perfect for picnics, barbecues, or simply for a light lunch.
This flavorful dish showcases the bright and lemony notes of tarragon, which seamlessly ties together green beans, olive oil, shallots, wax beans, and more.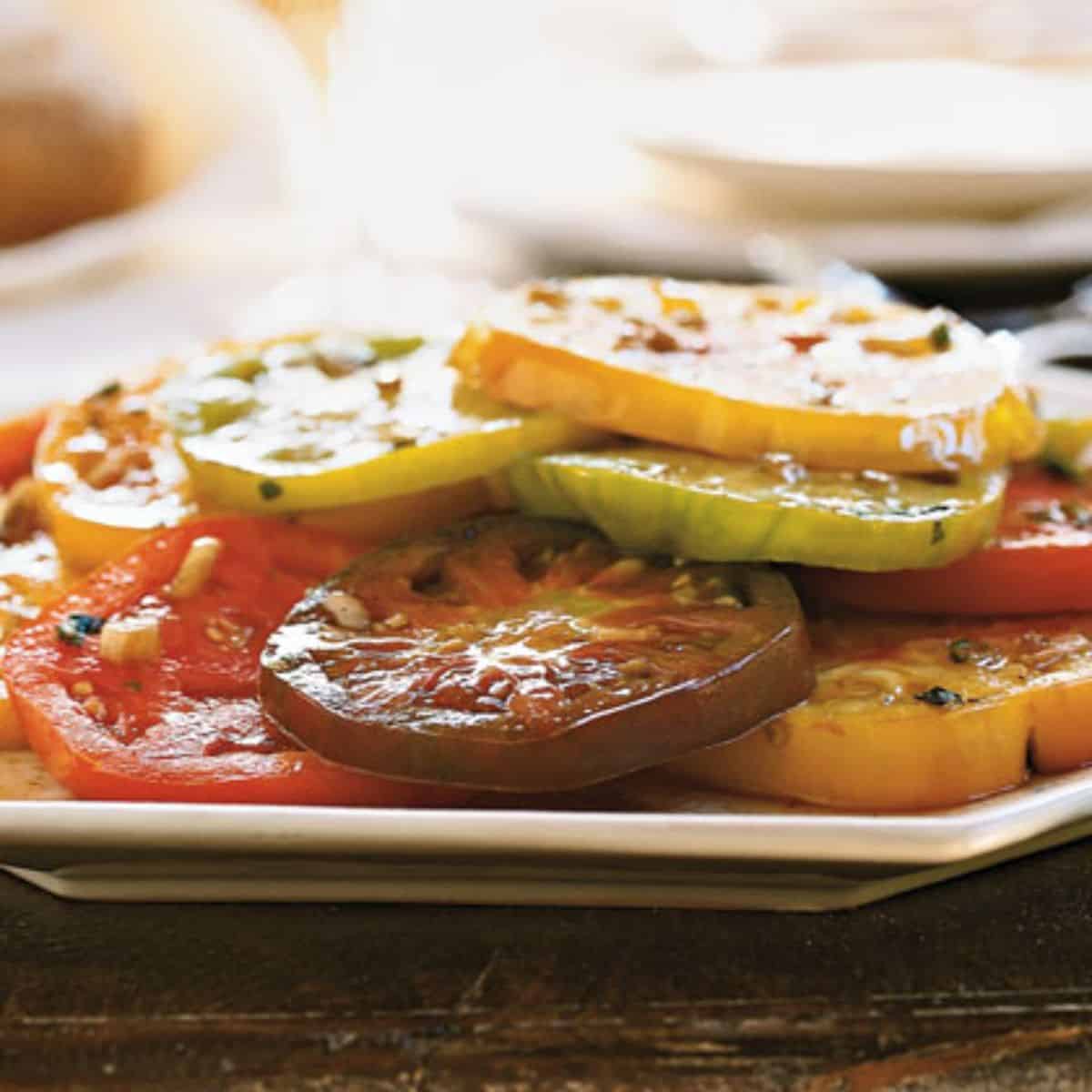 Marinated Heirloom Tomatoes with Tarragon is a refreshing and vibrant salad that highlights the natural sweetness and acidity of fresh Heirloom tomatoes.
The delicate anise-like flavor of tarragon complements the tomatoes perfectly, creating a unique and delicious combination.
Plus, the marinating process enhances the flavors and allows the tarragon to infuse its aromatic notes into the tomatoes, resulting in a truly delightful and memorable dish.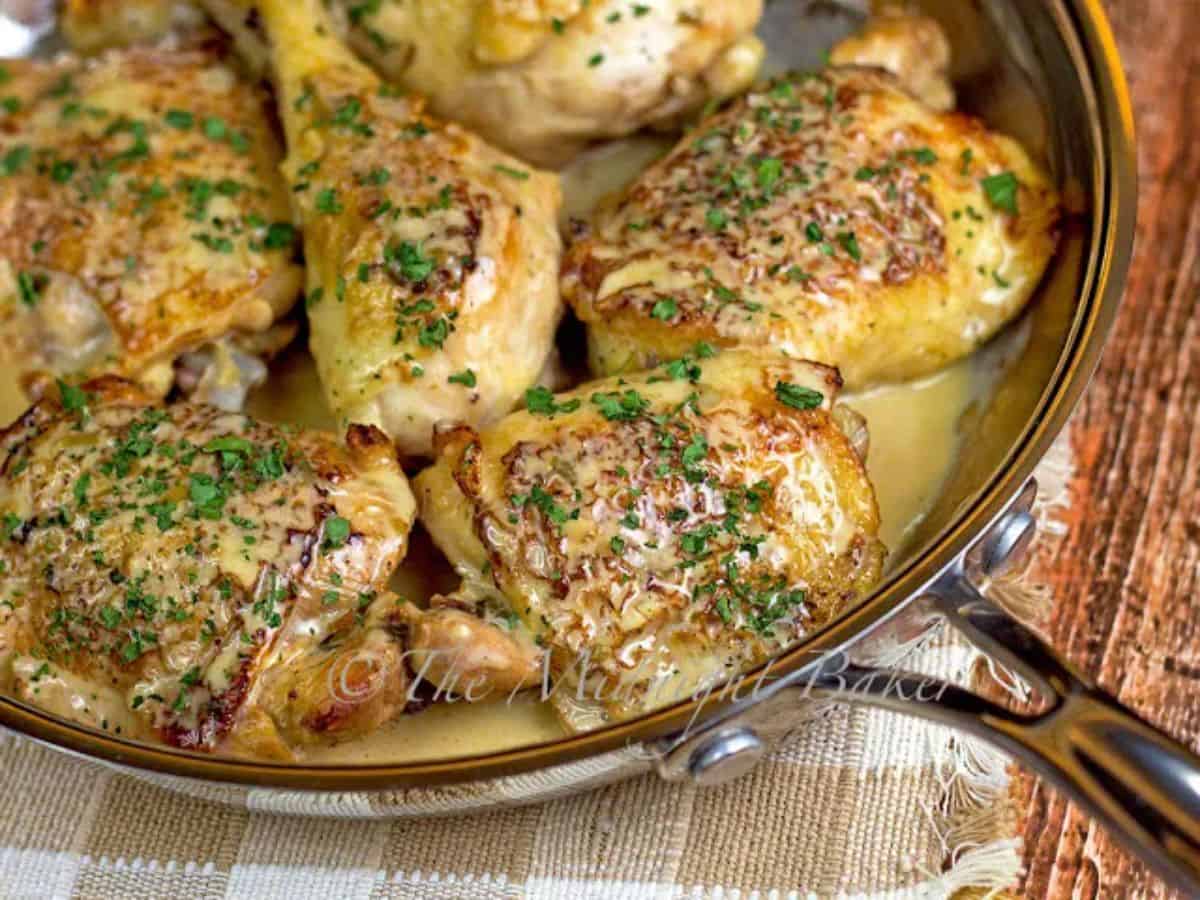 Tarragon Chicken with Chardonnay Cream Sauce is a sophisticated dish perfect for special occasions or a romantic dinner.
The tender chicken is cooked in a creamy sauce infused with the subtle yet distinctive flavors of tarragon and Chardonnay wine.
The sauce adds a touch of elegance and richness to the dish, making it ideal for celebratory gatherings or when you want to impress guests with a gourmet meal.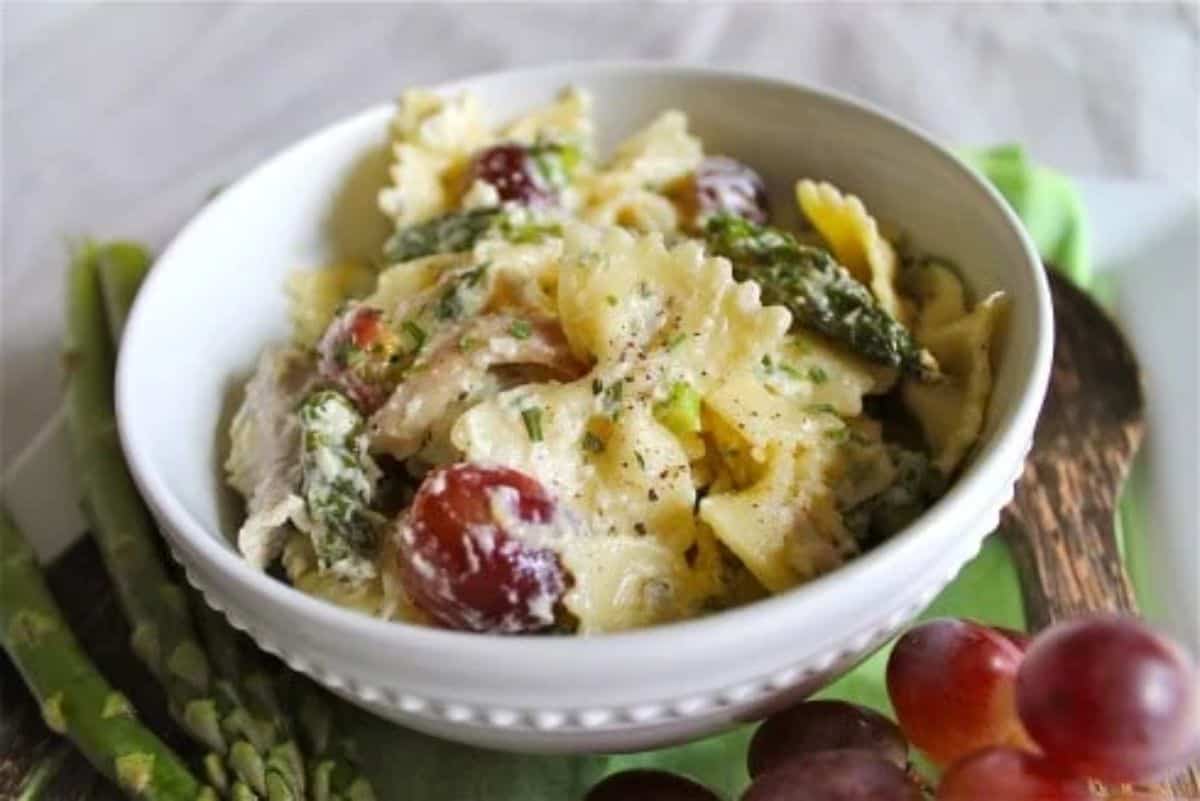 This Lemon Tarragon Pasta Salad incorporates pasta tossed in a zesty dressing made with fresh lemon juice and fragrant tarragon, creating a bright and citrusy flavor profile.
The addition of crunchy vegetables and herbs adds an additional burst of herby, refreshing flavors.
As you might've guessed, the citrus zest of this dish makes it ideal for summer gatherings, picnics, or as a light appetizer for a cheerful occasion.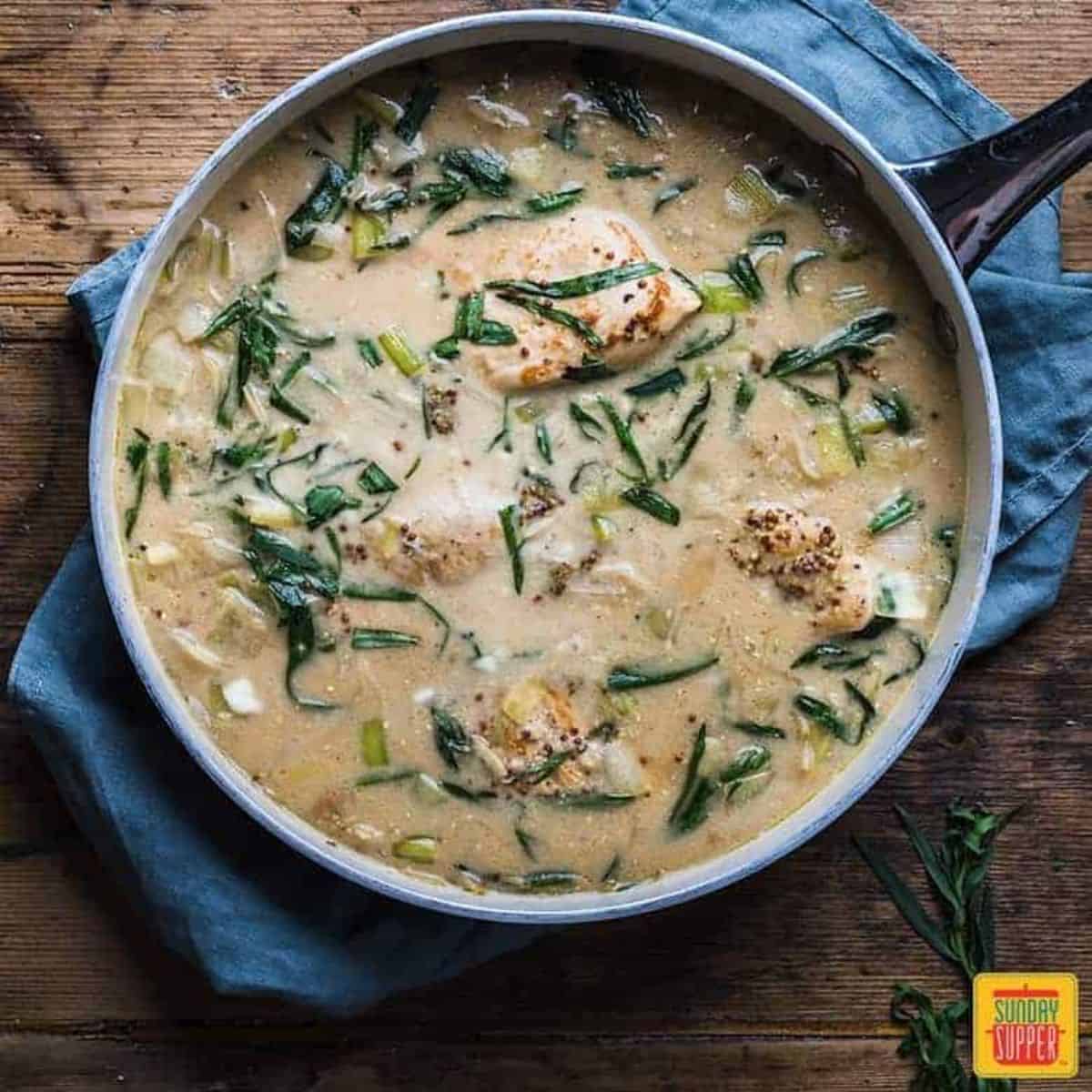 Creamy Chicken and Leeks is a comforting treat - perfect for cozy family-style dinners or close friend gatherings. Tender chicken and savory leeks are cooked in a creamy sauce made with butter, cream, and flavorful herbs.
The result is a rich and satisfying dish with a creamy, umami flavor profile that pairs well with crusty bread for contrast or creamy mashed potatoes for consistent textures.
Either way, you'll best enjoy the indulgent flavors of this dish in the colder autumn and winter months.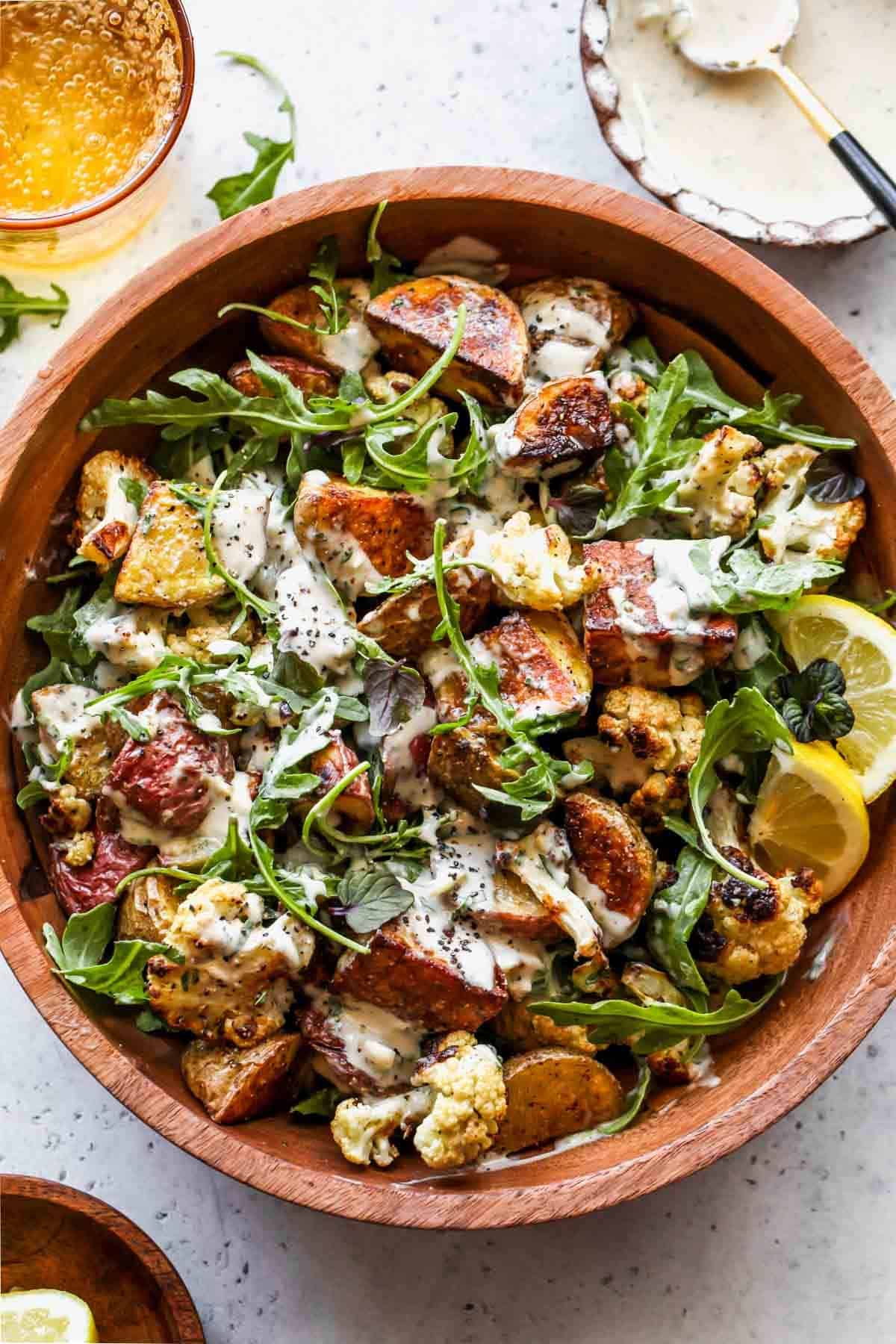 This is a unique twist on traditional potato salad. It adds a delicious nutty flavor, while the creamy tahini dressing infused with aromatic tarragon adds a tangy and herbaceous kick.
This salad is perfect for those who love bold flavors and are looking for a refreshing and satisfying side dish that isn't boring or overdone. It's also a great option for vegans or those who enjoy plant-based meals.
Carrot & Tarragon Soup features the natural sweetness of tender carrots paired with the distinct taste of tarragon.
This soup is perfect for those looking for a unique twist on a classic carrot soup recipe and those who appreciate the delicate and refreshing taste of tarragon.
Tarragon Tuna Salad is a delightful, intriguing twist on the classic tuna salad that some may raise an eyebrow upon first hearing of it, but it is pleasantly surprising indeed!
The fragrant and slightly sweet notes of tarragon complement the rich and savory flavors of tuna, creating a uniquely balanced pairing.
This salad is perfect for those who want to enjoy two unique tastes combined into one dish.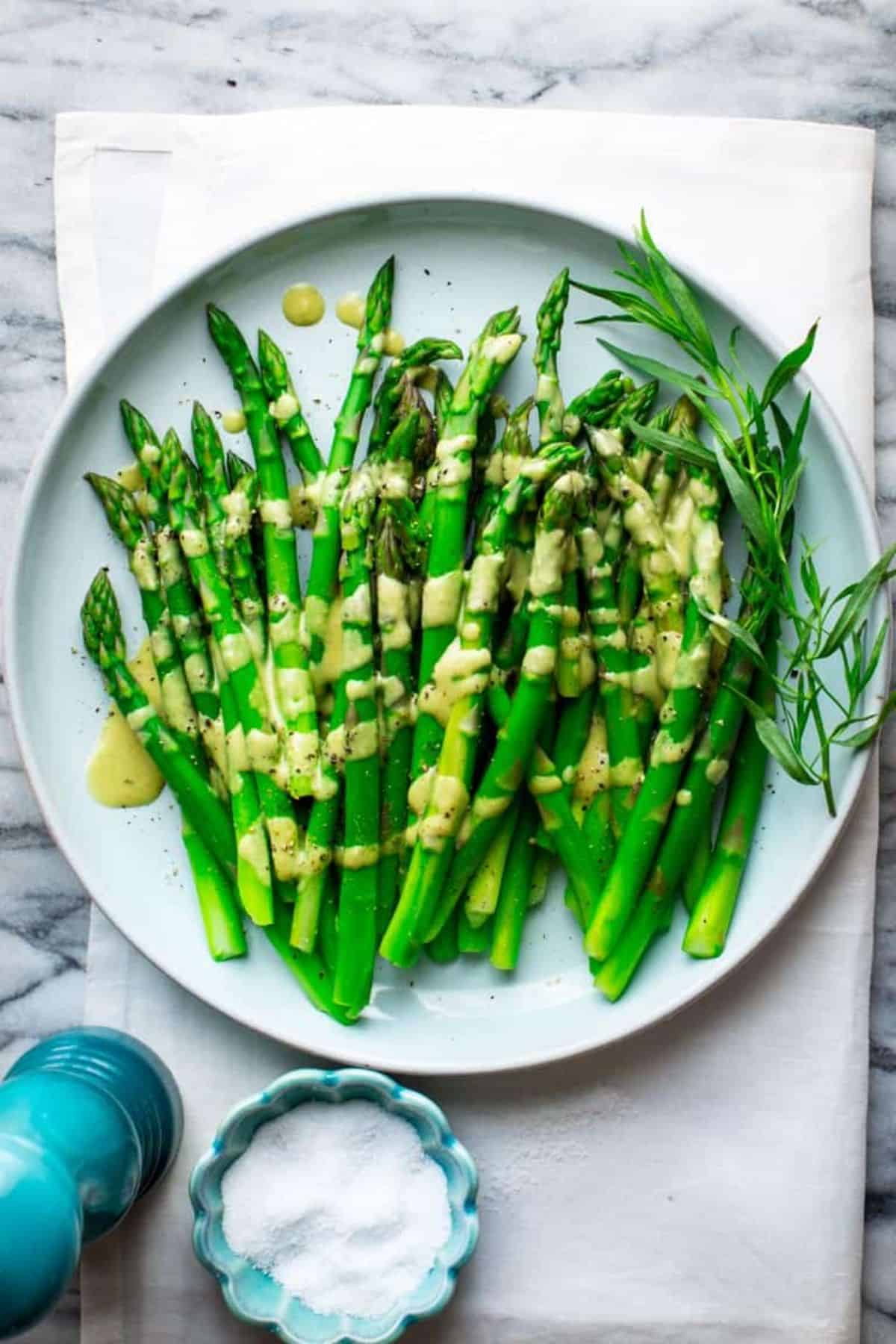 Tarragon vinaigrette is a peppery dressing made with vinegar, oil, and fresh tarragon, which adds a lovely, herbaceous flavor to the already earthy and slightly sweet taste of asparagus.
The bright and refreshing notes of tarragon vinaigrette perfectly complement the natural flavors of asparagus, making it a delicious and vibrant side dish for any occasion.
Give this simple yet elegant recipe a try and experience this delightful combination for yourself!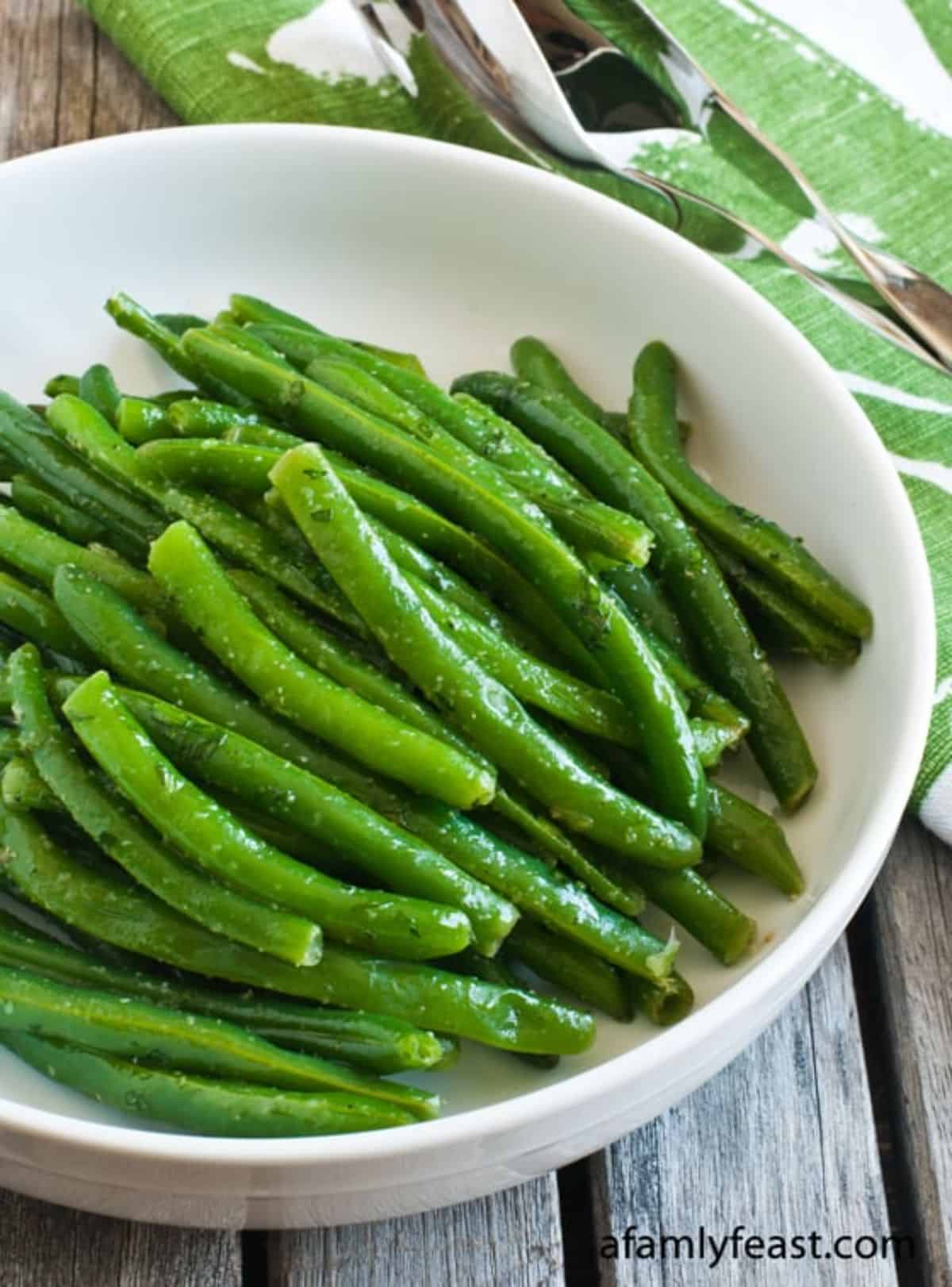 This Green Beans with Tarragon recipe presents another option for pairing a delightful green veggie with the herbaceous, peppery, and tangy tarragon flavor.
We recommend serving this as a side dish during summer months when the garden-fresh green beans are at their best.
However, it also works wonderfully with frozen green beans if you'd like to make it throughout the year.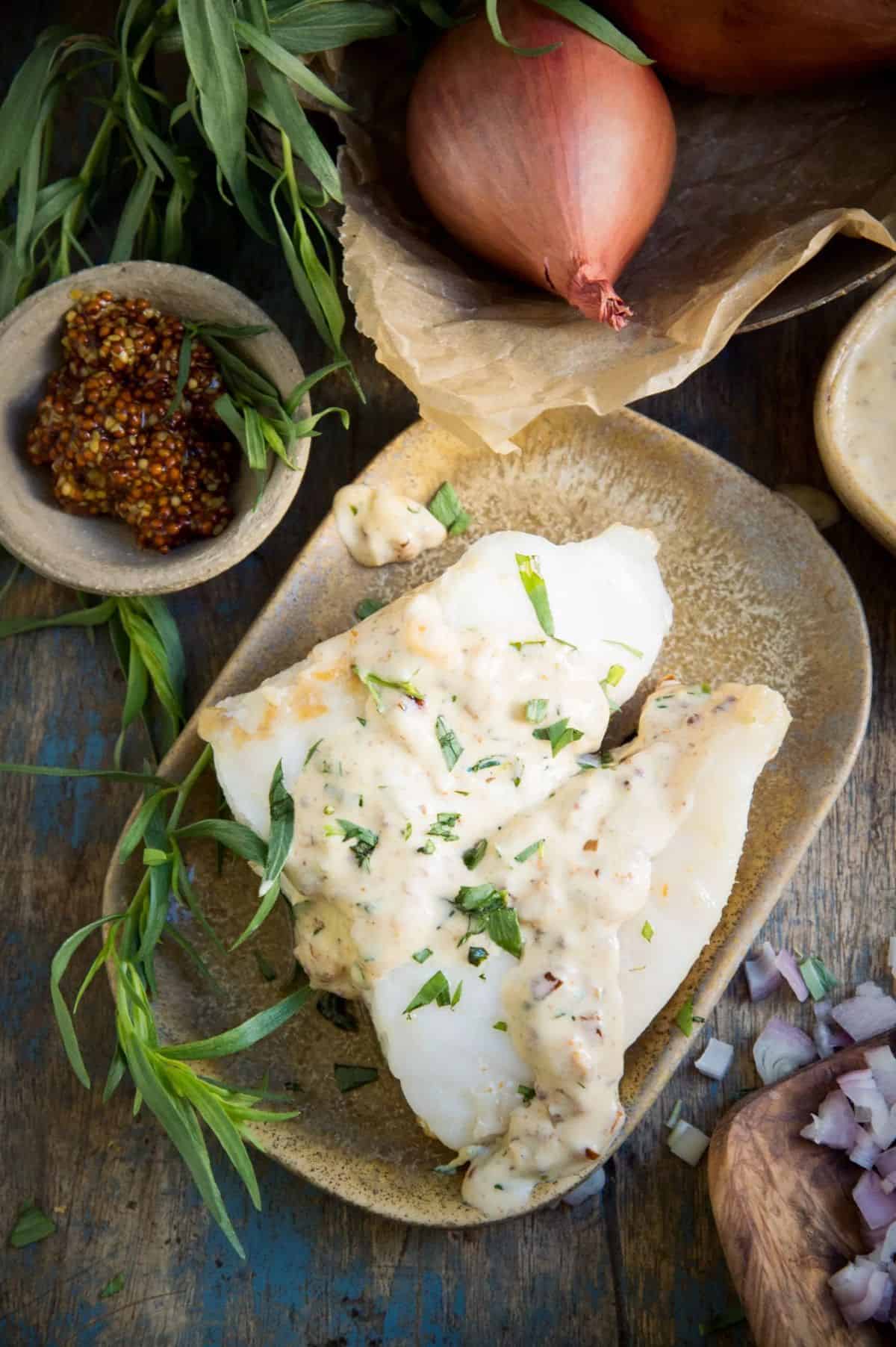 Sautéed Fish with Mustard Tarragon Cream Sauce is a highly flavorful and creamy dish that you can make with a variety of fish, such as halibut, cod, haddock, or salmon, although this recipe recommends white fish specifically.
The dynamic notes of mustard and tarragon in the cream sauce beautifully complement the delicate and flaky texture of the fish, making it a delicious option for a special date night dinner or a gourmet "treat yourself" meal.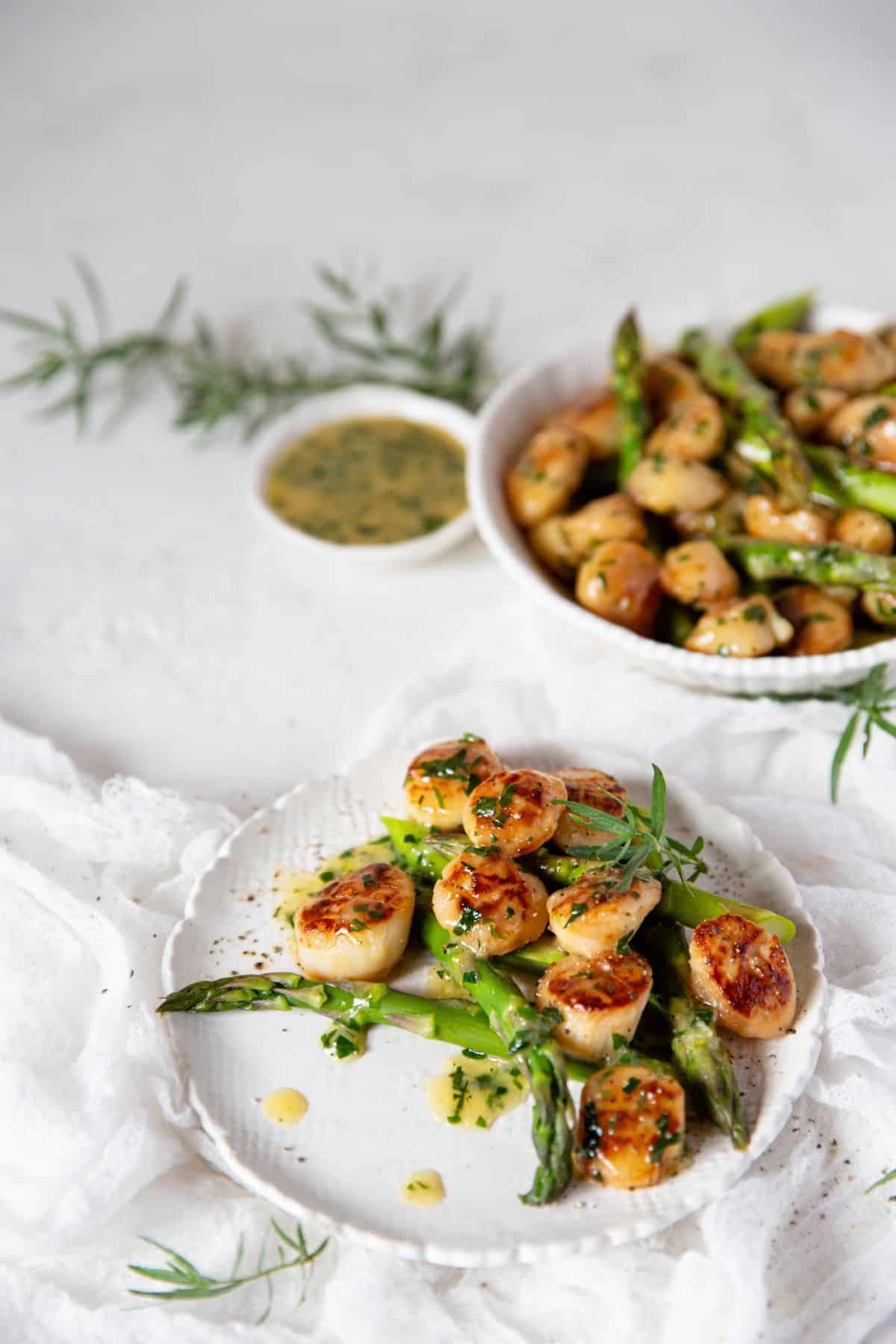 If you like the sound of an elegant dish that maintains a high level of comfort and decadence, try this Seared Scallops with Tarragon Butter recipe.
The tender and succulent scallops are seared to perfection and then finished with rich and aromatic tarragon butter, adding a burst of flavor to each bite.
Fines Herbes Classic French seasoning mix combines the flavors of tarragon, parsley, chives, and chervil, resulting in a versatile and aromatic blend that complements a wide variety of dishes.
Its delicate and herbaceous notes add depth and complexity to soups, sauces, eggs, meats, and vegetables, making it a must-have seasoning for any aspiring chef or culinary enthusiast.
This Crab Cake Sauce recipe, also known as Lemon Tarragon Mayonnaise, provides a tangy, zesty, and creamy condiment that goes swimmingly with the rich flavors of crab cakes.
Simply drizzle it over the top of crab cakes or serve it on the side for dipping and enjoy the delightful contrast of flavors in every bite - a must-try for seafood lovers!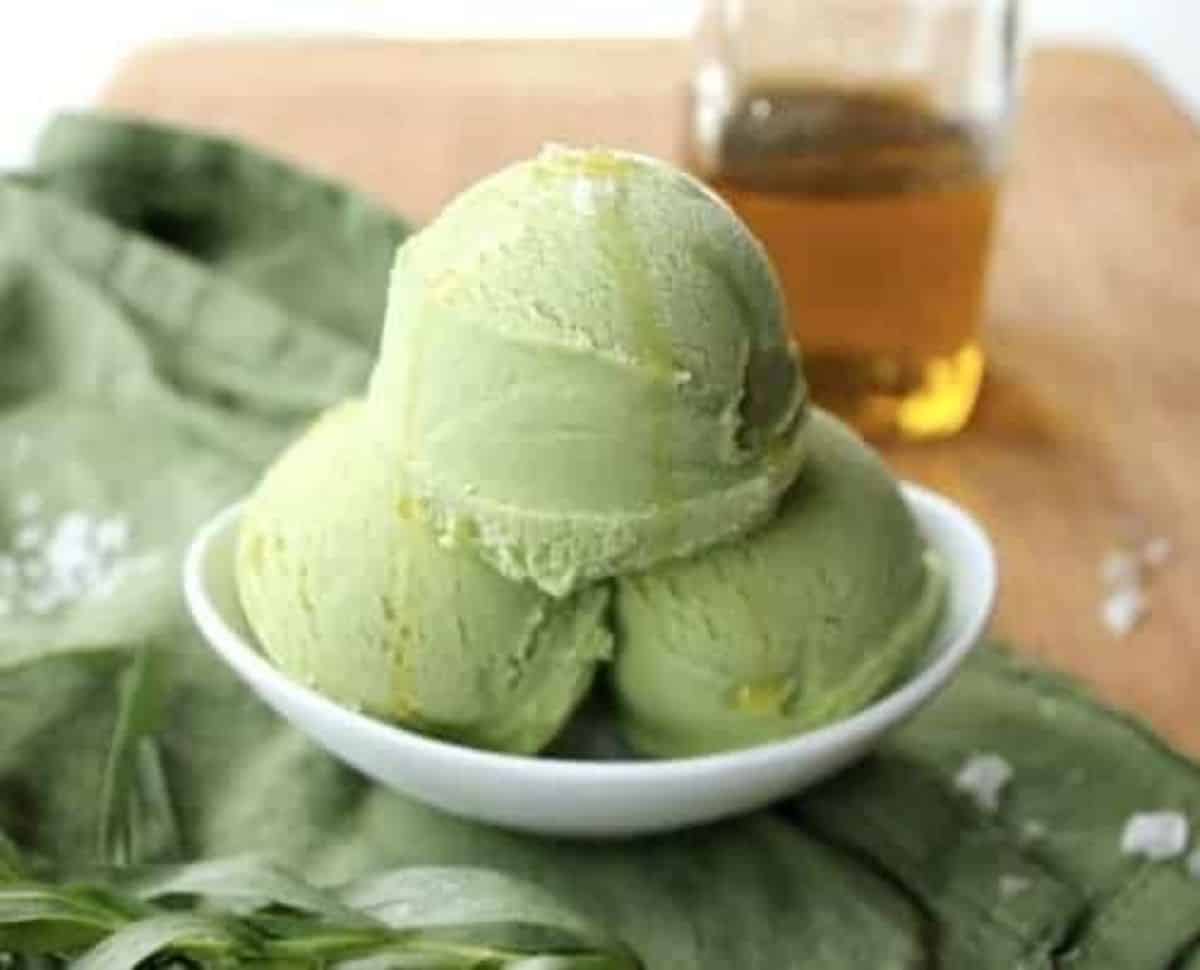 Tarragon Olive Oil Ice Cream is a unique and delicious frozen treat that brings together the unexpected flavors of fragrant tarragon and luscious olive oil.
The combination of the herbal notes from the tarragon and the smooth richness of the olive oil creates a velvety and indulgent ice cream that's perfect for adventurous foodies looking for a unique dessert experience.
Grilled Chicken Tarragon with Tomato Sauce combines the aromatic, earthy flavors of tarragon with juicy grilled chicken and tangy, slightly acidic tomato sauce for a tantalizing result.
This dish is perfect for a summer barbecue, a casual dinner with friends, or a weeknight meal that's both flavorful and easy to prepare.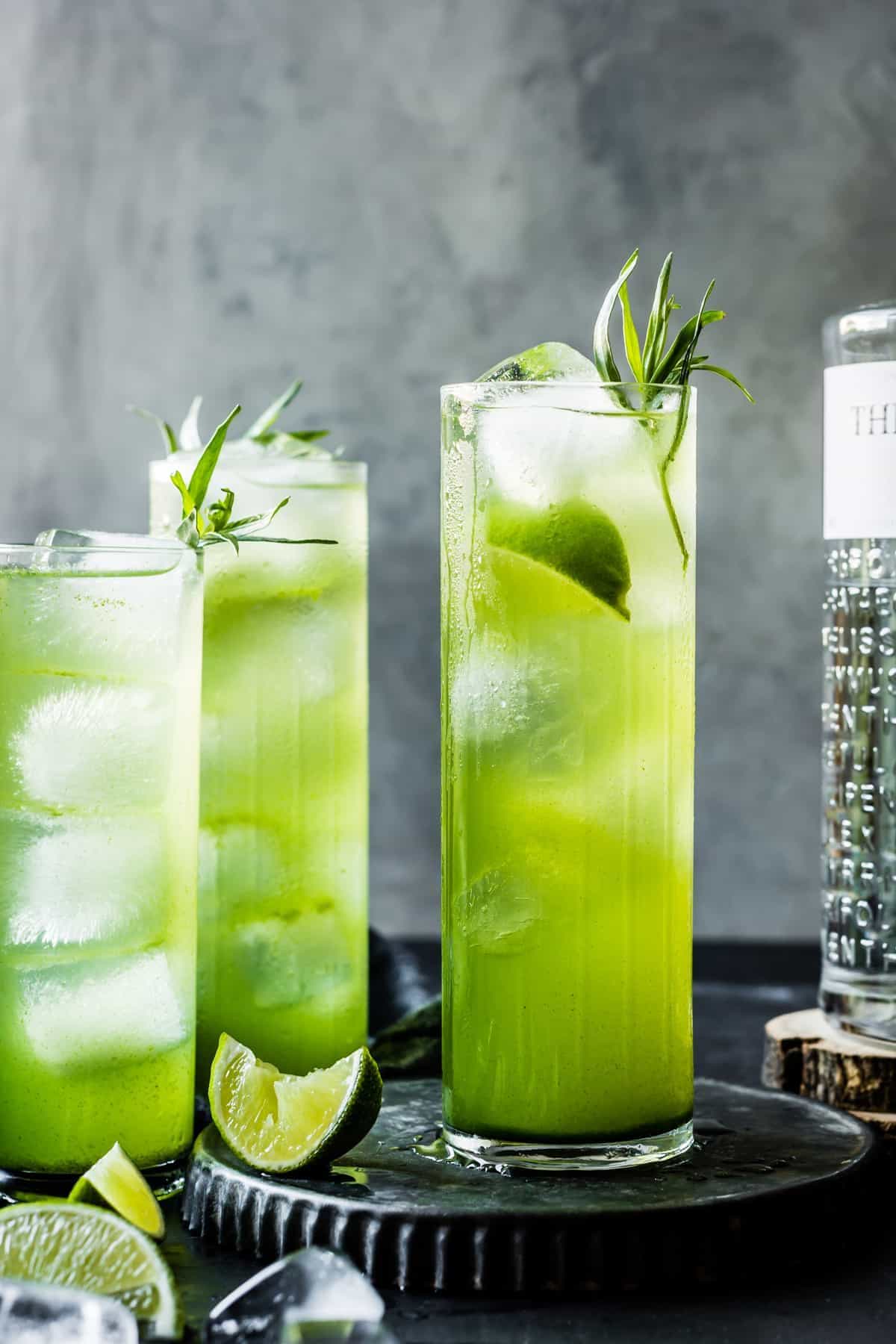 Tarragon goes well with drinks too! This Tarragon Gin and Tonic recipe lets you enjoy the herbal flavor of tarragon with a familiar and well-loved gin and tonic.
The herb's bold and slightly bittersweet taste adds complexity and depth to the botanical notes found in many gins, enhancing their overall flavor profile.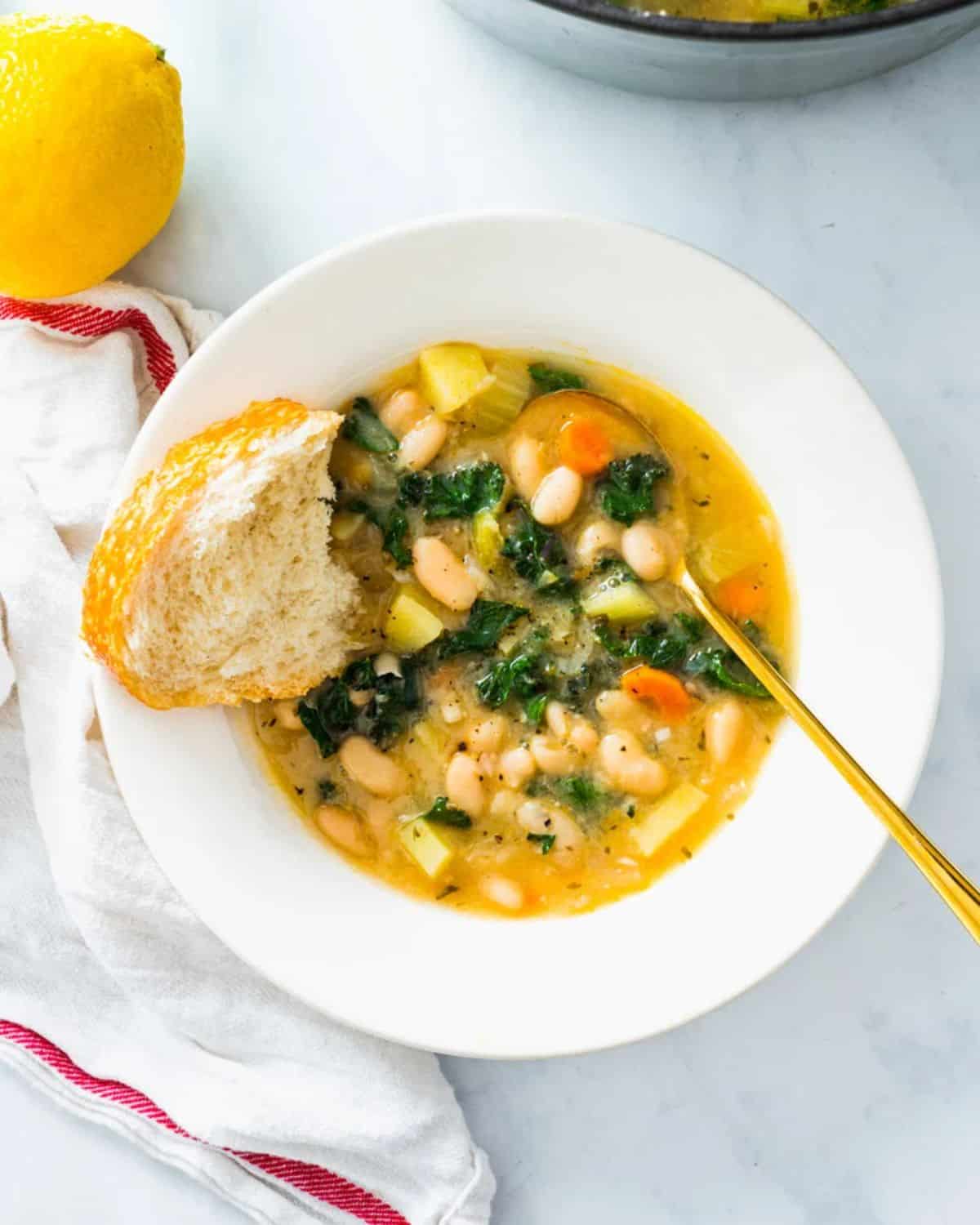 Typical Cozy White Bean Soup is often made with flavorful herbs like thyme and rosemary, but this version also includes tarragon for a licorice-like peppery nature that's ultra-comforting.
This nourishing soup is perfect for cooler weather, as it's rich, aromatic, and warm. It makes for a good starter, especially when coupled with warm, crusty bread on the side.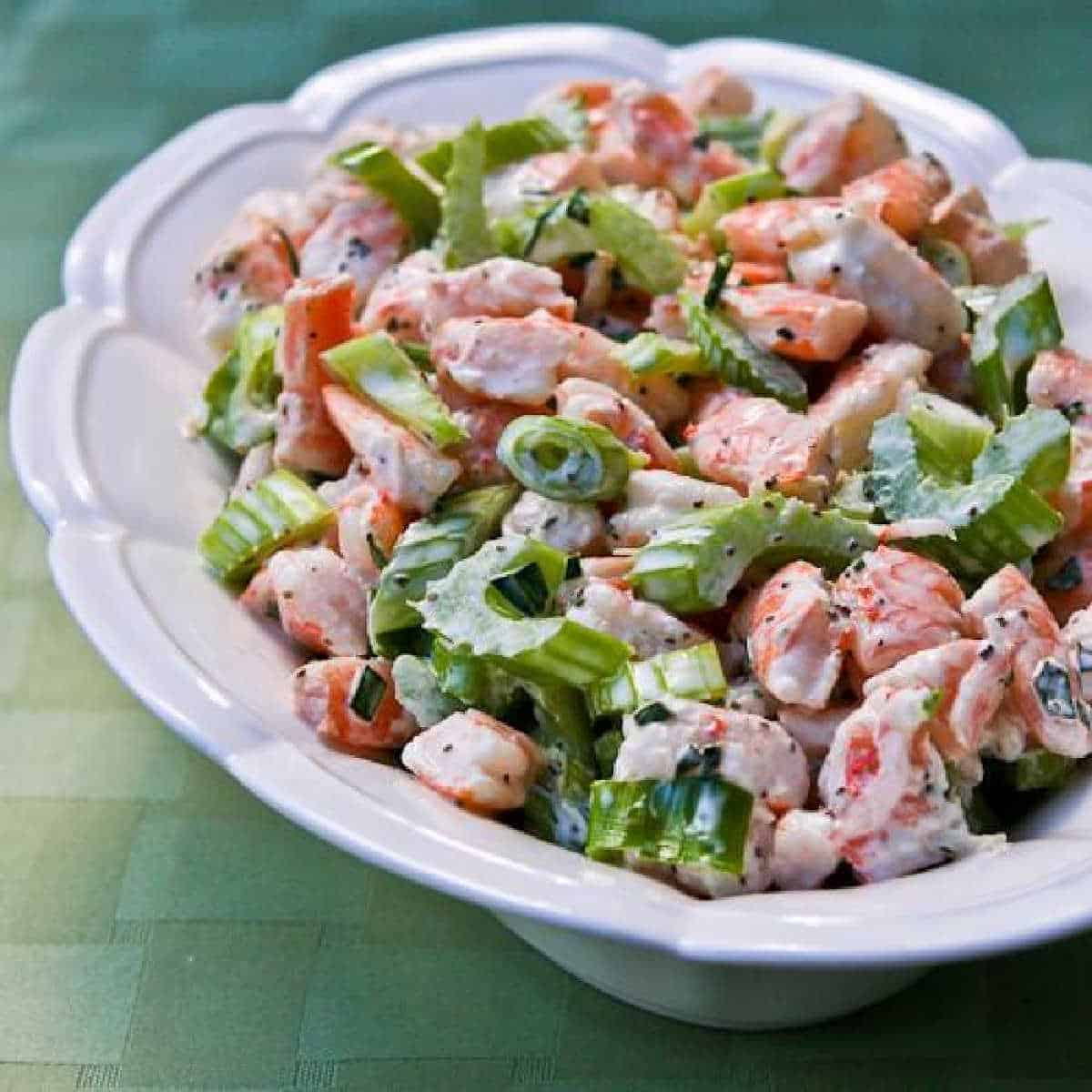 Tarragon Shrimp Salad is a great way to get your daily dose of veggies (with green onion and celery) while still impressing any family member or guest you serve with the wonderful combination of tarragon and shrimp.
Tarragon's distinct anise-like taste and hints of citrus and mint add a unique depth and complexity to the sweetness of shrimp.
Beet Salad with Citrus Tarragon Dressing is a revitalizing lunch or appetizer dish that showcases the earthy sweetness of beets paired with the bright tanginess of citrus and the aromatic flavors of tarragon.
The dressing, made with freshly squeezed citrus juice and fragrant tarragon, adds a burst of flavor to the beet salad, skyrocketing it to a new level of deliciousness.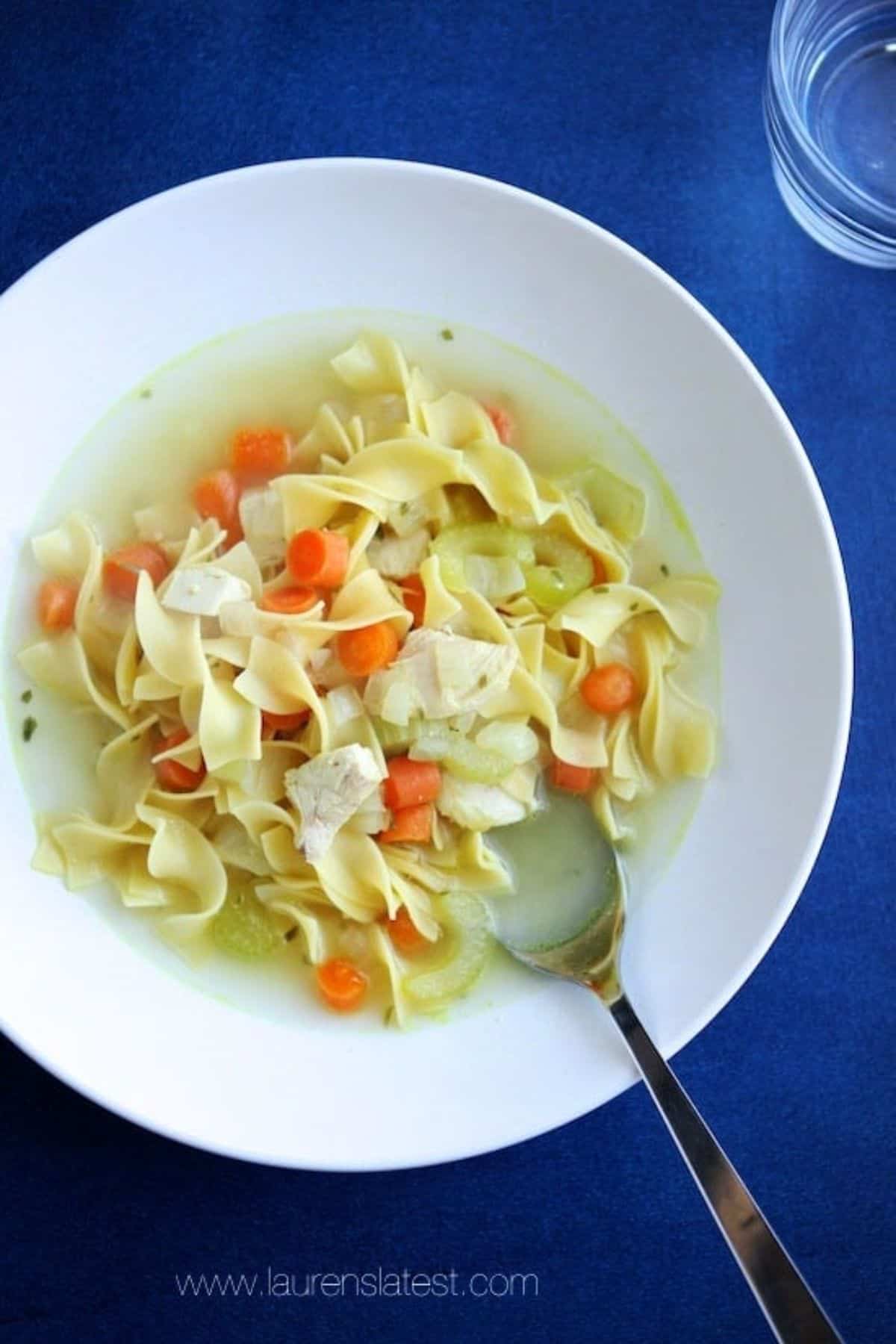 Classic Chicken Noodle Soup is a traditional comfort dish for a reason, but when you add tarragon to the mix, the elegant, peppery complement the tender chicken, savory vegetables, and hearty noodles.
It's a great option for a light yet cozy and comforting appetizer, but it could also work well as a wholesome meal on its own.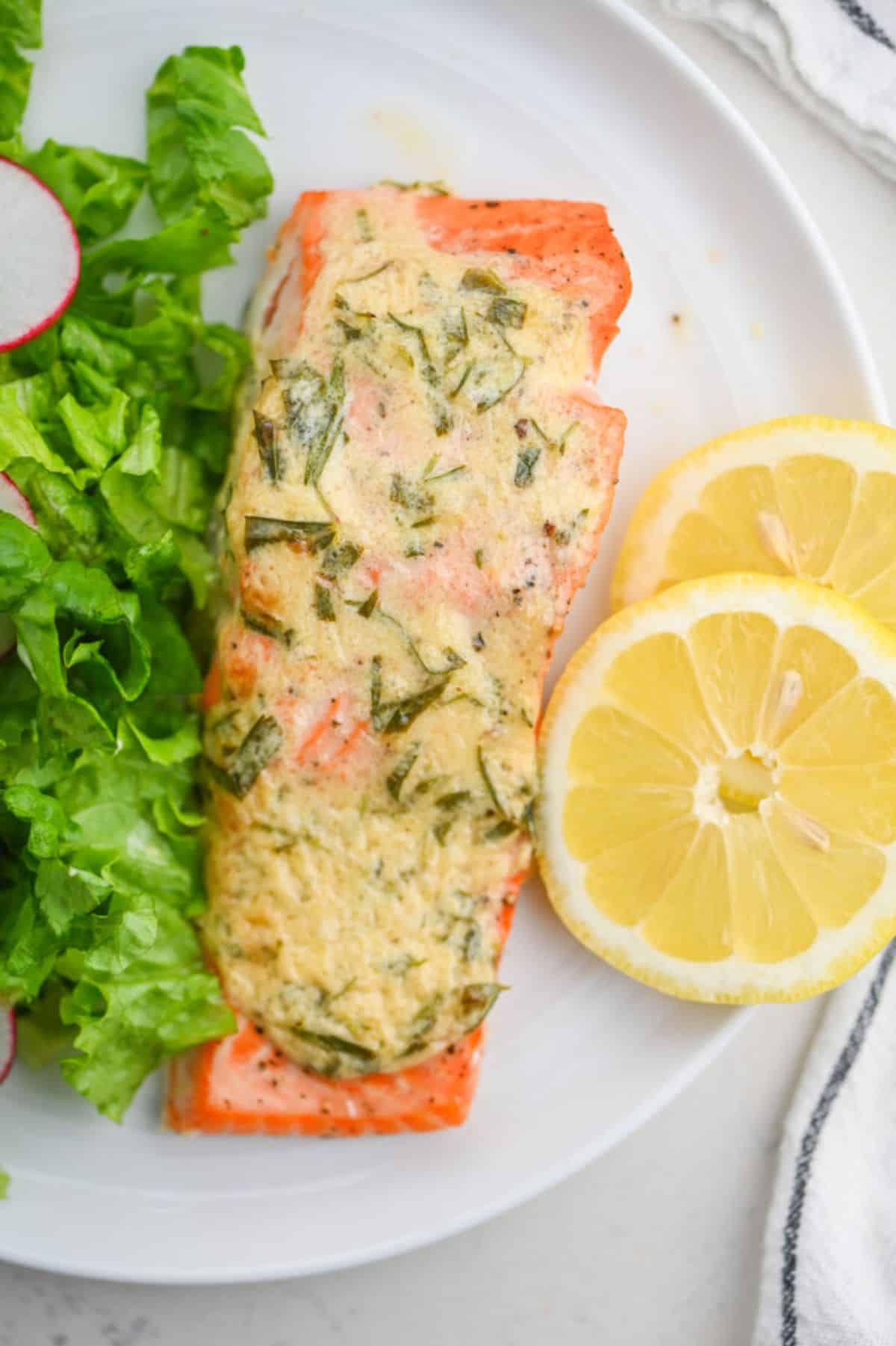 Similar to how the Sautéed Fish mentioned earlier works well with tarragon, so does this Salmon dish.
Dijon tarragon sauce gives the flaky, buttery salmon a delightful tartness and herbal boost that's perfectly balanced by the richness of the fish.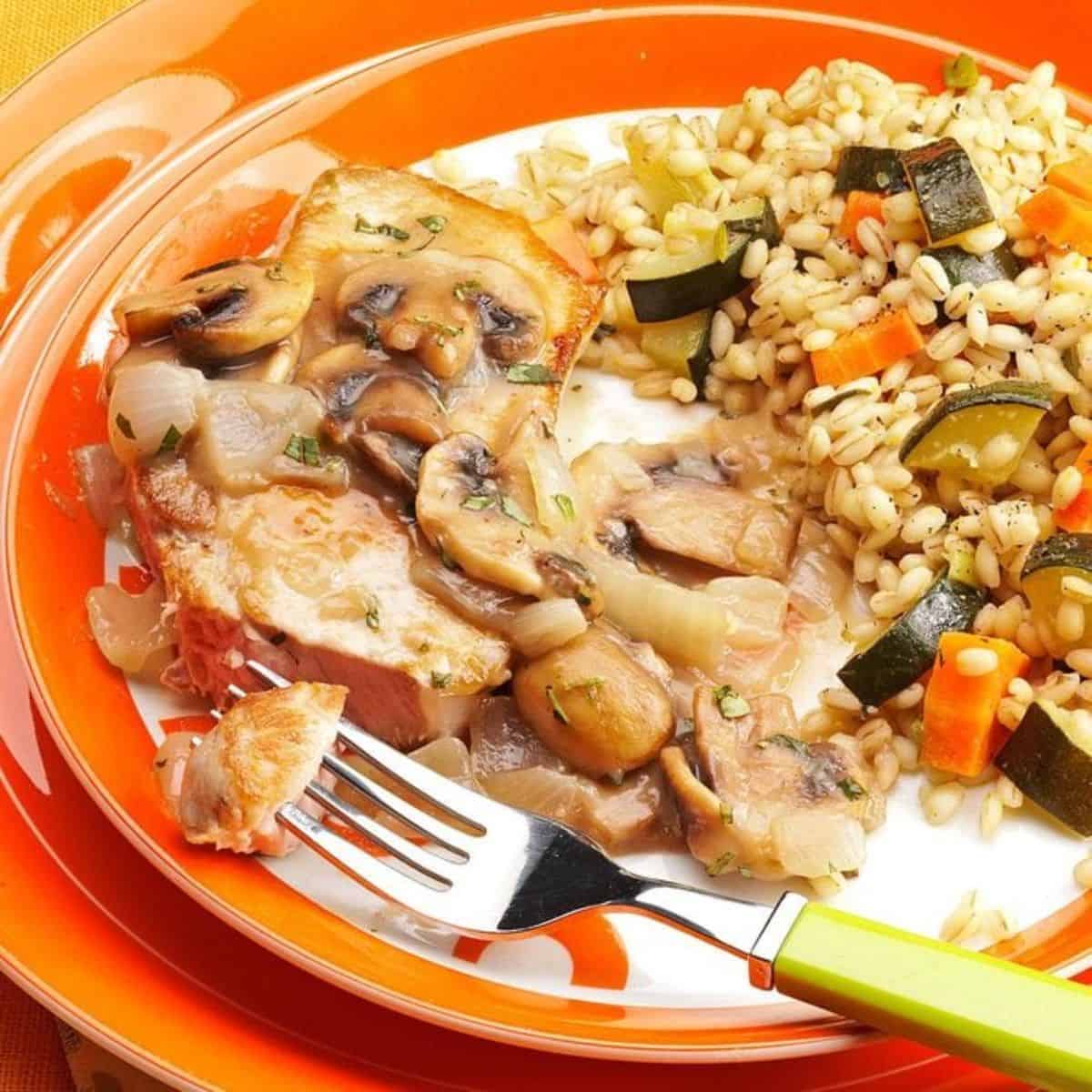 Last but far from least is this Pork Chops with Mushroom-tarragon Sauce, which almost speaks for itself. Tarragon adds a layer of complexity and depth to juicy, tender pork chops.
Whether for an intimate date night or a celebratory dinner, this dish is sure to impress with its delicate flavors and beautiful presentation.