Where are my Harry Potter fans? You cannot enter the wizarding world of Harry Potter or climb aboard the Hogwarts Express without a pack of chocolate frogs! Did you know you can easily make your own pack of chocolate frogs complete with an authentic looking chocolate frog box complete with chocolate frog cards in the bottom? Let me show you how!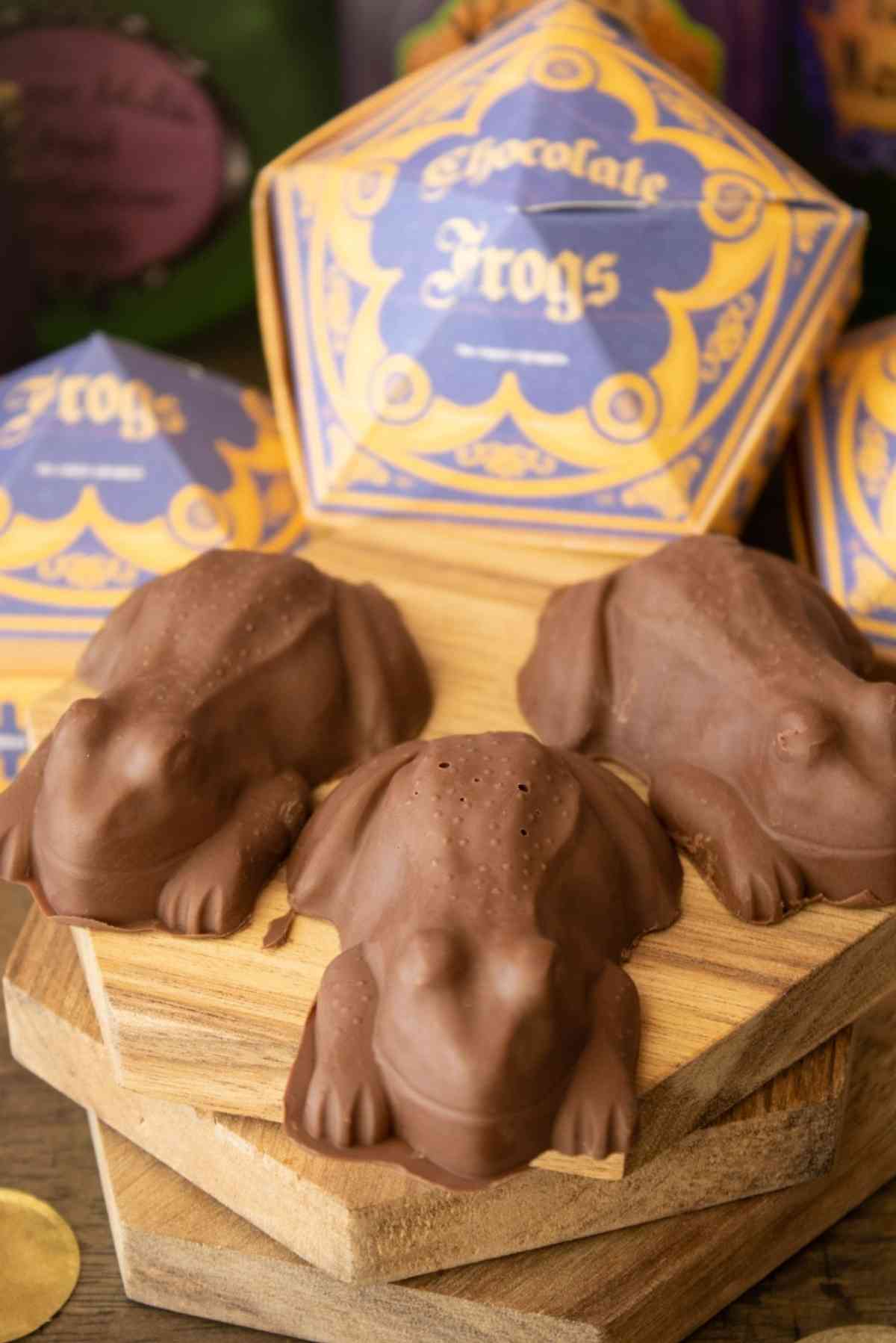 Jump to:
Why You'll Love This Recipe
These famous chocolate frogs are worthy of the Harry Potter universe!
Perfect treat for little wizards to enjoy during an Harry Potter movie marathon or party!
Just remember these cute frogs only have one good jump in them (wink, wink)!
Ingredient Notes & Equipment List
Ghirardelli Dark Chocolate - For best results use quality chocolate. I highly recommend using the Ghirardelli brand for the dark chocolate. I have tried a lesser brand as well as melting chocolate from a bulk bin store and both resulted in streaky chocolate frogs because of the higher wax and shortening content in them.
Chocolate Chips - Use a name brand milk chocolate chip. Off brands or bargain brands use wax and other fillers in them causing the chocolate to streak and not set up well.
Silicone Frog Mold - I purchased my silicone molds from Amazon. They are silicone and comes in a set of 2 so you can make 16 total frogs. Click Here to Purchase your Frog Molds. You can use a plastic mold however the silicone ones are much easier to remove the candy frogs from.
Chocolate Frog Boxes with Trading Cards - I purchased this AWESOME instant download to print authentic looking chocolate frog boxes along with two sided trading cards! I have printed and put together these boxes many, many, many times! The download is inexpensive and makes the Harry Potter Chocolate Frogs experience complete!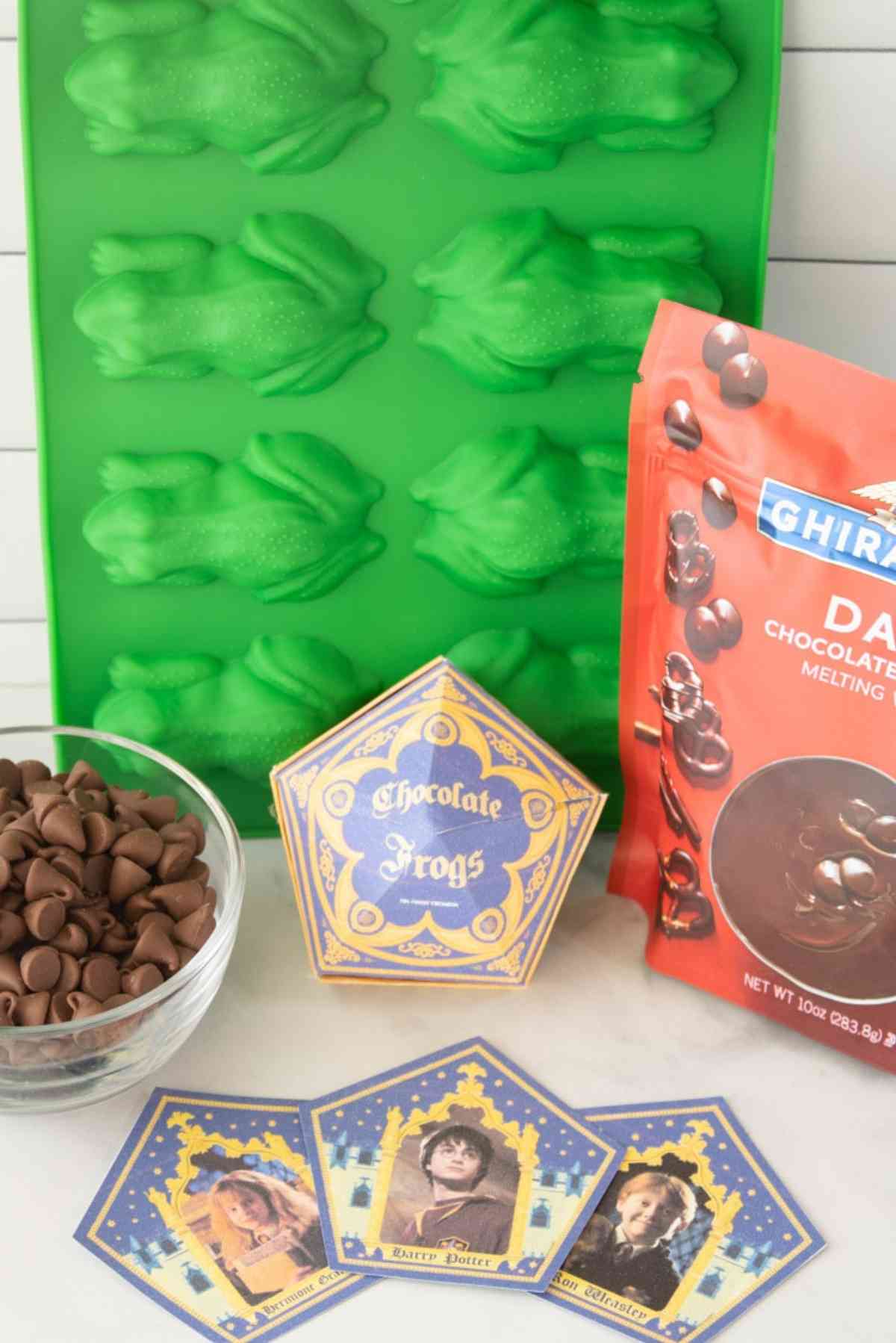 How to Make
For this recipe we are going to do a 2 to 1 ratio of dark chocolate to milk chocolate. Dark chocolate on it's own is too brittle and hard. Milk chocolate on it's own is too soft and melty.
My preferred method of melting chocolate is in a Wilton Melting Pot but you can melt your chocolate in the microwave in a microwave-safe bowl as well.
Read here for How to Melt Chocolate in the Microwave if you are unsure how.
You can also melt chocolate in a double boiler. Read here for How to Melt Chocolate in a Double Boiler.
Melt the dark chocolate and the milk chocolate together until completely smooth using the melting method of your choice.
Place the silicone molds on a sheet pan. (Purchase your frog molds HERE)
Carefully pour or spoon the melted chocolate into the chocolate frog molds.
Fill each frog not quite to the top edges so you end up with flat bottoms and clean edges.
Lightly lift and tap the sheet pan against the countertop a few times to shake any air bubbles that may be in the melted chocolate shake to the top and pop.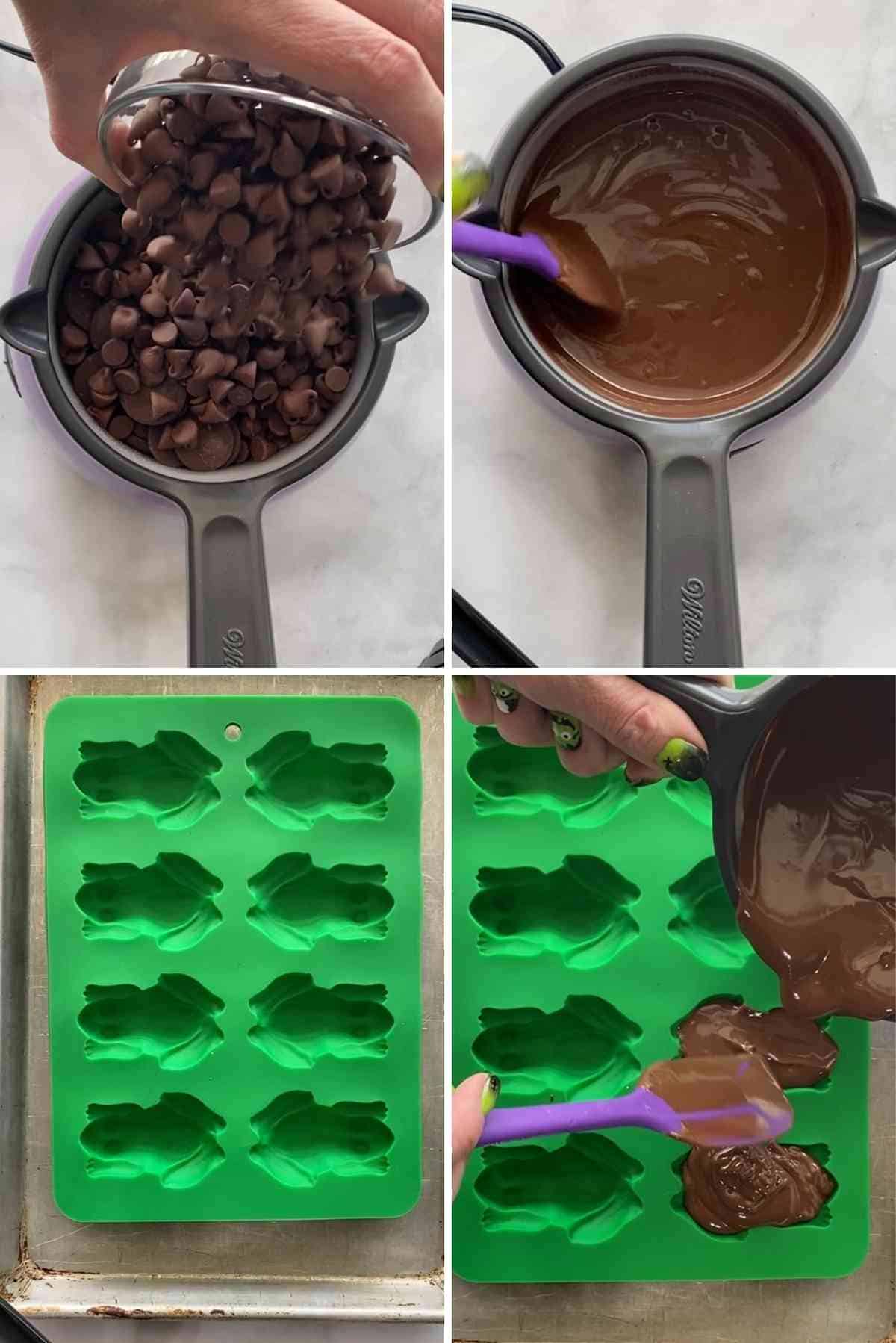 Allow the chocolate to cool and reharden at room temperature or in a cool room. This may take a few hours.
You can chill and store them in the fridge but be aware that the chocolate will change colors and look streaky. If you have used quality chocolate the streaks will disappear when the frogs return to room temperature. If you have used cheap or lesser quality chocolate the streaks may remain.
Purchase, print out, cut out and assemble your chocolate frog paper boxes and place one of the collectible wizard cards in each box! (You purchase them HERE)
Pop out the completely set up and solid chocolate frogs from the molds and place a frog in each box.
Close and secure the lid shut with a little piece of tape.
You are now officially ready for a Harry Potter Party that will be so much fun!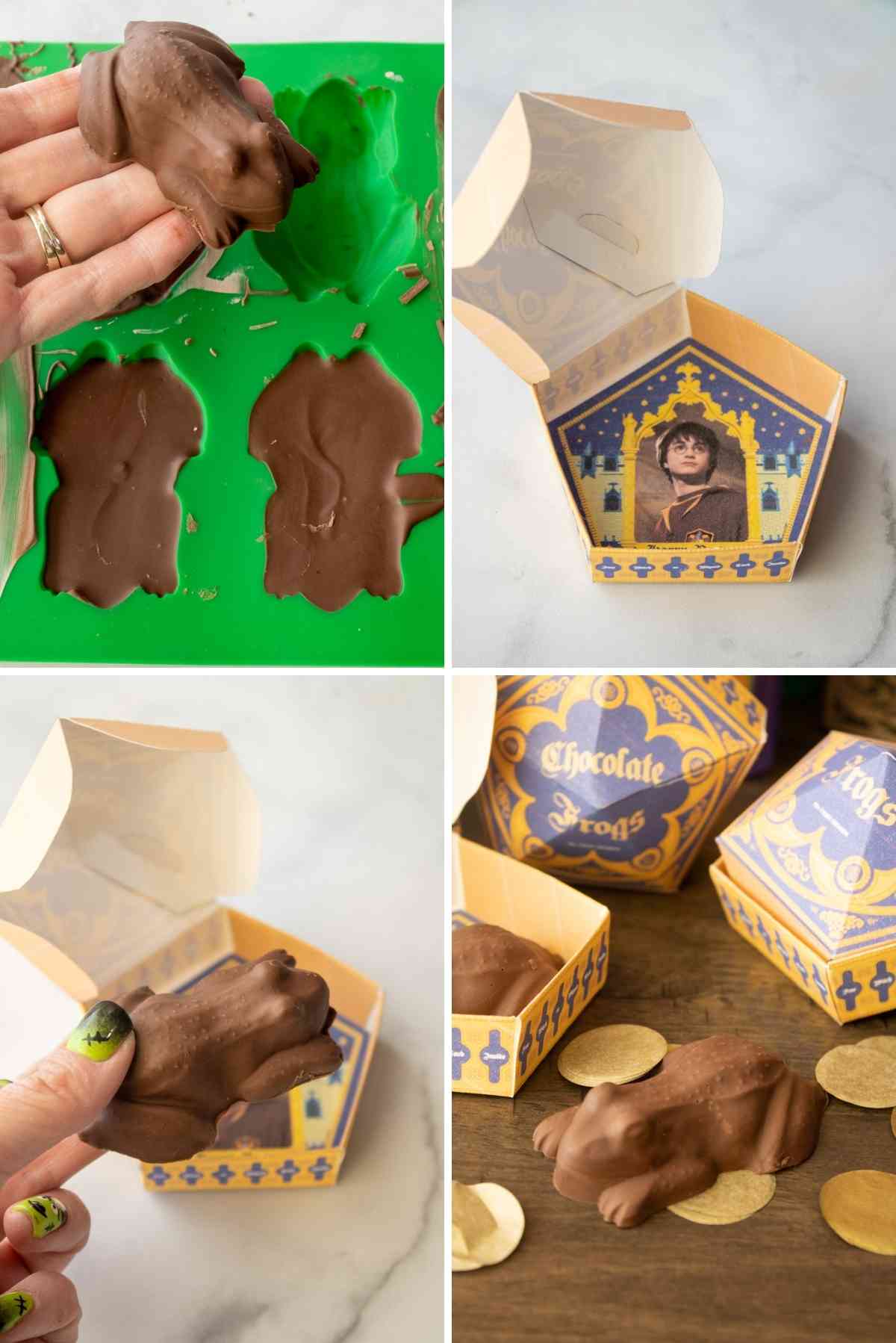 FAQs and Expert Tips
More Harry Potter Recipes
Have you tried this recipe? If so, leave me a rating and a comment below! And don't forget to subscribe to my newsletter to get my latest recipes sent right to your email! You can also follow me on Facebook, Pinterest, and Instagram!
Mindee's Cooking Obsession is a positive place and I love to hear your success stories! Remember to keep comments or questions respectful and kind. I reserve the right to delete or reject any comments that are deemed not helpful to other readers or are offensive in nature.
Comments suggesting substitutions of multiple ingredients or rewrites of the above recipe to promote different dietary preferences will not be published as they are not tested for accuracy and may inhibit the success of other readers. Thanks!