Are your tastebuds ready for The Ultimate BLT Sandwich? It's packed with flavor! It's easy to make! And like any sandwich worth praise, it's a little messy!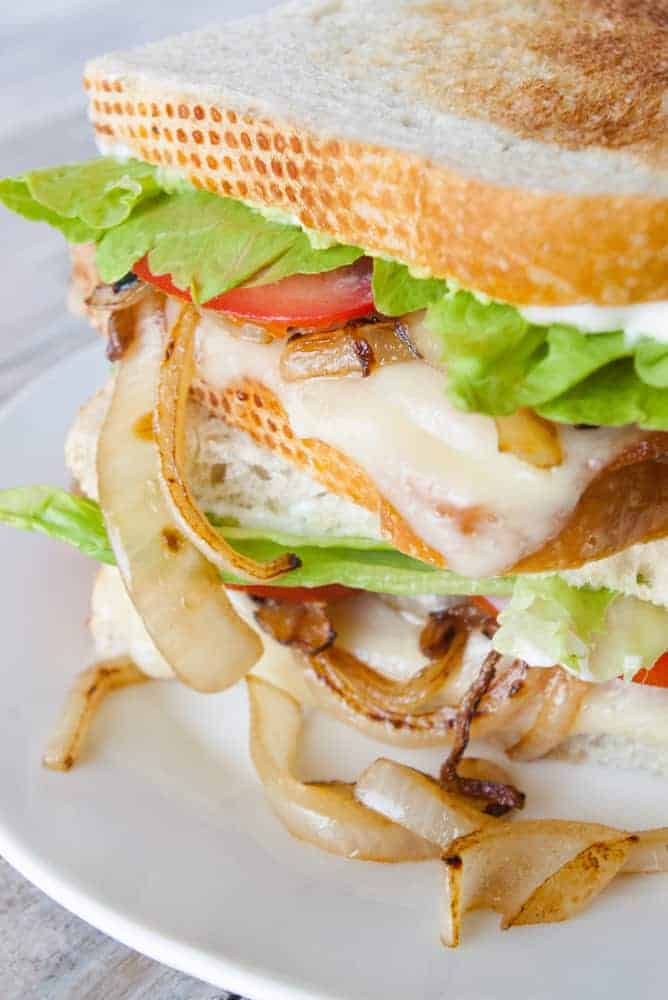 Are you ever in the mood for a really good sandwich? You know what I mean... not just a ham & cheese or PB & J. Even a regular BLT sandwich doesn't quite make your mouth water. Then you definitely need to try my recipe for The Ultimate BLT sandwich! As you can see, there is much more than bacon, lettuce and tomato on it. There is also one ingredient you may not expect. Click on over to see what it is!
To start out, slice up your onion and caramelize it according to the recipe while you prepare the rest of the sandwich. Also get your broiler heated up.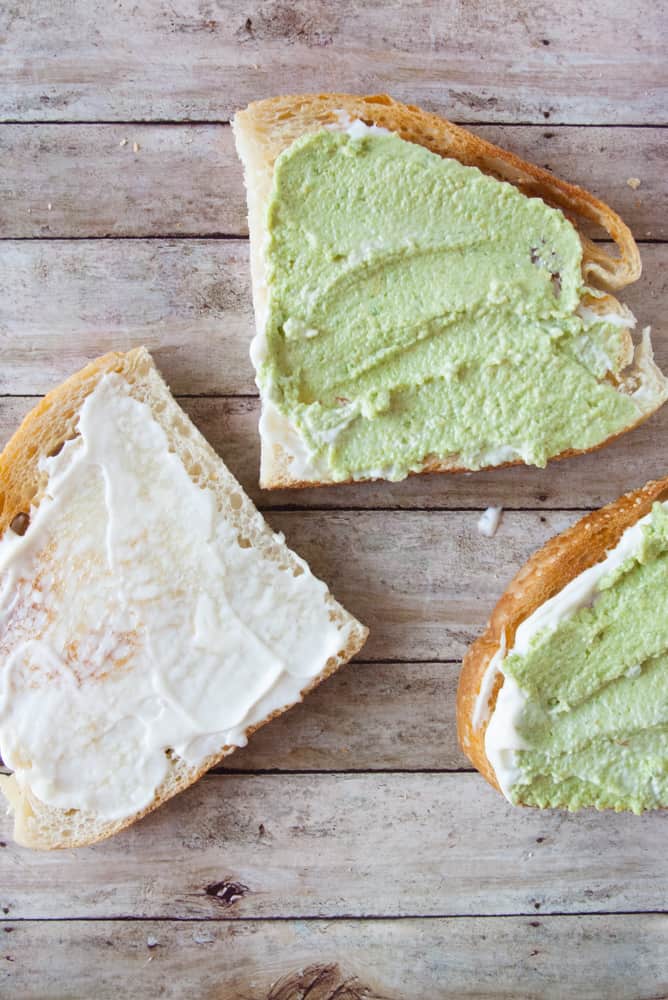 I make this delicious BLT sandwich on sourdough bread. Seriously, it makes all the difference. Sourdough slices tend to be long ovals that do not fit in my toast so I have to cut my two slices in half. Toast the sourdough halves. Spread mayo on the bottom halves and then mayo followed by guacamole. Yes, guacamole! It is awesome!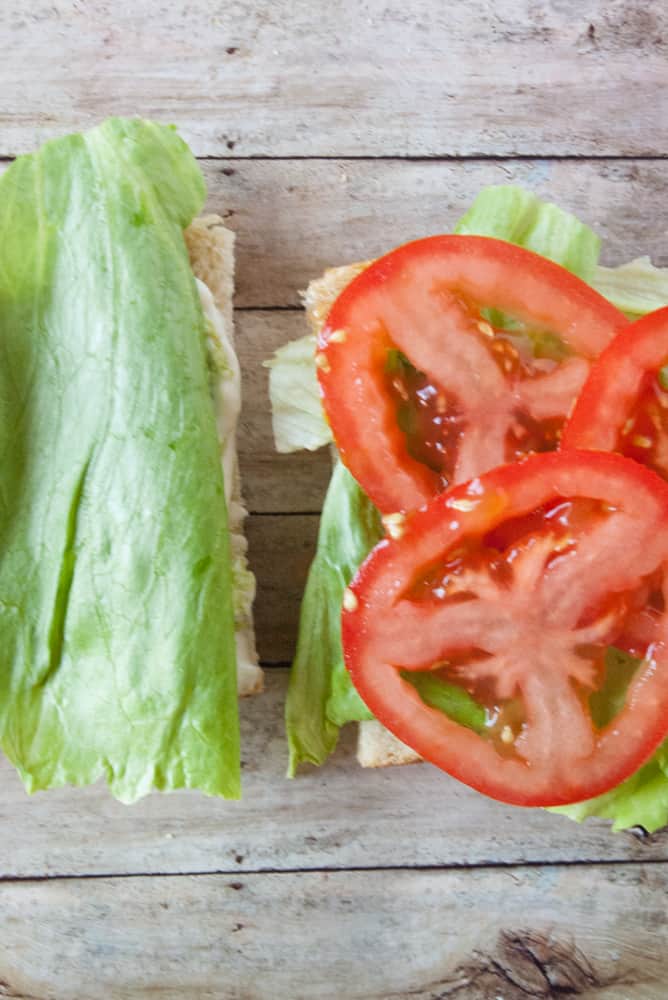 Top the mayo/guac halves with a lettuce leaf and then tomato slices.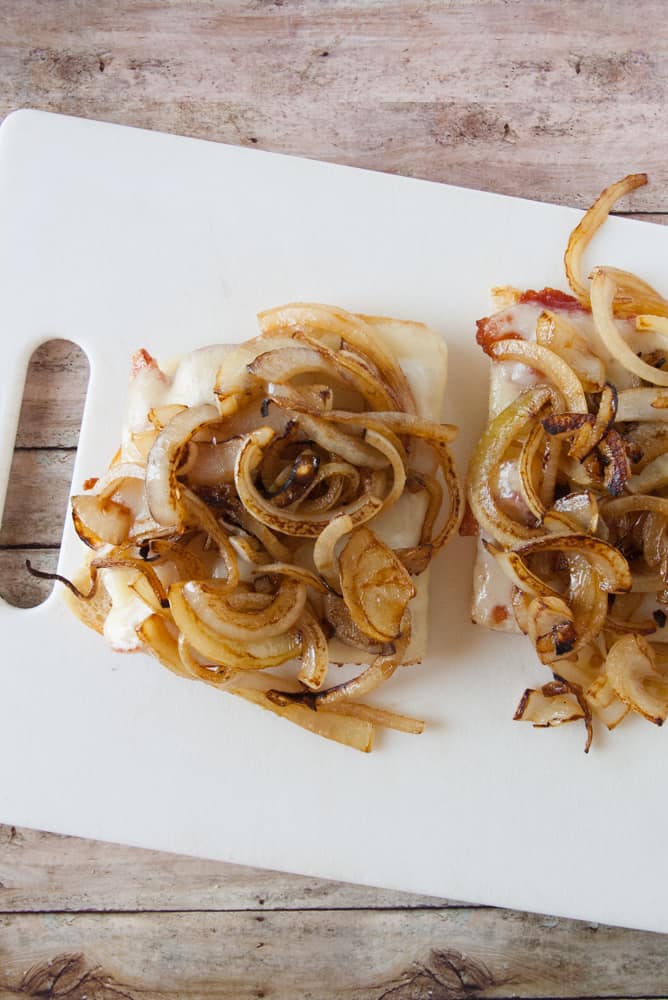 Top the bottom halves with bacon slices and then a slice of swiss cheese. Put these halves under the broiler to melt the cheese. Remove from the broiler and top generously with the caramelized onions. Put the top and bottom slices together and devour!
Print
The Ultimate BLT Sandwich
Author:

Mindee's Cooking Obsession

Prep Time:

15 minutes

Cook Time:

0 minutes

Total Time:

15 minutes

Yield:

1 Large Sandwich

Category:

Sandwich

Method:

No Bake

Cuisine:

American
---
Description
Are your tastebuds ready for The Ultimate BLT Sandwich? It's packed with flavor! It's easy to make! And like any sandwich worth praise, it's a little messy!
---
The ingredients listed below are how much you will need to make 1 large sandwich.
---
Instructions
2 Tbs. Olive Oil
One Onion about the size of a baseball, sliced
2 Slices of Sourdough Bread
Mayonnaise
3 Tbs. Guacamole
 Leaves of Lettuce
4-6 Slices of Tomato
4 Full Size Pre-cooked Strips of Bacon
2 Slices Swiss Cheese
Heat the olive oil in a frying pan over medium low heat.  Add the onion slices and stir them around a bit.  Allow the onions to sit over the heat only stirring here and there so they will caramelize.  They should brown, not blacken.  If they are blackening turn your heat down.  It will take 5-7 minutes for the onions to caramelize.  Meanwhile....
Heat up your broiler.
Take two large slices of sourdough bread and toast them.  I had to cut them in half to fit them in my toaster.
Spread the toasted bottom halves with just mayo.
Spread the toasted top halves with mayo, then guacamole.  Add a lettuce leaf and tomato slices. Set aside.
Place the bacon slices on the bottom halves followed by the swiss slices.  Put the bottom halves under the broiler long enough to melt the cheese.  Remove from the heat and top them with generous amounts of caramelized onions.
Put the halves together and enjoy!
---
Have you tried this recipe? If so, leave me a rating above and a comment below!
Other recipes I know you'll love!
Don't forget to subscribe to get my newest recipes sent right to your email!
You can also follow me on Facebook, Pinterest and Instagram!
ANY NUTRITIONAL ANALYSIS ON THIS SITE IS BASED ON AN ESTIMATE, CALCULATED BY NURTIFOX PLUGIN (OR OTHER THIRD-PARTY SOURCE) FROM THE INDIVIDUAL INGREDIENTS IN EACH RECIPE. VARIATIONS MAY OCCUR FOR VARIOUS REASONS, INCLUDING PRODUCT AVAILABILITY AND FOOD PREPARATION. WE MAKE NO REPRESENTATION OR WARRANTY OF THE ACCURACY OF THIS INFORMATION.