Mint is an incredibly versatile herb that can bring incomparable freshness to any meal. It's also effortless to grow, making it an excellent option for your culinary garden patch.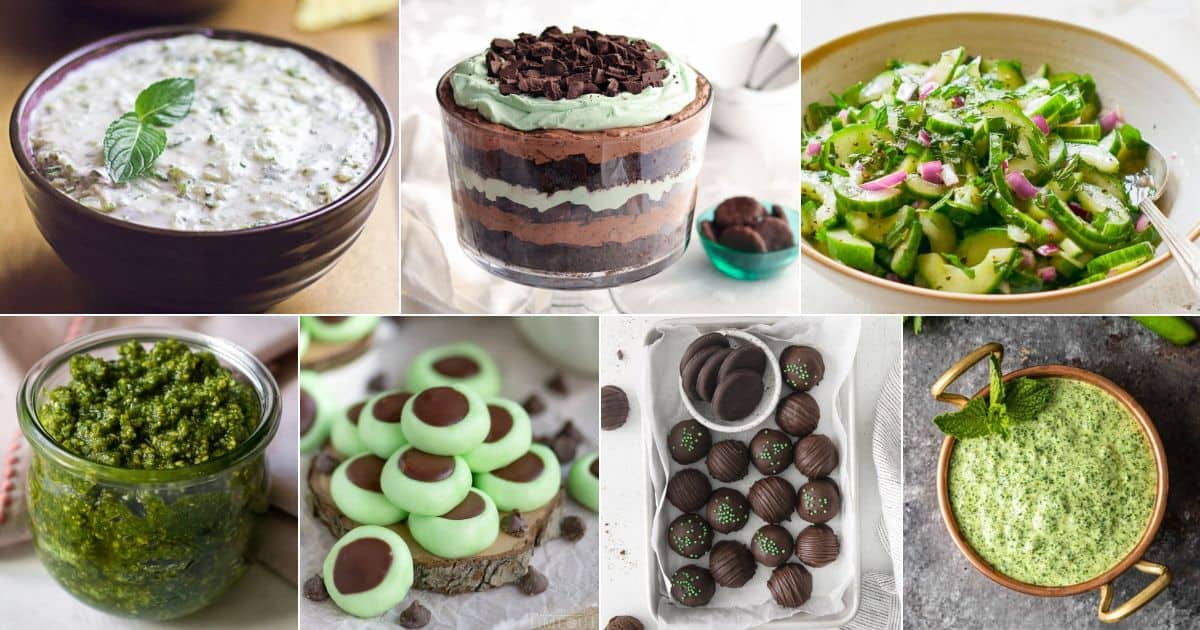 But the question remains: what does one do with all the mint once it's done flourishing? Well, you don't need to worry about that. We've rounded up 27 savory, sweet, and sippable mint recipes that will tingle your taste buds like never before.
Jump to:
1. Grasshopper Cookies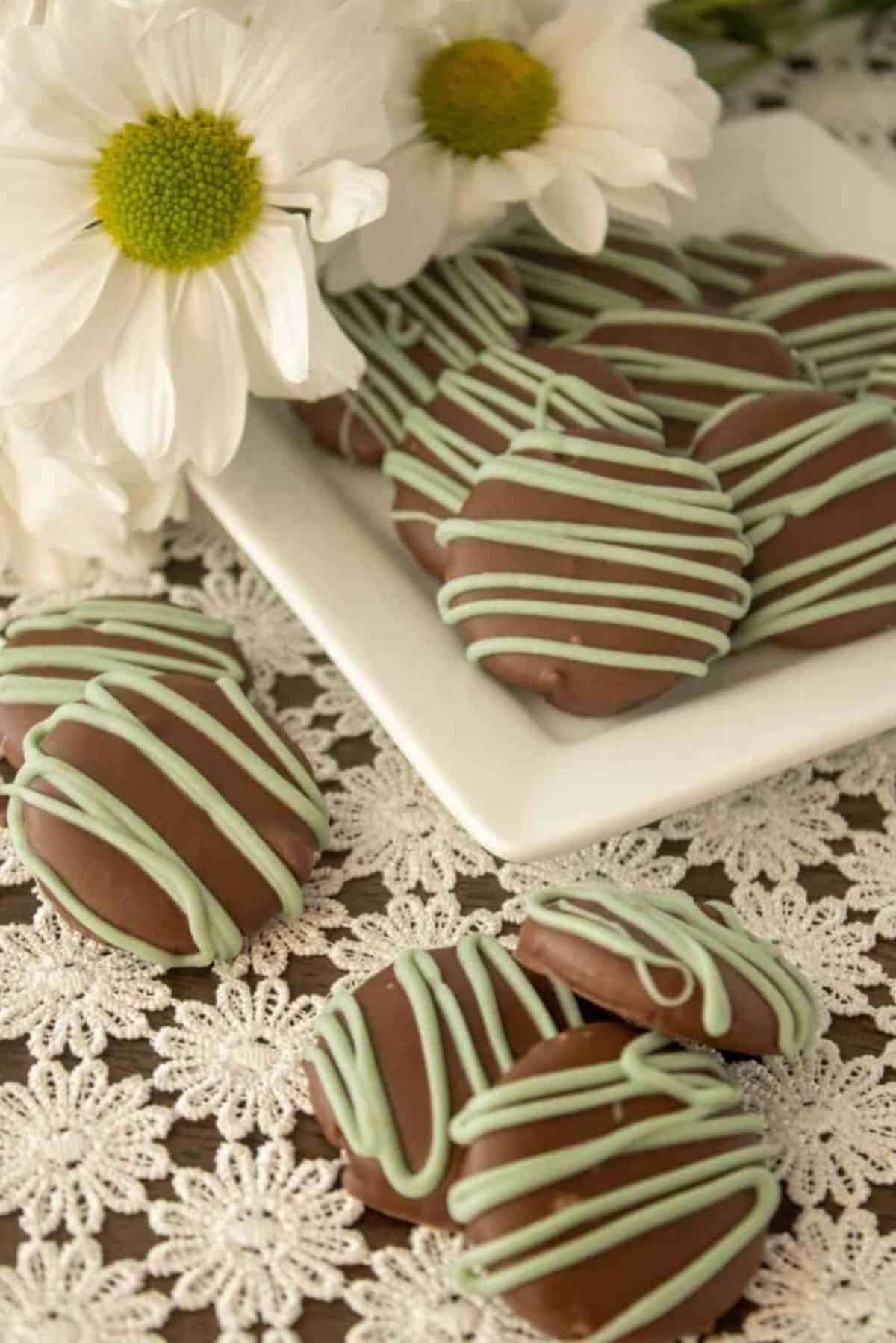 Don't worry. No bugs were harmed in the making of these deliciously minty cookies. The black cocoa gives these treats a beautiful, dark color.
½ cup butter
¼ cup black cocoa
¾ cup powdered sugar
⅛ teaspoon salt
1 ½ teaspoon mint extract
¾ cup flour
1 (5 oz) bag of dark chocolate melting wafers
½ cup green mint chips
2. No-Bake Grasshopper Pie Recipe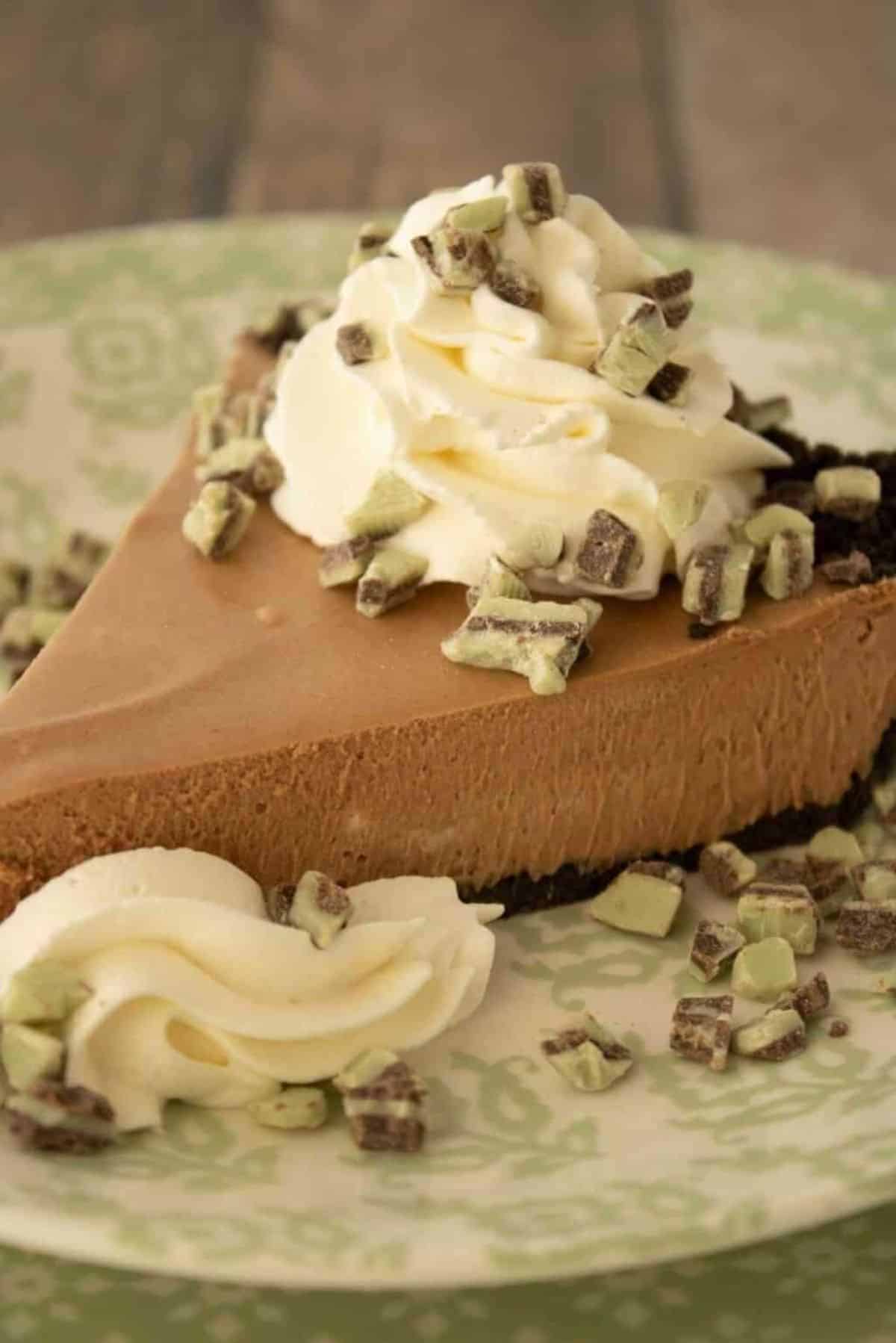 Craving the flavor of grasshopper cookies but don't want to turn your oven on? This pie has all the reinvigorating freshness in its light and airy filling.
20 mint Oreos
1 cup heavy cream
1 cup chocolate chips
¼ teaspoon salt
2 teaspoon mint or crème de menthe extract
1 cup heavy cream
¼ cup powdered sugar
1 teaspoon vanilla extract
Additional mint Oreos or Andes Mint baking pieces
3. Mint Oreo Pie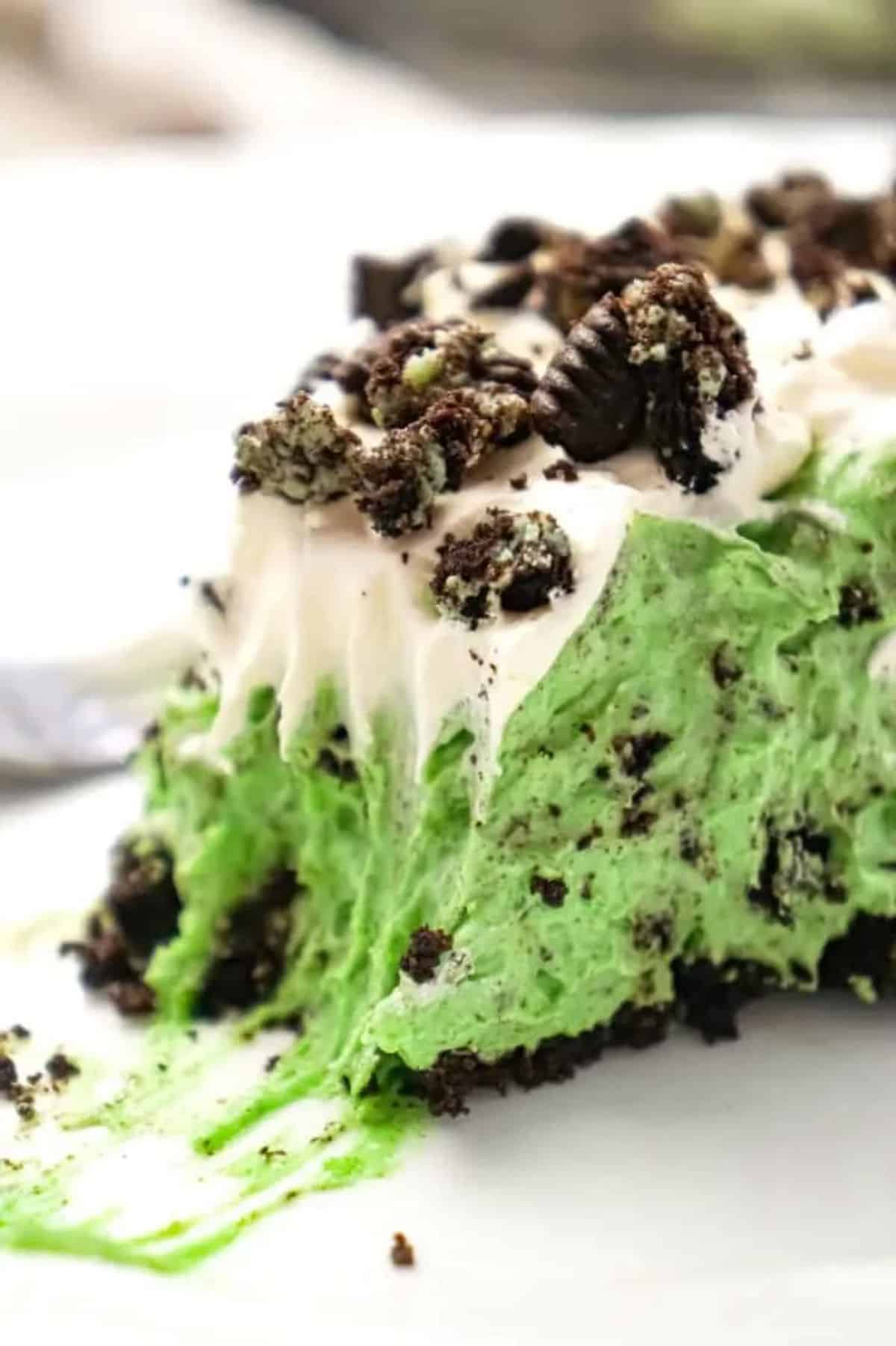 This spin on a classic pudding pie has mint, white chocolate chips, and an Oreo crust. It's the perfect last-minute dessert for an impromptu get-together or potluck.
4 oz vanilla instant pudding mix
1 cup milk
15-mint Oreo cookies
1 cup white chocolate chips
½ teaspoon mint extract
2 teaspoon green food coloring
2 cups Cool Whip
1 Oreo Pie crust
4. Cucumber Salad with Mint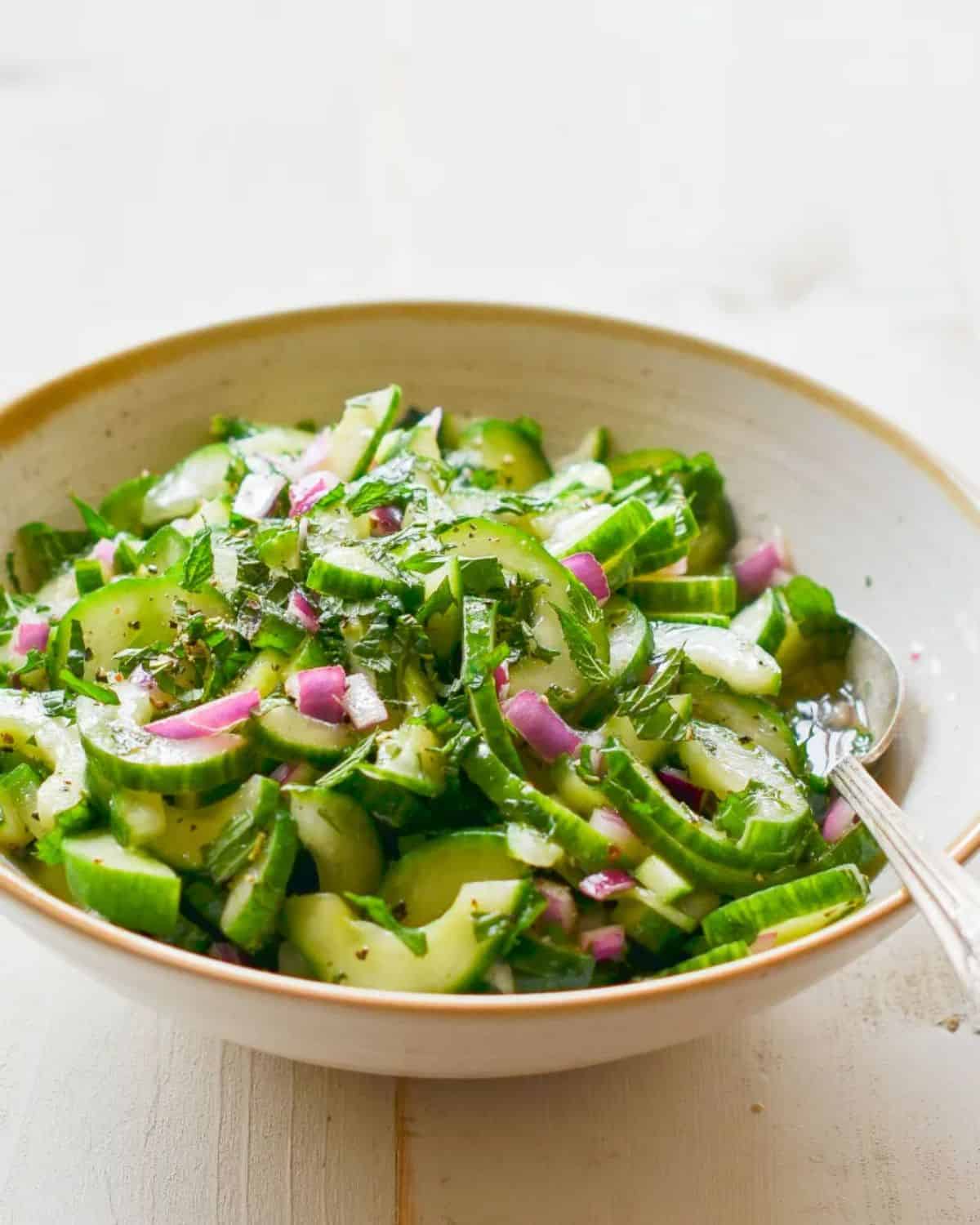 Cucumber salad with mint is a light, healthy alternative if you've been searching for new sides to jazz up your summer barbecues.
2 English (or hothouse) cucumbers
1 teaspoon salt
¼ cup chopped red onions
¼ cup white wine vinegar
2 teaspoon extra virgin olive oil
2 teaspoon vegetable oil
2½ teaspoon sugar
¼ teaspoon freshly ground black pepper
¼ cup chopped fresh mint
5. Chocolate Mint Cream Cheese Buttons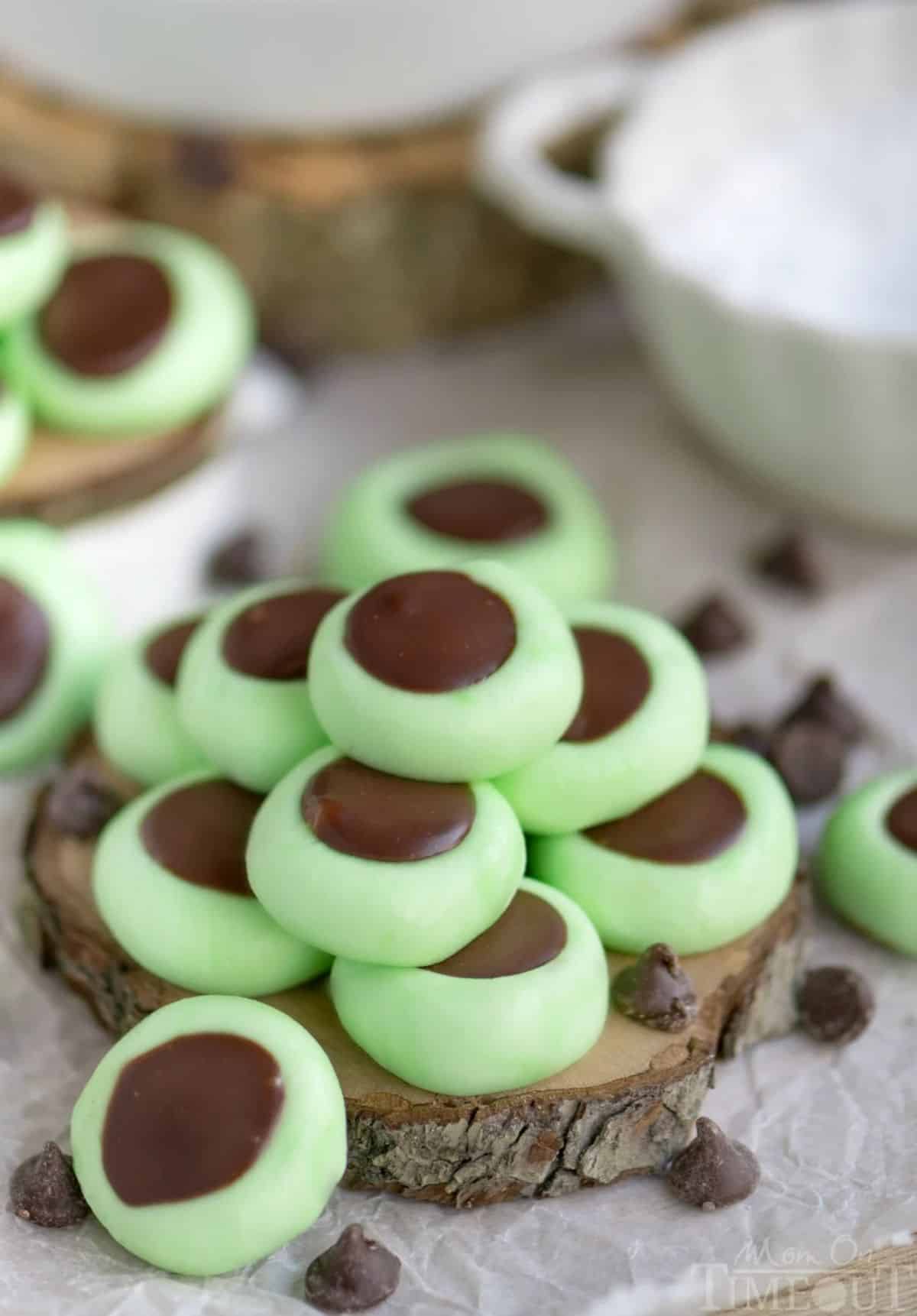 These colorful button cookies have a silky chocolate ganache center that's sure to please even the toughest of crowds.
4 oz cream cheese softened
4 ½ cups powdered sugar
½ teaspoon mint extract
several drops of green gel food color
1 cup heavy whipping cream
10 oz semi-sweet chocolate chips
6. Fresh Pineapple Mint Salsa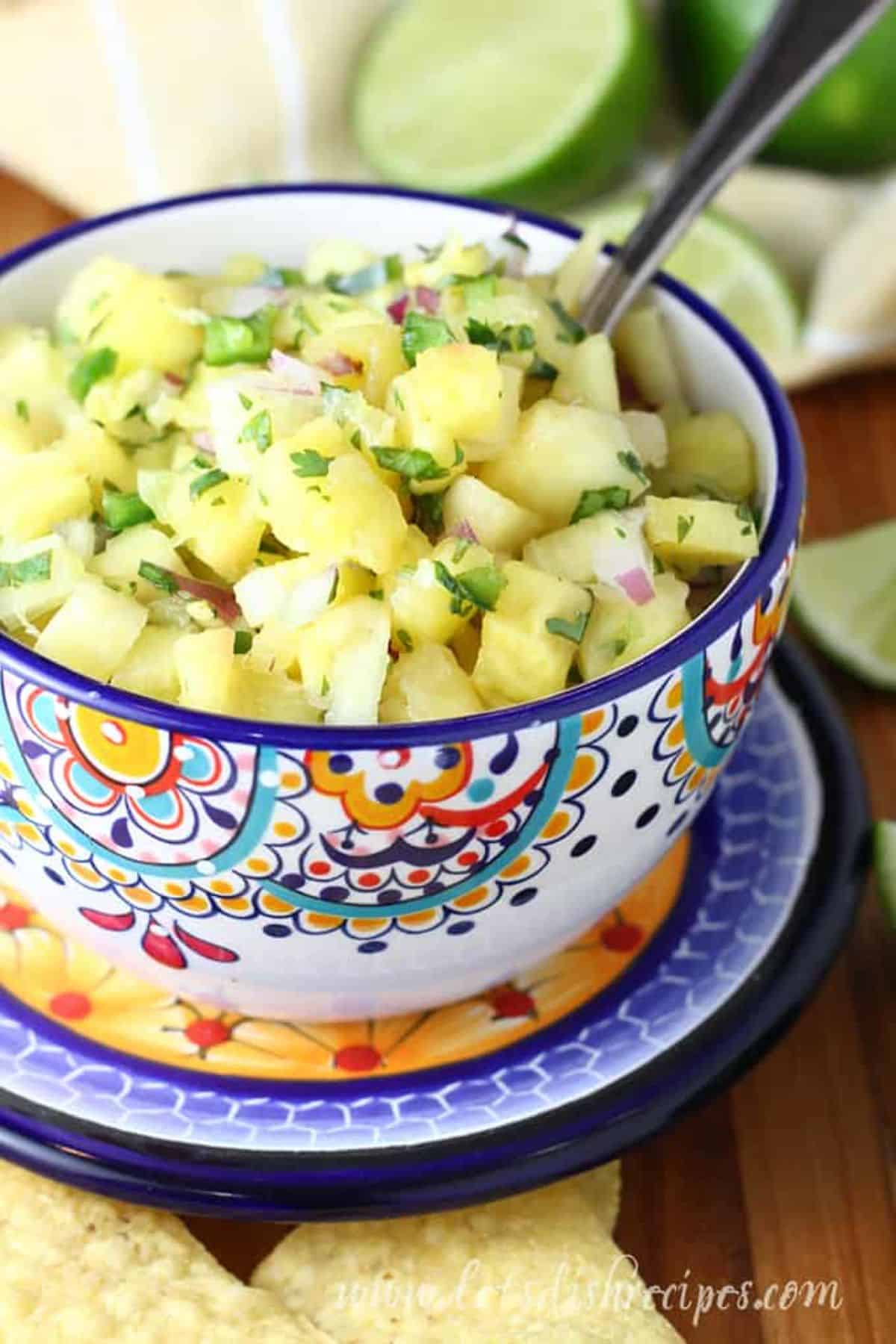 Trade in your tomatoes for pineapple and your cilantro for mint to make this delicious salsa. It's the perfect choice for fish tacos and burrito bowls.
2 cups fresh pineapple, diced
1 medium jalapeno, seeded and diced
½ cup chopped red onion
3 teaspoon chopped fresh mint
1 teaspoon chopped fresh cilantro
Zest and juice of one lime
Salt to taste
7. Mint Chocolate Yogurt Bars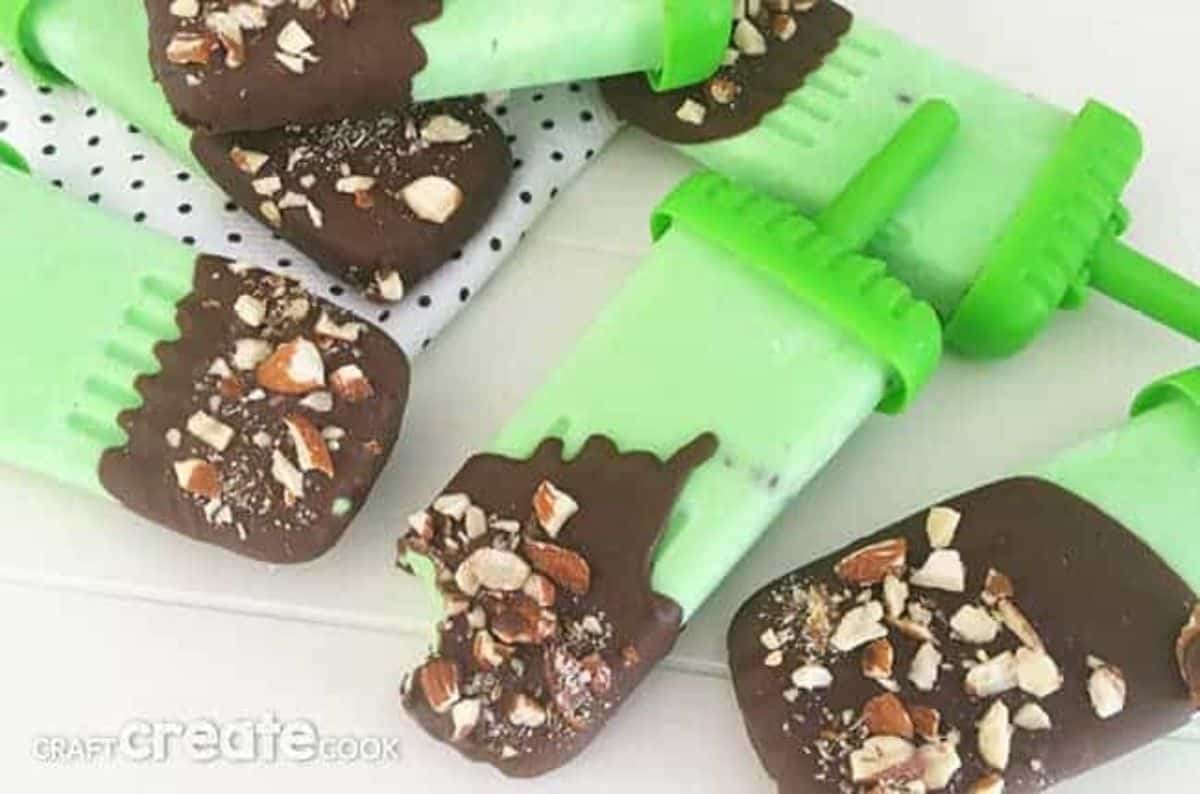 Your freezer will stay busy this summer because these mint chocolate yogurt bars will disappear in the blink of an eye. That's a promise.
2 lb tub of Greek yogurt
1 ½ teaspoon peppermint extract
2 drops green gel food coloring
1 cup of Ghirardelli dark chocolate melting wafers
¼ cup dark chocolate chips
½ cup crushed almonds (or nut of choice)
8. Basil Mint Pesto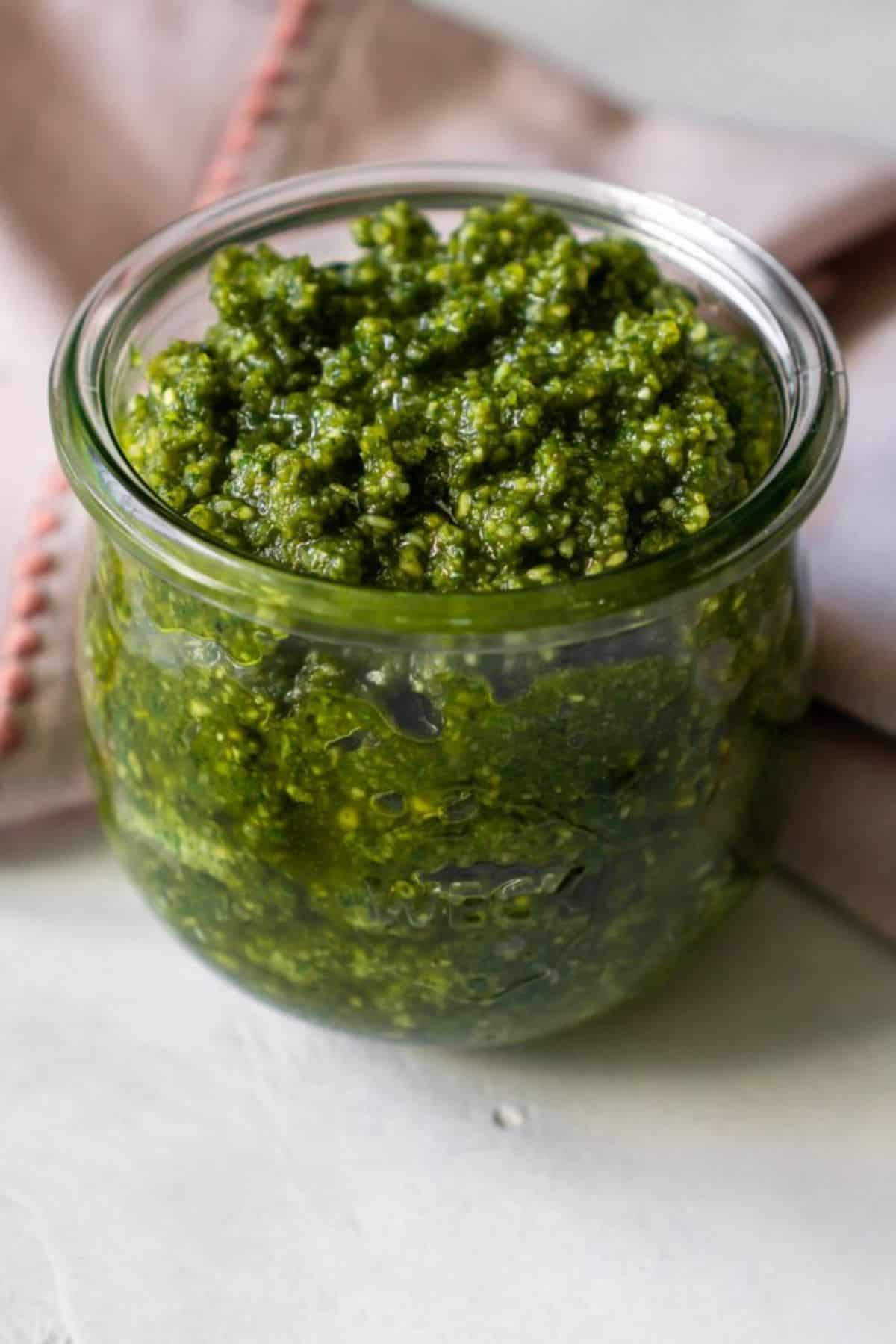 You can use your food processor to create this refreshingly unique pesto sauce. It's the perfect companion for all sorts of delicious entrees.
½ cup slivered almonds
2 cups fresh basil, packed
½ cup fresh mint, packed
1 garlic clove
½ cup parmesan cheese
½ cup extra virgin olive oil
¼ cup warm water
1 lemon zest and juice from half the lemon
¼ teaspoon salt
¼ teaspoon pepper
9. Fresh Mint and Lime Shortbread Cookies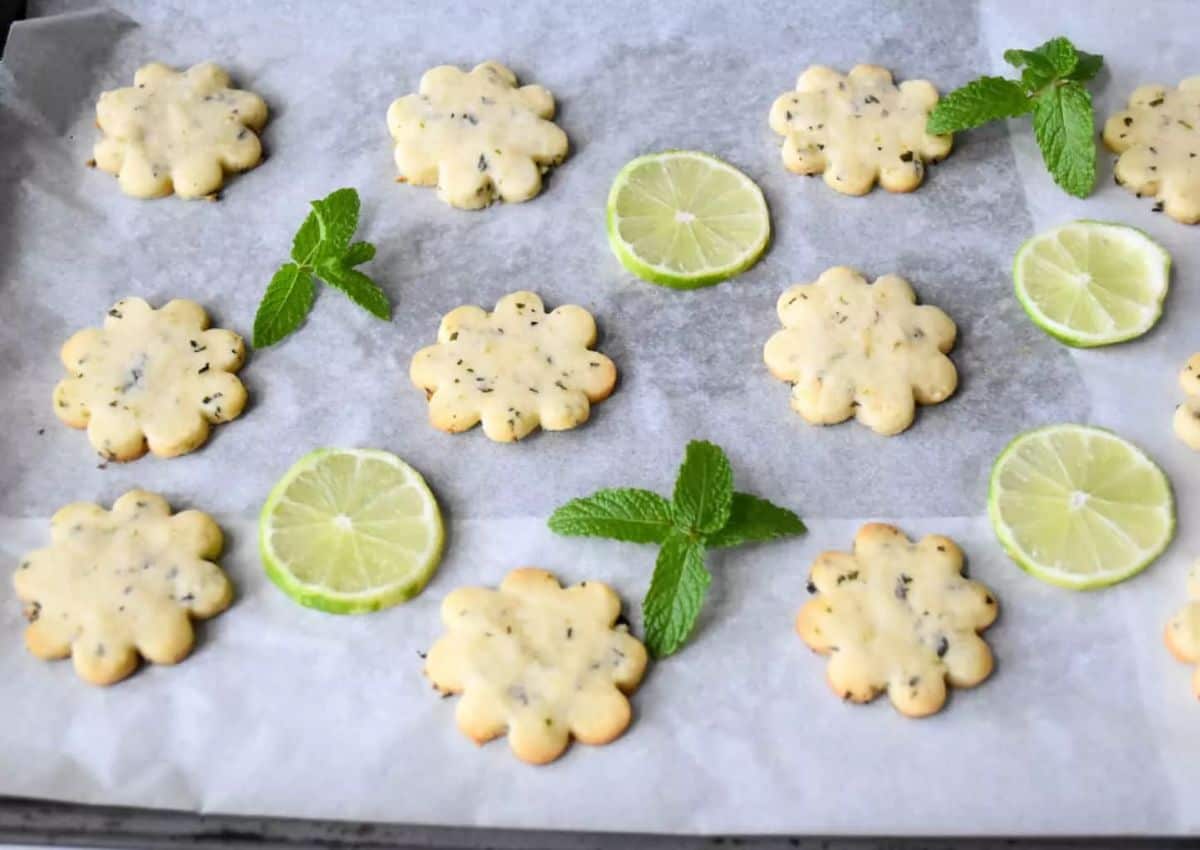 Mint and lime shortbread cookies are just the right size for an after-lunch indulgence, and the tangy lime flavor combined with the reinvigorating mint will put some wonderful pep in your step.
2 ¼ cups all-purpose flour
¼ cup fresh mint leaves, finely chopped
1 teaspoon granulated sugar
1 cup and 2 sticks of butter softened at room temperature
¾ cup powdered sugar
2 teaspoon lime zest
3 teaspoon lime juice
¼ teaspoon salt
10. Watermelon Salad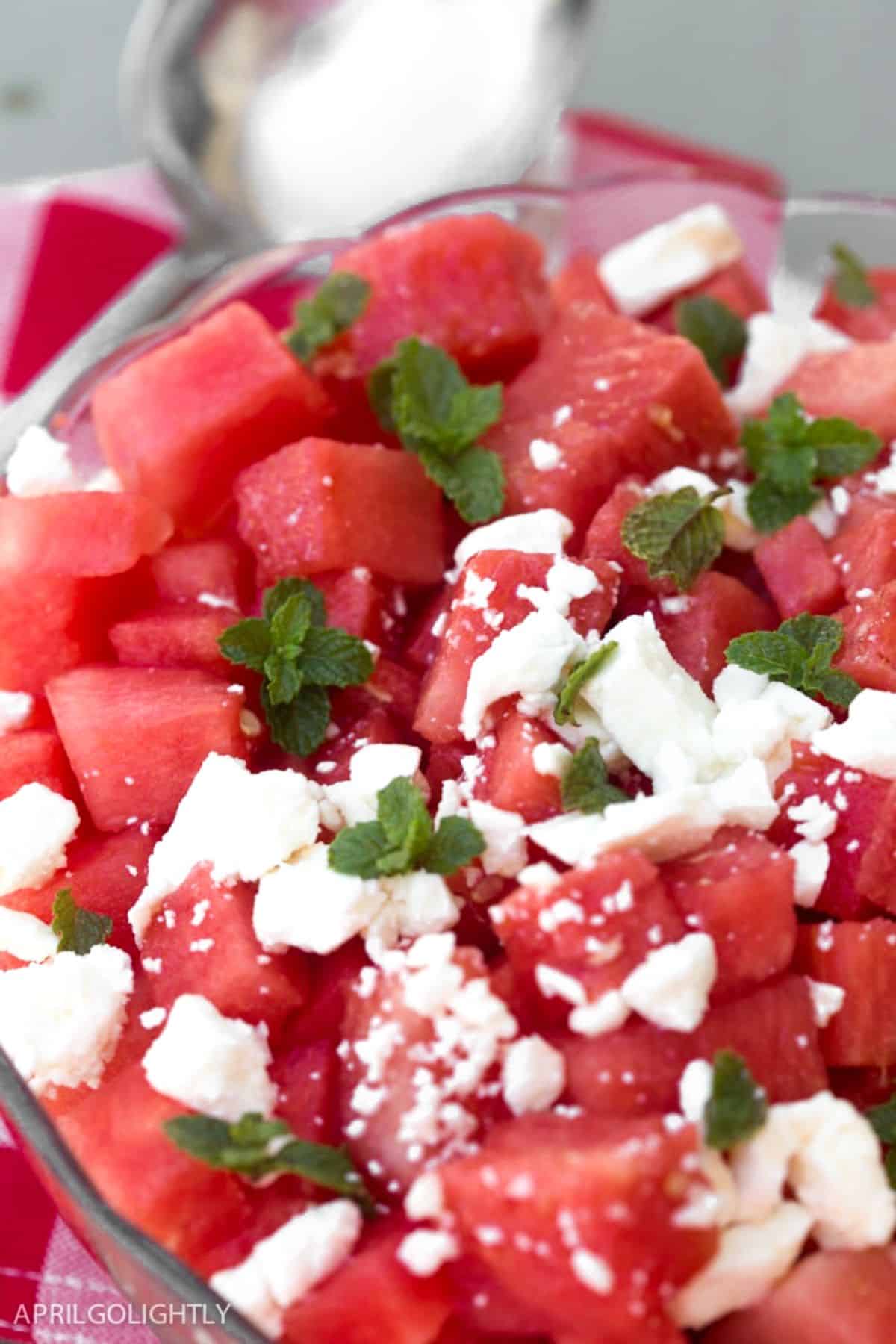 Sweet, spicy, and savory watermelon salad is an incredibly refreshing dish for picnics or a light lunch. You can't go wrong with this one.
1 teaspoon salt
3 tablespoon red vinegar
1 tablespoon lime juice
⅓ cup olive oil
1 jalapeño
1 cup light feta cheese
20 mint leaves
11. Mint Oreo Cheesecake Bars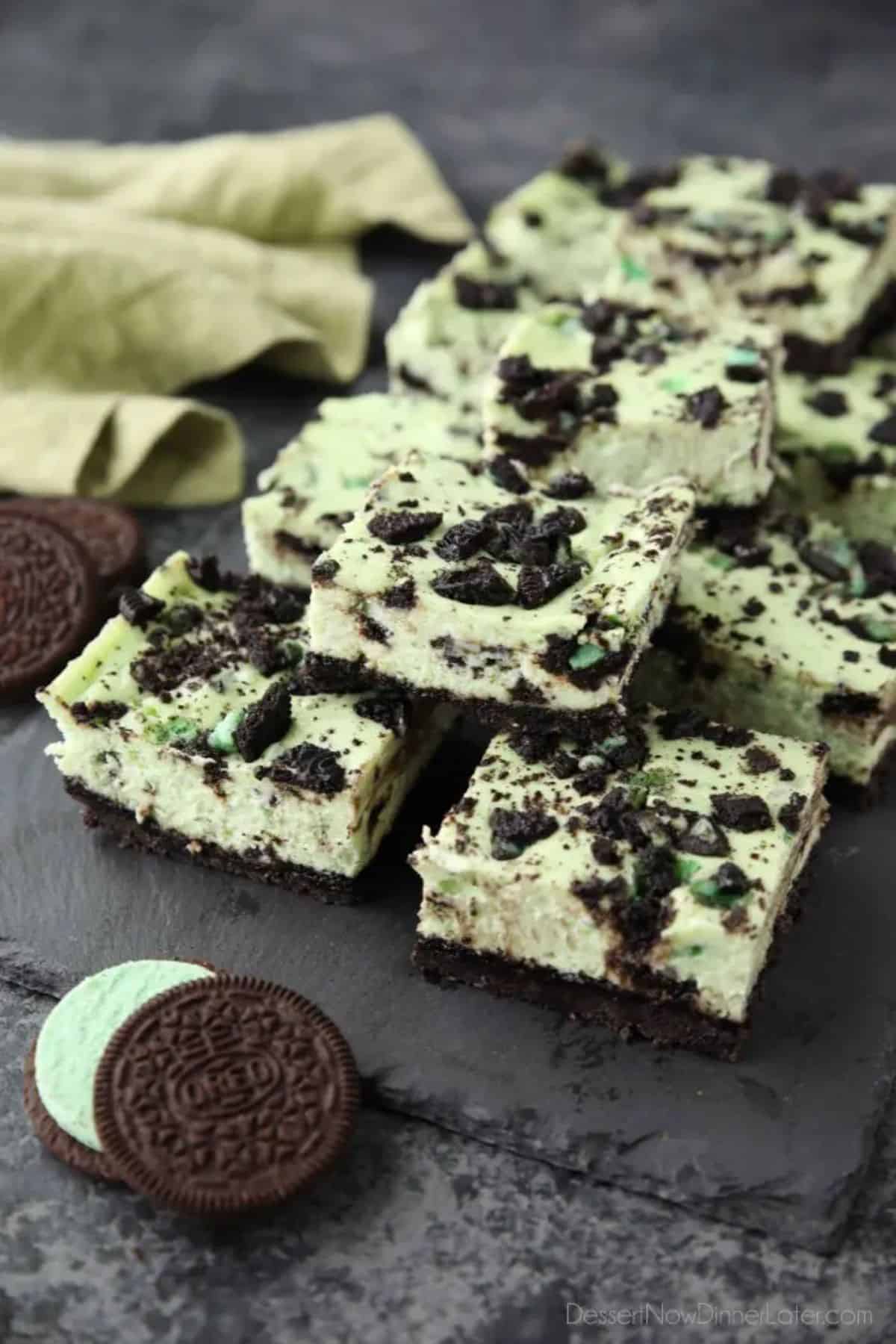 Give your cheesecake bar recipe repertoire a fresh twist with mint, Oreos, and a few drops of green food coloring.
Family Size package of Mint Oreo Cookies (about 40 cookies)
4 tablespoon butter, melted
3 packages of cream cheese, room temperature
¾ cup granulated sugar
¾ cup sour cream, room temperature
½ teaspoon vanilla extract
1 teaspoon mint extract
½ teaspoon salt
3 large eggs, room temperature
green food coloring, optional
12. Thin Mint Truffles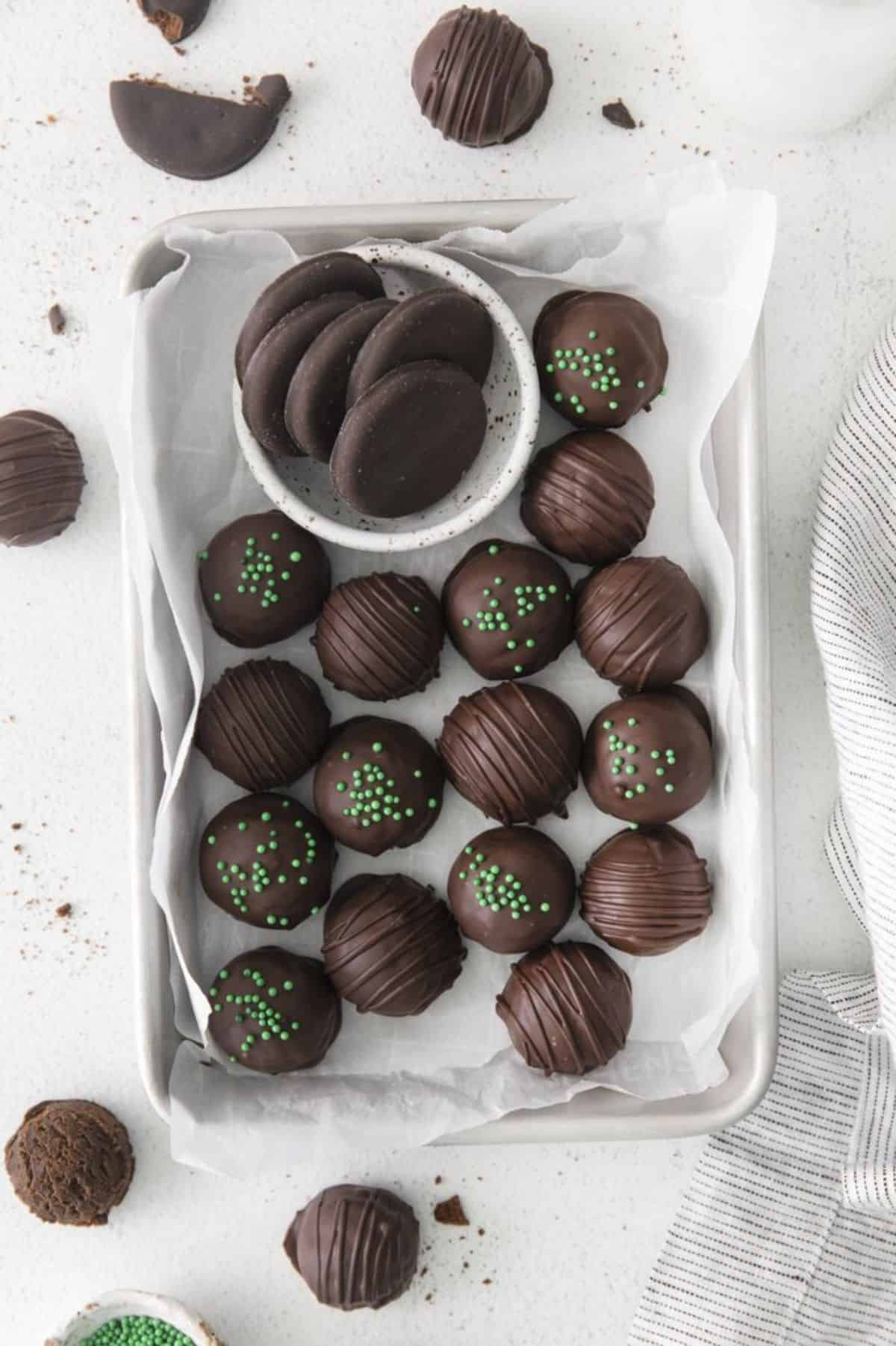 You can package these perfectly poppable Thin Mint truffles into gift bags for party favors or an easy group gift. It doesn't get any better than that.
1 box (9 oz) of Thin Mint cookies
4 oz cream cheese, softened and cut into cubes
¾ cup chocolate chips
4 oz chocolate bark or candy coating, chopped
13. Mint Jelly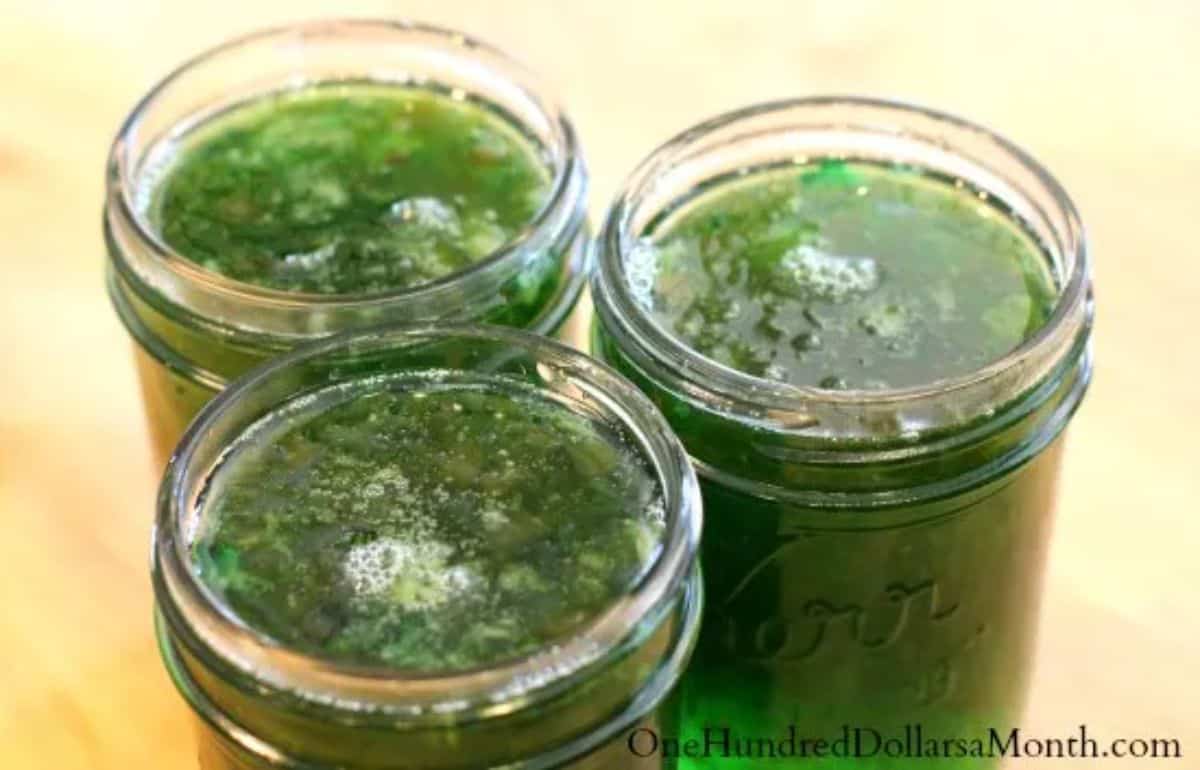 Since the canning process preserves it for long-term storage, jelly-making is one of the best ways to use the extra mints in your garden.
1 ½ cup freshly packed mint leaves
2 tablespoon lemon juice
3 ½ cups sugar
2 ¼ cups water
3 fluid oz of liquid pectin (1 pouch)
1 drop of green food color, optional
14. Tzatziki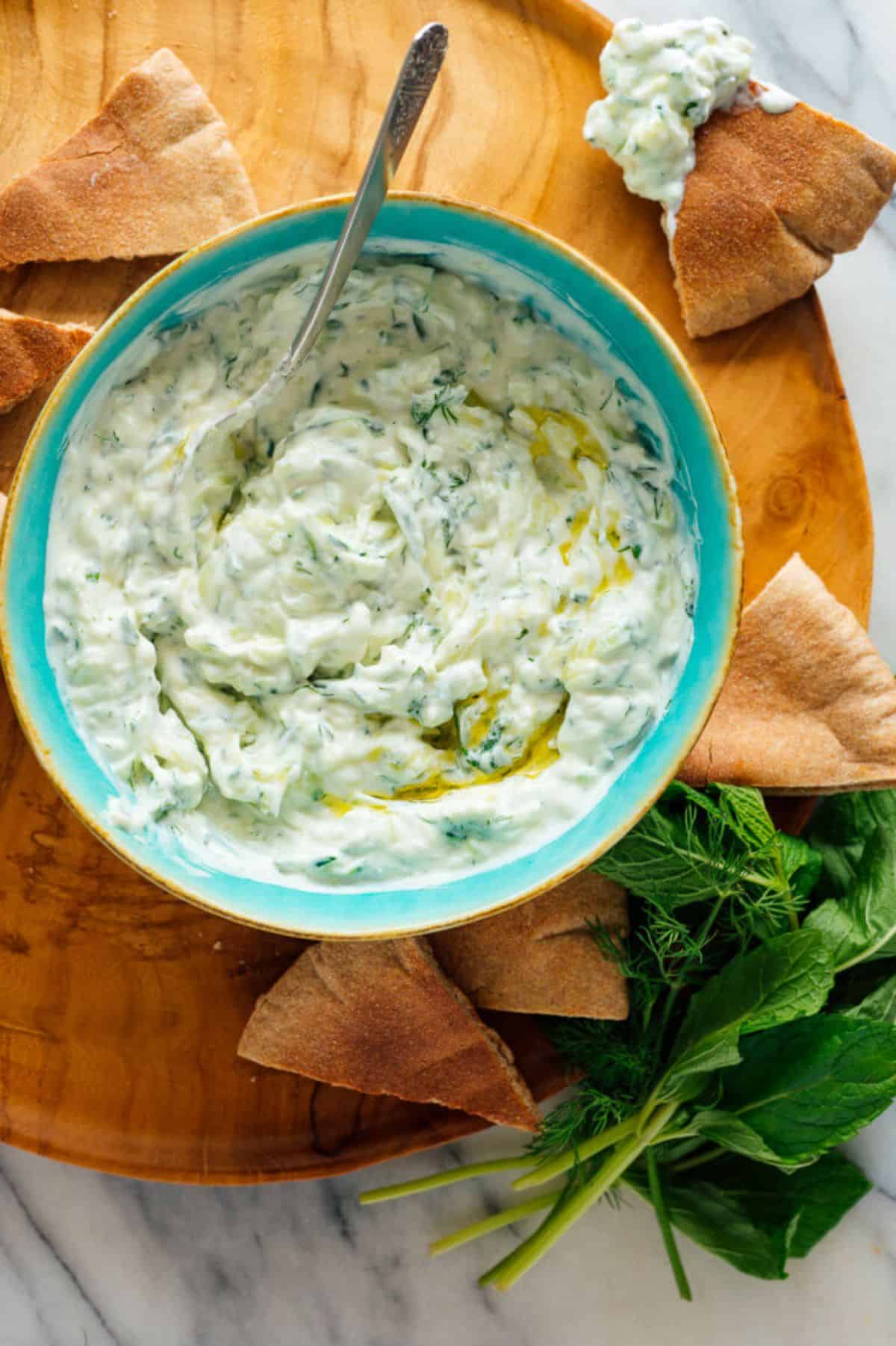 Tzatziki is a cucumber-based dipping sauce that adds richness and depth to gyros. And the best part? It's just as delicious as pita chips and other quick snacks.
2 cups grated cucumber
1 ½ cups plain Greek yogurt
2 teaspoon extra-virgin olive oil
2 teaspoon chopped fresh mint and dill
1 teaspoon lemon juice
1 medium clove garlic, pressed or minced
½ teaspoon fine sea salt
15. Grasshopper Mint Chocolate Bark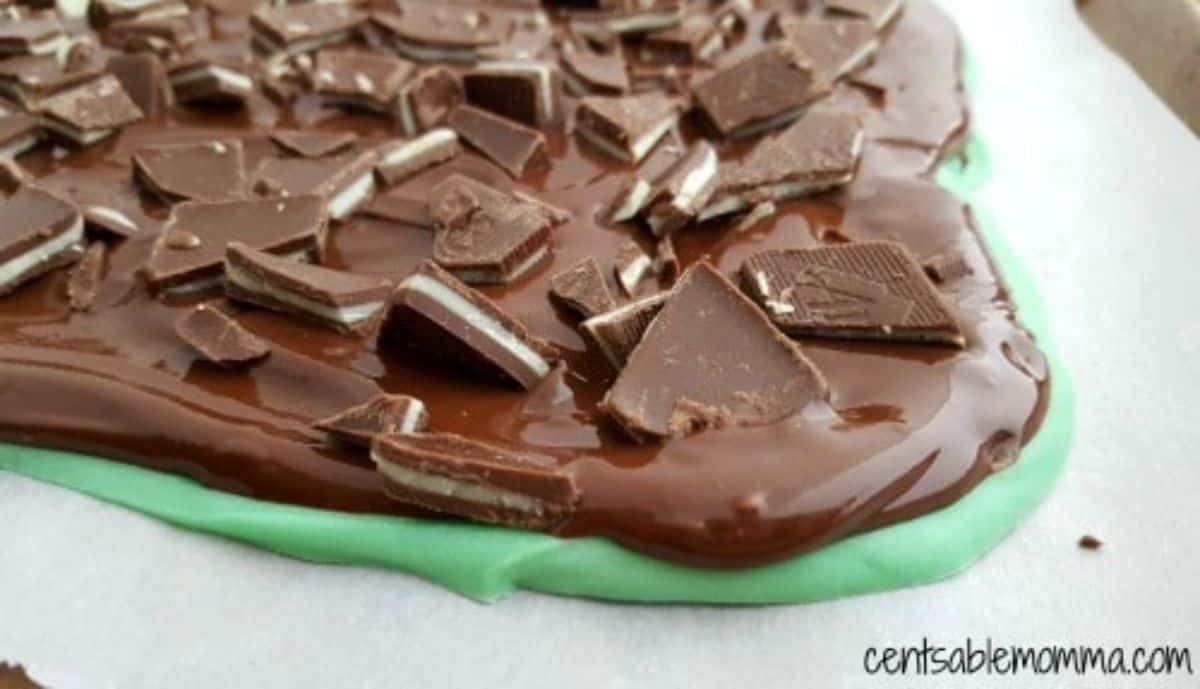 Who says you have to save your mint bark for Christmas? This grasshopper bark is the ideal St. Patrick's Day or springtime delight.
16 oz. white chocolate chips
16 oz. semi-sweet chocolate chips
1 box Andes Crème de Menthe Thins
Green food coloring
1 teaspoon mint extract, optional
16. Pudina Chutney (Indian Mint Chutney)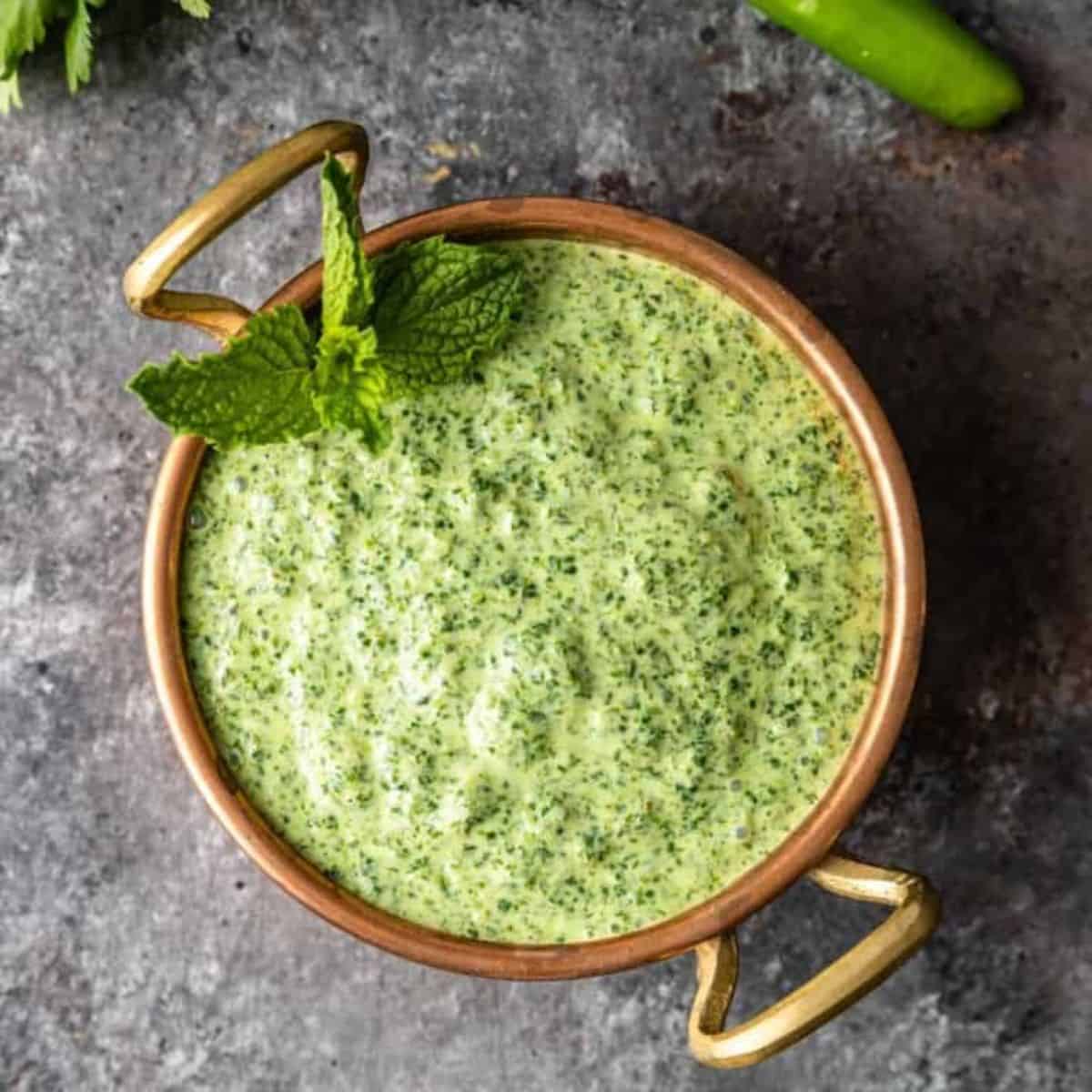 With its yogurt base and a touch of mint, you'll love how well this Pudina chutney cuts through the richness of your favorite homemade curries.
1 teaspoon cumin seeds
1 ½ cups mint leaves
1 cup cilantro leaves or flat-leaf parsley
3 garlic cloves
2 teaspoon ginger paste
2 serrano chiles
½ teaspoon kosher salt
½ cup plain yogurt
2 teaspoon juice
17. Easy Thin Mint Dessert Bars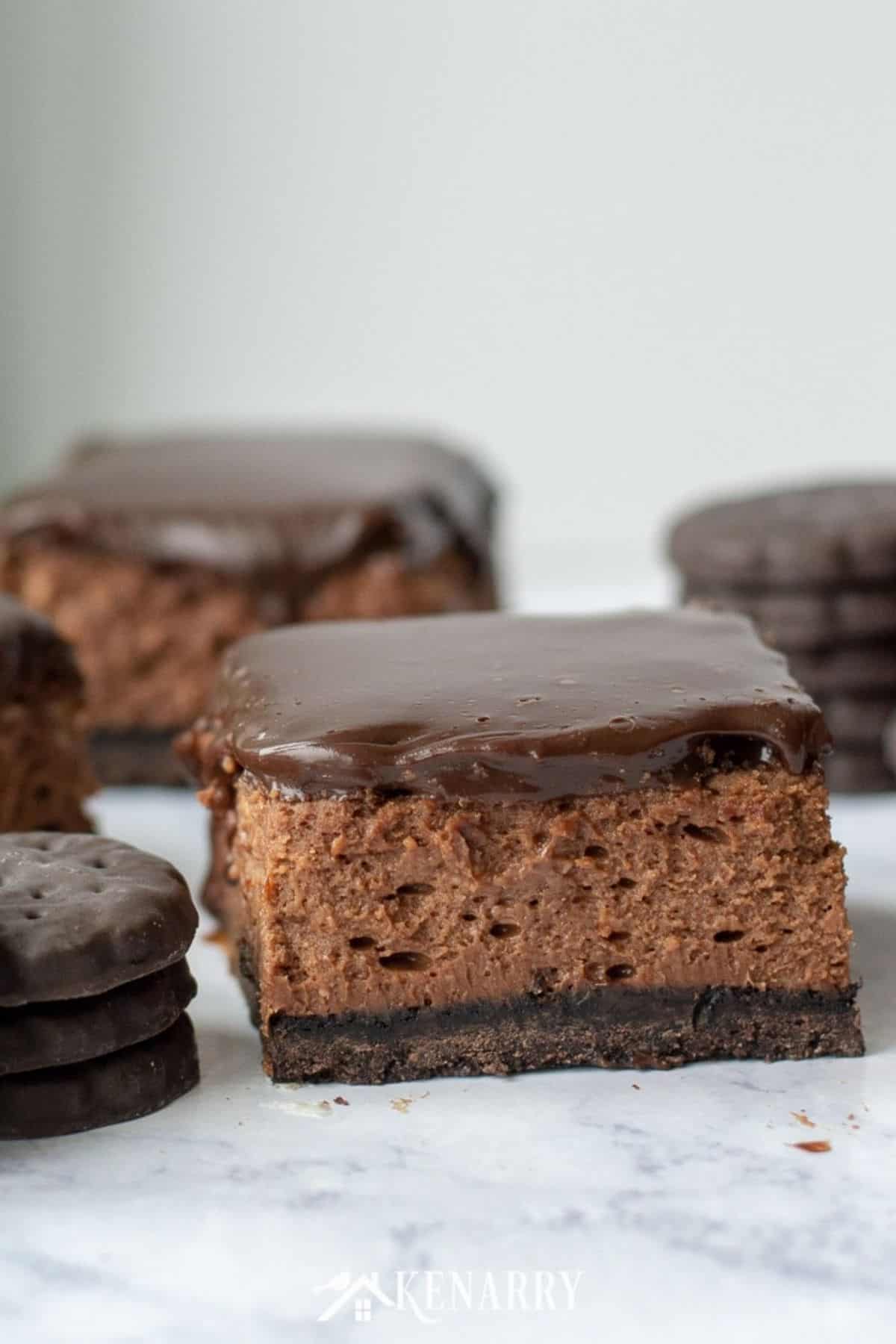 Grab a few extra boxes of Thin Mints from your local Girl Scout and transform them into uber-luscious dessert bars. This one's for all of you chocolate lovers.
2 sleeves Thin Mints
4 tablespoon butter, melted
2 8 oz packages of cream cheese, room temperature
1 tablespoon flour
¾ cup sugar
2 eggs at room temperature
1 teaspoon vanilla
1 cup chocolate chips
1 cup dark chocolate chips
1 cup heavy cream
18. Ultimate Mint Brownies
If you have a brownie mix in the back of your pantry, adding a few minty toppings takes it from boxed to as good as homemade.
4 oz box brownie mix, plus ingredients according to package
1 package Mint Oreos, divided
56 Andes Mints, unwrapped
19. Chocolate Mint Leaves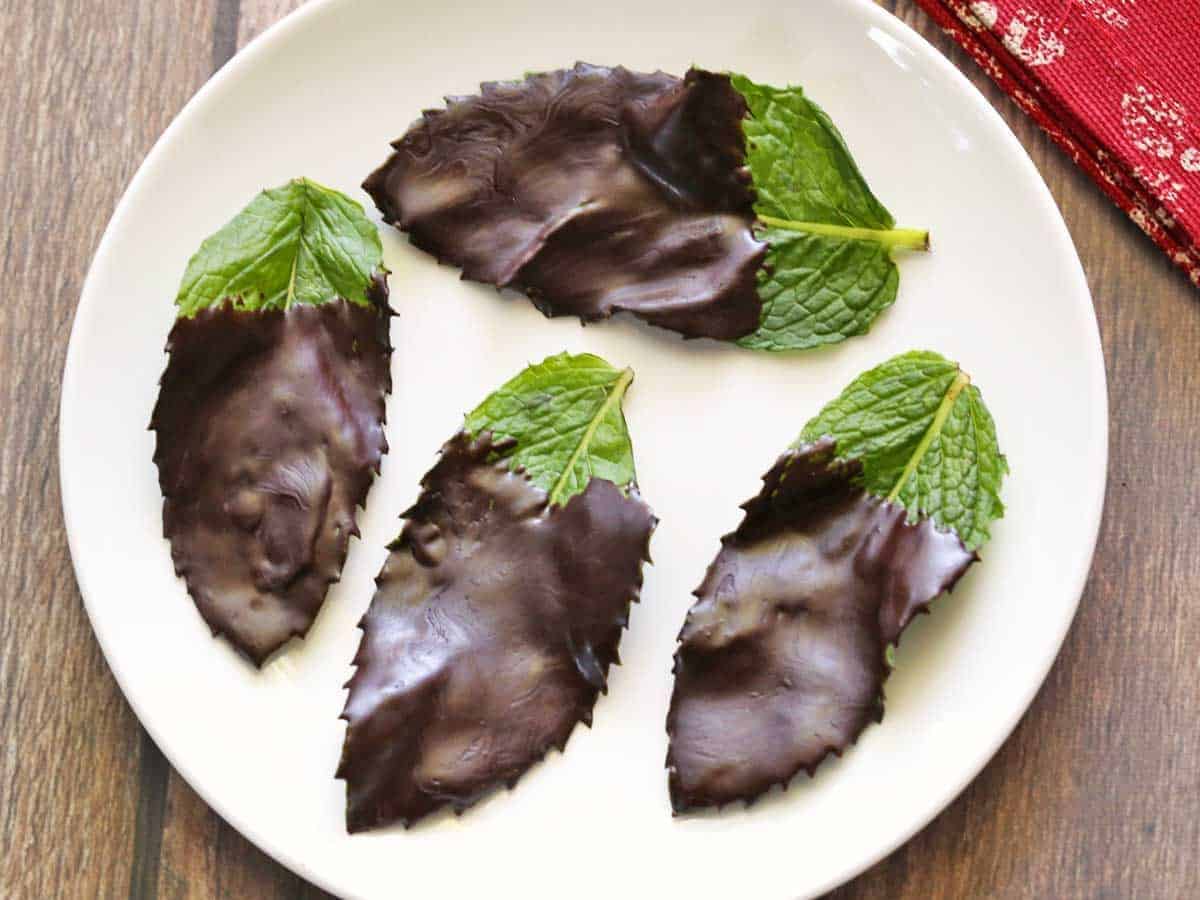 These chocolate mint leaves are beautiful plate garnishes and a tasty way to freshen your breath after a heavy meal.
1 oz dark chocolate
1 teaspoon avocado oil
¼ teaspoon Stevia
20 large, fresh mint leaves
20. Homemade Fresh Mint Chocolate Chip Ice Cream
This recipe is a must-try if you love mint chip ice cream. You'll need an ice cream machine to churn it, but it's definitely worth the invest-mint. See what we did there?
2 cups heavy whipping cream
1 cup milk
½ cup granulated sugar
30 grams of fresh mint leaves
5 egg yolks
1 tablespoon cornstarch
Pinch of salt
1 cup chocolate chips
21. Fresh Mint Candy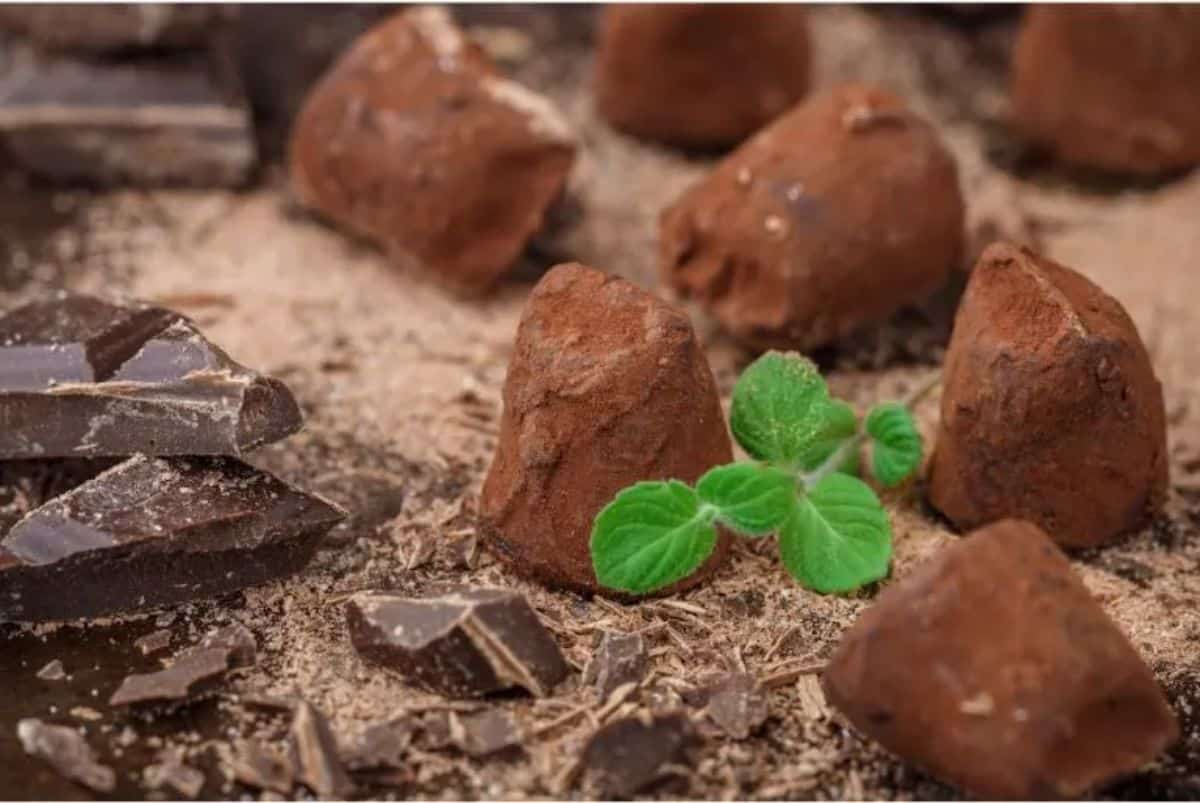 With just four ingredients, you can keep your breath fresh on the go with these delicious mint candies. Store them in an old candy tin or toss them in your bag for the perfect pick-me-up.
½ cup fresh mint leaves
¼ cup fine sugar
1 egg white
2 teaspoon water
22. Healthy Mint Chocolate Smoothie
Start your morning with this minty, protein-packed smoothie. It's also vegan-friendly, which is a huge bonus if you ask us.
1 medium banana, frozen
¼ medium avocado
1 tablespoon unsweetened or raw cocoa powder
½ tablespoon fresh mint leaves
8 oz. Silk Protein Nut Milk
1 teaspoon pure maple syrup
1 scoop plant-based vanilla protein powder
23. Chocolate Mint Dream Bars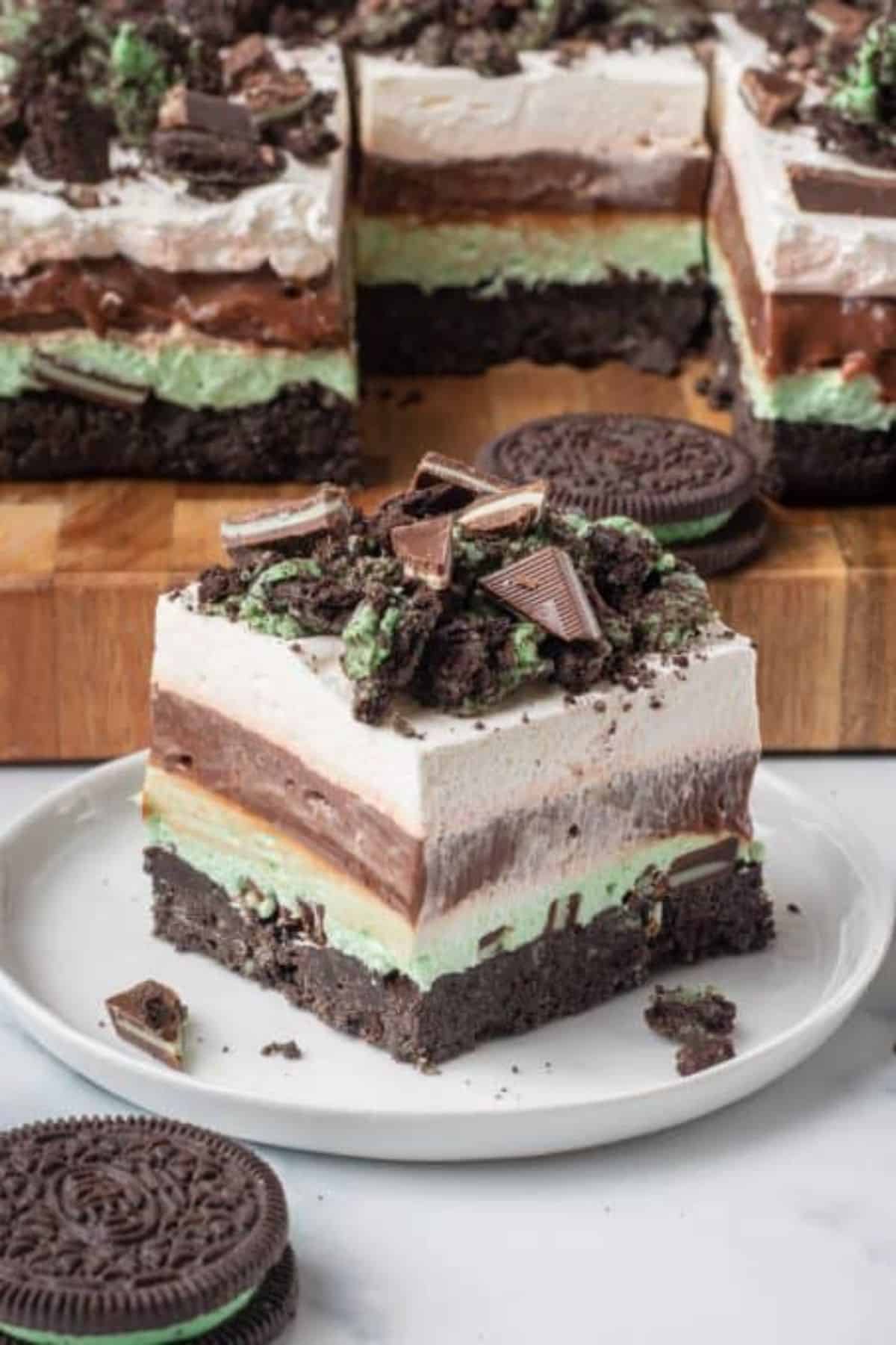 Fudgy pudding, mint cheesecake, and an Oreo crumb crust come together like a dream in these no-bake chocolate mint bars.
1 package Mint Oreo cookies, divided
5 teaspoon unsalted butter
6 oz Andes Mint candies
8 oz cream cheese, room temperature
½ cup confectioners' sugar
¼ teaspoon peppermint extract
7-10 drops of green food coloring
1 cup of Cool Whip or Stabilized Whipped Cream
9 oz box instant chocolate fudge pudding
1 ½ cups milk
Hershey's chocolate bar shavings
24. Cucumber Raita Mint Dip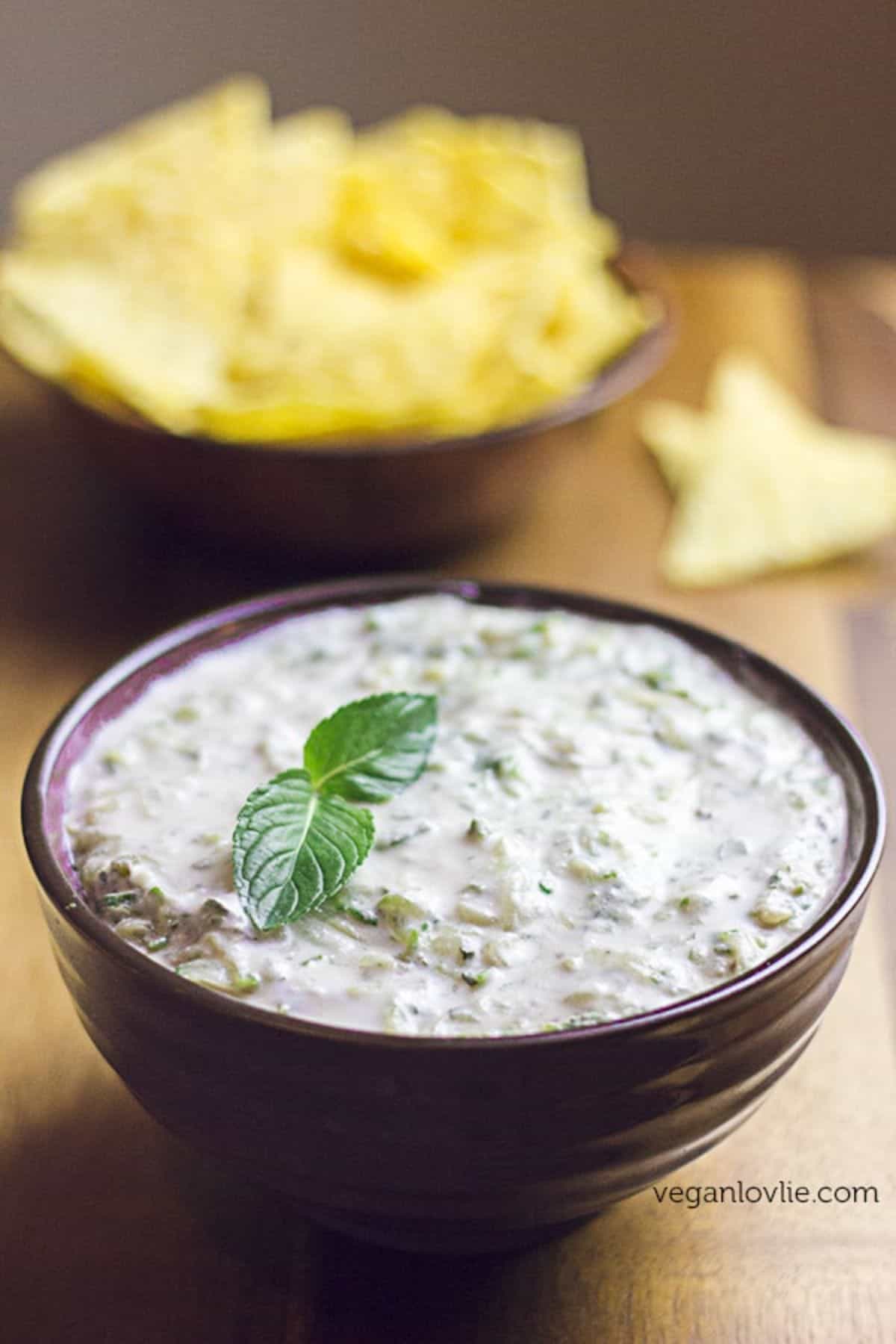 A spicy meal always needs a cooling pal, and this cucumber raita mint dip checks all of those boxes like no other.
1½ English cucumbers
¼ cup fresh mint leaves, finely chopped
1 teaspoon balsamic vinegar or lemon juice
¼ teaspoon ground cumin, optional
¼ teaspoon coriander seed powder, optional
7 oz coconut milk, thick and creamy
Salt to taste
25. Syrian Potato Salad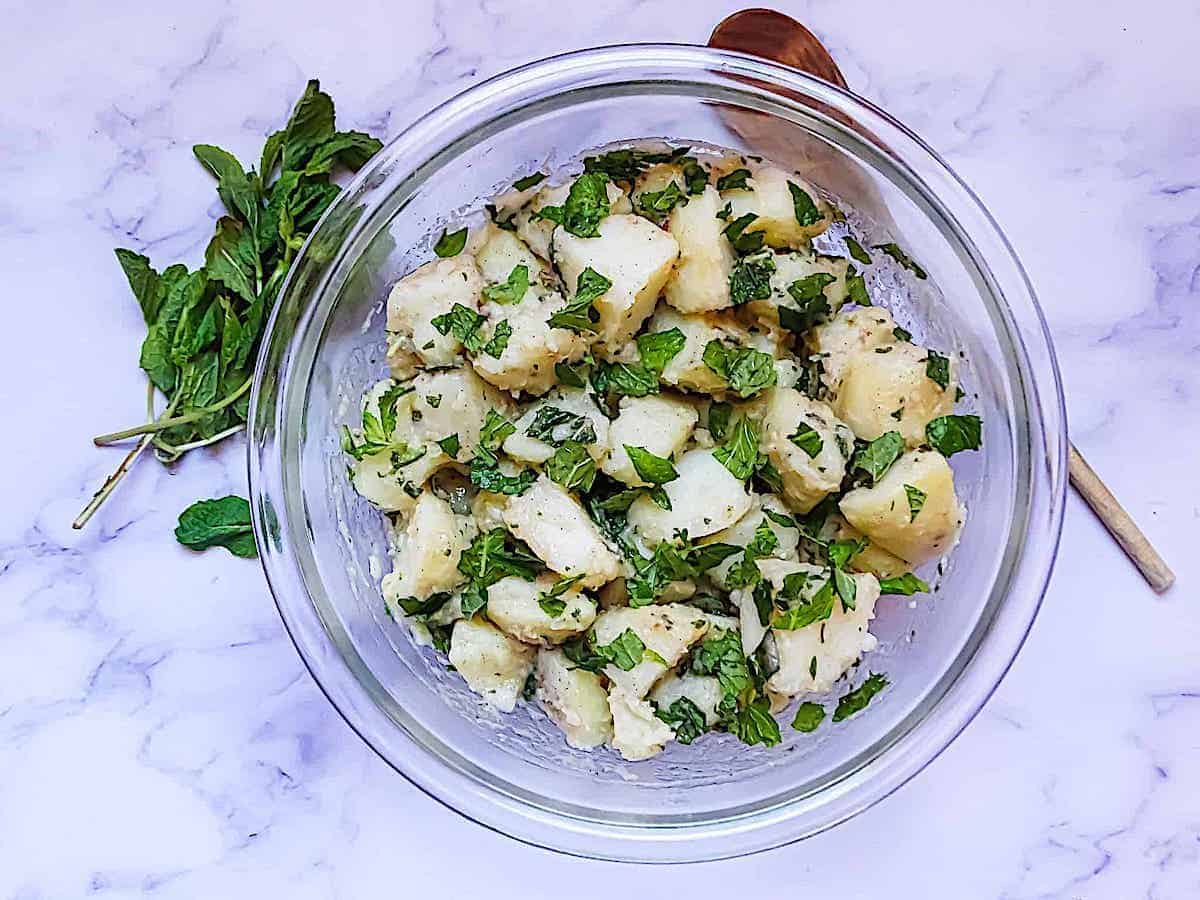 Syrian potato salad is a tasty option if you want potato salad without the fat from mayo and egg yolks. Talk about a win-win.
3 large russet potatoes
¾ cup lemon juice
¼ cup olive oil
1 cup fresh mint, cut coarsely
3 teaspoon fresh parsley, cut coarsely
1 teaspoon allspice
Salt to taste
26. Thin Mint Trifle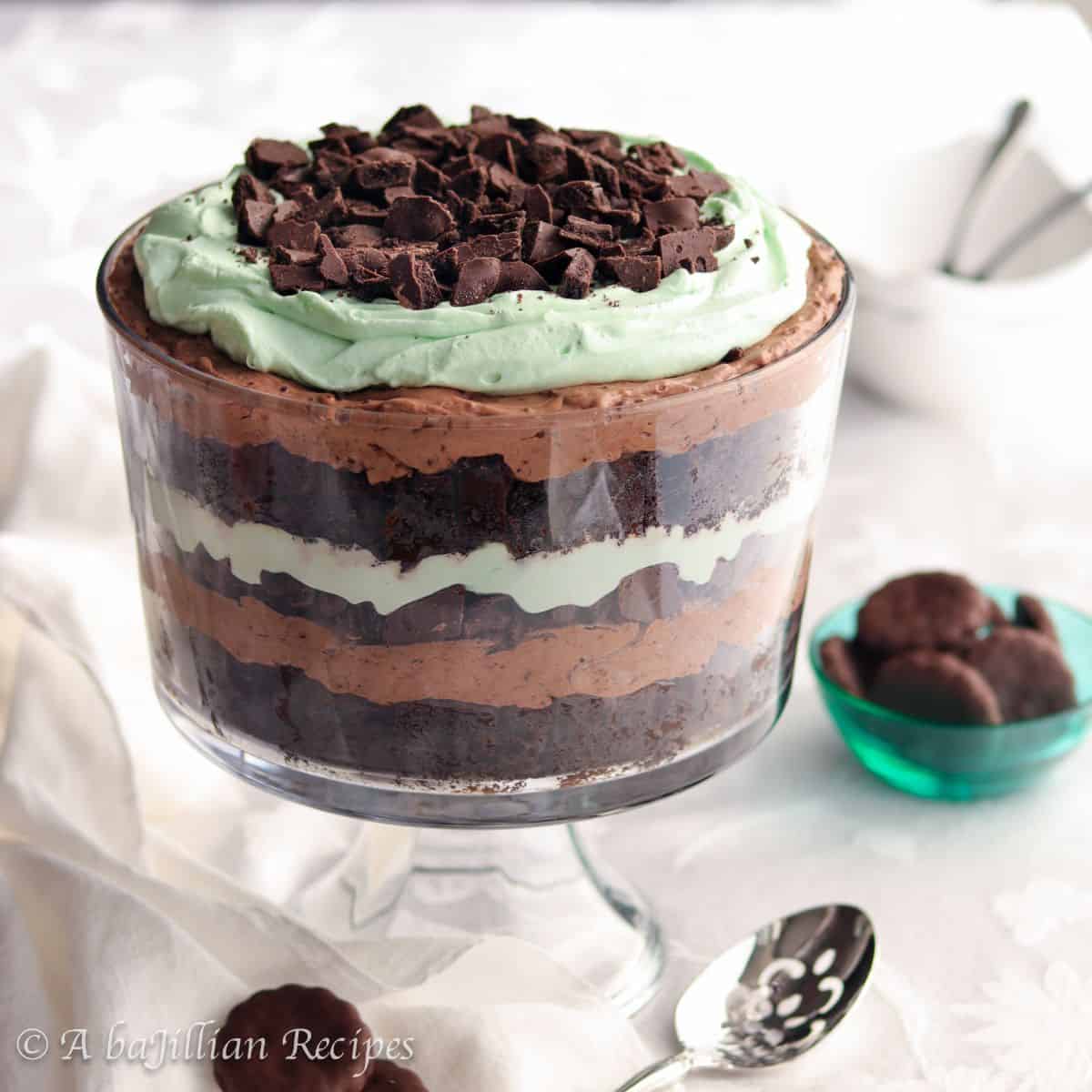 Girl Scout cookies get upgraded with the Thin Mint trifle, a creamy and layered dessert that will surely delight your taste buds.
½ cup hot milk
2 teaspoon instant espresso powder
1 box Devil's Food cake mix
2 (3.4 oz) boxes of instant chocolate pudding mix, dry
2 teaspoon cocoa powder
3 eggs
1 cup sour cream
½ cup vegetable oil
1 teaspoon vanilla
1 cup mini semi-sweet chocolate chips
4 cups heavy cream
8 oz cream cheese
1 ¼ cups powdered sugar
¼ teaspoon mint extract
14 oz can of sweetened condensed milk
½ cup water
1 box Thin Mint cookies
27. Easy Chickpeas Salad With Feta And Mint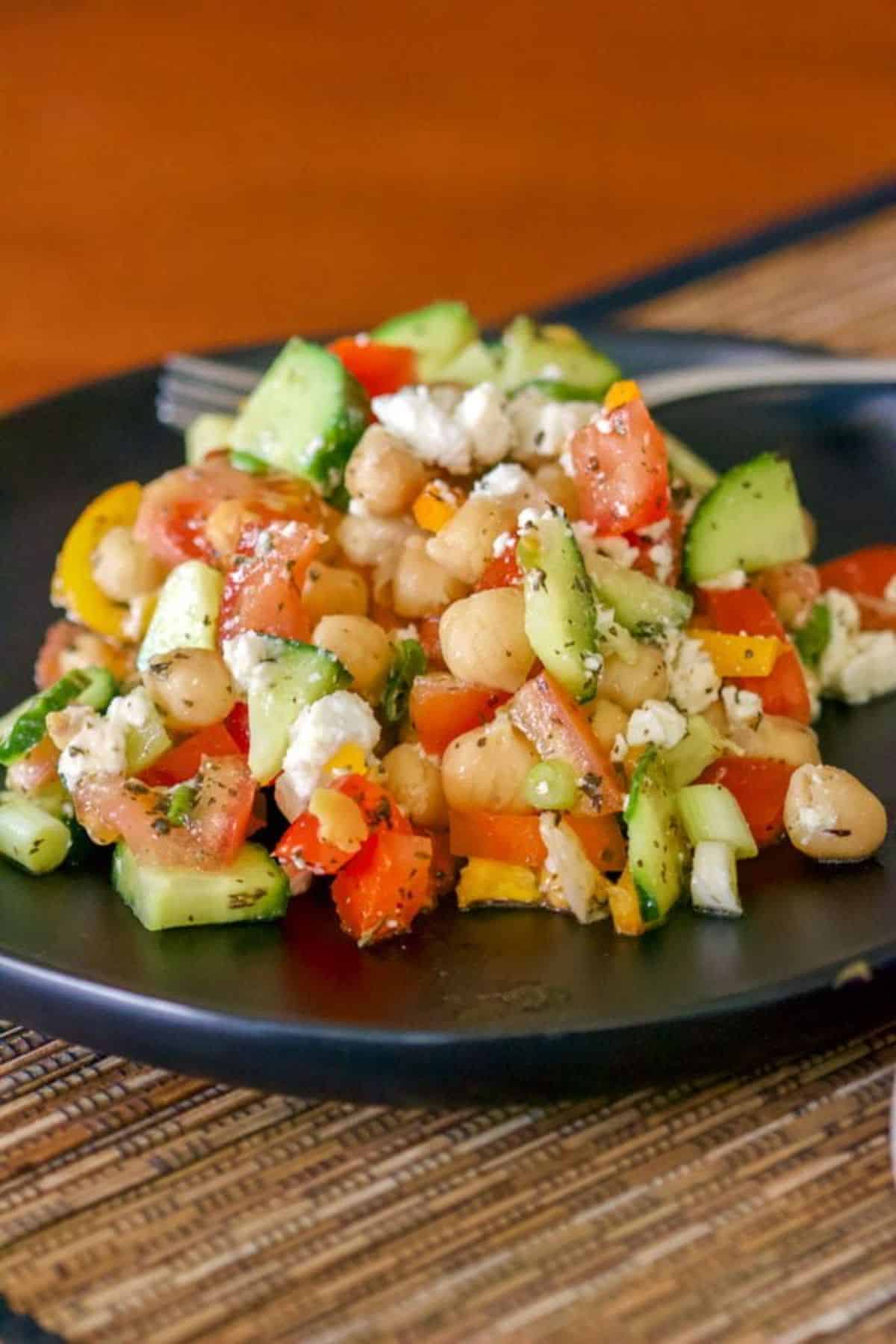 The Mediterranean flavors in this veggie-loaded chickpea salad are a match made in mint heaven. Get ready for the experience of a lifetime.
15 oz can of chickpeas
1-2 medium tomatoes, chopped
2-3 green onions, chopped
1 medium cucumber, chopped
¼ cup crumbled feta cheese
2 teaspoon fresh chopped mint
2 teaspoon chopped basil
1 lemon, juiced
2 teaspoon extra virgin olive oil
Salt and pepper to taste
Final Thoughts
As you've seen, mint's versatility makes it a must-have in any kitchen. From desserts to dips, there are endless treats to make with this wonderful herb.
We hope you enjoyed these refreshing mint recipes and can't wait to see you try them. Happy cooking!