From savory delights to sweet treats, cashews are an excellent way to incorporate more nutrient-rich nuts into your everyday cooking.
In this article, we've compiled a list of 35 recipes with cashews that will satisfy even the most passionate nut enthusiast.
Jump to:
1. Hawaiian Salad with Chicken and Pineapple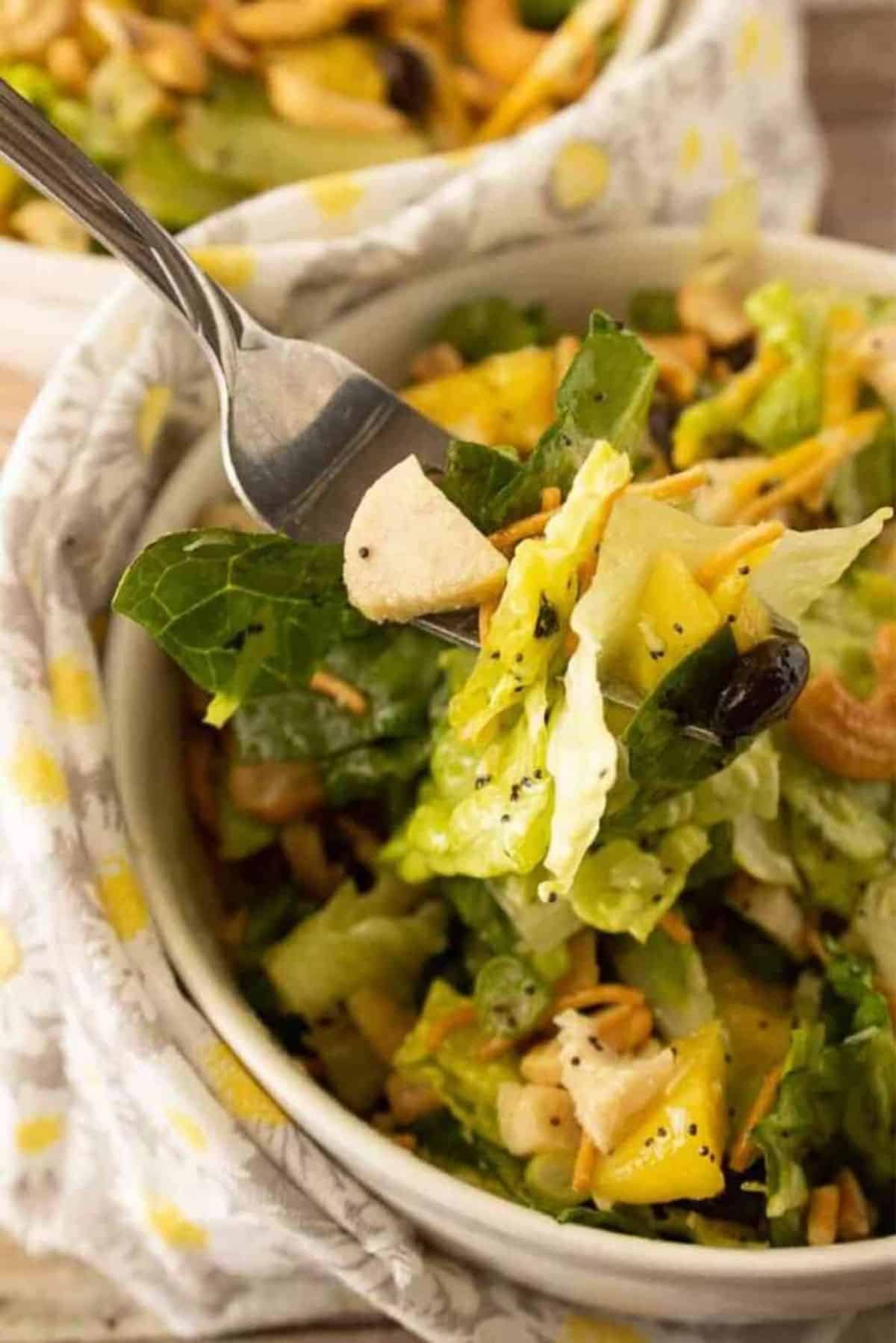 Take a tropical escape from the comfort of your kitchen with this Hawaiian salad. The sweet and juicy pineapple fits perfectly with the tender and flavorful chicken, black beans, crunchy cashews, and noodles.
3-4 cups romaine lettuce (chopped)
3-4 cups of iceberg lettuce
2 cups of cooked and chopped chicken
1½ cups shredded cheese
8 to 10 chopped-up green onions
1 15 oz can of drained and rinsed black beans
1½ cups of fresh pineapple pieces
2 3oz cans of crunchy rice noodles
1 cup cashew pieces
Poppy seed salad dressing of your choosing
2. Broccoli Cauliflower Salad with Bacon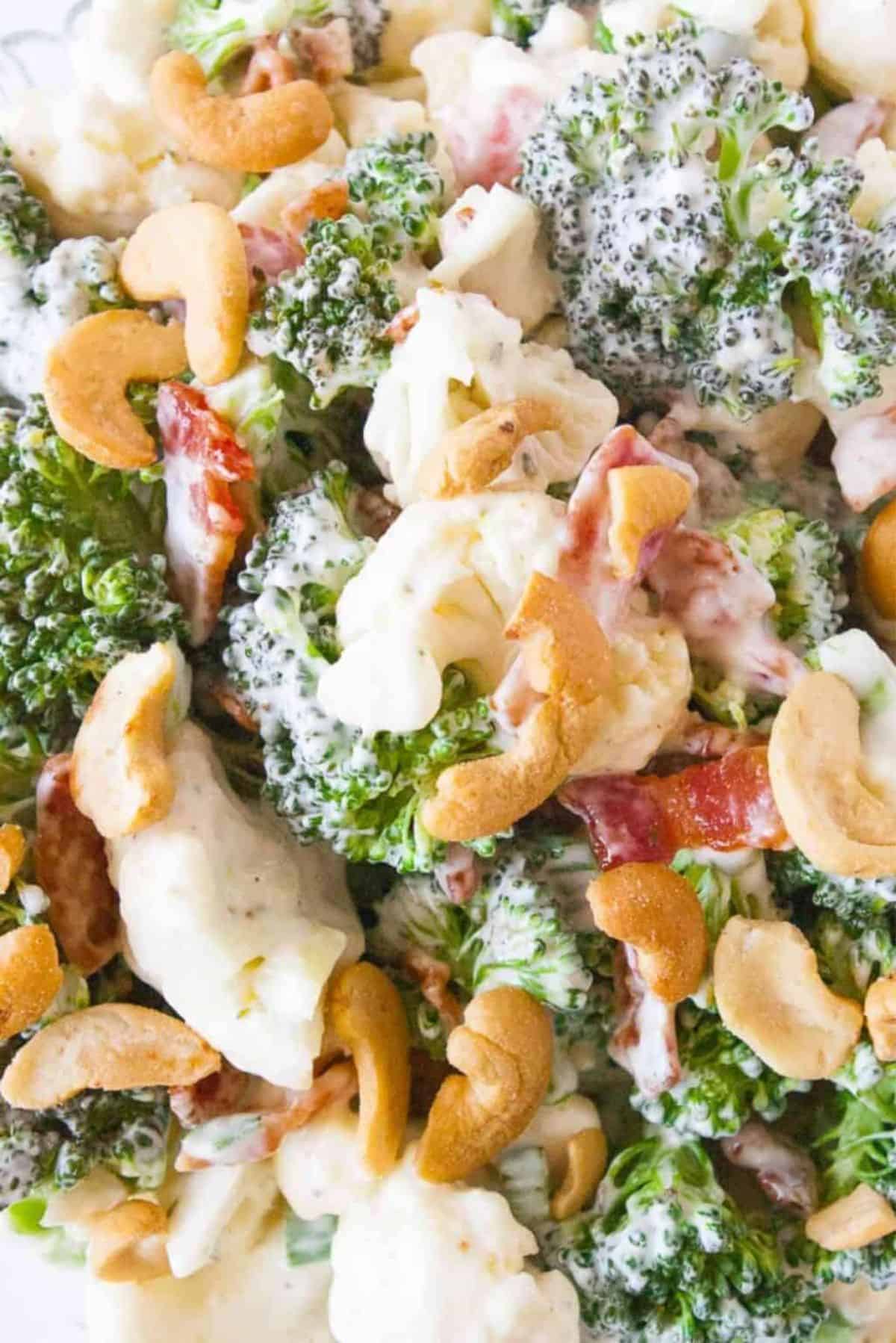 Crunchy veggies meet with smoky bacon and cashews in one mouth-watering salad, perfect for picnics and potlucks. The tangy ranch dressing brings everything together in an explosion of flavor.
4 cups of bite-sized broccoli pieces
4 cups of bite-sized cauliflower pieces
4 thinly chopped green onions
½ lb of cooked and ground bacon
1 cup of ranch dressing
5 oz can of cashew pieces
3. Chocolate Cashew Clusters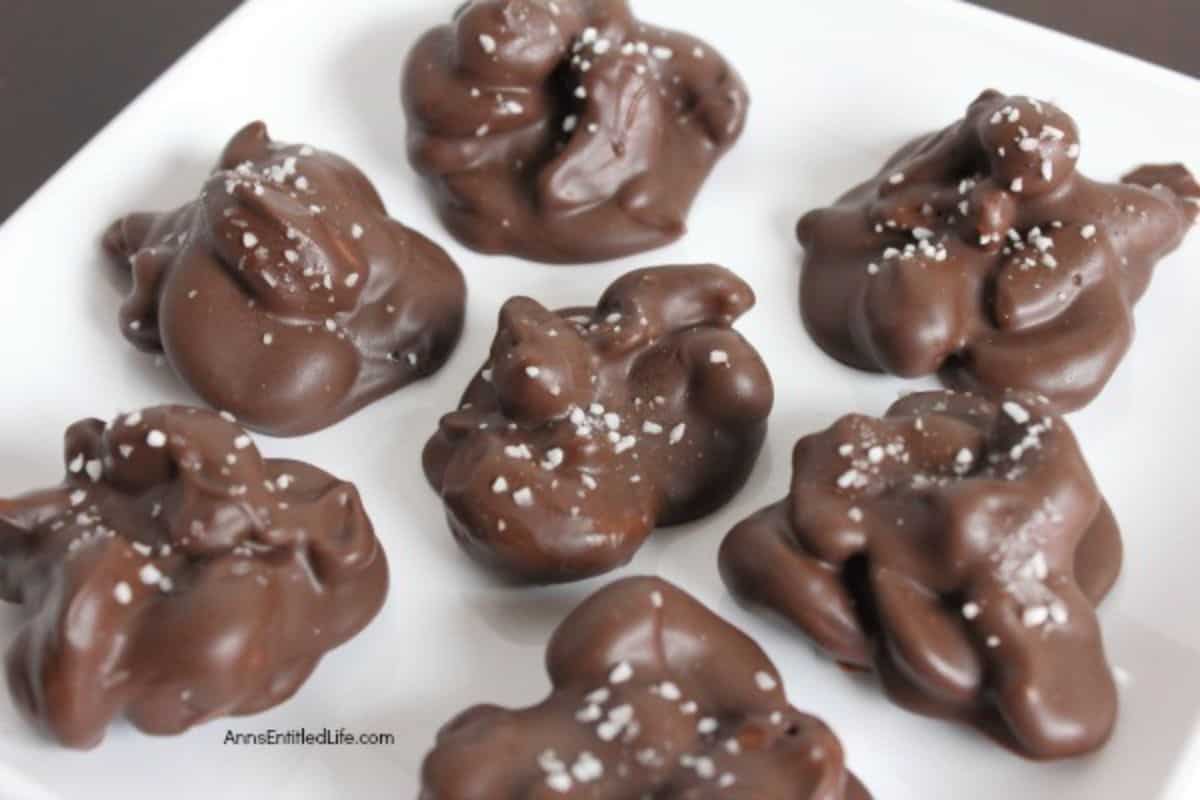 With only three ingredients, these chocolate cashew clusters are the perfect balance of sweet and salty that satisfy even the strongest sweet tooth.
12 oz chocolate almond bark
2 cups of cashews
1 teaspoon of Kosher salt
4. Cashew Butter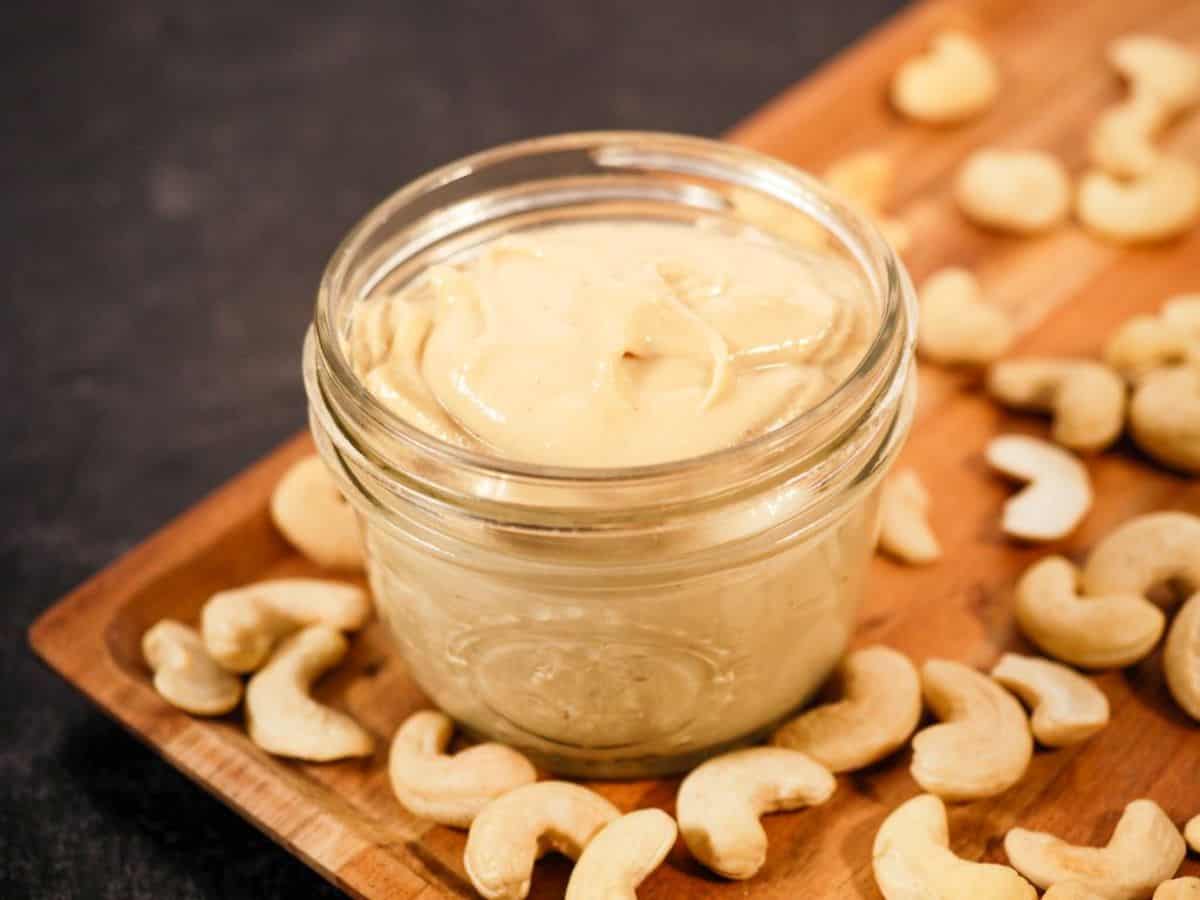 Rich, creamy, and oh-so-spreadable, homemade cashew butter takes your morning toast to the next level of nutty goodness. You can also customize it using sugar, vanilla, salt, or cinnamon.
5. Espresso Cashew Butter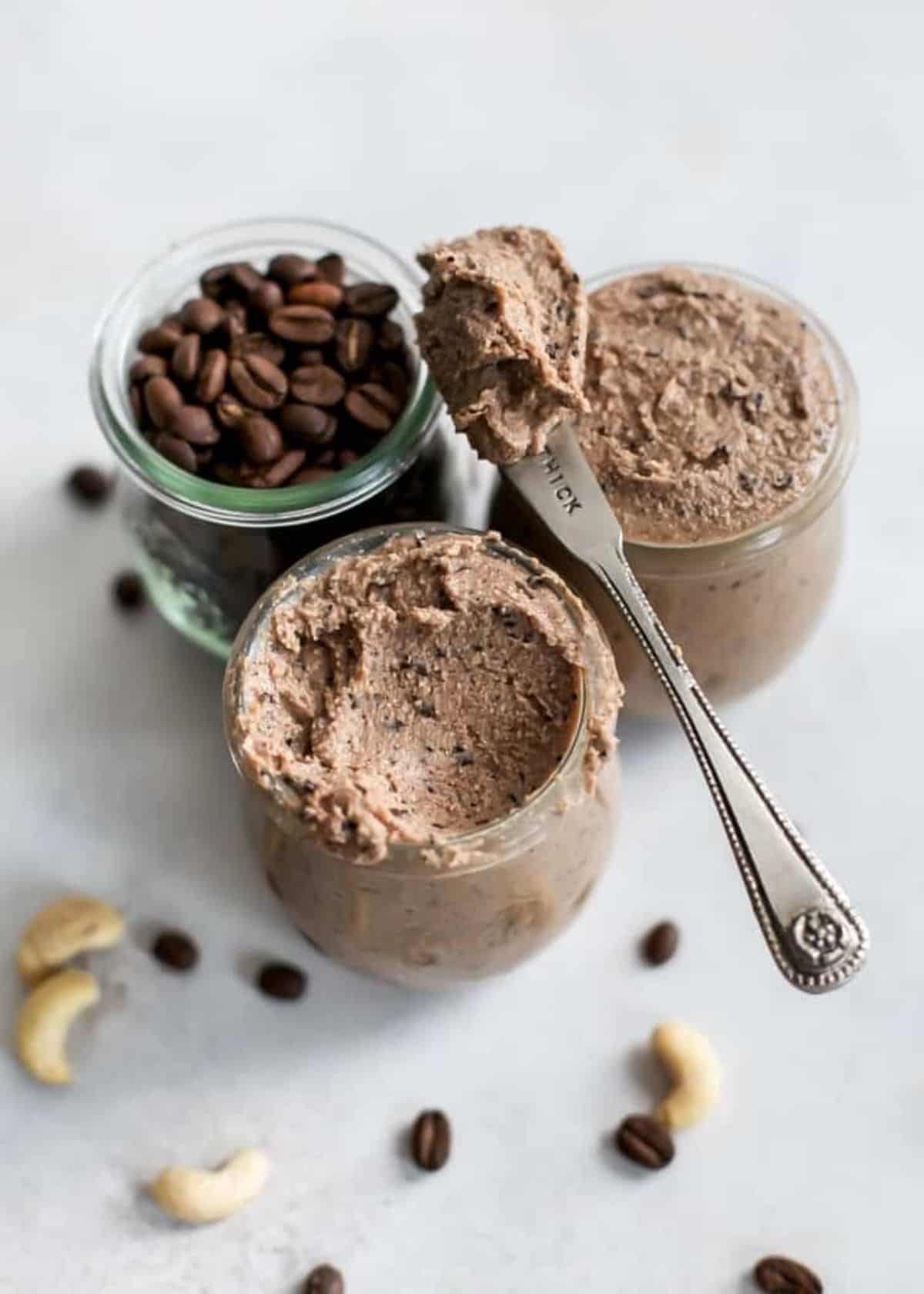 Perk up your taste buds with this rich and velvety spread of espresso cashew butter, combining the creamy cashew butter with the invigorating espresso.
2 tablespoon of espresso beans
2 teaspoon cacao or unsweetened cocoa powder
½ teaspoon of vanilla extract
2 teaspoon of coconut oil
4 cups of raw cashews
6. Salted Caramel Cashew Pie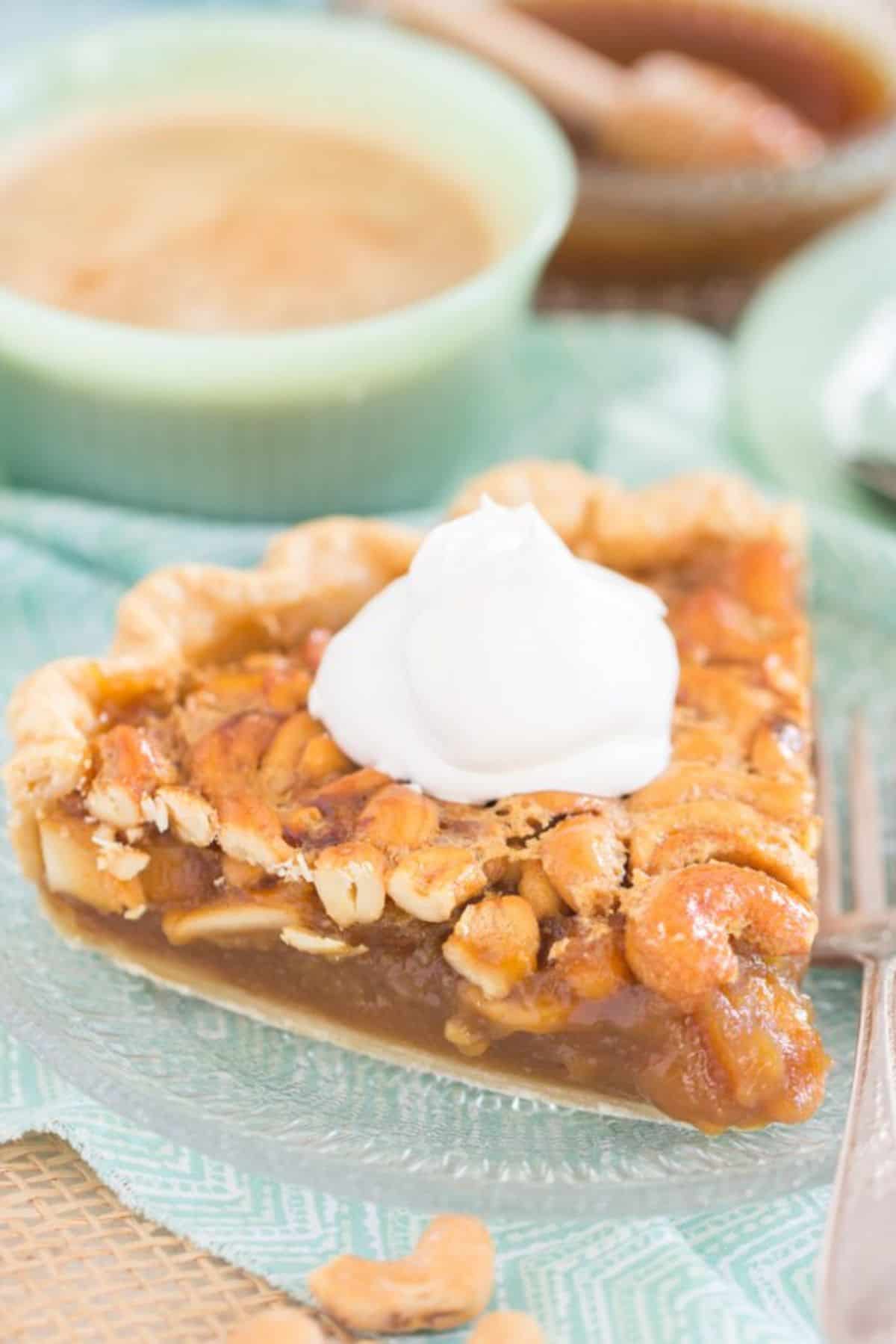 You'll want to dive headfirst into salted caramel cashew pie, where gooey caramel meets crunchy cashews and a pinch of sea salt.
9-inch refrigerated pie crust
A 12 oz jar of prepared caramel sauce
3 large eggs
½ cup granulated sugar
¼ cup light corn syrup
¼ teaspoon sea salt
¼ cup melted butter
1 teaspoon of vanilla extract
2 cups roasted salted cashew pieces
whipped cream
7. Honey Roasted Cashews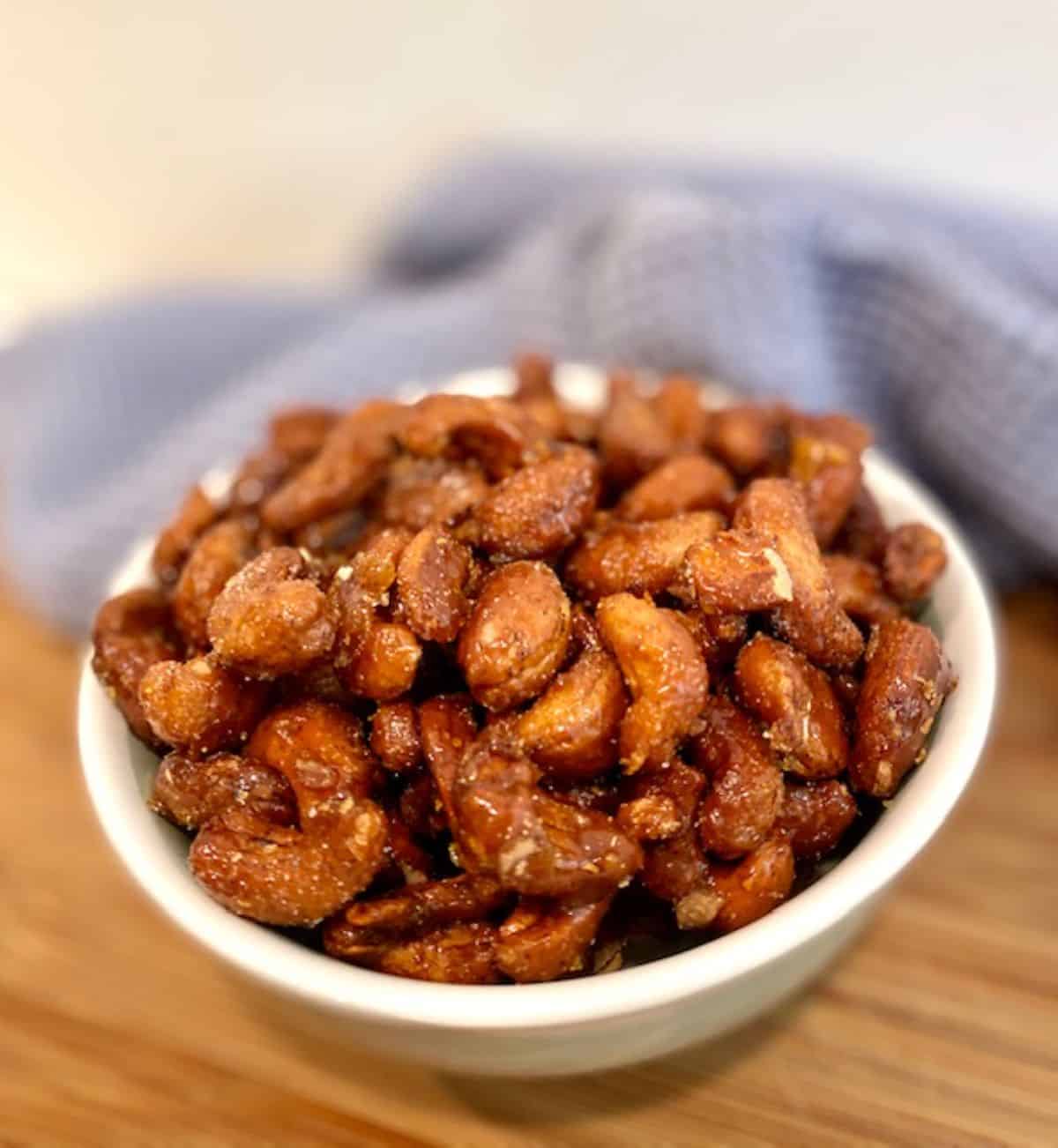 Slightly sweet and irresistibly crunchy, these honey-roasted cashews make the perfect snack or salad topping. They can be prepared in less than 30 minutes.
⅓ cup of honey
1 teaspoon cayenne
1 teaspoon sea salt
½ cup granulated sugar
16 oz roasted and salted cashews
8. Cashew Caramel Bars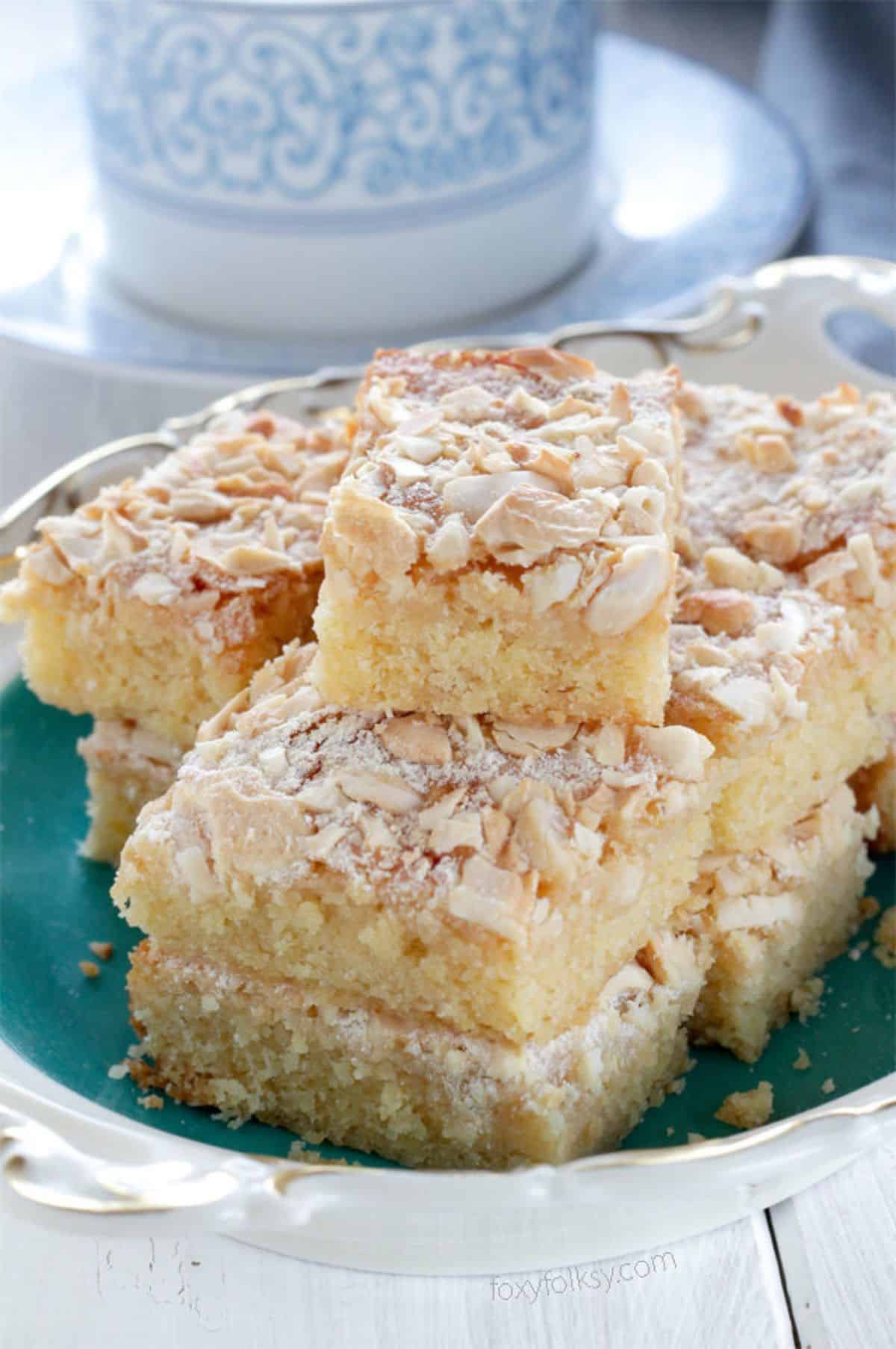 Layers of buttery shortbread, gooey caramel, and crunchy cashews combine to form unforgettable chewy caramel bars.
1 cup flour
1 egg
½ cup white sugar
½ cup powdered milk
½ teaspoon baking powder
½ teaspoon salt
¾ cup butter cubes
1 egg yolk
1 teaspoon vanilla extract
1 cup condensed milk
½ cup chopped cashew nuts
9. Coconut Cashews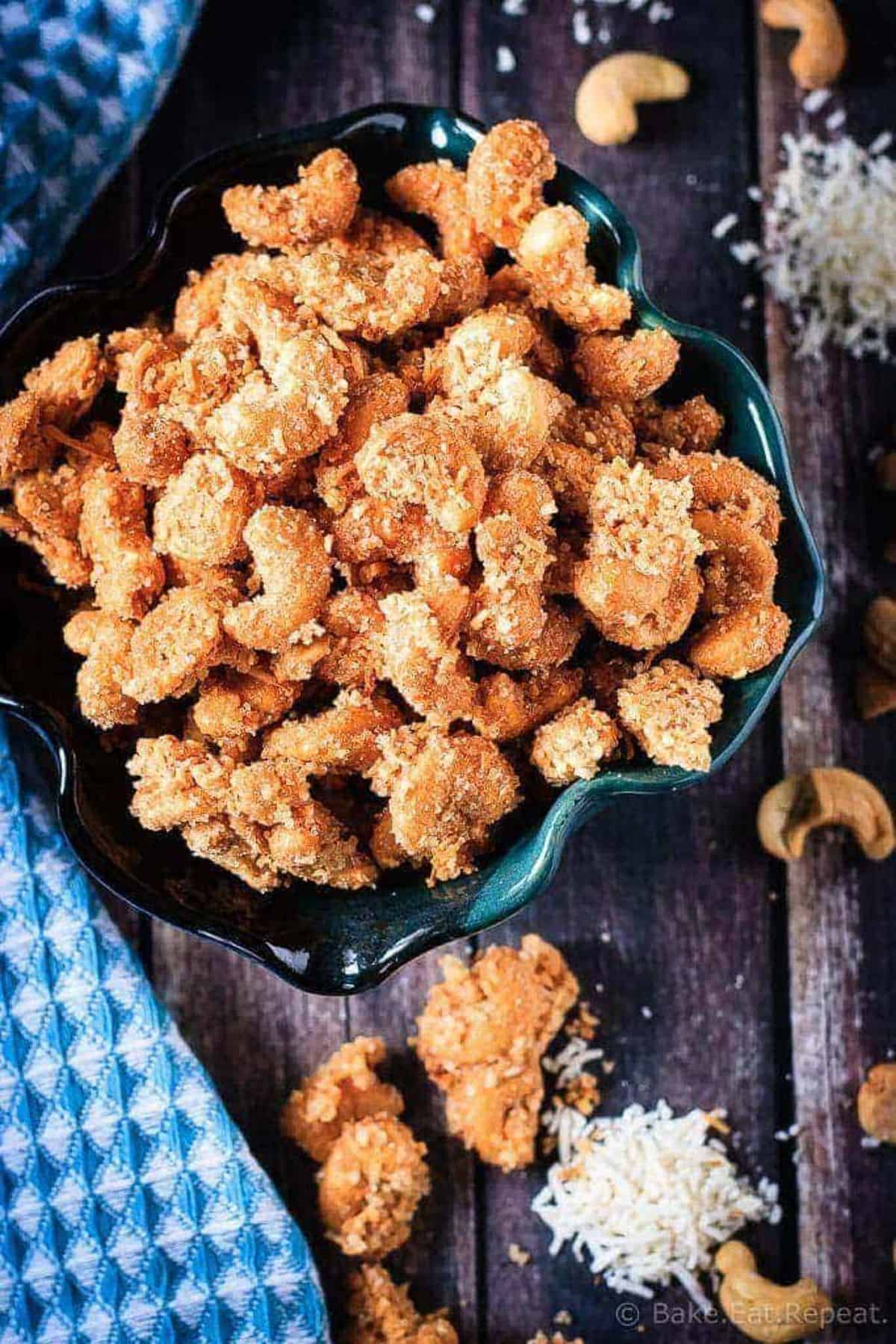 These coconut cashews are coated with a thin layer of sweetened coconut and toasted to perfection, creating an irresistible crunch. This addictive treat is perfect for a last-minute get-together.
1 cup granulated sugar
1 cup unsweetened coconut
1 teaspoon salt
1 egg white
1 teaspoon vanilla
4 cups of roasted and unsalted cashews
10. 3 Ingredient Cashew Ice Cream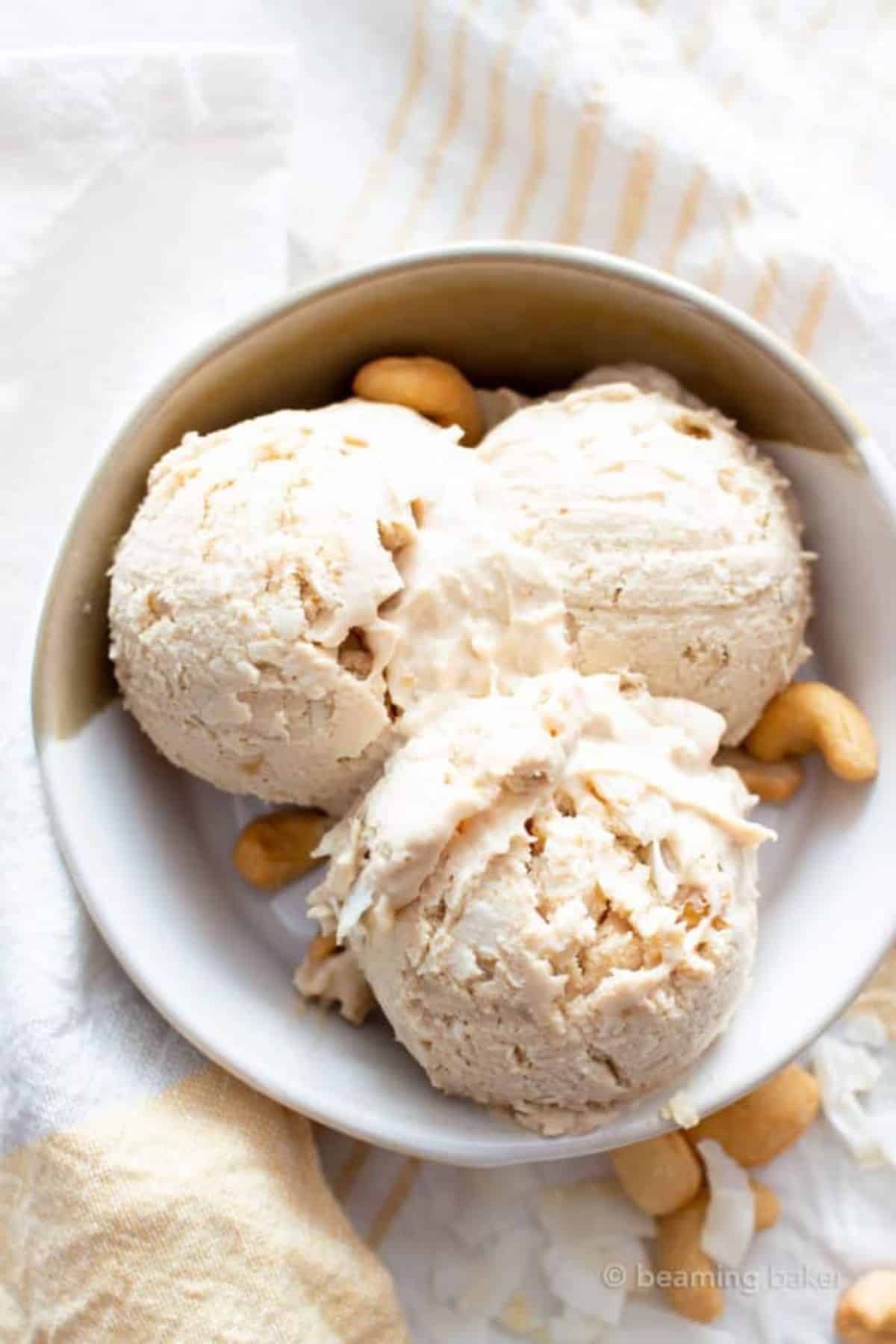 This nut-based treat is a creamy, dreamy, dairy-free dessert made simple with three ingredients plus your favorite flavorings.
1 can of full-fat coconut milk
½ cup unsalted, creamy homemade cashew butter
3 tablespoon of pure maple syrup
1 teaspoon of pure vanilla extract (optional)
2 tbsps of chopped roasted cashews (optional)
11. Cinnamon Vanilla Cashew Cream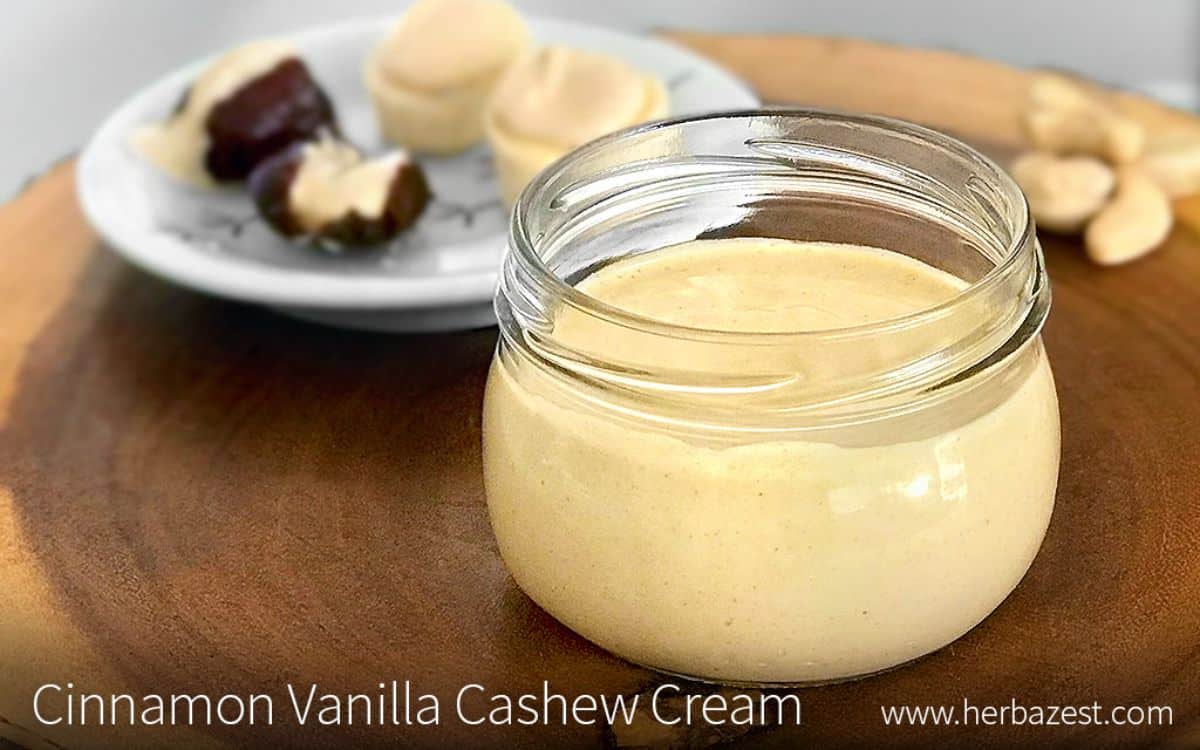 Add a bit of elegance to your protein smoothie with this luxurious, dairy-free cashew cream with hints of warm cinnamon and fragrant vanilla. This delicious treat pairs well with banana slices and hot pancakes.
1 cup cashews
1 vanilla bean
1 teaspoon ground cinnamon
1 tablespoon lemon juice
3 tbsps maple syrup
Pinch of salt
½ cup almond milk
12. Easy Cashew Pesto
Fresh basil, cashews, and parmesan cheese unite to form a versatile twist on the classic pesto. This is a versatile 5-minute recipe that can be added to sandwiches, soups, or pasta.
2 cups fresh basil
½ cup of grated parmesan cheese
⅓ cup of raw cashews
2 tbsps lemon juice
½ teaspoon kosher salt
Black pepper
2 garlic cloves
¼ cup olive oil
13. Chewy White Chocolate Cashew Cookies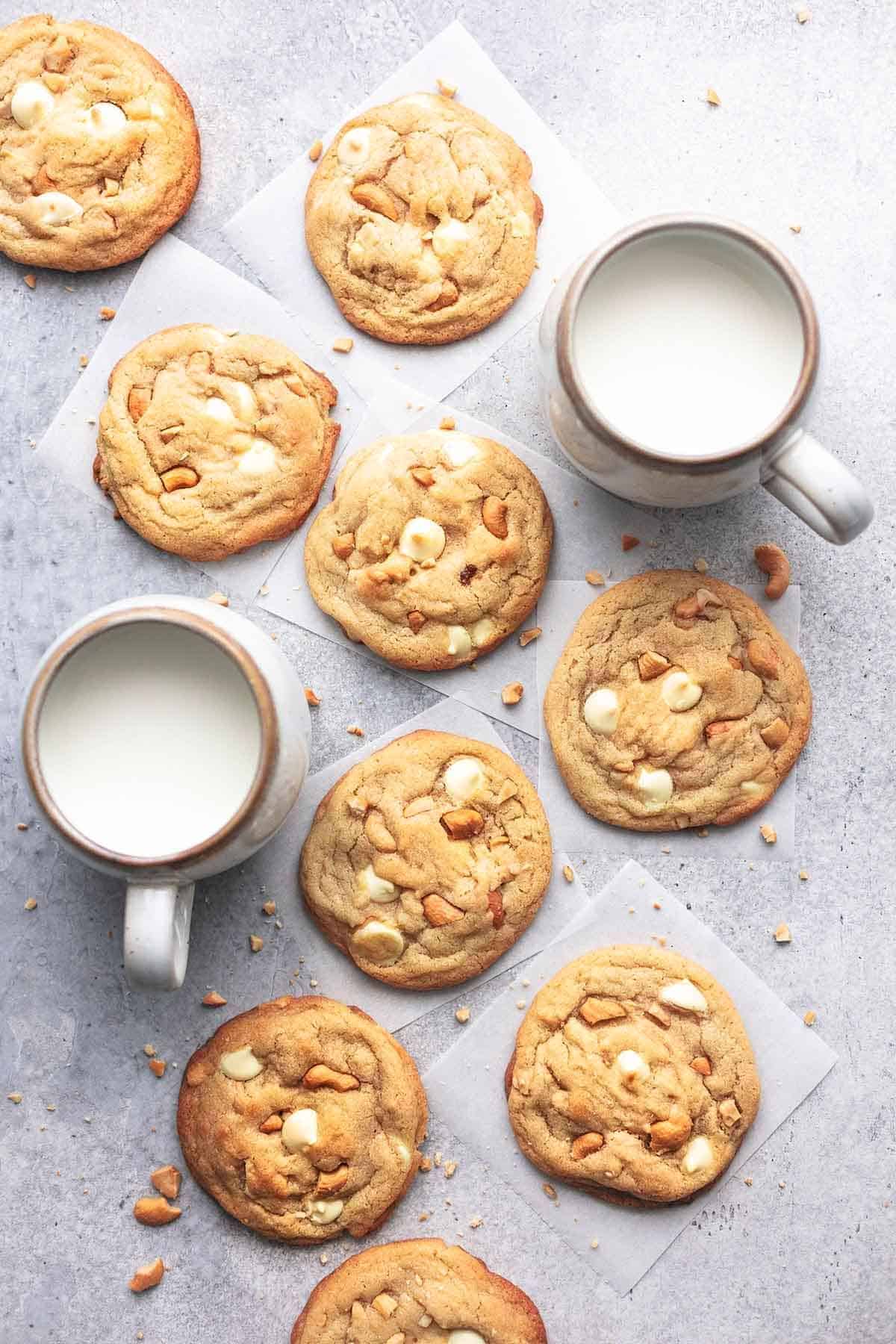 White chocolate cashew cookies perfectly combine salty cashews with sweet chocolate chips into a chewy delicacy. The recipe doesn't require chilling before baking, which means less wait time before you devour these treats.
3 cups flour
1 teaspoon baking soda
½ teaspoon baking powder
1 teaspoon salt
1 cup of room-temperature butter
1 cup granulated sugar
1 cup brown sugar
2 large eggs
2 teaspoon vanilla extract
1½ cups white chocolate chips
⅔ cup salted cashew bits
14. Baked Cashew-Crusted Chicken Fingers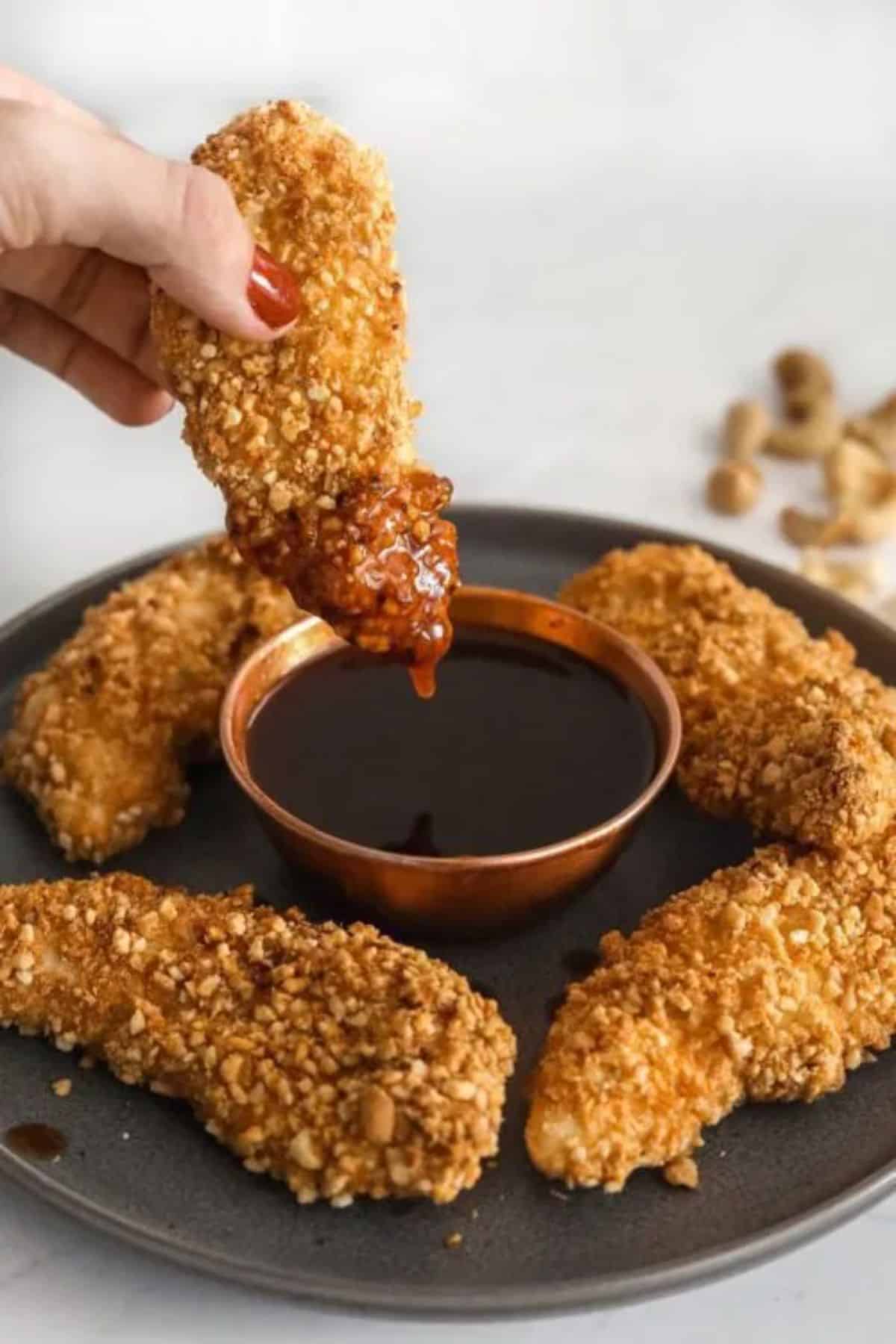 Thanks to their cashew-based coating, these chicken fingers pack an extra serving of protein. Plus, they're so crispy, you won't miss the breadcrumbs.
1 lb boneless chicken tenders
½ cup roasted cashews
⅓ cup coconut flour
2 eggs
salt (if you're using unsalted cashews)
½ teaspoon onion powder
1 teaspoon garlic powder
½ teaspoon paprika
¼ teaspoon cayenne (optional)
15. Sweet and Spicy Cashews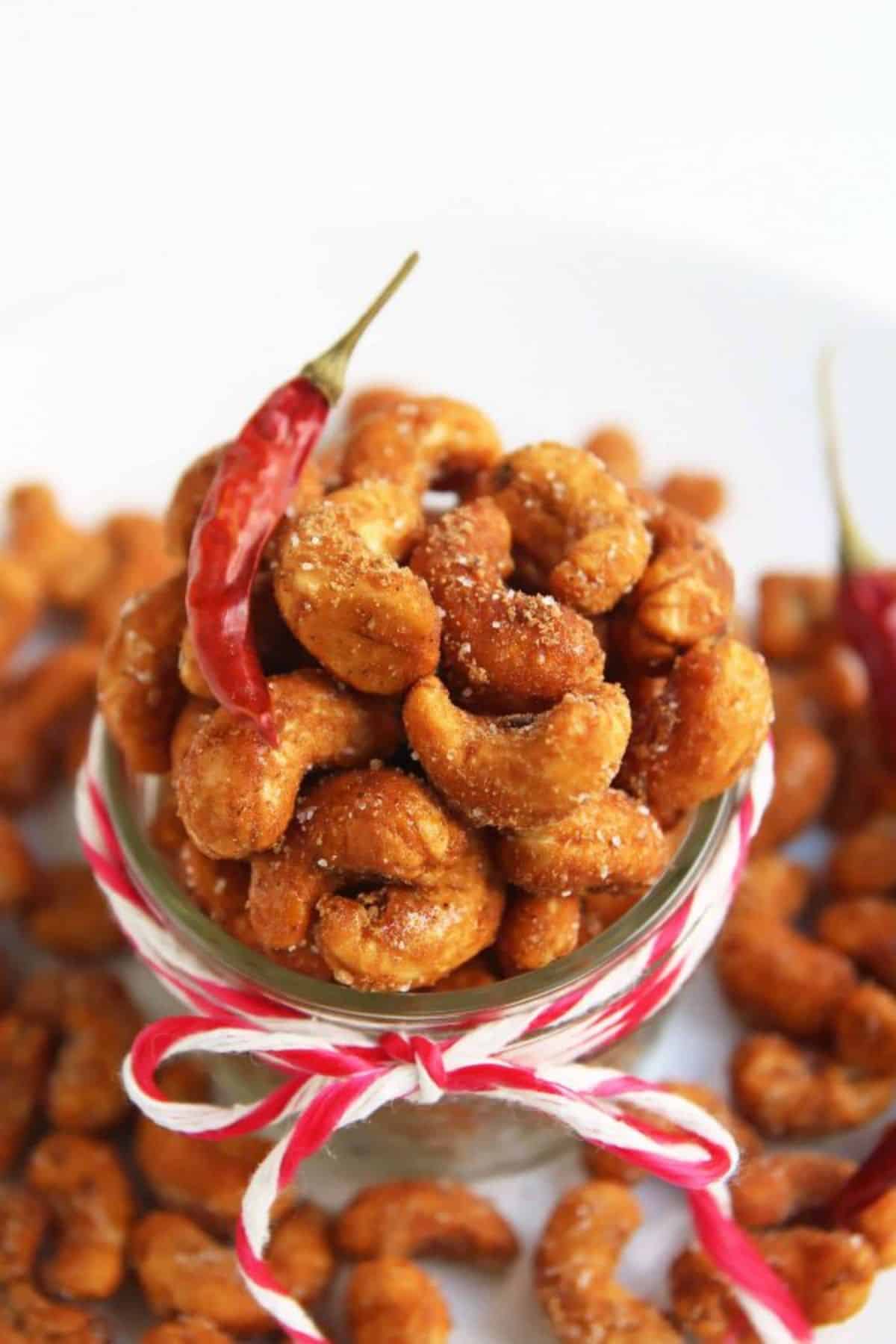 Need a nutritious, packable snack? These sweet and spicy cashews are a tasty mix of flavors, uniting sugar, spice, and nutty goodness, perfect for the winter season.
¼ cup honey
1 teaspoon ground chili powder, such as cayenne
12 oz raw cashew nuts
2 tbsps coconut sugar
5 teaspoon sea salt
16. Toasted Cashew Coconut Bars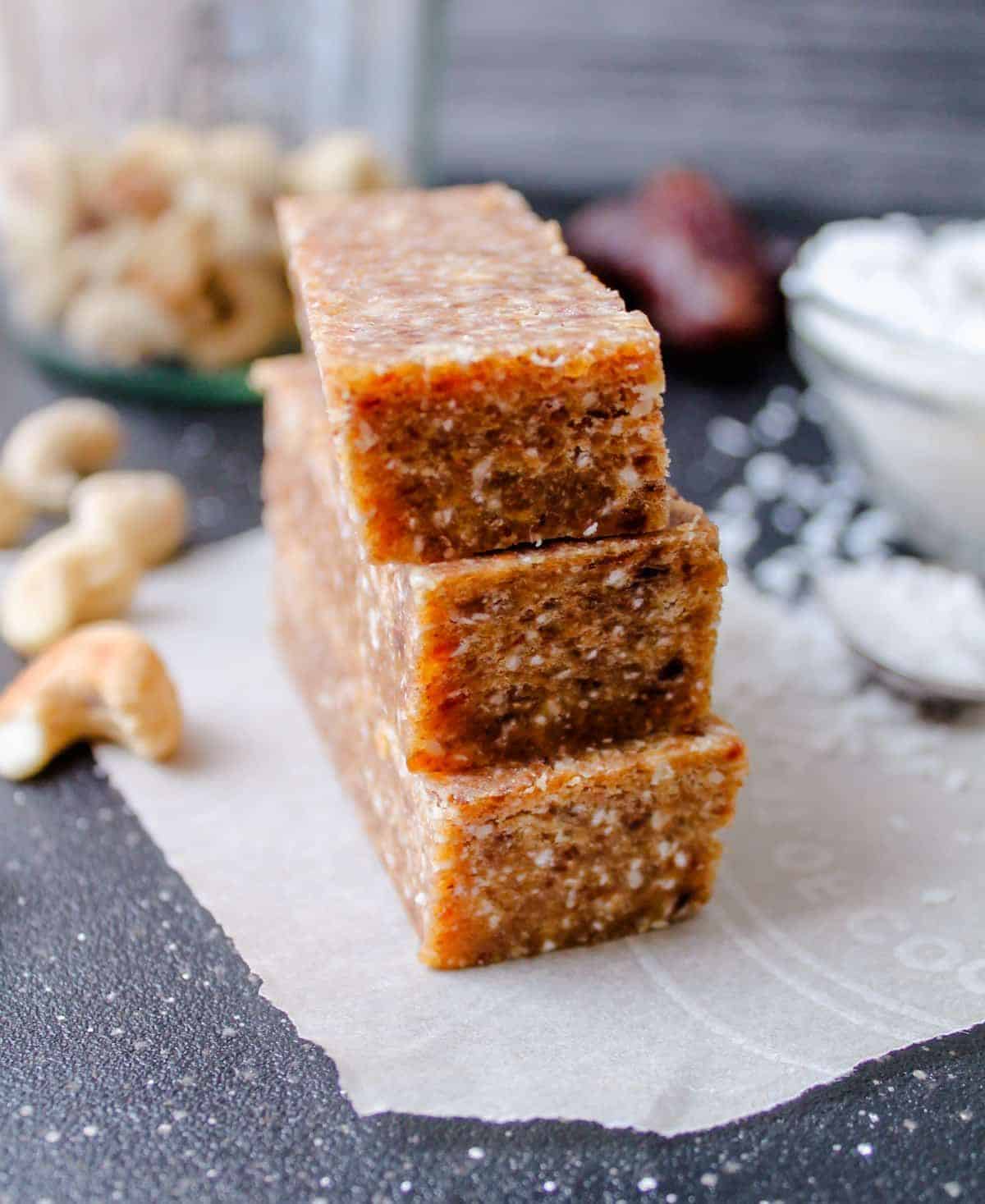 These toasted cashew coconut bars are a great option if you're looking for a kid-approved after-school snack. It's sweetened with dates—a much healthier alternative to processed sugars.
¾ cup of raw cashews
½ cup unsweetened shredded coconut
2 cups Medjool dates
1 teaspoon vanilla
¼ teaspoon sea salt
¼ cup smooth almond butter
17. Lemon Basil Cashew Sauce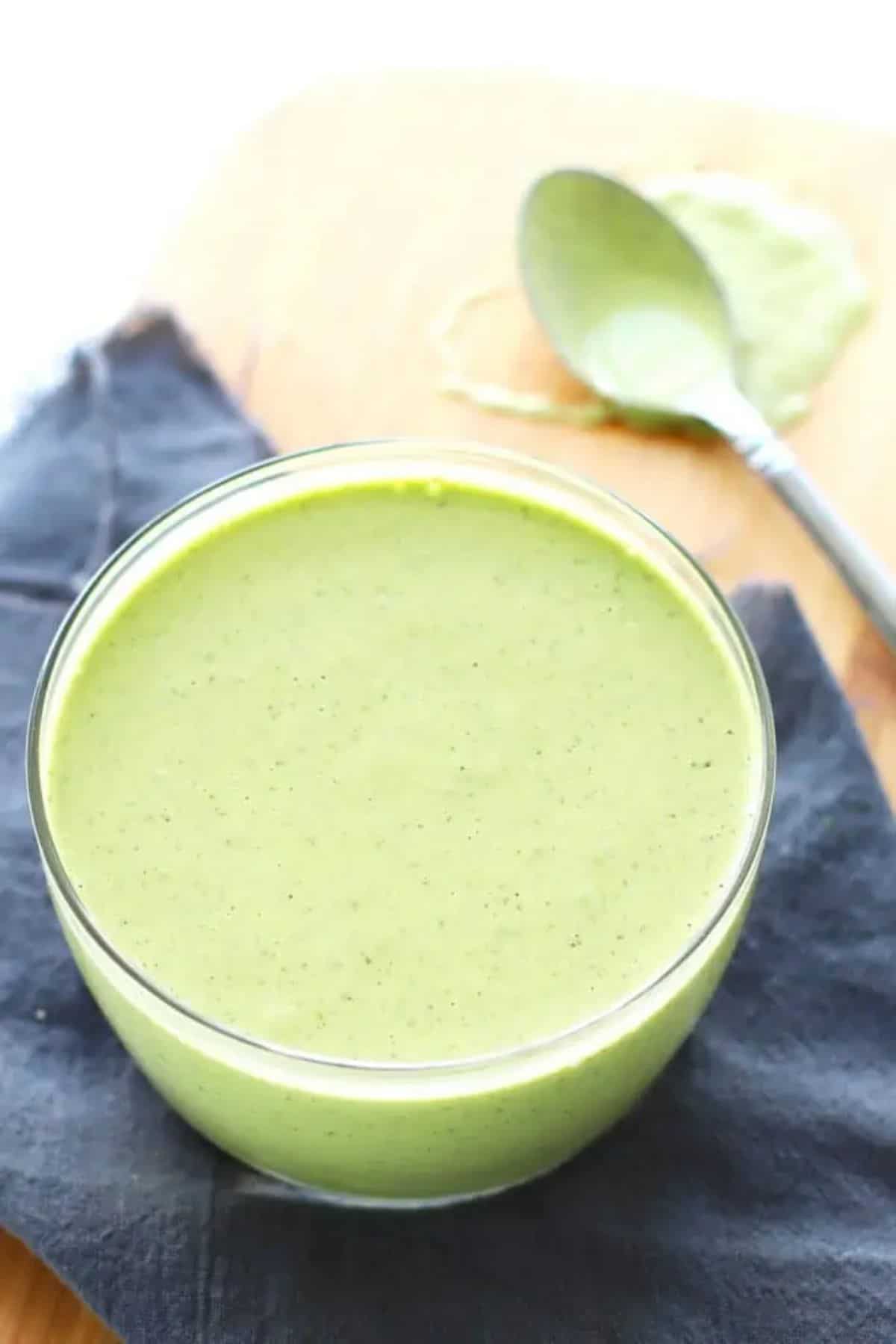 Zesty lemon, aromatic basil, and creamy cashews combine for a vibrant, summertime-ready sauce, the perfect addition to salads and pasta.
2 tbsps lemon juice
Zest from 1 lemon
½ cup cashews
½ cup water
½ cup olive oil
1 cup fresh basil leaves
½ teaspoon salt
¼ teaspoon pepper
18. Vegan Garlic Cashew Spread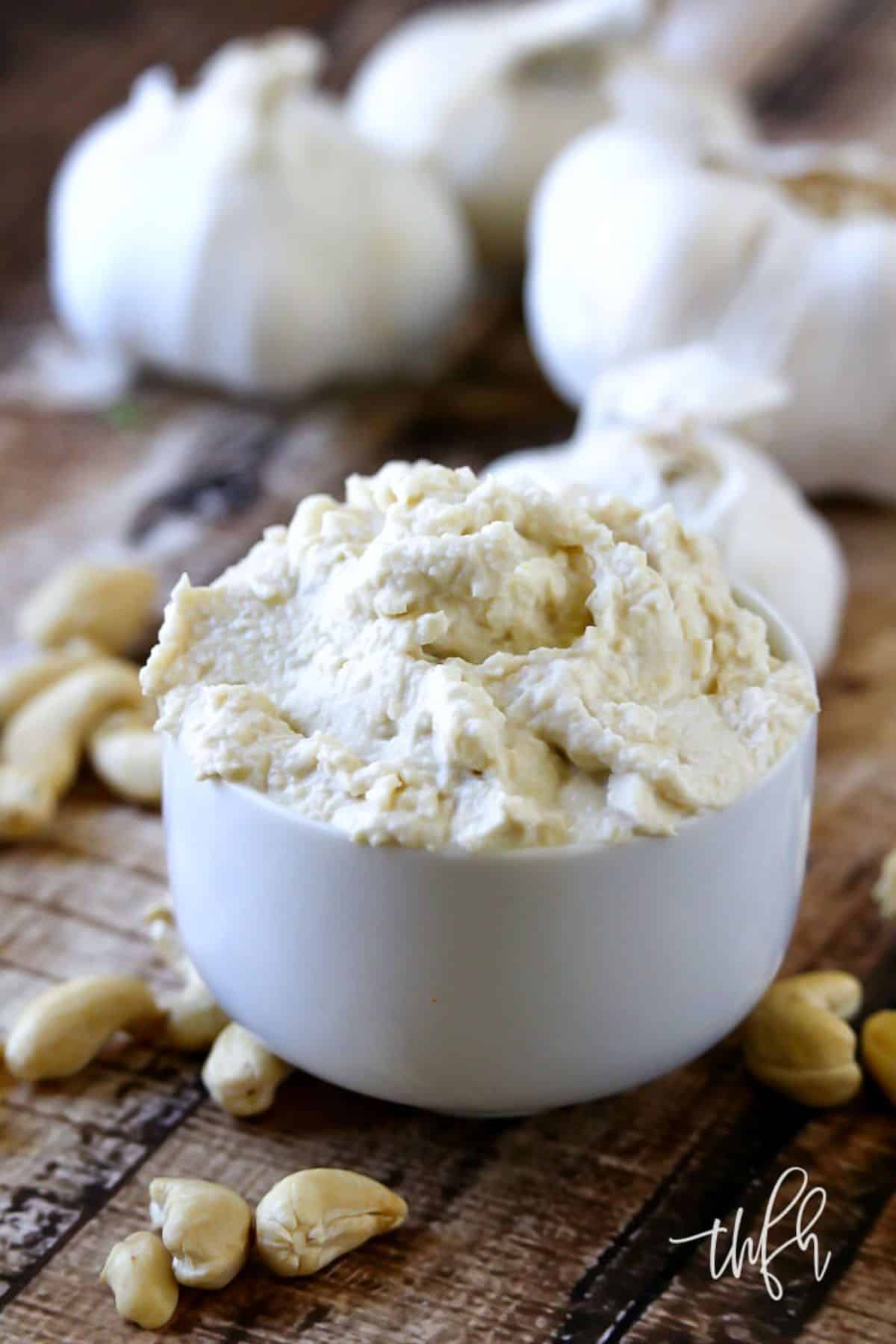 This rich, creamy vegan spread with aromatic garlic is perfect for sandwiches, wraps, or crudites. It only takes 5 minutes to prepare, which is ideal for late-night cravings.
2 cups organic raw cashews
4 cloves crushed organic garlic
½ cup organic lemon juice
½ teaspoon Himalayan pink salt
1 pinch of organic ground pepper
19. Cashew Shrimp Stir Fry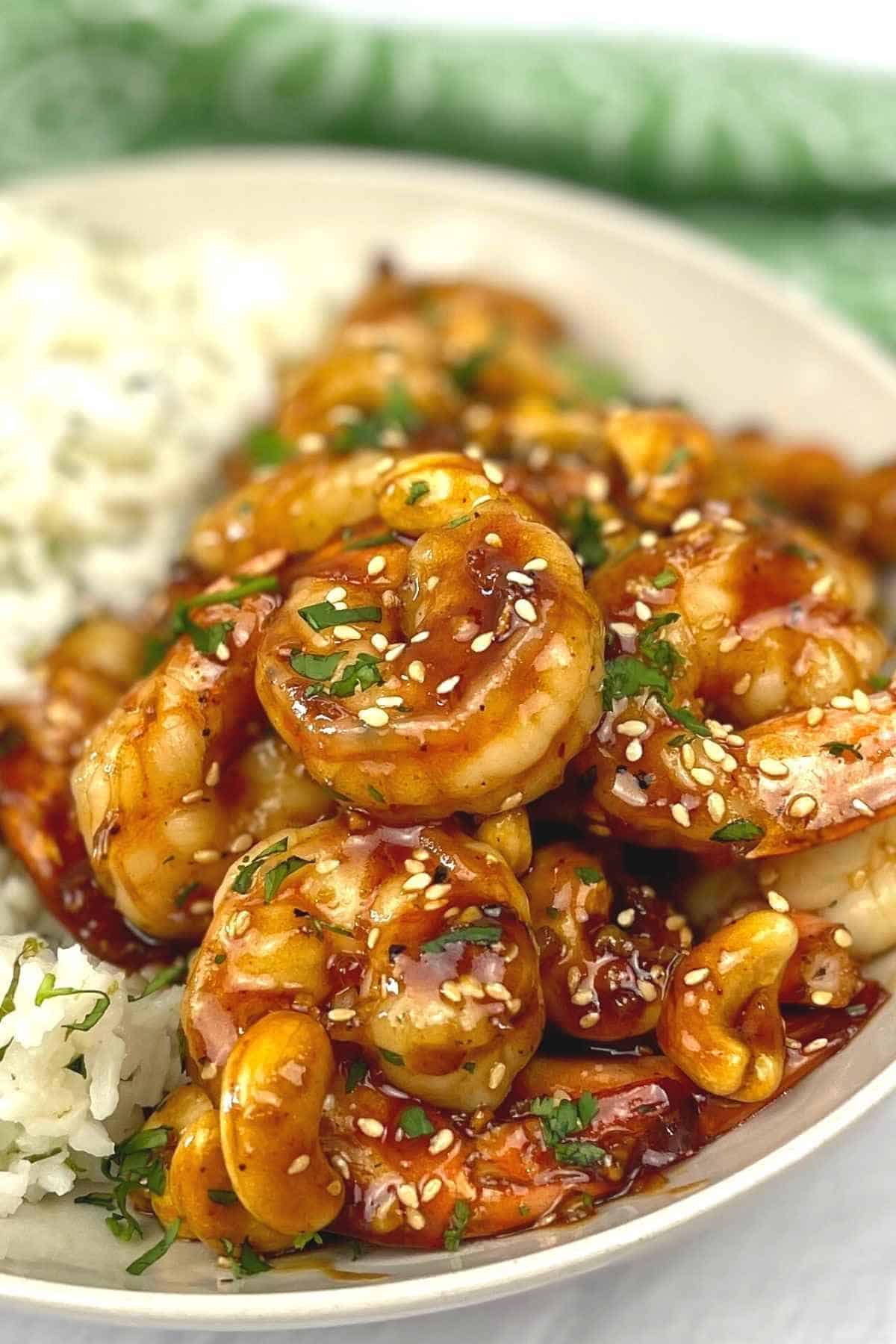 Put your culinary prowess on full display with a delicious seafood stir fry garnished with cilantro and sesame seeds, full of a crunchy cashew flair.
1 lb large shrimp
1 tablespoon olive oil
1 cup roasted cashew nuts
1½ cup hoisin sauce
2 tbsps soy sauce
2 tbsps maple syrup
1 tablespoon rice vinegar
2 cloves minced garlic
1 teaspoon minced fresh ginger
20. Cilantro Lime Cashew Cream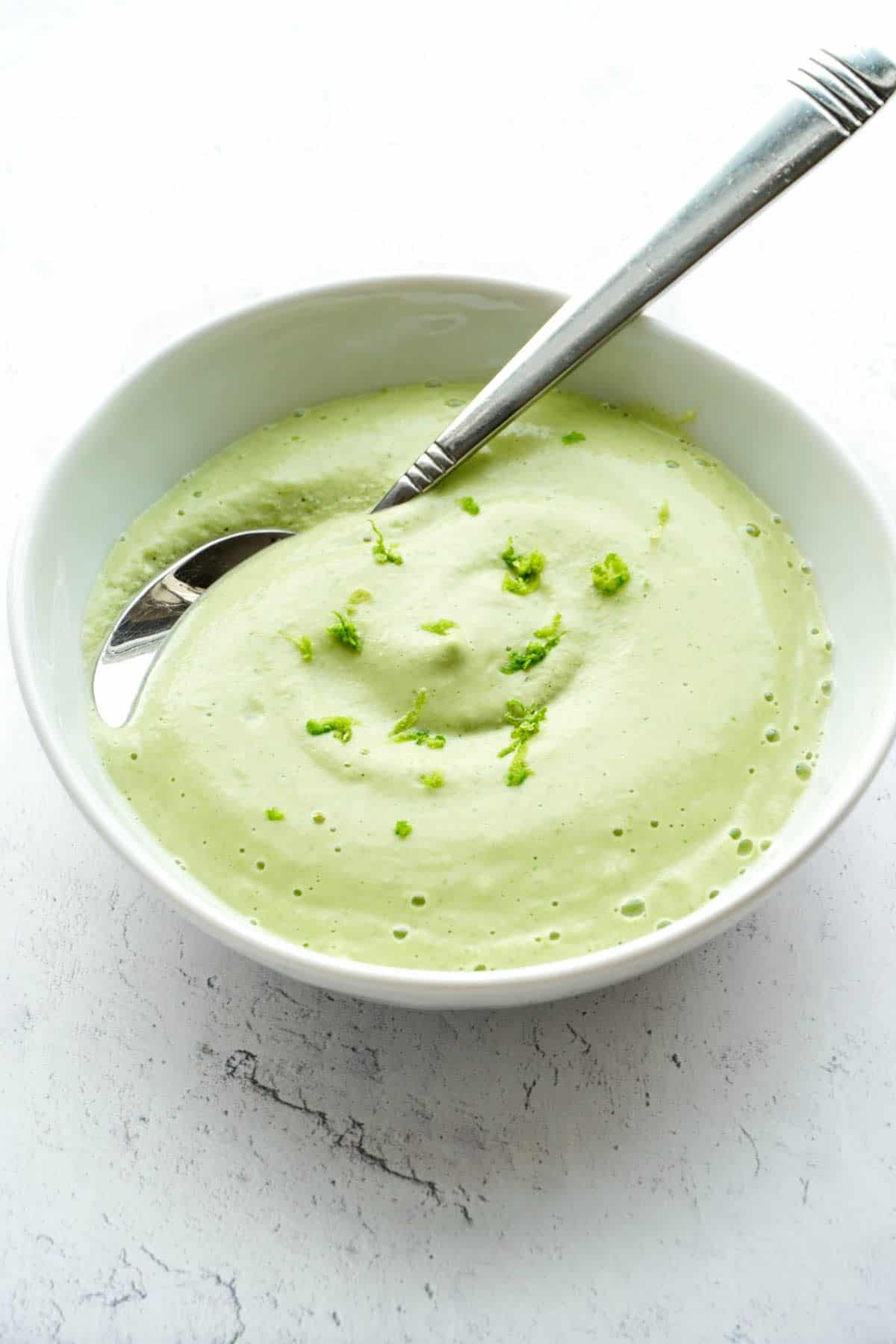 Savory cashew cream combined with fiesta-friendly cilantro lime makes the perfect taco topper with plenty of zing. This non-dairy sauce goes well with pasta, soup, and marinated chicken.
1 cup cashews
1 cup boiling water
¼ cup fresh cilantro
1 teaspoon garlic powder
½ teaspoon onion powder
½ teaspoon kosher salt
Zest and juice of 1 lime
21. Maple Chipotle Cashews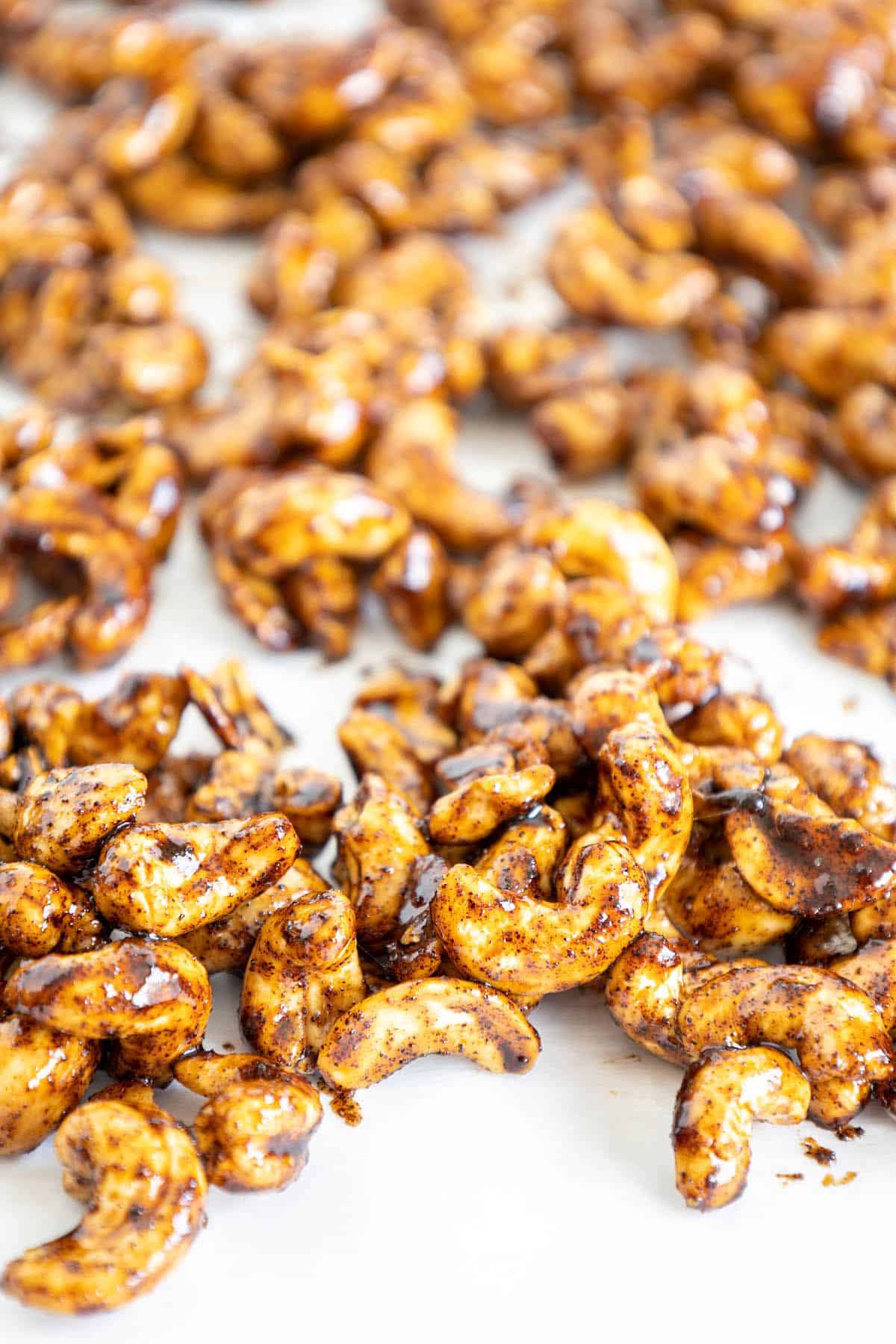 These sweet, smoky maple chipotle cashews aren't afraid to bring the heat. Made in less than 10 minutes, they're the perfect food to snack on if you love spicy foods.
2 cups of unsalted roasted cashews
¼ cup of maple syrup
1 tablespoon chipotle powder
2 pinches of salt
22. Curry Spiced Cashews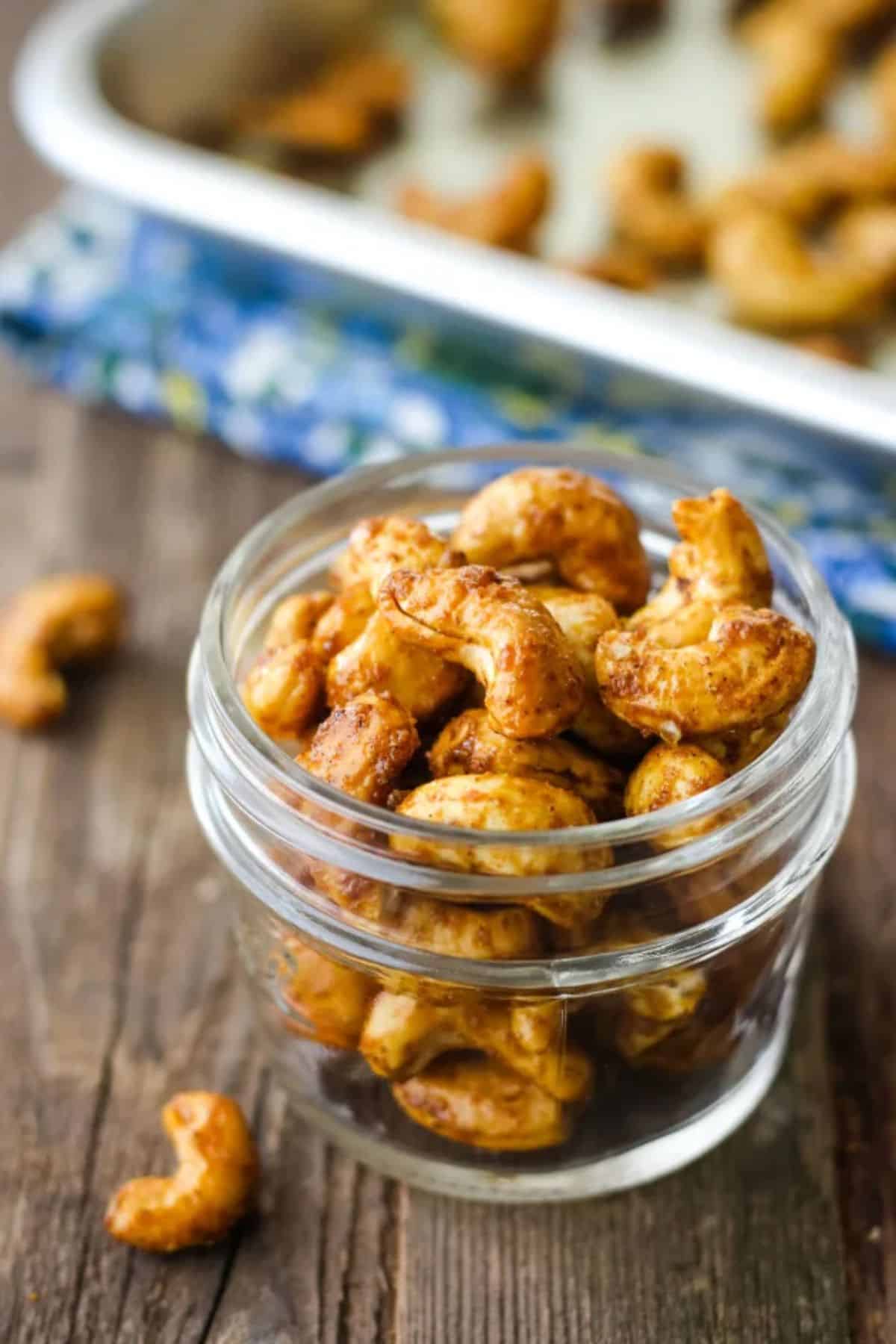 Are you tired of snacking on plain, bland nuts? Take your tastebuds on a global tour as you munch on these delicious cashews packed with warm curry spices.
2 teaspoon pure maple syrup
½ teaspoon extra virgin olive oil
1 teaspoon yellow curry powder
¼ teaspoon cumin
¼ teaspoon ground ginger
¼ teaspoon fine sea salt
1 cup unsalted cashews
23. Creamy Broccoli with Cashews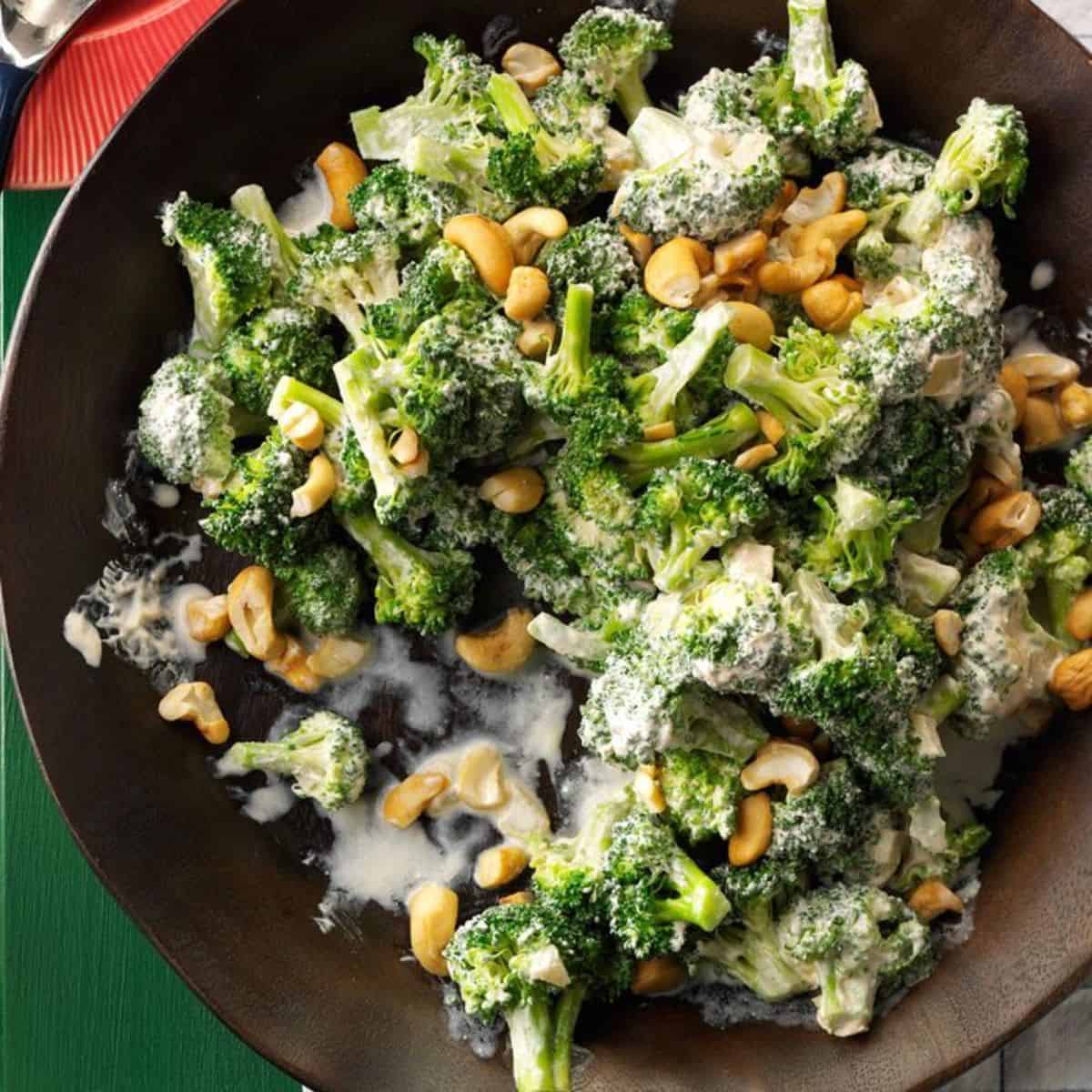 There's only so much broccoli and cheese a person can eat without getting bored. Try a tangier take with this flavor-loaded sour cream sauce topped with cashew crunch.
9 cups fresh broccoli florets
¼ cup chopped onion
2 tbsps butter
1 cup sour cream
2 teaspoon honey
1 teaspoon cider vinegar
½ teaspoon salt
½ teaspoon paprika
½ cup chopped cashews
24. Salted Caramel Cashew Bars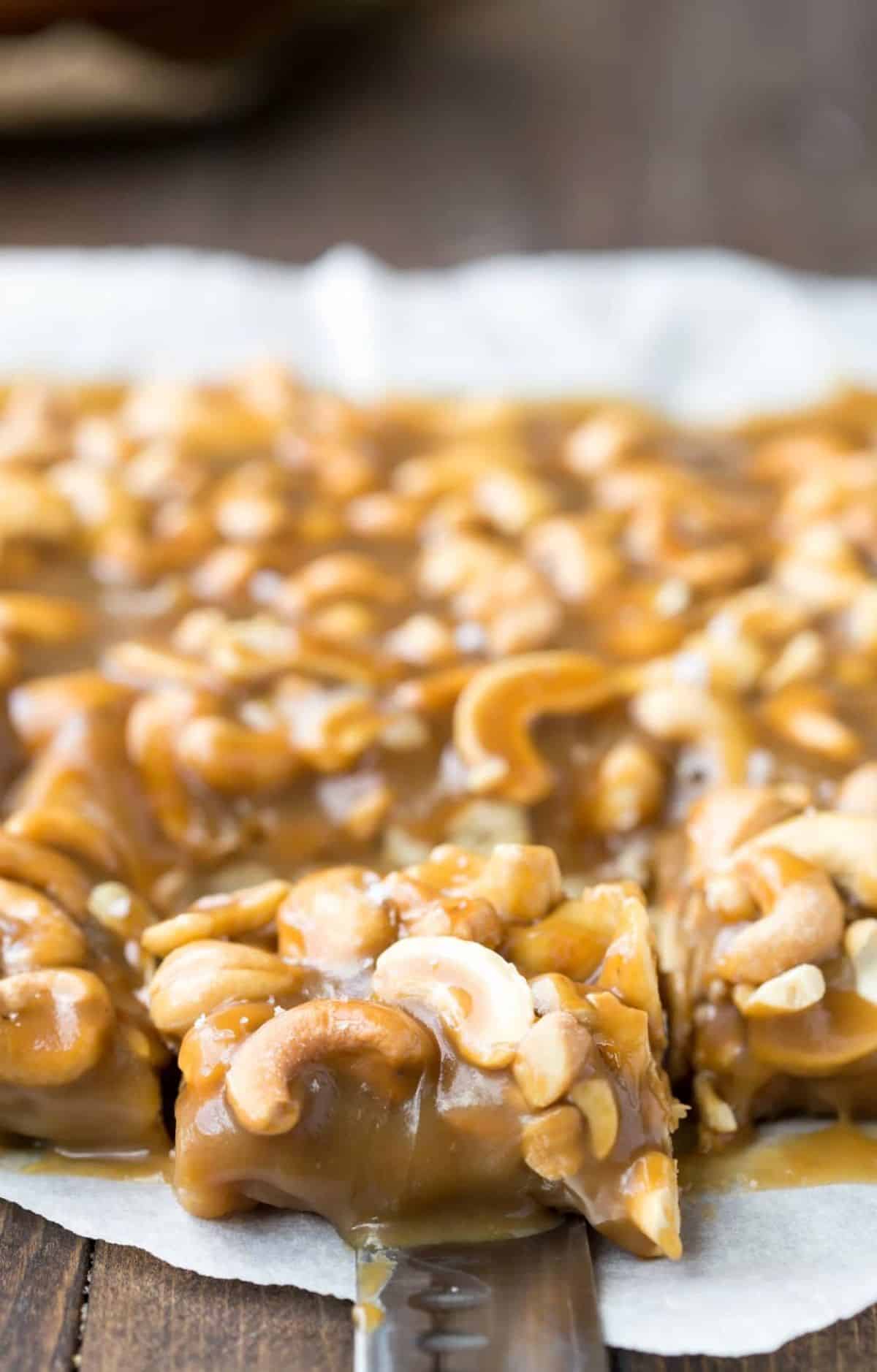 One bite of these chewy, nutty caramel cashew bars, and you'll be addicted to their gooey goodness. It's the perfect treat if you want something without chocolate.
2 cups unsalted cashews for the end
For the sauce:
1 cup salted butter
1 cup dark brown sugar
1 cup heavy cream
1 teaspoon vanilla extract
For the crust:
½ cup salted butter
½ cup powdered sugar
1 tablespoon vanilla extract
1 cup all-purpose flour
25. Roasted Red Pepper Cashew Cream Pasta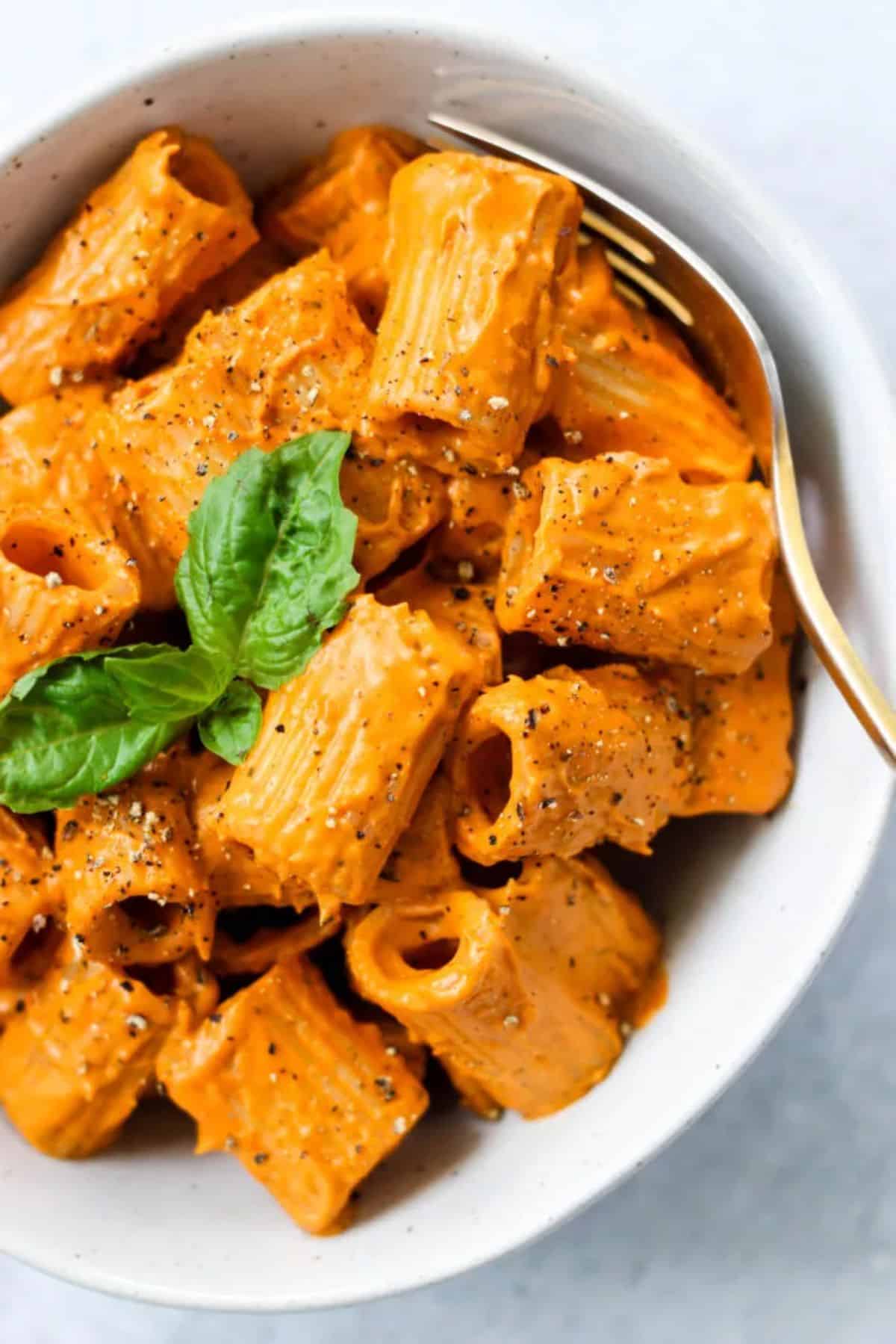 Adding roasted red peppers to this cashew cream-based pasta sauce provides a hearty dose of your daily vitamin C. It's both nutritious and delicious!
3 medium-large red bell peppers
2 tablespoon olive oil
2-3 cups of pasta of your choice
1 cup raw whole cashews
2 cloves garlic
1 large handful of fresh basil
1½ teaspoon thyme
½ cup boiling water
Salt and pepper
26. Better Than Takeout Sweet Thai Basil Chicken
Say goodbye to takeout! This aromatic, flavor-packed chicken dish has the taste of Thai in every bite and takes less than 30 minutes to make.
2 tbsps sesame or peanut oil
1 lb ground chicken
Black pepper
4 cloves minced garlic
1-inch grated fresh ginger
2 chopped red or orange bell peppers
½ cup raw cashews
½ cup low sodium soy sauce or tamari
2 tbsps fish sauce
¼ cup honey
2-3 tbsps chili paste
1 cup roughly torn fresh basil
¼ cup roughly torn fresh mint
Steamed white or brown rice
1 thinly sliced mango
27. Dill Pickle Cashews
The secret to nailing the dilly delight in these cashews is citric acid powder, typically used to give sour candies their pucker-inducing punch.
3 teaspoon crushed dried dill weed
1 tablespoon buttermilk powder
2 teaspoon kosher salt
½ teaspoon garlic powder
½ teaspoon onion powder
¼ teaspoon mustard powder
¼ teaspoon ground coriander
1 teaspoon citric acid powder
4 cups whole raw cashews
1 large lightly beaten egg white
28. Salted Cashew Tuxedo Turtles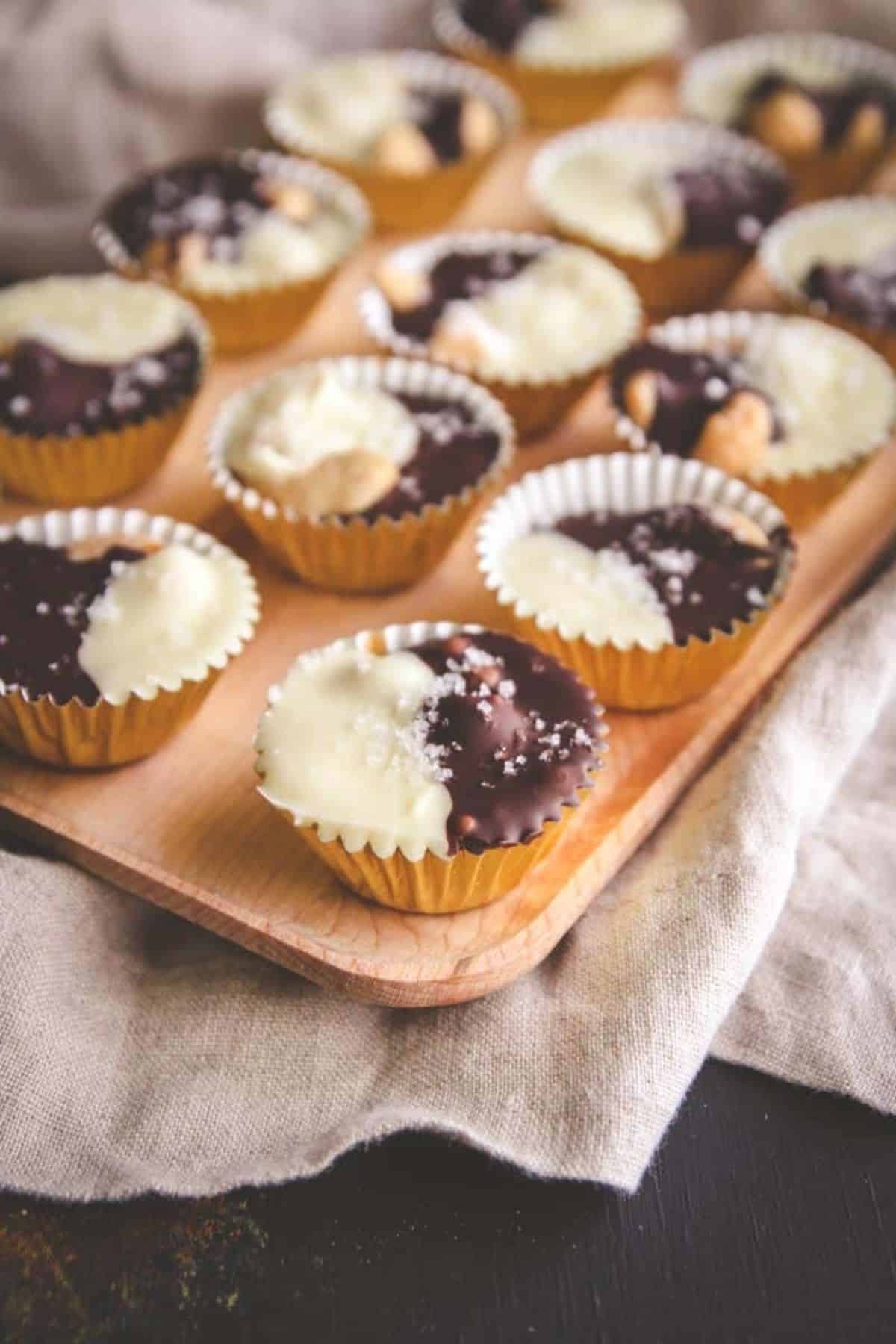 Dressed to impress, these nutty, chocolate-draped, caramel-filled turtles will steal the dessert spotlight at any holiday party you attend.
½ cup roasted and lightly salted cashews
2¼ oz melted white chocolate
2¾ oz melted semi-sweet chocolate
4 oz of melted caramel squares
1 tablespoon sea salt
29. Easy Vegan Cashew Alfredo Sauce
This lusciously smooth, plant-based alfredo allows those with milk allergies to enjoy one of the tastiest pasta sauces in Italian cuisine.
16 oz pasta of your choice
1 cup of cashews soaked overnight
2 tbsps of vegan butter
3 teaspoon of minced garlic
1¼ cups of unsweetened almond milk
1 teaspoon lemon juice
2 tbsps onion powder
4 tbsps nutritional yeast
1 teaspoon sea salt
2 teaspoon Italian seasoning
Black pepper
30. Crunchy Pea Salad with Bacon and Cashews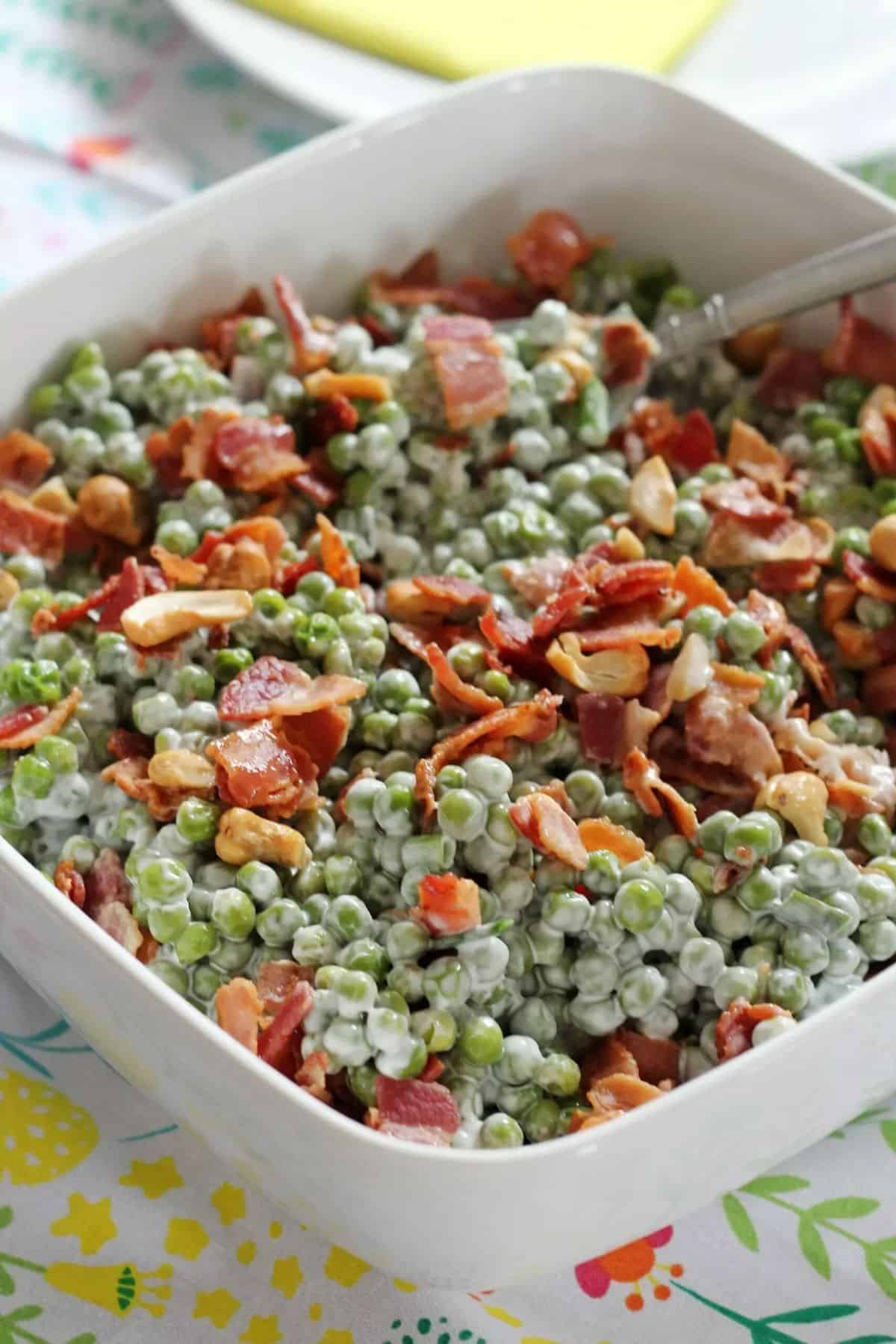 Savor the symphony of crispy peas, smoky bacon, and crunchy cashews in this barbecue-ready salad. The dried cranberries give it an extra burst of sweetness.
10 oz box of thawed and drained frozen sweet peas
1 cup cashews
¼ cup chopped green onions
1 lb cooked and crumbled bacon
1 cup dried cranberries
½ cup mayonnaise
1 tablespoon + 1 teaspoon of white vinegar
1 teaspoon sugar
Ground pepper
¼ teaspoon soy sauce
¼ teaspoon Worcestershire sauce
31. Cinnamon Sugar Candied Cashews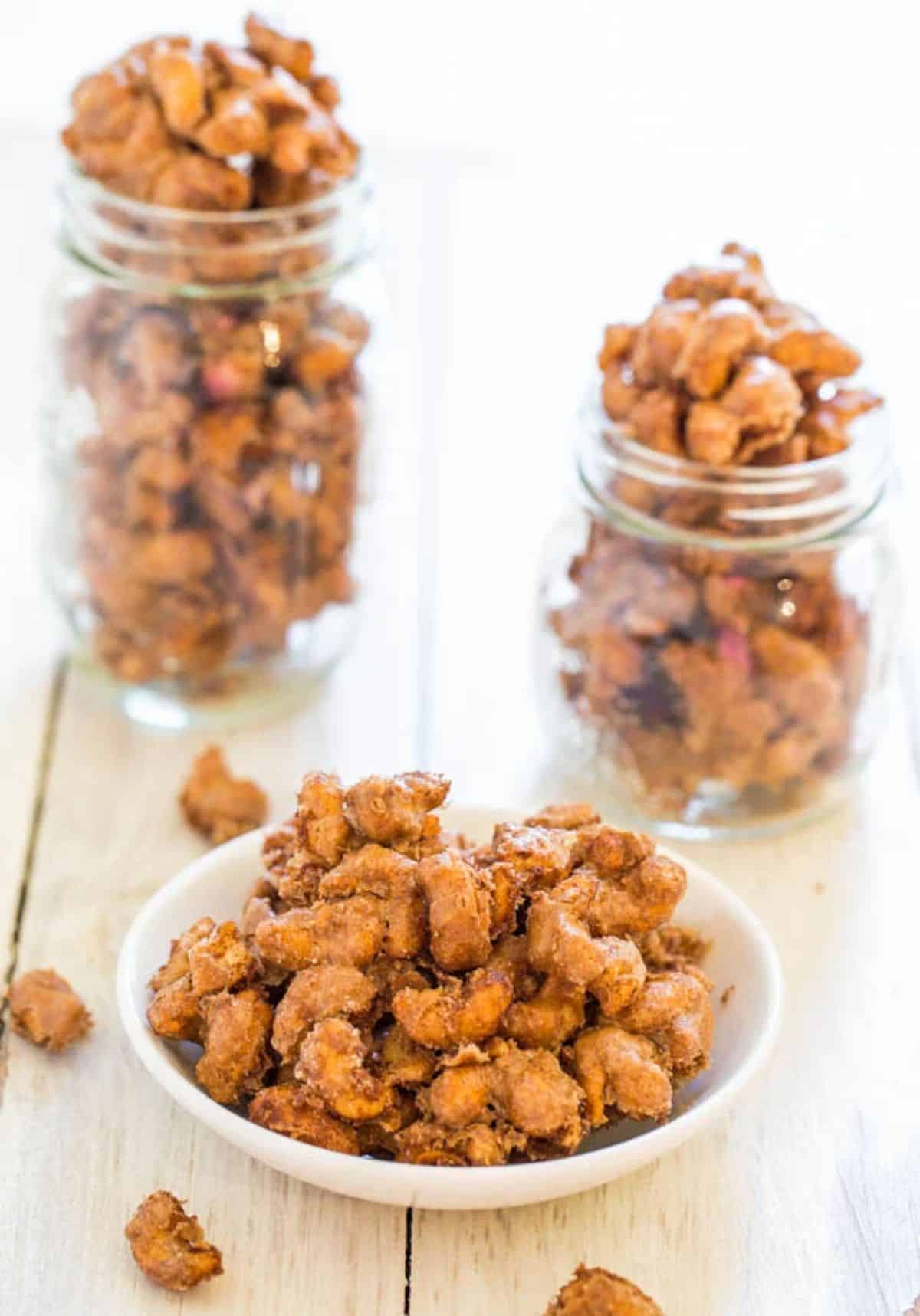 These candied cashews are a delightful combination of sugar and spice. You'll never have to overspend on store-bought sugary cashews again!
1 egg white, whisked to frothy
1 tablespoon water
3 cups cashews, roasted and slightly salted
½ cup granulated sugar
¼ cup light brown sugar
1 to 2 teaspoon cinnamon
1 teaspoon Kosher salt
½ teaspoon cayenne pepper (optional)
32. Broccoli Cashew Stir-Fry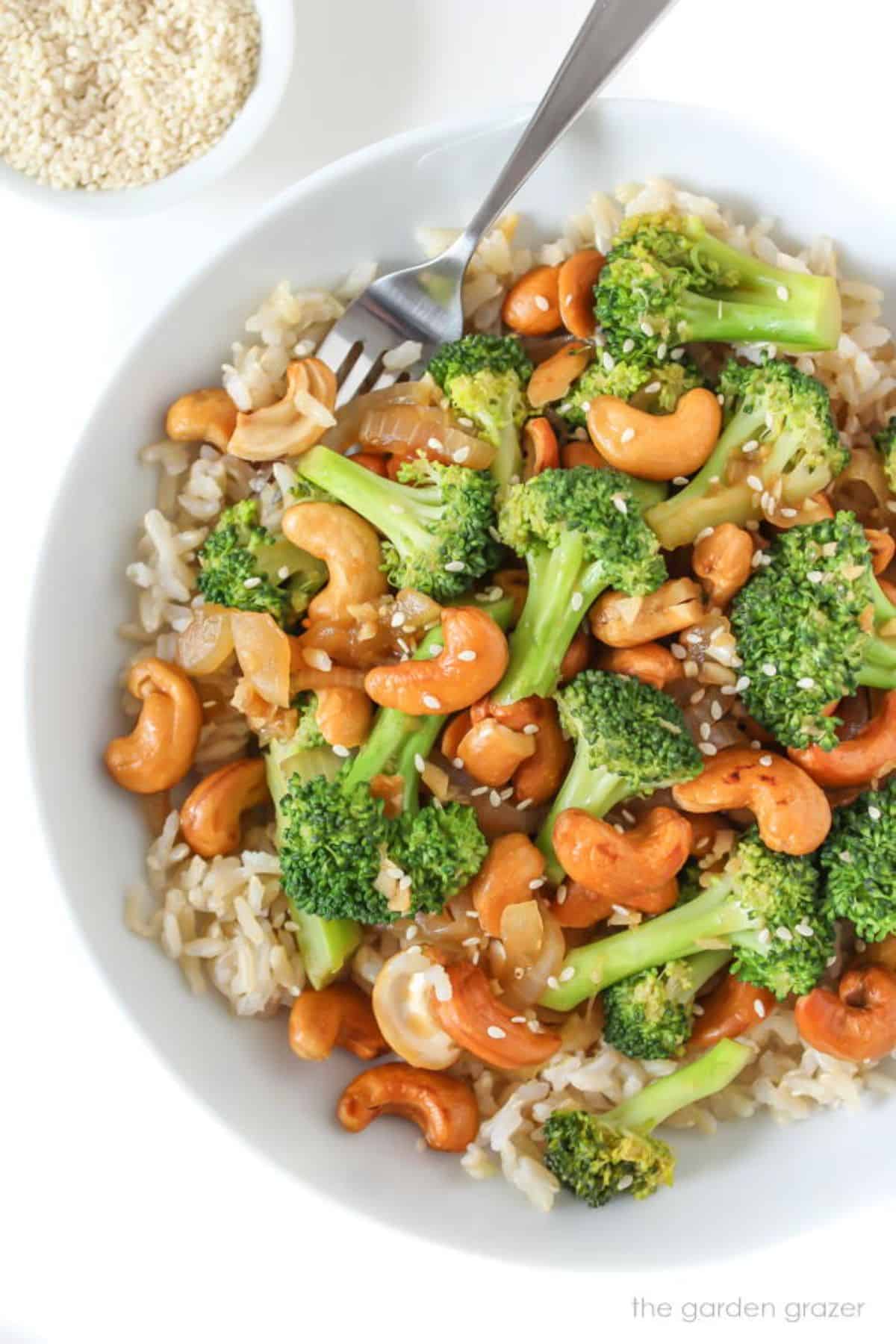 Whip up a takeout-style broccoli cashew stir-fry meal in just 30 minutes with just seven ingredients. Serve over steamed rice and with a side of spring rolls.
1 small yellow onion
3-4 garlic cloves
1 large broccoli head
1 tablespoon freshly grated ginger
1 cup roasted cashews
2-3 tbsps tamari or soy sauce
Sesame seeds as a topping
33. Coconut Cashew Date Balls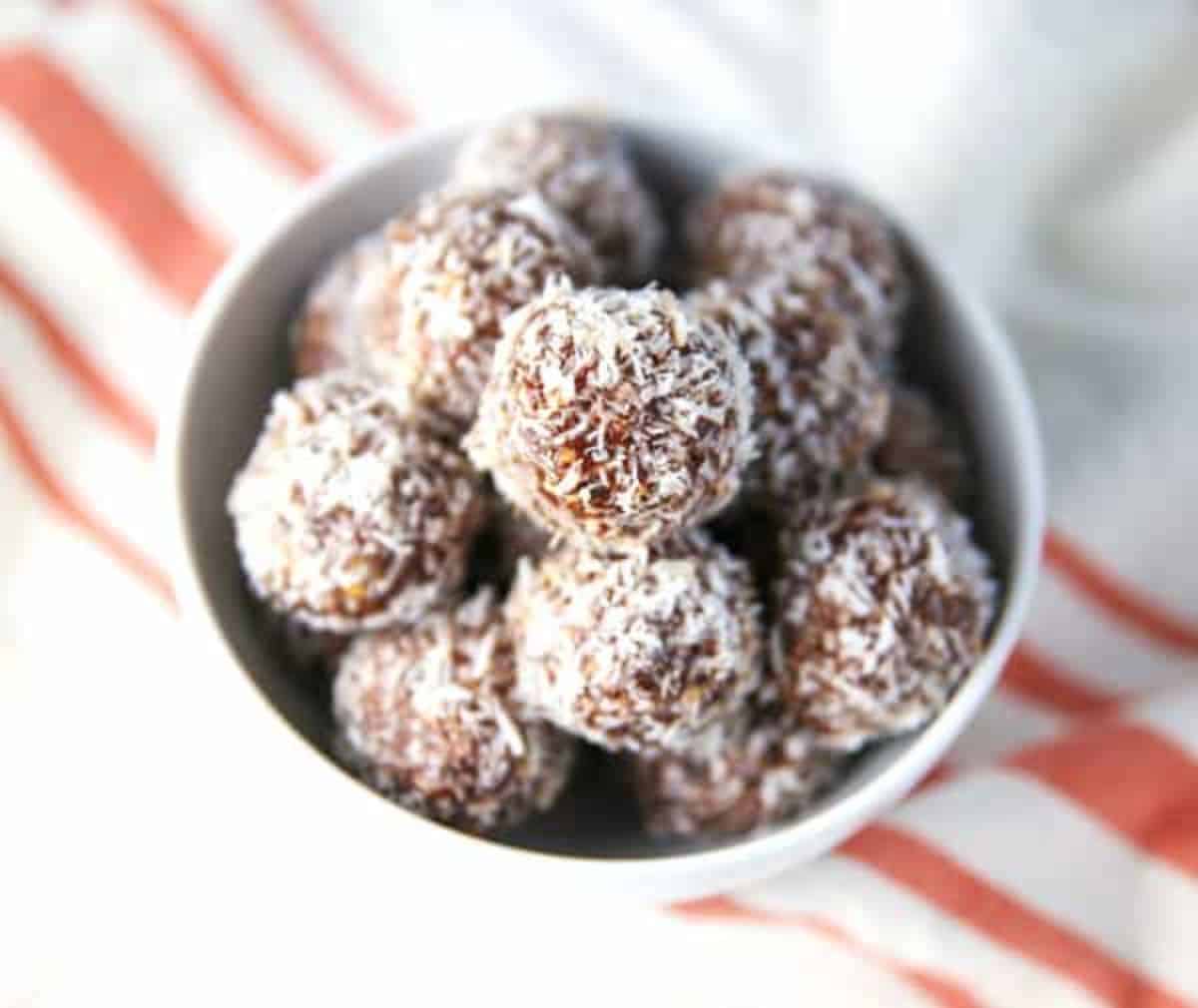 This coconutty cashew recipe will hit the spot if you need a filling and indulgent on-the-go snack. It's the perfect dessert made of vegan and gluten-free ingredients.
½ cup organic raw whole cashews
15 Medjool dates
1½ tablespoon organic cacao powder
2 tbsps coconut oil
Pinch of sea salt (optional)
⅓ cup organic shredded coconut flakes
34. Cashew Pralines
Swapping out regular milk for cashew milk in these pralines gives these gluten-free snacks a deliciously deep nutty flavor.
1¼ cup chopped cashews
1½ cup sugar
¾ cup brown sugar
½ cup Silk Cashew Milk
6 tbsps butter
1 teaspoon vanilla bean paste
½ teaspoon kosher salt
35. Cashew Crunch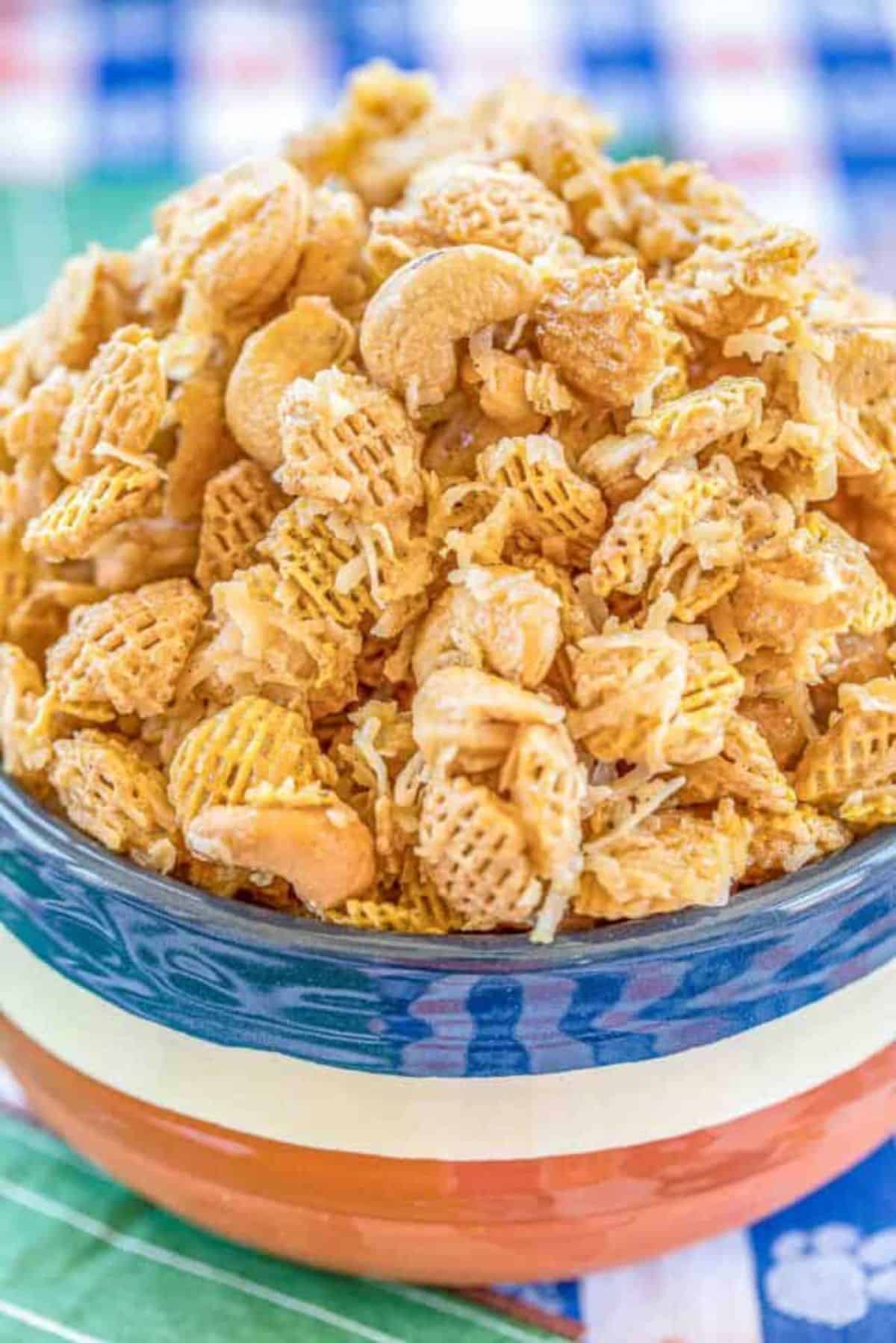 Cashew Crunch is a crowd-pleasing snack mix easily adjusted according to your taste. Add or omit ingredients to your liking and create the perfect personalized treat.
9 cups Crispix cereal
1 8 oz can of cashews
2 cups sweetened flaked coconut
½ cup butter
½ cup light brown sugar
½ cup light corn syrup
1 teaspoon vanilla extract
½ teaspoon baking soda
Final Thoughts
Cashews are a versatile ingredient used in various recipes, including salads, bars, ice cream, pies, and more.
We hope these delicious recipes with cashews offer endless inspiration for incorporating the beloved nut into your culinary adventures.