Welcome to my of pie lovers recipe collection!! I've compiled all my pie recipes here so you can easily find everyone single one!
Here we are! Thanksgiving week. I thought I'd do something a little different this year. It's crunch time for getting those Thanksgiving menus finalized and shopping lists made. Most of you probably have a good idea of what you will be making for Thanksgiving, but still are getting your lists and everything together. Instead of sharing a new recipe today I decided that a compilation of all my pie recipes might be more helpful. Instead of trying to remember or searching for which one you want, or perhaps you are new to my blog, I wanted to give you a one stop place that gives you all the links to every pie I've ever posted! Also, be looking for a similar post Thanksgiving day that will give you the one stop spot for all my recipes that are perfect for leftover turkey! Have a delicious Thanksgiving!
First up!
Homemade Pie Crust!

The crust part of the pie is just as important as the pie filling! Don't be afraid to try and make your own! It does take a little practice and even if they turn out ugly at first they will still taste amazing! Click here to get my step by step instructions, tips, and hints!
Caramel Apple Pie
This is by far my most popular pie recipe! If you are not big on traditional apple pie and would like try something new, this recipe is for you! You will not be able to get over how absolutely delicious this pie is, especially warm, topped with ice cream and drizzled with extra caramel sauce. Mmmmmmm…..Click here for the recipe!
Bite Size Pumpkin Pies

Pumpkin pie is, of course, a Thanksgiving staple, right? Why not have a little fun and make them bite sized? Cute! Poppable! And delicious! Click here to head on over for the recipe!
Pumpkin Cream Pie
Just in case you cannot stand the custard texture of traditional pumpkin pie, but like the flavor, check out my pumpkin cream pie! All the flavor of a pumpkin pie but with a creamy pudding texture! Plus it takes 5 minutes to whip up! Check out this recipe here!
Caramel Cream Pie
My family is more cream pie lovers than fruit pie lovers. I, however, have to have more of a variety than just chocolate cream or banana cream pies. This caramel cream pie is unique, smooth and creamy with great caramel flavor! Get the full recipe here!
Irresistible Chocolate Mousse Pie
Here's another easy cream pie taken up a notch! The chocolate mousse is so melt in your mouth descant that you will not even believe it! Seriously, just so good! Click here for the recipe!
Grasshopper Pie
Feeling adventurous? Enjoy the cool mint flavor of this smooth grasshopper pie! If you love Andes mints then you will definitely want to try this one! Click here for the recipe!
Apple Cheesecake Pie
Ya gotta love a combination of two different desserts that turns out fantastic! With cheesecake on the bottom and apple pie on the top how can you go wrong!!! Get the recipe for this tasty combo here!
Streusel Topped Peach Pie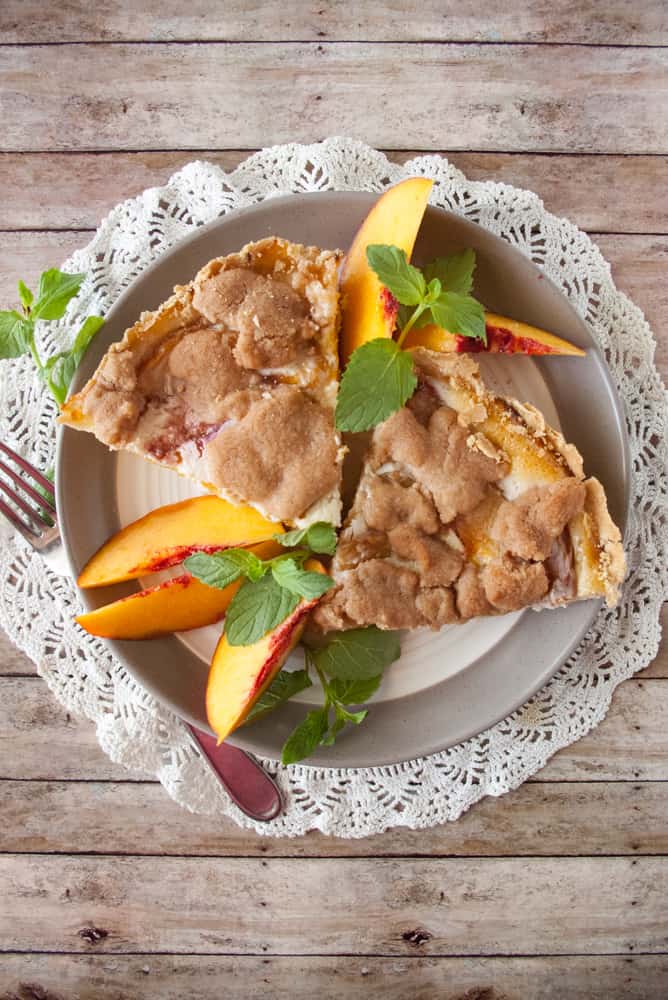 This is a different and tasty pie! You can use fresh or well drained canned peaches. Warm or cold this pie is one of my favorites! Get this recipe here!
I hope you enjoy this pie collection! If you have comments or questions you can drop them in the comments section of this post or on the individual posts for each recipe!
Don't forget you can pin any of these recipes to your Pinterest boards for later!
You can also follow me on Pinterest, Facebook and Instagram as well as subscribe to get my newest recipes sent right to your email!
Last Updated on