---
Description
Looking for a new holiday tradition you're kids will love? Get your pattern and instructions for how to make kid friendly gingerbread houses here! The sturdy walls and roof pieces make these the perfect gingerbread houses for kids!
---
1

cup

Shortening (don't sub butter)

1

cup

Sugar

1

cup

Molasses

2

Tbs. Vinegar

1 tsp

Vanilla

2 tsp

Baking Soda

1 tsp

Ground Cinnamon

1/2 tsp

Salt

1/4 tsp

Cloves

5

cups

Flour

1/3

cup

Warm Water
You will need royal icing for the "glue" to build these houses.  Get my No Fail Royal Icing recipe here!
---
Instructions
Create your gingerbread house templates as shown in my post.  I use cardstock paper. You can find the measurements in the notes below.
Preheat your oven to 350 degrees and line your baking sheets with parchment paper or spray them with non-stick cooking spray.
In a large mixing bowl, cream the shortening and sugar.  Add the molasses, vinegar and vanilla.
Mix in the baking soda, cinnamon, salt, and cloves.
Mix in 3 cups of the flour.  Add the 1/3 cup of warm water.  Add the remaining two cups of flour and mix well.
Turn the dough out onto a lightly floured surface.  Roll out to 1/4 thick.  Lay the templates on the dough and use a sharp knife to cut around them. You will need to two of each for each house. One batch of dough will make 2 houses.
If you want a door, cut one out of one of front or back pieces.
Lift each cut out onto a prepared baking sheet with a large spatula.  Leave an inch space between pieces.
NOTE - I live in a cold, dry area so I don't worry much about the dough spreading while baking. If you live in an area that's hot or quite humid I recommend popping the pans of dough in the fridge for 20 minutes before baking. 
Bake at 350 degrees for about 15-20 minutes.  Yes the edges will look a little overdone.  That's the way you want them, hard and sturdy.  Cool completely before constructing.
When you are ready to build your houses prepare my No Fail Royal Icing.  Don't be shy about royal icing.  It is easy to make and is necessary to keep your house together.  Also, I build mine on cake boards or cardboard covered with tin foil.
Decide where you want the back of your house first.
Pipe a line of royal icing and set the back piece on it.
Pipe line of royal icing for a side piece and set it on it.
Pipe a line of royal icing between the side edges of the two pieces "gluing" them together.
Add additional royal icing to the inside and outside edges to secure these walls.
Pipe a line of royal icing for the second side and set the piece on it.
Pipe icing to glue the second side edge to the back wall edge.
Pipe a line of icing for the front piece and add it.
Carefully pipe icing in the inside corner edges to secure the front piece.
Add extra icing to the edges, corner, inside and out.
Let stand for a 3-4 minutes allowing the royal icing to set up a bit before adding the roof pieces.
Pipe icing along all the edges you will be setting a roof piece on.
Carefully set the first roof piece on the house, holding in place for a few moments giving the icing a chance to set a little.
Pipe icing along the places the second roof piece will be sitting.
Carefully place the second roof piece on, holding in place for a moment.
Pipe icing and add the door wherever you like.
Decorate with assorted candies any way you can imagine!
---
Notes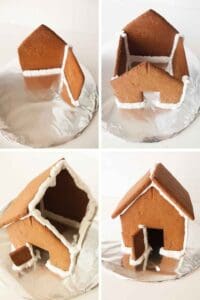 Keywords: gingerbread house, how to make gingerbread houses, diy gingerbread houses, real gingerbread house