Can't choose between banana bread and zucchini bread? You don't have too! This recipe combines those two classic quick breads for the ultimate treat! It's easy. It's quick. And with half the sugar of the average loaf, it's healthy with just the right amount of sweetness! You can even make this moist bread into muffins or mini loaves instead! This is one of my favorite quick breads for an afternoon snack!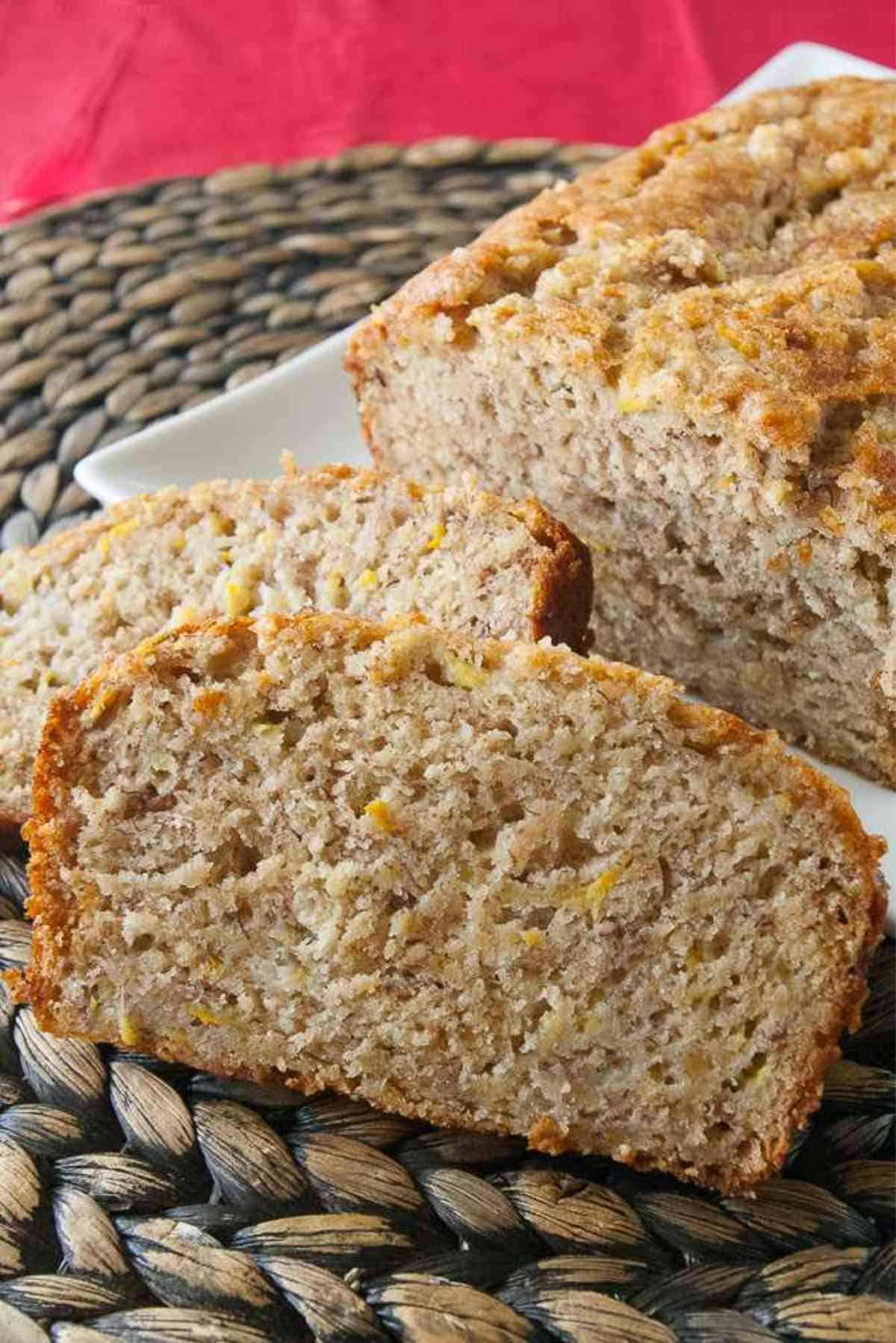 Jump to:
Why You'll Love This Recipe
Quick and easy just as a

Quick Bread

or muffin recipe should be!
Great way to use up those bananas that ripened with the summer heat in the blink of an eye!
Freezes well!
It's zucchini season and you're being invaded by zucchini! (By the way, if you haven't tried my

Chocolate Zucchini Bread

you definitely have got too!!!!)
Can be made with or without chocolate chips! (I always sneak some in just like I do with my

Banana Oatmeal Muffins

...shhh!)
Makes 9-12 muffins or 3 mini loaves of bread instead of a standard loaf if you prefer.
Ingredient Notes
Bananas - How do you know if your bananas are too ripe or just

ripe enough for baking

? They should not have green on the peels. As bananas ripen the starches in the turn to sugars which allows us to be able to add less granulated sugar to the recipe. So you're looking for your bananas to have brown freckles covering at least ½ the peel. Totally brown overripe bananas that are syrupy when peeled are too ripe.
Zucchini - No need to peel the zucchini first. Can be either yellow (golden) or green fresh zucchini. Small to medium

zucchini

are best for baking. Large zucchini tends to be much dryer, slightly bitter and the seeds inside have become large, stiff and have tough outsides. Many people wonder whether you need to squeeze the liquid out of the zucchini before using it due to too much moisture. Short answer is no. If you grate it and use it immediately you'll be fine. As grated zucchini sits out the liquid accumulates so if you pre-grate it you may need to wring out the excess moisture. FUN FACT: Did you know a zucchini is a summer squash that's also know as a "courgette"?
Flour - all purpose, never

self rising flour

. Self rising flour has baking powder and salt added to it and this recipe already has those ingredients.
Olive Oil - Can you substitute coconut oil or other cooking oils? Yes! Absolutely! Just sub equal amounts of coconut oil, vegetable oil, or canola oil for the olive oil.
Sugar - You can substitute ½ cup applesauce for ½ of the sugar in this recipe. So instead of 1 cup of sugar you would add ½ cup sugar, ½ cup unsweetened applesauce but because you will be increasing the amount of liquid with the applesauce you will need to add an additional ⅓ cup of flour to compensate. Check out this article for more info on

Substituting Sugars

in baking if you need.
Other Variations - If you would like to add nuts simply fold in ¾ cup walnuts or pecans with the zucchini. If you are needing special diet recipes for banana or zucchini breads then let me recommend a few other recipes options as these types of diets are not my specialty. For a gluten free banana bread try this

Roasted Banana Bread

or try Gluten Free Zucchini Bread. For keto diets check out this

Keto Low Carb Banana Bread

or

Keto Zucchini Bread

.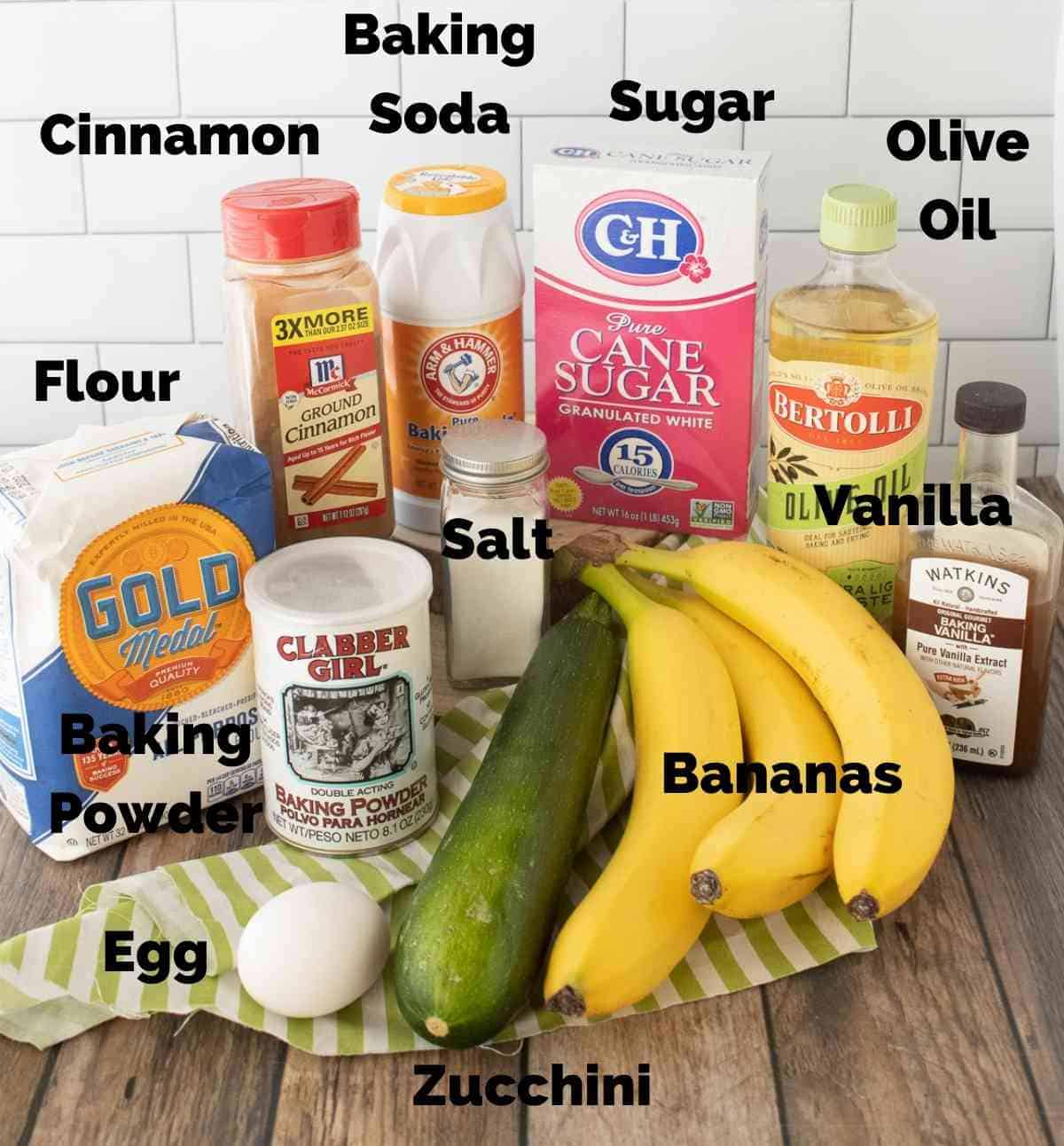 Step by Step Instructions
Preheat your oven to 350 degrees.
Either spray a standard loaf pan with non-stick cooking spray or line it with parchment paper to easily lift the loaf out. You could also line 9-12 muffins cups in a standard tin or prepare 3 mini loaf pans.
Mash up the bananas in a 2 cup measuring cup and set it aside.
Then grate up 1 cup of zucchini and set it aside for just a moment.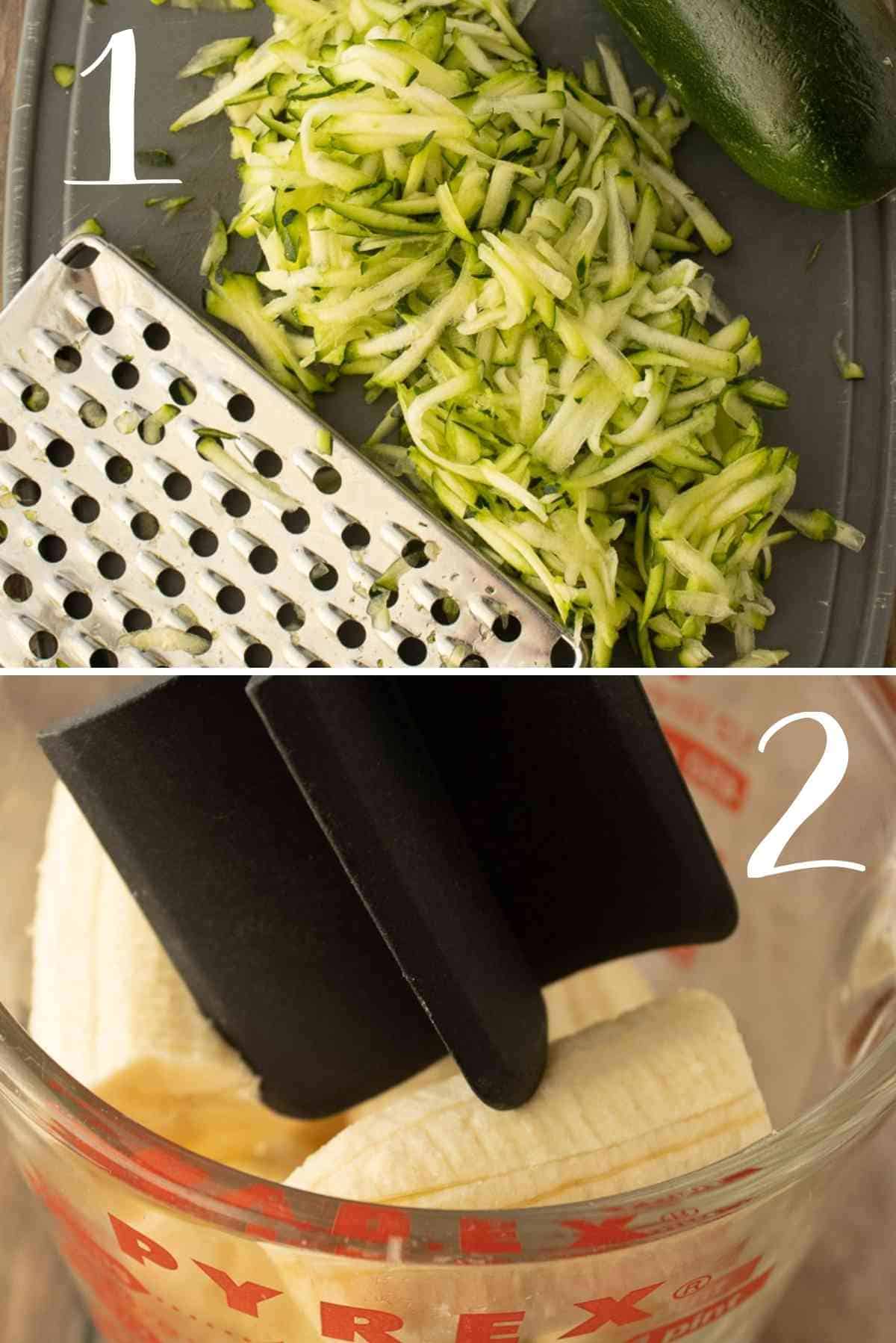 In a large mixing bowl, stir the sugar, olive oil, egg and vanilla extract together by hand.
(You can use a mixer or beaters to mix this bread however any banana chunks or pieces in the mashed bananas will become completely mashed. Not bad necessarily but if you want small banana pieces dotting your bread then mix by hand.)
Stir in the mashed bananas.
Stir in the baking powder, baking soda, cinnamon and salt.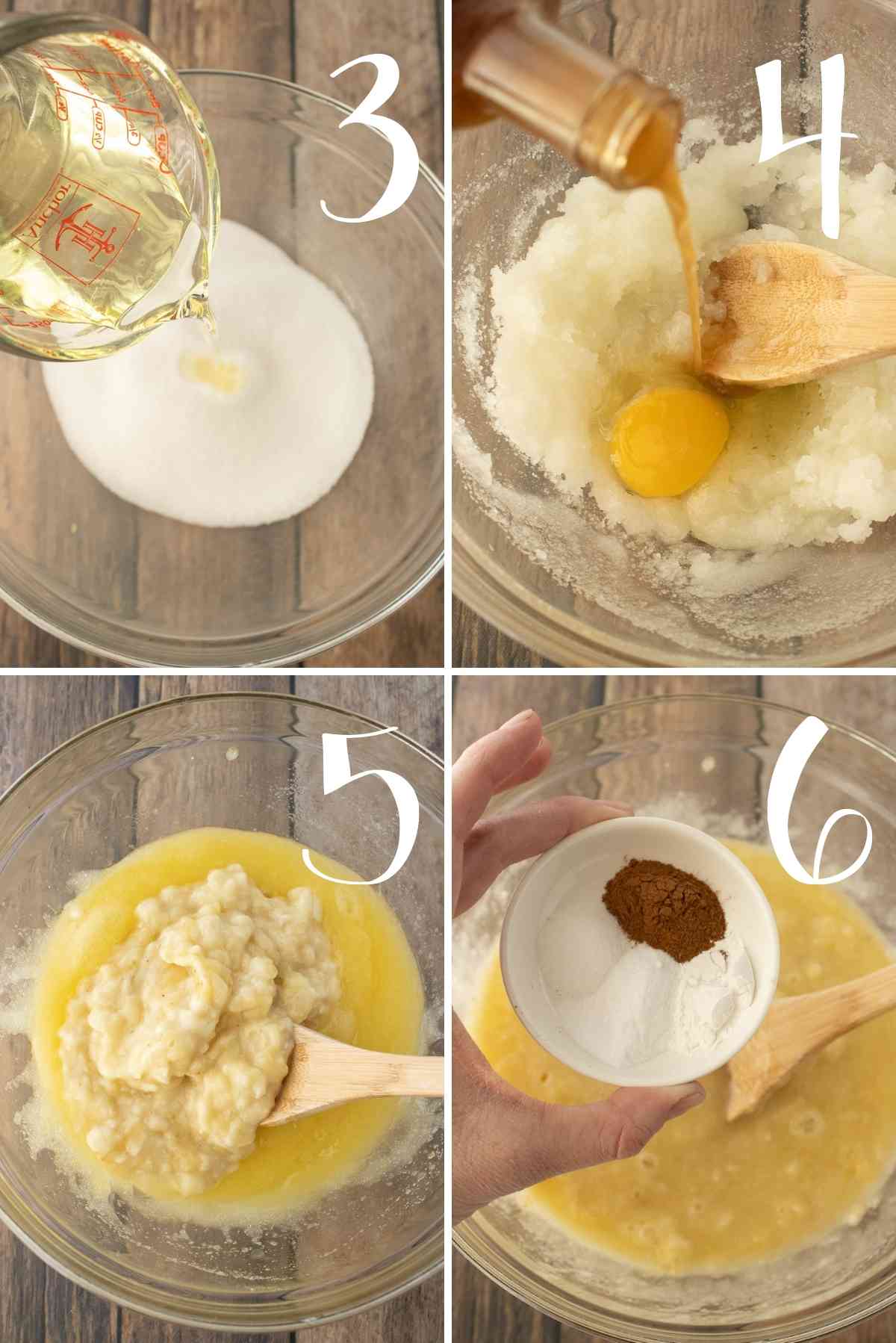 Stir in the flour.
Stir in the shredded zucchini.
If you want to add ¾ cup of walnuts or pecans now is the time.
Mix just until no white streaks remain.
Pour the batter into prepared loaf pan, lined muffin tins or mini loaf pans.
Bake for 50 minutes at 350 degrees.
Tent the bread with tin foil after 25-30 minutes of baking to prevent over browning.
Bake 15 minutes for muffins and 20 for mini loaves. Check with a toothpick and bake longer if necessary.
You'll know your bread is done when a toothpick comes out nearly clean.
Cool in the bread pan for 10 minutes before turning it out on a wire rack.
Cool completely which takes 30-40 minutes.
Slice into individual slices and enjoy!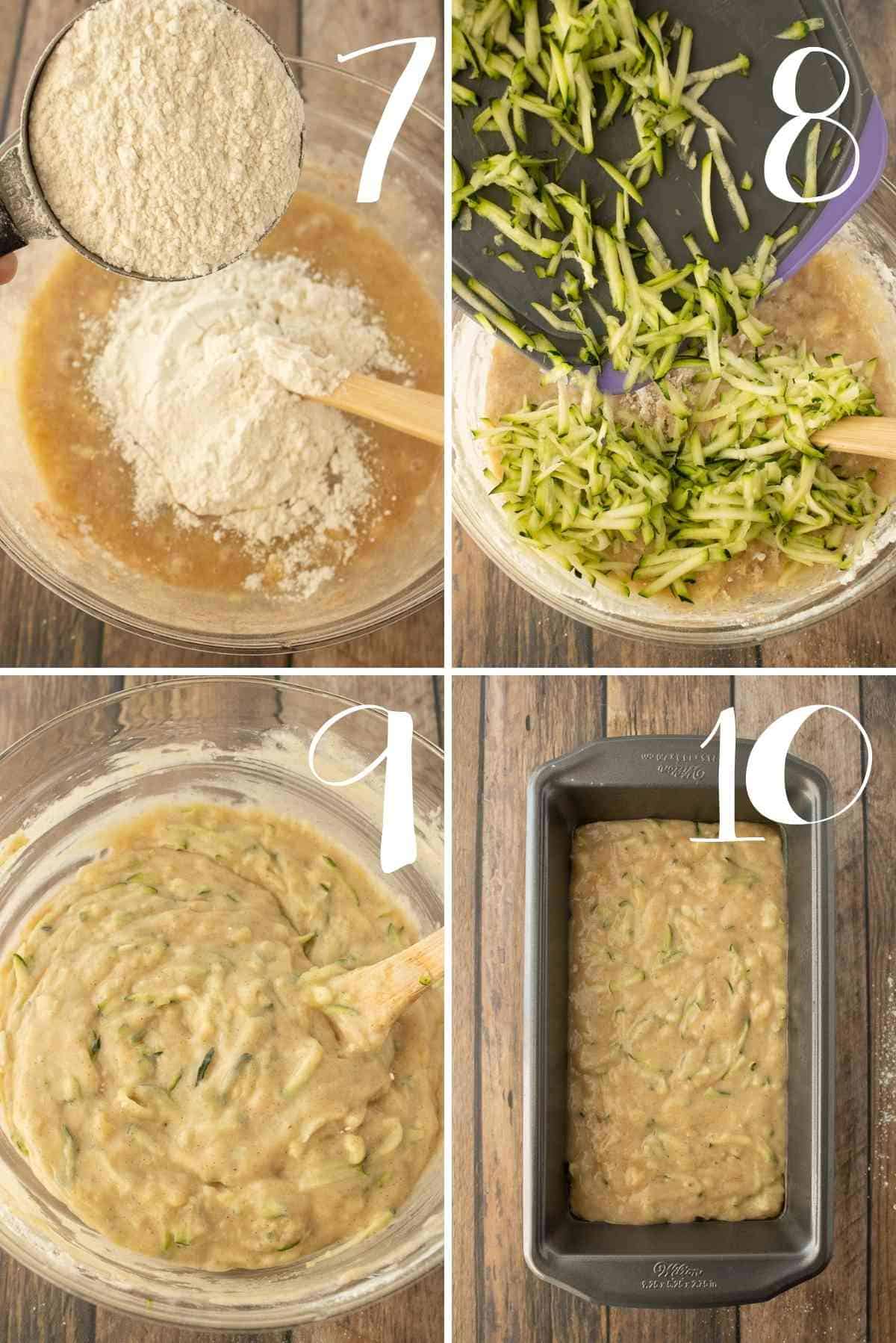 Recipe FAQs and Expert Tips
Related Banana or Zucchini Recipes
Have you tried this recipe? If so, leave me a rating and a comment below! And don't forget to subscribe to my newsletter to get my latest recipes sent right to your email! You can also follow me on Facebook, Pinterest and Instagram!
Any nutritional analysis on this Site is based on an estimate, calculated by Nurtifox plugin (or other third-party source) from the individual ingredients in each recipe. Variations may occur for various reasons, including product availability and food preparation. We make no representation or warranty of the accuracy of this information.